You guys, I made 2 pillows for $5. TOTAL! Have you ever even heard of such a thing?! Nowhere. I repeat – nowhere, can you get a decorative throw pillow for $2.50 or even $5, for that matter unless you are thrifting or at the Dollar Store (but last time I checked, the dollar store doesn't sell pillows!). So do you want to know how I did it?
Napkins!
Ok, so I popped into HomeGoods one day a couple of weeks ago to do a return. Well, you know I can't just go through the line with one measly return. I had to grab a cart and power through my favorite aisles. For some reason, I went down the table linens aisle and spotted these sparkly fall plaid napkins. My first thought was…
Ooo! These would be perfect for a fall tablescape!
But my second thought was…these could seriously be the cutest pillows!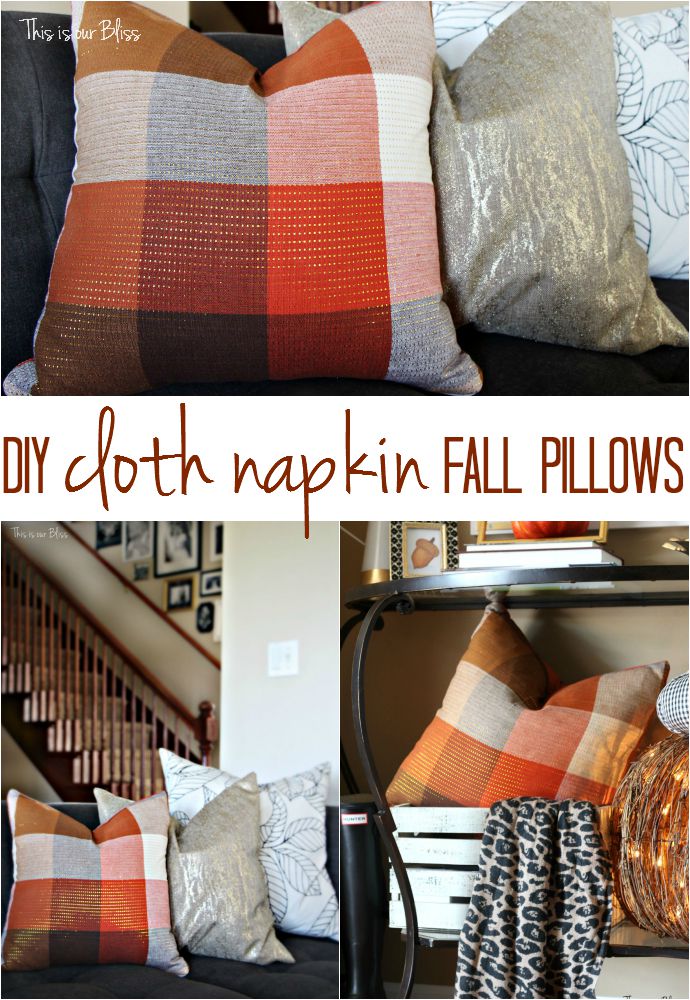 I don't deck my house out for fall, but I do get the urge to warm things up a bit. I had been wanting to add some autumn-ish pillows to the family room to spice up our new gray couch. (More soon on the couch and our new rug, too!) After peeking at the cloth napkins and noticing "18"x18″" on the tag (and the amazing price of $4.99 for a set of 4), I knew I had to grab them.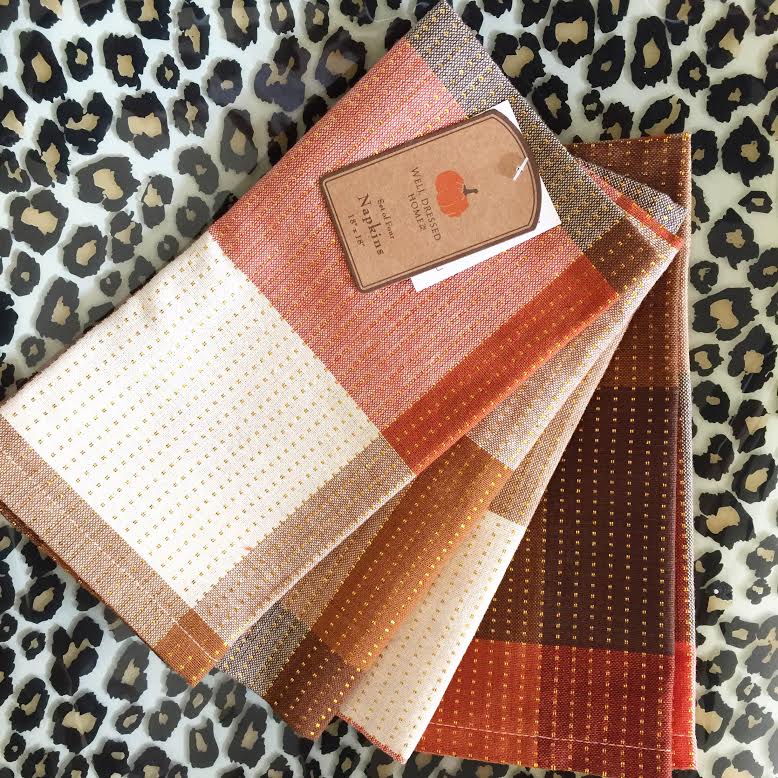 Well, they did sit around for a little while in my pantry, but I finally opened them up to sew a couple together. If you've done any sewing before, you can do this. OR if you know someone who sews and you bribe them with a pumpkin spice latte or a bottle of wine, you just might get yourself a couple pillows sewn for you.
I don't too often, but I've done a ton of pillows – for our outdoor patio & the floral print ones in the guestroom. And, you might remember back to last year when I made Simon's nursery curtains out of bed sheets. Other than that, I don't bust out the sewing machine much.
Back to the napkins…As far as pillows go over here, I like to switch my covers out and change them around fairly often, so I sewed a zipper in. It makes it easy to take off the pillow to throw in the wash, too!
Here is how mine turned out: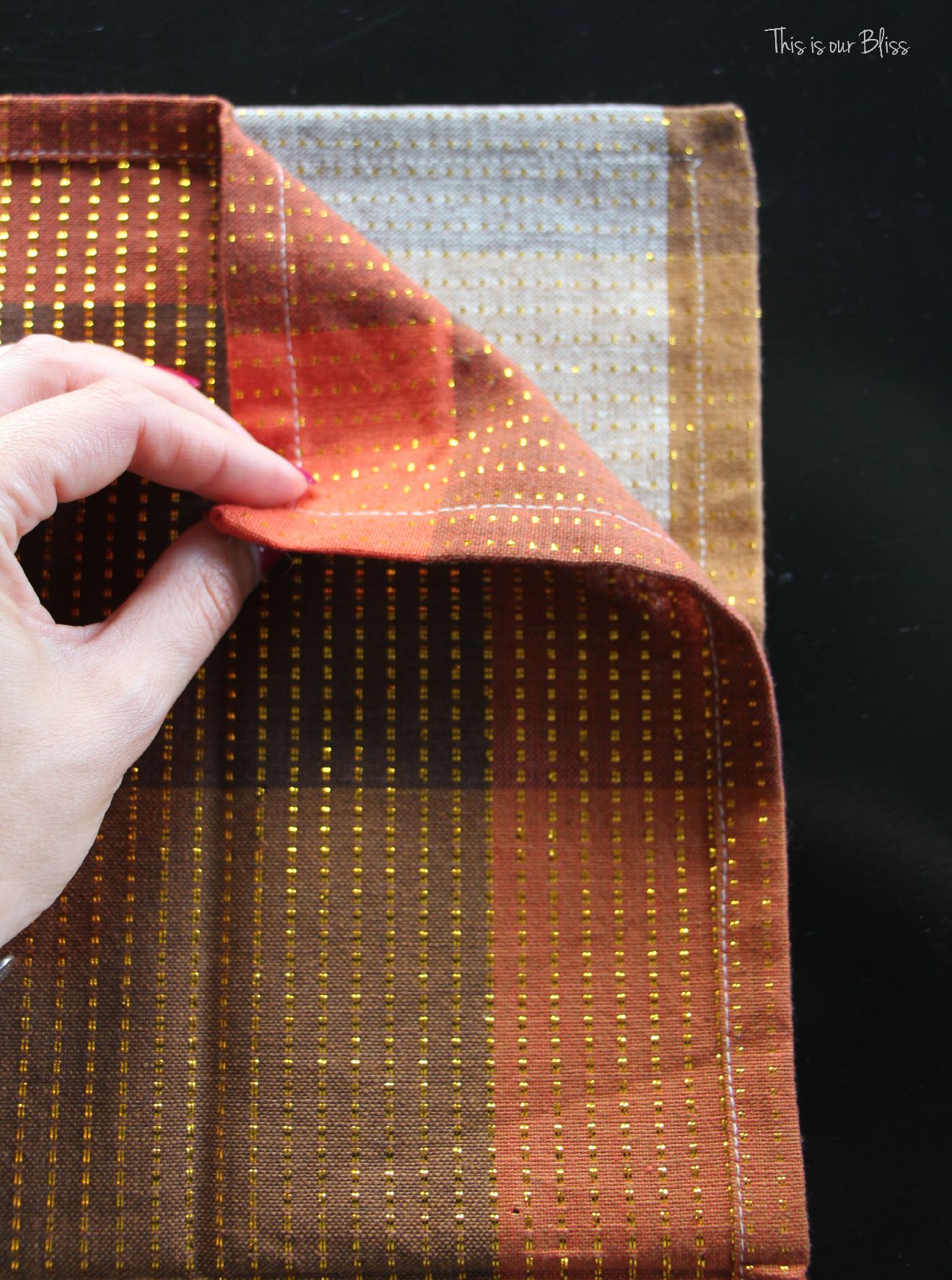 That's really all the further I got with step-by-step photos – so sorry! After I sewed them, I put in a 20″x20″ insert I already at home. I like to use inserts that are the exact size of the fabric or napkins (before sewing) or just slightly larger so they are nice & full. I prefer feather or down inserts, but any pillow forms are good!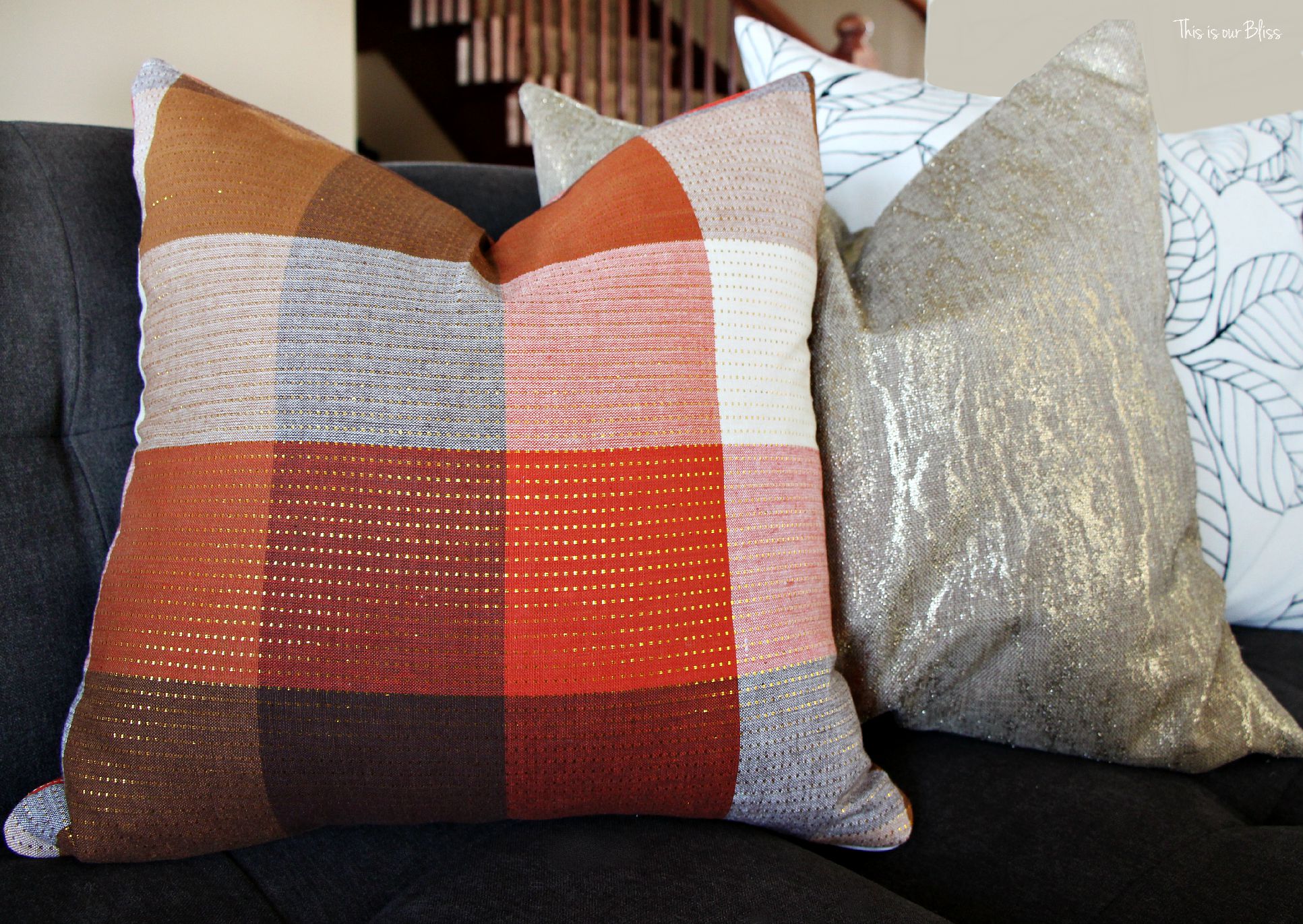 I have one in our family room on the couch….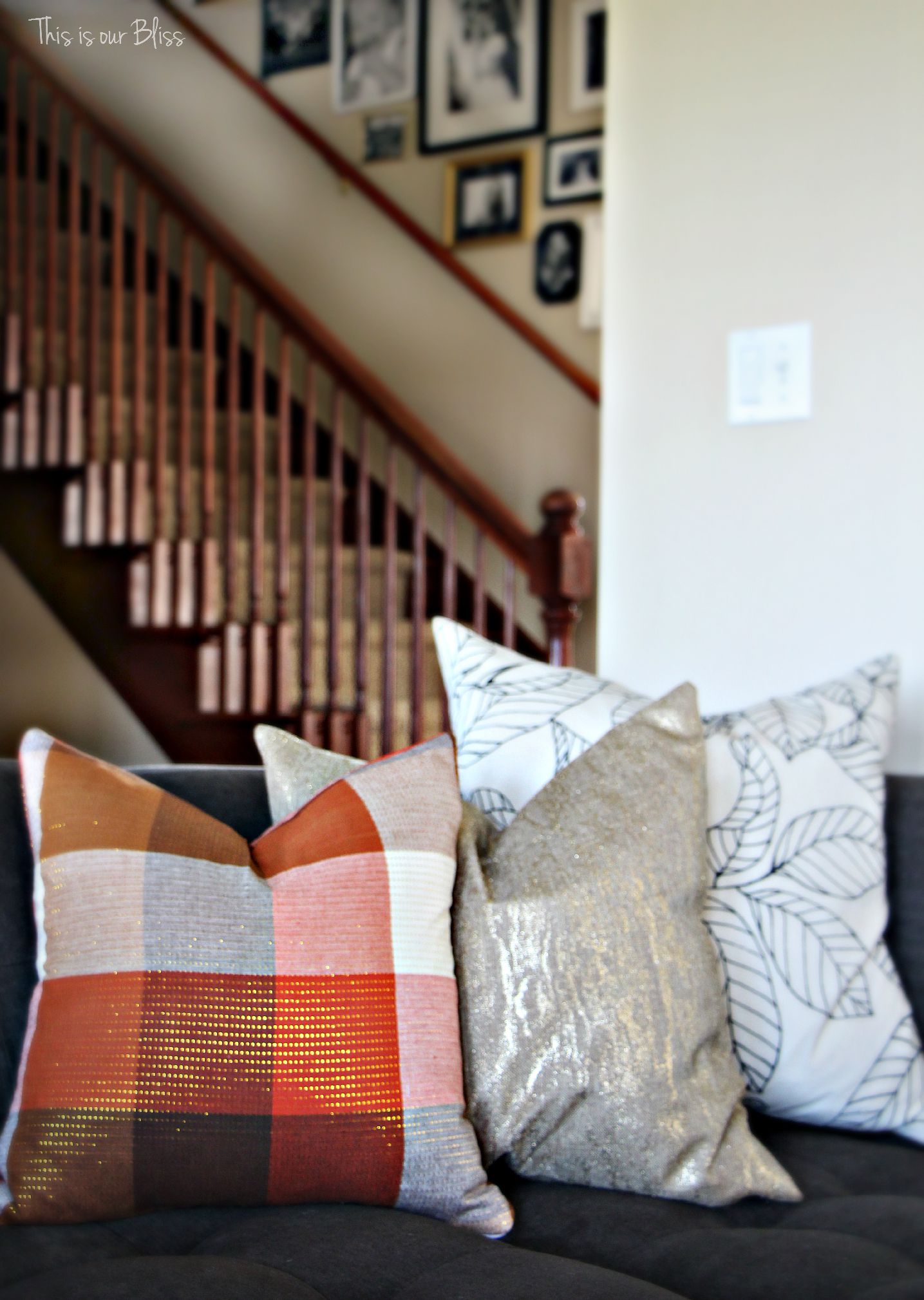 I really love the gold & orange hues on the gray couch…it really warms things up from the usual neutral tones.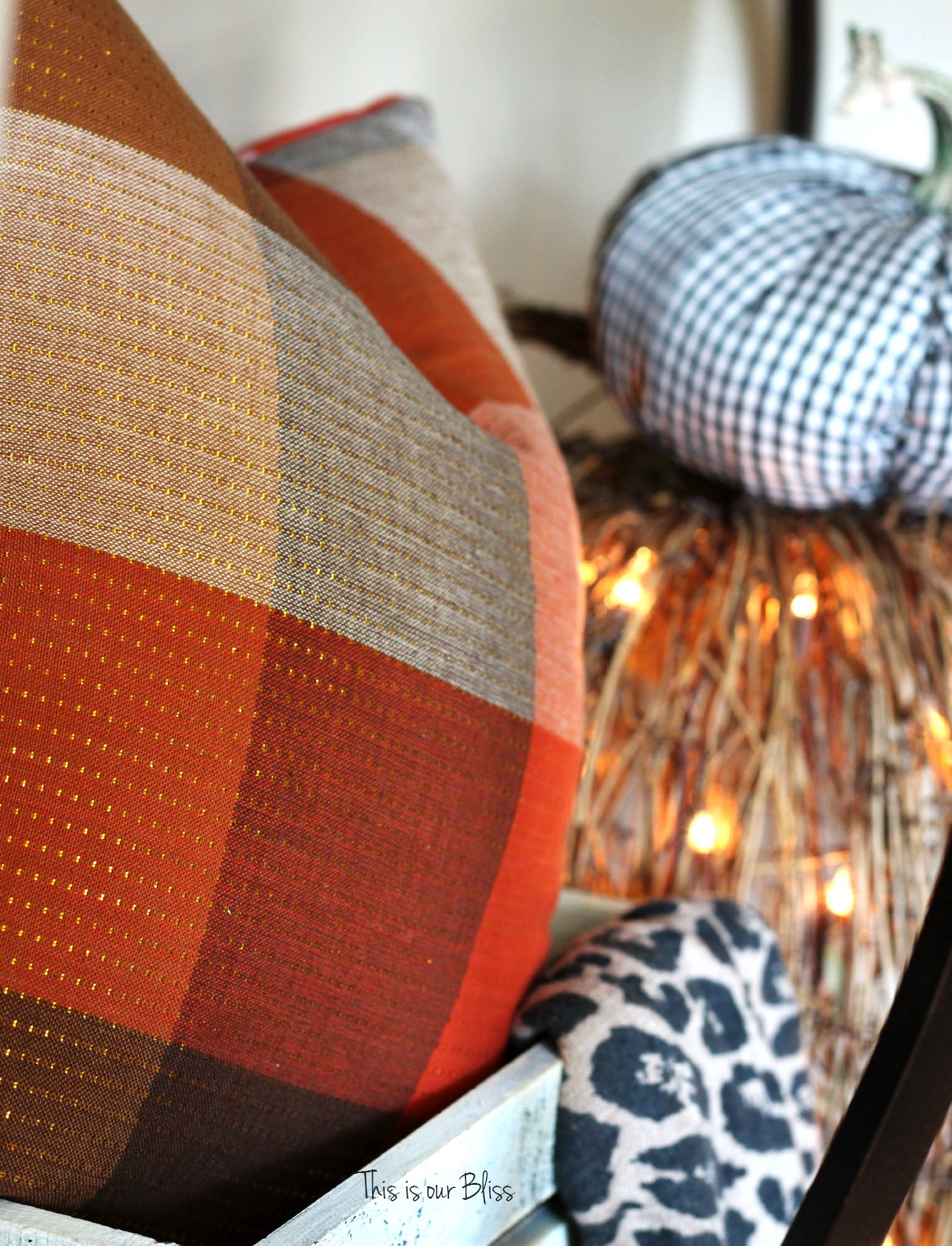 …And then, this happened. I just couldn't help myself.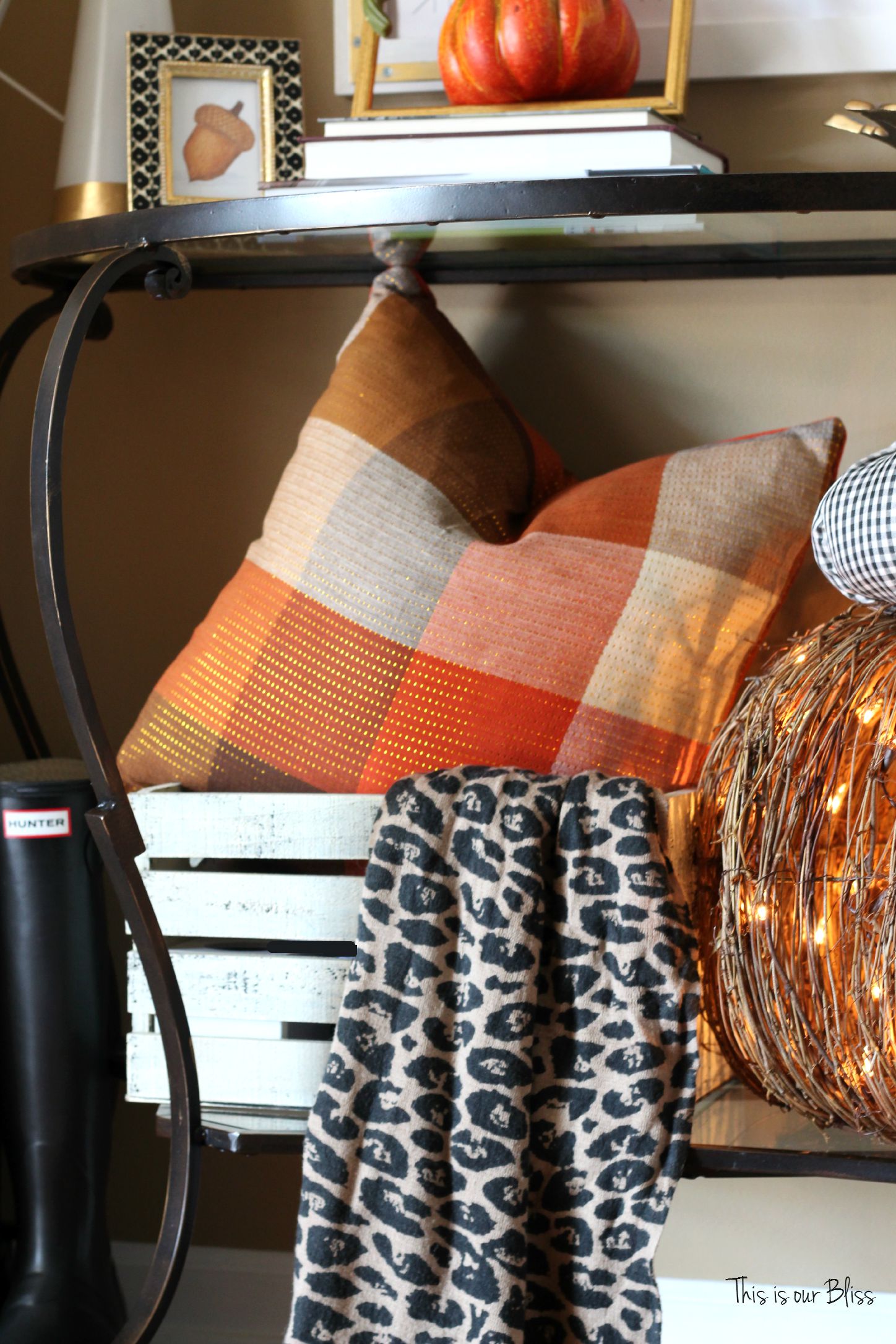 Since I was playing around with my fall entryway last week, I decided to try this option out and I absolutely LOVE it!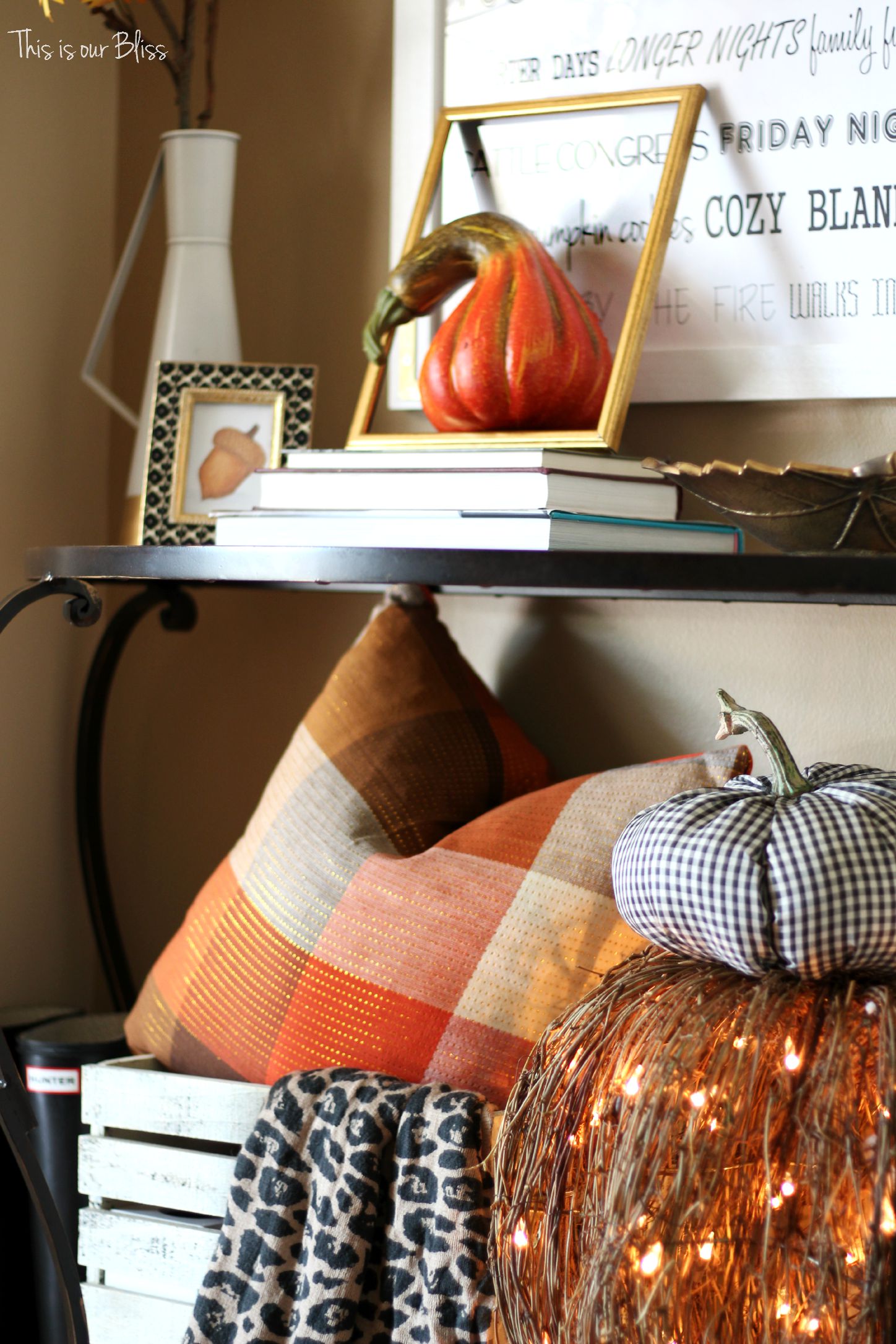 Look at the gold stitching glistening in the sunlight! It's just too perfect in my entryway! After all, I was able to make 2 pillows with 4 napkins for 5 bucks 🙂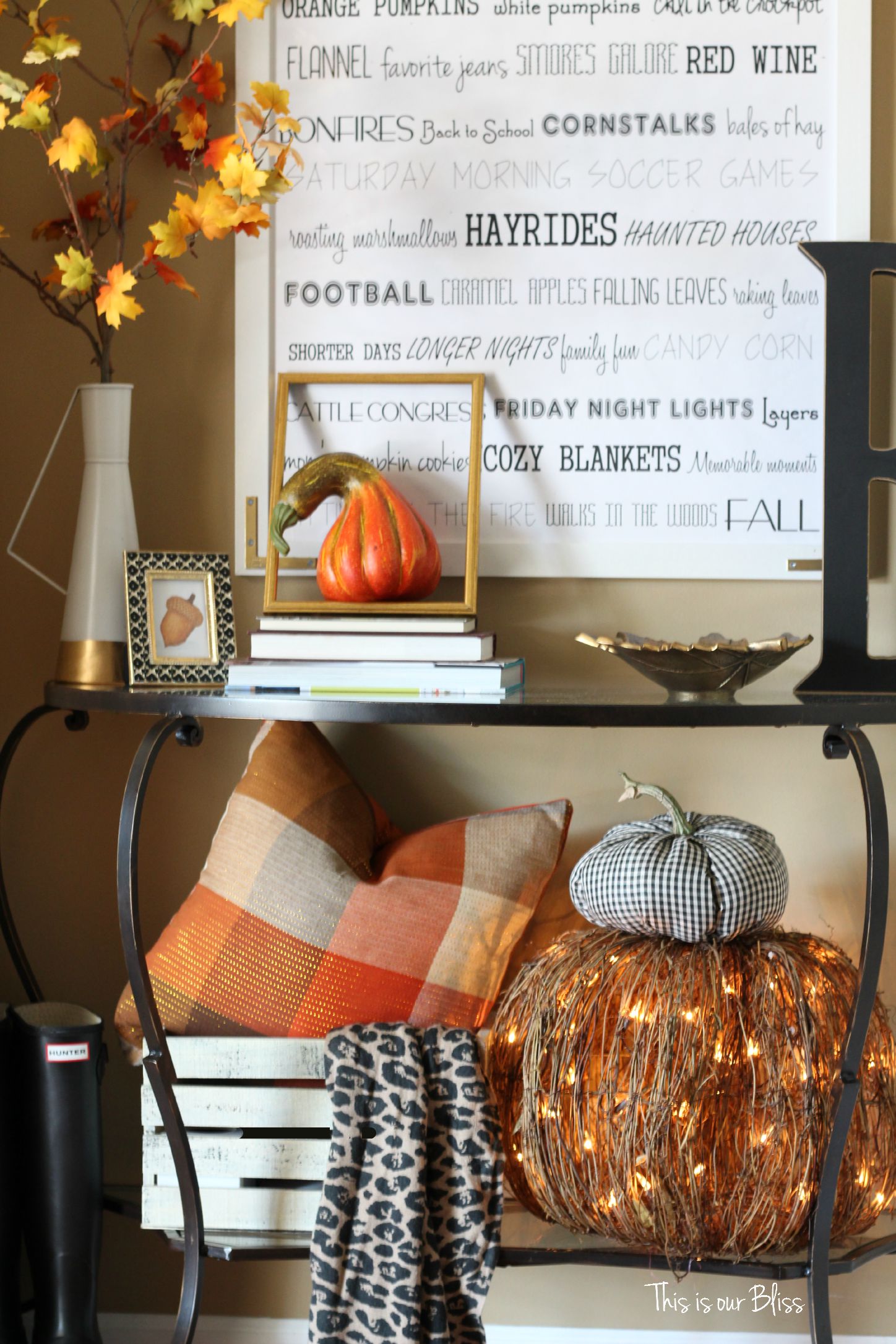 Plenty of plaid pillows to go around! One may end up in every room perhaps.
I know I didn't share the steps I took to create this, but there are a TON of pillow sewing tutorials out there – like this one here from Scout & Nimble. Check it out – super easy instructions if you've never made a pillow before – a zippered one, at that!
And if you are looking for a non-zipper option, Sarah from Thrifty Décor Chick has an awesome how-to for table linens! She finishes her pillow off with a hand-stitch. Either way is great – your preference!
Are you going to be stalking the table linens aisles now? I'm pretty sure I'm going to peek around at Target for some more today. Especially since I found the prettiest ones there last year that I used on my Thanksgiving table!

Are you going to try to get your hands on some fall cloth napkins?! What else have you used to make pillow covers with?
Please let me know if you score some goodies anywhere & share your DIY pillow secrets, too!
Have an awesome day and Happy Fall… now that it's official 😉