It's been a long and trying week and after being back in Iowa for a few short days, it feels so nice to be home. My heart is heavy and there's no other way to say it other than, I'm just really sad. My grandma passed away last week and although she had been struggling with a few health issues over the last 4 months, I sort of just thought she would…bounce back.
She was a fighter, a peacemaker, a lover, a sweet and sassy woman I was lucky enough to call my Grandma Pat for the last 31 years of my life. Right now, my joy comes from knowing she is in a better place – pain-free, watching the Presidential campaigns [she was a die-hard Democrat, who loved reminiscing about the days of JFK], sipping her white wine in her tiny little glass and baking up a mad storm of apple pies, chocolate log cake (for everyone's birthdays), scotcheroos and Santa cookies… or better yet, whipping up her famous Mexican chicken or pepperoni bread before serving up a scrumptious dessert (and pie was always served a la mode 😉 )
I remember trips to her cabin…walks by the water…slumber parties at her house with my sister and cousins with fashion shows in grandma's high heels, playing with dolls, endless games of tic-tac-toe, page-after-page of "Love You Forever" and "Where's Waldo", Root beer floats and watching TV, while "washing each other's hair" on the couch. Then finally, after piling into bed, she'd come into the room, no less than 10 times to tell us to be quiet and go to sleep or the sand man wouldn't be able to come and visit. After the whispering and giggles faded out, we'd wake up to the smell of pancakes, stacked a mile high, with a side of sausage and bacon. We'd eat our breakfast around the small table in the kitchen, watching her stand over the stove-top continuing to cook the most perfectly round pancakes and every few minutes throw in a few "silver dollars" because as kids, we loved the mini ones.
There is definitely no shortage of special memories or even just the everyday moments that now, and will forever, hold a special place in my heart. The pictures I have of her holding the boys that I made sure to take – after calling or texting her to let her know we were in town and find out if we could stop over or if she was out running errands, she wanted to come by my parents' house instead – now bring a tear to my eye and a smile to my face. She would bounce them on her lap, rock and sing them to sleep, and as they got older, she'd rummage through her closet to find toys they could play with while we visited in the living room.
This might be one of my very favorite pictures…of her and my oldest, Henry when he was less than a year old…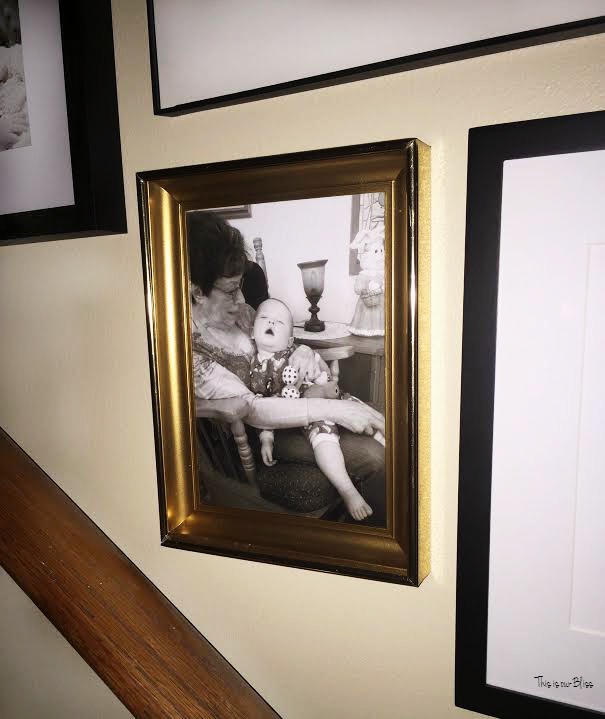 She had him sound asleep in her arms in merely seconds of sitting down to hold him in her rocker.
These images, whether framed on my stairwell or engrained in my mind, have a whole new meaning to me now and will always bring me back to those moments.
The happy times. The care-free, ordinary moments. The pain-free, worry-free days.
My grandma passed less than 2 weeks shy of her 80th birthday… and boy, would it have been a party! And still will be, she'll just be joined with far more guests than would've been here on Earth. And they'll be eating and drinking and having a ball.
She was my very first grandparent to pass away, so I am learning that pain and grief are only a natural part of life and death and all that goes along with it. Seeing my dad and his siblings hurting might be the toughest part of it all, but celebrating her life is going to be my goal while going through the healing process alongside the rest of my family. It certainly helps to have others around, even from a distance, who are dealing with the same thoughts and feelings.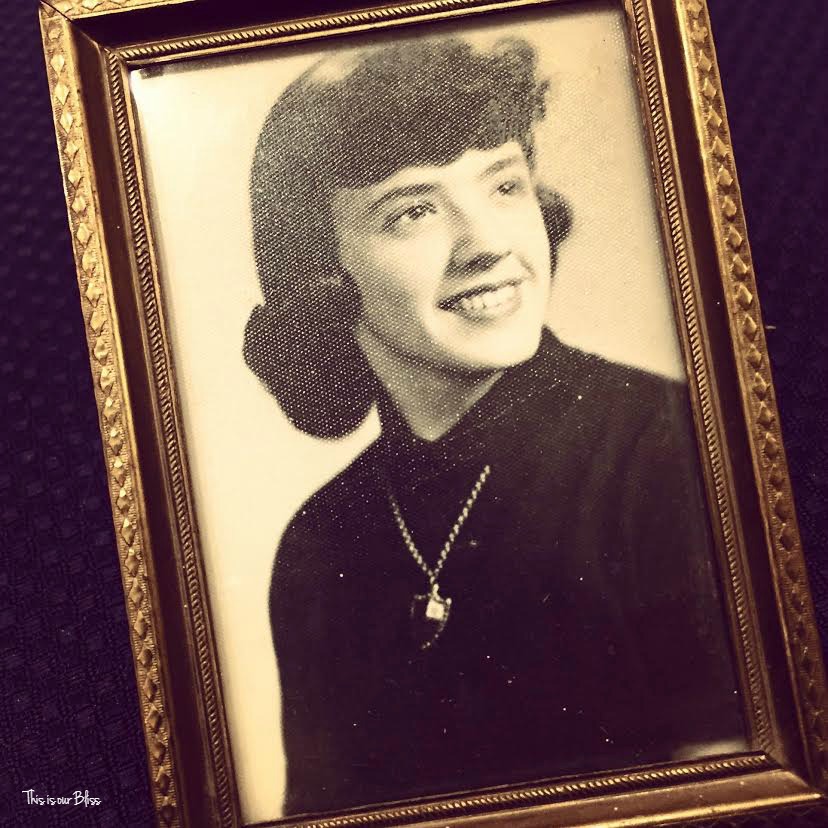 Thanks to everyone for your sweet notes when I shared her picture on IG and Facebook last night. I don't always share my heart, but when I do, you all are so incredibly sweet and supportive. It makes it easy to open up and be vulnerable with readers and friends like you!
Speaking of reading, since I was unexpectedly taken away from projects and posts, I was unfortunately unable to participate in the very first kick-off month of the It's so Ugly, It's cool Thrift Store Challenge. I'll be back in March, but if you want to see what these amazingly talented ladies were up to this month, check it out below:
And tomorrow, I'll be back with the rest of The Pretty Project Party gals to share our February favorites! If you haven't yet linked up, you still have a few hours left to do it here! Loving all of the pretty inspiration floating around blogland right now!
Thank you for letting me take a moment to step away to be with family and now share my special memories with you. Hugs and kisses to you all!