Hello and welcome! If you are stopping by today from Amber Oliver, I am thrilled to have you! Two things have me uber excited today. 1 – I am sharing our brand new accent wall in the master bedroom [which is truthfully one of the first nearly finished spaces in our new house] and 2 – I'm joining 19 other bloggers this week who are also sharing wall treatment ideas for bonus inspiration! The bedroom wall was honestly finished in the knick of time to be able to participate in this fabulous blog hop hosted by Jenna of Rain on a Tin Roof. She rounded up some of her modern/eclectic friends to be able to show you all there ARE other ways to create an accent wall OTHER than shiplap. There is absolutely nothing wrong with shiplap walls, but they are EV-ER-Y-WHERE right now because of Joanna Gaines' and "Fixer Upper".
If shiplap is your jam, then roll with it. But if you are looking for alternative, less farmhouse-y ideas, then we are here for YOU!
My style calls for a wall that's a bit more bold…with a touch of chic.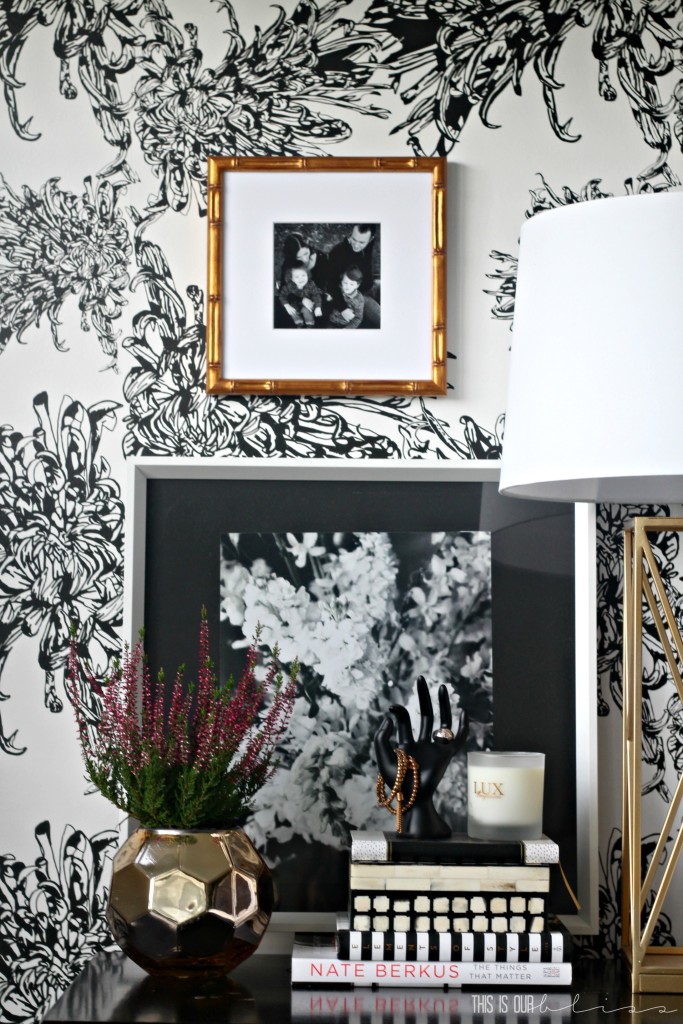 I've been dreaming of [and pinning] wallpapered walls for years, but just never pulled the trigger on using any in our last house. I knew once we were all moved into our new home, I would decide on the "chosen room" or wall in this case and up it would go!
I wanted a whimsical, but bold pattern and when I found Narnie by Ella and Sofia, I never looked back.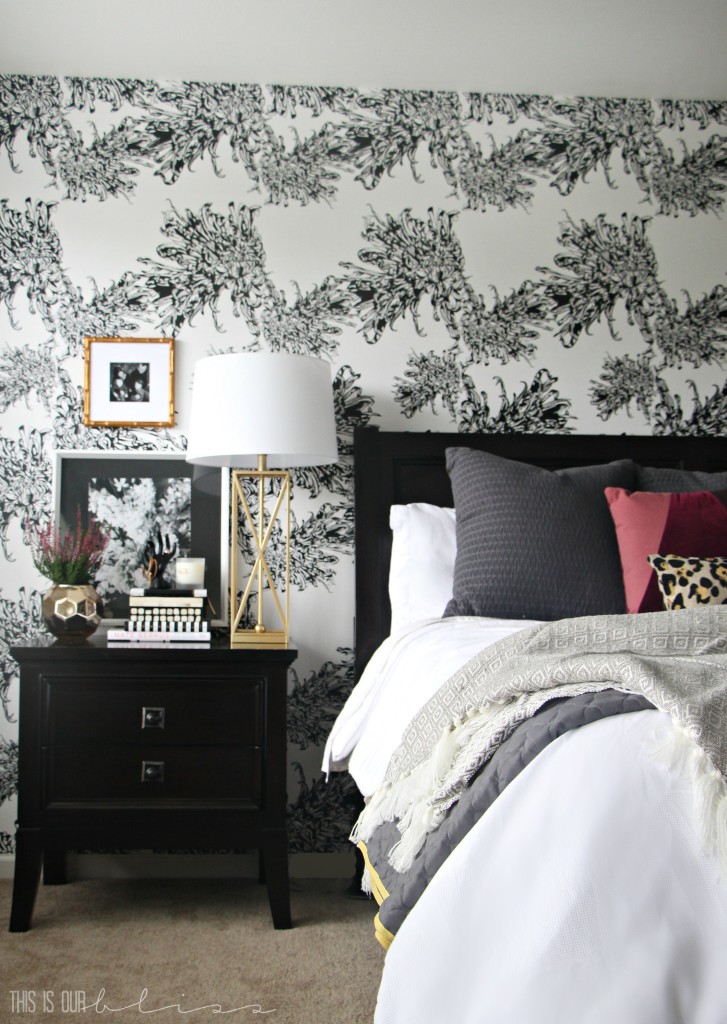 It's a strong paper, double layered, non-woven and is fade resistant. It's also finished with 2 coats of specially formulated glaze to allow it to be cleaned.  Here's to hoping I don't have to do much in the cleaning department on this wall, but when we're talking about 2 and 4 year old little boy mits, anything is possible!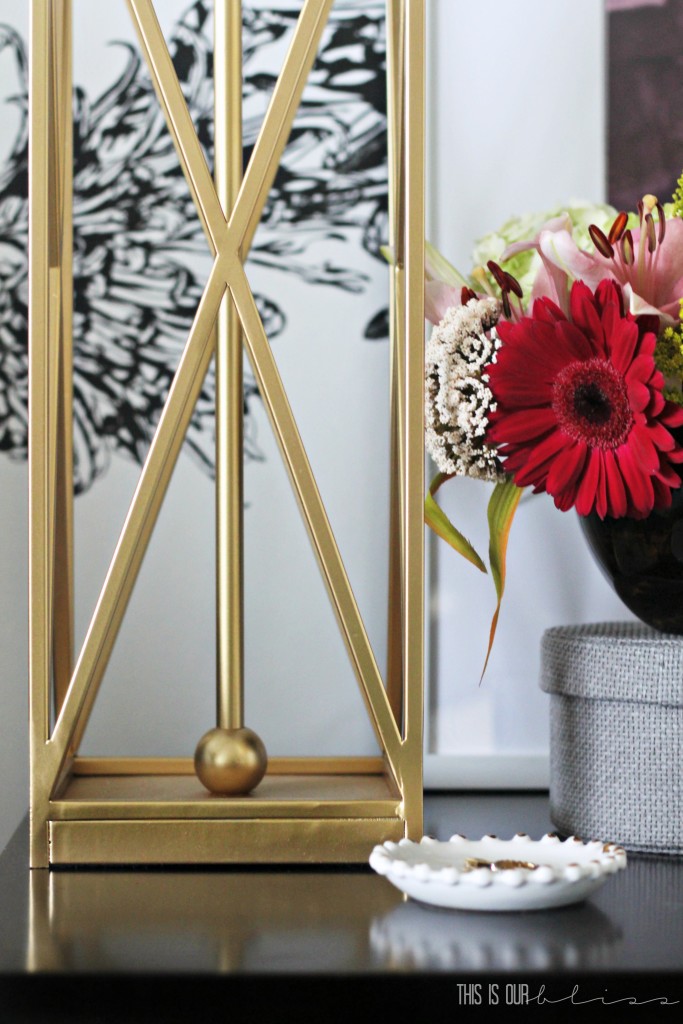 It's pretty accurate to say I would deck all of my spaces in black and white to the nine's if I could, but T prefers a little color, so I sprinkle it in little by little. He hasn't said anything yet about me sprinkling in shades of pink and hues of blush and burgandy, so I guess I'll just keep doing it.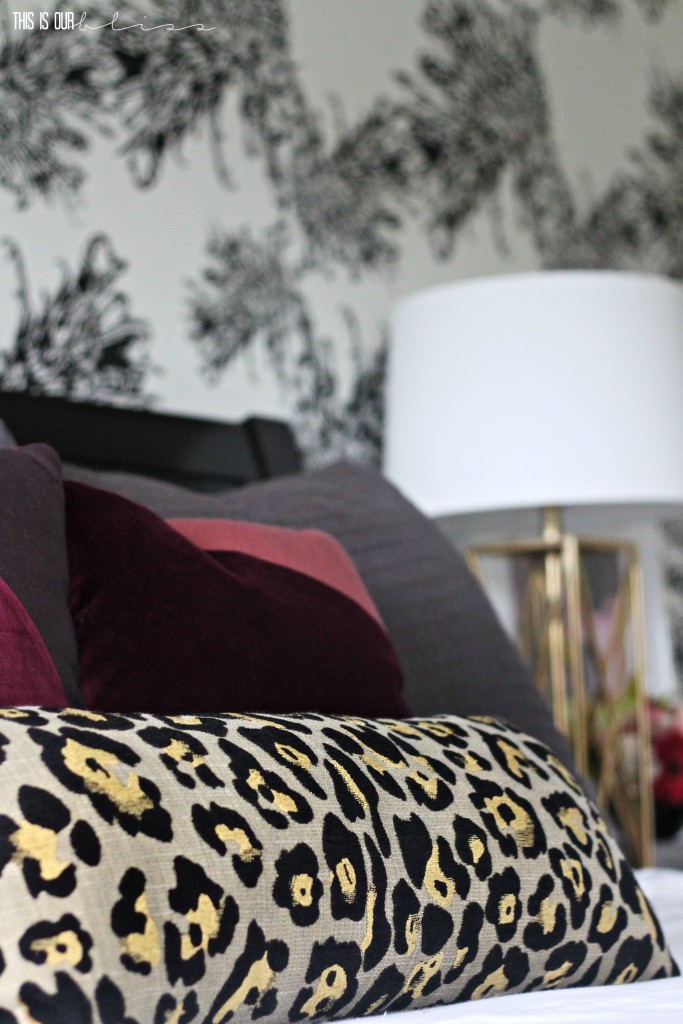 Besides, a little femininity in the bedroom never hurt anyone! After all, don't we mamas deserve a little retreat of our own?
I wholeheartedly believe so.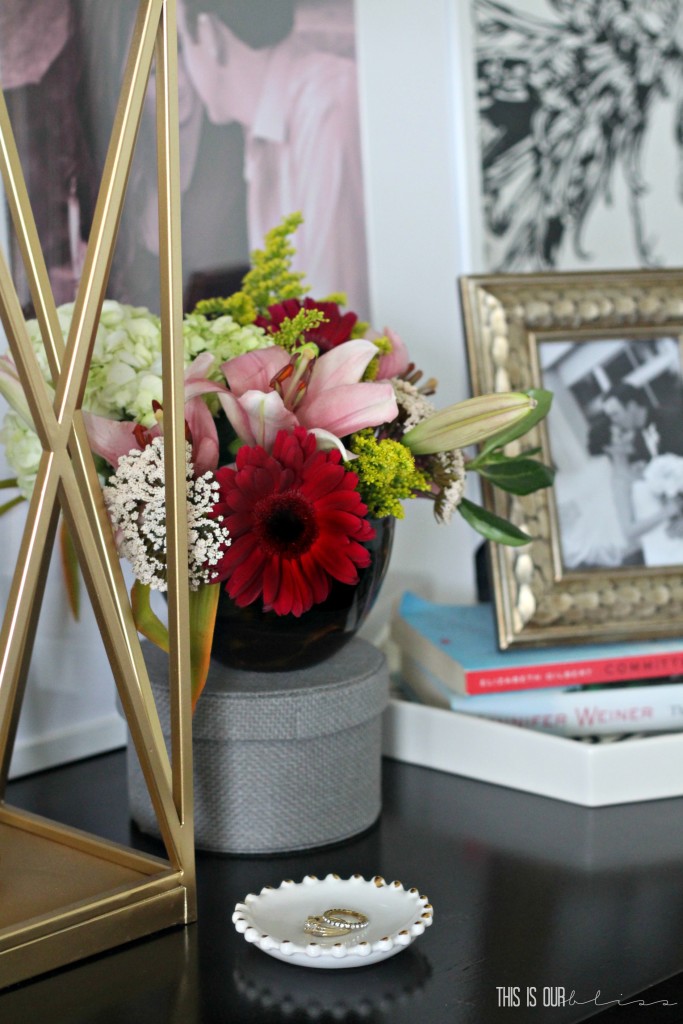 And it's not really in my typical fashion to omit a variety of art and frames from a wall, but I was so nervous to puncture the freshly hung paper! I simply placed the large white frames resting on the nightstands and then leaned them against the wall. You might recognize some of these pieces from my master bedroom refresh earlier this year in our old house. Remember that DIY pink tinted photo? Yep. Still loving it!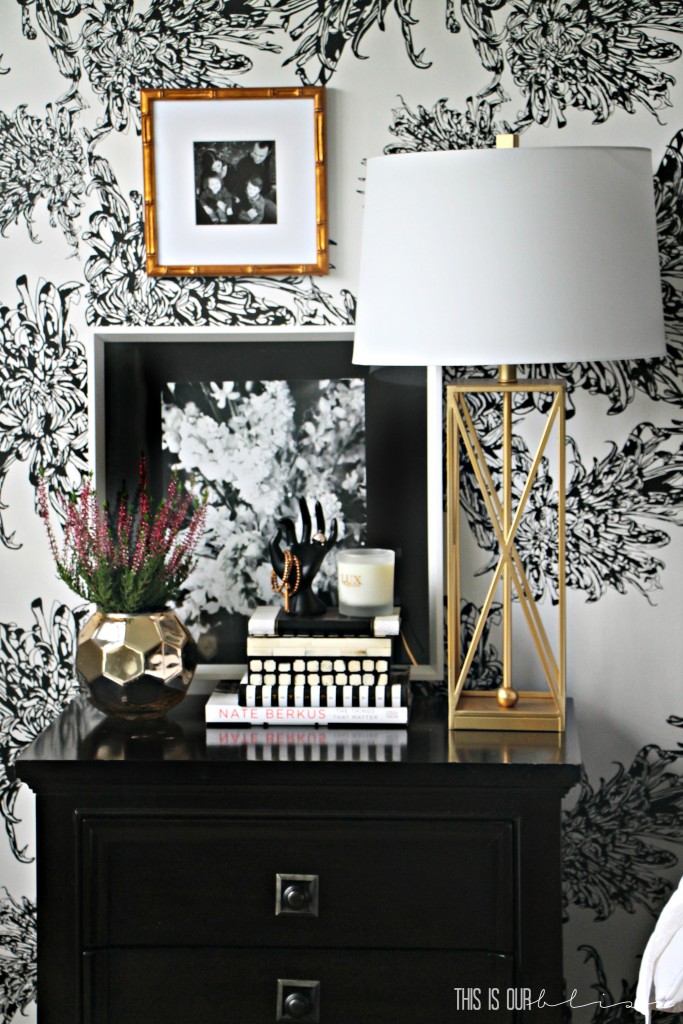 However, I did hammer one teeny tiny little nail into the wall to hang the gold bamboo framed family photo.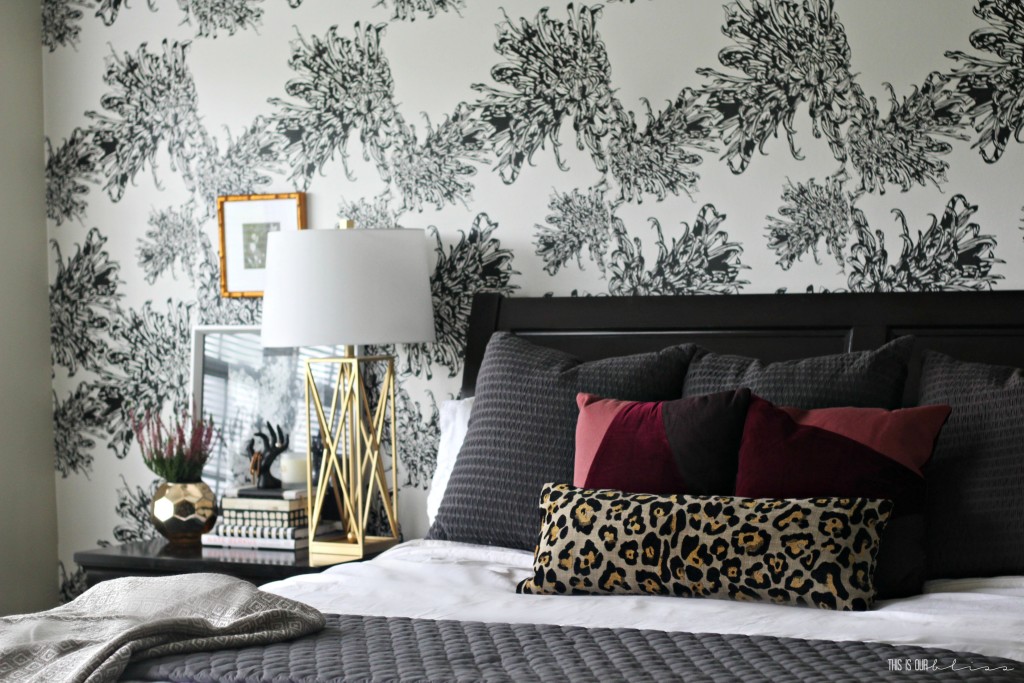 I truly feel like I'm walking into an ultra sophisticated boutique-y hotel every time I step into OUR bedroom. I am absolutely head over heels in love with the wall. And in case you haven't heard me chatting about my obsession with black doors, well here's a sneak peek of one of my very own. I love the drama it adds to the house contrasting with all of the walls and trim.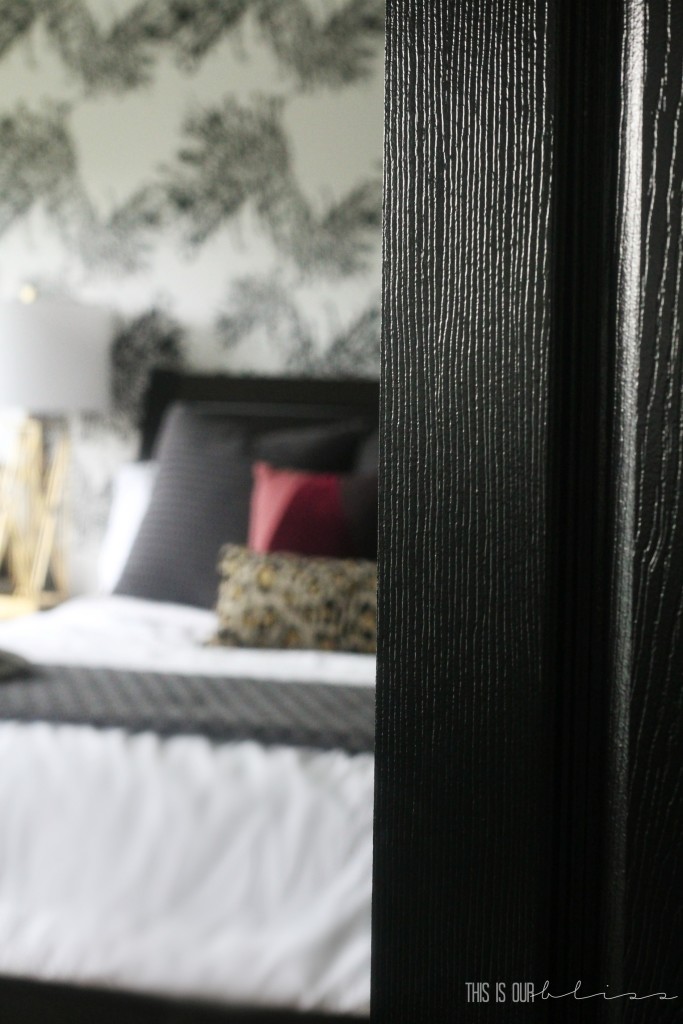 I think they'll stay black for awhile. Ha! What do you think?
Don't forget to pin for later…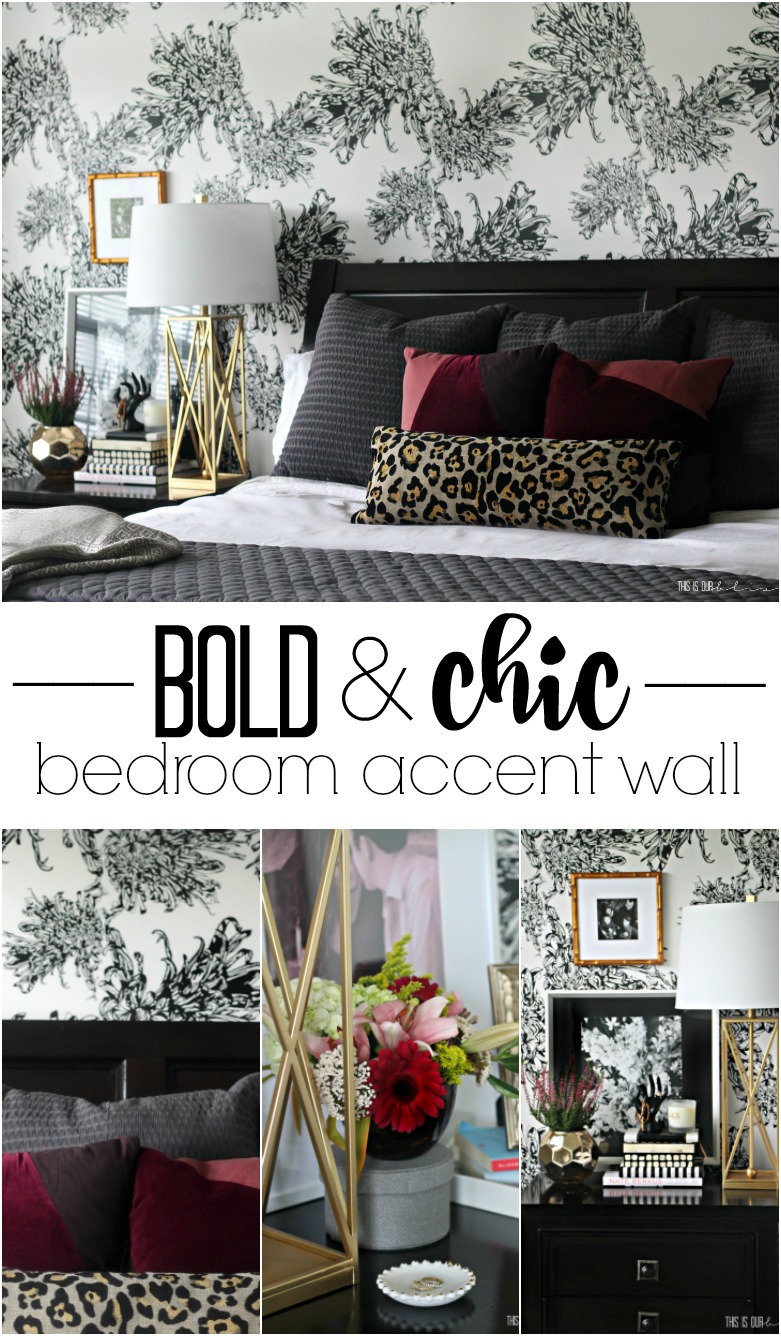 Shop this post:
*Affiliate links are use below, which means I may earn a small percentage if you click on a link and make a purchase. This is of course at no additional cost to you! I only recommend brands and products I know, love and trust!
And for 19+ more wall treatment ideas from wallpaper to tile to stencils and washi tape, check out these exquisite examples below! Be sure to head over to Sharon Joyce Interiors next!
Monday, September 19th
Rain on a Tin Roof
Cassie Bustamante
Up to Date Interiors
Two Thirty-Five Designs
Suburban Bitches
Wednesday, September 21st
*This post was in collaboration with Milton & King. An enormous thank you to them for providing me with this beautiful wallpaper for my bedroom. All thoughts, opinions, styling and photos are my own. Thank you for supporting the brands that help This is our Bliss continue to bring you great content!