Hey out there! Welcome! Thanks for swinging by today to check out my first holiday project post of the year, but don't worry. They aren't going to start flooding in yet. I juuuust shared my Simple Halloween Mantel last week and need to work in some Thanksgiving goodies in between. However, Ariel from PMQ for Two is hosting a fabulous holiday wreath hop today in hope we take a bit of a jumpstart on the holiday season in order to help your creativity and inspiration start flowing!
What do you think?
Are you ready to see 21 spectacular DIY wreaths to get you ready to rock & roll this holiday season?!!
First, I'll share a bit about my version of a modern minimalist wreath inspired some of favorite decor pieces…sunbursts, urchins and sputnik chandeliers. You can check out my latest sputnik light fixture in any of my recent One Room Challenge dining room progress posts [ 1 | 2 | 3 | 4 ] My style has definitely become more modern and I've always dug the glam look, so I think this wreath is a fun twist on the traditional wreath and will fit well into my upcoming holiday home decor! You can see last year's Merry, Bright & Blissful Home here.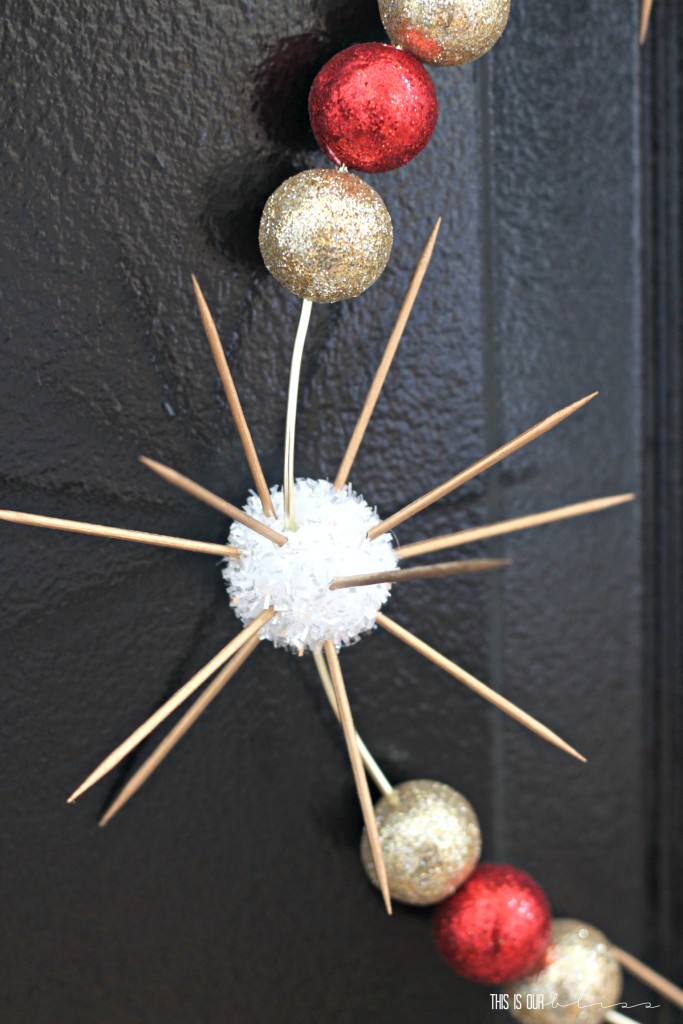 So here is what I used…
SUPPLIES
gold floral wire
wire cutters
styrofoam fillers [red, gold and white]
toothpicks
gold spray paint
tape
ribbon
First I decided on my "pattern". I wanted to group 2 gold + 1 red ball together and then the larger white one spaced a little ways out…,maybe 2 inches.
Next, I took my toothpicks and spread them out on a paper plate and spritzed them with gold spraypaint. I gave the plate a little shake to make sure the toothpicks didn't stick to the plate and essentially flipped them over at the same time. I then sprayed the backside of the toothpicks and shook the plate again. Let dry.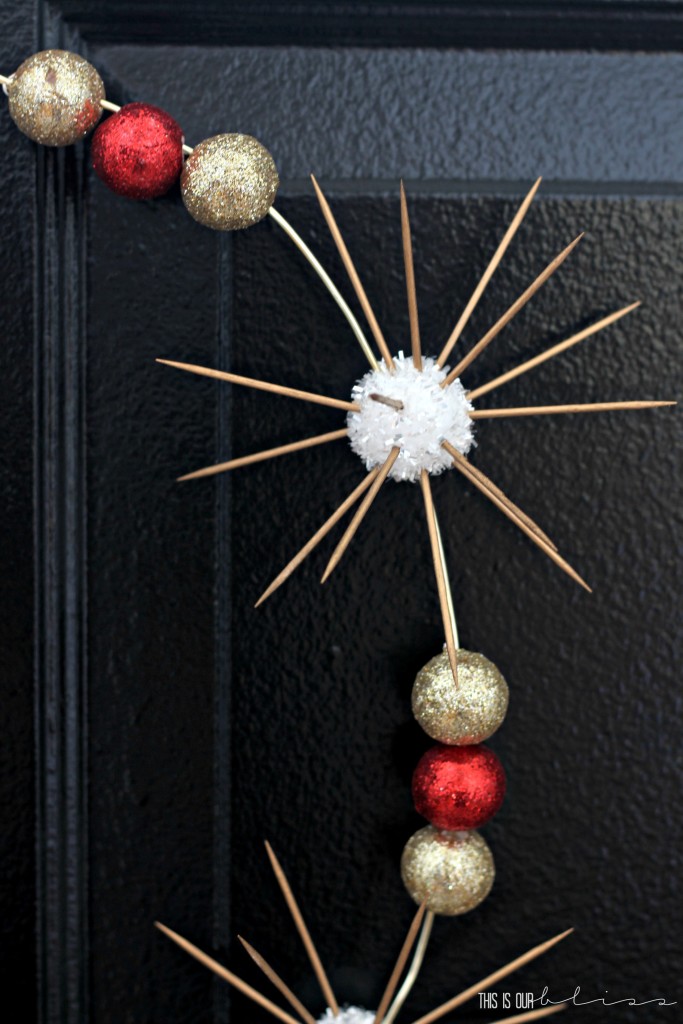 Then I started stringing the balls on the wire. Once I determined grouping and spacing, I started to poke the toothpicks in the white balls to form a mini "sunburst" I filled the top half of the ball with toothpicks leaving the bottom half / backside empty so it would lay flat on the door. After filling up each white ball with the desired amount of "spikes" and reassessing the spacing, I formed the circle with the wire and snipped the end with wire cutters. I simply rolled a piece of tape around the 2 ends to hold them together. I'm sure there was a much more efficient way to go about attaching the ends, but since I was going to use a ribbon at the top, I knew the tape wouldn't be seen!
Lastly, I looped a piece of ribbon around the taped section and tied a bow at the top. I popped one of these on my door and hooked the bow onto it.
And there is my modern minimalist wreath!!
Now for the other beauties…head on over to the sites below to see the rest of these brilliant blogger's creations!
Up to Date Interiors | Cottage in the Oaks | Architecture of a Mom
Nourish & Nestle | KS Craft Shack | My Life From Home
Craft & Tell | The Uncommon Law | Monica Wants It
Twelve On Main | PMQ for two | Atta Girl Says
The DIY Mommy | Flourish and knot | Maggie Overby Studios
Hey Fitzy | Domicile 37 | Our Crafty Mom
This Is Our Bliss | Timeless Creations | PMQ for two

I hope to see you right back here on Wednesday for another One Room Challenge update! and eeeek! The reveal is next week already!
Have a great day!