All of the decking is DONE! And I'm so excited to welcome you in for the first peak of our Merry & Metallic Christmas Home today! If you are joining me from the 12 Days of Holiday Homes Tour, then welcome! Today marks the 5th Day of the tour, hosted by Evolution of Style and 11 Magnolia Lane! I'm so honored to be part of this lovely group of incredibly talented bloggers sharing their inspirational holiday homes!
Today, I'm going to invite you in to see my Merry & Metallic Christmas Living Room. As for the rest of the house, I'll be sharing several other spaces over the course of the week, so please come back to see the rest!! But for now, come on in…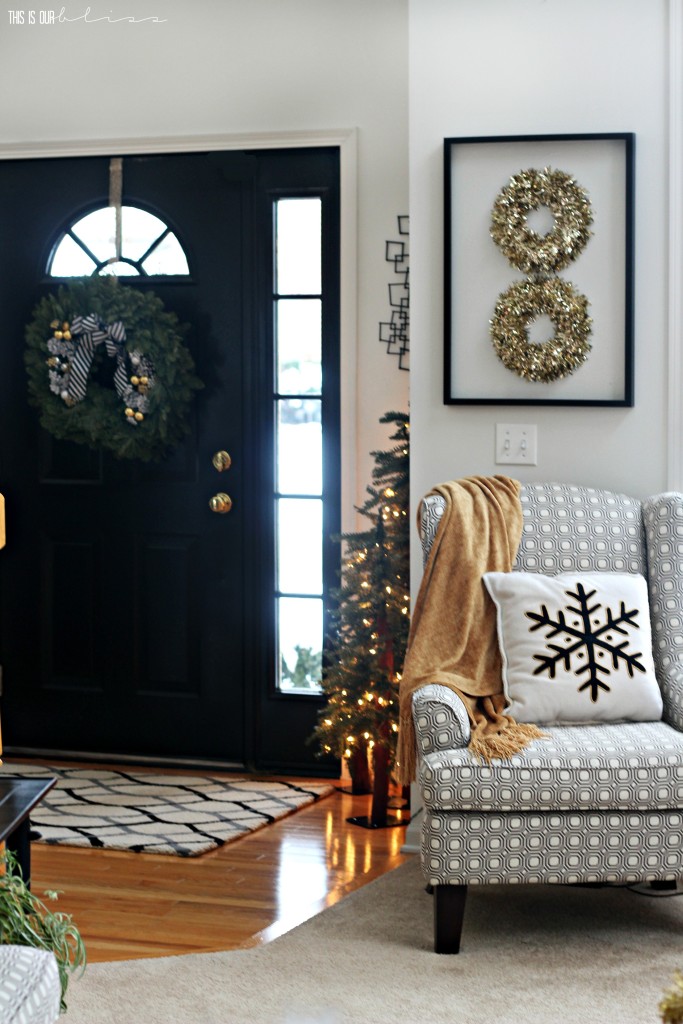 This year, I decided to go COMPLETELY neutral in our living and dining room spaces. It's no secret that I love all things gold, so creating an entire space or TWO using my favorite combo of black and white with mixed metals was a dream! I've never been one for much color, but typically use bold pops of red at Christmastime. The 2 rooms flow right into each other with nothing more than a large arched opening to separate the spaces. It sort of turned into a game, how much neutral glam can I add in here?! The family room does have more traditional red accents and I'll be sharing the inside scoop of that space tomorrow, so stop back by!
Since we moved into this house in June, I've finished up a few spaces [Dining Room, Big Boy Room and (part) of the Master Bedroom], but quite a few walls are still blank. Heaven forbid!! Decorating for Christmas was a good excuse to put up some temporary bling! I added 2 tinsel wreaths from the Dollar Tree and then placed an open IKEA frame around it. I've used this empty frame look before to create a larger statement for 2 smaller pieces of art and love how it looks.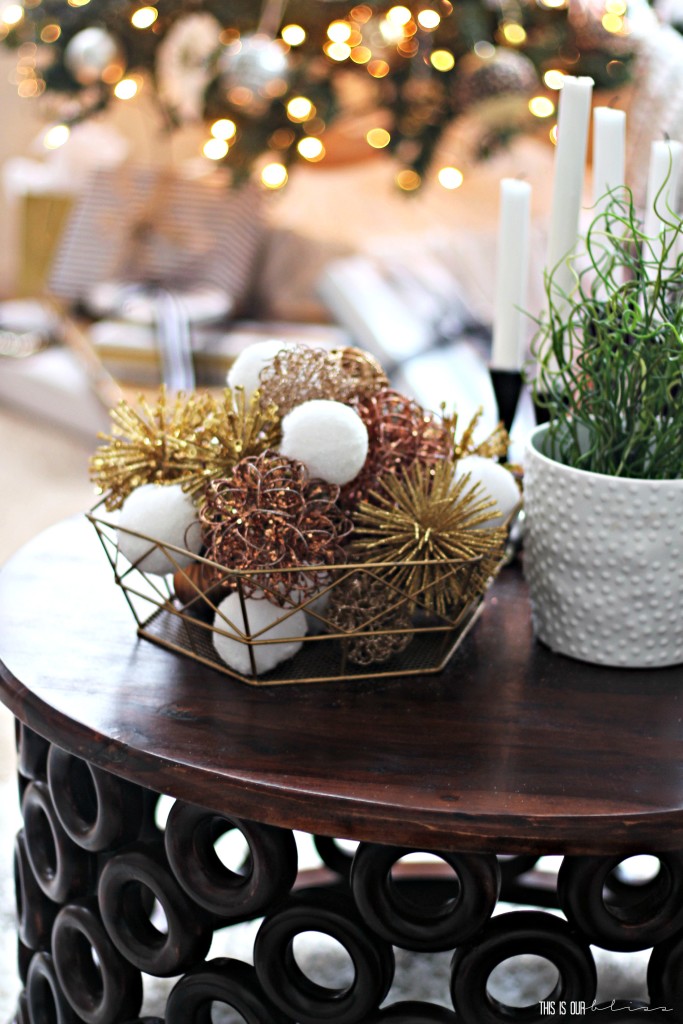 Since I'm using only neutrals with a ton of different metallics, I wanted to be sure to create lots of texture on my table-top surfaces, like this white planter and a collection of ornaments and small glittery objects in the geometric metal basket… and then on the couch, of course too.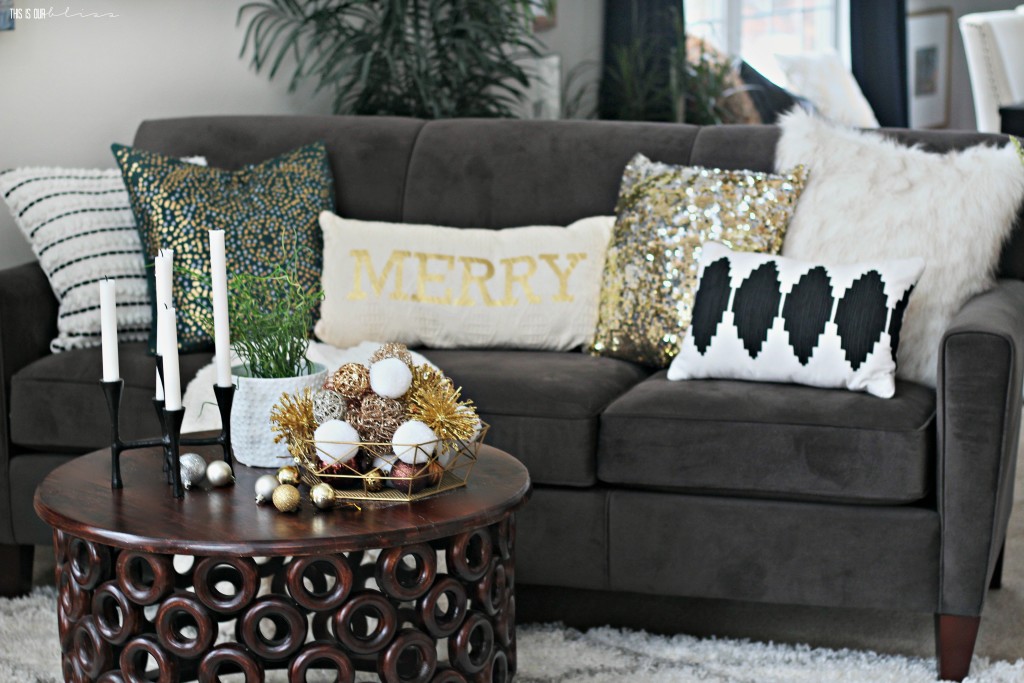 There surely isn't a shortage of pillows in this space!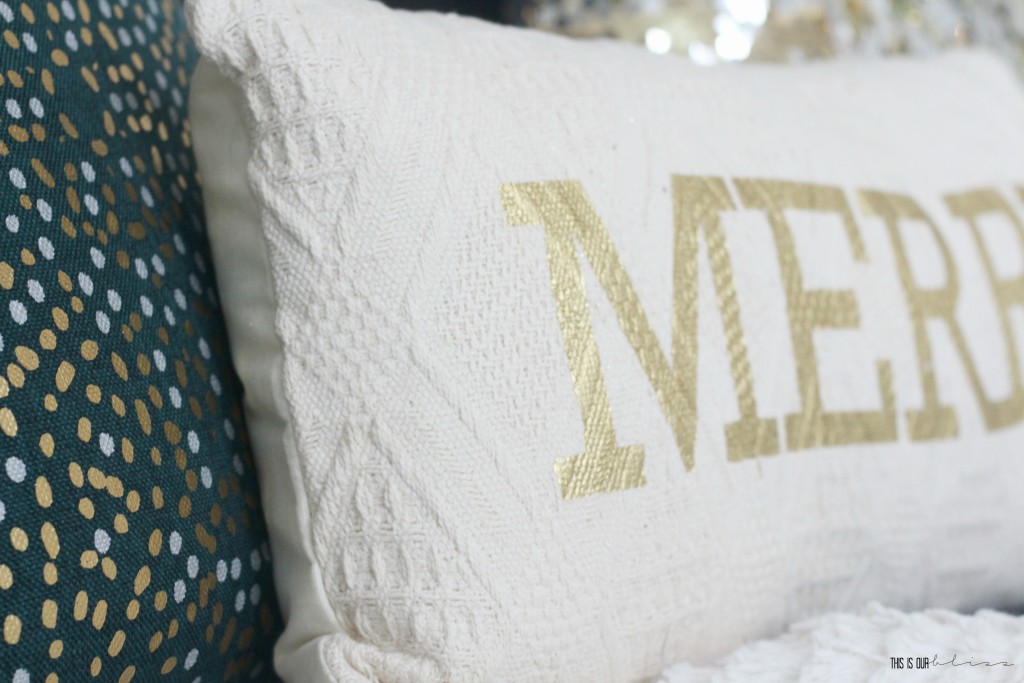 From the cozy, sweater "MERRY" pillow to the furry, pom-pom and black and white ones I used in my fall tour this year…and I had to toss on the gold and silver mermaid sequin pillow. You might be remember it from the Christmas Living Room couch last year. It's think it's turning into a holiday staple around here.
It was so wonderful to have  a brand new dining room to deck this year after finishing it up for the Fall One Room Challenge. I'll be sharing the deets from in here on Friday, but for now, here's a teeny tiny peek behind the couch…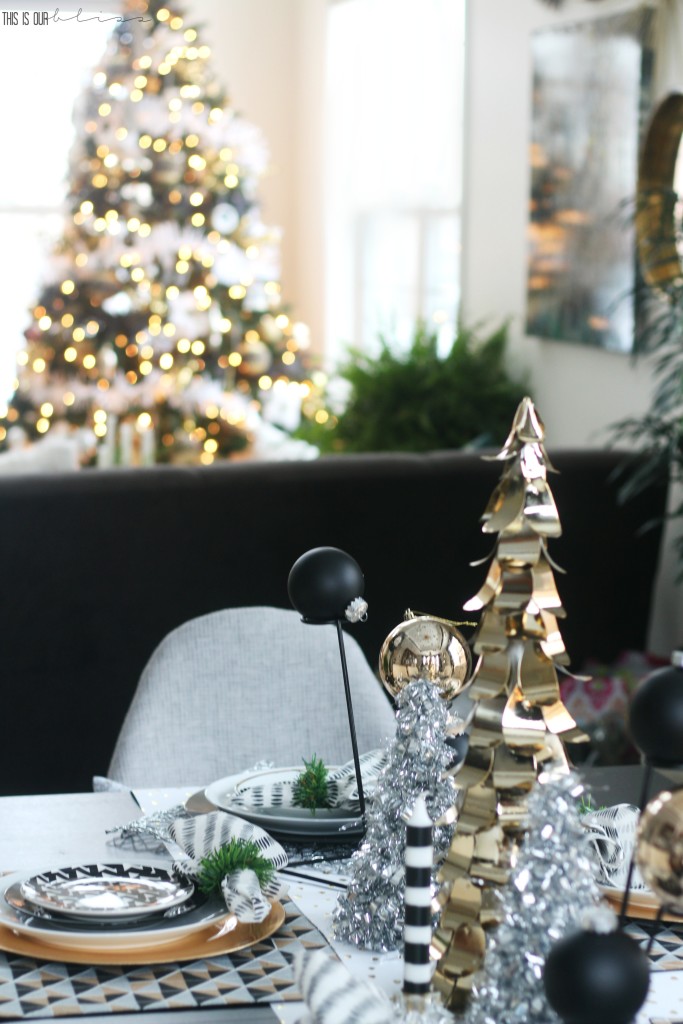 And oh, what the heck! Here's a peek of the table looking into the living room towards the tree, while we're at it!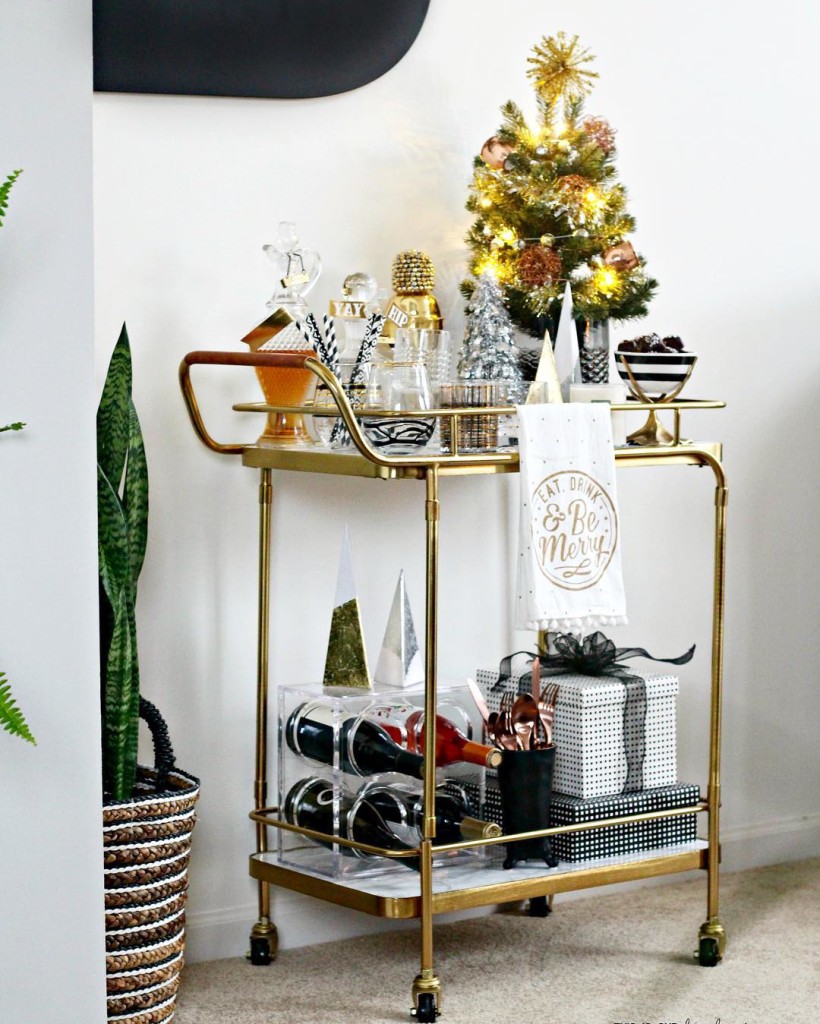 After rearranging the living room to make room for the Christmas tree, I ended up with a large open space on this stairwell wall. So I rolled up my sleeves and wheeled the new bar cart in from the dining room and parked her right here. Why not have easy access to Christmas cheer in the living room as well?!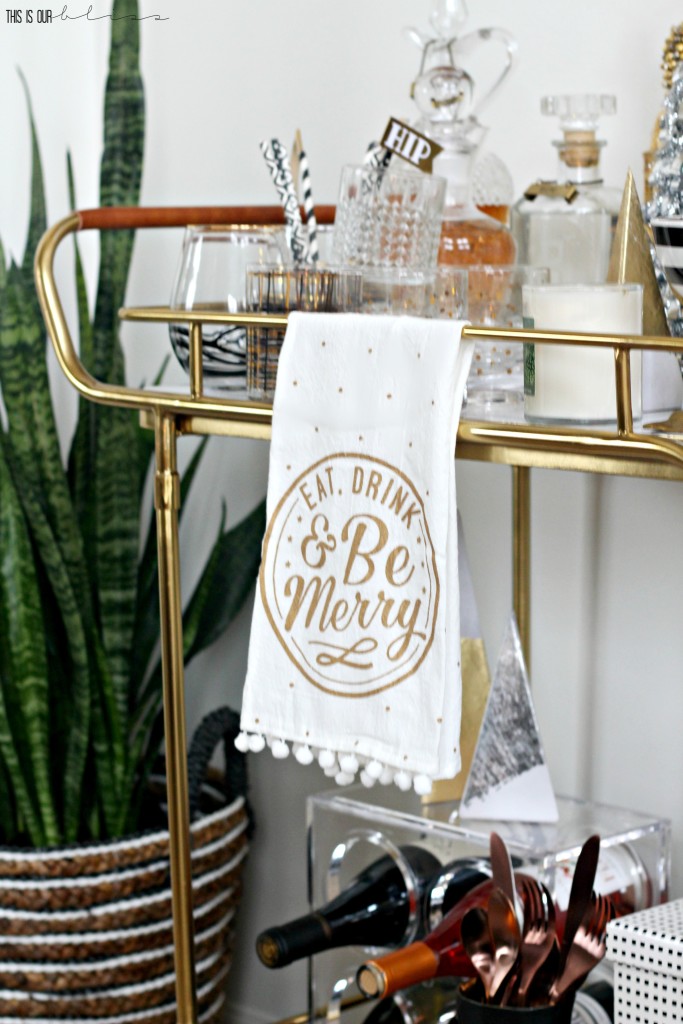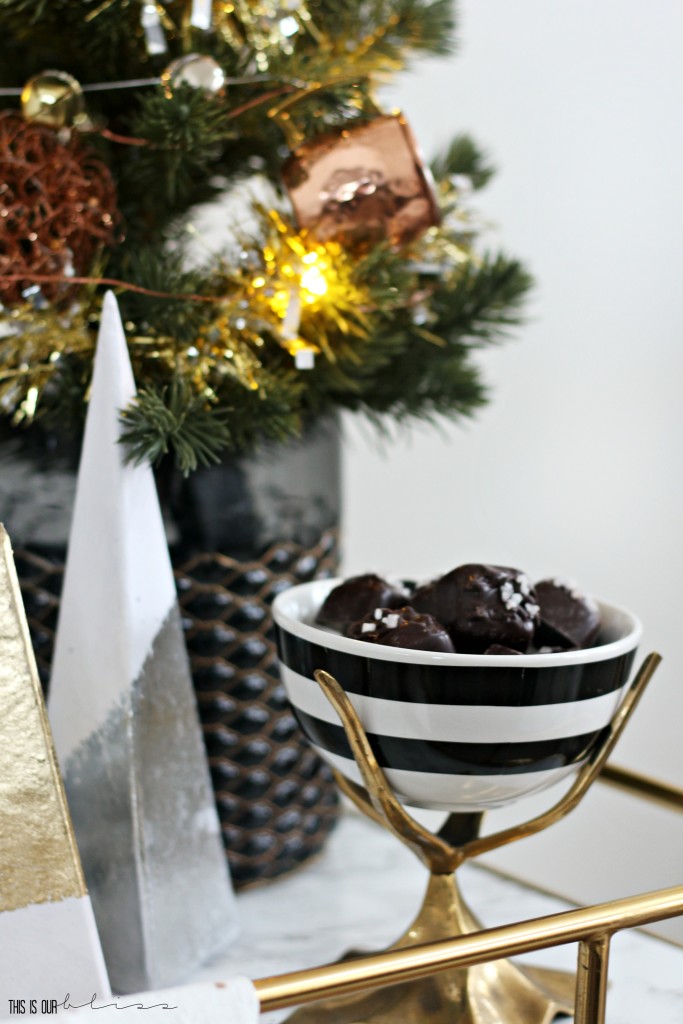 I decorated my tiny tree with a few Dollar Tree garlands and found these mini moscow mule mugs and hung them up as ornaments. What better way to incorporate some copper onto the cart! Festive gold foil cocktail glasses, decanters and an acrylic wine rack topped with metallic paper trees fill the cart right up!

PSA: These dark chocolate sea salt caramels you see above are THE.MOST.DELICIOUS.CHOCOLATES.EVER! They are from Trader Joes and I buy them year-round to have when I need a yummy treat! Around the holidays, I scoop up 10+ boxes and have them on-hand for hostess gifts or to serve when guests are over. I emptied a box into this striped bowl and propped it up on that brass stand I scooped up at the thrift store a few months back. If you don't have a TJ in your area, you can buy them online here.
Chocolate never goes out of style, does it? Ok, now back to the living room…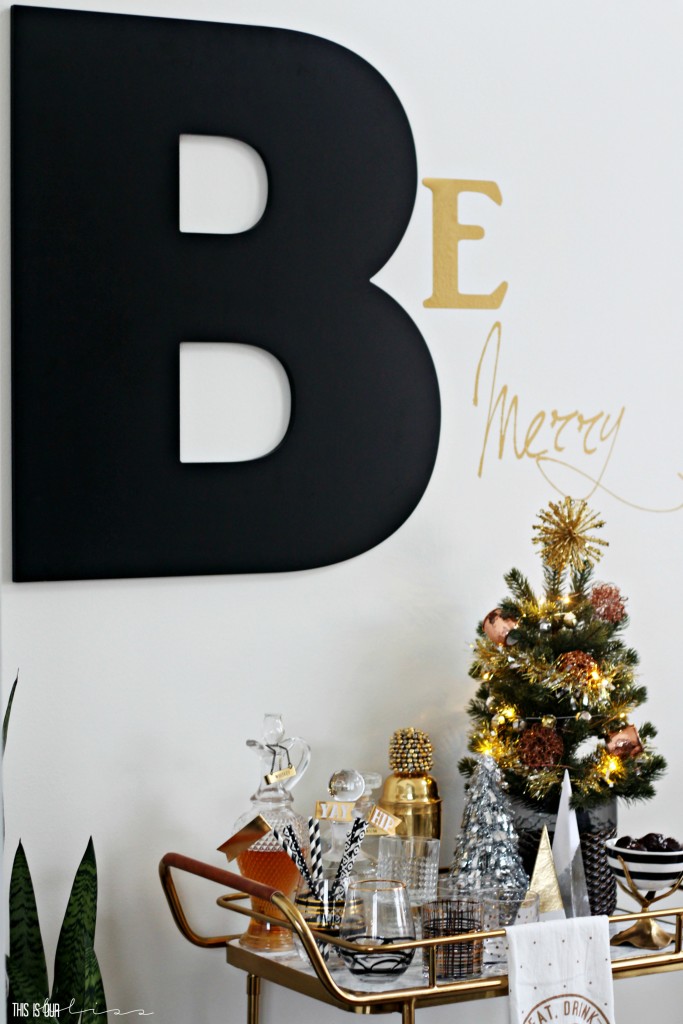 The large "B" was used in our old house in the kids' play area in the basement. It had been leaning against the wall in the storage space in our new house, waiting for a new home. I'm not sure how long it will stay in the living room [because I might end up hanging it in the playroom when I get my hands on that space], but I thought it would make a fun statement as the initial of our last name and some holiday word art. I simply used my Silhouette Cameo to cut the "E" and "Merry" on gold vinyl and slapped it up on the wall. I love how I created a unique piece of art without having to spend any money. Shopping your own home is always the way to go!
We worked our way around the room and are back at the tree now. I'll be dishing on this particular tree's decor on Thursday for the My Home Style: Christmas Tree Edition 2016. I told you I have a lot coming your way this week! You can see my 2015 living room tree deets here.
And last, but not, least I decided to do some last-minute decking to our front entryway table. I kept the lamp and black and white art print, but rounded up the mirror, bowl, pillows, ornaments and mercury glass light strand from the house and picked up the itty bitty "Merry and Bright" sign from HomeGoods. I can't even begin to tell you how much of my Christmas  decor is from HomeGoods. Wait, who am I kidding? Like 80% of my house is from HomeGoods. I can't ever seem to leave there empty-handed!
Can anyone relate?!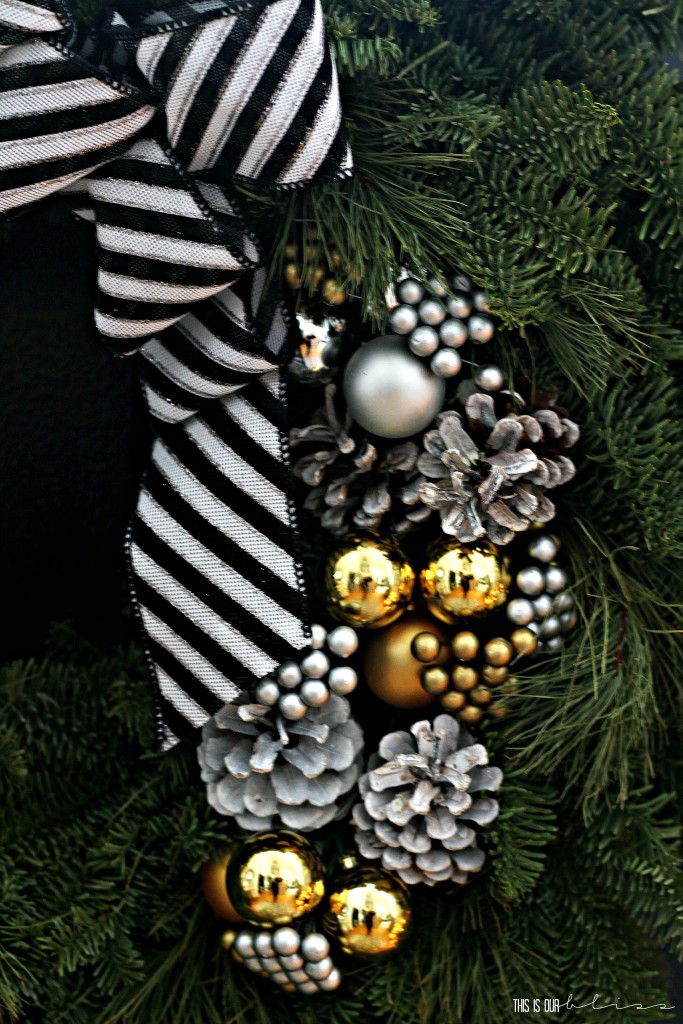 A special thank you to Lynch Creek Farm for sponsoring the 12 Days of Holiday Homes tour this year! I knew their City Skyline wreath would be the perfect addition to my holiday home this year – she fits right in!!
Thank you all for stopping by and allowing me to share the inside of our home with you. It is a special time of the year and I love being able to welcome friends, family and readers like you in for some cheer!

 The beautiful home of Cassie Bustamante is also being shared today on Day 5 of the Tour, so please go pay her a visit. You're going to fall in love with her writing and wonderful, eclectic style!
If you missed days 1-4, you can catch up on the rest of the tour below!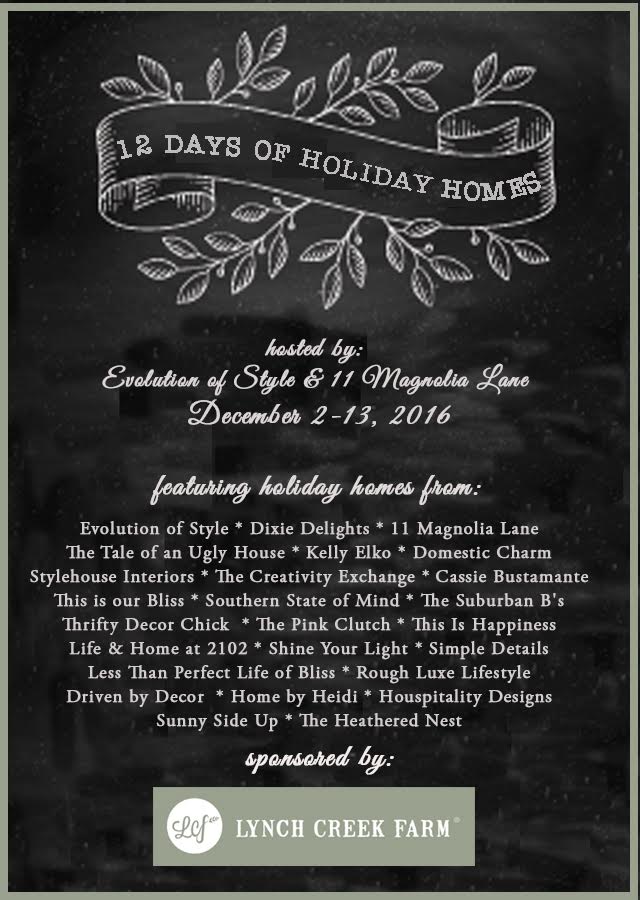 Friday, December 2
Jenny from Evolution of Style
Amanda from Dixie Delights
Saturday, December 3
Christy from 11 Magnolia Lane
Brenna from Domestic Charm
Sunday, December 4
Amy from 11 Magnolia Lane
Amanda from The Tale of an Ugly House
Monday, December 5
Kelly Elko
Jen from Stylehouse Interiors
Cyndy from The Creativity Exchange
Tuesday, December 6
Cassie Bustamante
Rachael from This is Our Bliss
Wednesday, December 7
Heather from Southern State of Mind
Erin & Tricia from The Suburban B's
Thursday, December 8
Paige from The Pink Clutch
Becky from This Is Happiness
Vel from Life & Home at 2102
Friday, December 9
Pam from Simple Details
Sarah from Thrifty Decor Chick
Saturday, December 10
Julie from Less Than Perfect Life of Bliss
Cindy from Rough Luxe Lifestyle
Kris from Driven by Decor
Sunday, December 11
Heidi from Home by Heidi
Shirley from Housepitality Designs
Monday, December 12
Erin from Sunny Side Up
Heather from The Heathered Nest
Lisa from Shine Your Light
Tuesday, December 13
HOLIDAY HOME LINK UP!
I'd love if you joined me back here again each day this week to see more of our Merry and Metallic Christmas home. I can't wait to share more with you! Click the image below to get a full tour of each room!
To view last year's Merry Bright and Blissful tours, see below:
Overview | The Living Room  | The Family Room | Front Door & Entryway | Christmas Table
We officially have snow in Chicagoland so the remainder of my shopping is going to be done from in here! Have a wonderful day and I hope you're enjoying the holiday season so far!
Care to shop my Merry & Metallic Christmas Living Room? Go right on ahead!
*Affiliate links were used below.