Woo hoo! The 3rd and final part of my Merry and Metallic Christmas Home Tour today and while I know you've seen A LOT of this space over the last couple of months, I still can't wait to show it you all dressed up for Christmas! The Dining Room is blinging, ringing and singing with Christmas cheer! Today I'm sharing my Merry and Metallic Christmas Dining Room as part of the Winter Eclectic Home Tour 2016 hosted by Jess of Domicile 37. If you're joining me today from Foxy Oxie, welcome and be sure to head over to Monica Wants It next! The rest of the tour schedule is posted at the end. Right after all of the Christmas and decor sources you see in my space. Yep, I've linked to many of the things you'll see here today.
Alright, let's get to it!
Some of you might be new to This is our Bliss so you'll be seeing this space for the first time, while many of you followed along with me while I embarked on the One Room Challenge this past fall. Either way, I hope it's a treat seeing it decked to the nines in bold black and white and shiny metallics. Soooo many metallics!! You might need your sunglasses 😉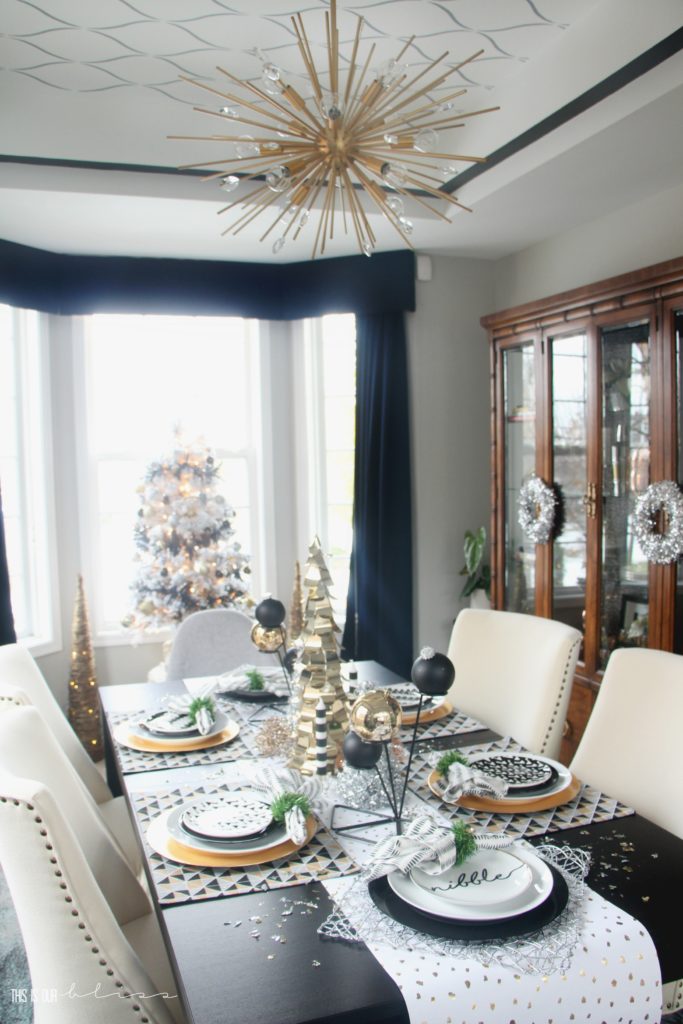 I did up the table, added a few mini Christmas touches to my thrifted hutch, added a Christmas Tree in front of the window [and moved the bar cart to the Living Room for the Holidays] and switched out some of the art on the walls. It didn't need a lot of work since I truly JUST finished the space last month.
After the ORC wrapped up, I couldn't wait to get my hands on this table. Setting a tablescape at any time of the year, but with a brand new dining table and chairs, it called for a slightly more festive look!
Don't you agree?!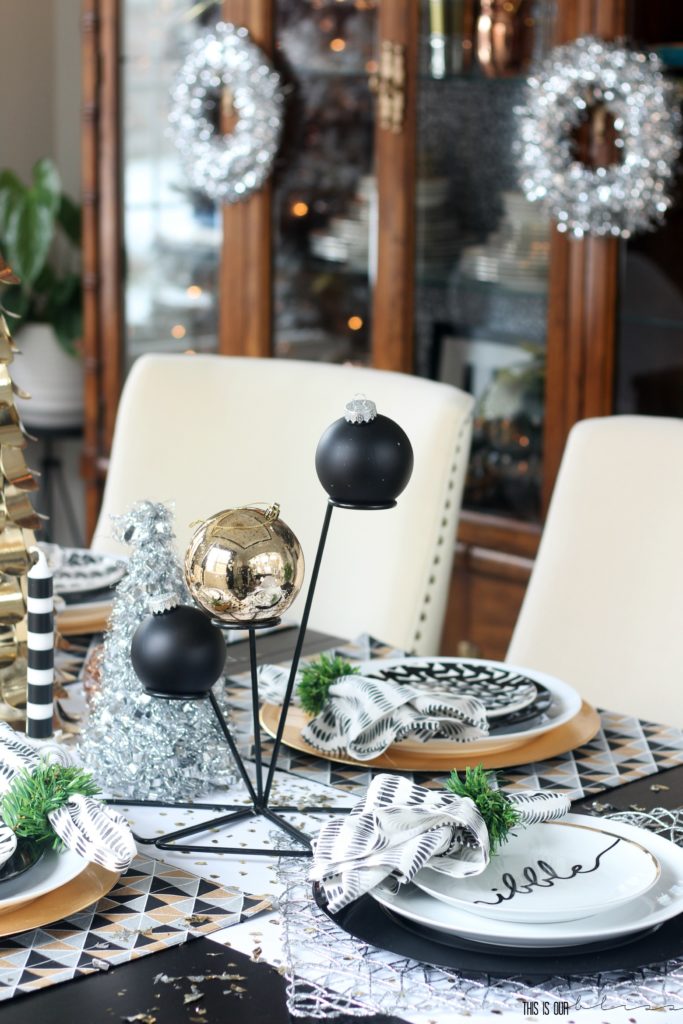 The Christma-fication of the hutch only took me about 10 minutes. A couple of silver tinsel wreaths were hung on the doors, I removed the blue glasses and moved the wine and champagne glasses to the top and added a few copper mugs, scattered a few ornaments and popped in two mini poinsettias. Boom. Christmas Hutch!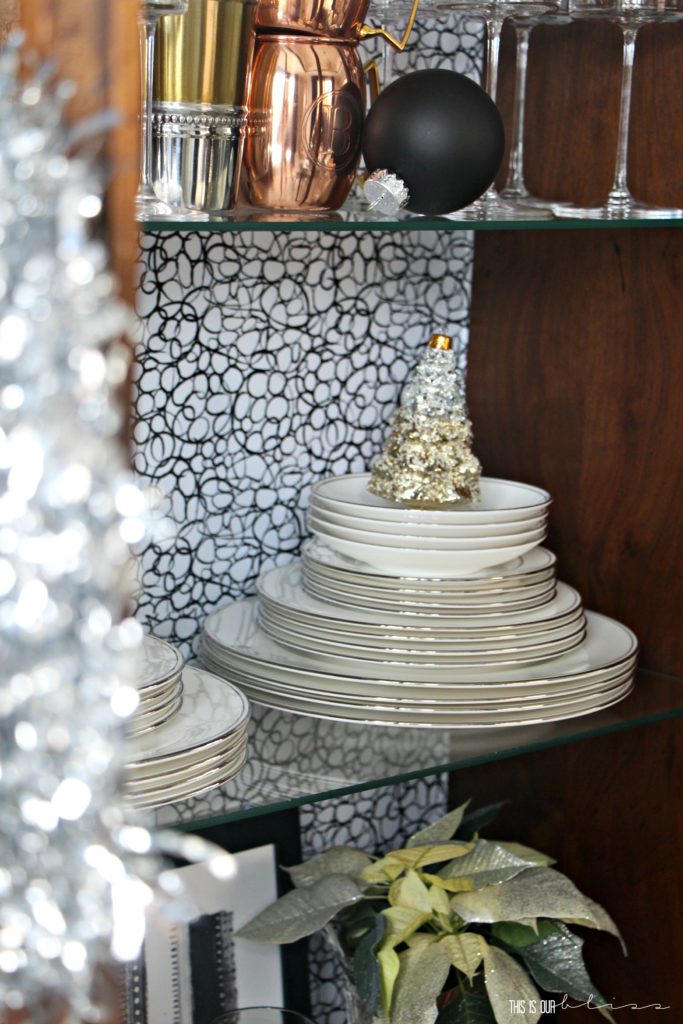 Can you believe I scored that piece for $39 at the thrift store while working on the One Room Challenge. It's tall and skinny and fits perfectly on that wall. Literally perfect. And the rich warm, bamboo style wood really warms up the space.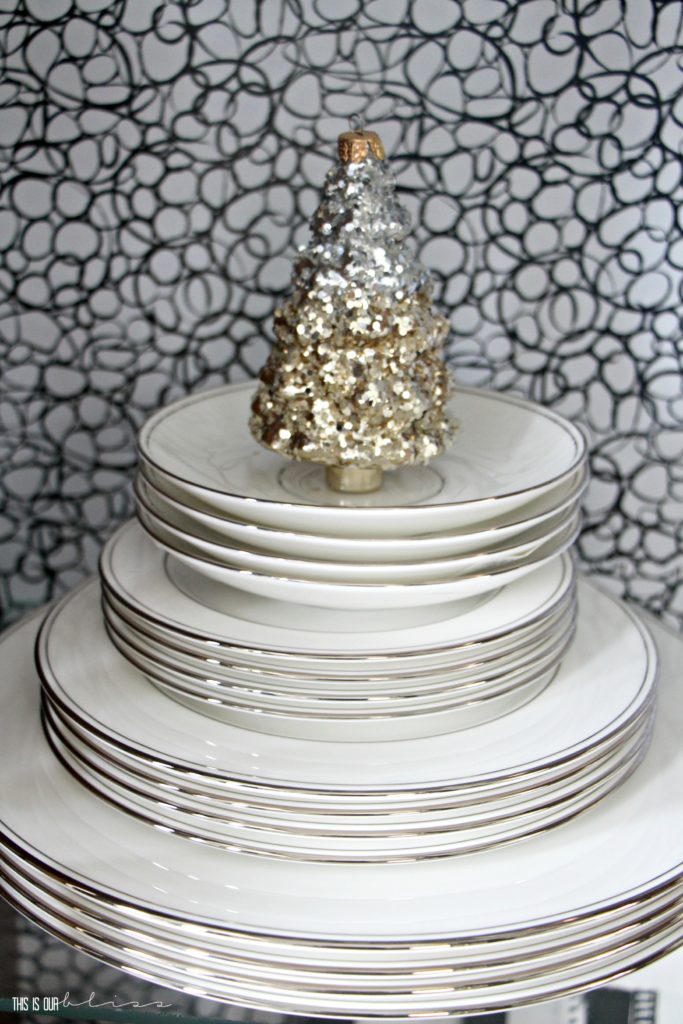 Plus, I now have a spot to store our wedding China. Hoping to use it one of these days…
Back to the table, you can see that I placed a gold confetti table runner down, a few silver and gold trees, a couple of ornaments, 2 DIY striped candlesticks, and placed 3 ornaments on each of the two modern metal stands I thrifted.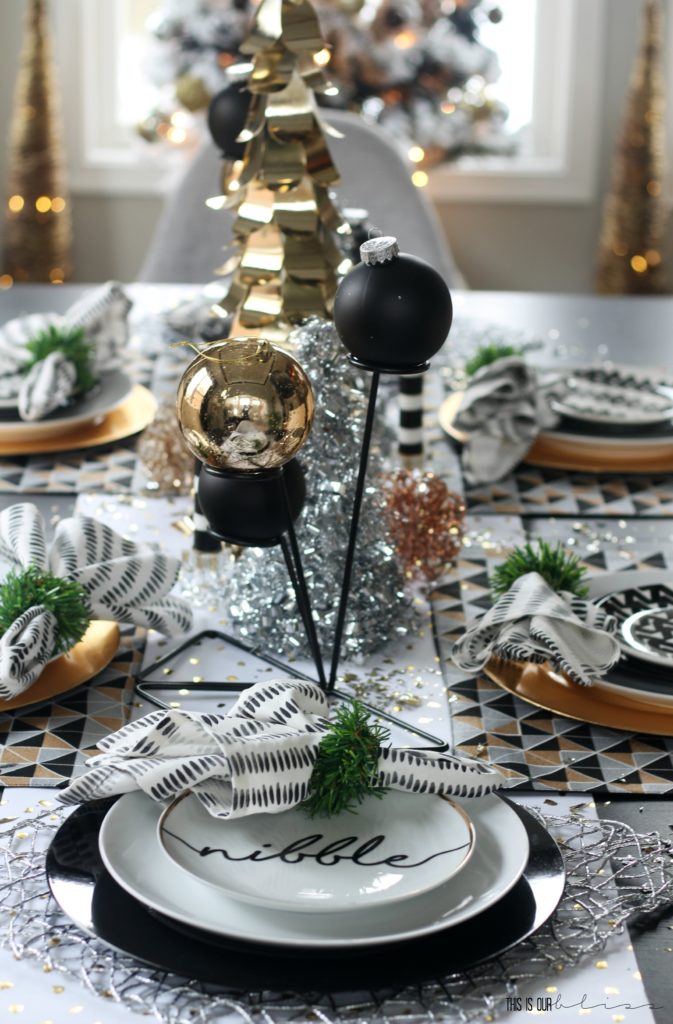 For the place settings…
On the sides, I used metallic geometric placemats I scored on clearance at Target last year after Christmas, then a gold charger, everyday white plates, a small black plate and then a black and white geometric appetizer/dessert plate. The ends of the table received special treatment! I used a woven silver metallic placement, black charger, white plate and either a "nibble" or "yum" plate.
Aren't they the cutest?
On the napkins, I simply wrapped mini garland pipe cleaners around my napkins. Instant Christmas "napkin ring"!
Oh and I sprinkled leftover foil confetti on the table after I used it for these DIY light bulb ornamnents. The table needed some more sparkle ha!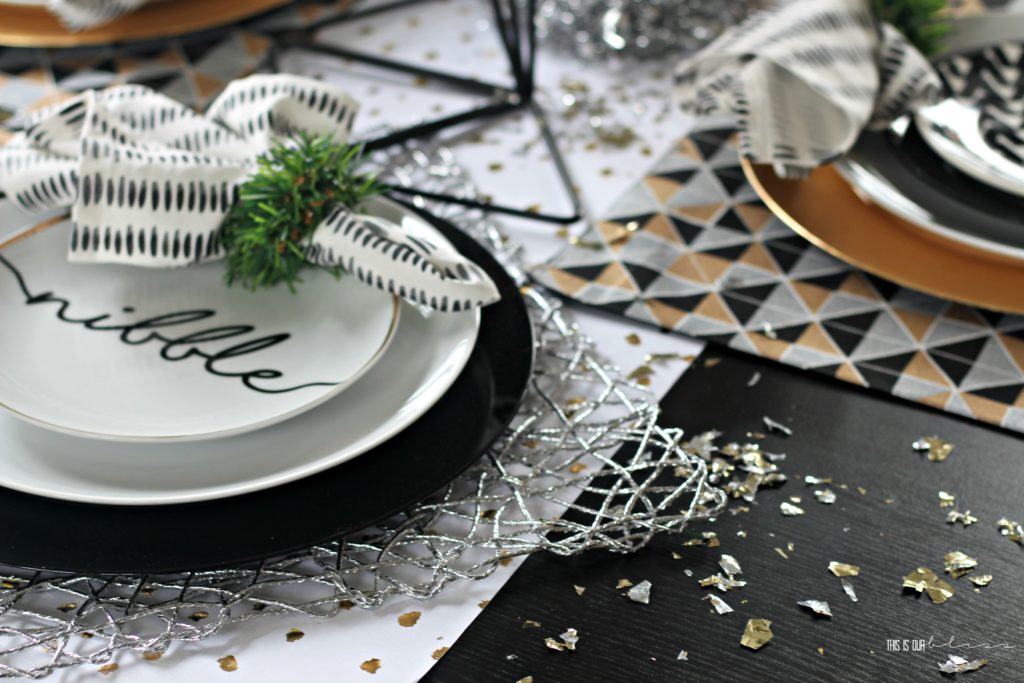 The flocked tree a new addition to our tree collection and now we have 3! This one is a small one though compared to the other 2 nine footers as it stands only 4.5 tall. I put it on a stool to raise it up a bit in front of the windows.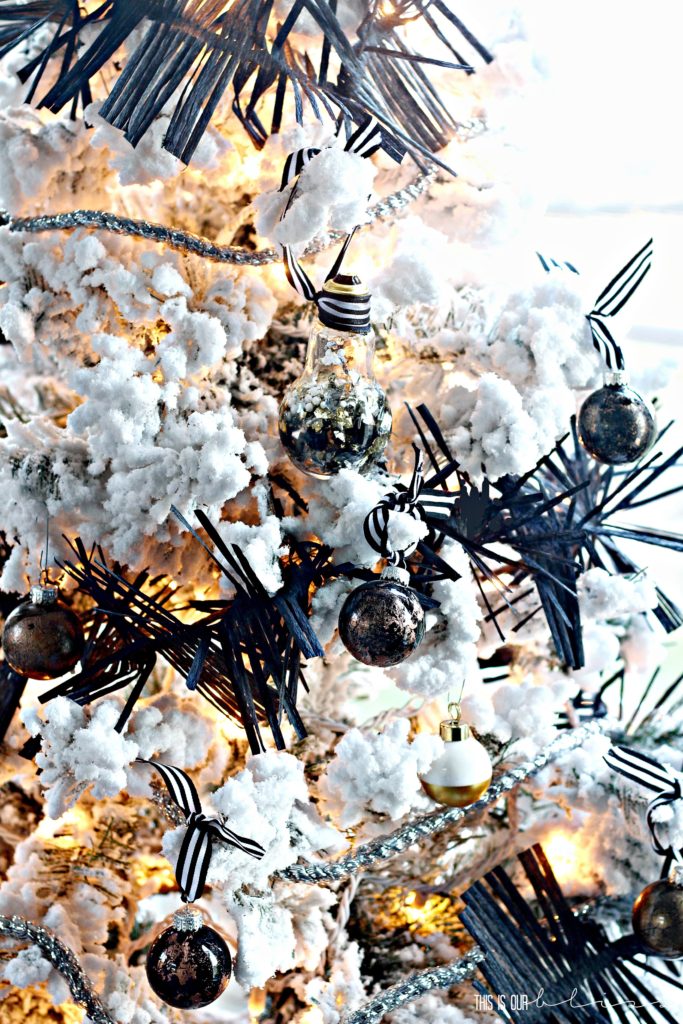 There's the DIY Light Bulb ornament! I also used the same fringed paper garland you saw on the living room tree. I love how the black fringe looks on the white tree!
Speaking of the living room, here is a peek at the living room space looking in from the dining room.
And the last of the Christmas decor is on the walls. I switched out my DIY fabric art for a couple of Christmas printables I bought on Etsy.
For about $4 each, they were a fast, easy and cute update!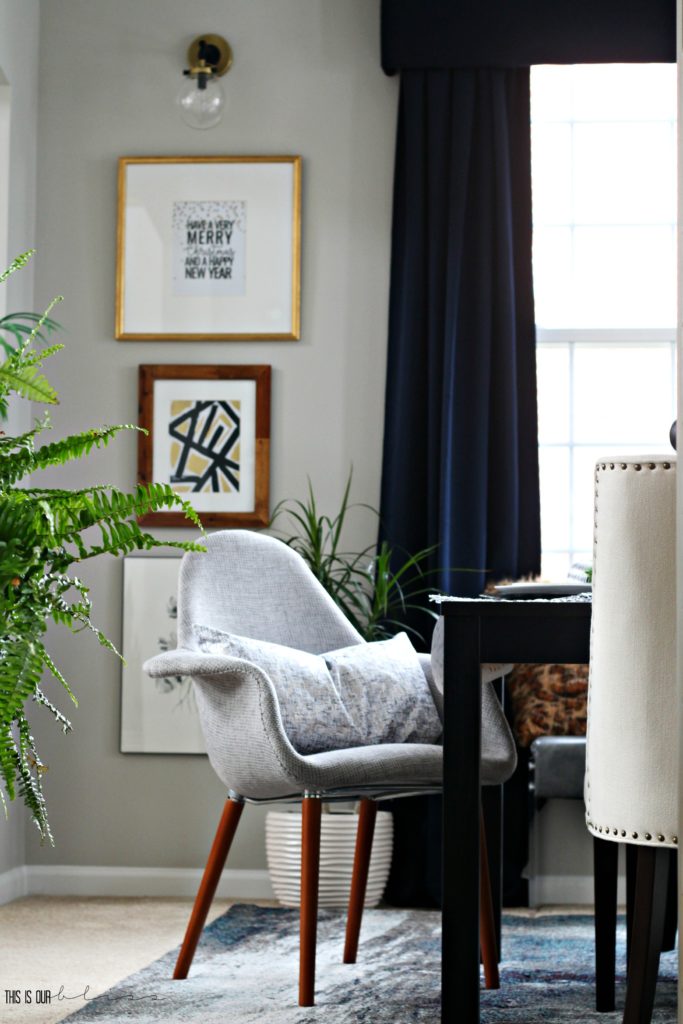 And finally, a couple of shots of the entire room taken from the view from the living room…
What do you think? Is it Merry and Metallic enough?!
Care to shop my Merry and Metallic Christmas Dining Room? Go right on ahead!
*Affiliate links were used below.
Don't forget to pin for later!

Now, be sure to head over to Monica Wants It's tour. I promise she won't disappoint!
Thanks for being here today and I hope to see you back here again really soon. Have a wonderful day!
Monday
Bright Green Door // Michelle Matangi Home // Sharon Williams // CAD Interiors // Domicile 37
Tuesday
Casa Watkins Living // Maggie Overby Studios // House Homemade // French & French Interiors // Style Mutt Home
Wednesday
Up To Date Interiors // The Striped House // Designing Vibes // Iris Nacole // Fearfully & Wonderfully Made // Blue i Style
Thursday
PMQ for Two // Maker of Home // Go Haus Go // Whimsical Blue Living // FOXY OXIE
Friday
This is Our Bliss // Monica Wants It // Insieme House // Jest Cafe // The Gathered Home
To see a FULL tour of each Merry & Metallic Christmas room in our home, click the image below!