Hello! Today is super jam-packed, as was the rest of the week – packing, wrapping, cooking, cleaning and attempting to not leave the house in shambles while we are off with family for the holidays! Henry has his first Christmas program at "school" today and I am so looking forward to seeing all of the cuties up on stage singing and "performing" their songs! Henry has been practicing for us at home and I tear up every time he starts doing the hand motions for Joy To The World. He is very focused to make sure he does them just right and I look at him and realize he is quickly becoming a little boy.  Where did my baby go?! Ok, enough of the sob story about my boys growing up, but seriously! I don't understand how this happens!
Today's post is about wrapping pretty presents! I thought I would share a few photos of some of the gifts I've wrapped so far. I love a roll of great wrapping paper and ribbon to go along with it, but this year I decided to add a few extra embellishments. Tulle has always been a friend of mine, so by combining it with fun, patterned ribbon, pipe cleaners, stickers and a few miscellaneous decorative pieces, I feel like the wrapping is up a notch this year + they look so pretty under the tree 🙂
Notice my new tree skirt?! Find out how I made it in 5 minutes here…
Back to the presents…Tying the ribbon and tulle is about the only thing that takes a little time. I was going to hand-make nametags this year, but decided I had no time to do it…who does really?! That is when I raided my sticker box and found a sheet of gold foil letter stickers. I remember picking these up at the $1 spot at Target a few months ago.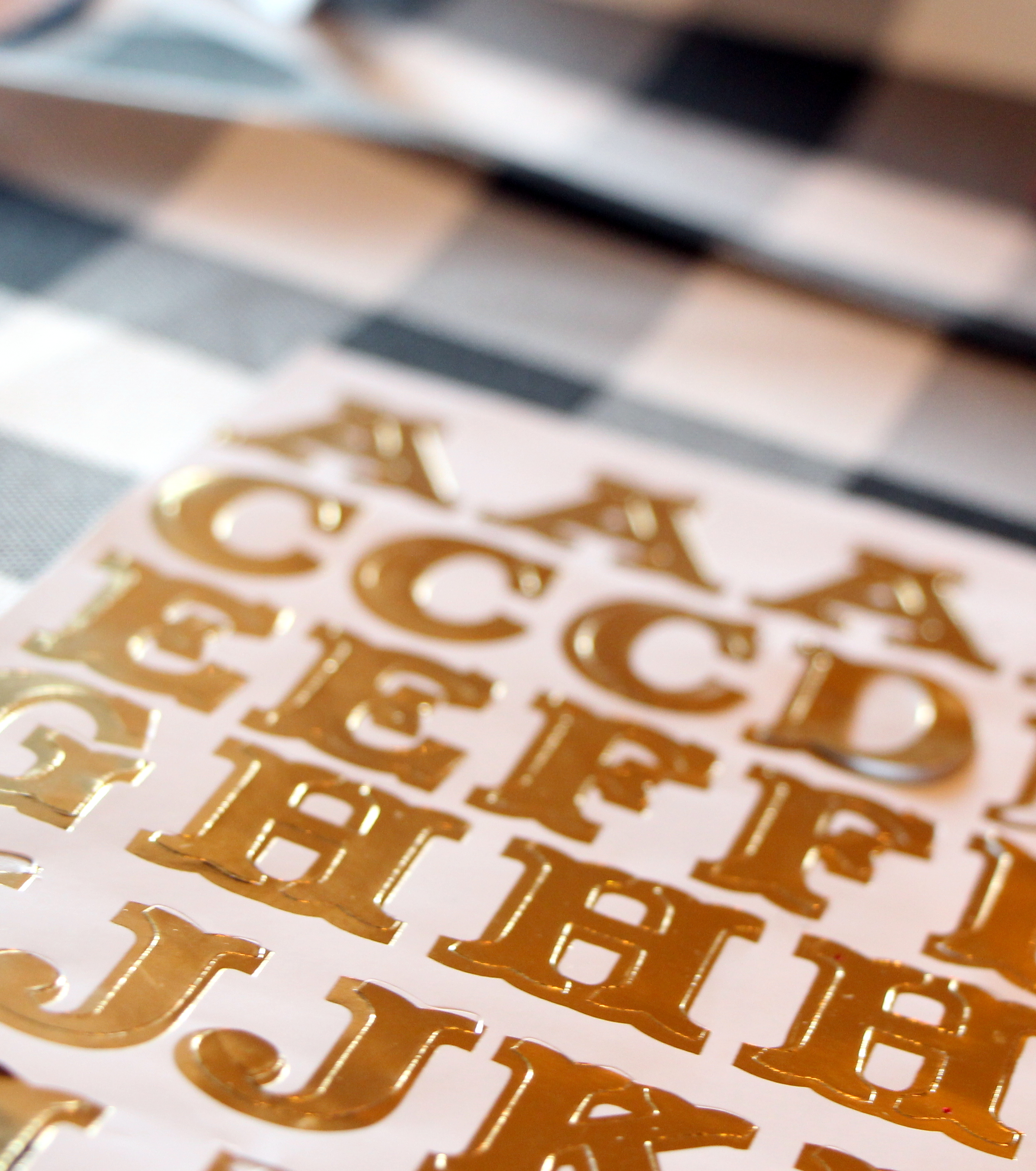 On several of the packages, the first letter of the recipients' name was all I used for a name tag.
Here I used the letter sticker on top of some plain stickers with a design on the border.
On others, I wrapped a black glitter pipe cleaner around the ribbon where the pieces intersect…I thought it added something interesting and gave it a little dimension.
Another embellishment I added to make my presents pretty, was a gold Christmas tree pick. You can cut them up or put the entire piece on. Here I used a 1/2 of one with gold balls or maybe they are gold berries?!
I mixed my go-to red tulle
 with fun patterned ribbons for a not so matchy matchy look 🙂
I'm not saying they are award-winning or that I'm the world's best wrapper, but I think they look pretty good (since I was aiming for pretty presents to begin with)!
What do you use for nametags? What is your favorite kind of ribbon? Have you started or maybe even finished wrapping yet?!
Thanks for being here and I hope you'll stop by again soon!
If you are looking for some last-minute gift wrapping essentials, check out my post here for a few of my faves!