I don't go all out and fall-ify my house to the 9's, but I do like to add a few simple touches. Every house needs a little fall-ification, right?! But it CAN be done quickly, simply & on the cheap. With the exception of my fall entryway with the addition of a large DIY Fall word art piece, I try to use what I already have! I'll break it down and show you 2 spots in our house where fall is taking on more of a supporting role 😉 Today I'll be sharing how to add a few simple Fall touches to your home!
Is it me or have we been talking about Fall decorating for months now?![*Affiliate links were used below.]

LIVING ROOM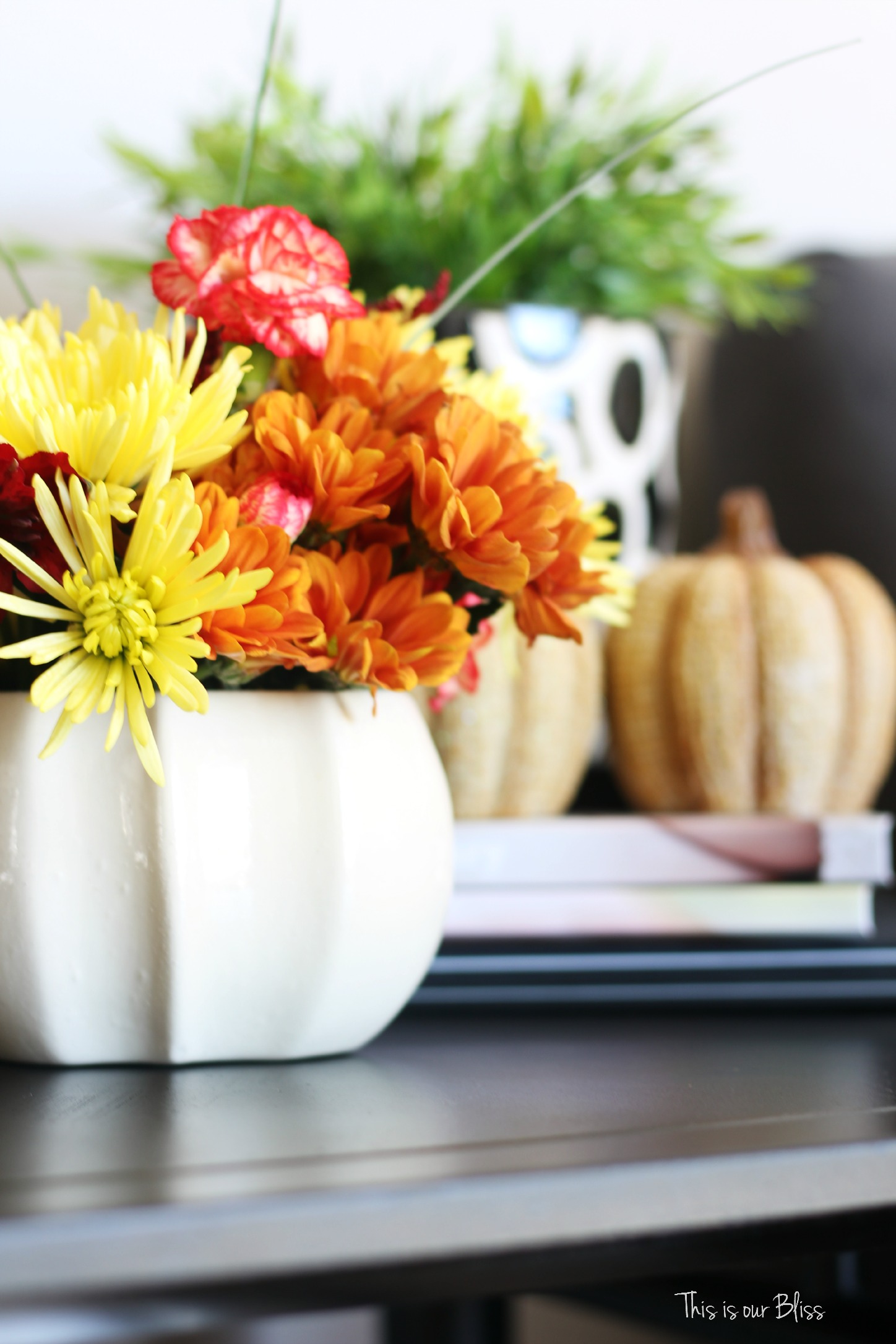 This little fall vignette was created on the end table next to the couch in our formal living room. I started with 3 dollar tree pumpkins…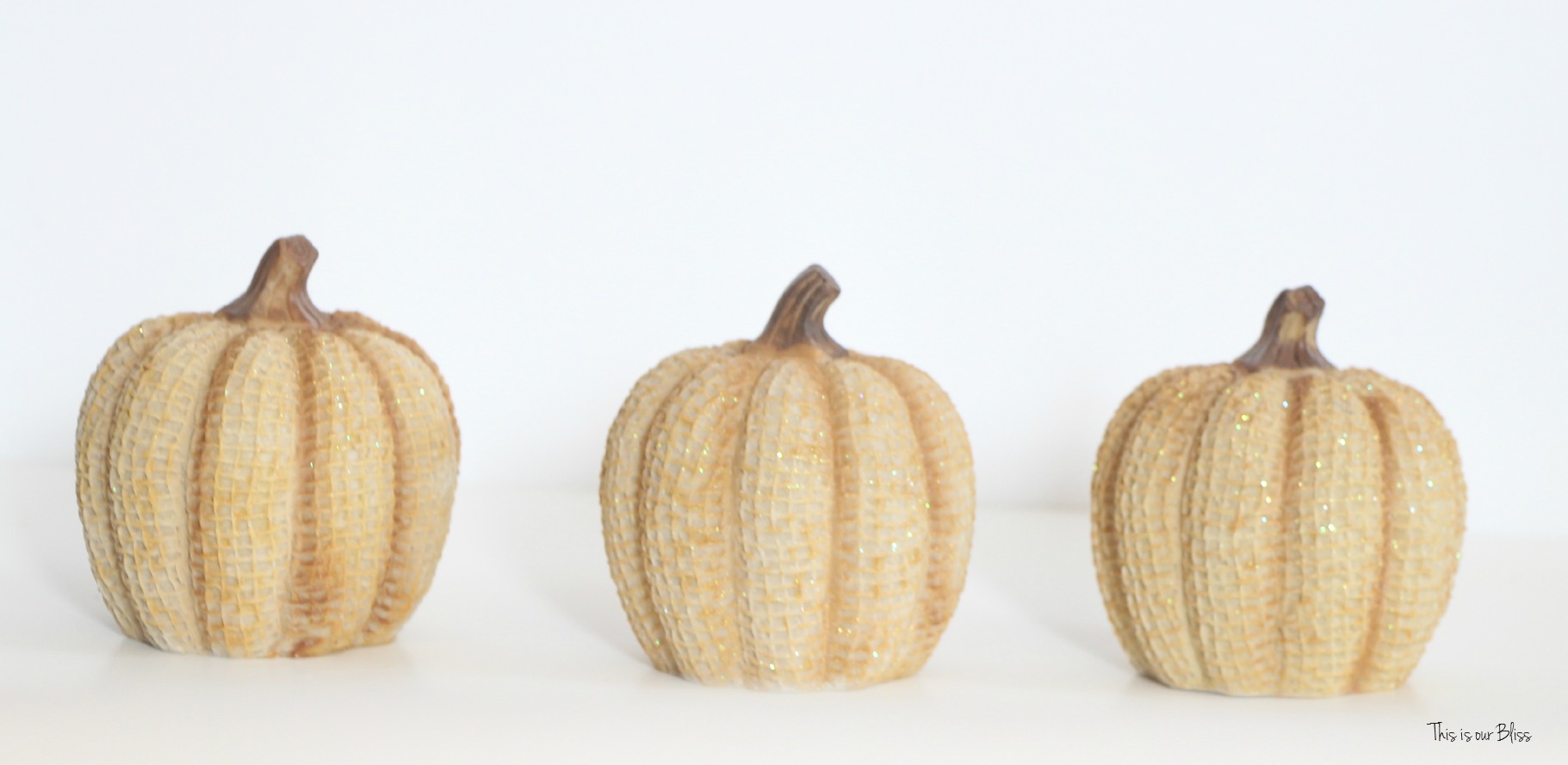 I added them to a stack of books…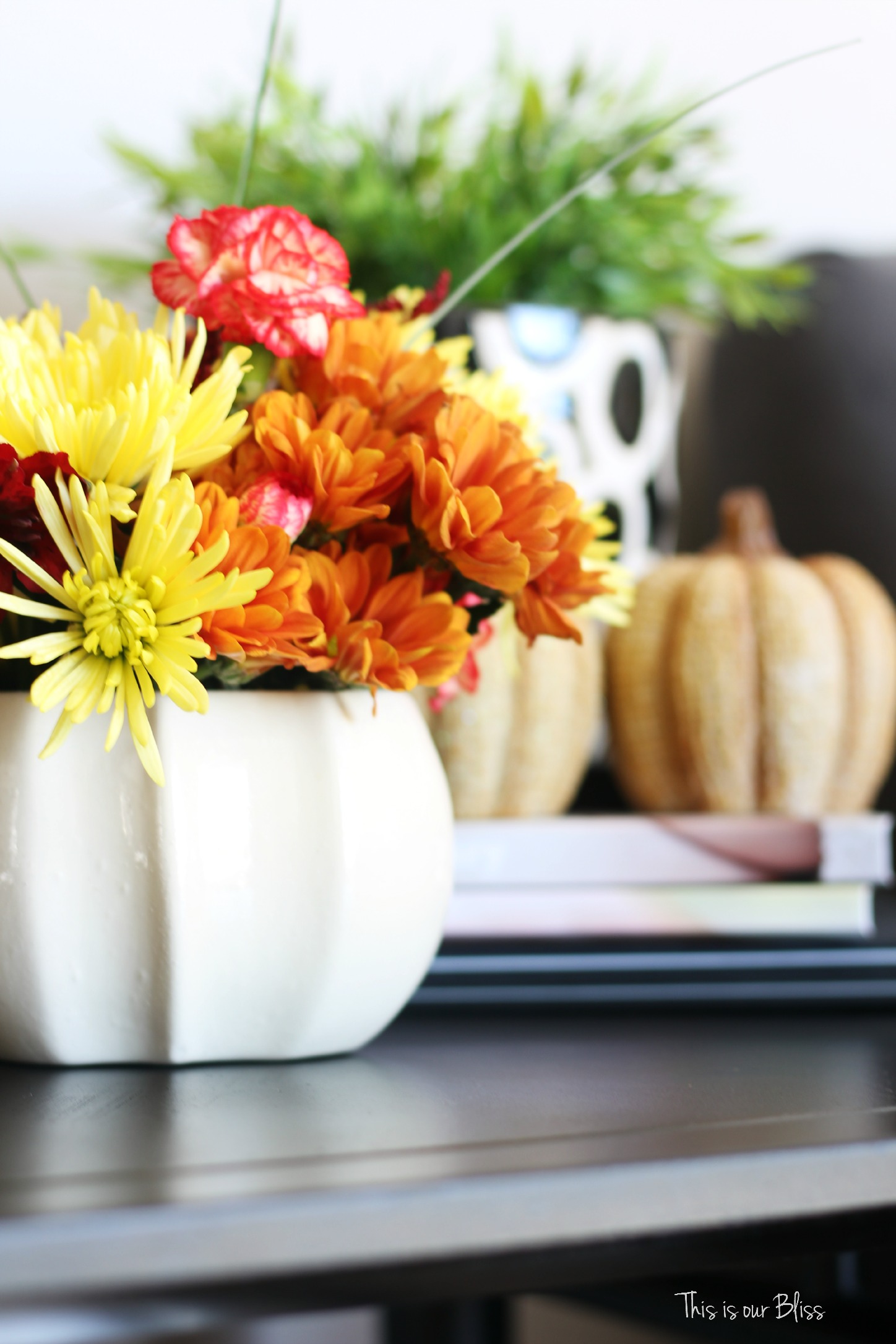 …and then filled a thrifted vase (which ironically resembles a white pumpkin!) with a small bouquet of fall-colored flowers.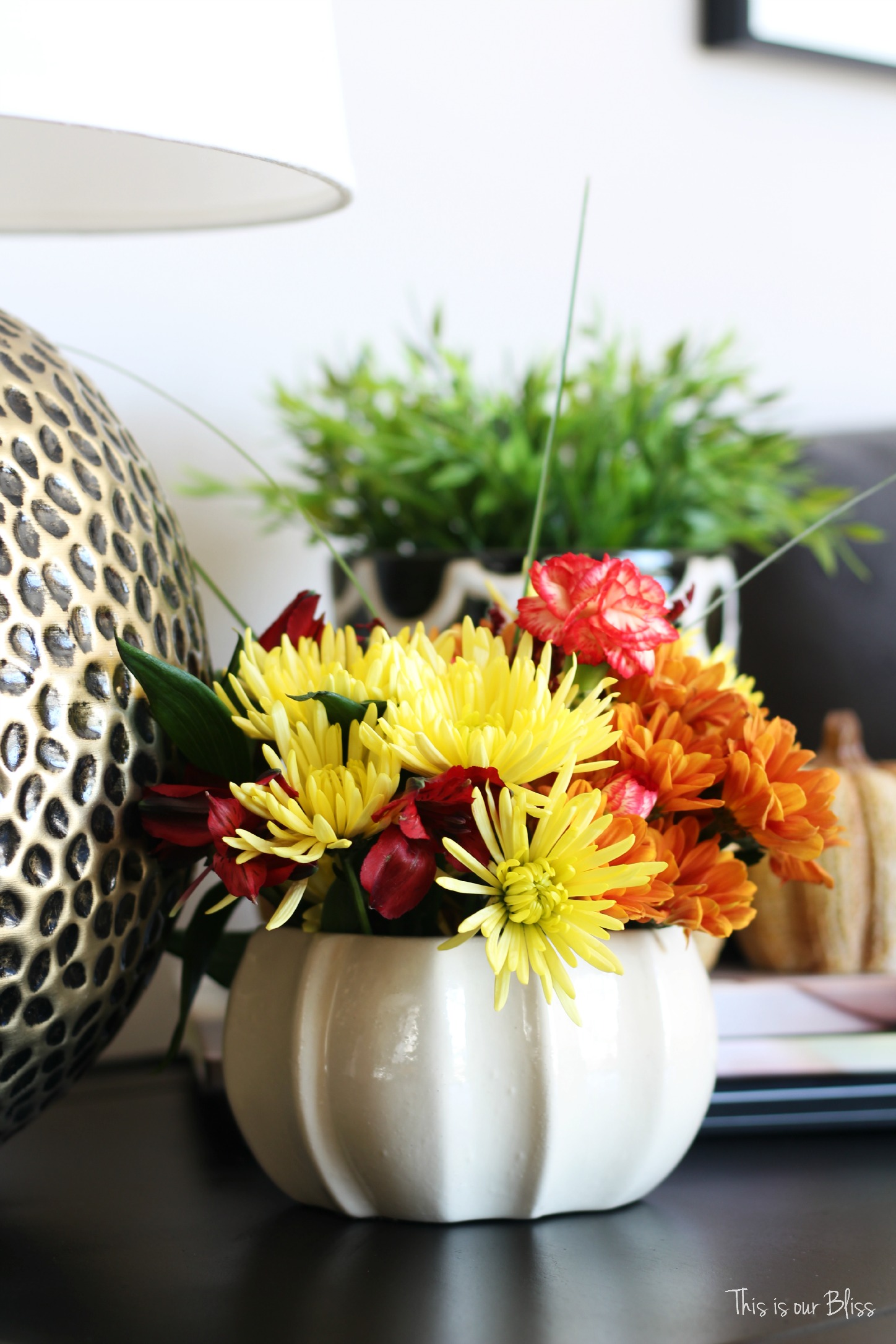 That's it. I had the vase, bought the pumpkins (which I was going to makeover with gold spray paint or craft them up in some way, but sometimes its nice to leave things as is – I didn't want to add another project… no, not even a 3 minute project + I have plenty of gold around here ha!)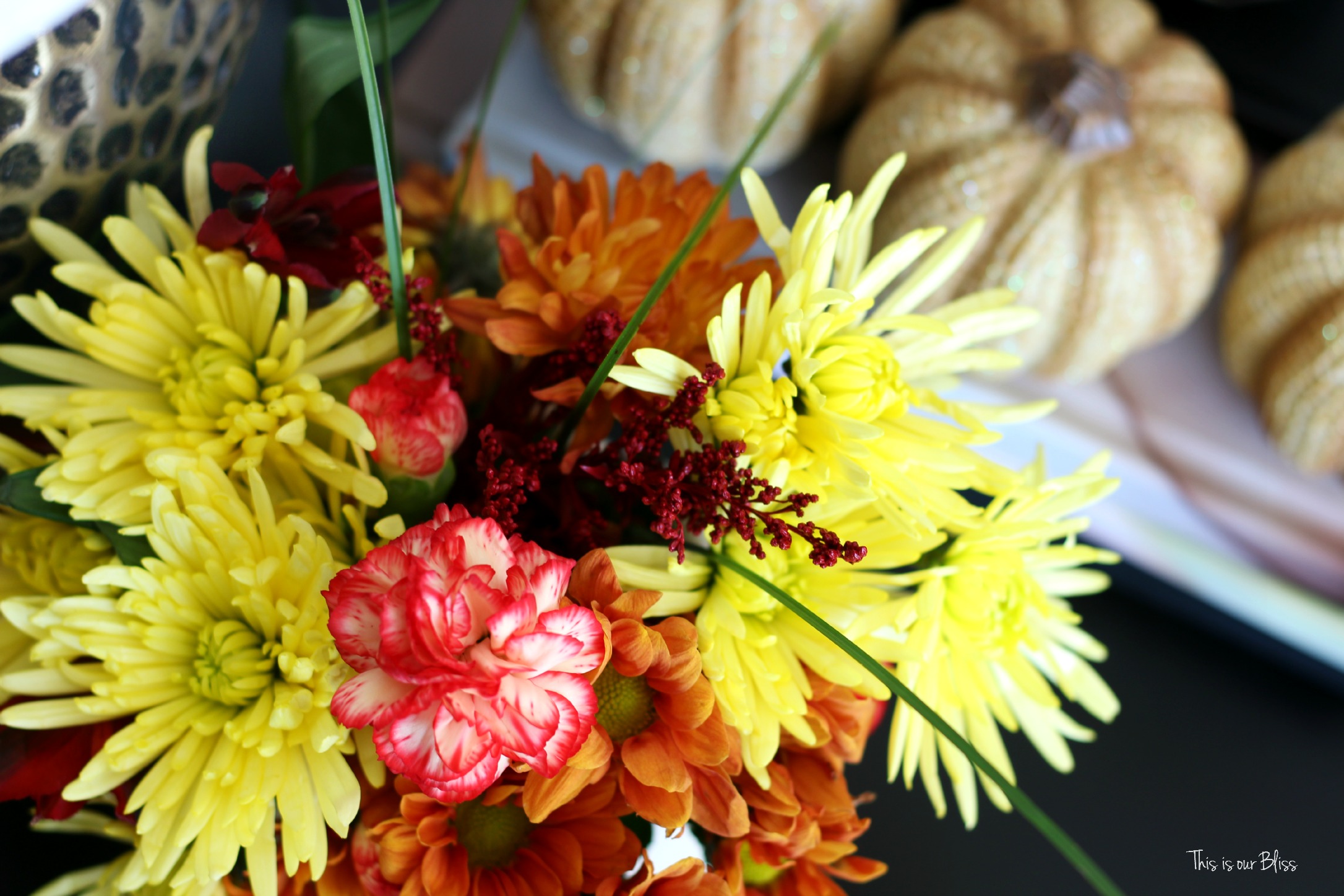 …and the flowers I picked up while at the grocery store one day. A touch of fall amidst my normal, everyday décor.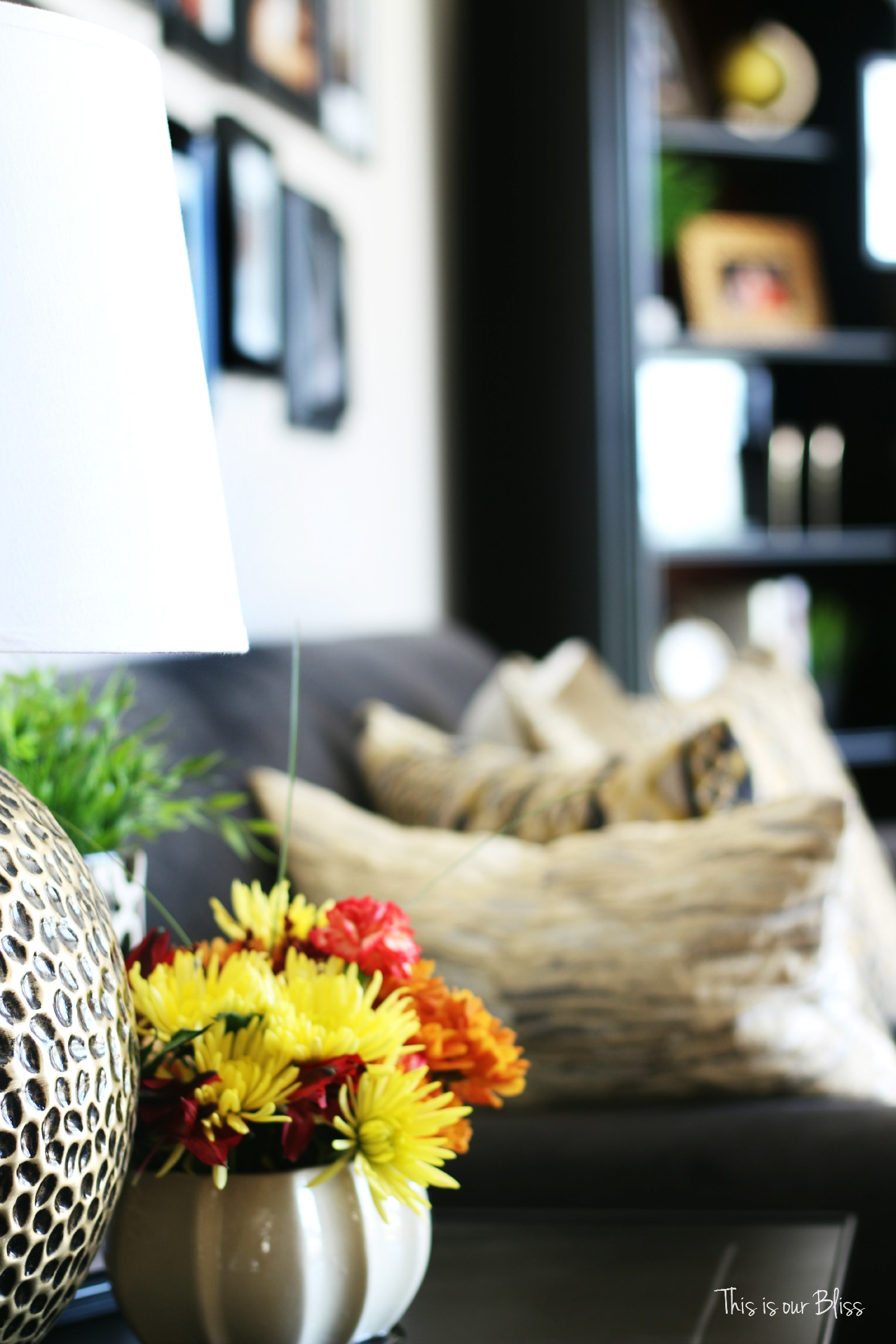 MANTEL
Although I did just style a fall mantel at my parent's house last week in Arizona, but around here, I don't really have one. At least one that's not decked out. I did add a few leaf stems (Pier One) to a mercury glass vase (HomeGoods) I have had for a year or so & plopped a few pumpkins next to it. The metallic ones were from the $1 spot at Target last year and the chevron glitter one, I picked up from Hobby Lobby (50%) a few weeks ago. I used what I had except for spending a few dollars on a fun, glitzy little pump!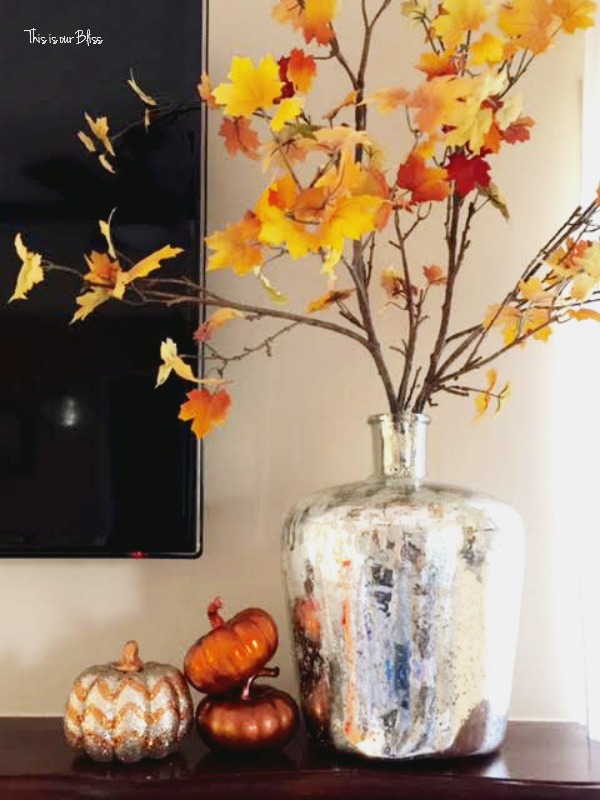 TABLE
Even your floral centerpieces can easily transition from Summer to Fall with the addition of a few feathers! Look how simple and gorgeous this vase of flowers looks with a few feathers poking out from the top. You can find them at your local craft store or even Dollar Tree!
Copper is a very warm and rich metal so by adding a few copper accent pieces to your home, it will quickly create that cozy Fall vibe! Try incorporating copper moscow mule mugs into your space!!
And if you are still over-thinking your fall decor, here is my list for ways to add SIMPLE FALL TOUCHES & not break the bank while doing it:
Toss a fall pillow to the couch (plaid, fall colors, pumpkin, typography, etc.)
Add a throw blanket to a chair (plaid, fall colors, wool, etc.)
Scatter mini pumpkins in various places (pick up a few at your local grocery store – white ones are super neutral & orange pumpkins give you that fall "punch" or pop of color)
Fill a bowl with pumpkins & gourds
Fill a vase with acorns
Light a pumpkin scented candle
Hang an autumn wreath on your front door
Fill a large vase with fall-colored flowers as a centerpiece on your table (or split the bouquet up and make 3 smaller arrangements & put in 3 different rooms)
Add a pot of mums to your front porch
Hang a fall dish towel on the outside of your oven door
Toss a few feathers into your centerpiece
Use warm. rich metallics like copper and brass
What simple fall touches do you add to your home around this time of year?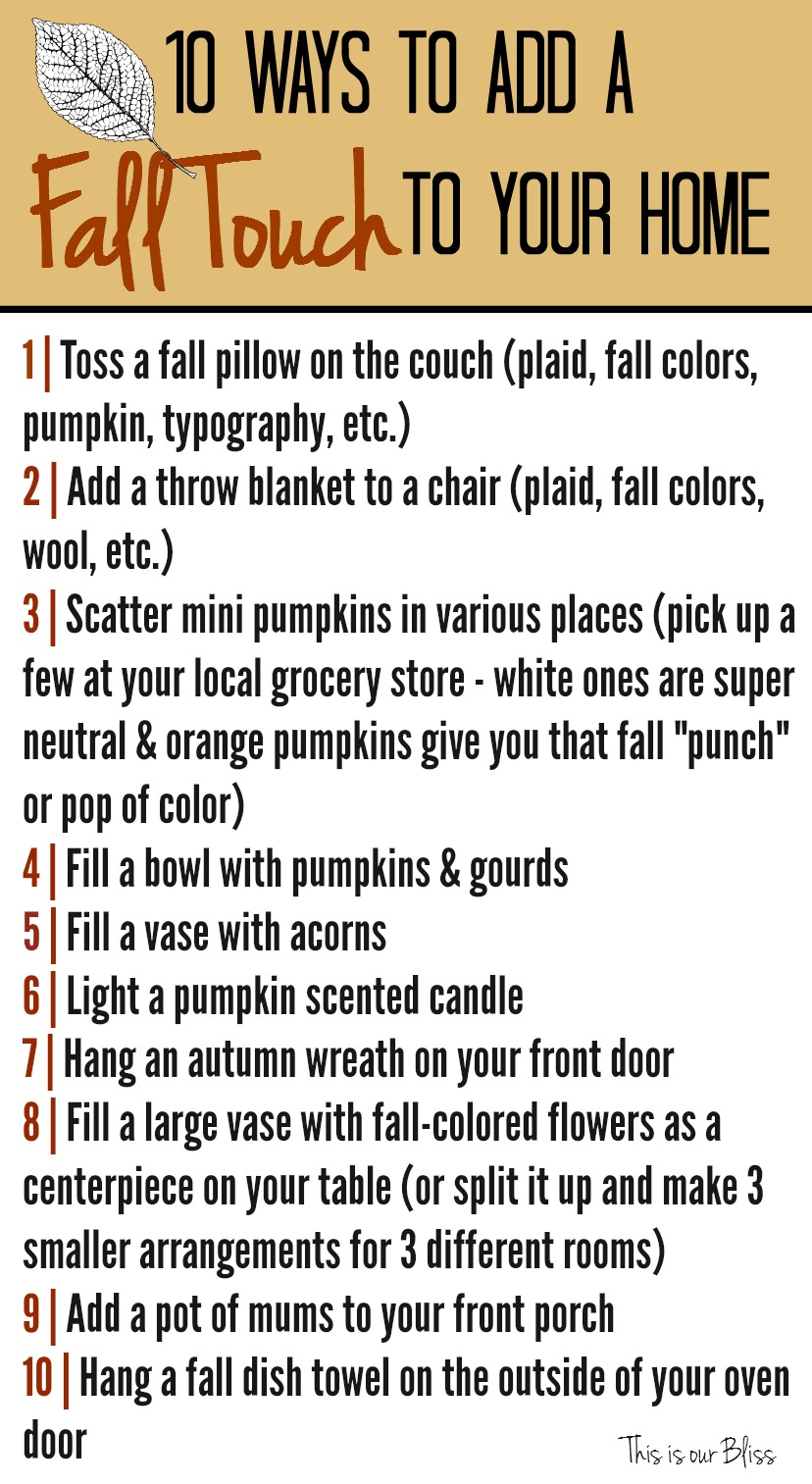 If you follow me on instagram, then you saw I was away on vacation for the past 9 days. After a lovely trip away with family, I came to the realization I have a bit too many things going on right now around the house and in life in general. Obviously, when life gets busy, that busyness can quickly turn into feelings of stress & anxiety. And no, I don't want that to happen! So, now that I'm back, I've decided my #1 goal is to finish up all of the UNfinished projects I have in the works and start making some big CHECKS on my to-do lists. I'll be the first to admit, I oftentimes take on too much. Like start 10 new projects while 25 are barely halfway complete. I want to be able to blog about projects I am naturally working on and not feel like I have to create something brand new each and every post. I want to be able to share with you the real things going on over here and also, get back to all of the posts where I have maybe left you hanging…
Did she ever finish that?
What does it look like now?
Whatever happened to this idea?
That sort of thing. I want to simplify a bit and make use of ideas, supplies & décor pieces I already HAVE, without bringing more into the house (or my mind, if I can help that!)
So, I am unfortunately not going to be taking part in the Fall One Room Challenge. I mentioned last week, I was going to make a game-time decision and that decision was a no. It was going to be too much for me to take on right now. I am however, going to be cheering from the sidelines because they are some AMAZING rooms being transformed right now and I can't wait to see the reveals in week #6. Eek!
So please hang with me. My goal is still to keep this little blog machine running, but circling back to finish up where I left off is going to be my focus for the next few weeks. Please come back and see where things are headed!
Enjoy the rest of your Monday!