It's here! It's here! No, not Christmas morning, but the day I finally get to share all of the holiday dreamin' & schemin' I've been up to over here!
When I was invited to participate in the 12 Days of Christmas Tour of Homes hosted by Jenny from Evolution of Style, I was nearly speechless! So after I pinched myself, I said yes and got to work. Well, not at that very second, but it does seem as if the holidays have been on the brain since August 😉
The tour kicked off last Monday, December 1st and the homes have been nothing short of brilliant. Everyone has their own unique style and way of spreading holiday cheer throughout each room in their home – gobs and gobs of inspiration! I love it!
Well, let's roll, shall we?!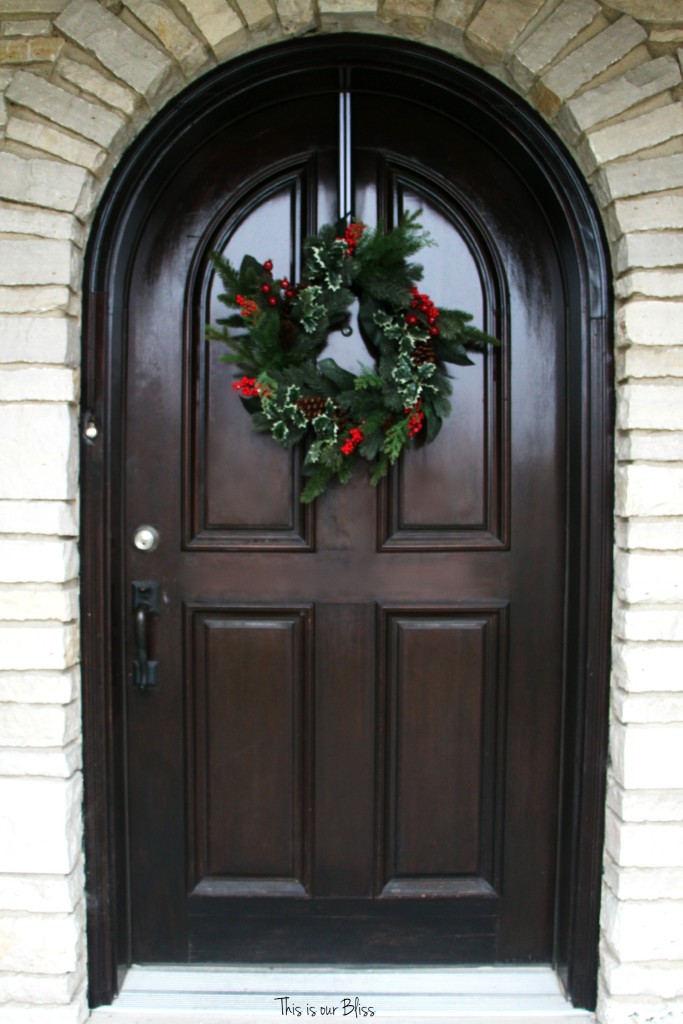 Well, don't just stand there! Come on in!!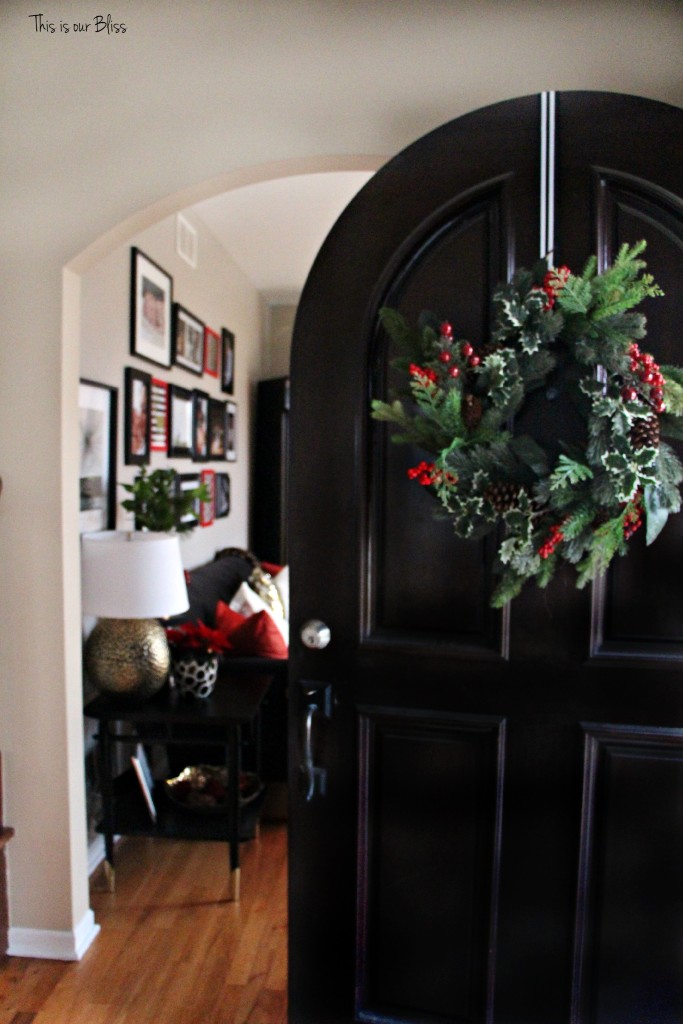 Welcome!
Our door is one of my true loves. I am just not sure if I could ever leave it. Even without a Christmas wreath on it… If you missed my last post on the front door from the Merry, Bright and Blissful Holiday Home series, you can check it out here. Pleeenty more in the series to come!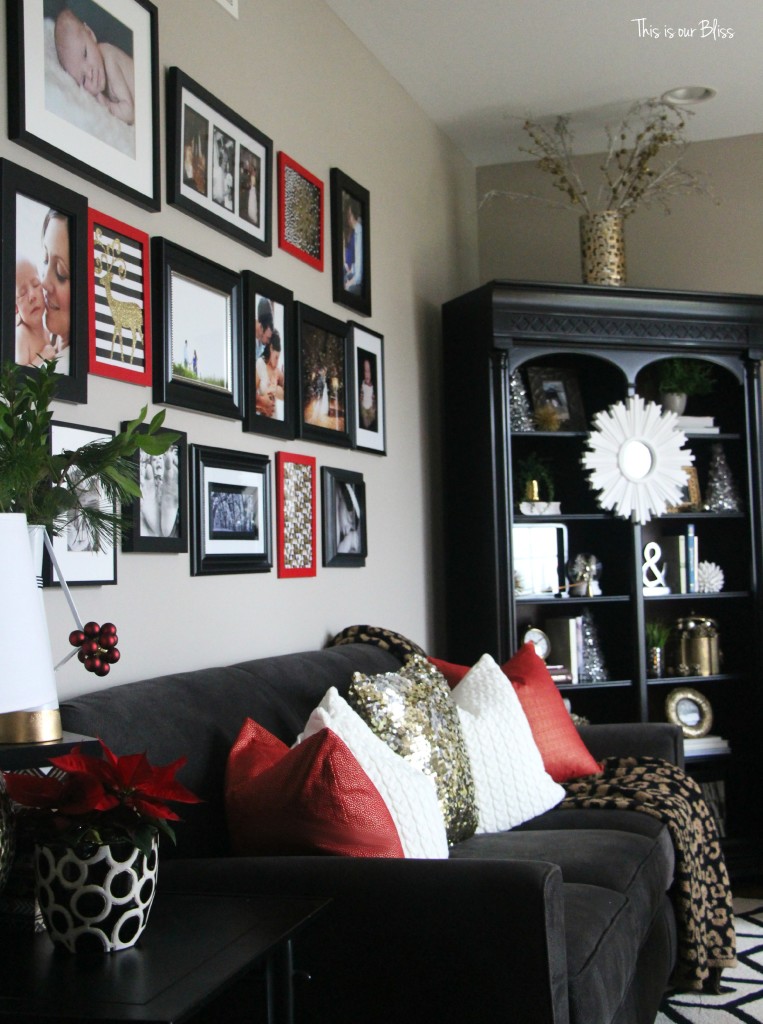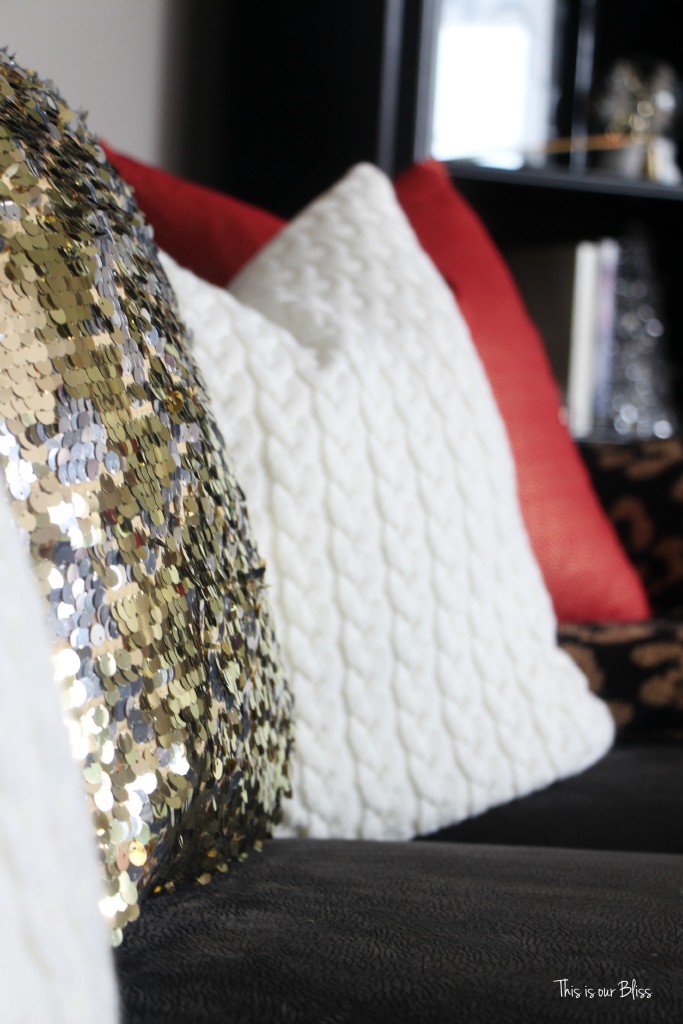 Our formal living room always had a little sass, but after all the holiday zhushing, its definitely bold and bright and makes no apology. It remained fairly neutral with pops of red and a sprinkle of gold – glitter, sequins, foil, you name it. It's here 😉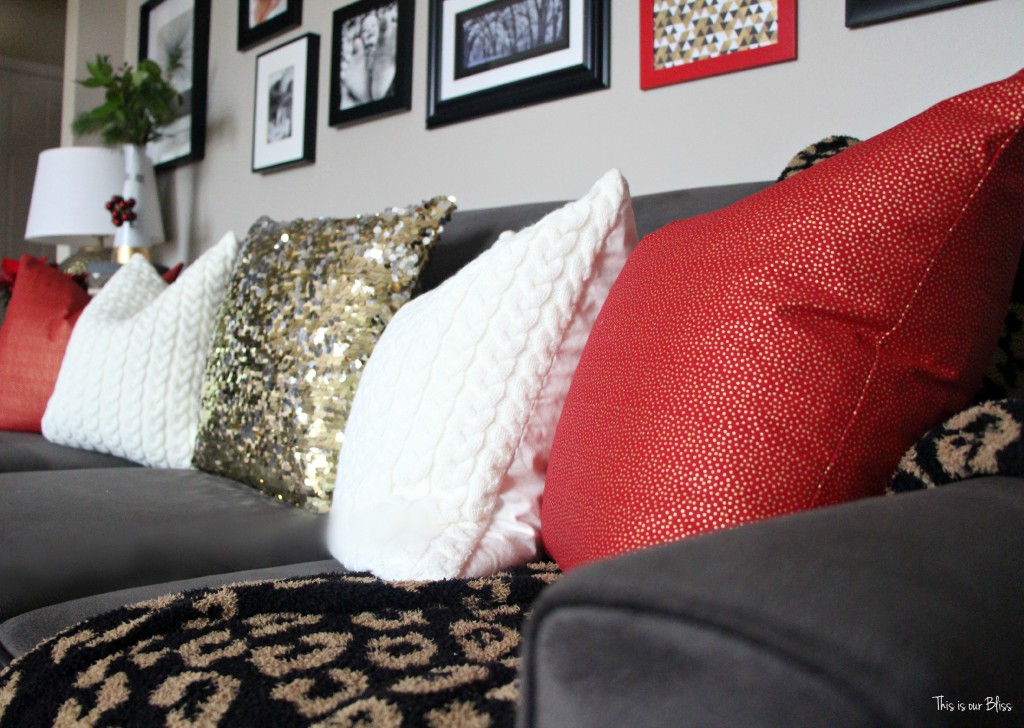 The red & gold pillows were DIY and the others were HomeGoods finds. My favorite leopard throw joined in the fun from its previous home in the family room.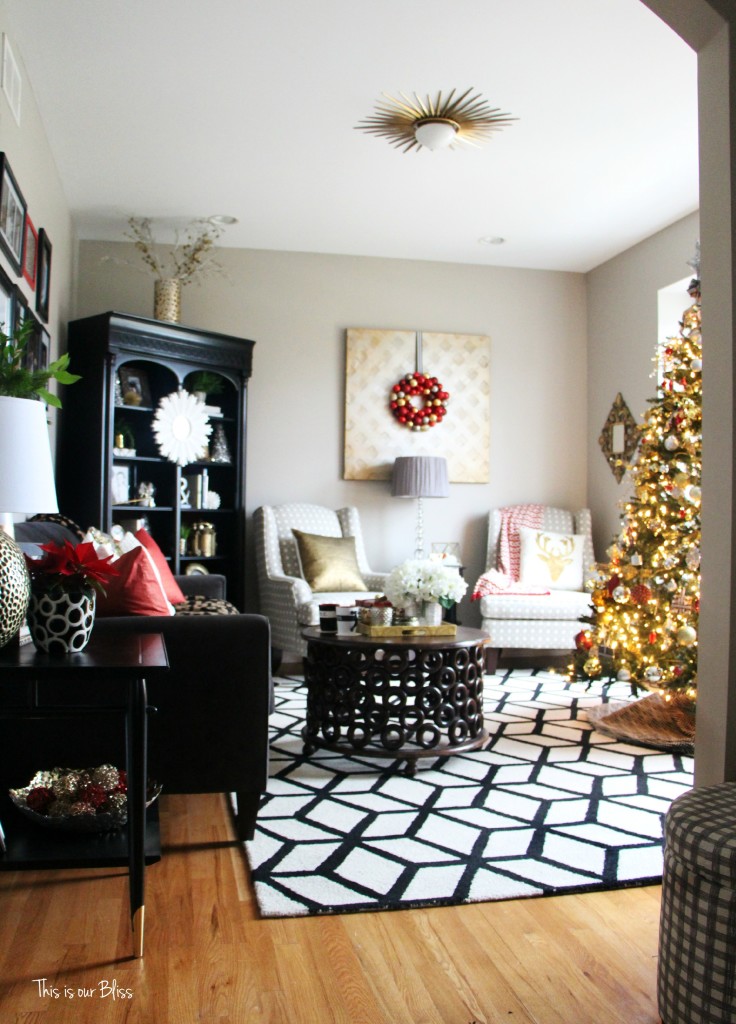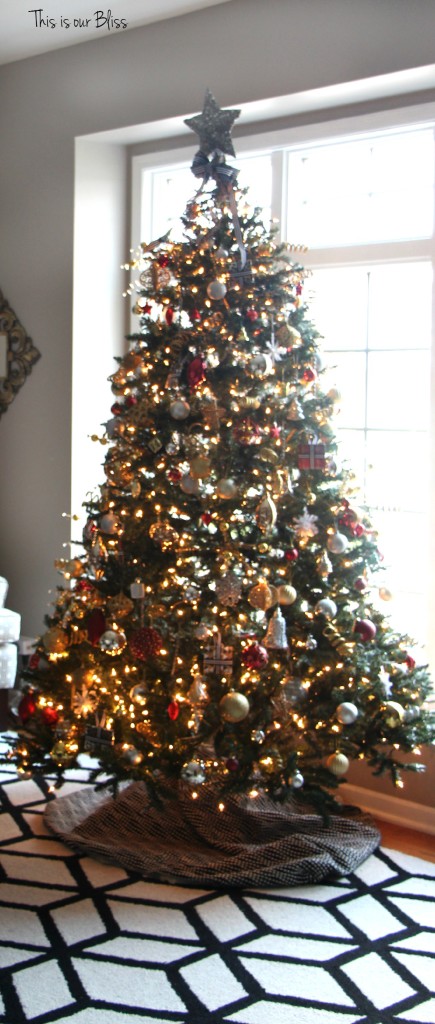 When the Christmas tree lights are on, I am a happy girl. If it were up to me, I would leave them on 24/7, but I refrain. The tree was trimmed with ornaments and picks from years' past, but a few DIY mini wrapped present ornaments were added this year.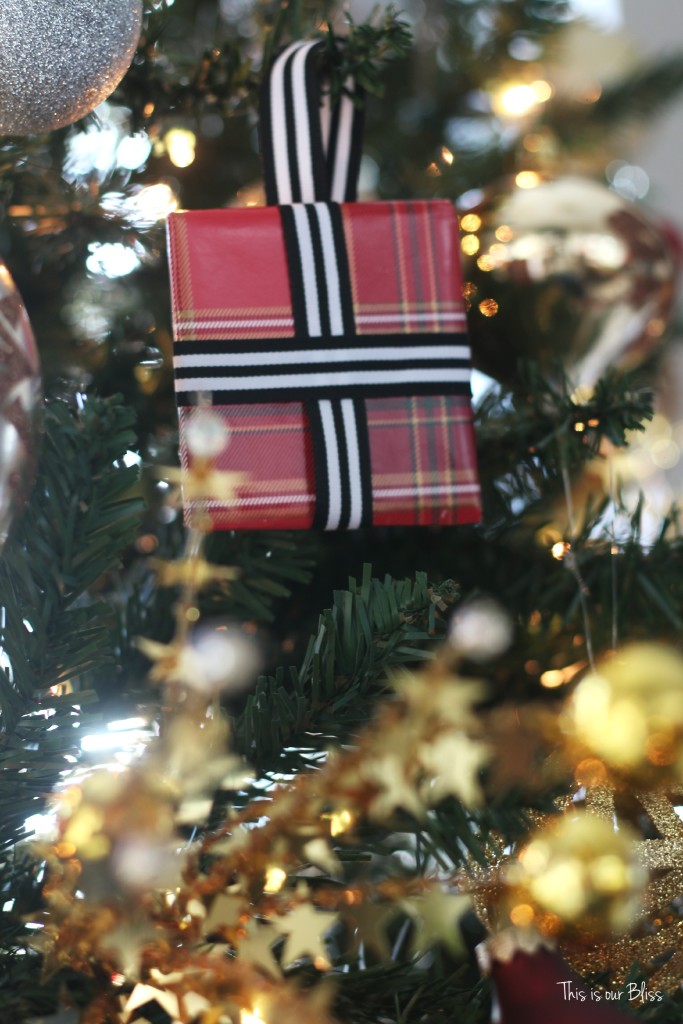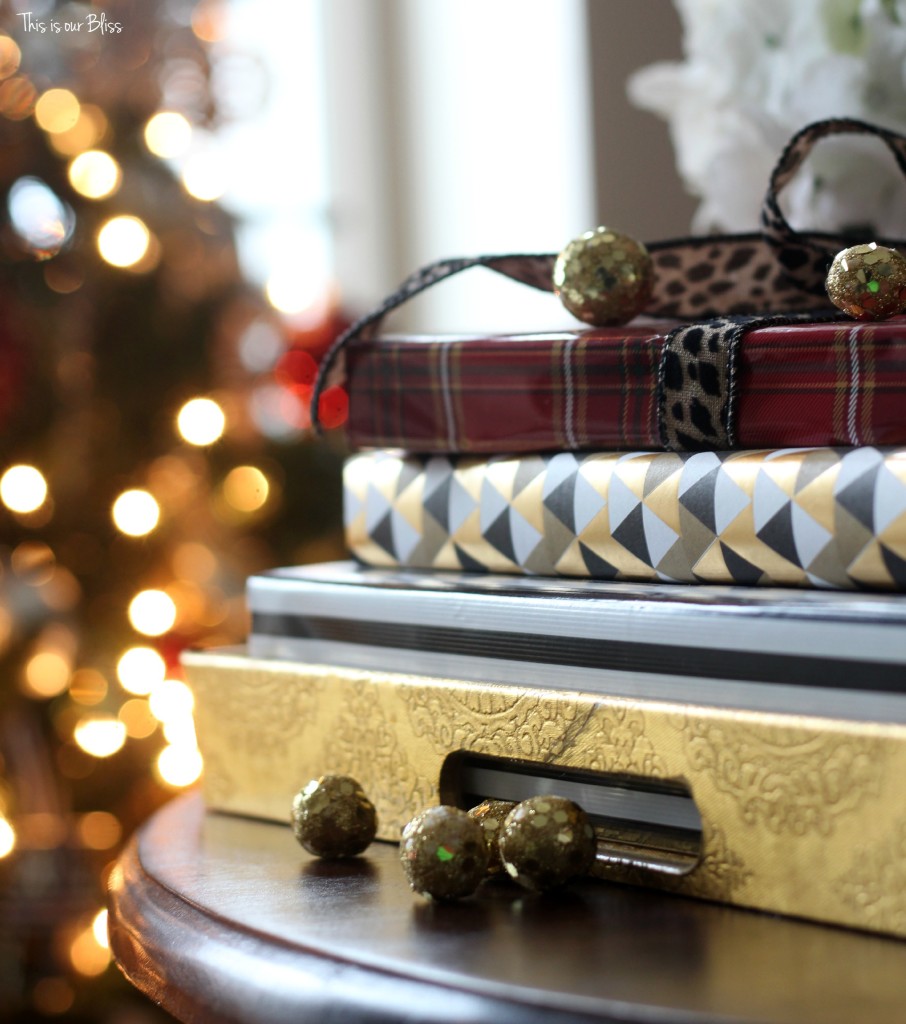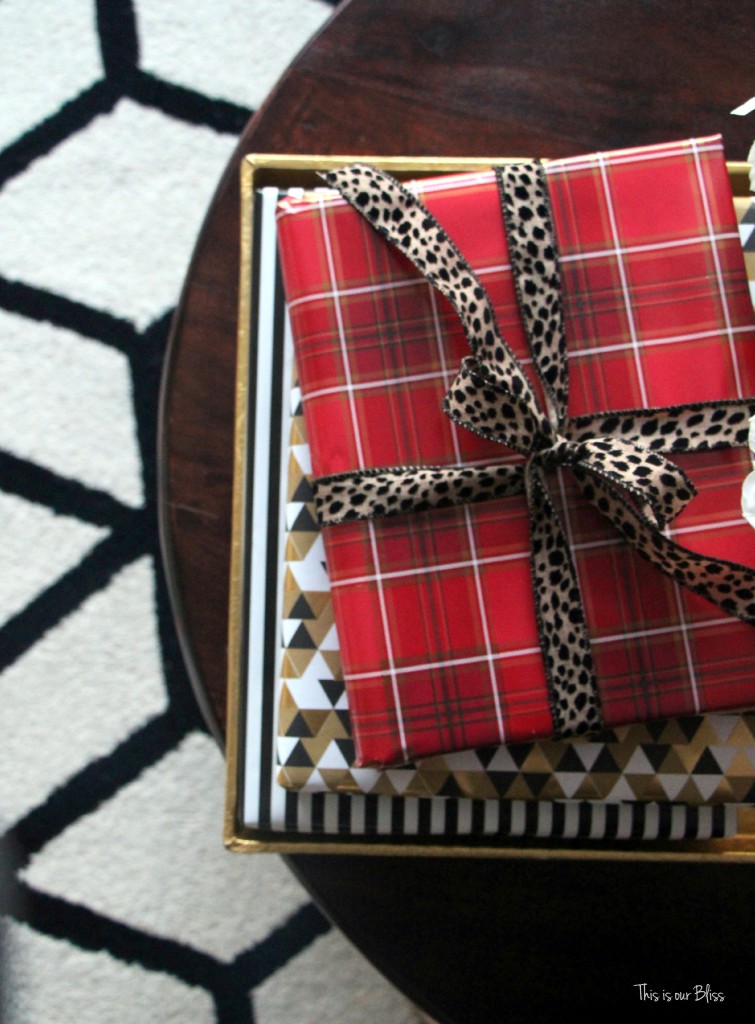 Why not coordinate from head-to-toe?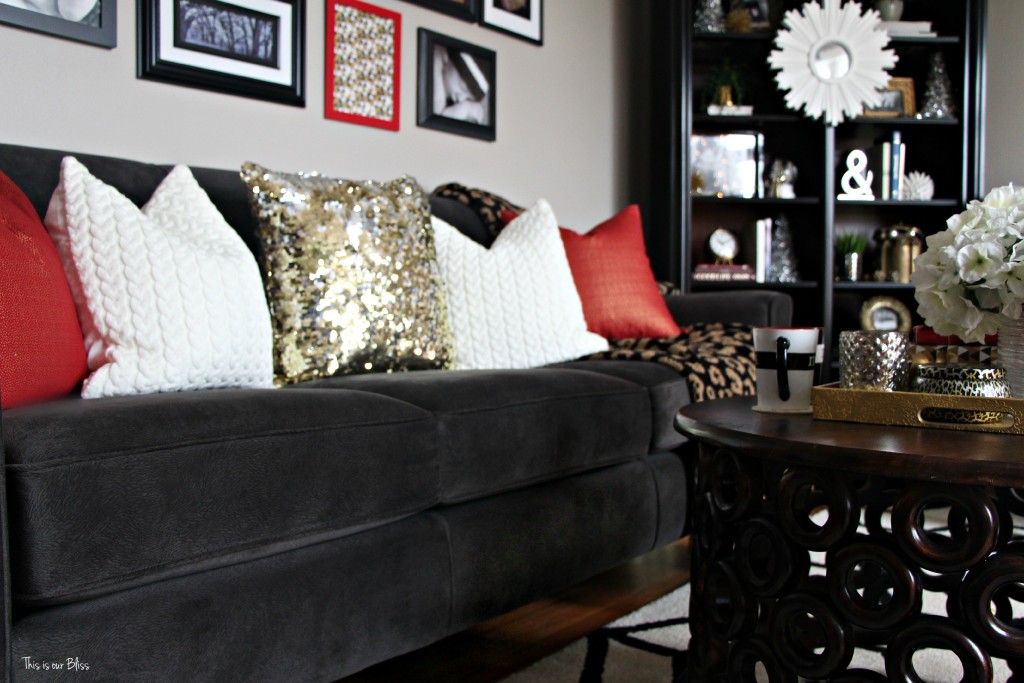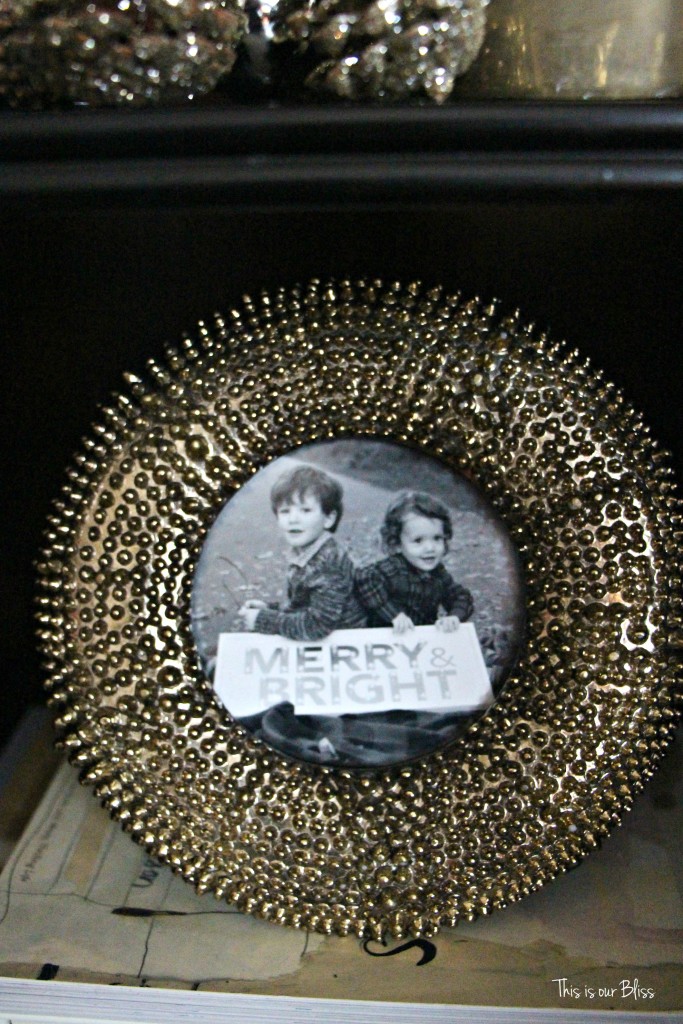 Two little ones found their way into frames on the living room bookcase, most of which are gold.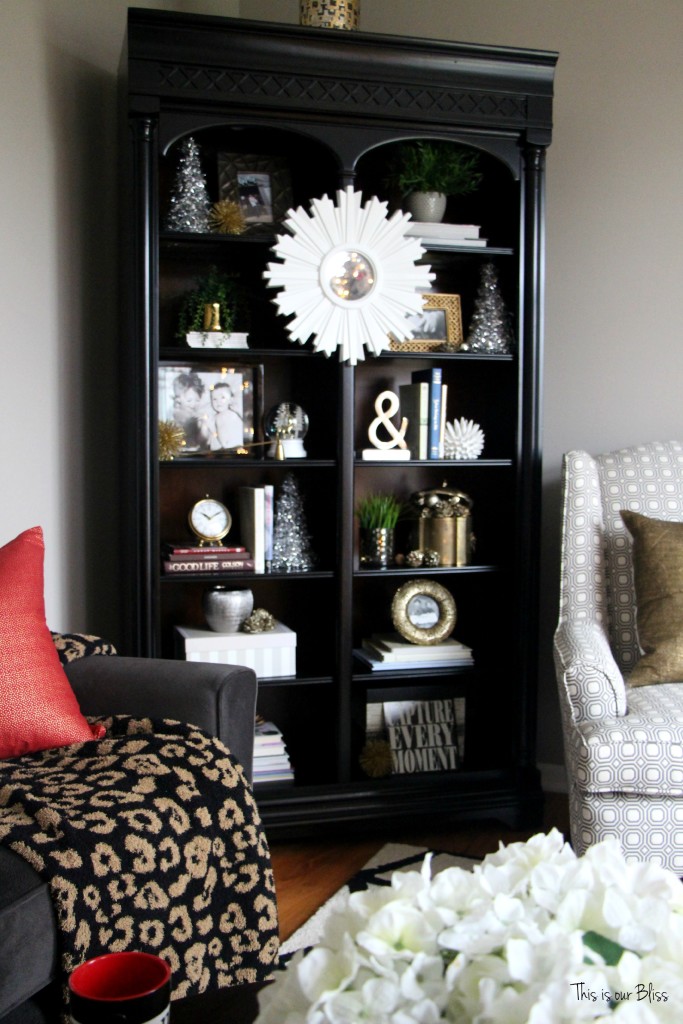 A few silver trees from the dollar store and several shiny ornaments were scattered throughout the shelves.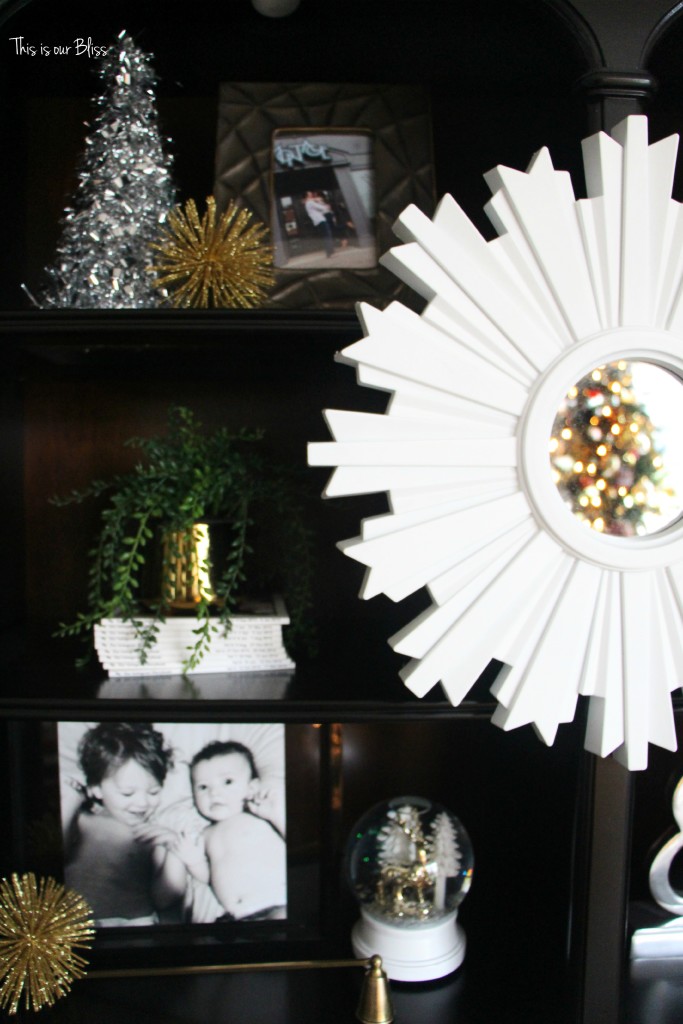 The front of the bookcase got a quick facelift. You might remember back to when I gave it its first major / minor makeover by adding the framed art to the front this fall. It really does take all of 30 seconds!
And that reflection. It gets me every single time.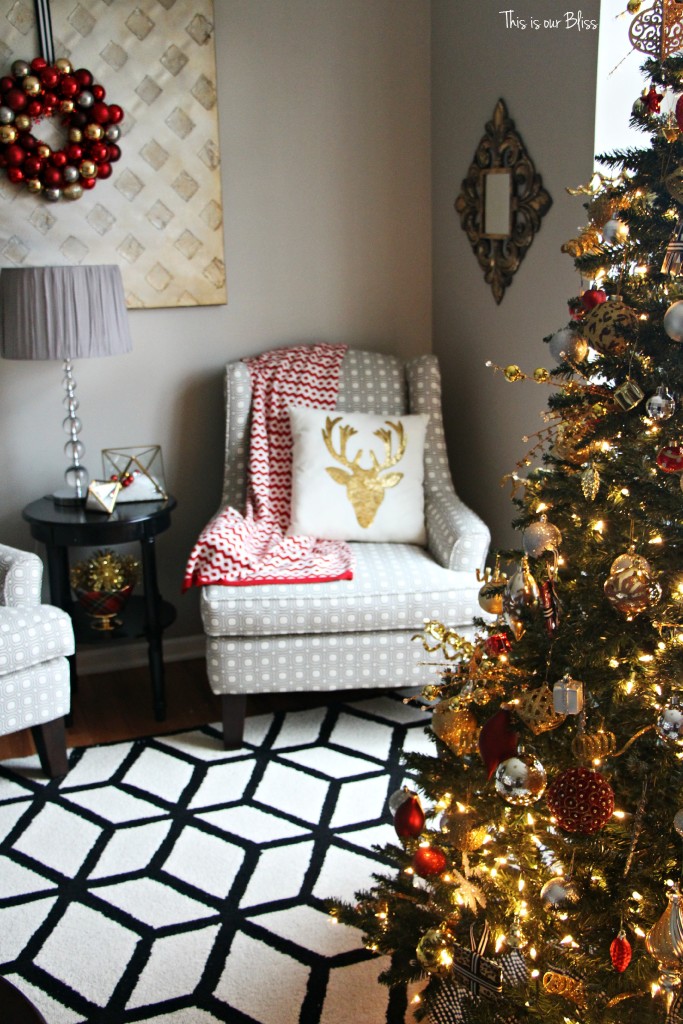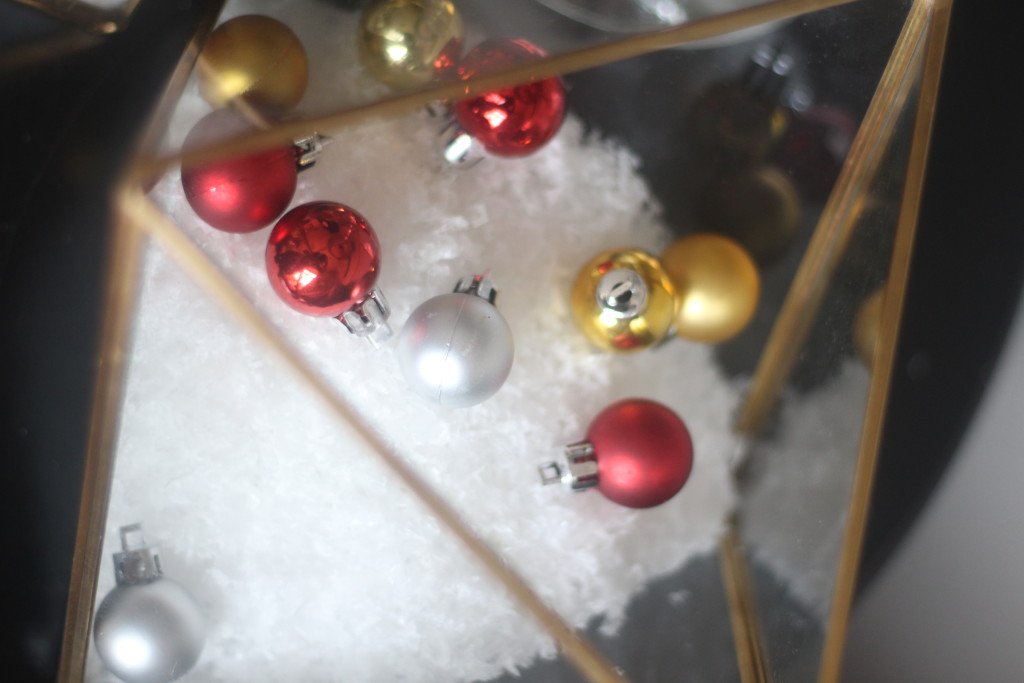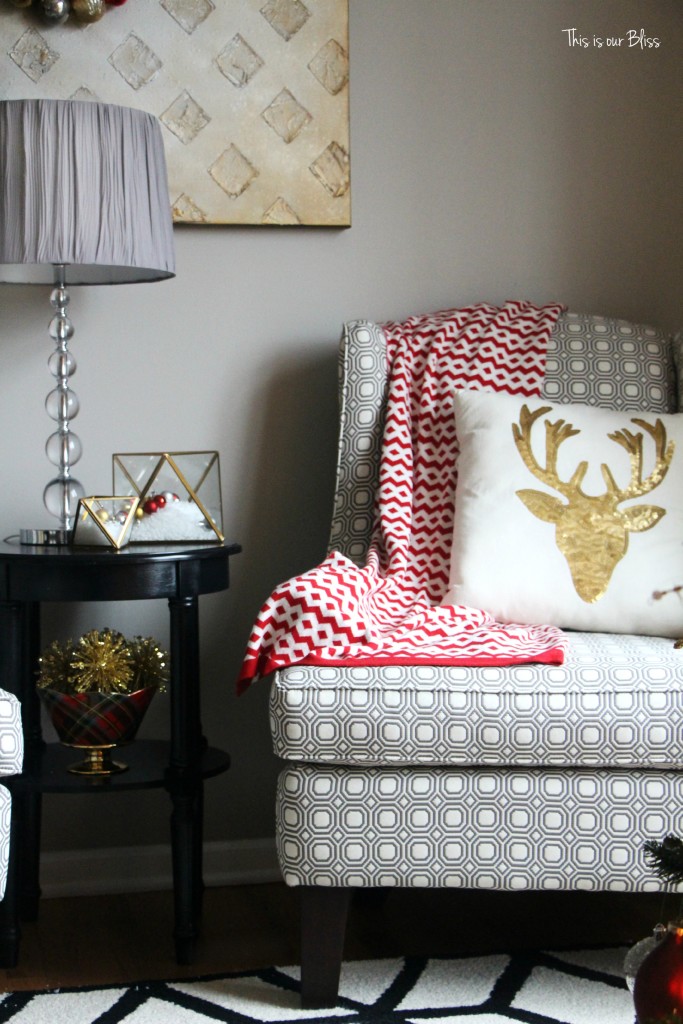 There is definitely no shortage of pillows in this room, or in the house for that matter. But how could I help it?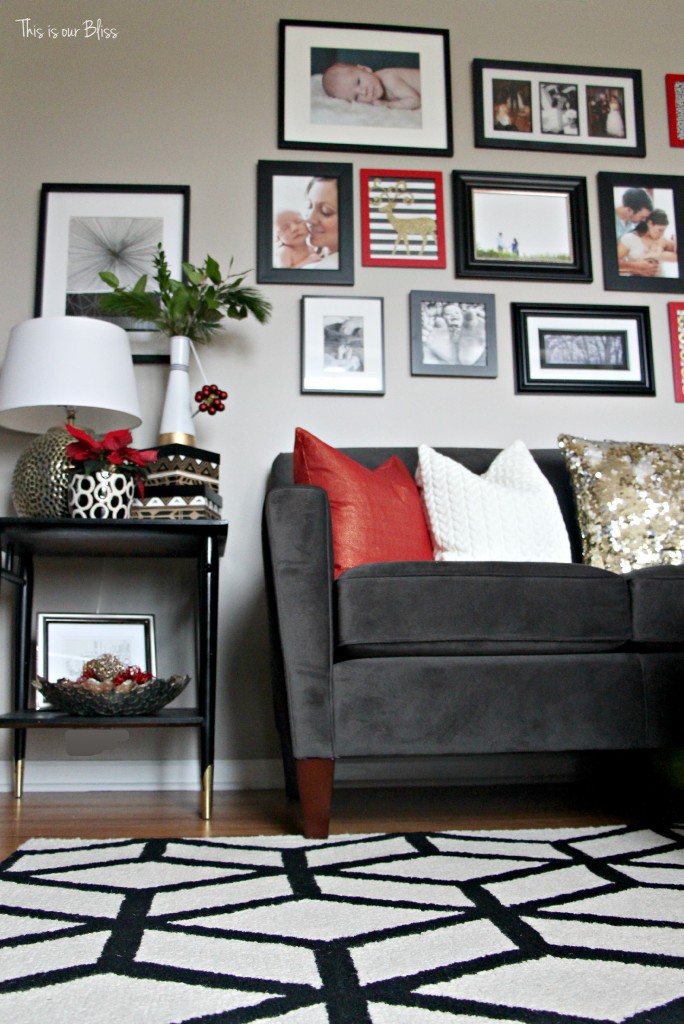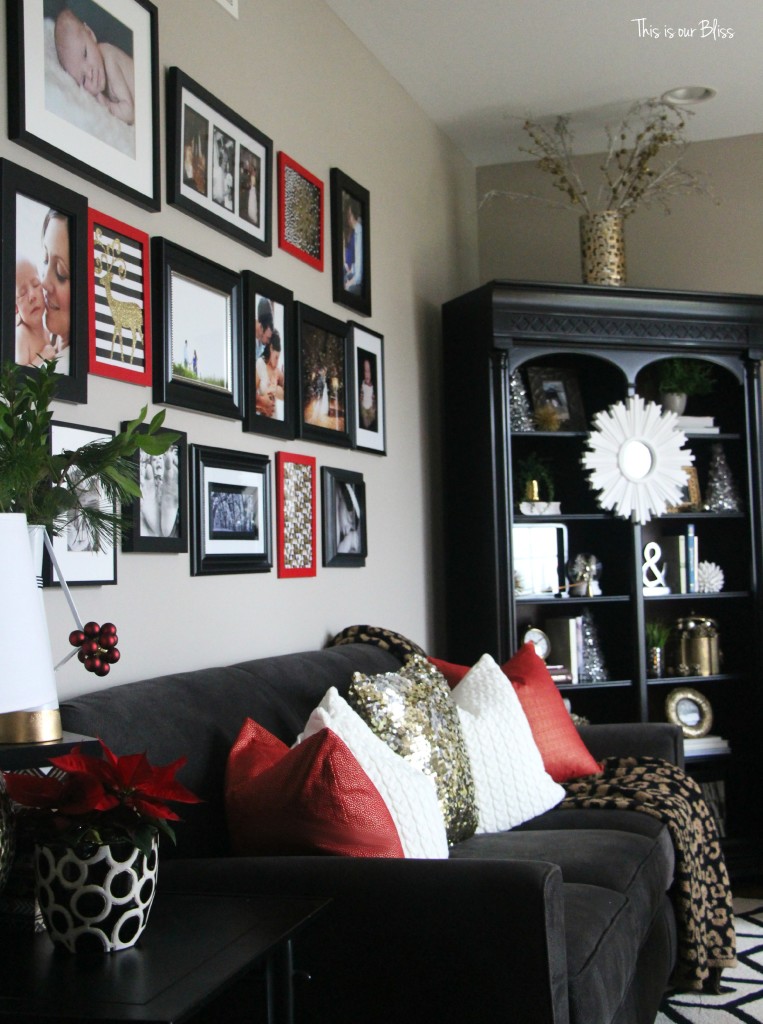 The gallery wall was updated for Christmas for under $10 and I'll be sharing the details with you very soon! I love making quick and easy changes that don't break the bank!
Making our way to the bar…well, its sort of a make-shift bar, but I'll take it. The tray holds the necessities and a few miscellaneous accessories.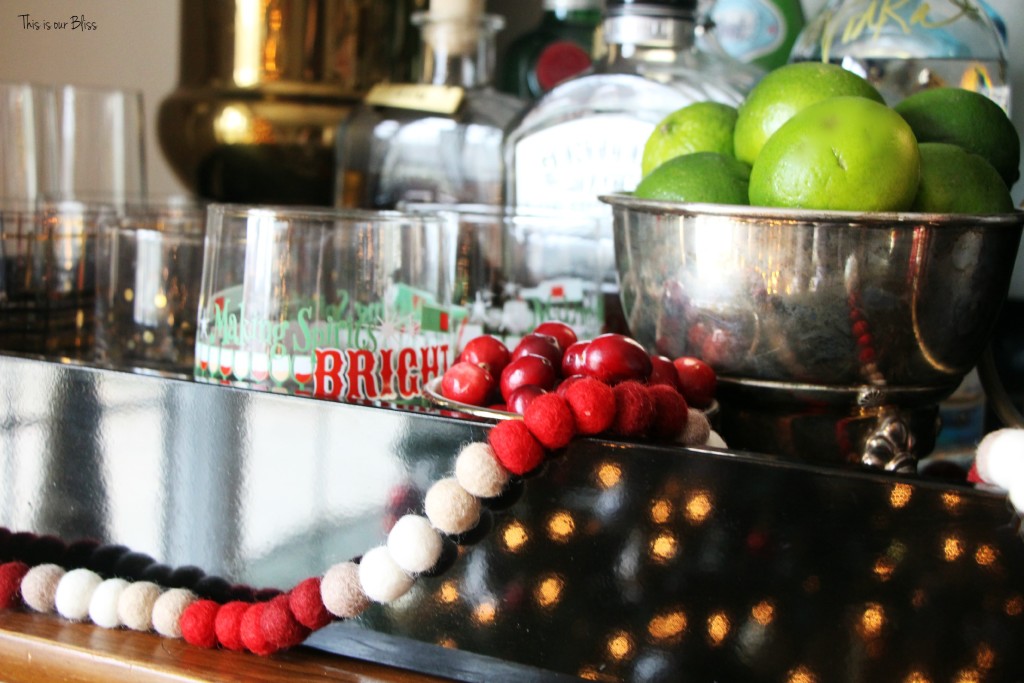 The accessories are oftentimes just as important as the necessities. Don't you agree?!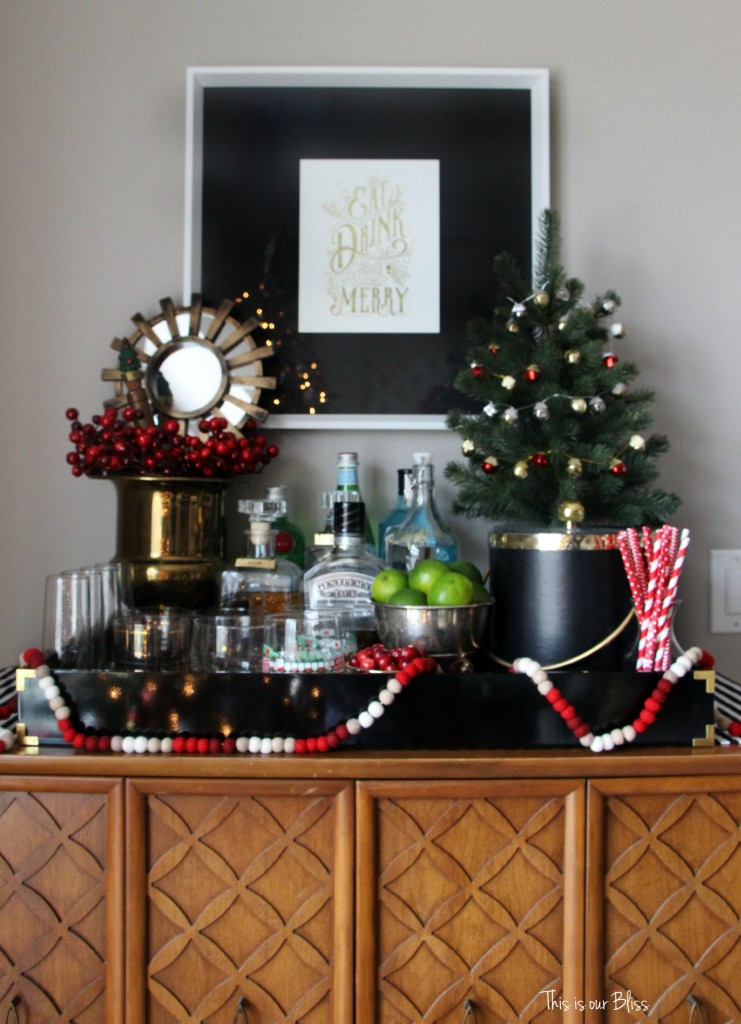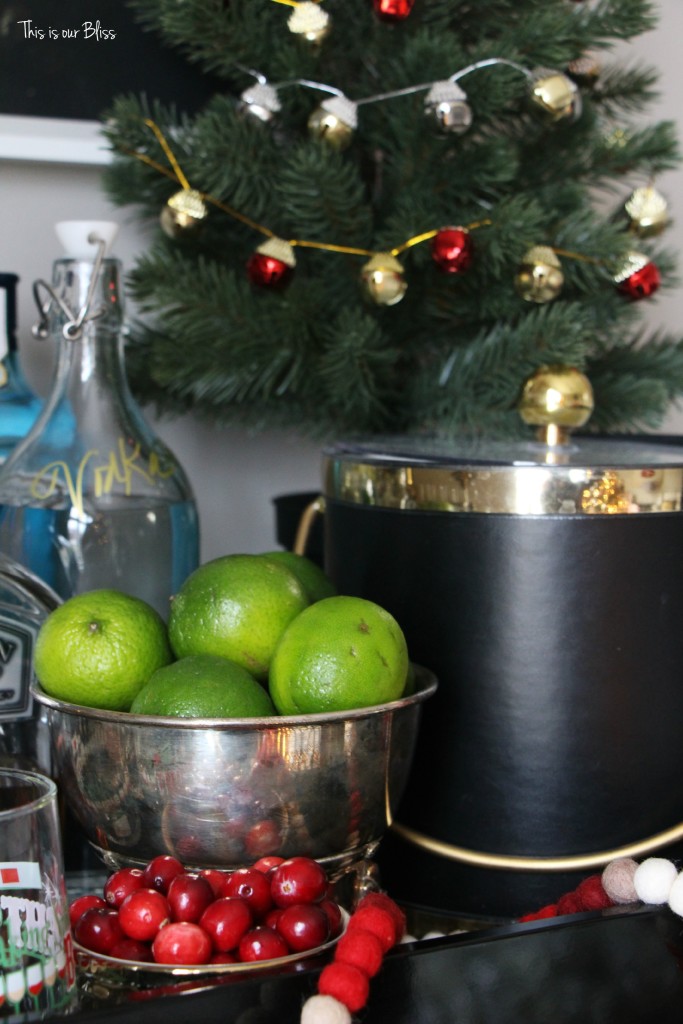 Cranberries & limes are perfectly positive the best holiday garnishes for a festive cocktail!

On our way to the family room, we'll pass the entryway table with a mini peak at the tree…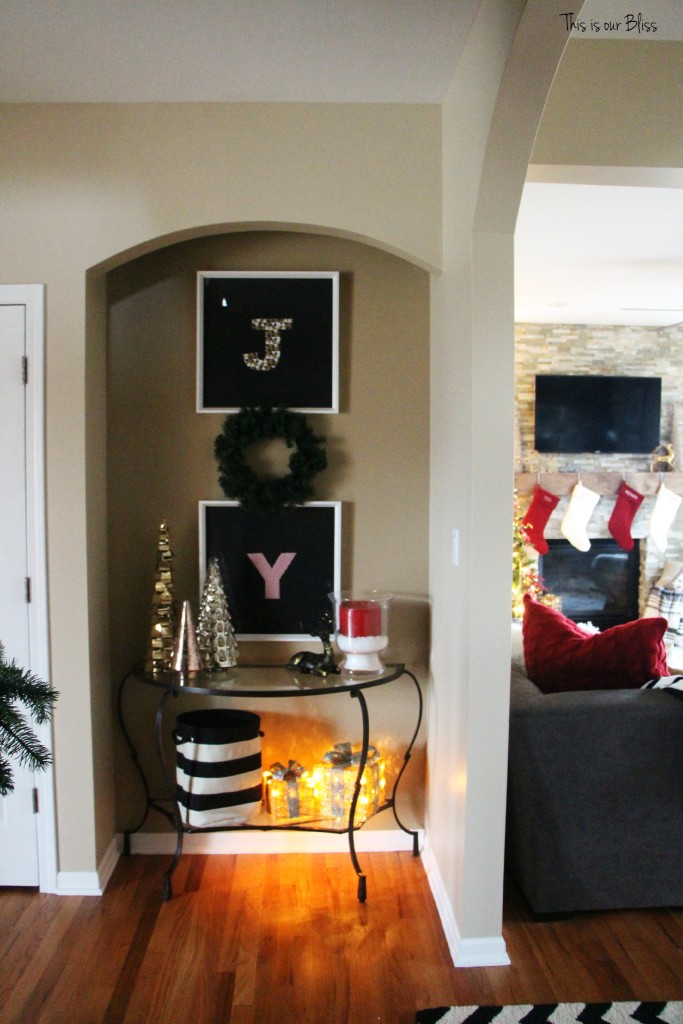 And our remodeled fireplace and mantle! Which, btw, was barely finished with seconds to spare. It looks beautiful now, but this absolutely wasn't the case a short couple days ago.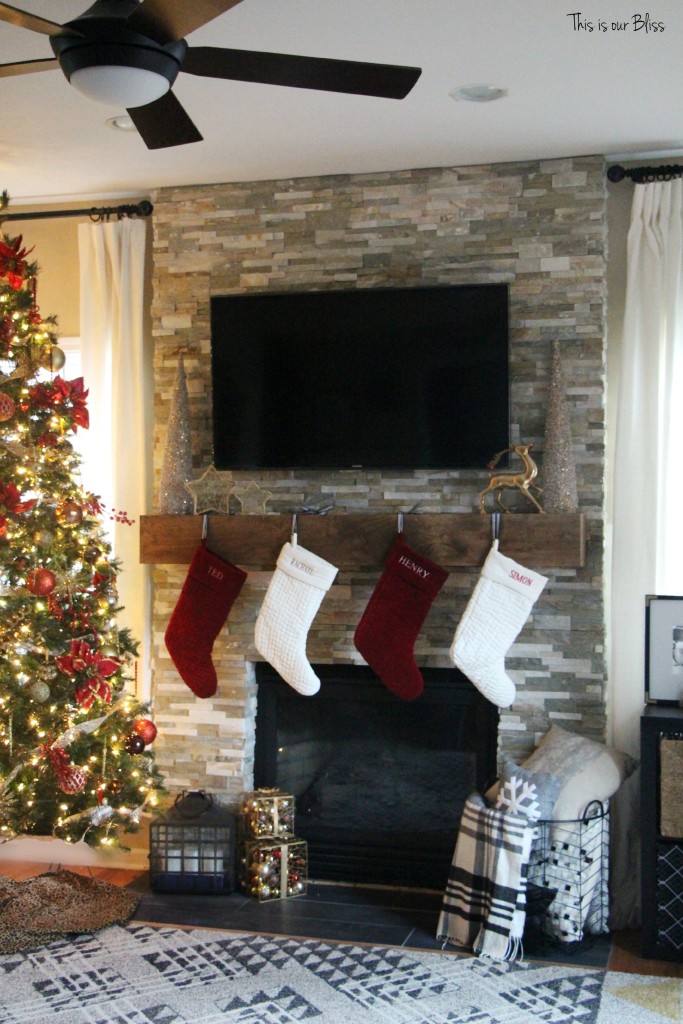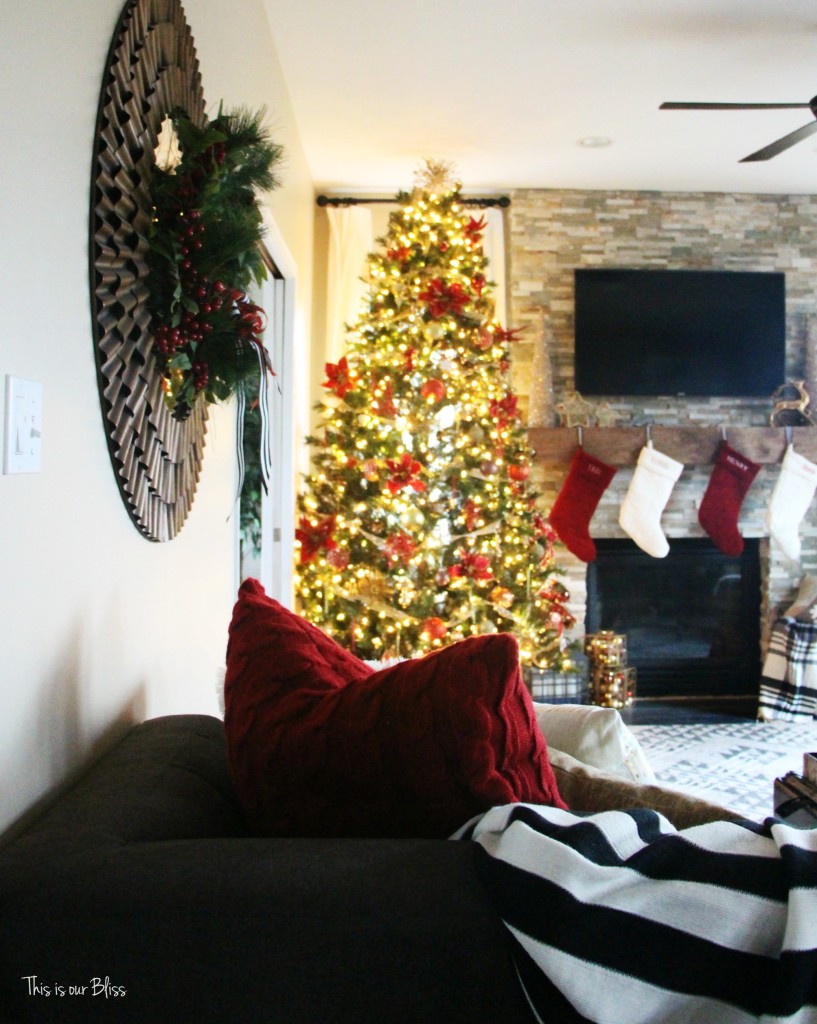 "The stockings were hung by the chimney with care…"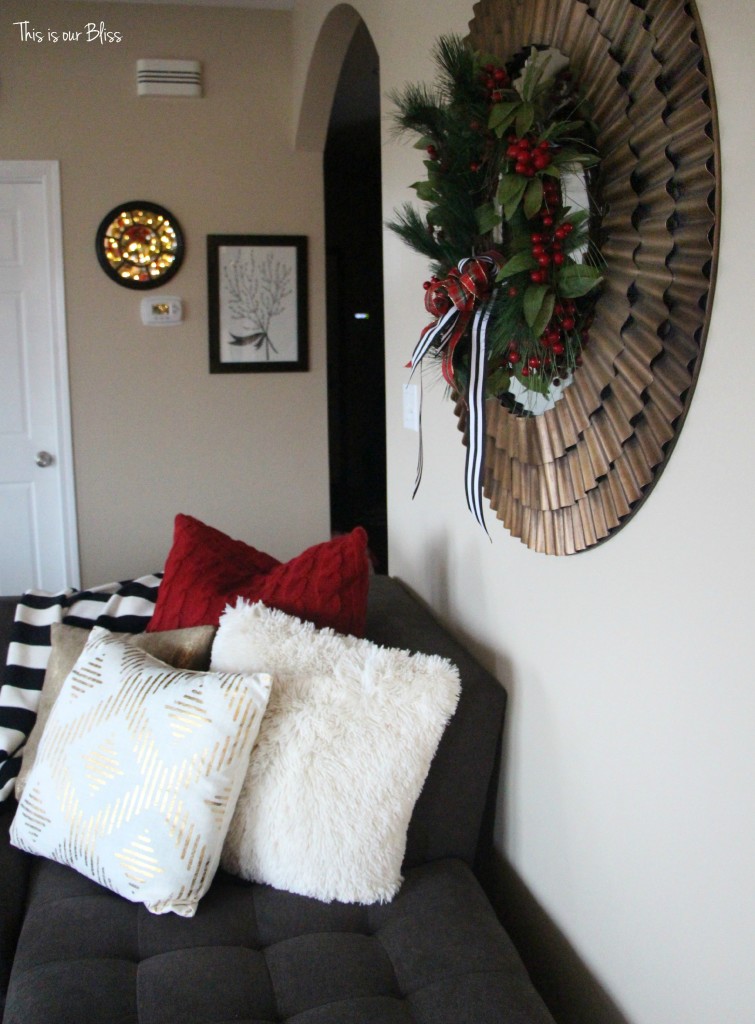 And the pillows were propped with just as much care.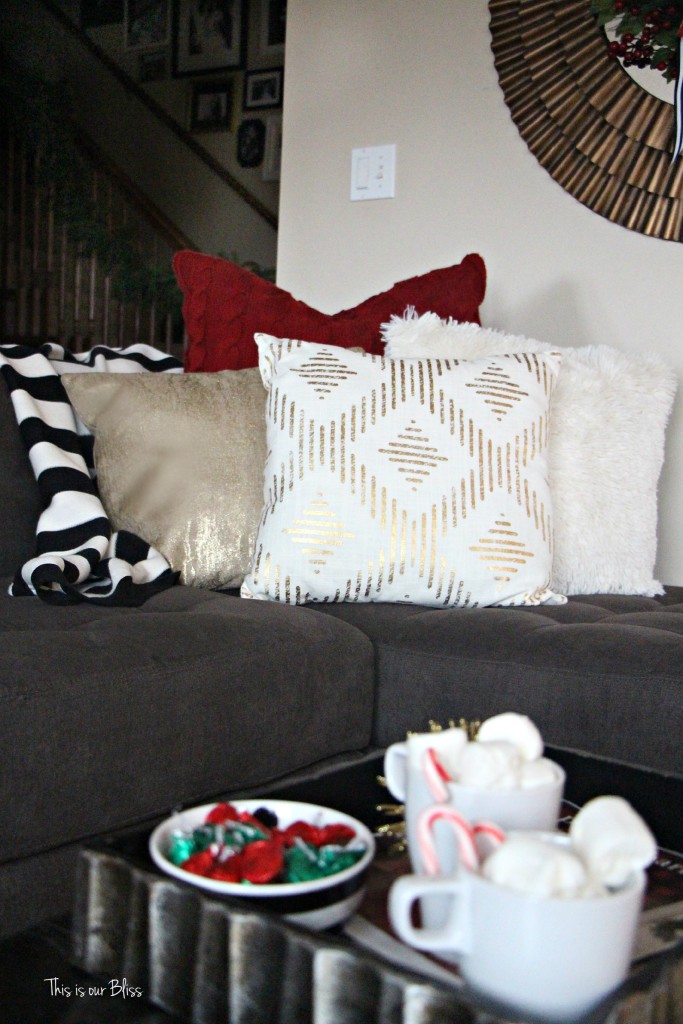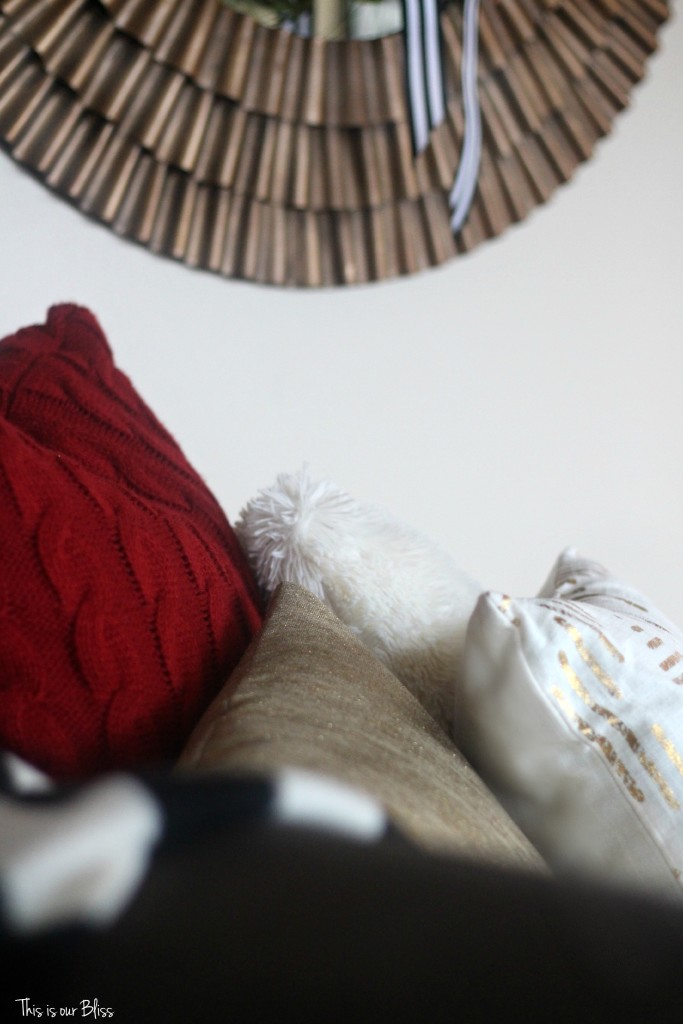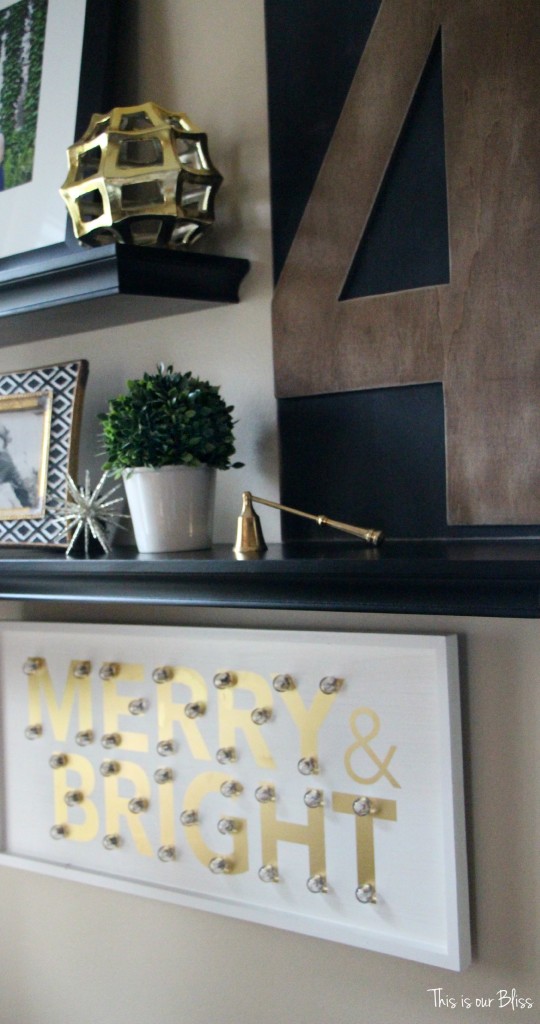 Here is the marquee you saw the boys holding from our family photoshoot. Thankfully the sign made it home safely. We had a few close-calls with him. I think the littlest walked across the front, but didn't break a single bulb. How?! Why?! #momofboys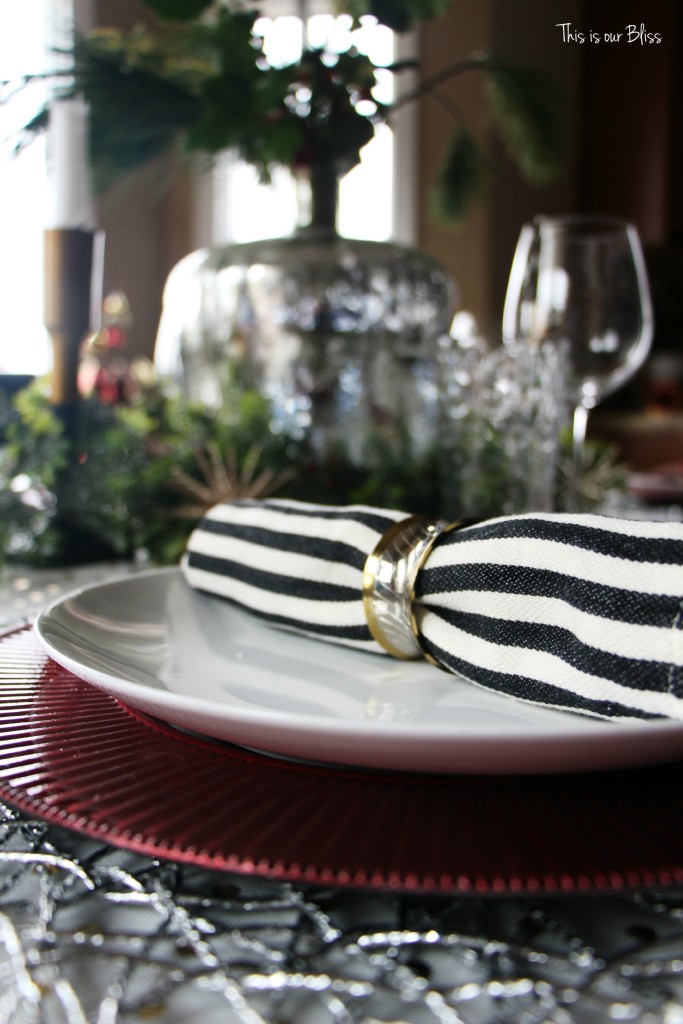 The stripes do pop up here and there and everywhere!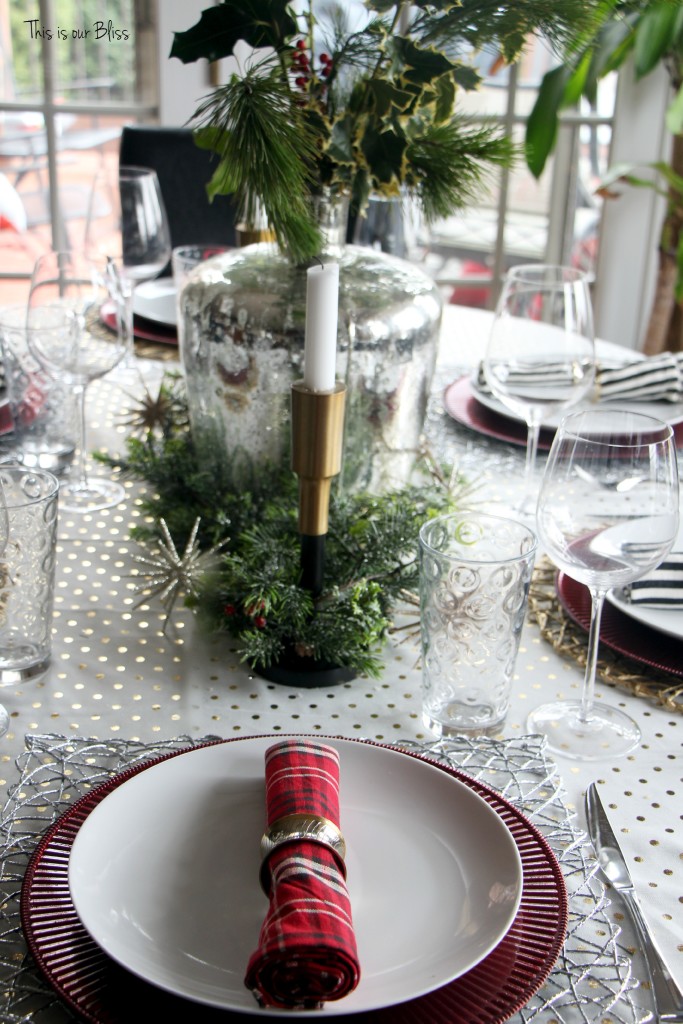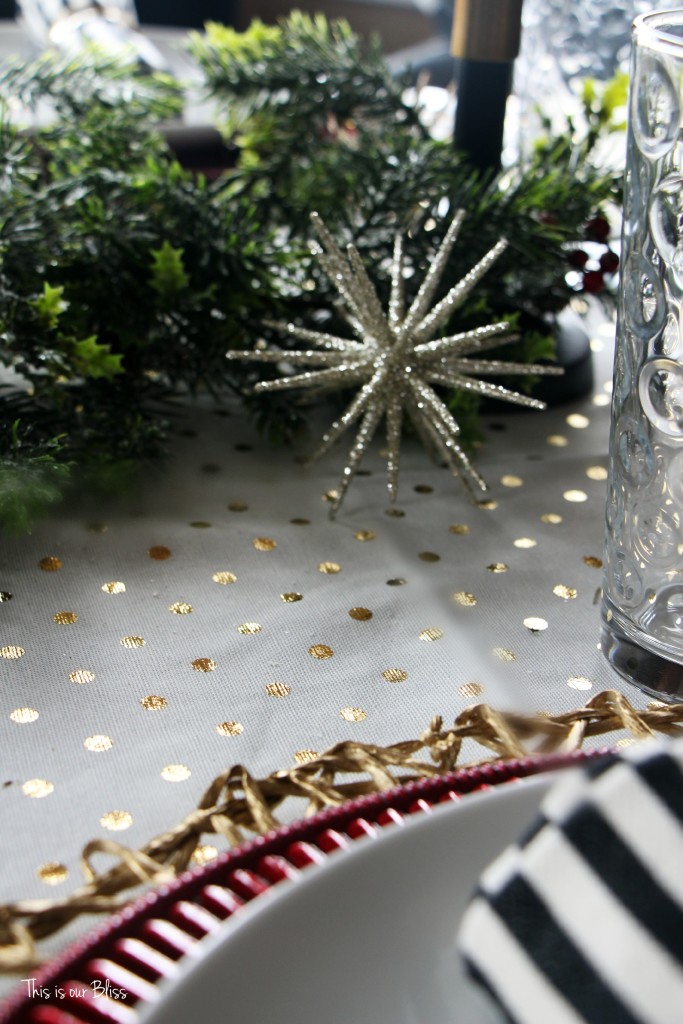 And a gold foil polka dot tablecloth keeps things light and bright. A couple plaid napkins were thrown in to keep things interesting.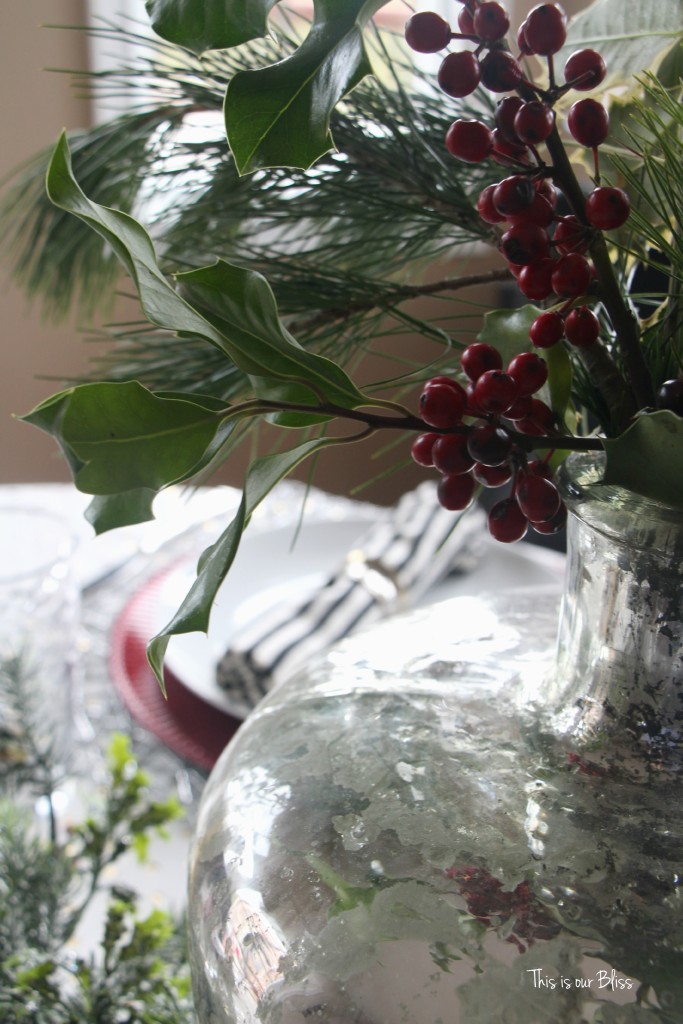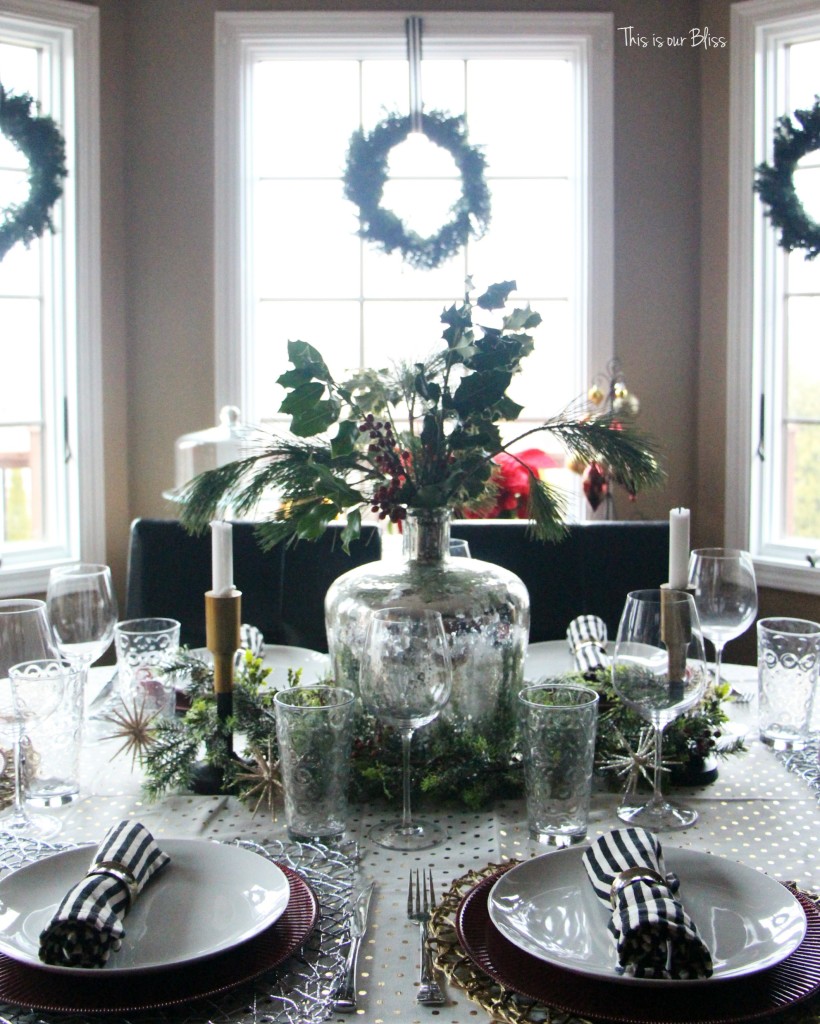 A super simple centerpiece made up of a few basics – black and gold taper candleholders with white candles, a mercury vase with fresh holly & tree clippings, a couple ornaments and garland woven around with the ends wrapped back together. Voila!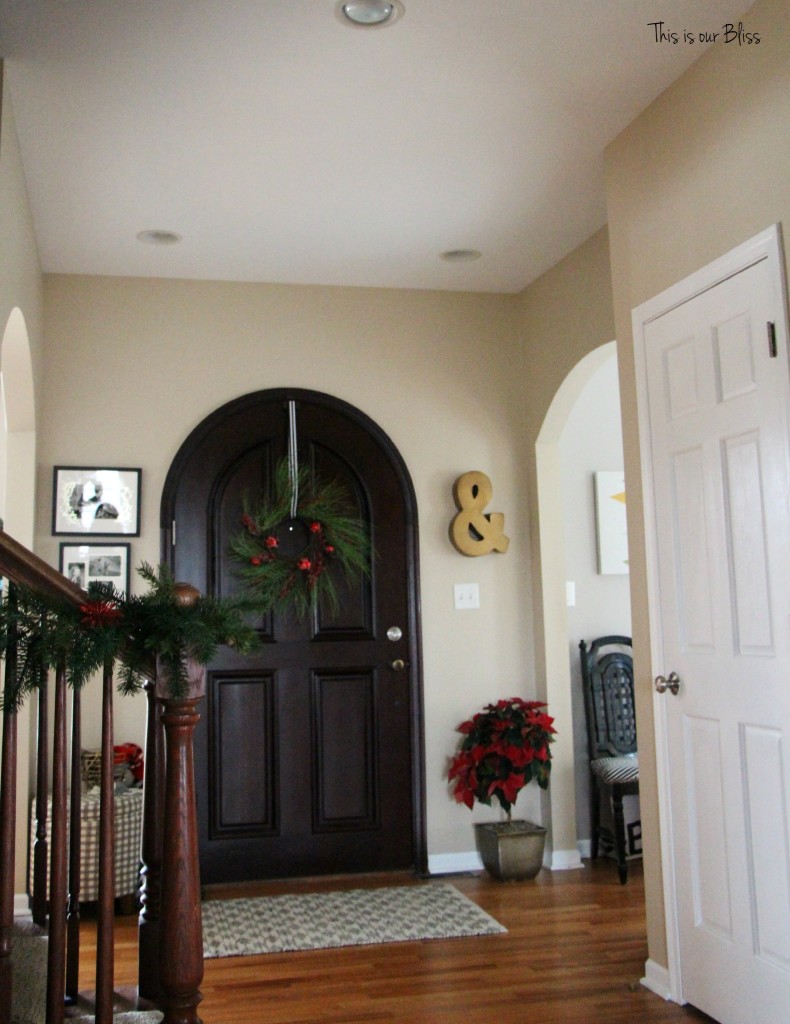 Right back where we started!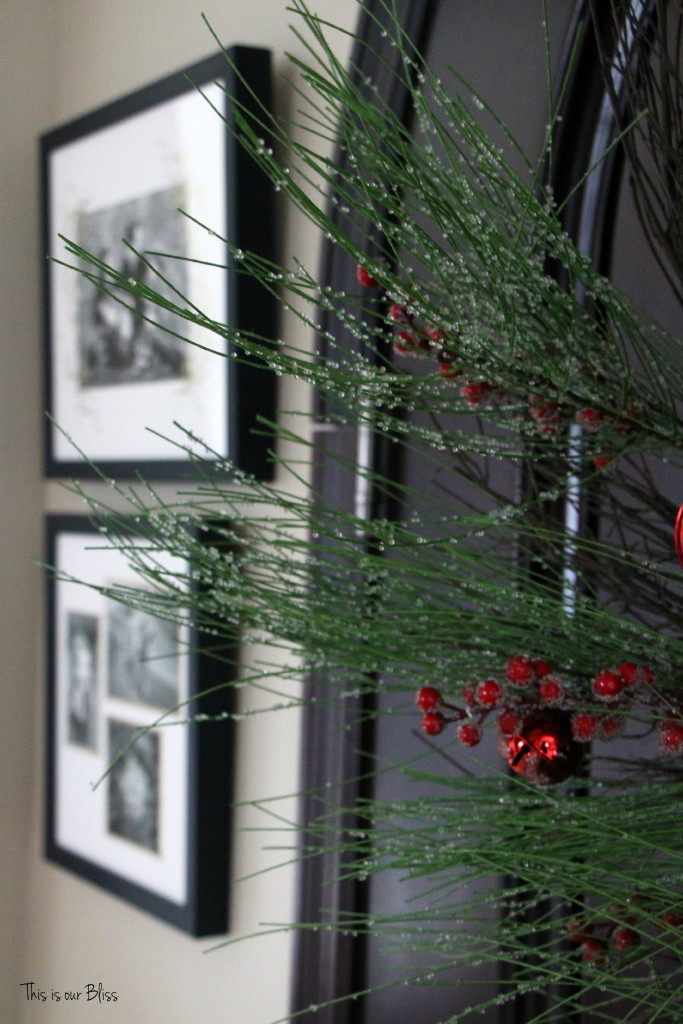 And one last look at the front room tree…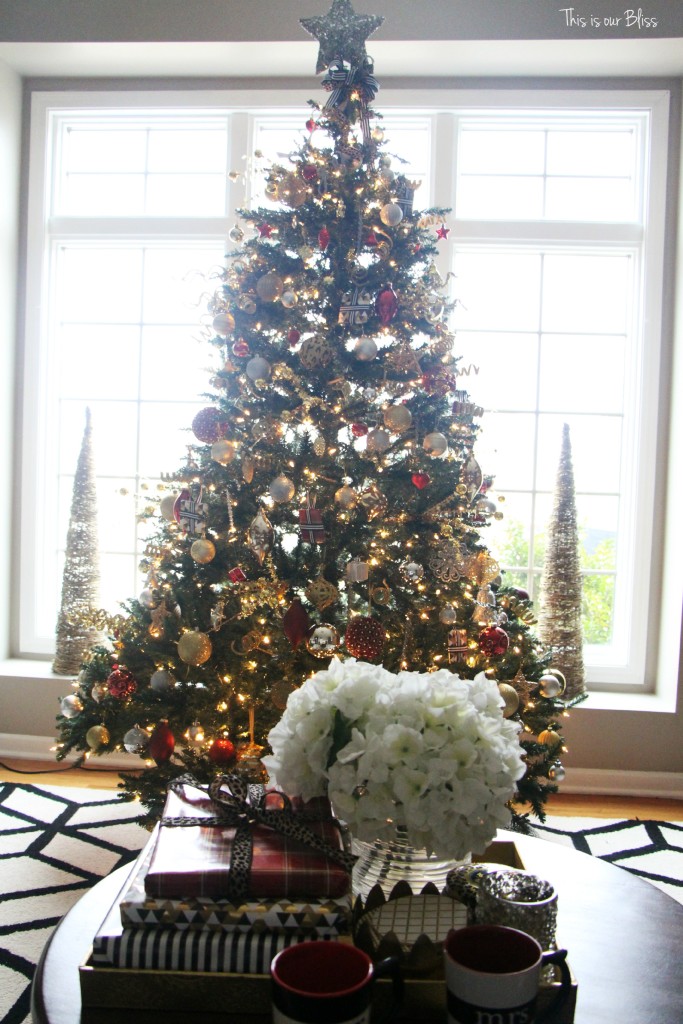 And a final look at the door as we say goodbye…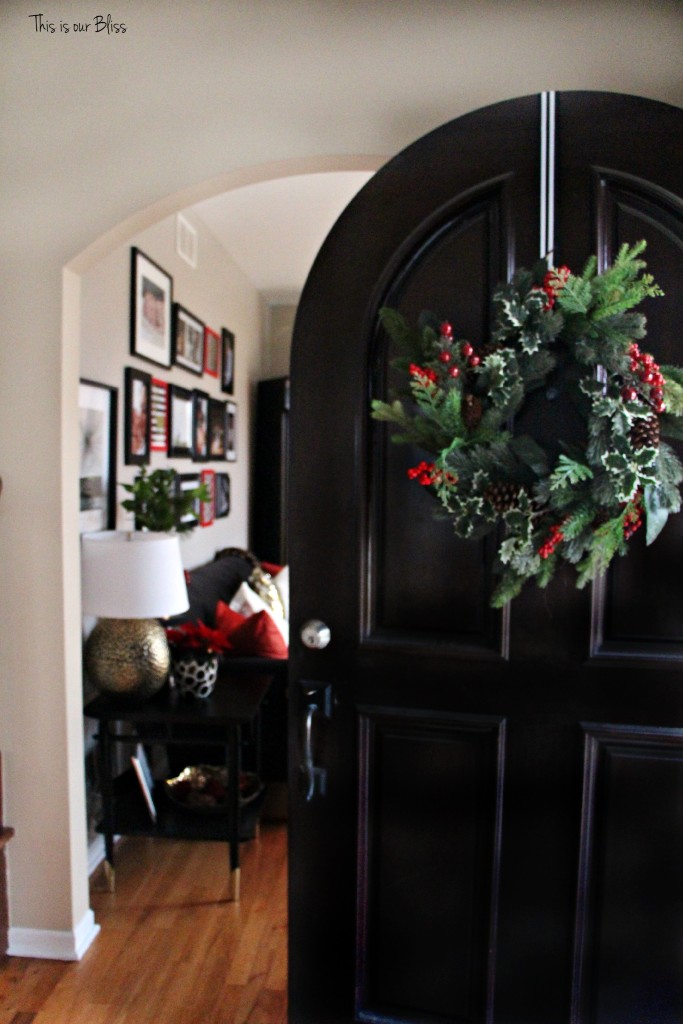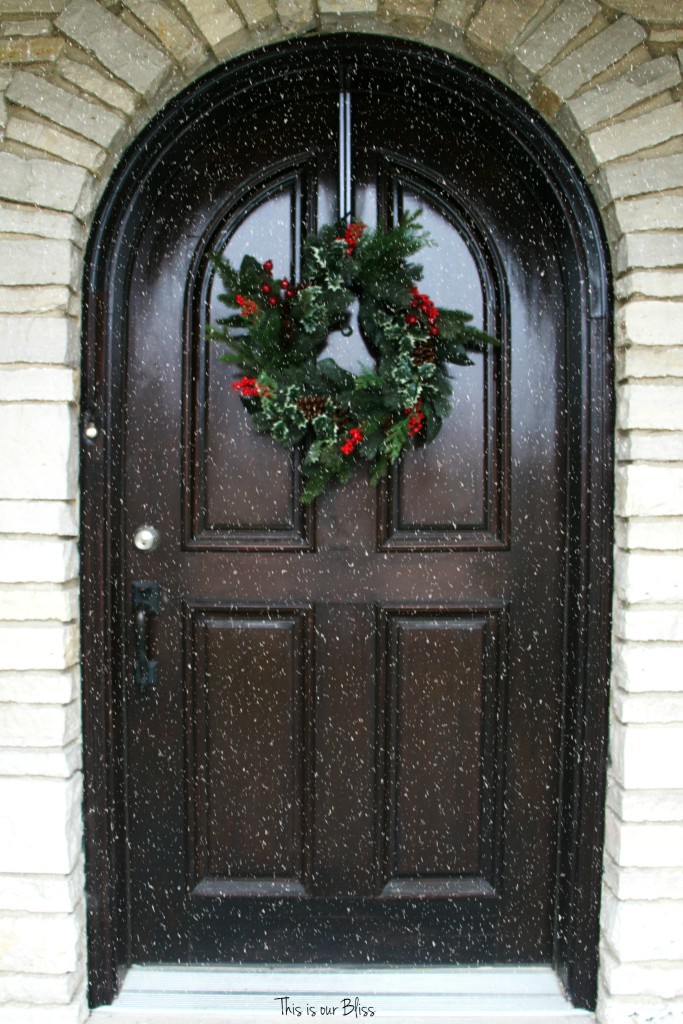 And because its Chicago-land, you are heading out just in time!
Thank you so much for joining me here today!! And please do come back each day this week and into next week to view more Christma-fied rooms & all the details from what you saw today! You won't want to miss!
We are a little more than halfway through the 12 Days of Christmas Tour of Homes, so be sure to back-track and check out what went on last week and then hang tight for the remainder of the tour, too! Another big thank you to Evolution of Style for a fantastic tour. I am so proud to be a part of it this year!
Also up today is Classic Casual Home and tomorrow is Primitive and Proper's tour!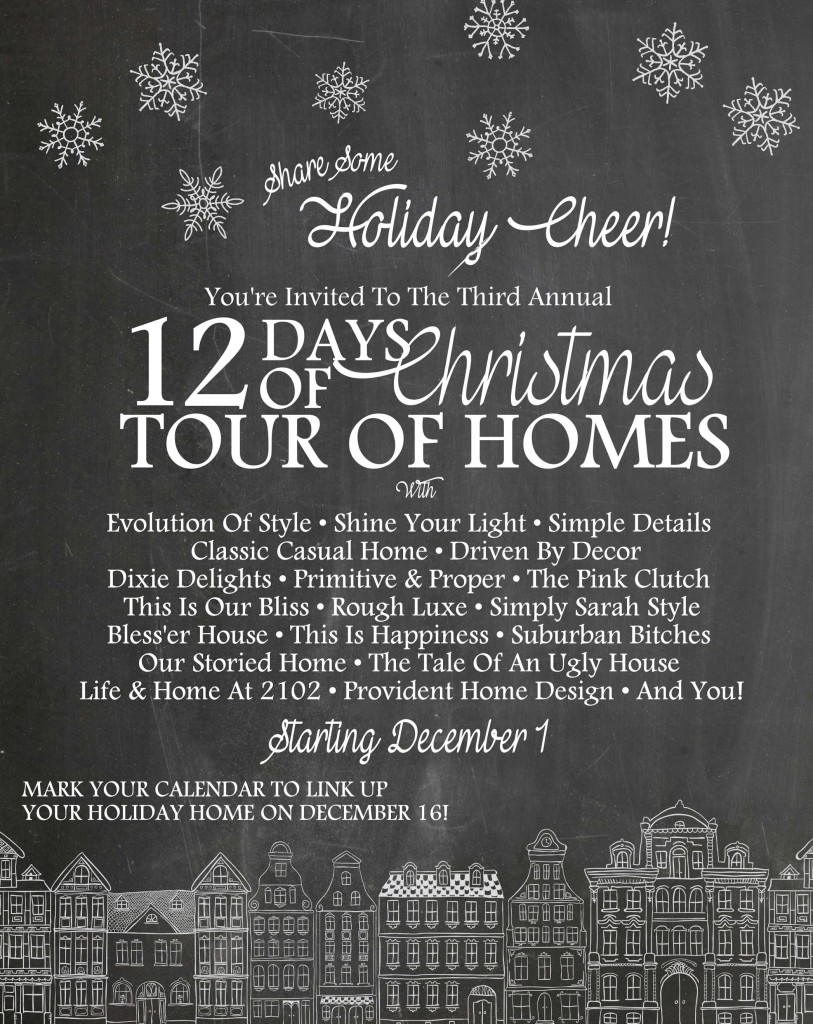 12.1 | Evolution of Style || Dixie Delights
12.2 | Life & Home at 2102 || Provident Home Design
12.3 | Simple Details
12.4 | The Pink Clutch || This is Happiness
12.7 |  Bless'er House  ||  The Tale Of An Ugly House
12.8 | Classic Casual Home  ||  This is our Bliss
12.9 | Primitive and Proper
12.10 | Shine Your Light  ||  Driven by Decor
12.11 | Suburban Bitches ||  Our Storied Home 
12.14 | Simply Sarah Style  ||  Rough Luxe
 12.16 | Tour Highlights & Our Link Party with YOU!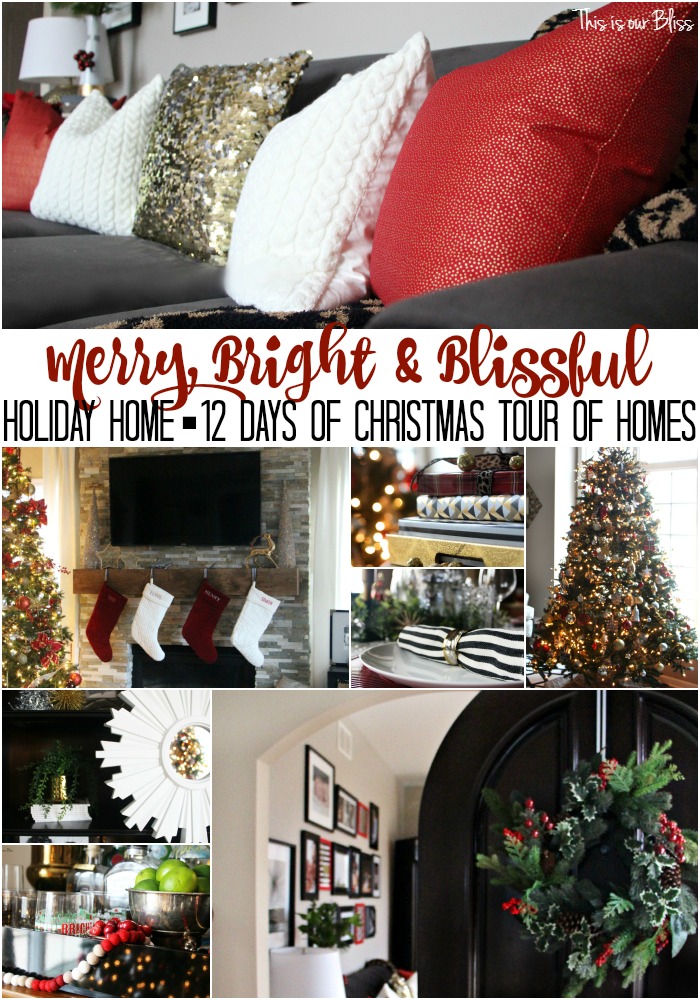 I hope you'll come back to see the rest of the Merry, Bright and Blissful Holiday Home series:
Front Door | Home Tour | Living Room & Holiday Bar | Family Room | Christmas Table