When it comes to decorating our home, my style can pretty much be summed up in 3 simple words: bold, neutral and glam. When it comes to trimming the tree, I don't venture too far outside my comfort zone with the exception of the use of the color red! If you take a look around here during any month besides December, red can only be found in 2 places – the playroom and in my wine glass. no joke. I truly prefer a neutral color pallette with bold, distinctive prints and patterns with a hefty side of glitz and glam. #metallicsaremyjam
Today, I am breaking down the elements of our lovely Living Room tree for the My Home Style Blog Hop Christmas: Tree Edition hosted by Casa Watkins! If you are stopping over from My Life From Home, welcome!! A group of home decor & DIY bloggers have joined forces to celebrate style…style in the home and in the spirit of the season, style found in our Christmas trees!
Now let's take a peek at this Bold Neutral Glam Christmas Tree, shall we?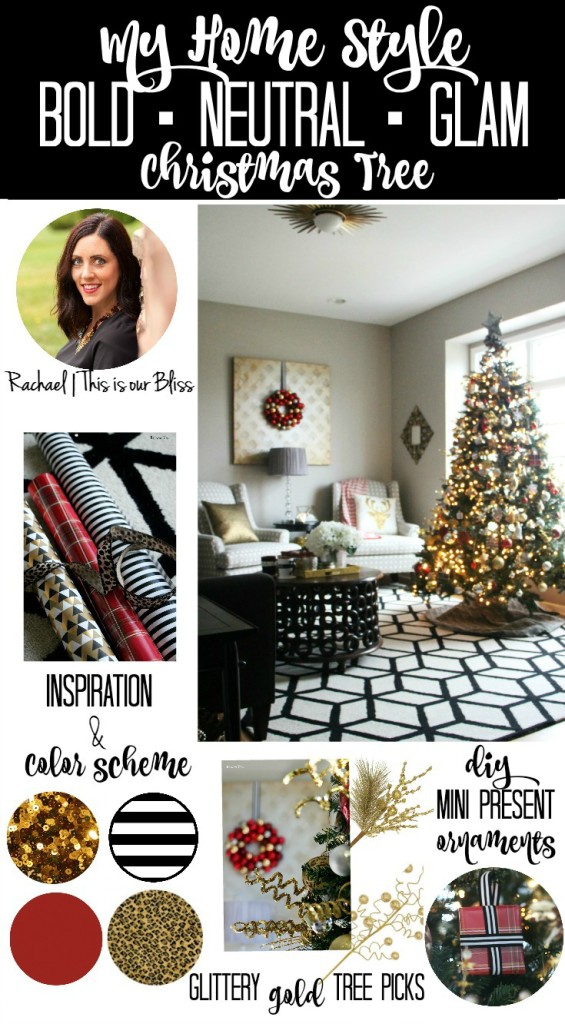 Here is how my tree came to life!
Since pattern play is one of my favorite ways to incorporate a variety of prints, I am usually inspired by a fabulous fabric, typically in the form of a pillow, but for the tree I was inspired by both fabric and wrapping paper.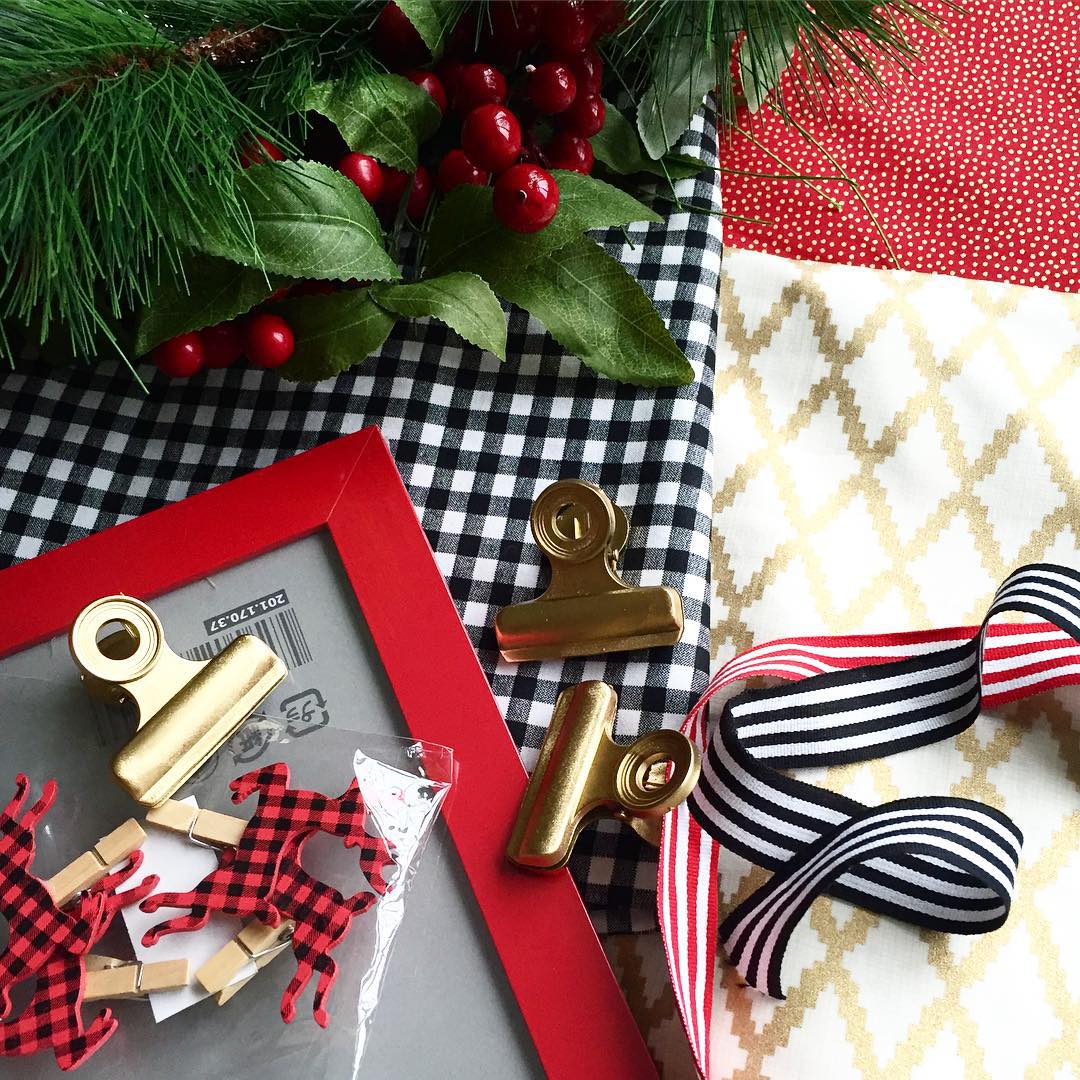 I'll admit, I am a bit of a wrapping paper hoarder collector. Those rolls always find a way to jump into my shopping cart year-round, so by the time the holidays are upon us, I have a pretty hefty stash.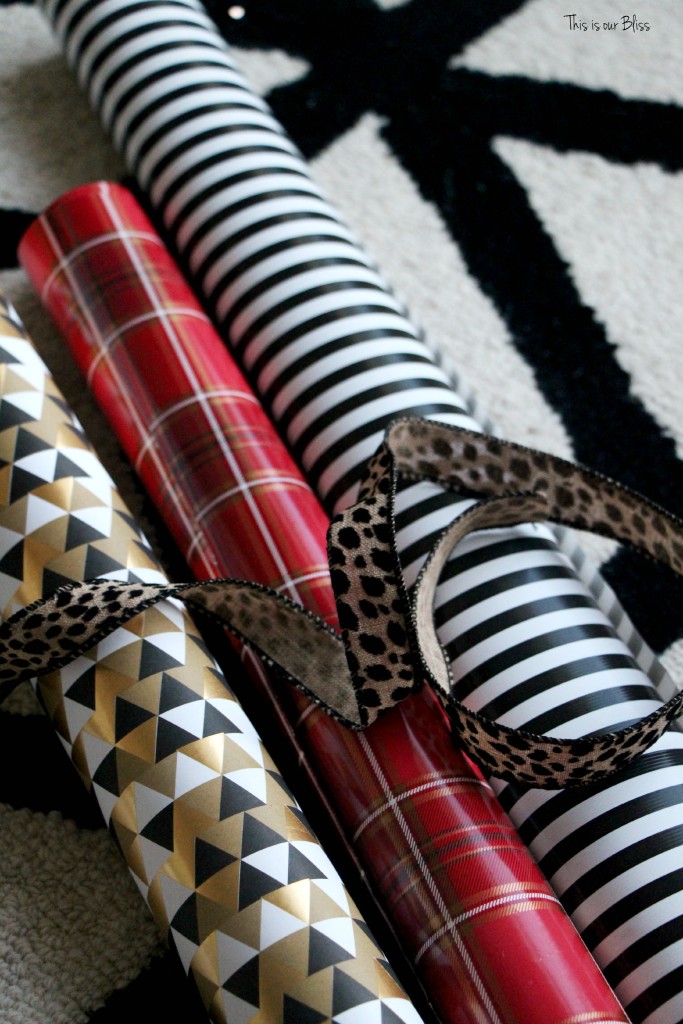 I will always love a class black and white stripe and in my opinion, you just can't go wrong with animal print. The black, white, tan and gold triangle geo print seemed fun and well…bold, neutral and glam, so it came home with me, too. The red plaid paper above was a great find. I had been searching for red plaids that didn't have any green in them and it was tough! I lucked out with that roll from Michaels!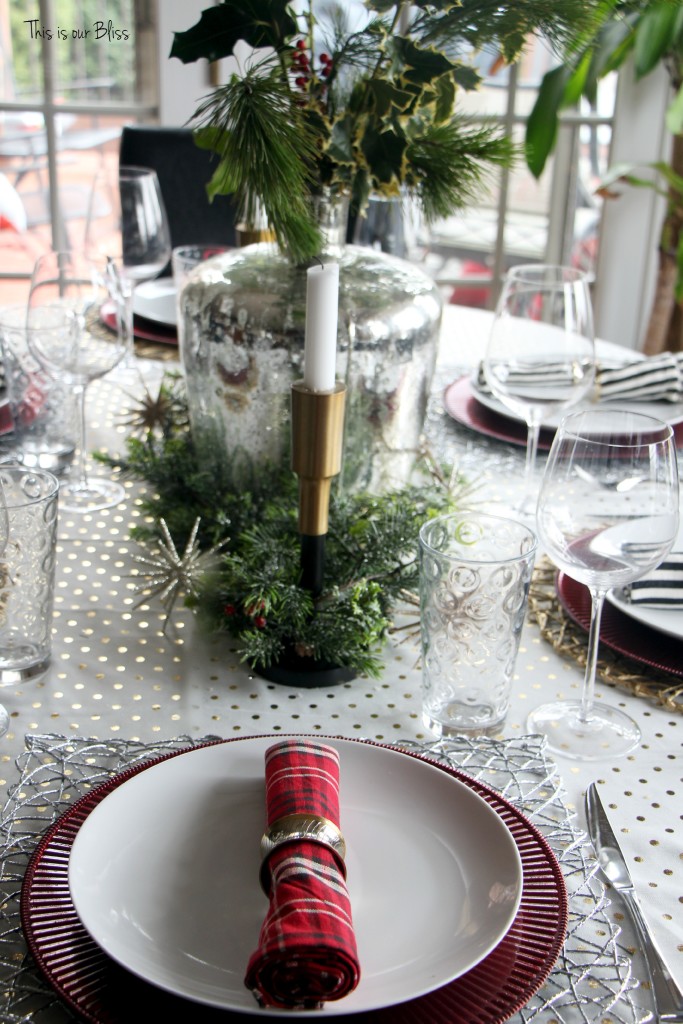 Another plaid you'll see around the house this time of the year are my Amazon
 plaid napkins which I turned into pillows AND used on my Christmas table! I couldn't resist after whipping up a couple napkin pillows up for fall.
Now, back to the tree…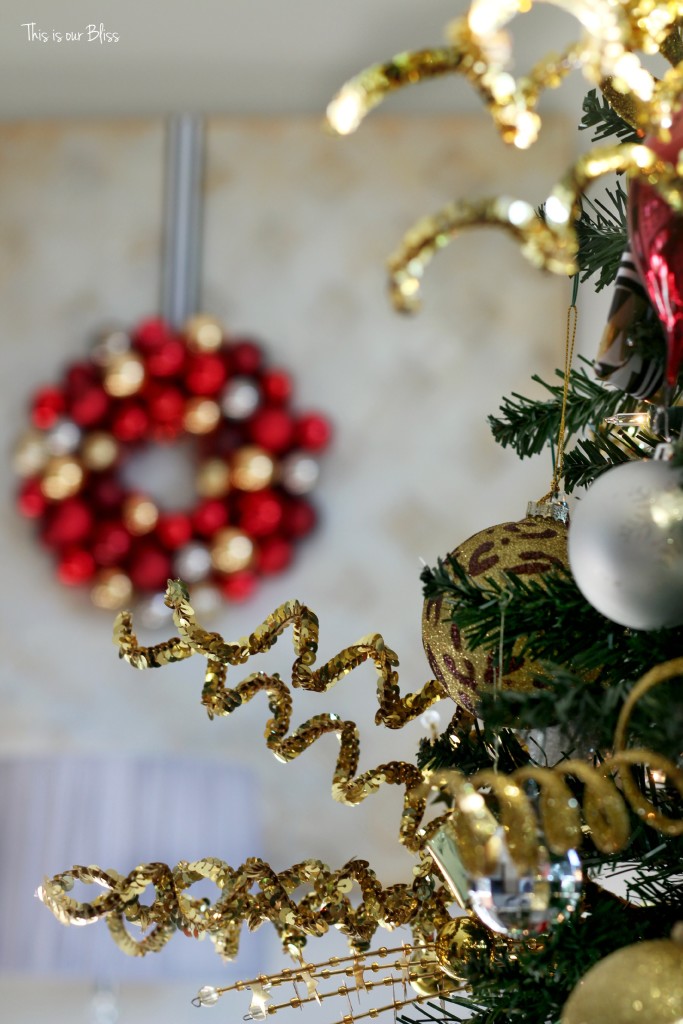 I have gold everywhere and bits of silver, black, white and red sprinkled throughout. These gold sequin tree pics added the perfect amount of funk and dimension. I used those inspiration papers A LOT.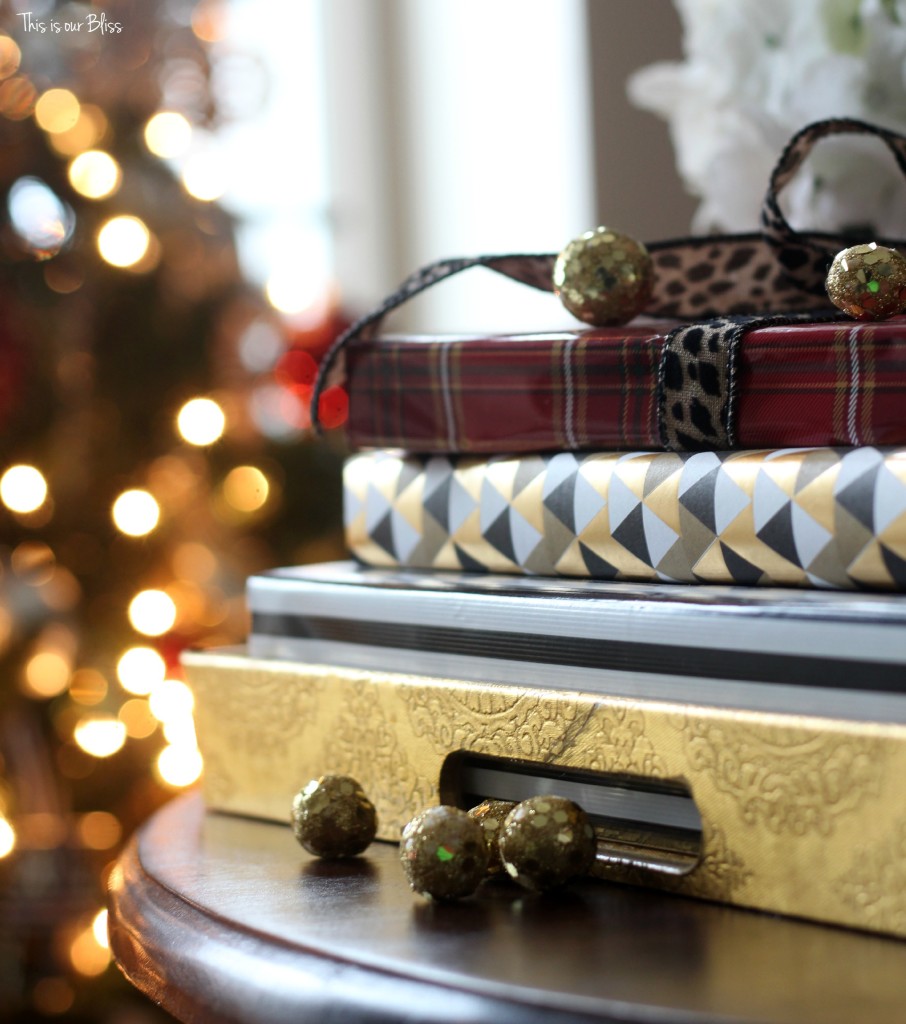 You'll find them covering my coffee table books…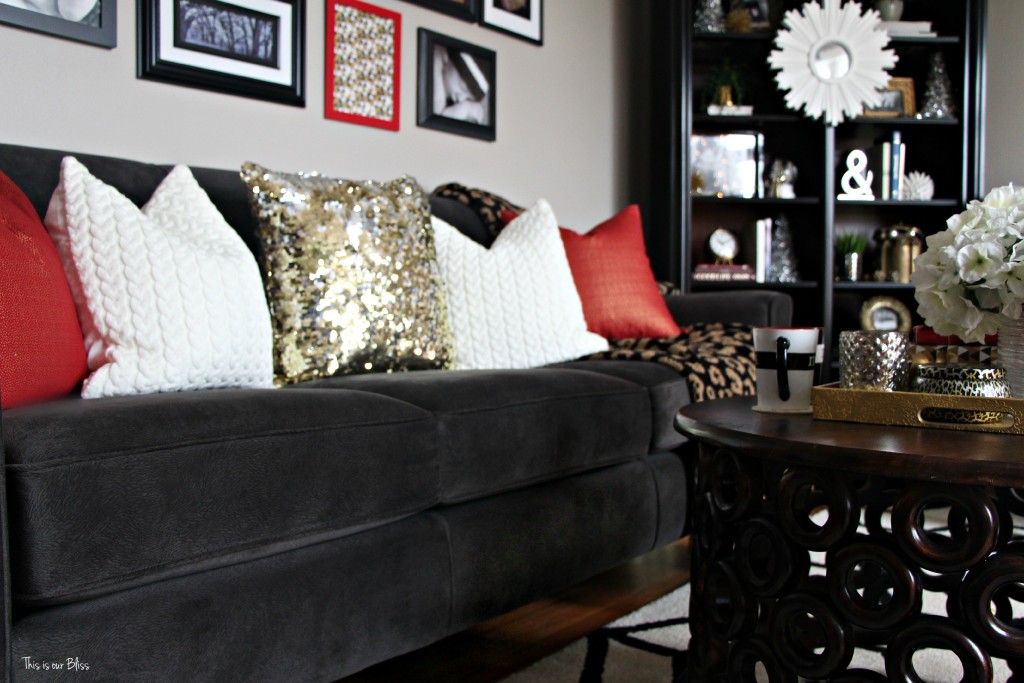 on the gallery wall…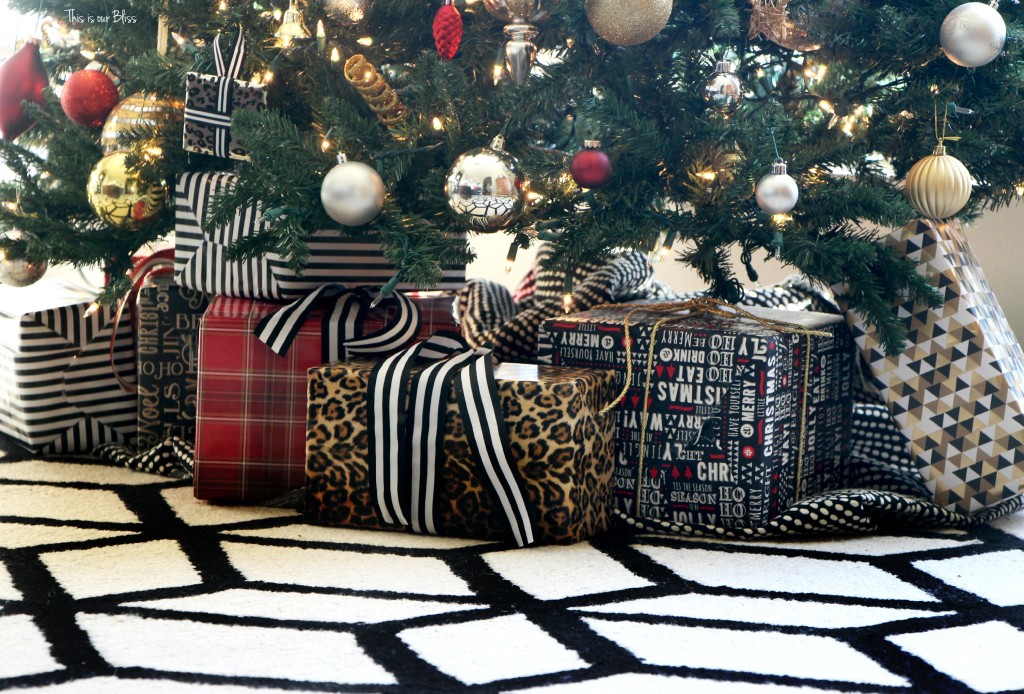 under the tree…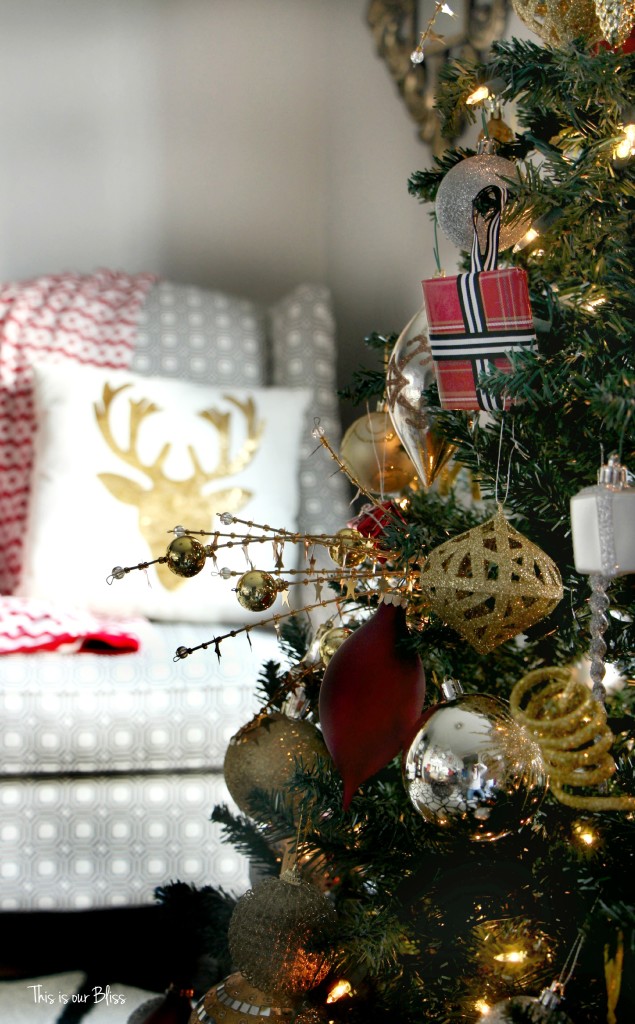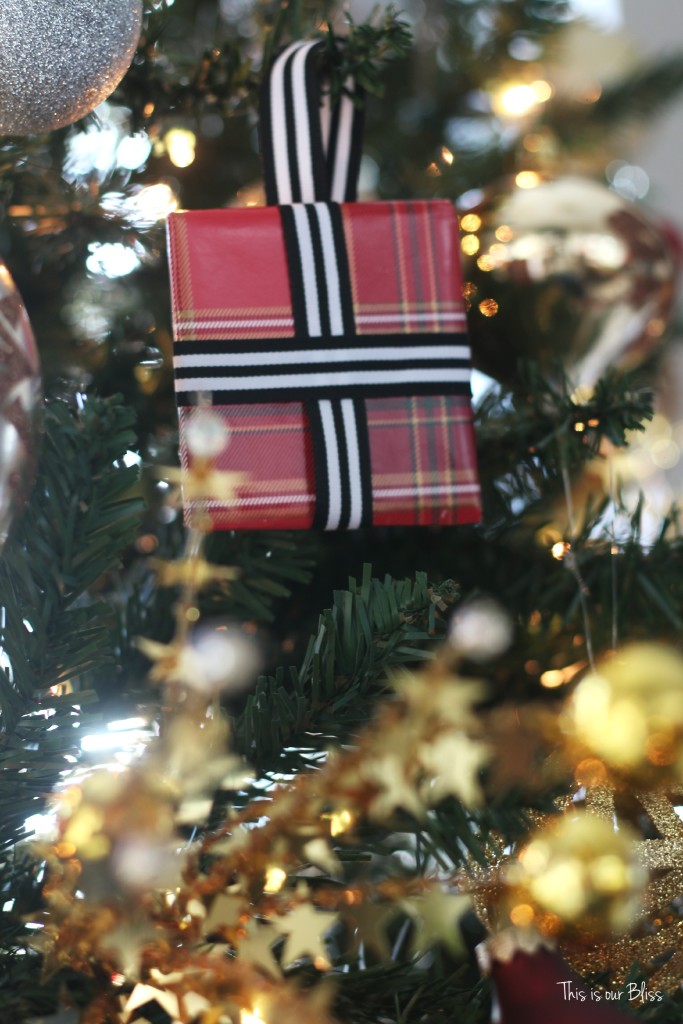 [DIY mini wrapped present ornaments]
and IN the tree! What can I say? I mean, a girl's gotta coordinate, right??!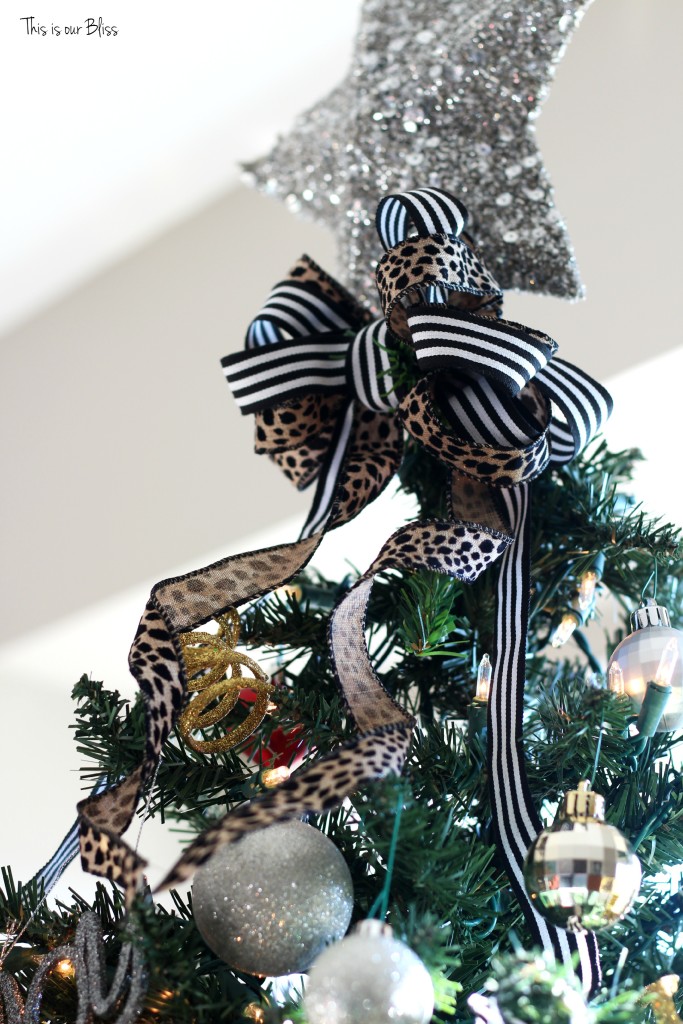 I even made a mini bow to go under our silver star. It's actually the same tree topper we've had since our first Christmas tree when we were still dating; I can't bear to part with it! Since I've mixed metals throughout the tree and it IS made of sequins and all, it can stay 😉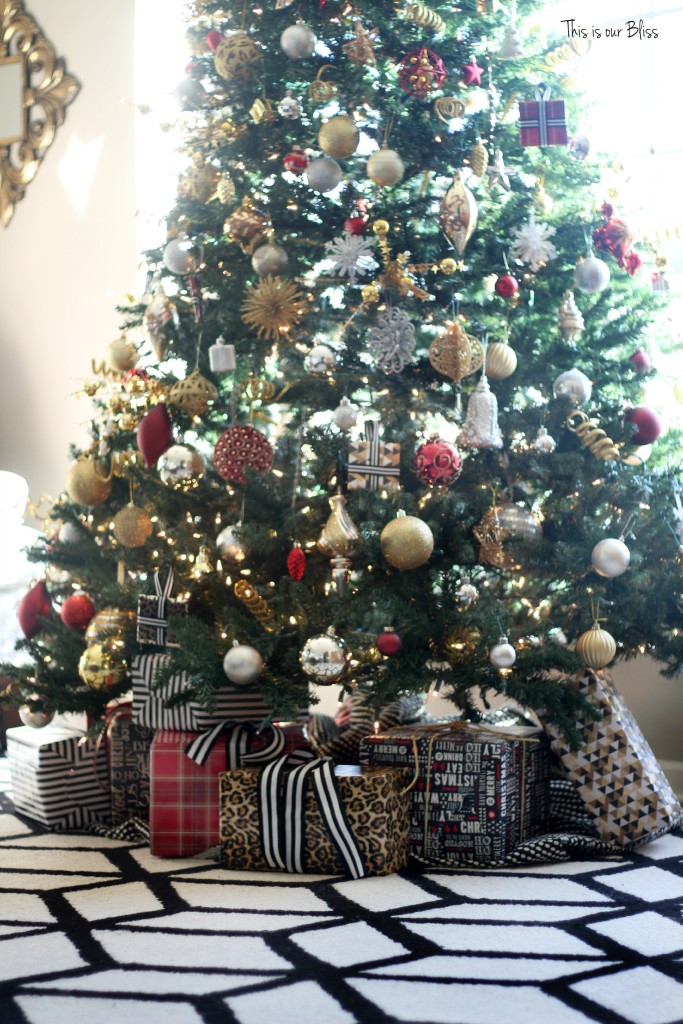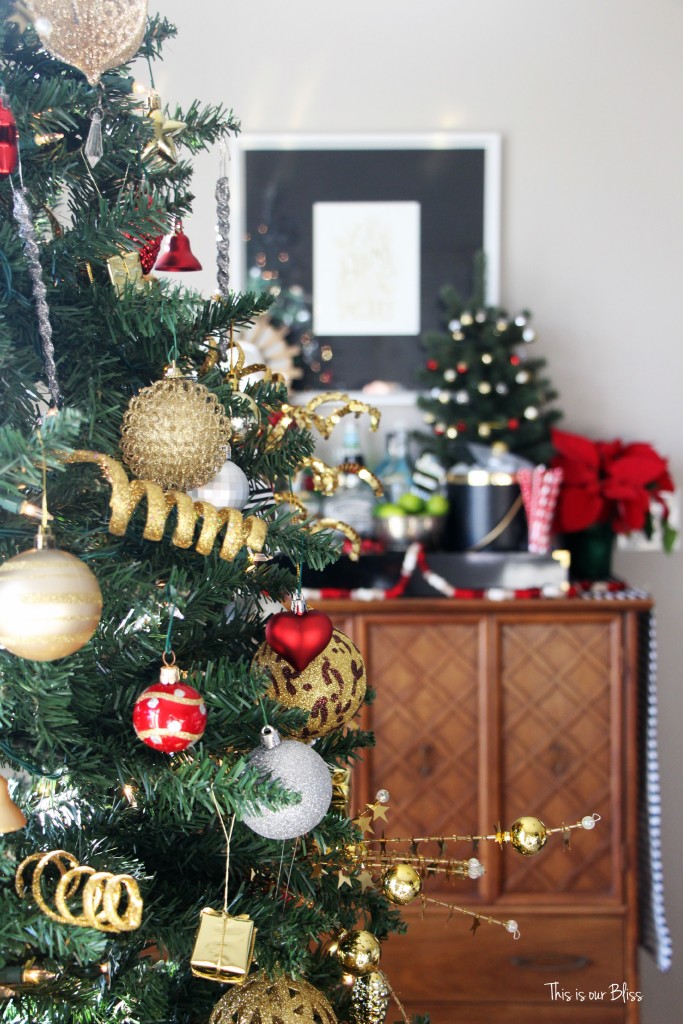 And a little peek-a-boo of our makeshift holiday bar. I am sort of thinking this festive bar needs to be in here year-round! #joytotheworld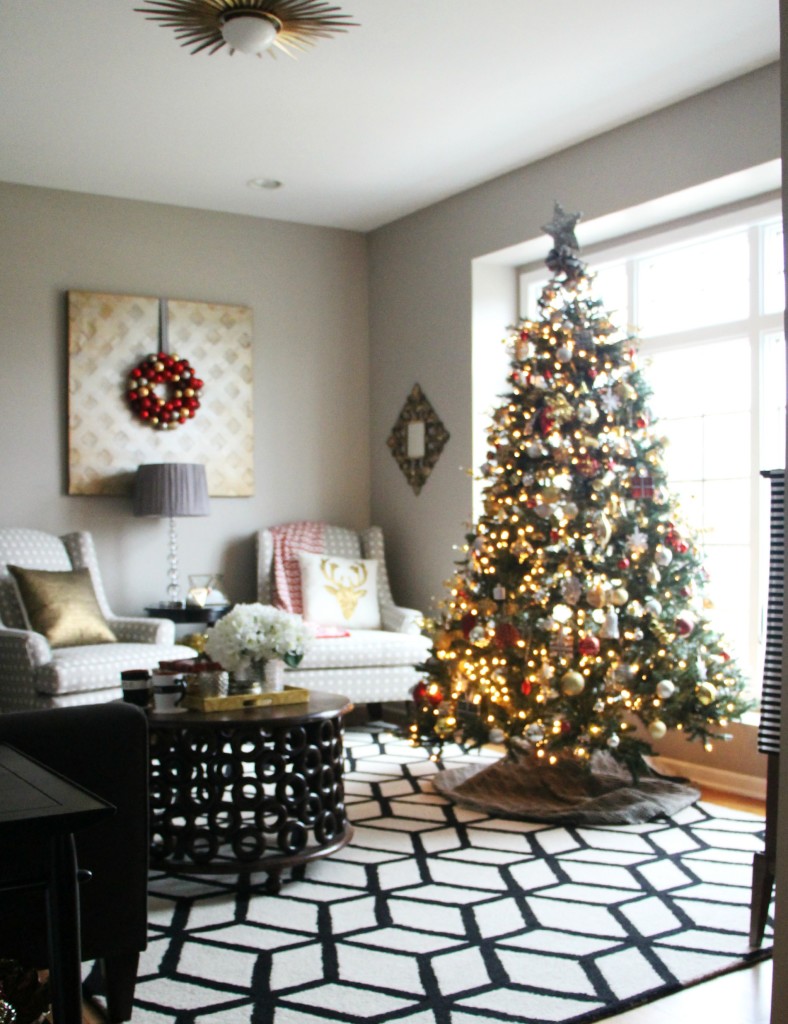 And there you have it! Our bold, neutral, glam Christmas tree!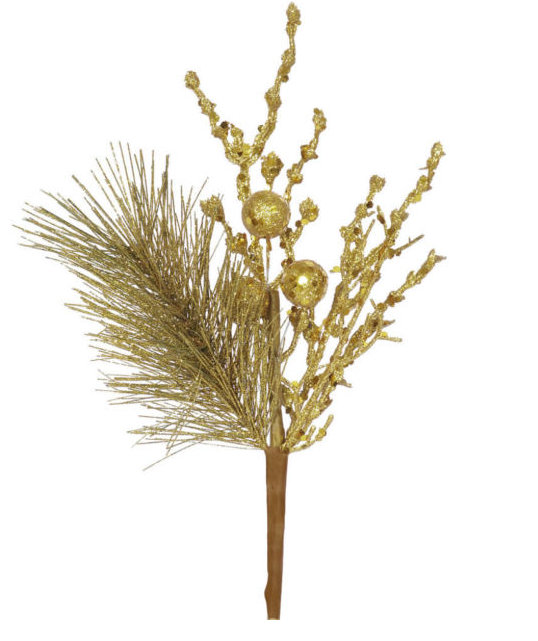 Unfortunately, I don't have many sources to share today because my ornaments have been collected over the years, but you can scoop up the picks & ribbon at Michaels.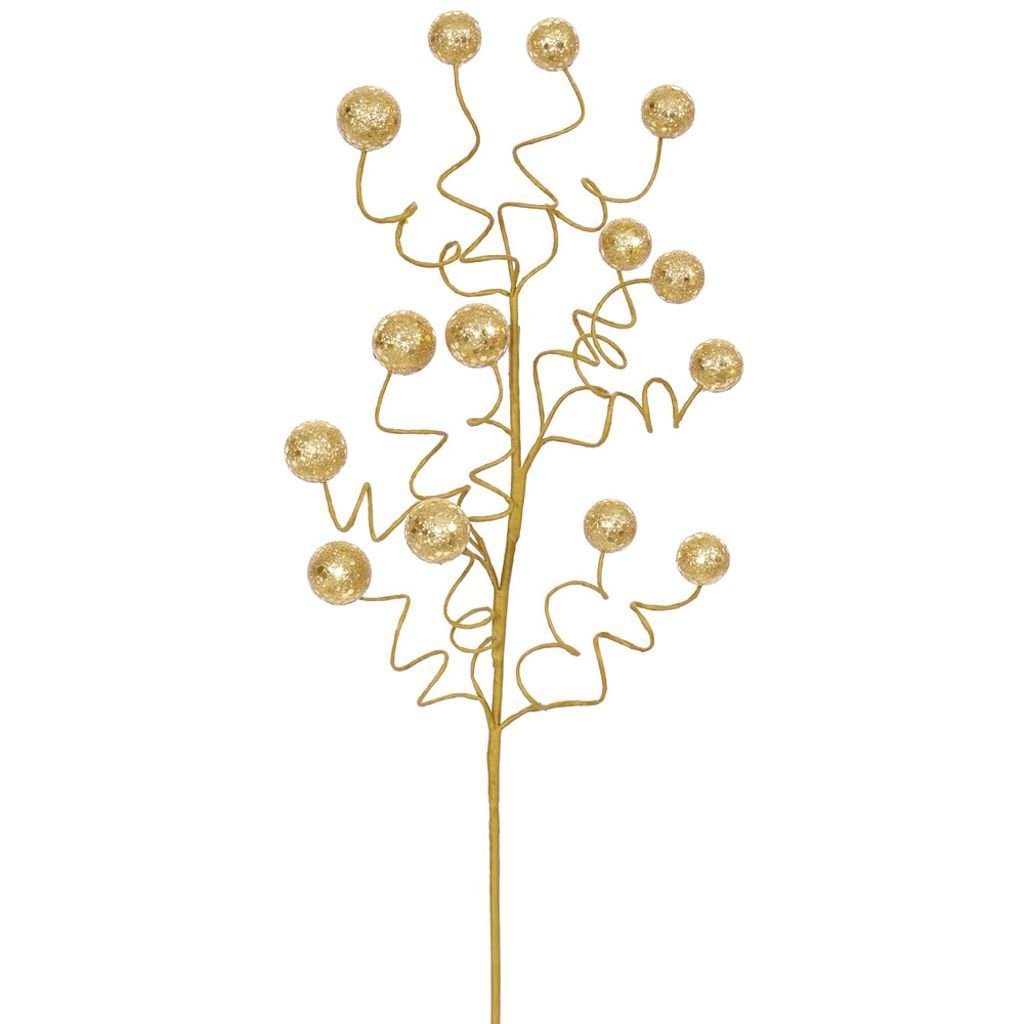 The best part is that they are on sale for 60-70% off every other day or so as a door buster – hurry! Go!


And a quick striped ribbon
 order can be placed now and here in 2 days – thank you, Amazon Prime!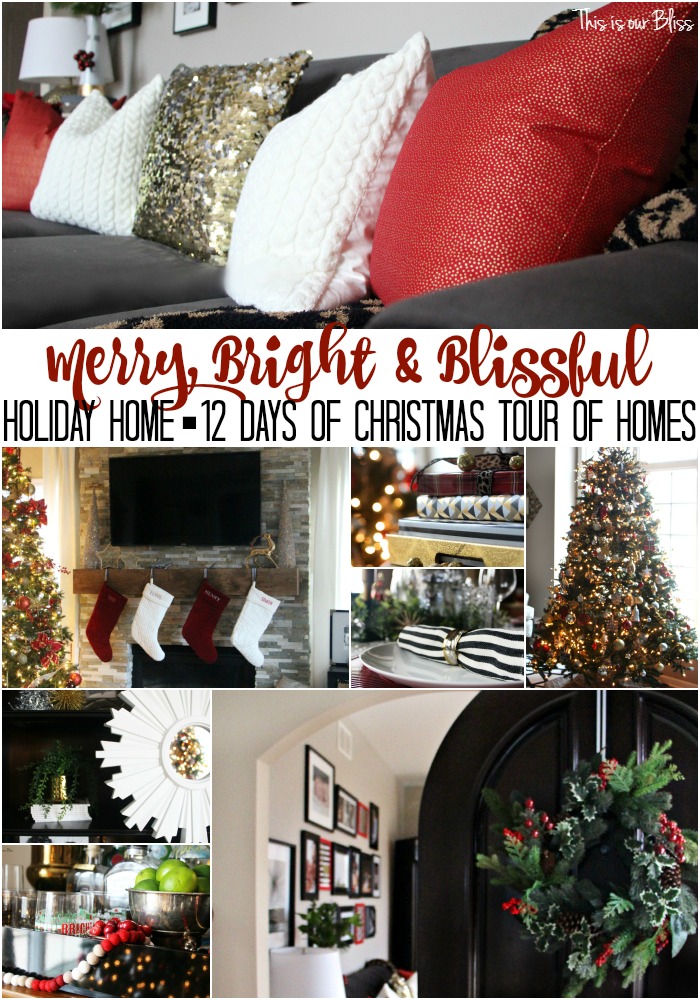 You can see more of this space and the rest of our Merry, Bright & Blissful Holiday Home here!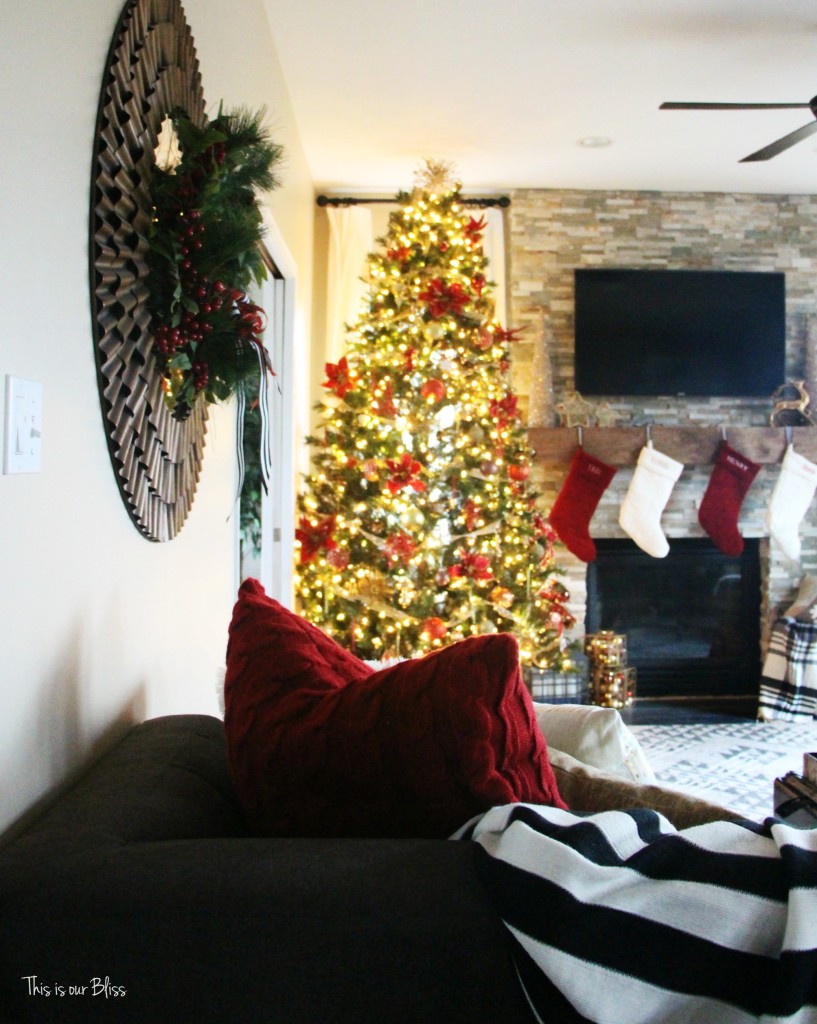 I'll be sharing the details of our Family Room + 2nd tree next week – please come back again for a visit soon!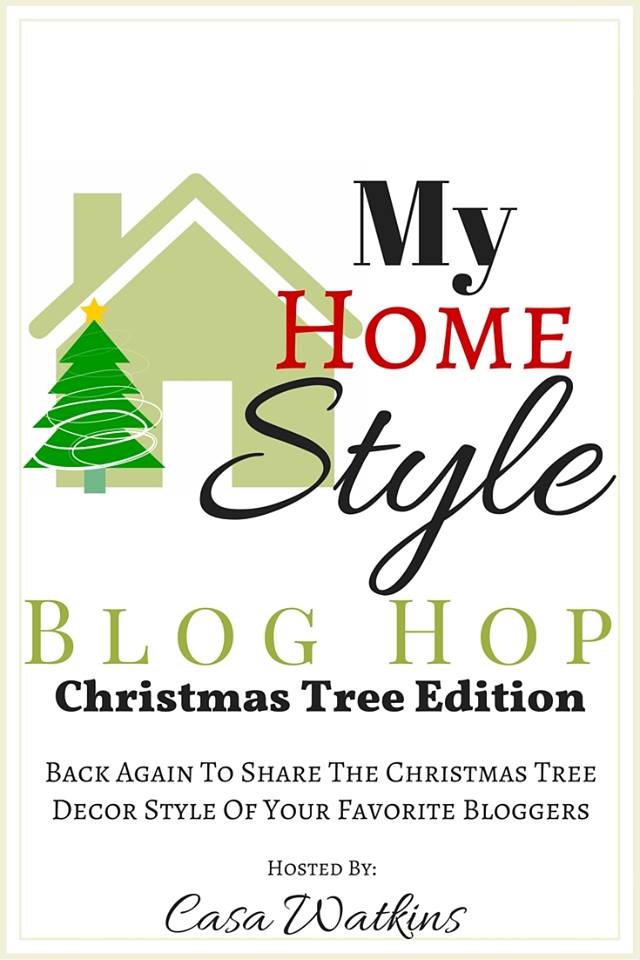 And in case you are still soaking up all of the terrific tree trimming and styling inspiration, I'll send you off to the next tree in the hop – This Makes That! And the whole rock-star lineup is below!!
Tell me about yours! Can you sum it up in 3 words? maybe even 2? Does it reflect the style of your home? I'd love to hear about and SEE your tree!