Welcome back and happy Friday to you! Whew! What a week! This holiday blog life is catching up to me!
If you were here earlier this week, I introduced the Merry, Bright & Blissful Holiday Home series. Monday, I shared our Front door, Tuesday was a peak inside several rooms for the 12 Days of Christmas Tour and yesterday, I shared our Living Room Tree for the My Home Style Blog Hop Christmas Tree Edition!! I wanted to pack these 2 weeks full for you guys, so lets keep this holiday cheer train choo-chooing!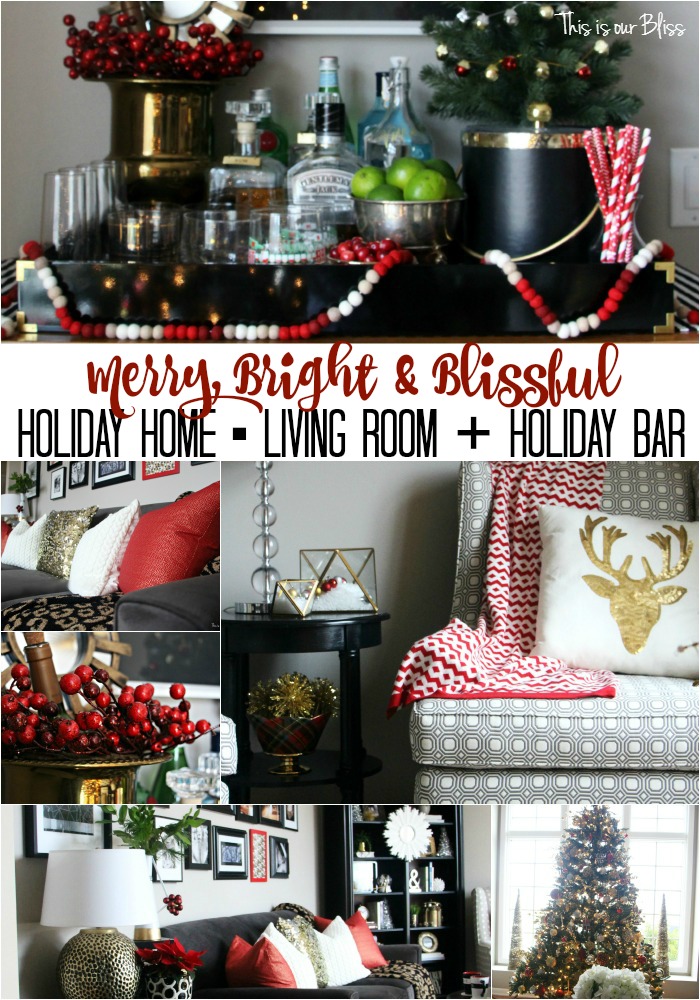 Up today, is the Living Room & my new favorite corner…our holiday bar! I think its here to stay. Don't forget to keep reading until the end because I've rounded up a few of my favorite bar accessory essentials & included the sources for a gift guide! Who still has a ridiculous amount of Christmas shopping and wrapping to do? Please tell me I'm not alone!!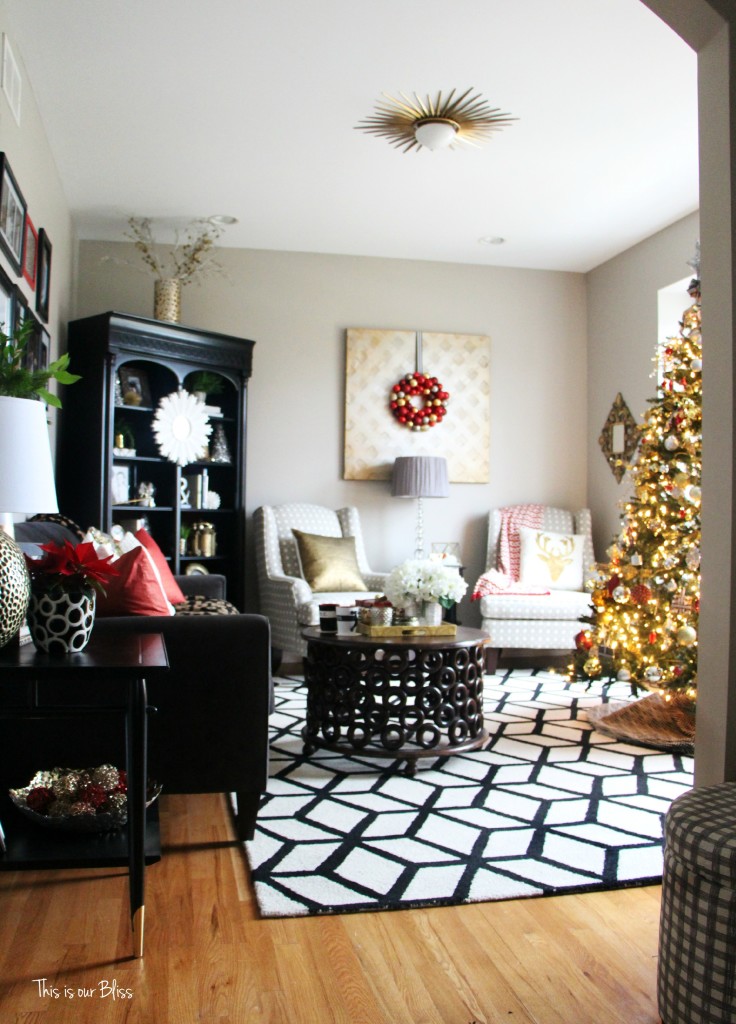 This room was amped up with lots of bright and bold red for the holidays, with the exception of our bookcase.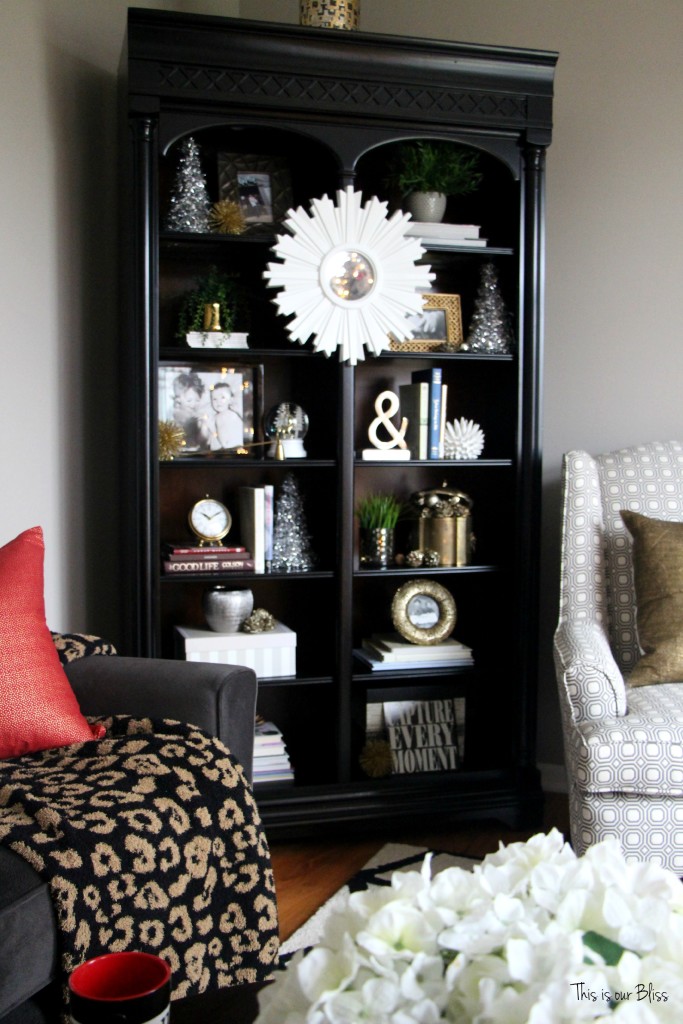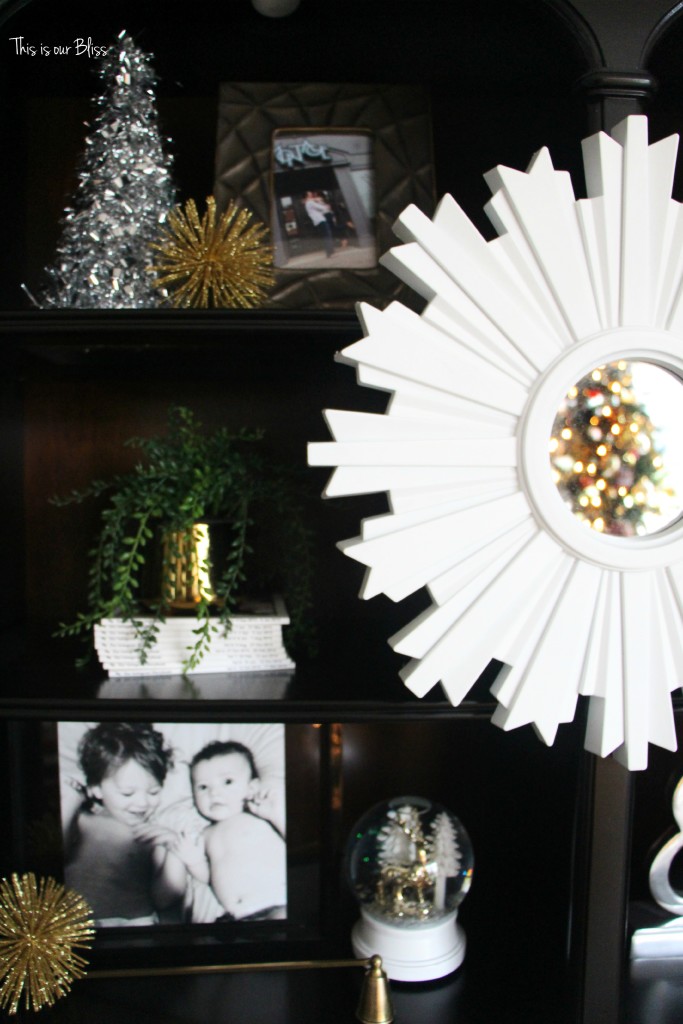 I kept it very neutral with a mix of metallics to keep it chic. The white sunburst mirror was hung in place of the DIY notebook cover art that was there previously when I gave this the bookcase a 30 second makeover earlier this fall.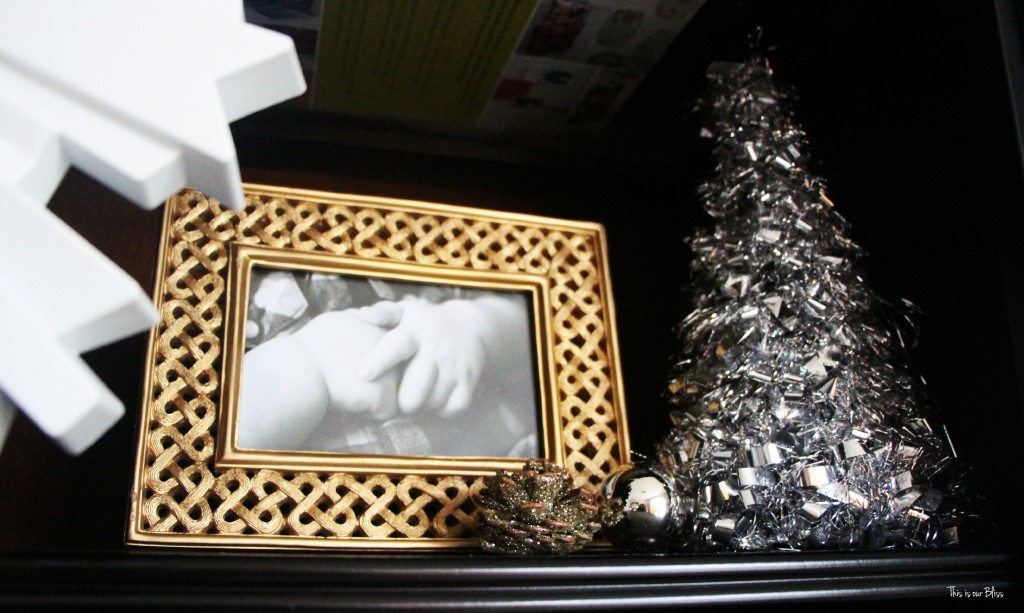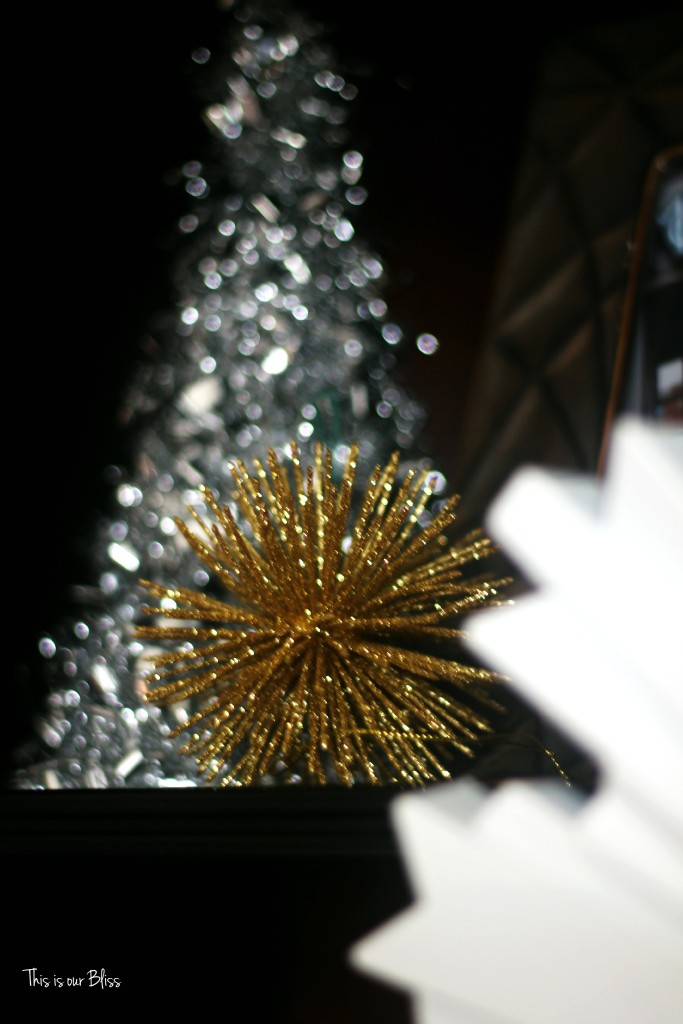 A few tinsel trees were placed on random shelves and silver and gold ornaments and pinecones were scattered throughout.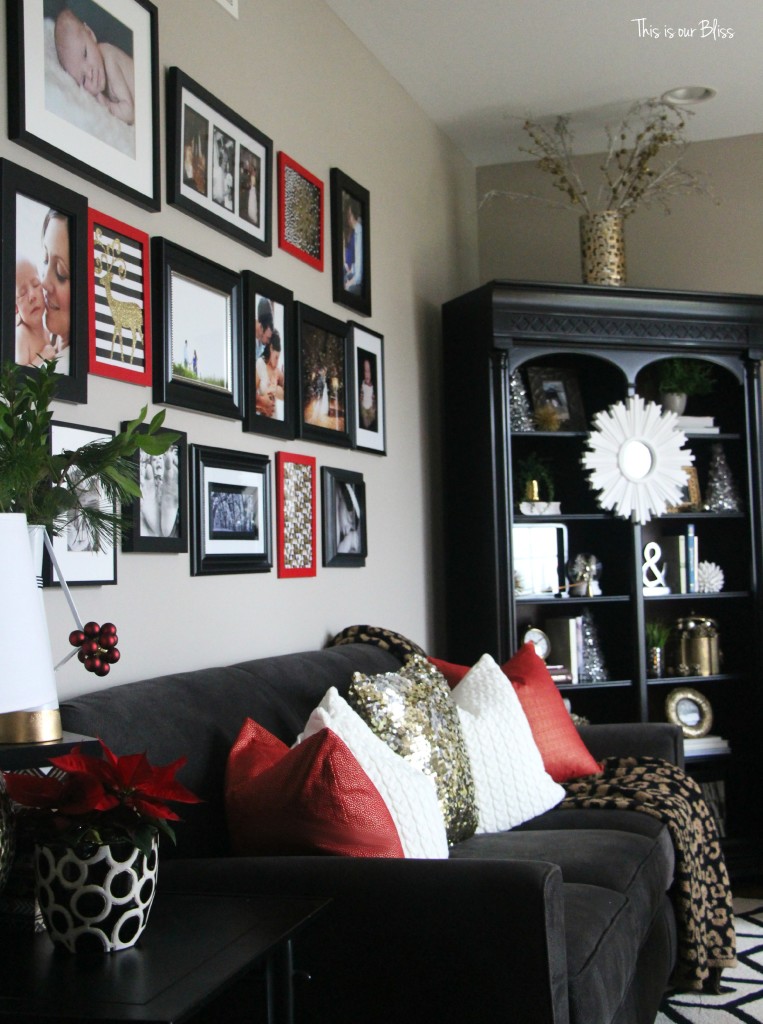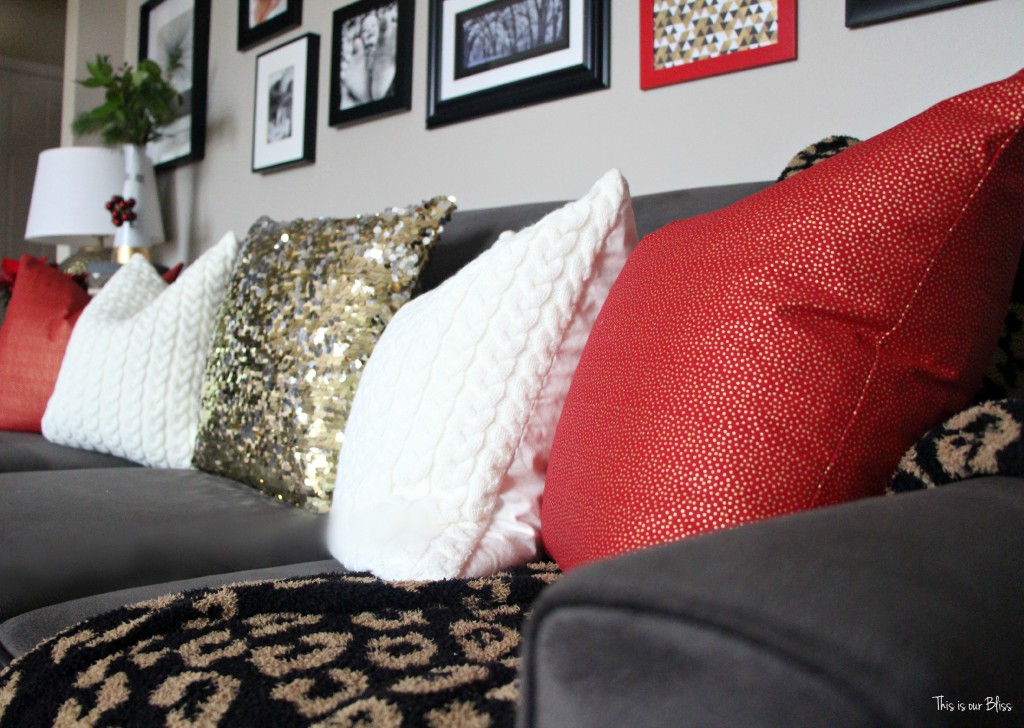 And now for the tour of all things RED!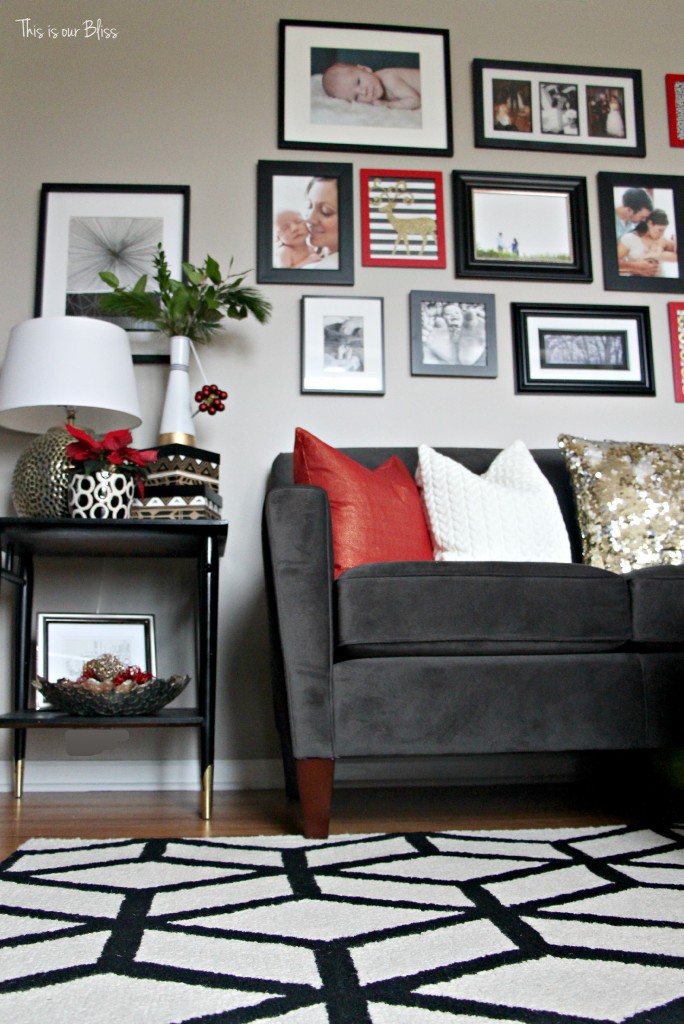 I decided to update the living room gallery wall by spicing it up with 3 red frames. Details on this wall coming next week.
There is a little red sprinkled everywhere in here…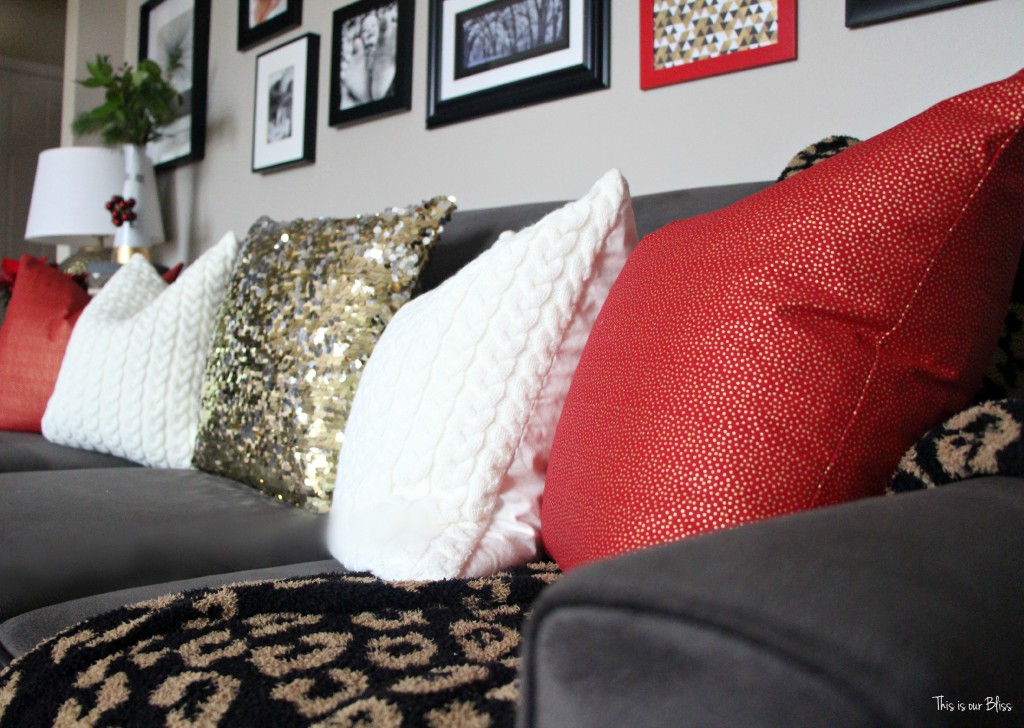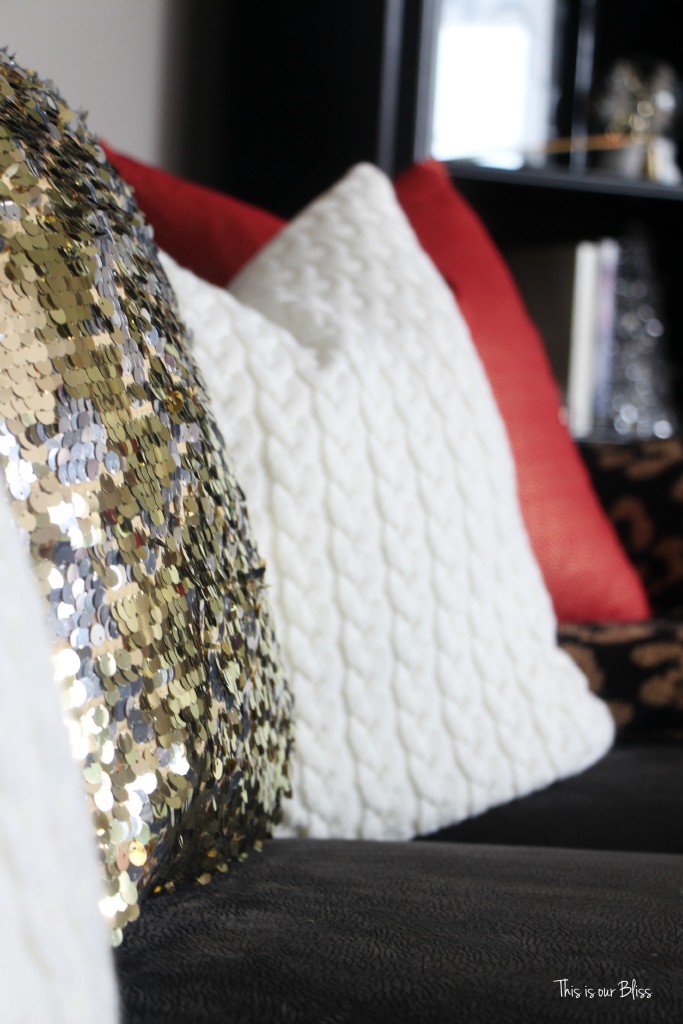 There are 2 red and gold pillows on the couch [DIY with fabric from Joann Fabrics] …2 offwhite cableknit sweater pillows [HomeGoods] And clearly we can't forget about the sassy sparkly sequin pillow also from HomeGoods 😉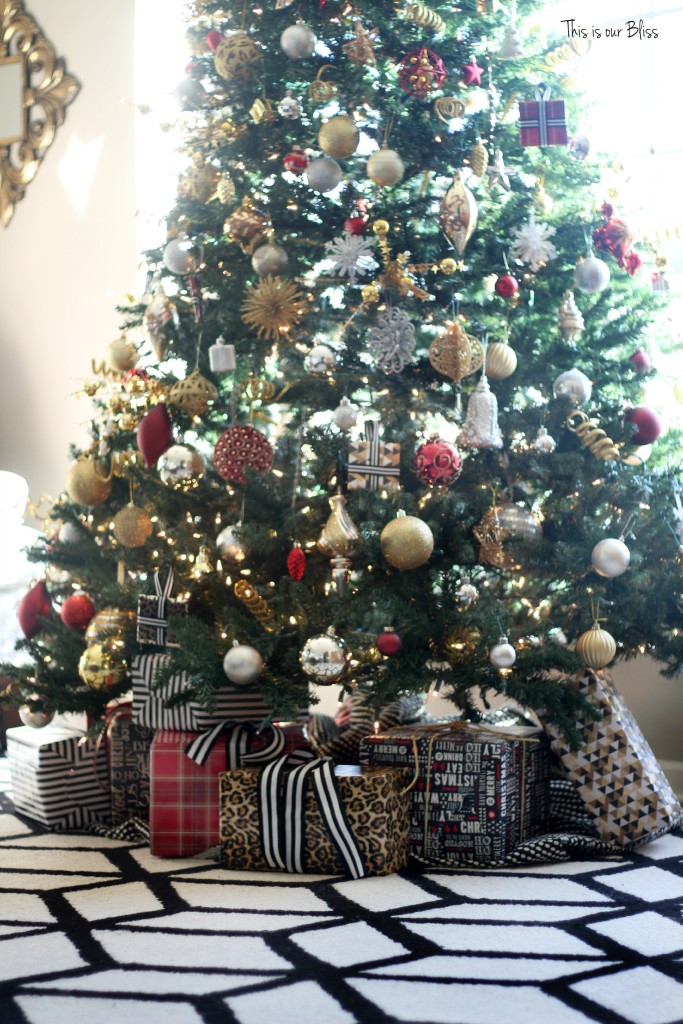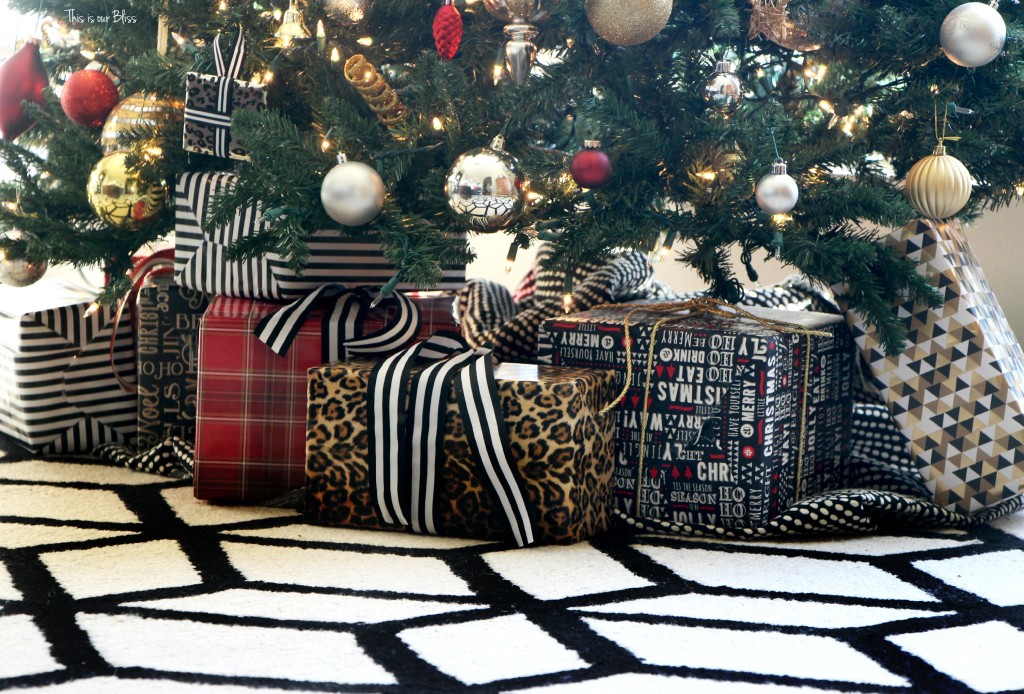 Red plaid paper made an appearance on just about everything…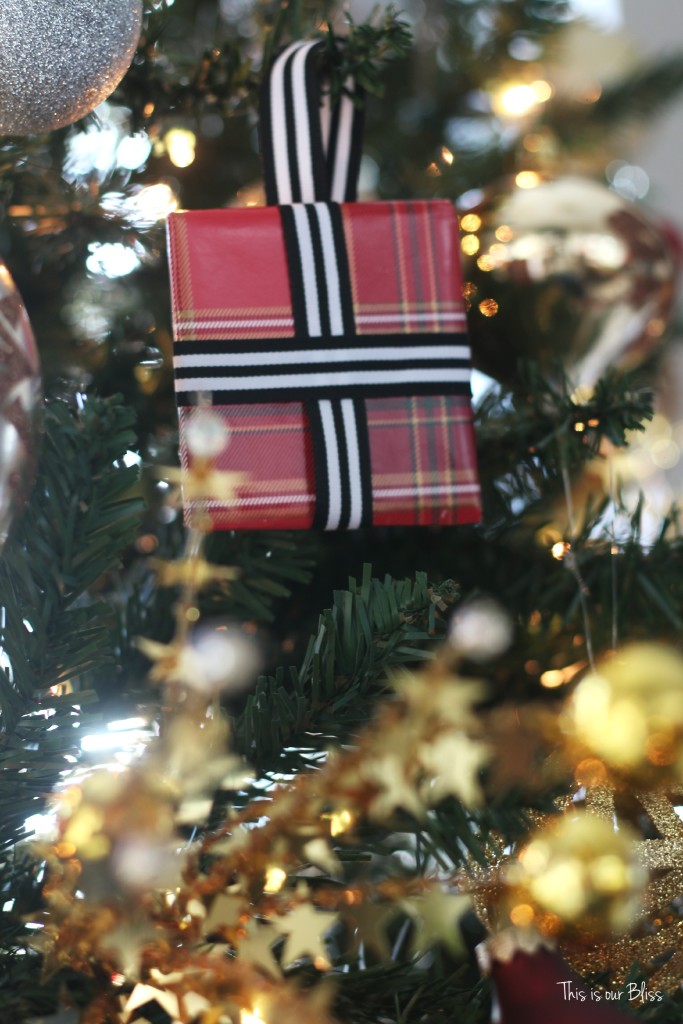 the DIY ornaments on the tree….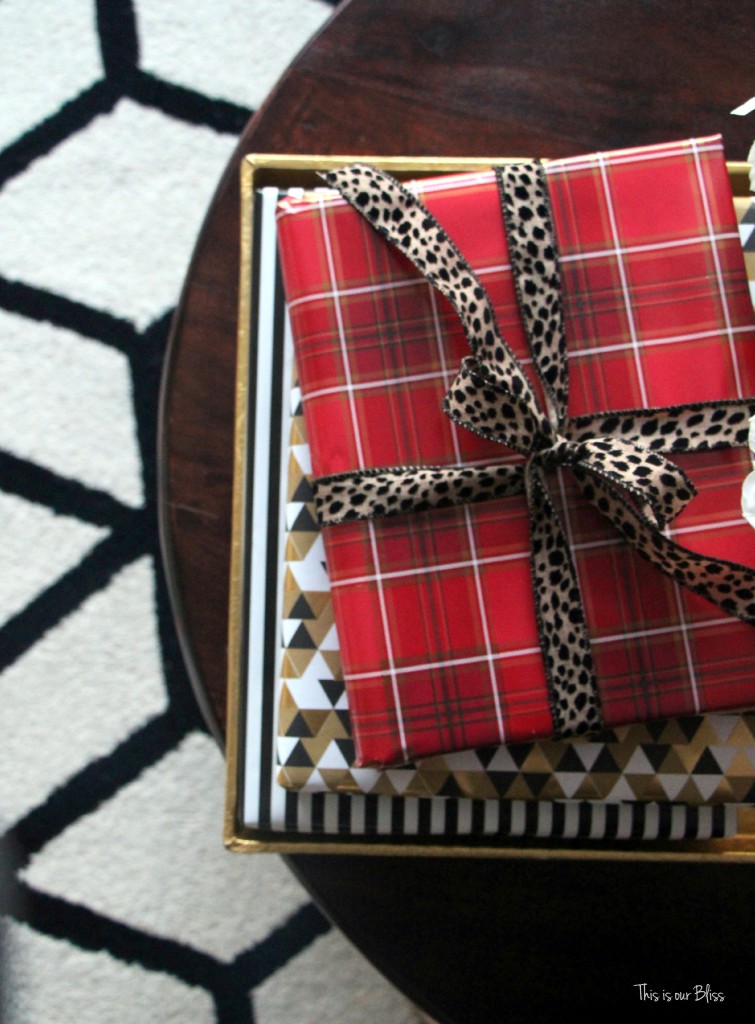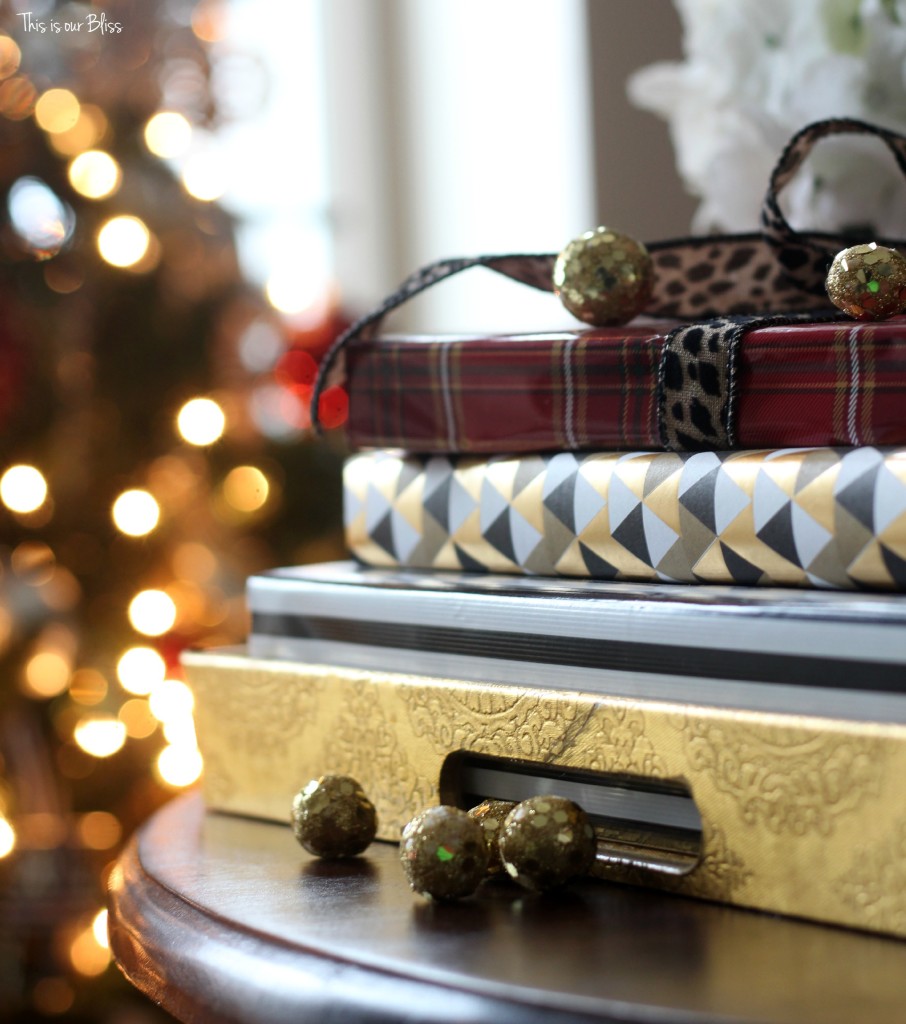 And the wrapped coffee table books.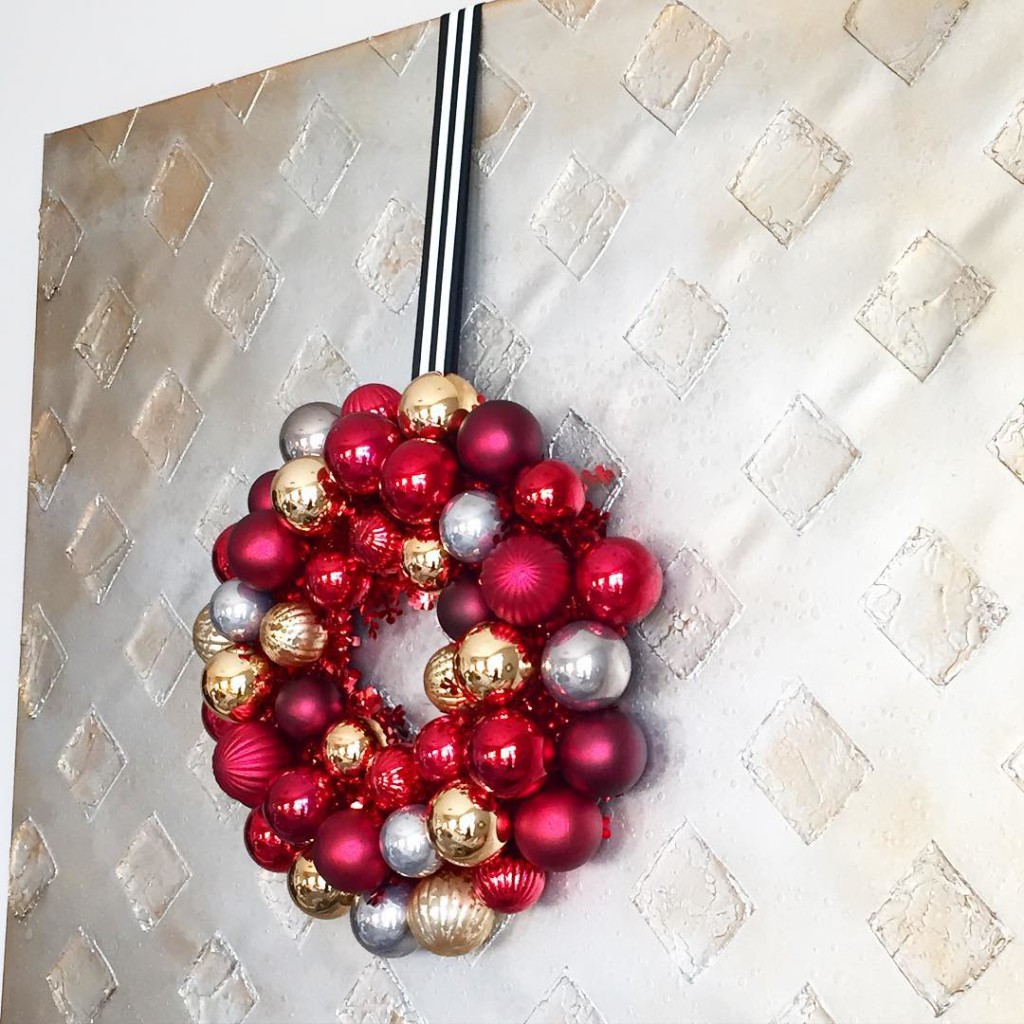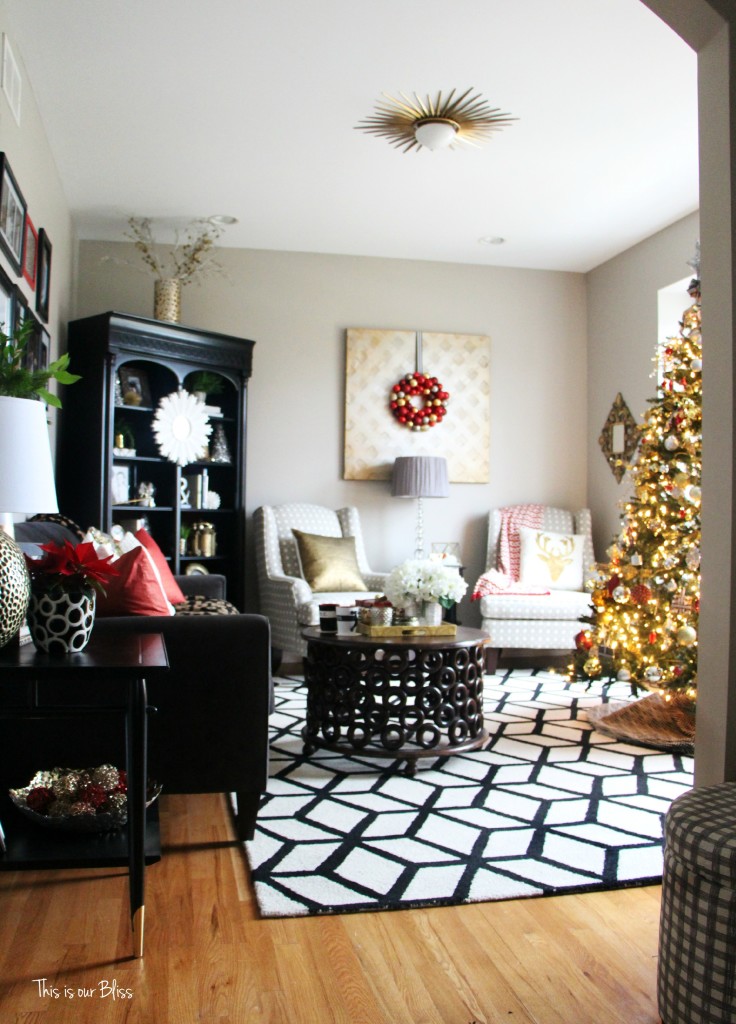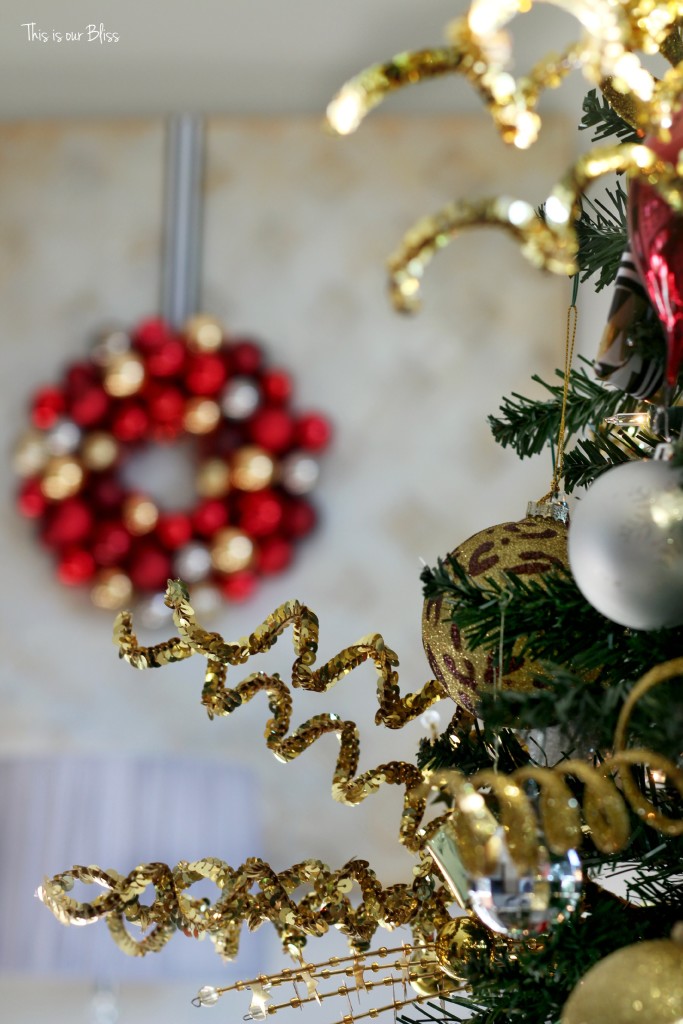 …the red ornament wreath from IKEA was hung by black and white ribbon over top of the piece of canvas art…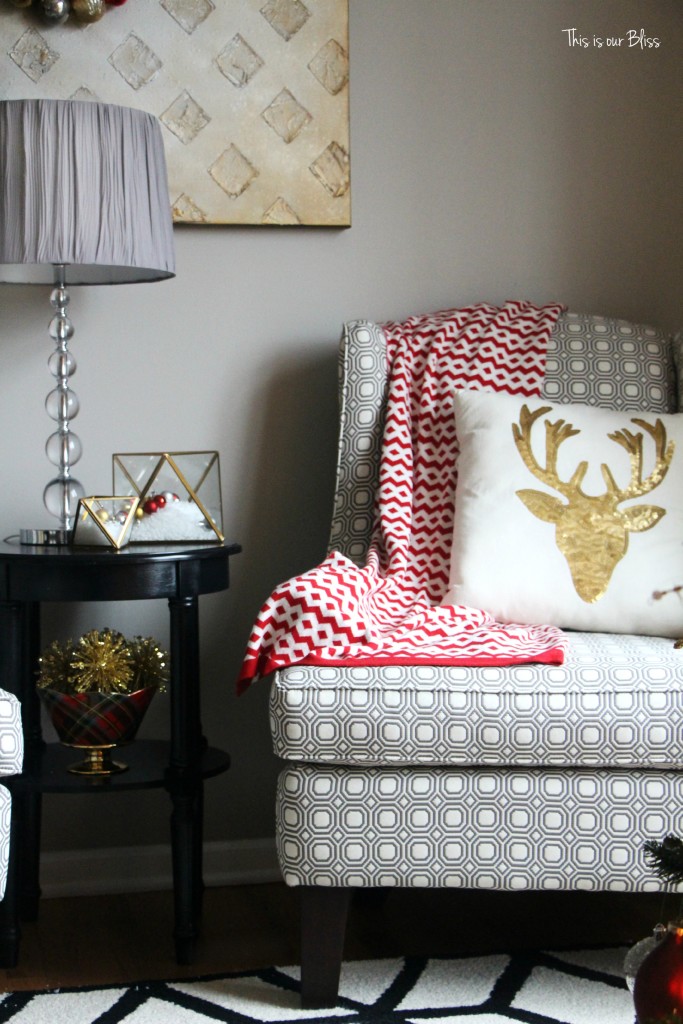 a red & white throw blanket from HomeGoods…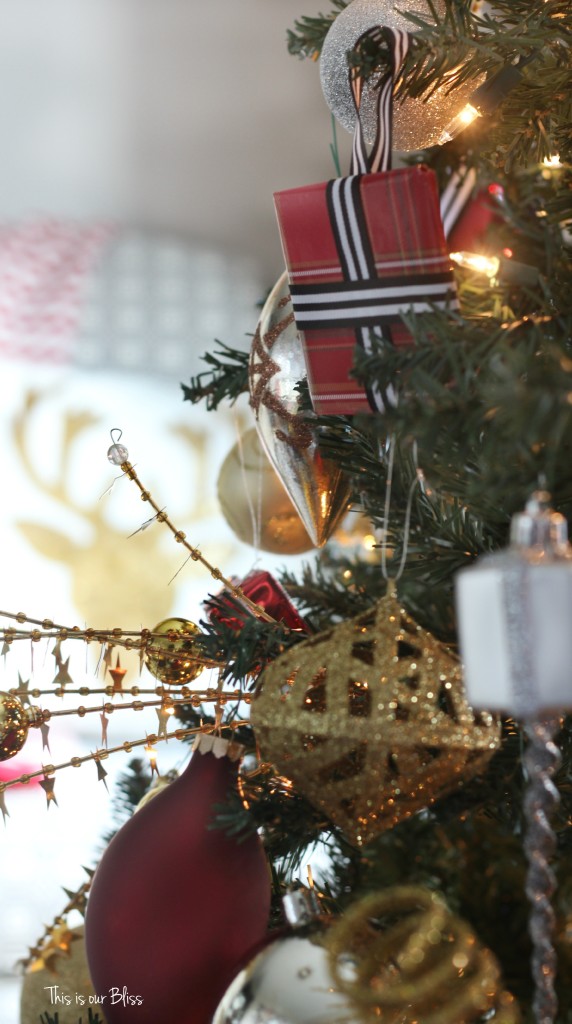 which is resting under a gold reindeer pillow from Joann's. He's going to be hard to pack up after Christmas. He's just so handsome!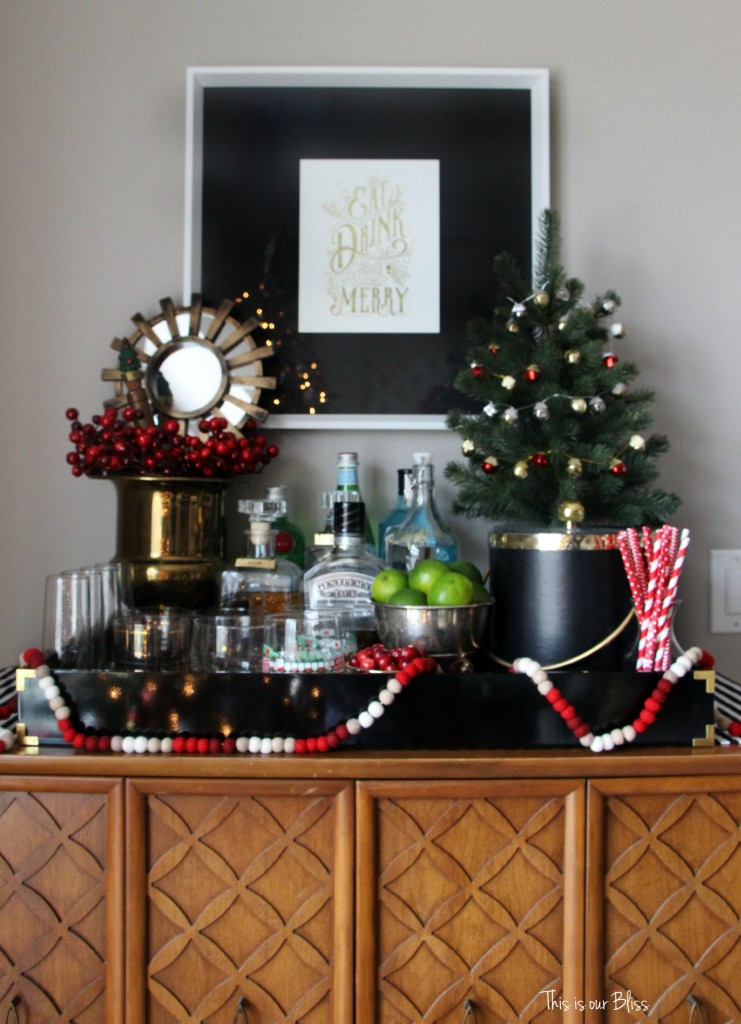 The bar is set-up in the living room sort of as a makeshift solution until I, A – find a bar cart I am in love with that doesn't cost $1,000 and B, until my little guys are not so grabby. This thrited furniture piece was the perfect solution because it is tall, fits my black lacquer tray to a T and has doors with shelves and drawers inside for extra drinkware and bar accessory storage!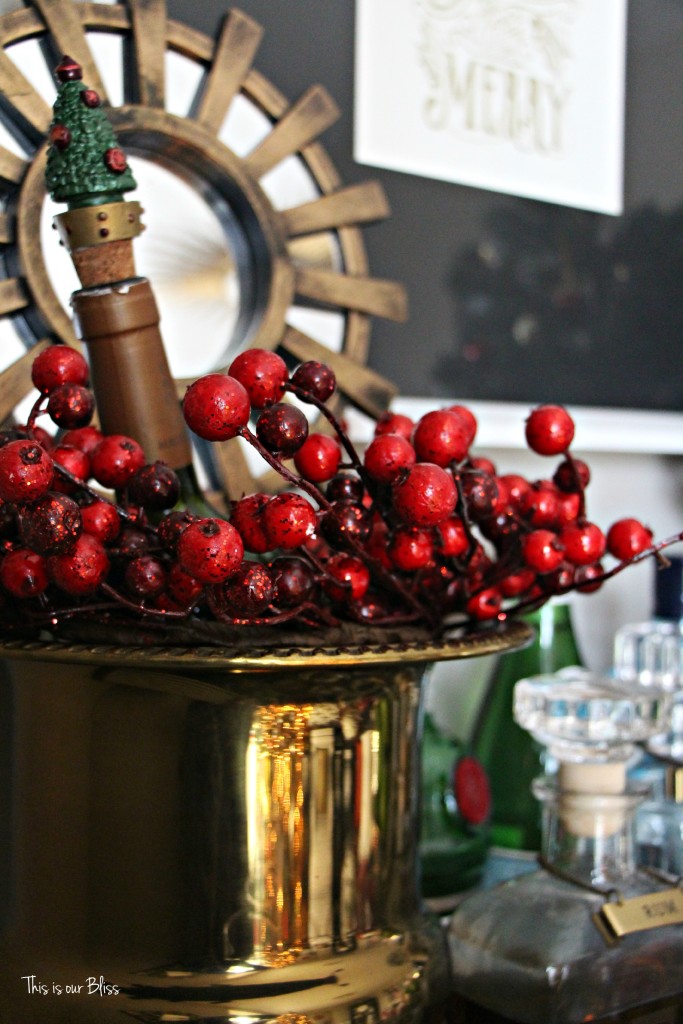 More red over here, too! I rested this red berry wreath from Pier One on top of my thrifted gold trophy ice bucket – love this gem!! Perfect for ice, wine, champs or even fresh flowers. I have a feeling you'll be seeing him pretty often.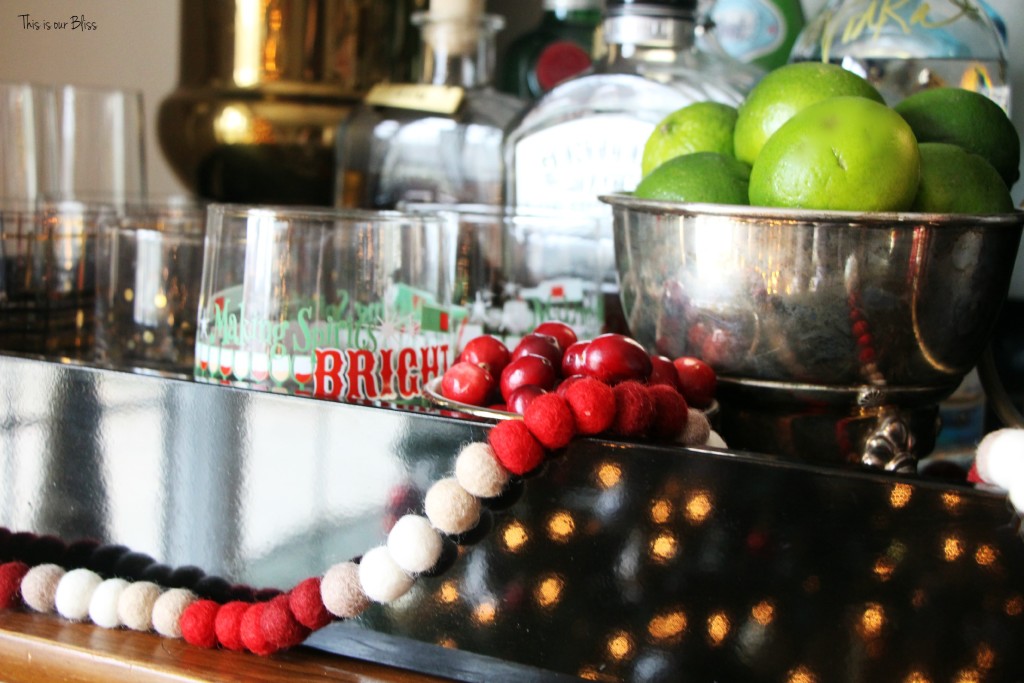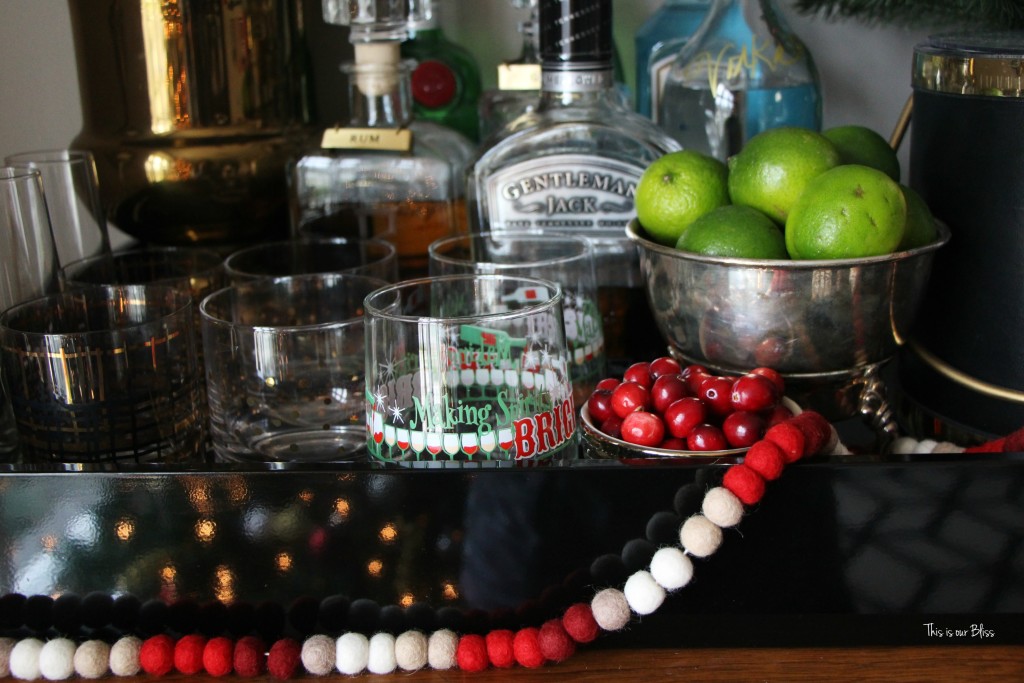 Red paper straws from the Target One spot and the red pom pom garland that was so graciously gifted to me by minted [see my minted holiday card post & my front door photo gift frames].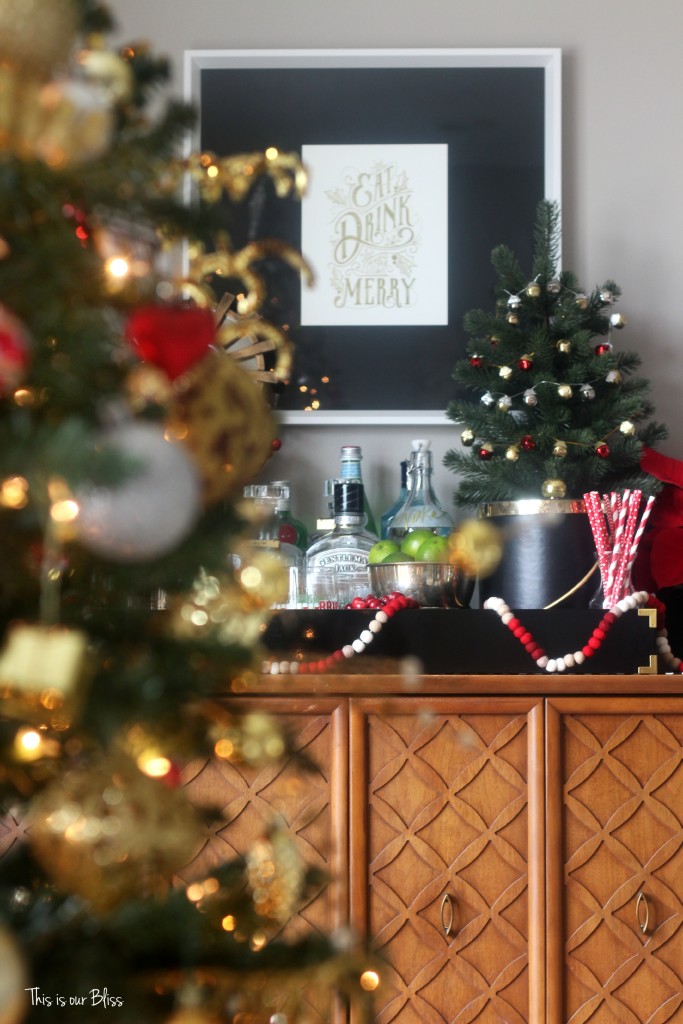 Just looking at these pics makes me want to whip up a holiday toddy!

Can we talk about how pretty cranberries are for a second?!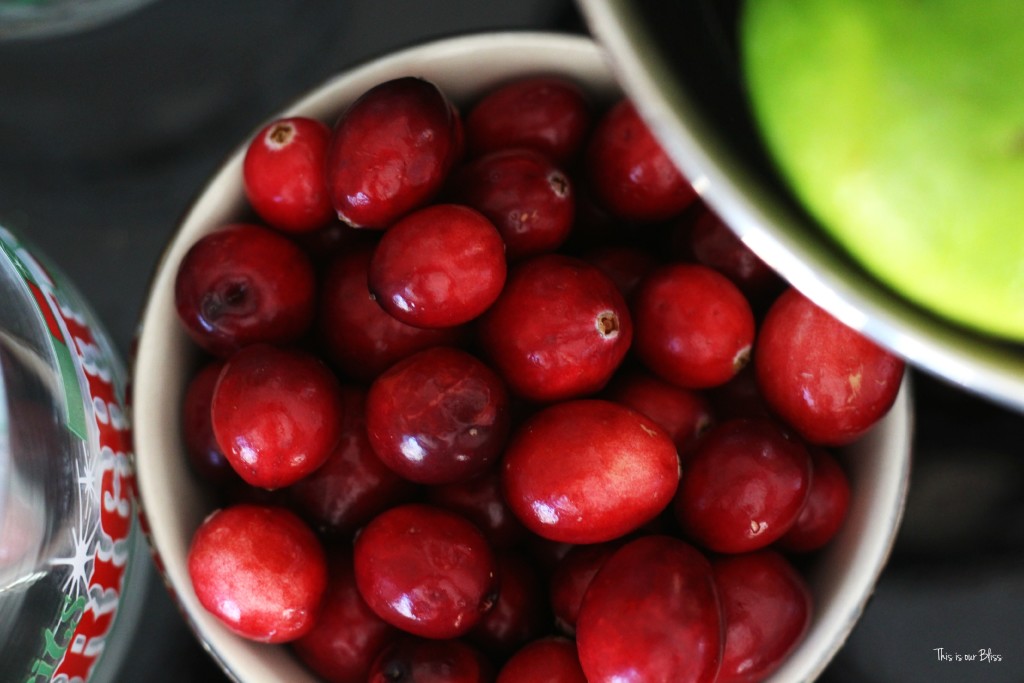 Such a simple (& delicious!) holiday decor element – fill a vase or bowl with a couple handfuls and call it a day!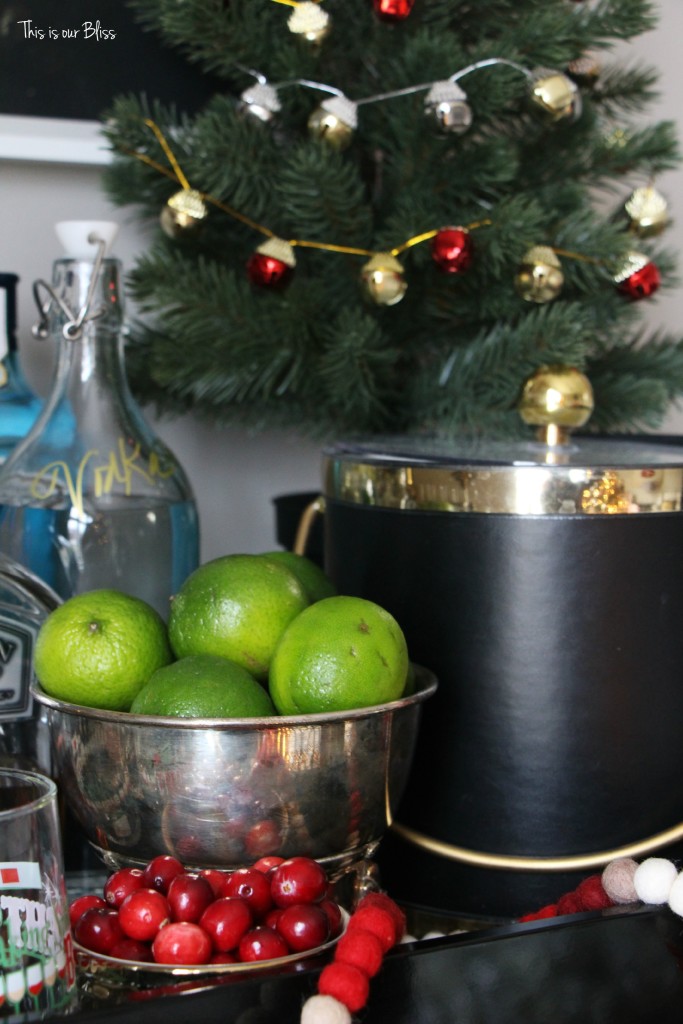 And we certainly can't discriminate and leave out red's traditional counterpart and Christmas partner in crime! Green limes and red cranberries add a festive touch and are the perfect garnish for all of those Christmas cocktail concoctions.
Now for the goods. As I mentioned, several of these pieces were thrifted finds, but I put together a list of a few of my favorite bar accessories so you can head directly to the source to pick up a few gifts for the cocktail lover on your list. Some of these items would make AWESOME stocking stuffers, too! [affiliate links are used in this post.]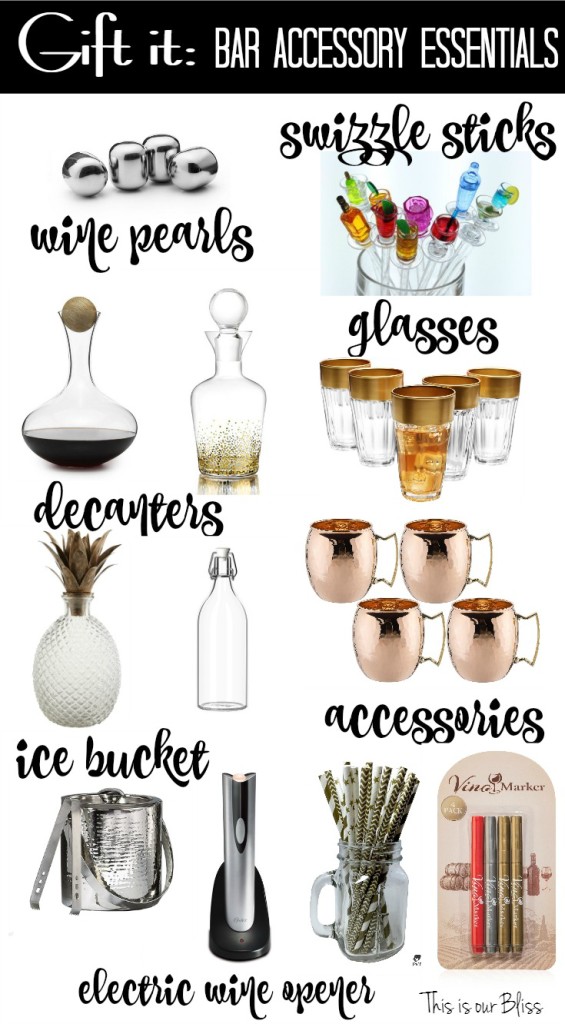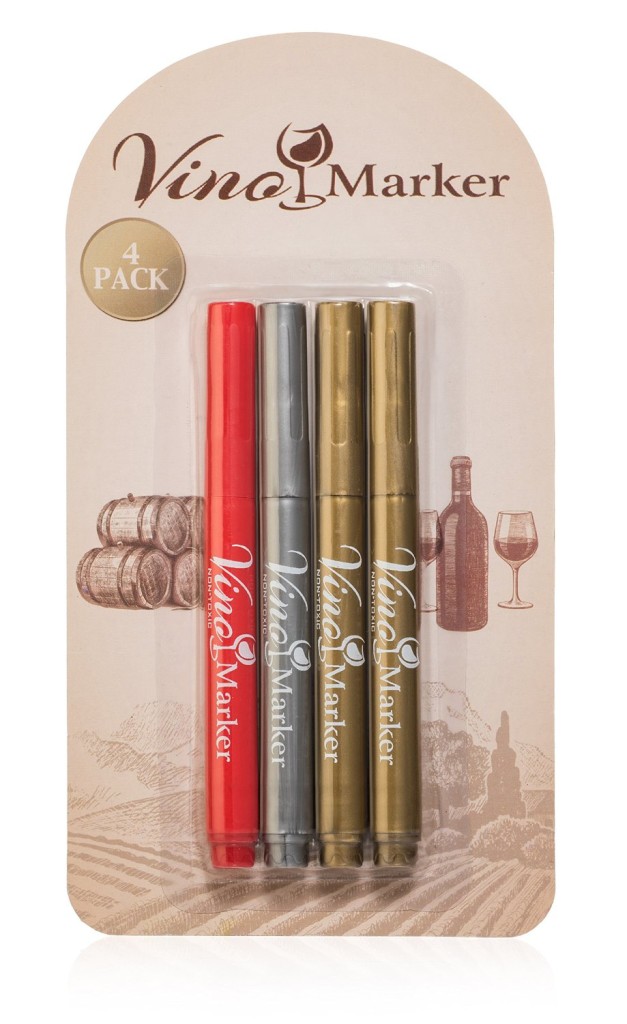 Wine glass markers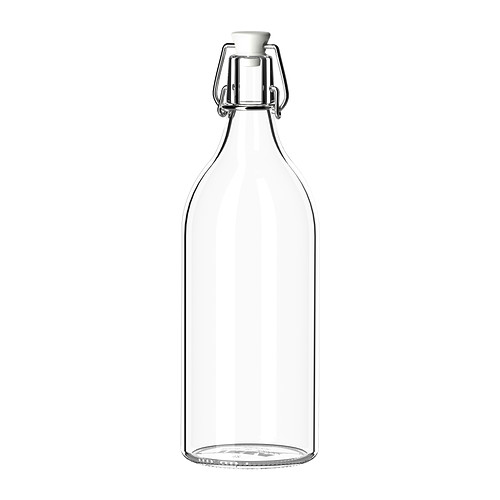 bottle with stopper
Use for liquors, mixers or water!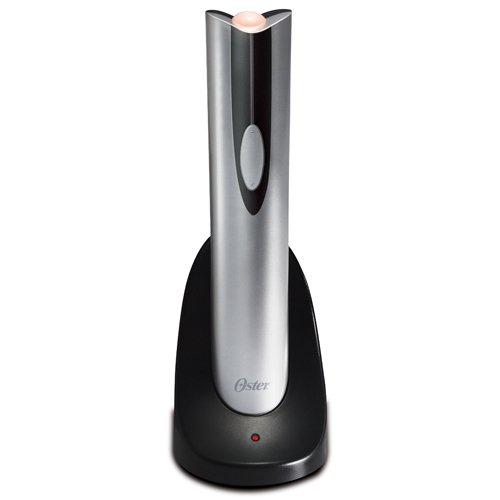 electric wine bottle opener

Oval Oak Wine Carafe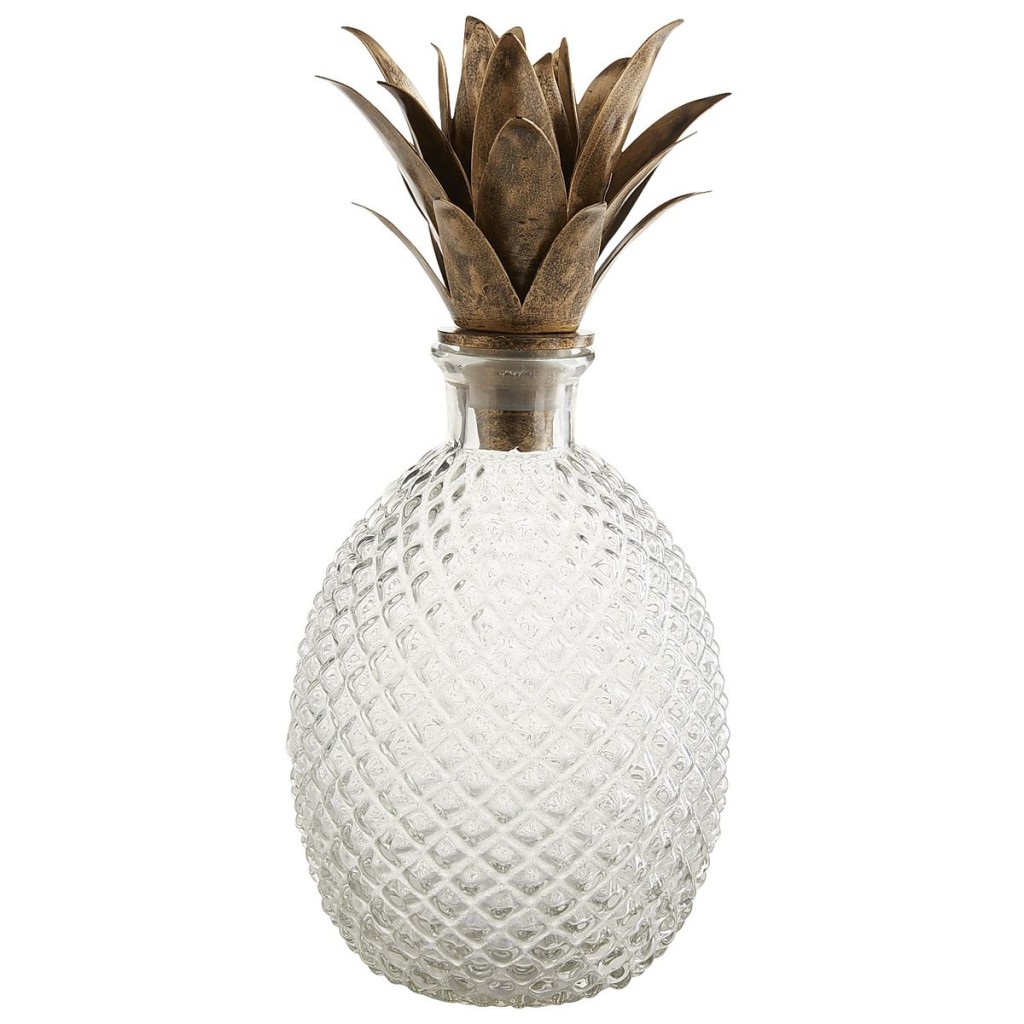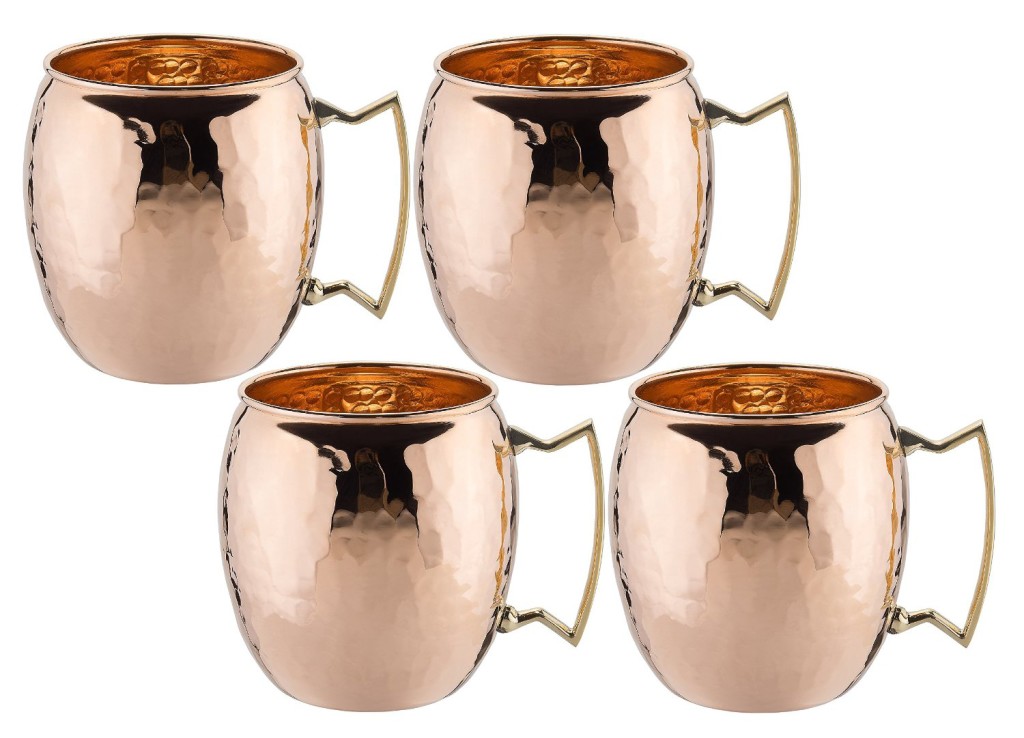 Pure copper moscow mule mugs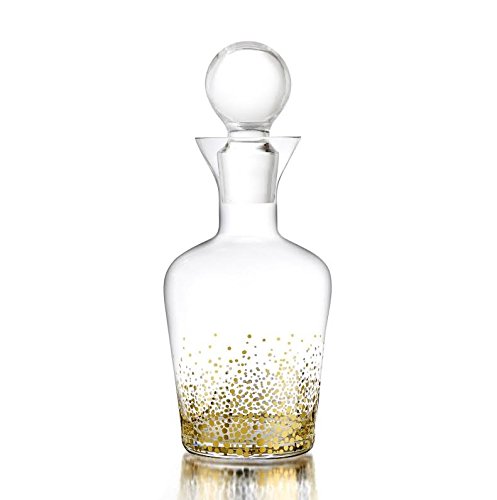 Gold Luster Decanter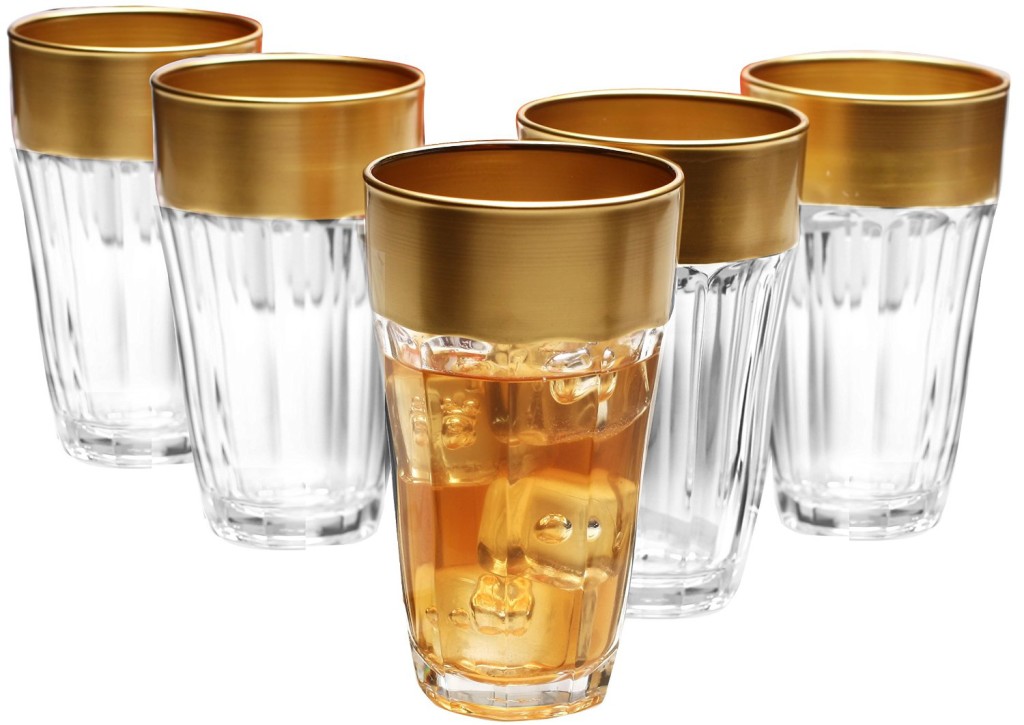 Gold topped glasses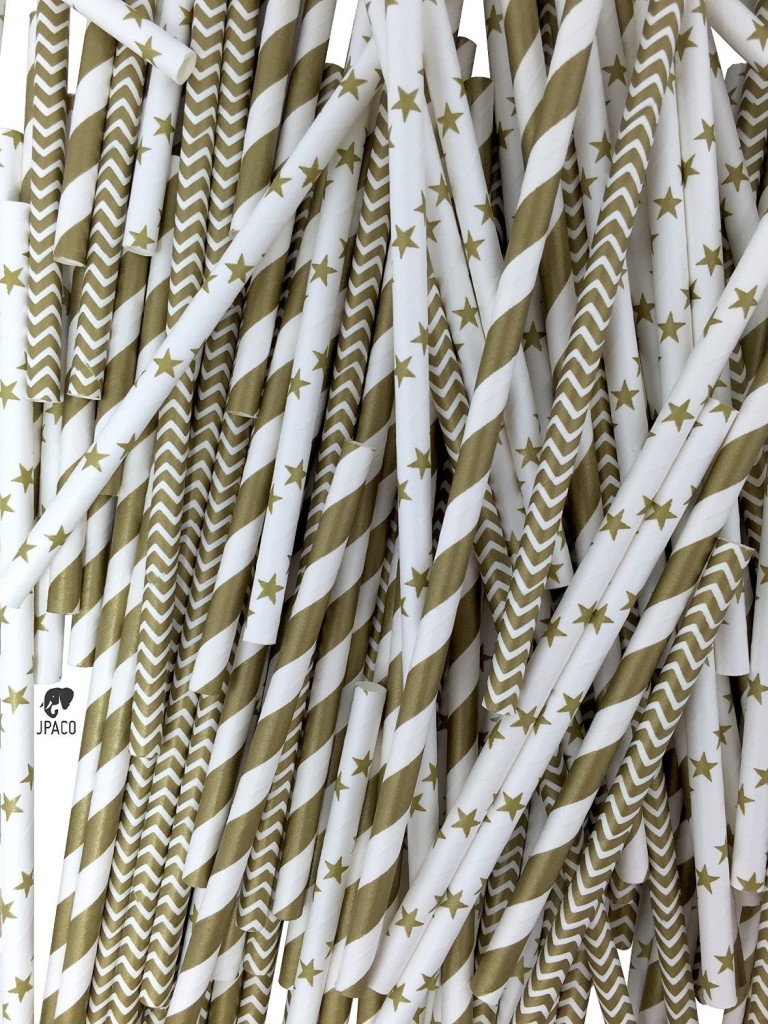 Gold Chevron, Stars & Striped Paper Straws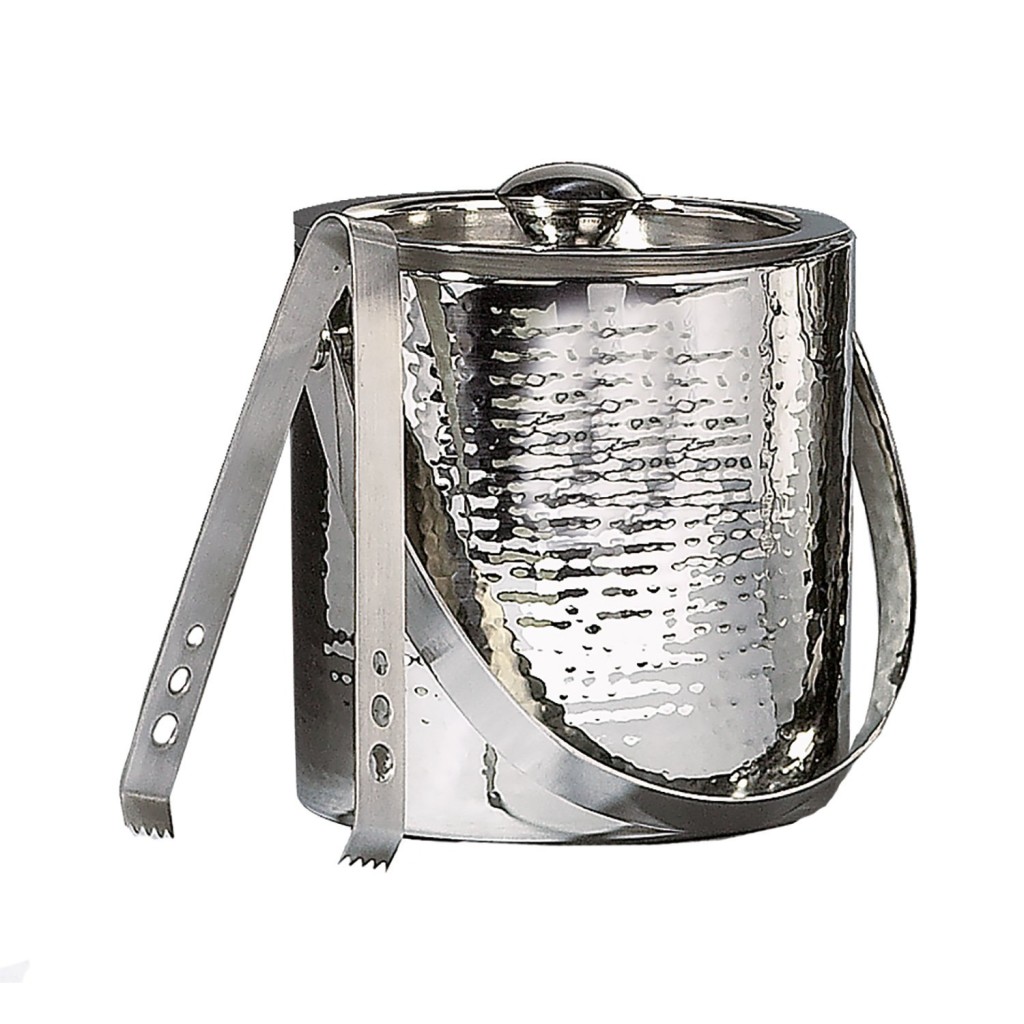 hammered ice bucket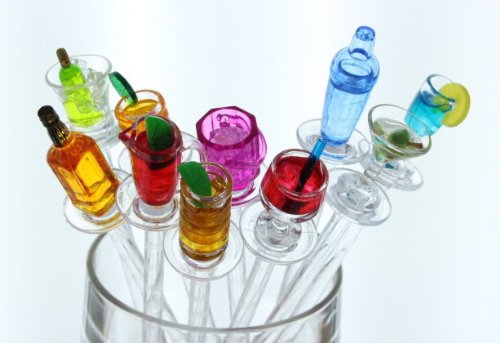 happy hour swizzle sticks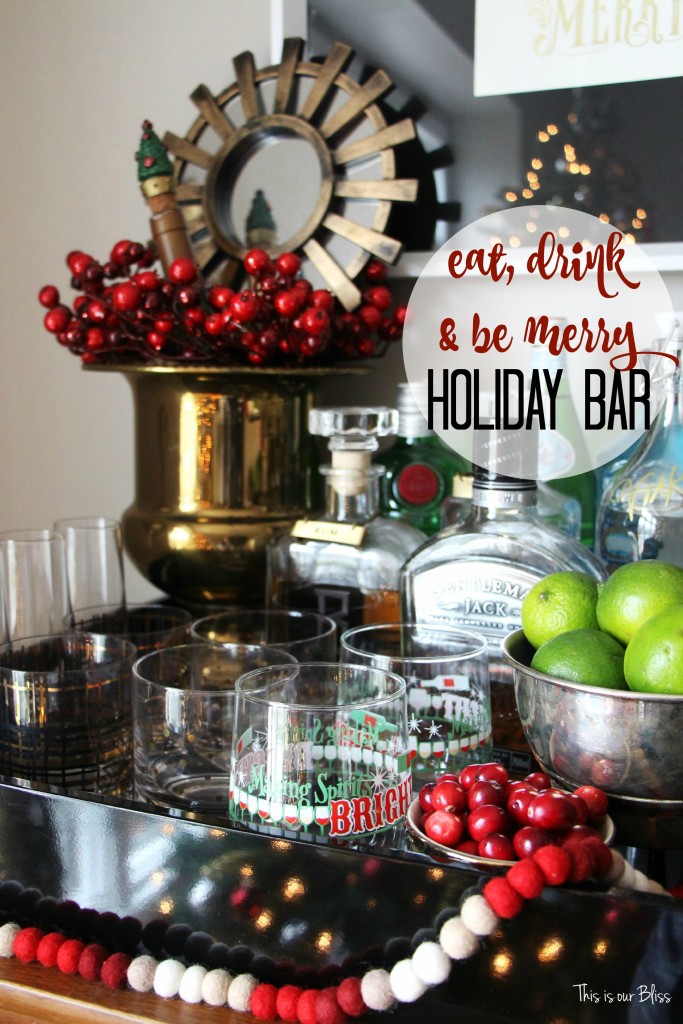 Merry Christmas and CHEERS!!
What's on your bar tray?
Don't forget today is the last day of the My Home Style Blog Hop Christmas Tree Edition…
And in case you are still soaking up all of the terrific tree trimming and styling inspiration, I'll send you off to the next tree in the hop – This Makes That! And the whole rock-star lineup is below!!
and the 12 Days of Christmas Tour of Homes is still in full swing, too!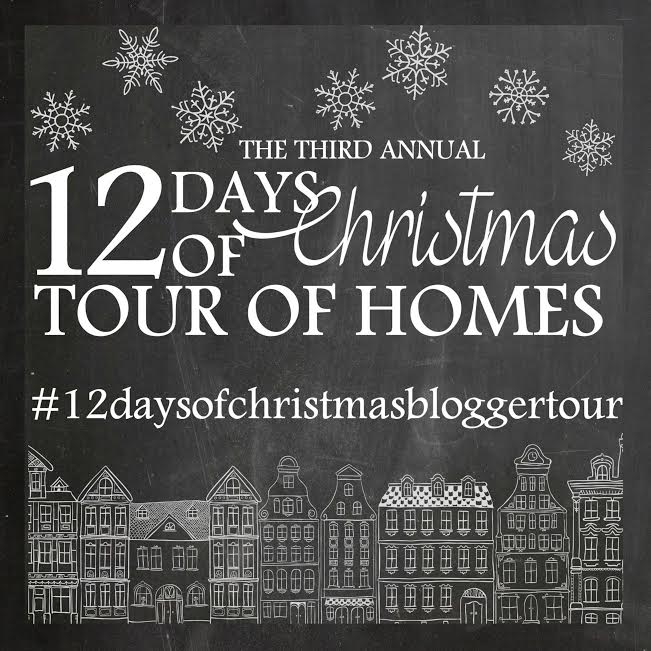 12.1 | Evolution of Style || Dixie Delights
12.2 | Life & Home at 2102 || Provident Home Design
12.3 | Simple Details
12.4 | The Pink Clutch || This is Happiness
12.7 |  Bless'er House  ||  The Tale Of An Ugly House
12.8 | Classic Casual Home  ||  This is our Bliss
12.9 | Primitive and Proper
12.10 | Shine Your Light  ||  Driven by Decor
12.11 | Suburban Bitches ||  Our Storied Home 
12.14 | Simply Sarah Style  ||  Rough Luxe
12.15 | Tour Highlights
12.16 | Our Link Party with YOU!
Happy weekend, all! Please come back next week to see more of our Merry, Bright & Blissful Holiday Home!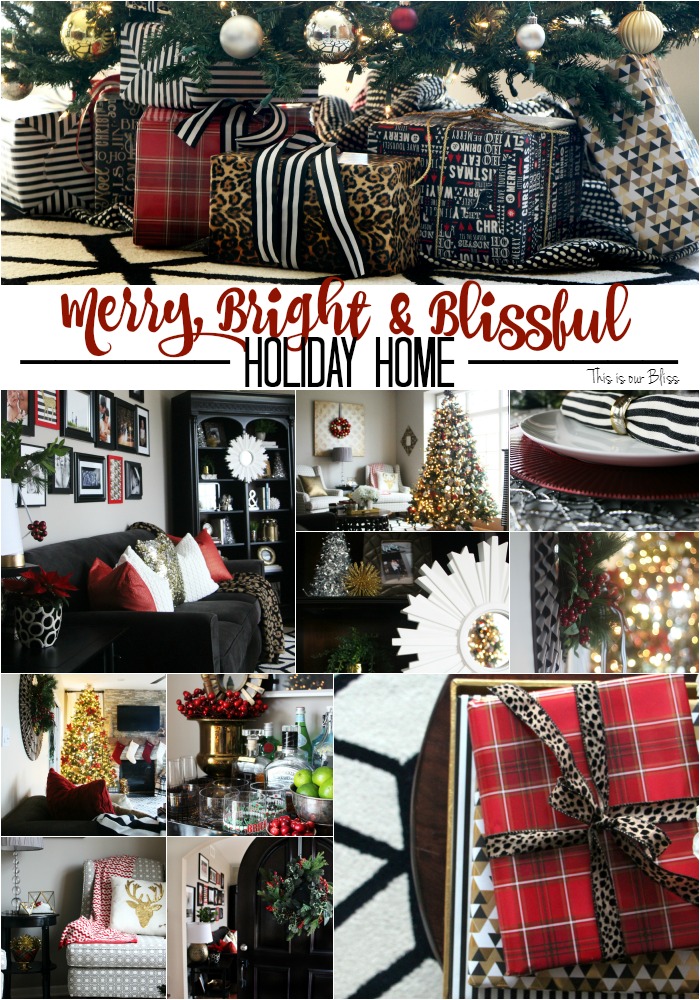 Front Door | Home Tour | Living Room & Holiday Bar | Family Room | Christmas Table