Eeek! Less than 10 days until Christmas!
It hasn't quite hit the normal bitter cold temps we typically start seeing here in the Chicago area. It was actually nearly 60 degrees last weekend, which was the absolute perfect weather for our annual mother / daughter shopping trip in the city. We shop (obvi), brunch or lunch and dine out for din at our favorite go-to spots or try a new place if its nearby and we are ready to get off our feet and sit down to sip a cocktail. We have the best time!
Since the house has been ready for weeks, all that's been left to focus on is shopping and wrapping! I am inches from the finish line and can't wait to relax this weekend since I will be done-zo! Off to the in-laws for a few days of Christmas celebrations and then back to our house to host – my parents and grandparents will be in visiting from Iowa and my sister, will of course, drive out from Chicago.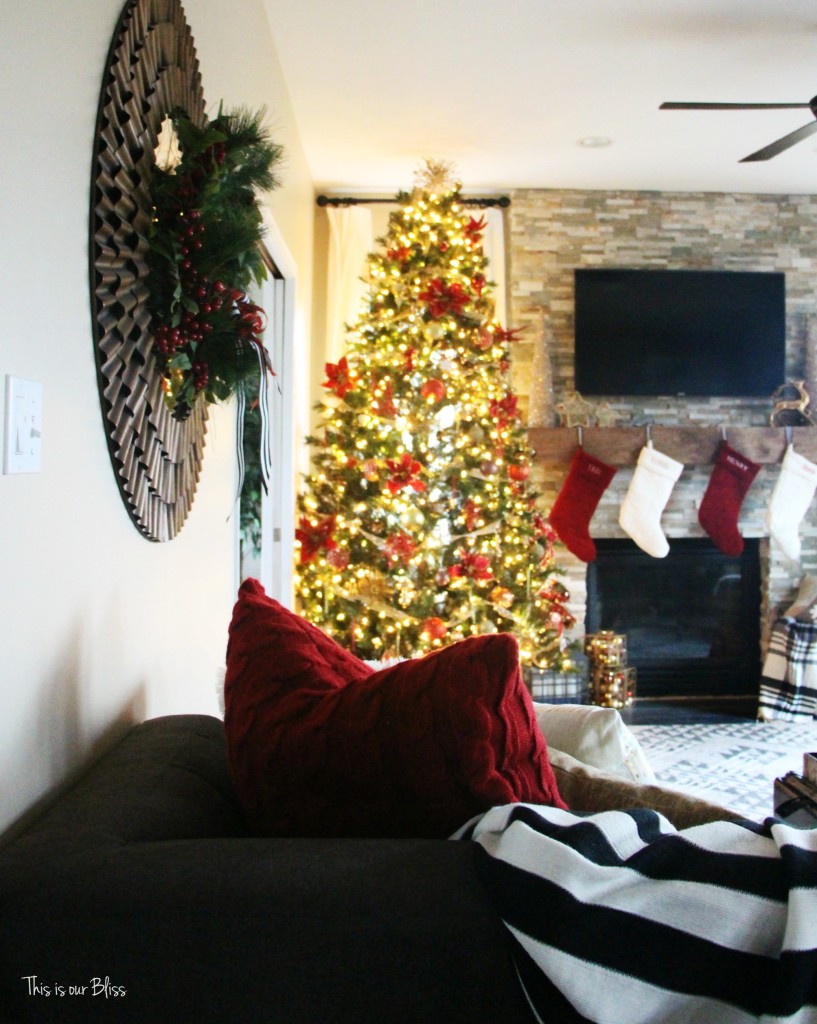 So, since this house is decked and no one else will be seeing it until the 25th, I thought I'd keep sharing with you! Let's take a peek into another room of our Merry, Bright and Blissful Holiday Home – the Family Room!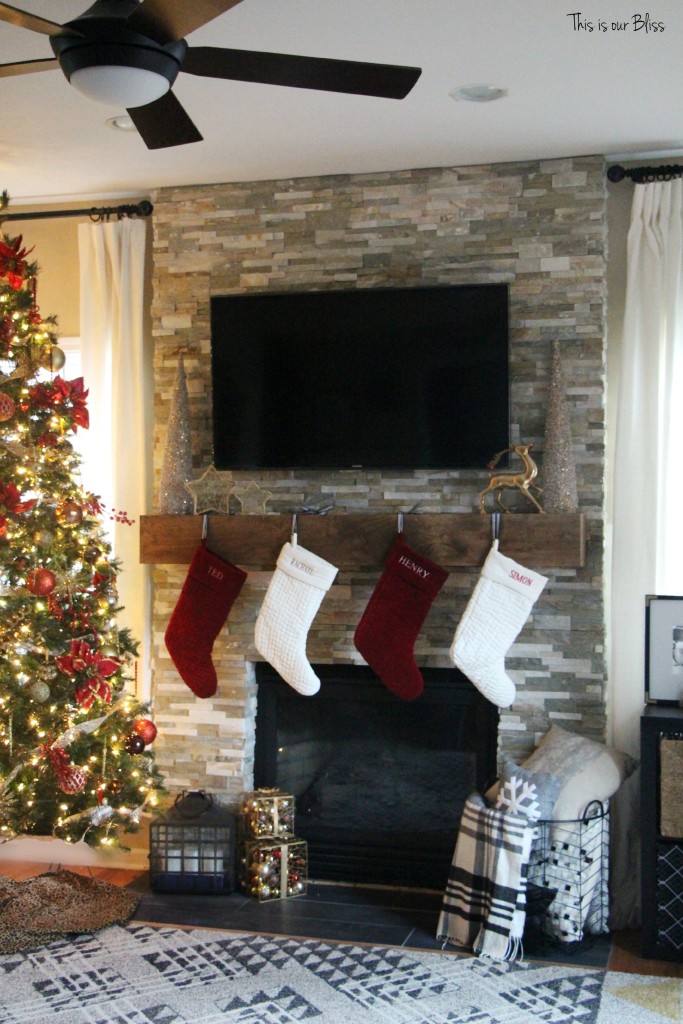 This space is a bit more casual and slightly more traditional than our formal living room who got aaaalll jazzed up for Christmas this year. For the family room, I stuck with the same color scheme – black, white, gold and red – but there are some more earthy wood tones and grays, which are both actually pretty present in the other room, too. In the LR, we have the wood coffee table, the dresser that the makeshift holiday bar sits on and the gray couch and chairs.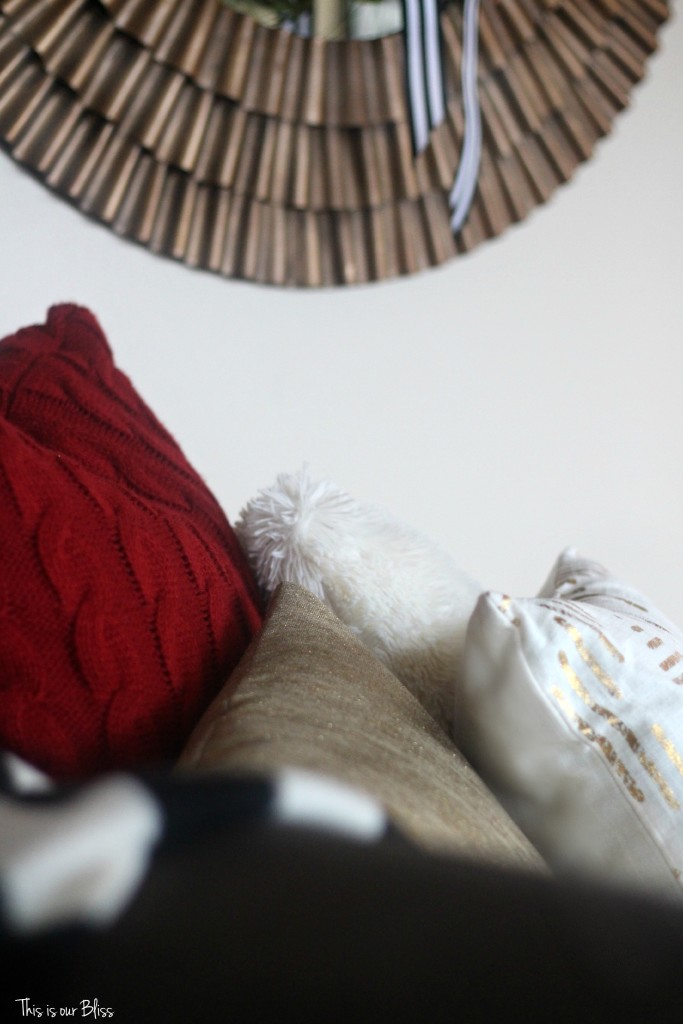 The red in the family room is a bit deeper and there is not quite as much of the bold black…
But there is plenty!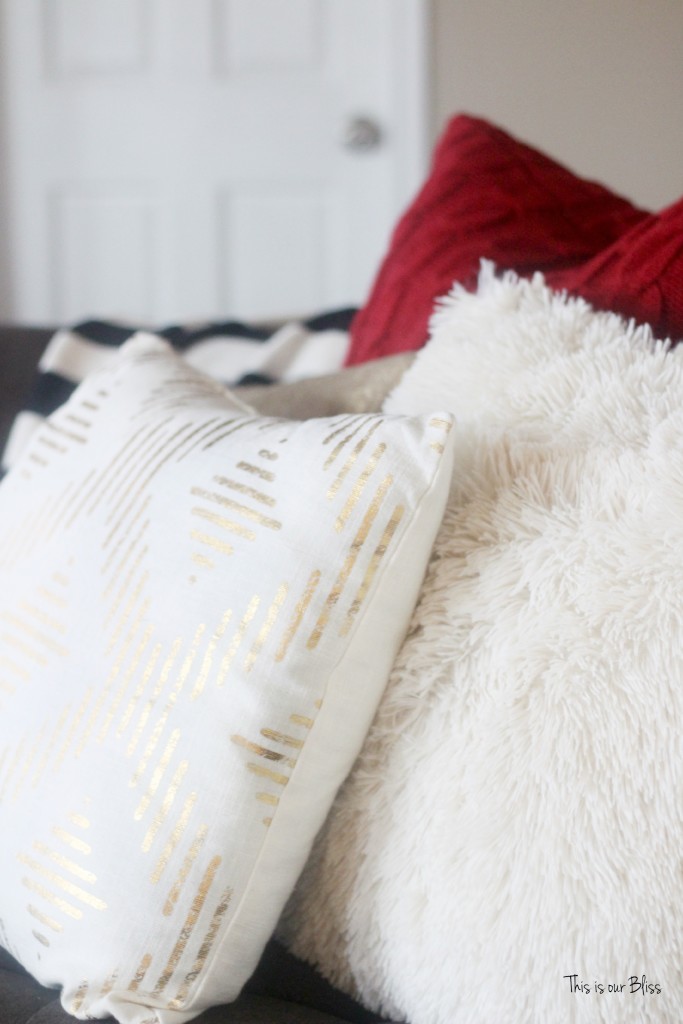 My all-time favorite throw blanket is tossed on the back of the couch…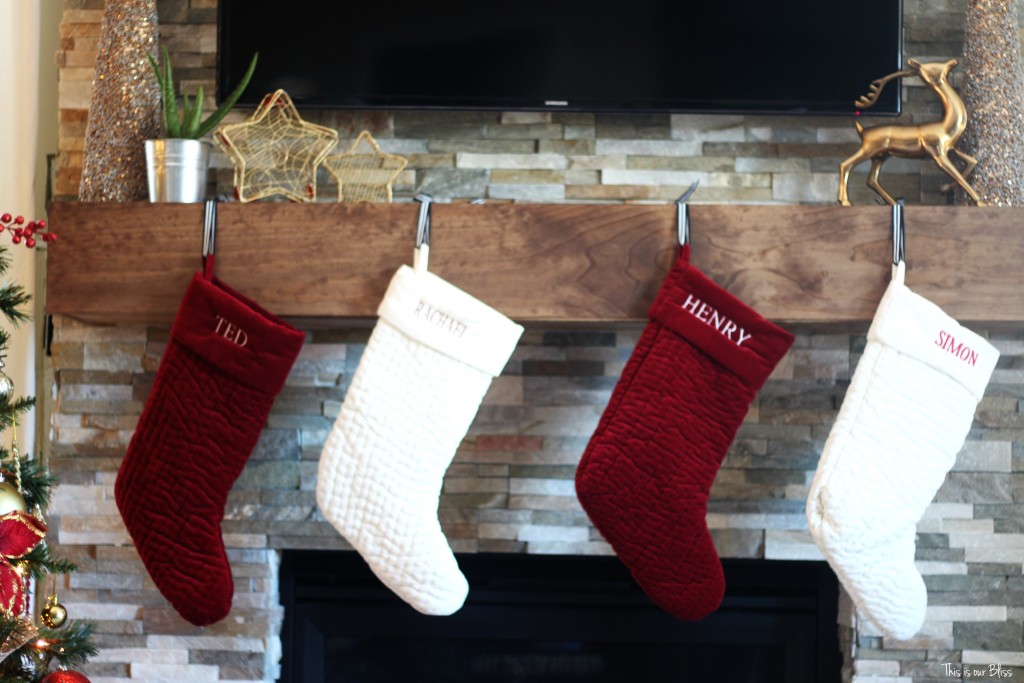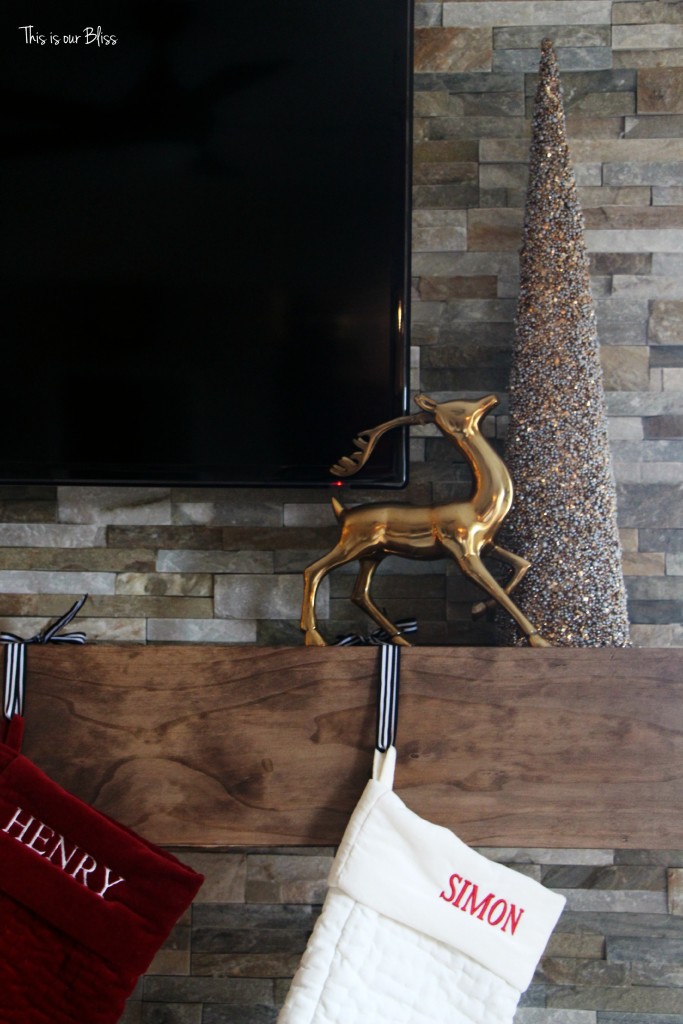 and I did continue with the black and white stripes by simply attaching a command hook to the back of the floating mantle and then looped a piece of ribbon through each of the stockings [Pottery Barn] and secured the ends together in a bow around the hook.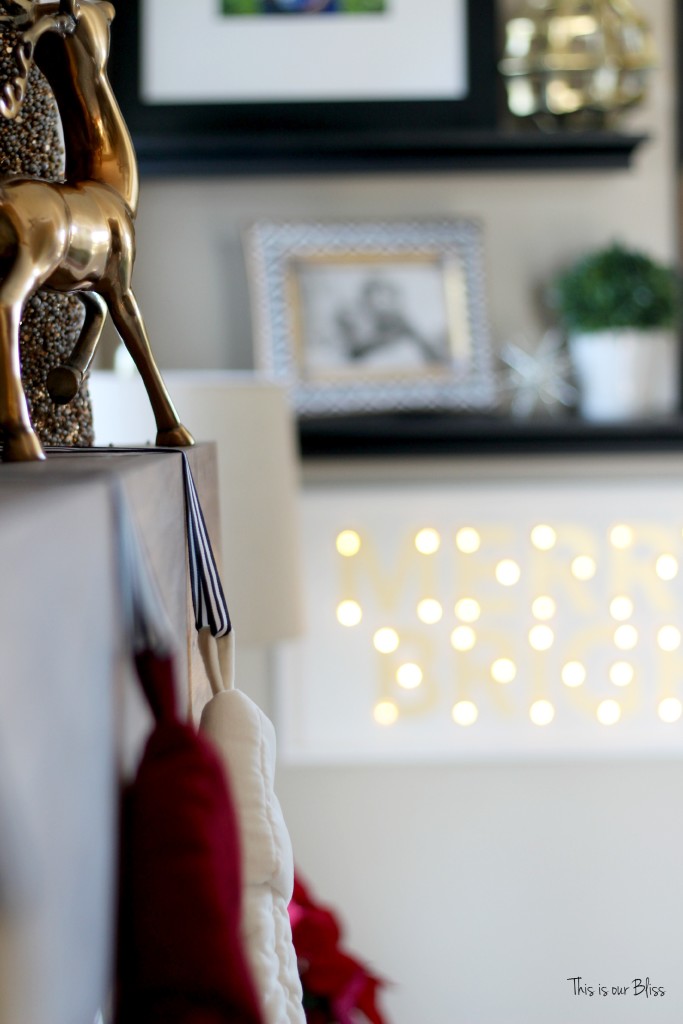 We had an accident with our regular stocking holders last year, when Henry (then 2) pulled at his stocking and the big gold snowflake holder nearly took him out. Needless to say, those were packed up and won't probably be making another appearance for several years. Maybe longer! Who knows with these boys?!
Did you notice one of my happy finds from HomeGoods this season??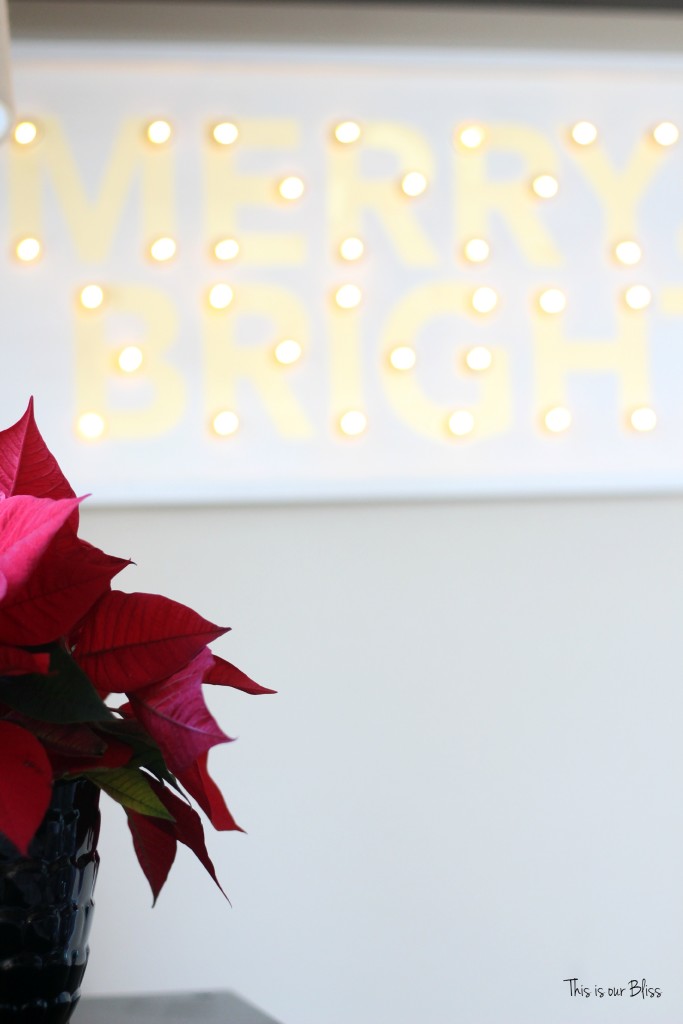 Yes – that white and gold "Merry & Bright" marquee!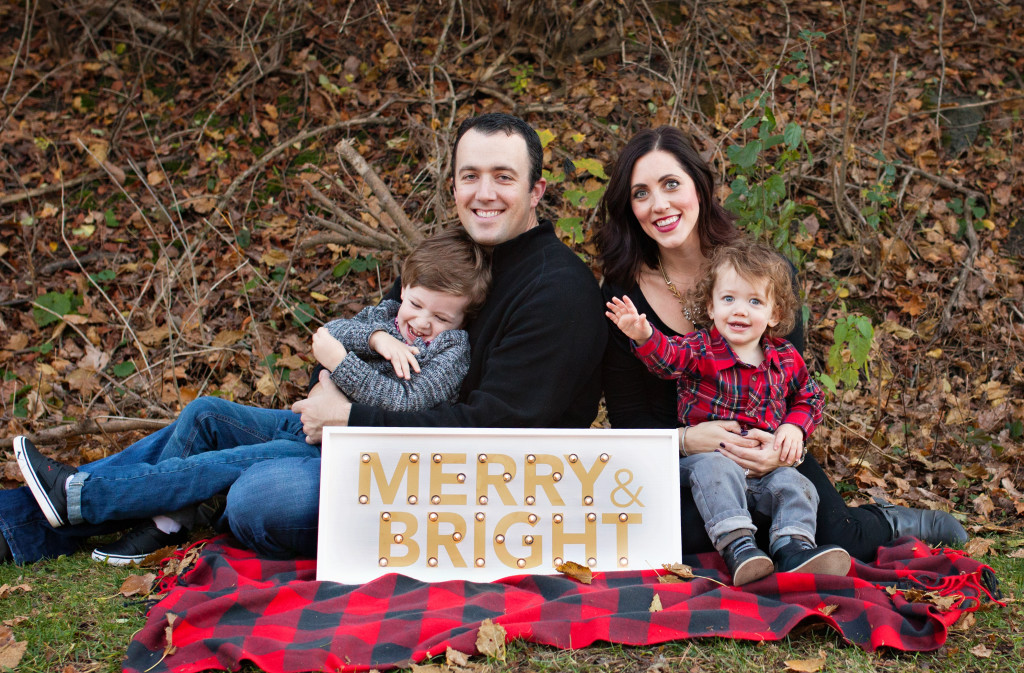 It doubled as a prop for our family Christmas card photos, too! After the shoot, right back on the wall she went!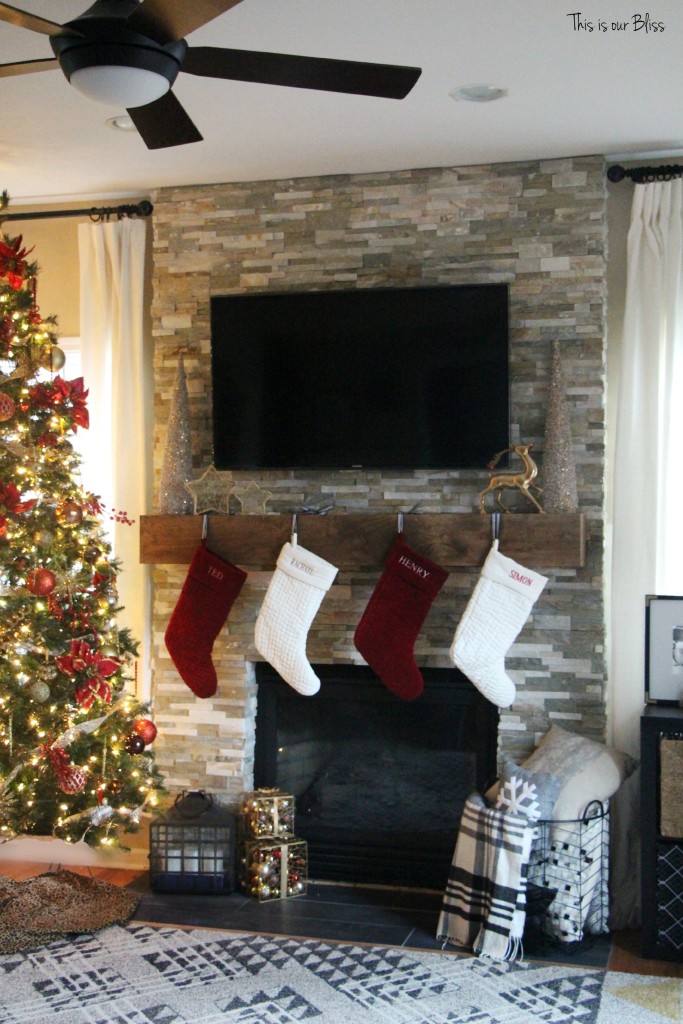 The metal basket by the fireplace holds extra throws and pillows and instantly adds warmth and texture to the room. Plus, its nice to have a few spare on hand for family and friends to grab one while lounging on the couch.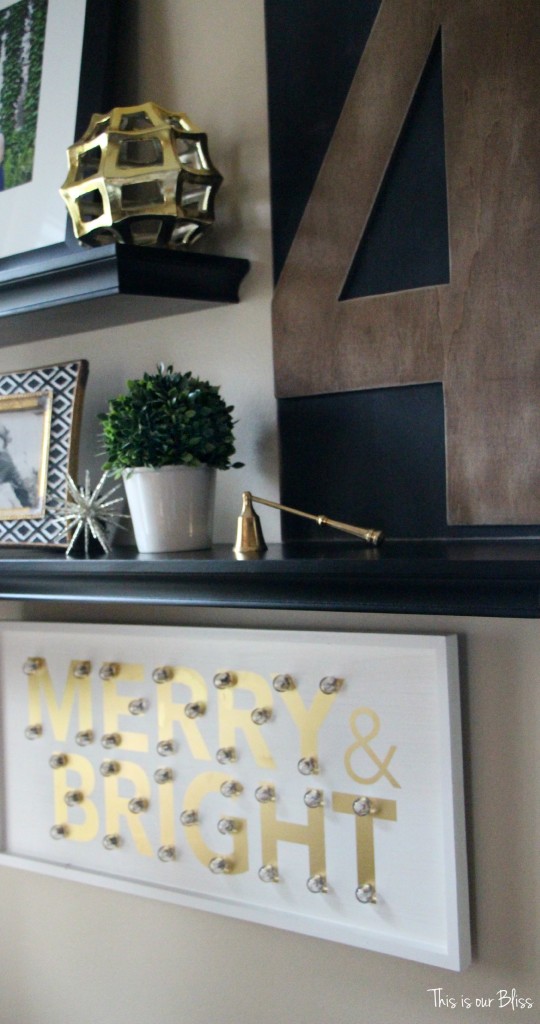 The decor is pretty minimal in here because there isn't a ton of wall space in this room.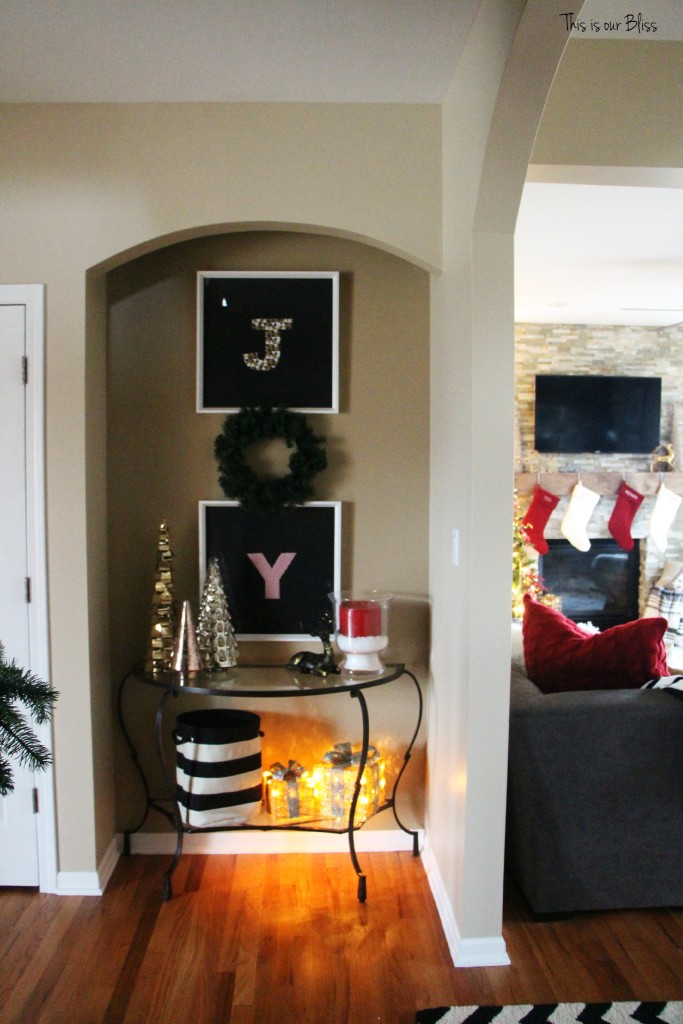 There isn't a back wall as it opens up to the kitchen, the newly remodeled fireplace is flanked by windows…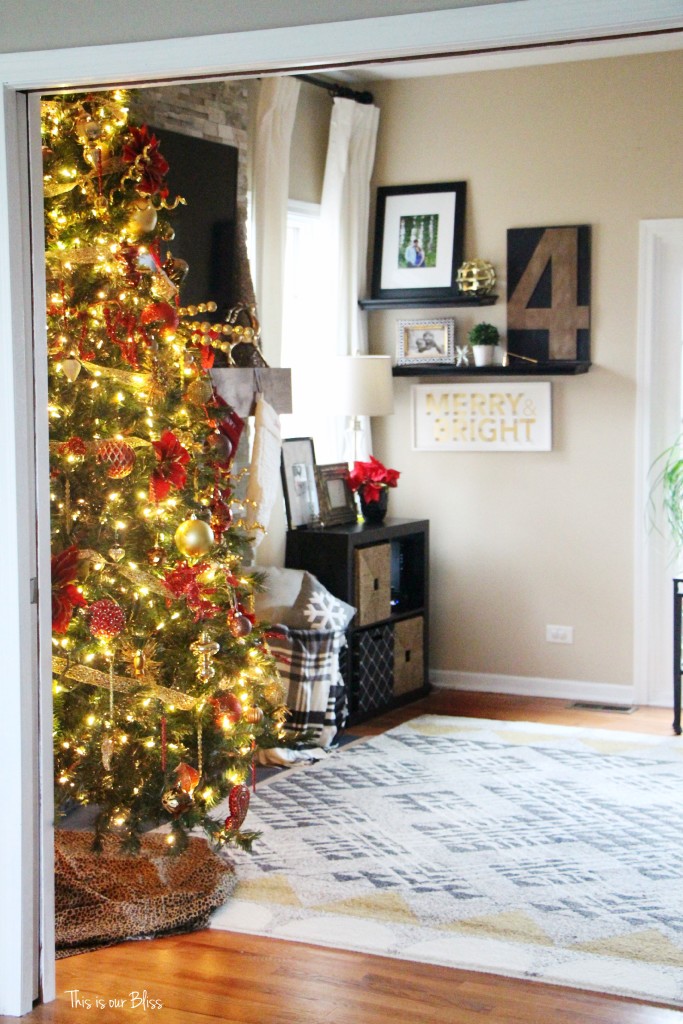 …this left wall opens up to the playroom and the far right wall has a set of doors that opens up to the deck.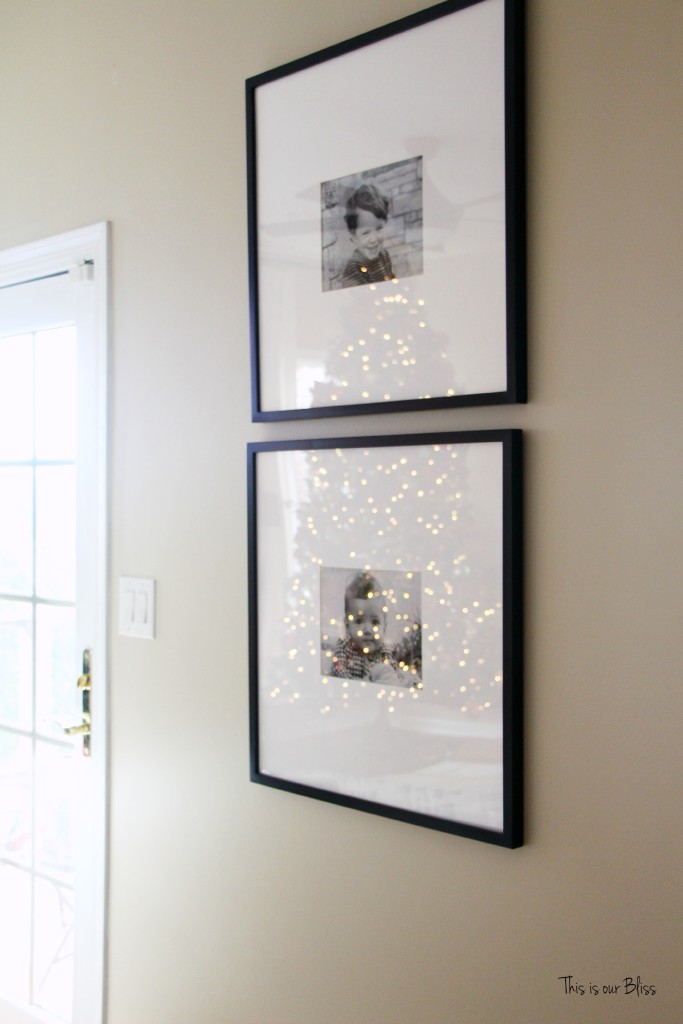 We don't actually use these doors because a couple of feet around the corner is another set of doors off of the kitchen. We keep a pair of occasional chairs in front of this door year-round and to the right of the door are a couple of my favorite oversized mat gallery frames from Pottery Barn. I always keep black and white photos in them and switch them out a few times a year. I love the large white mat with a simple black frame. Oh and have I mentioned my obsession with Christmas tree light reflections??!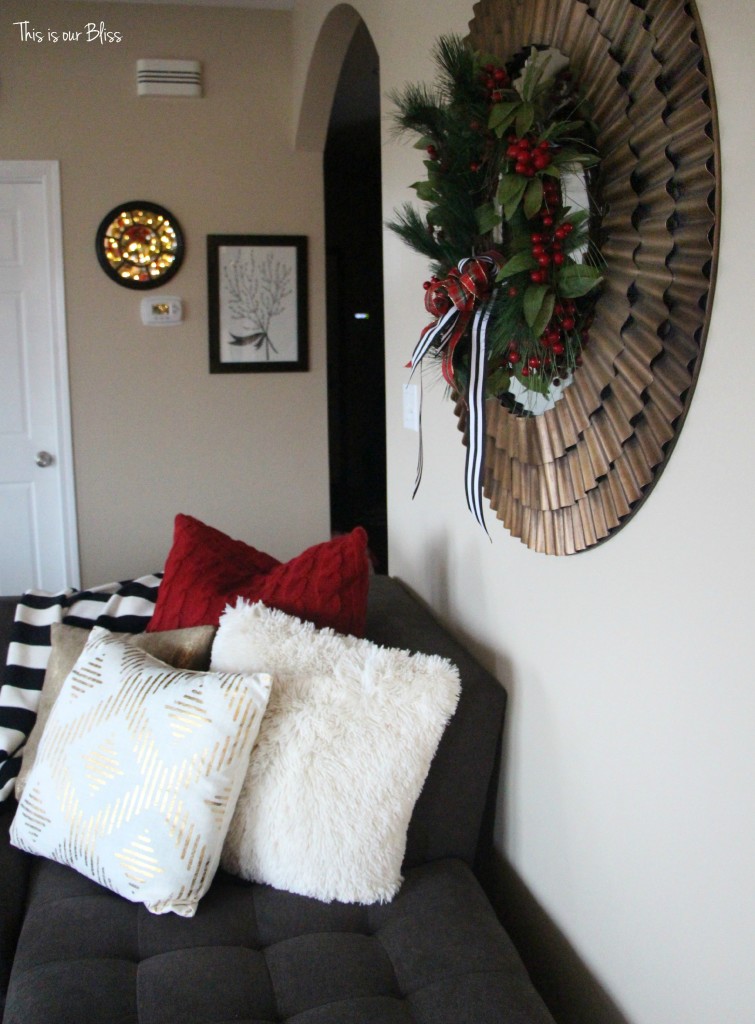 I was able to capture a few twinkling lights in that small mirror behind the couch – sneaky, I know 😉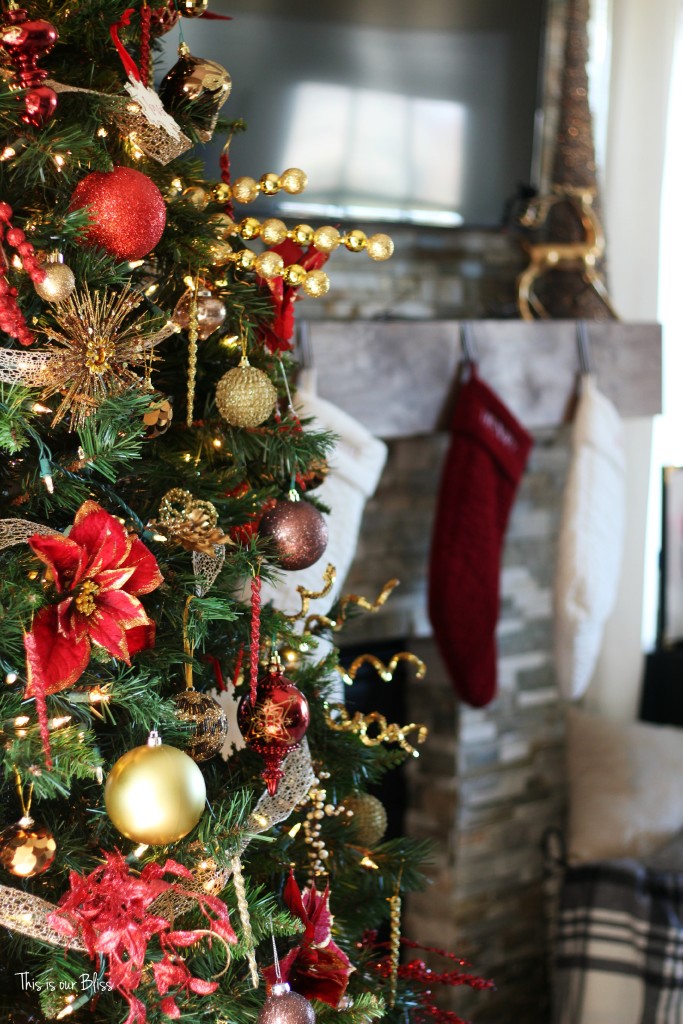 Speaking of the tree, here it is. I added several of the same gold sequin picks from the Formal Living Room tree, lots of red and gold ornaments of all sizes, gold ribbon and then popped in some red and glittery gold poinsettia stems – I love how they add some dimension and are a nice contrast to the round ornaments throughout the tree.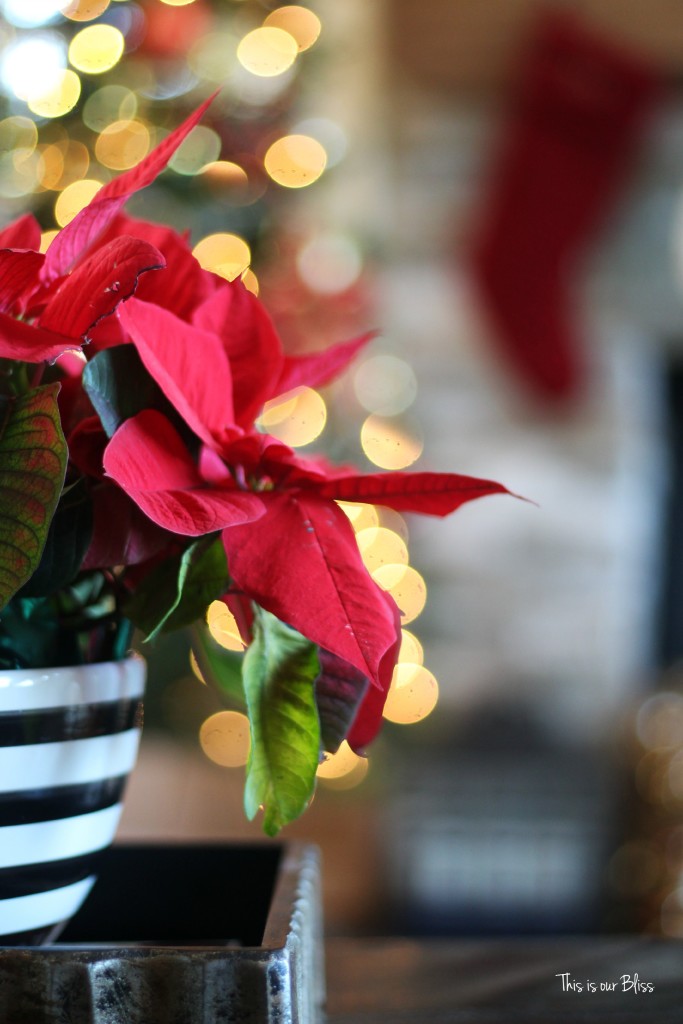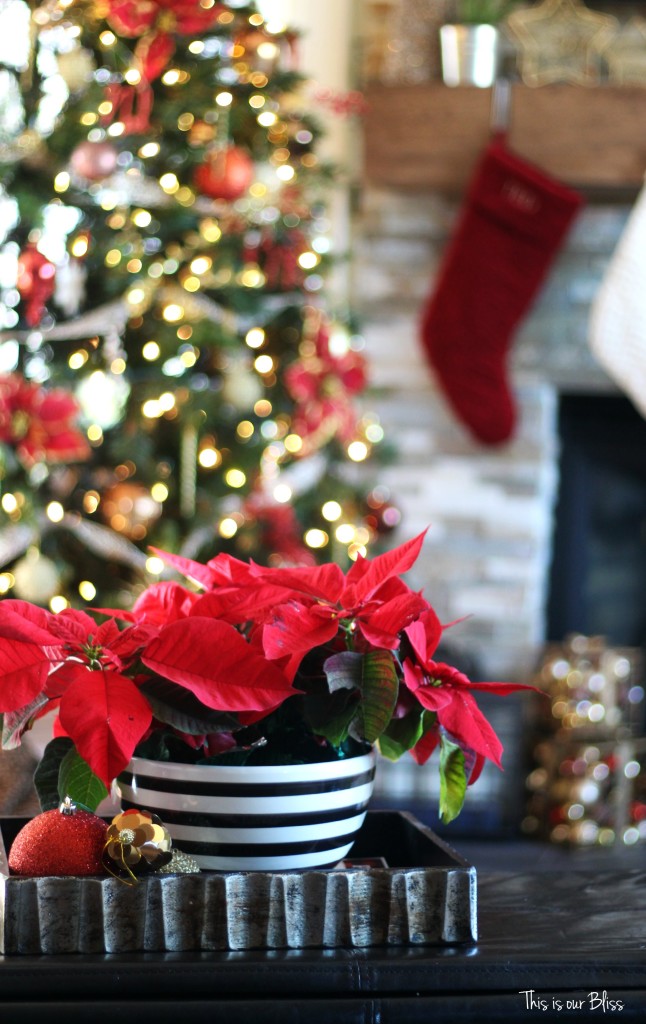 Speaking of poinsettias, I did pick up quite a few of them this year and sprinkled them throughout the house to add some Christmas RED. This was AFTER the candy mysteriously vanished…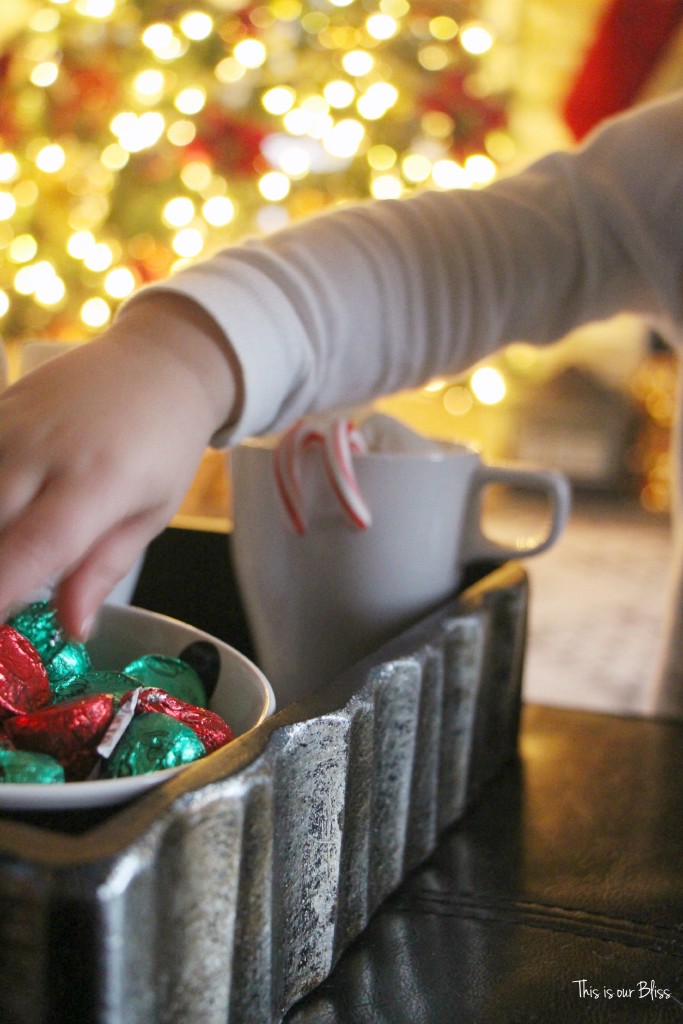 BUSTED! So much for that idea!!
Since I needed something else for the coffee table, I decided to add a few in my trusty striped bowl. I found the bowl at Ross this spring and it made its debut at Simon's Safari-style 1st birthday Soiree in May. I think it housed some munchies, but I thought it might make a great pot, too!
[Since you can't buy this exact pot, I was able to source some close alternatives – like this option
 or this one
, too ;)]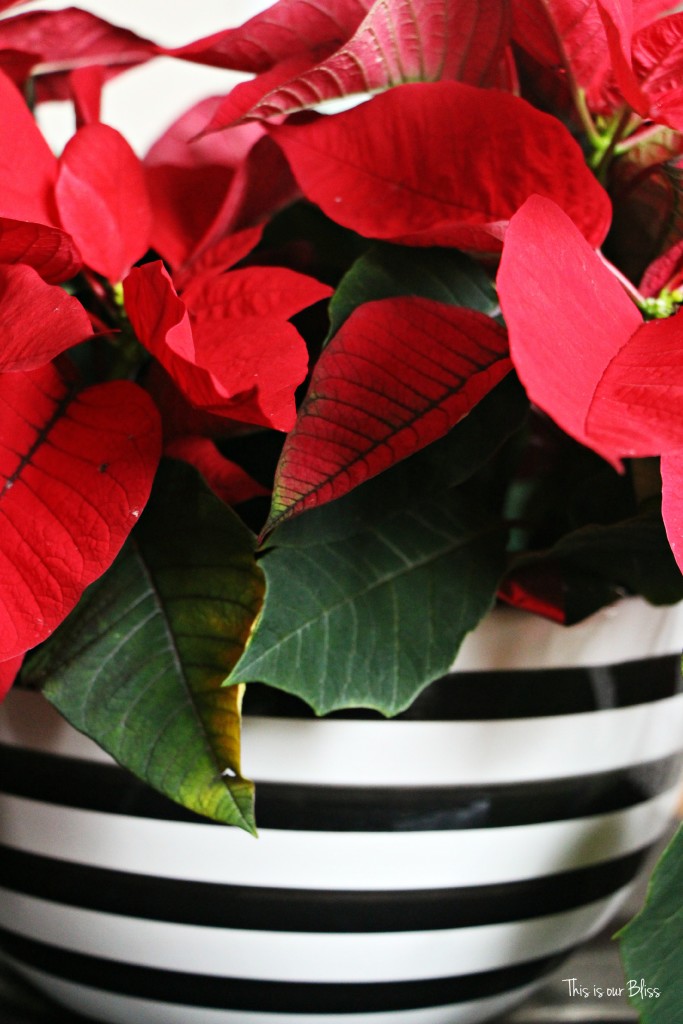 I actually filled the bowl with 3 mini poinsettias and just left them in the foil-wrapped pot they came in. There were only $2.50 each at Lowes.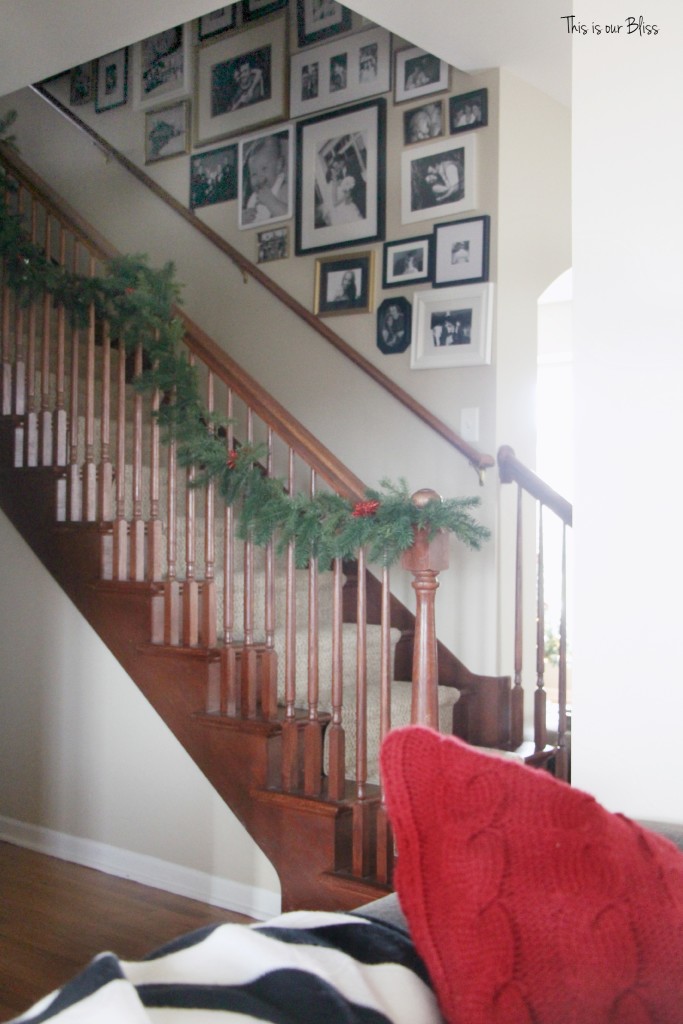 The staircase behind the family room stayed simple for the holidays since it has 17,000 frames on the stairway wall already! I added some faux garland & called it a day.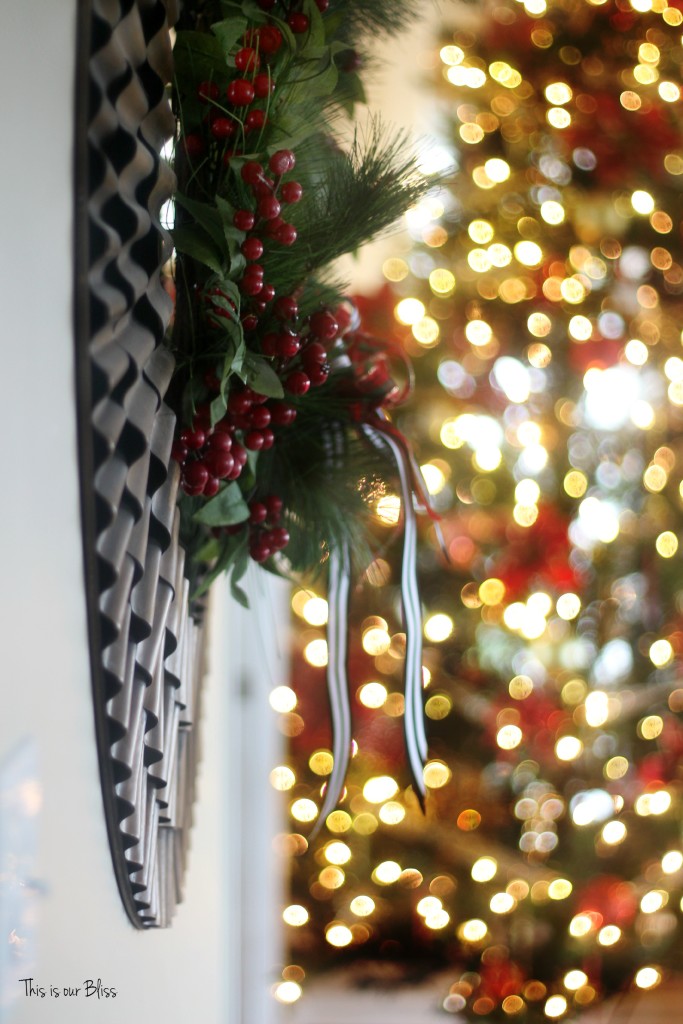 The goldish/bronze ruffle mirror got some wreath treatment and a few added plaid & striped ribbons made it feel right at home.
This is truly our family room. Aside from the newly finished basement, we spend our time in here…daytime puzzles, Mickey Mouse Clubhouse marathons, Friday night dance parties, "picnic blanket snack time"…coffee in the am and wine + Netflix or the DVR post-8 pm – its our room, so I wanted it to feel cozy and warm, but still have a tiny bit of fun with bold patterns & glitzy gold glam.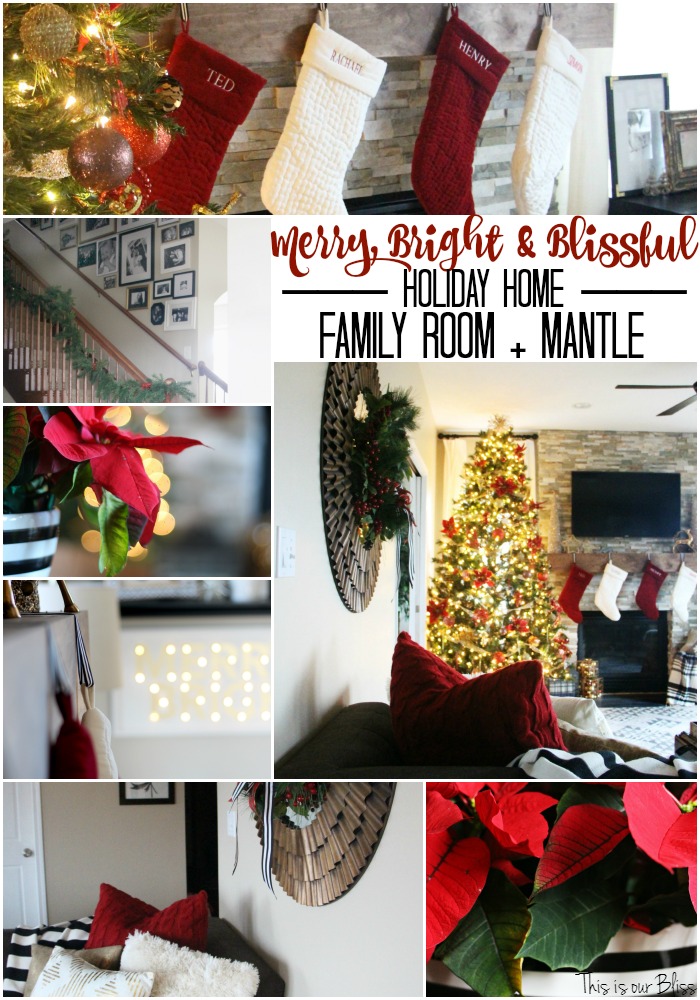 It still has to feel like me, but just tamed down a bit. wink, wink.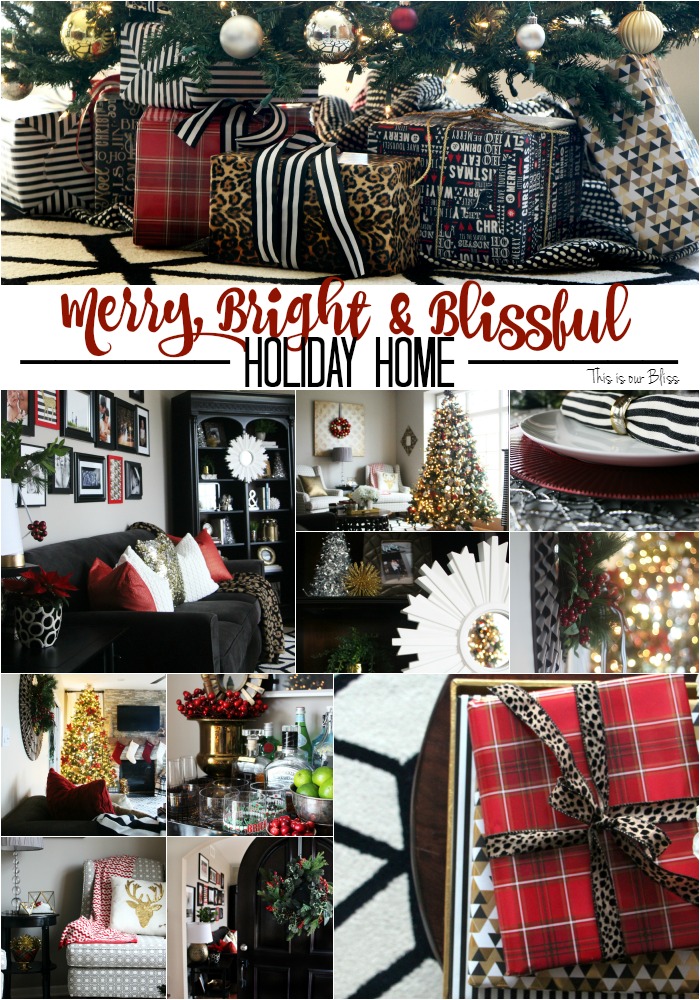 Front Door | Home Tour | Living Room & Holiday Bar | Family Room | Christmas Table
Thanks for stopping by today! I have 2 more spaces left to share of our Merry, Bright & Blissful Holiday Home – the table & entryway. There may only be a few more posts left after those before I take some time off from the blog! Please join me until then…and after January rolls around, too!
See you soon!