Good morning to you all and happy week of Christmas! I am sure you are all busy prepping for the madness holiday fun!

Are you the lucky one hosting this year? or do you every year?! Do you set a traditional table or is it grab & go with an extra large extended family gathering?!
You saw a sneak peek of my Christmas tablescape during the my home tour as part of the 12 Days of Christmas Tour of Homes hosted by Evolution of Style, but today, I am sharing more shots of the table in hopes to inspire your festive holiday feast!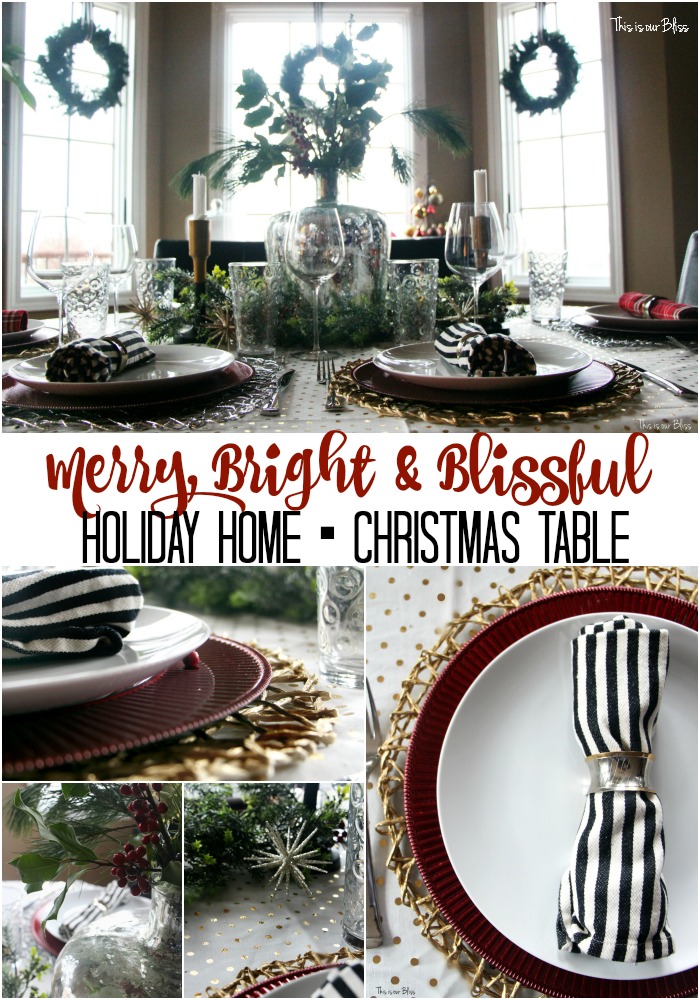 Setting a table may look time consuming and intimidating, but it's actually a pretty straightforward process. It's all about layering your pieces and mixing your prints! Anything goes!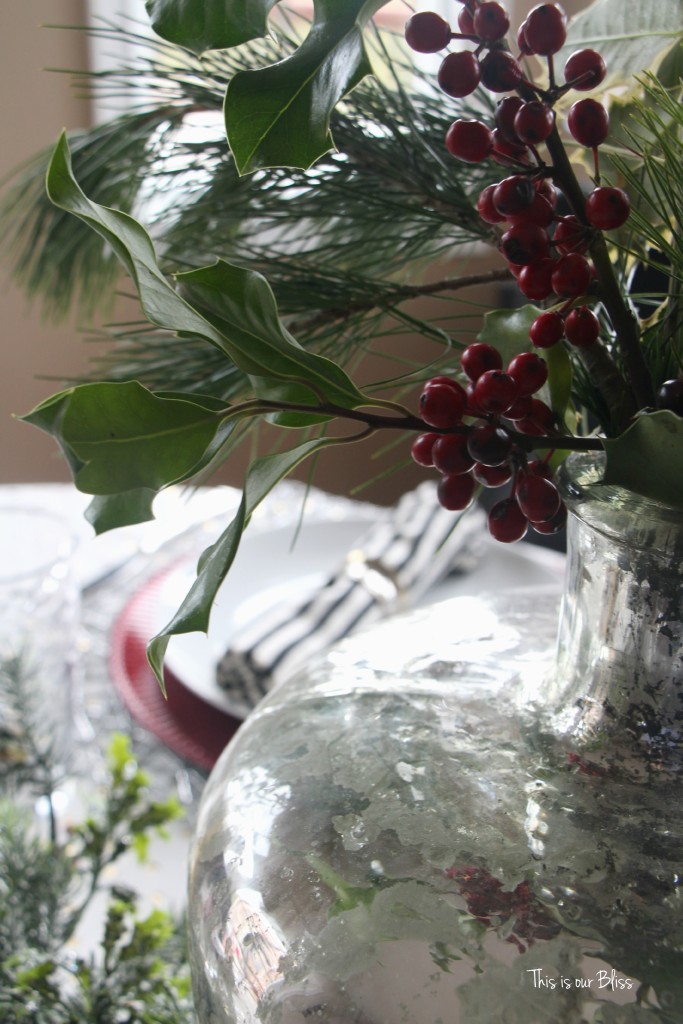 This year, I decided to use a tablecloth – a fun metallic gold polka dot tablecloth! So after that was put on the table, I placed a mercury vase filled with tree clippings, set a black and gold taper candleholder [from Target] on each side and then wrapped some sparkly faux garland with berries and pinecones around the 3 pieces, sort of weaving it in and out and securing the ends together where they met.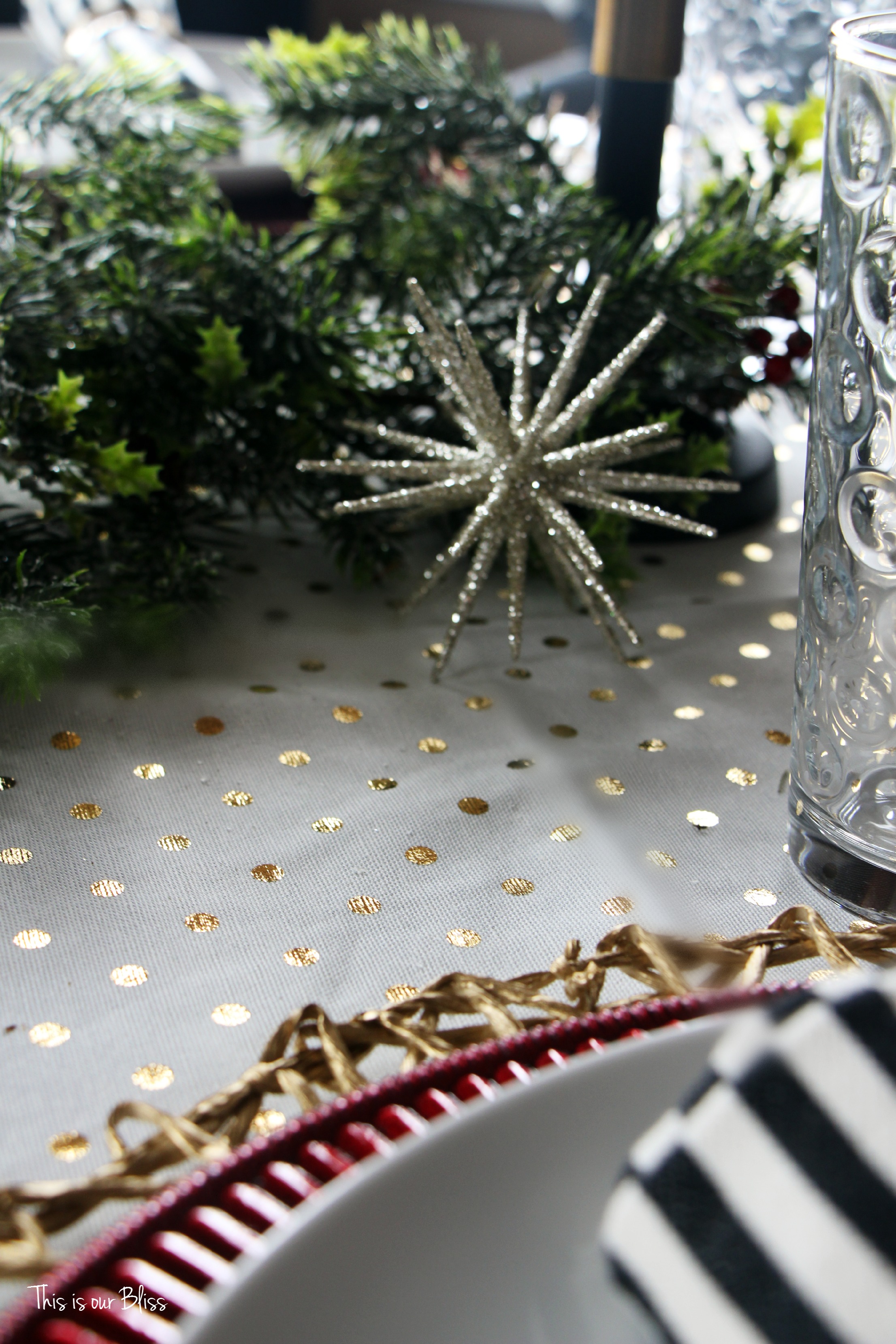 Then I scattered 6-7 glittery gold and silver 3D star ornaments on the edges of the centerpiece.
After that, I set out the placements at each seat – alternating silver squares and gold circles. Both were from HomeGoods and I also saw them at TJMaxx since they tend to carry some of the same inventory. The round ones started out as natural woven straw placemats, so I simply gave them a couple coats of gold spraypaint. They dried in about 30 seconds and then almost immediately went on the table.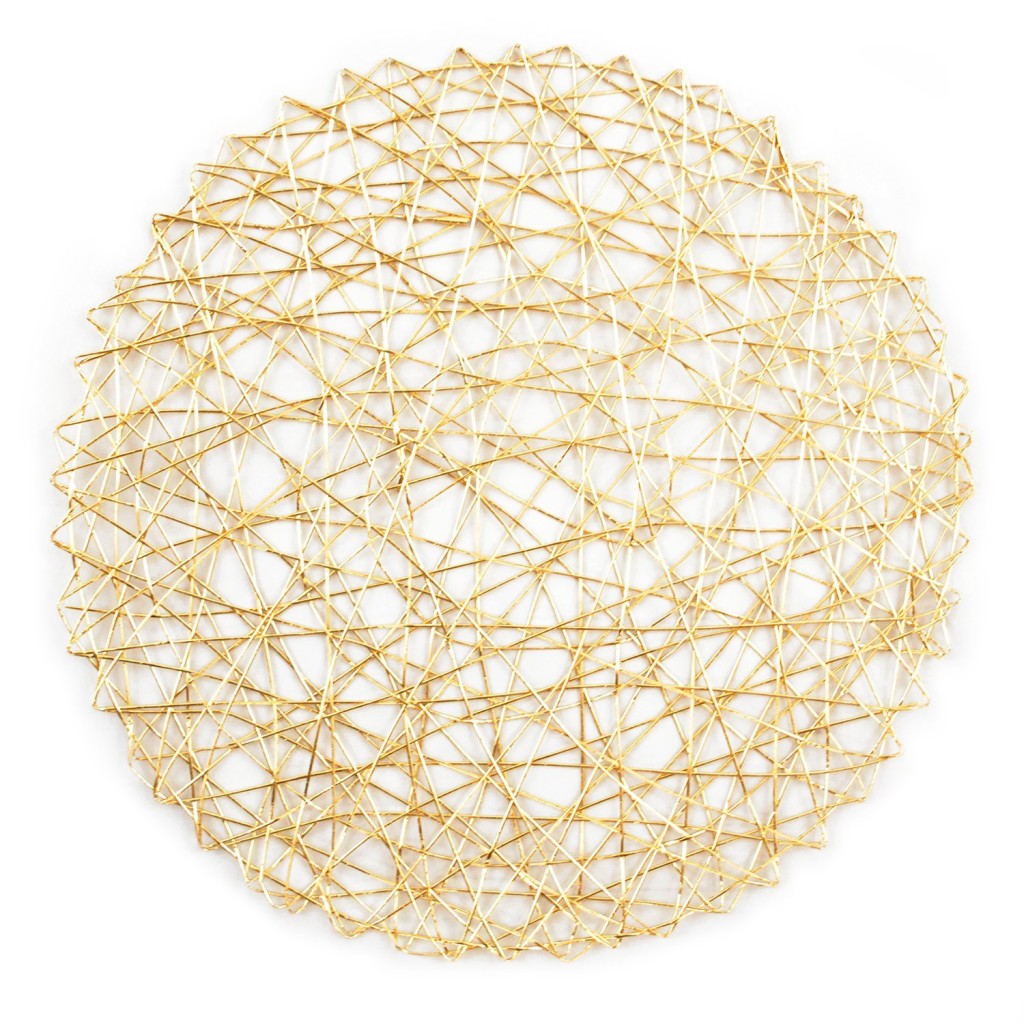 Lucky for you, I was able to source nearly the exact same round metallic placemats
on Amazon!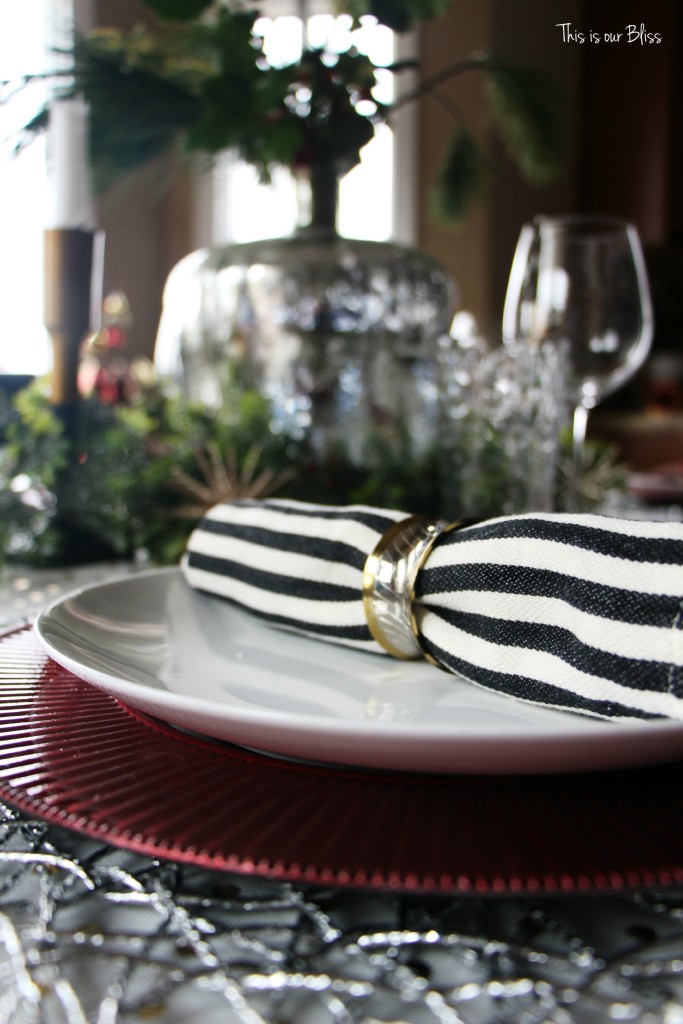 Next, I put out the metallic red ruffle charger plates I got at Michaels for 60% off and then an additional 20% off my entire purchase making them cost about $.95/plate!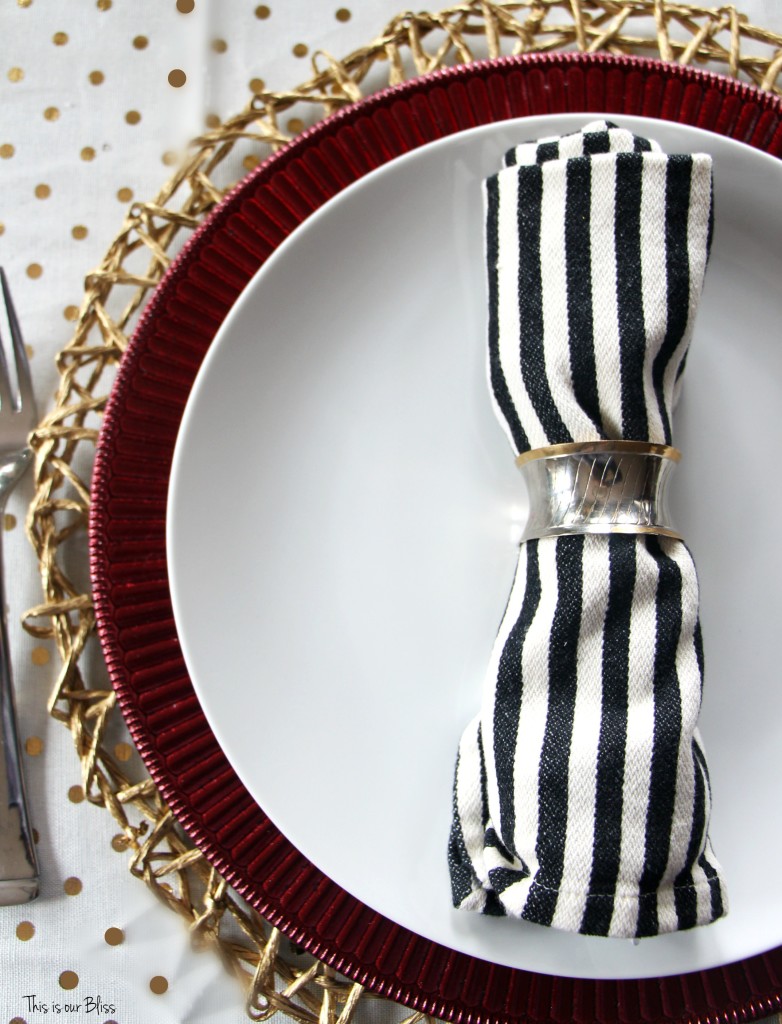 Then, my round white everyday plates from Crate & Barrel went on top.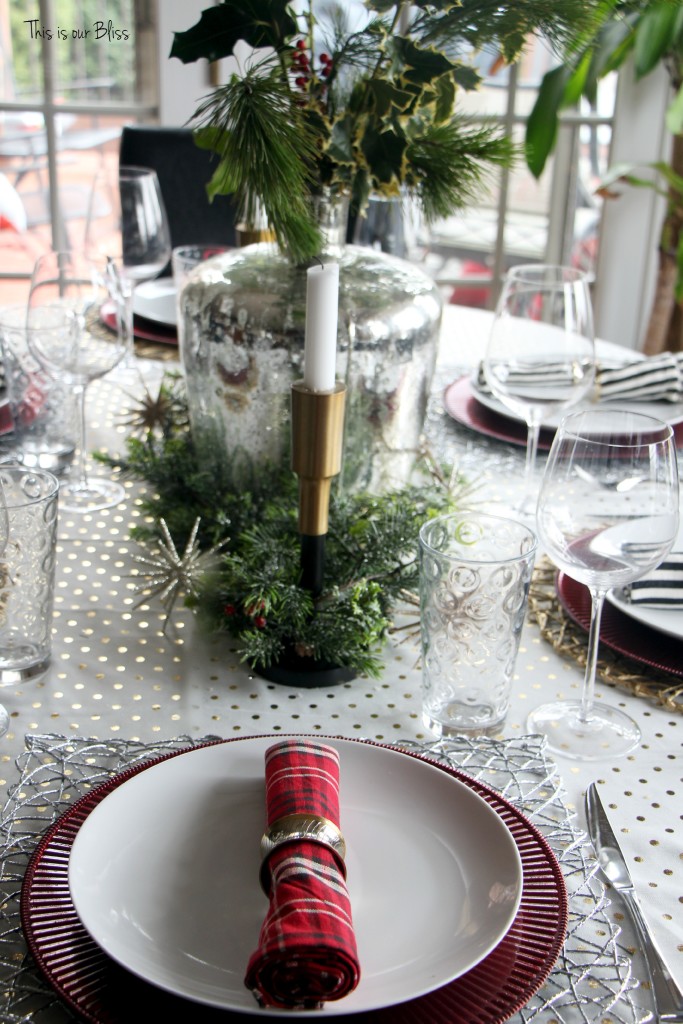 For the top of the place settings, I placed rolled black and ivory striped napkins [Steinmart] secured in gold & silver rings [Bed Bath & Beyond] with the exception of the ends of the table where I put out my black, white and red plaid napkins on each side.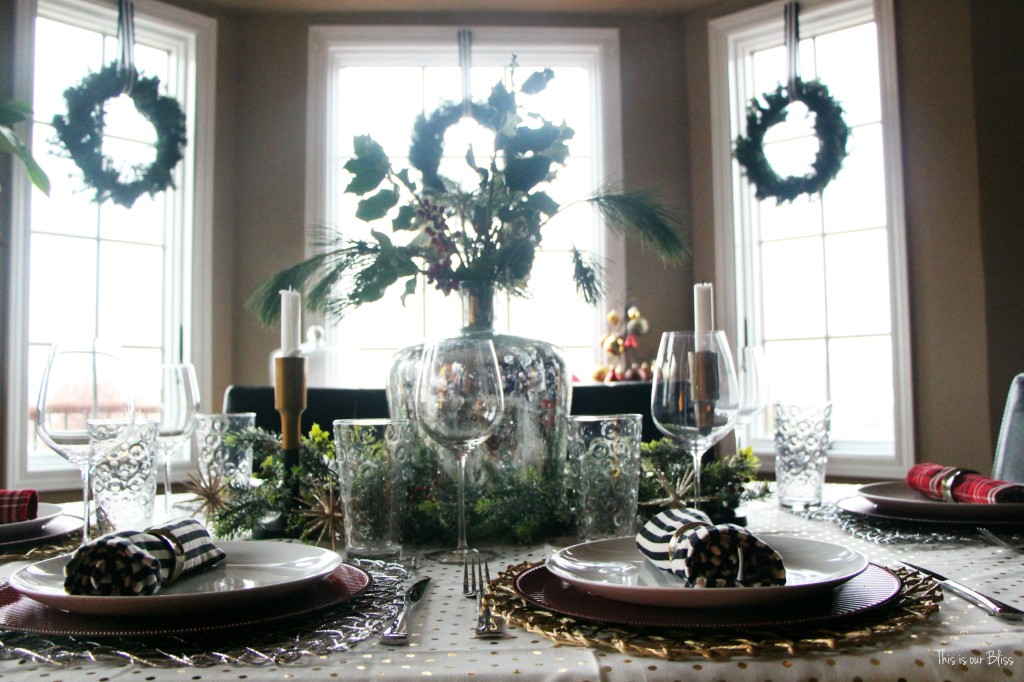 Lastly, I went around with wine and water glasses and the silverware. It took all of maybe 10 minutes!
I had most of the pieces already, but bought the garland, placemats and chargers this holiday season and both types of napkins back in October.
The table is full of pattern and glitz and was so easy to create.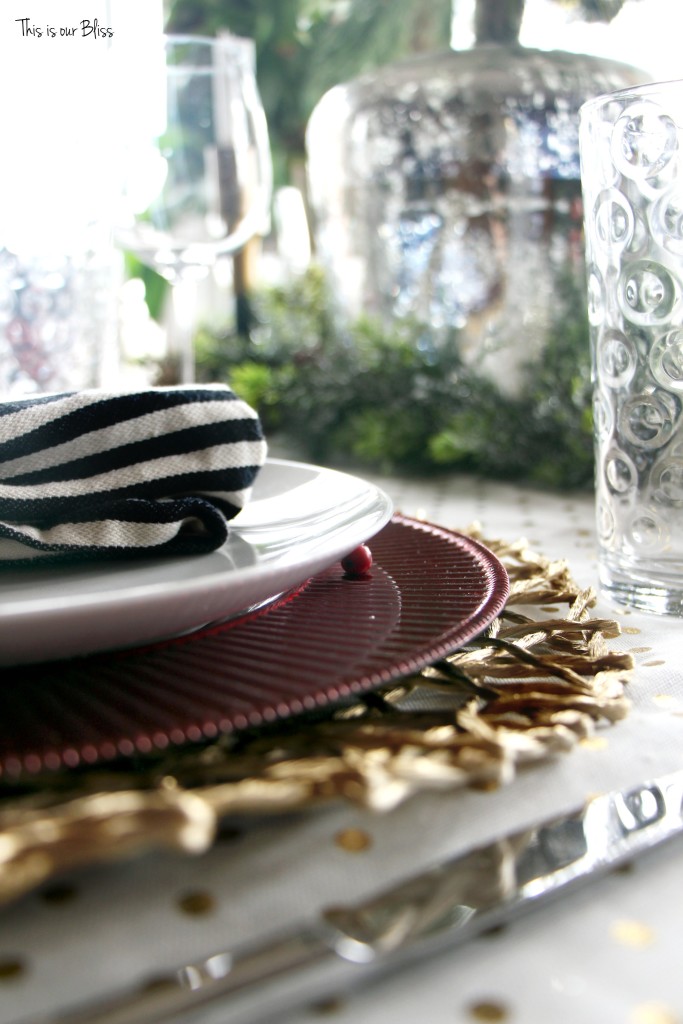 Don't mind the runaway berry from the centerpiece 😉
More guests than number of napkins in your set? Totally not a problem! Its super easy to mix and match your placemats and napkins (even your dinner plates, glasses or flatware) and have it look intentional. Just alternate every other one or use the odd pieces at the heads of the table. It will look like you set a special spot for someone 😉
We will be celebrating at my in-laws before Christmas and then hosting my parents, sister and grandparents on Christmas Day! Family, food, fun and probably some adult bevy's for added holiday cheer!
If you missed the rest of the Merry, Bright & Blissful Holiday Home, you can see each space below: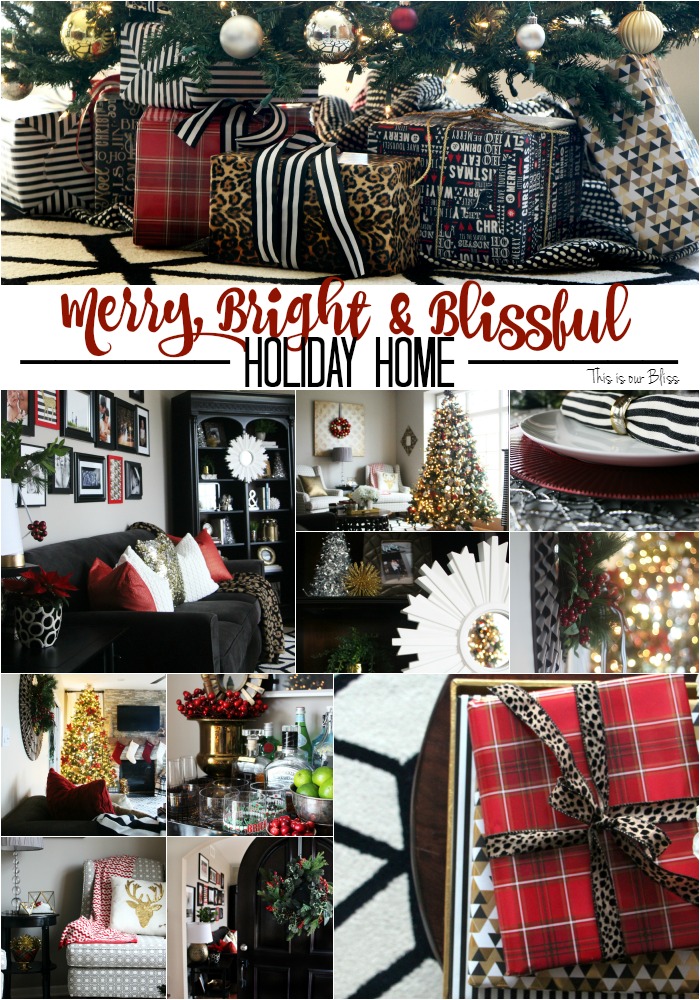 Front Door | Home Tour | Living Room & Holiday Bar | Family Room | Christmas Table
And to squeeze in just a wee bit more Christmas….did you see our Living Room Tree? Check out my Bold, Neutral and Glam tree below: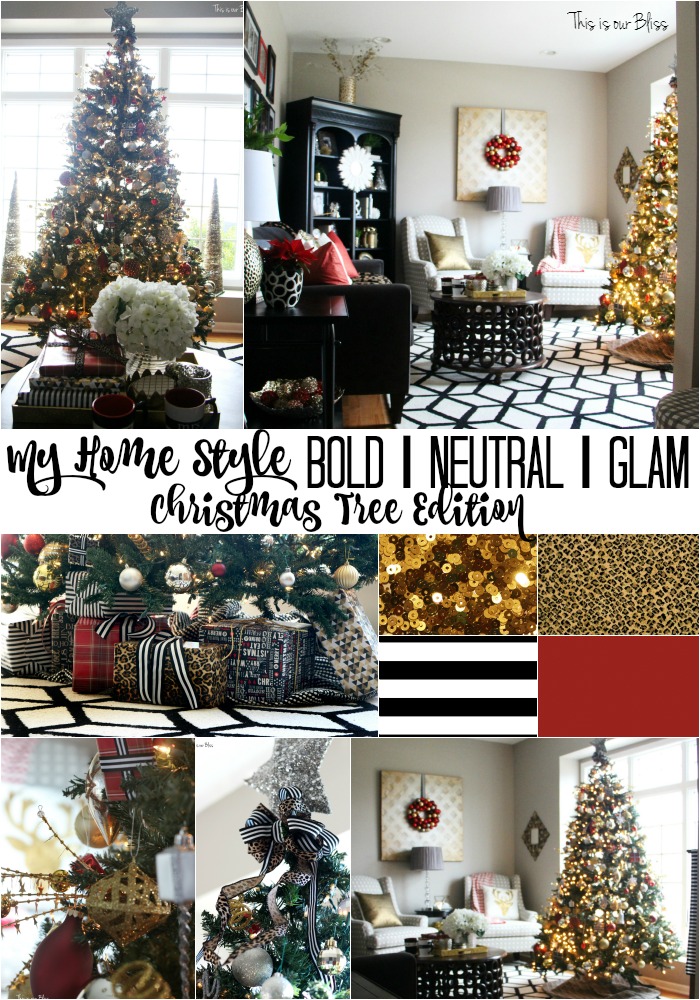 Be safe if you are traveling this week and if you are hosting, I wish you a fun-filled, stress-free holiday! #ifonly
I am signing off for a little while to enjoy some R&R and haven't quite yet determined my return date, but it will be sometime in early January!
For now, Merry Christmas and Happy Holidays to all!!
*affiliate links were used in this post.