Alright, so another bedroom it is!
Our guestroom revamp project last year for the ORC was one of the greatest makeovers – I just fell in love with that room. The only problem was…it wasn't our room. It was for our guests! I was thrilled to be able to create a nice place for our family and friends to stay, but I was feeling a little left out.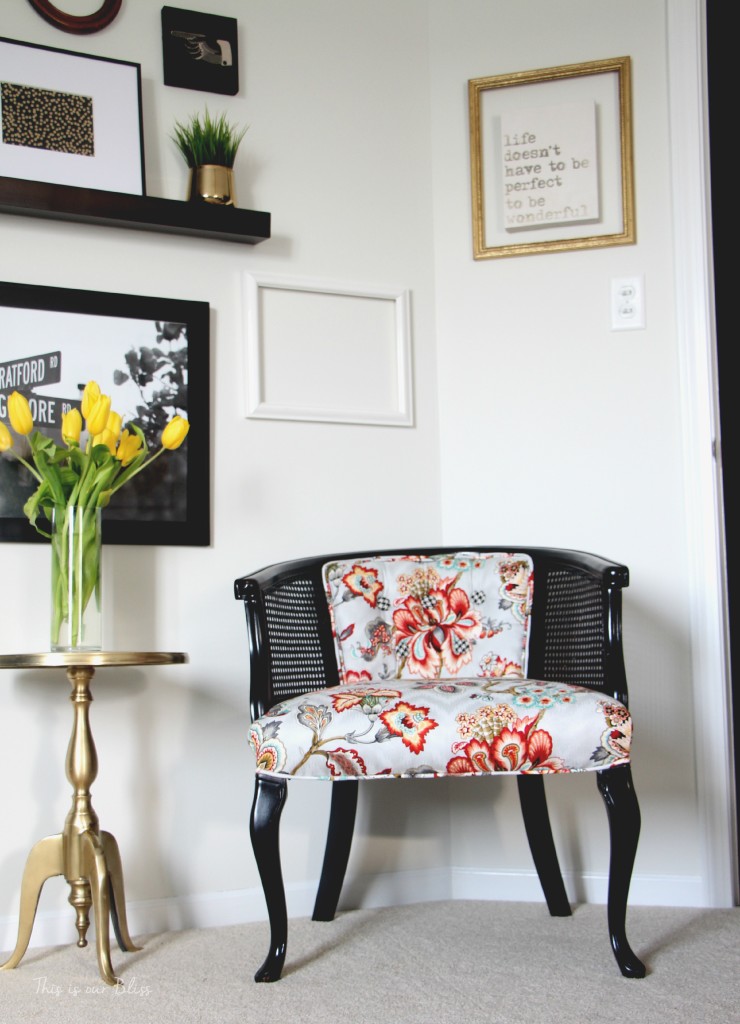 I think its pretty common for us to spruce up the places in our home that people actually see, or design a nursery for our little ones on the way, but typically, our own bedrooms & bathrooms take a backseat.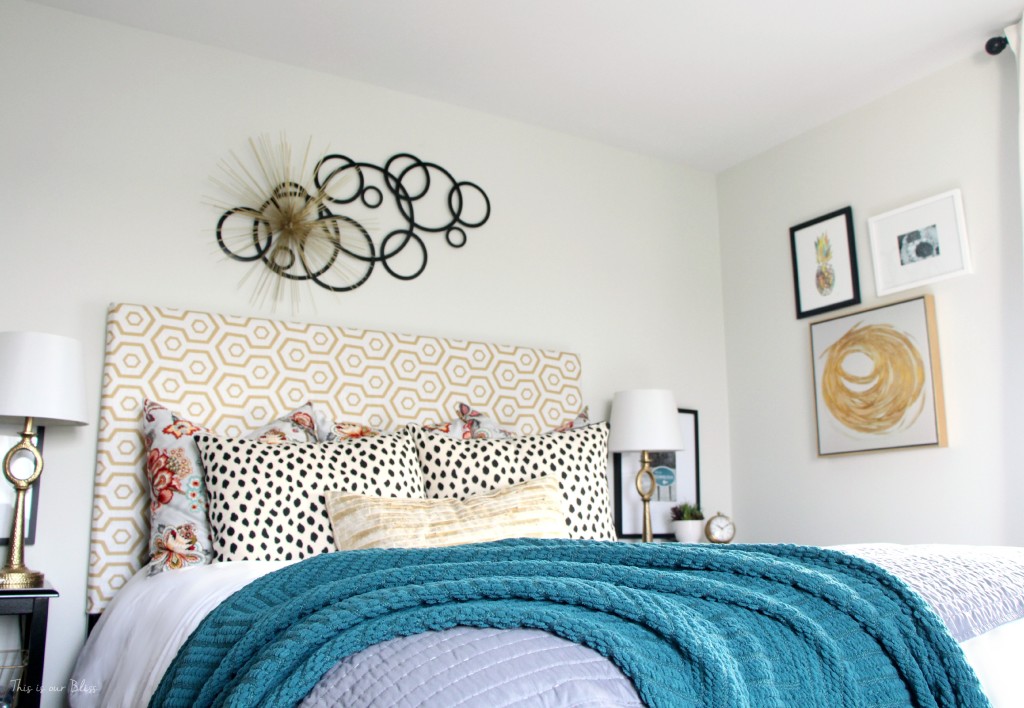 We'll get to it…someday.
Have you been there before? I'm willing to bet yes!
This was totally the case in our house. We moved into our home in 2012 and had the entire house painted. We decorated room-by-room, but never really came back to ours. Sure, I hung a few things on the walls and yes, we had curtains and bedding, but it never felt finished. Fast-forward to last year, we decided the dark toffee color needed to go, so we opted for Sherwin Williams Repose Gray and I'm still 100% in love a year later. It is light, calming and very neutral. I highly recommend!
When it was time to select a room for the New Year, New Room Refresh Challenge, I looked at the list of bedrooms make my decision:
1 – I created the biggest's room when he was born in 2012. (He's do for a refresh, but he's teetering between a big boy room and possibly going to live with the littlest if we decide to have another baby someday. Time will tell 😉 )
2 – The littlest's nursery was created in 2014 and still feels extremely fresh & new!
3 – The main guestroom was done last spring for the One Room Challenge
4 – Our 2nd guestroom / office / craft room didn't even make the cut for consideration. It is in the midst of the world's largest overhaul and I just didn't have it in me to wrap it up in 3 weeks. uggghhh!
5 – So…. the master bedroom it is! insert happy girl dance here.
The other rooms are in pretty good shape and the basement is being worked on simultaneously, so I was confident the master bedroom was the true winner!
So, over the next 3 weeks you are going to have front row seats to our Master Bedroom Refresh Project for the New Year, New Room Challenge! Let's take a look at what we've been working with off and on for the last couple years and then I'll share my big plans for the space…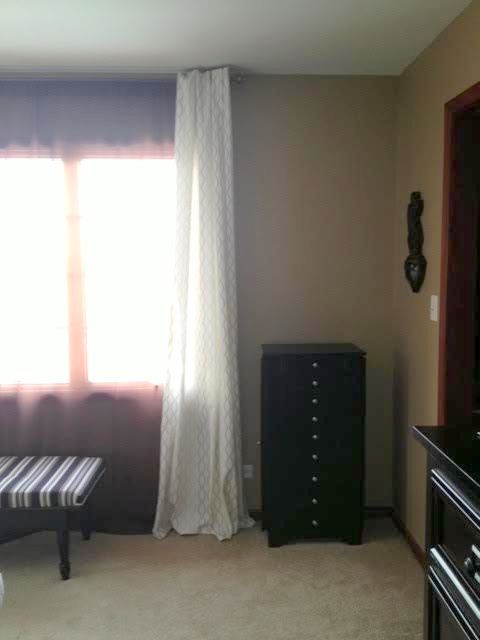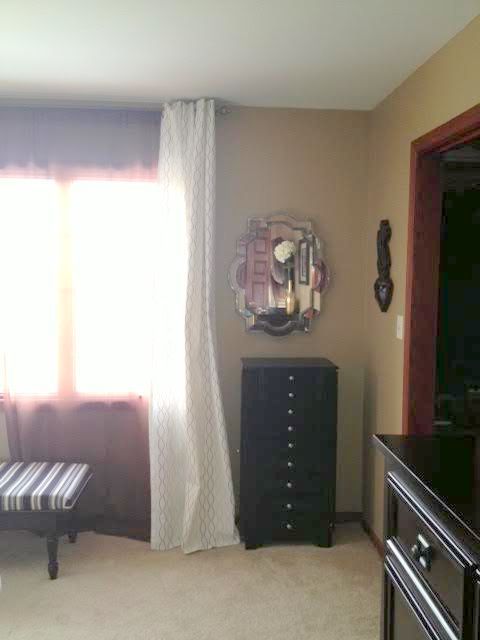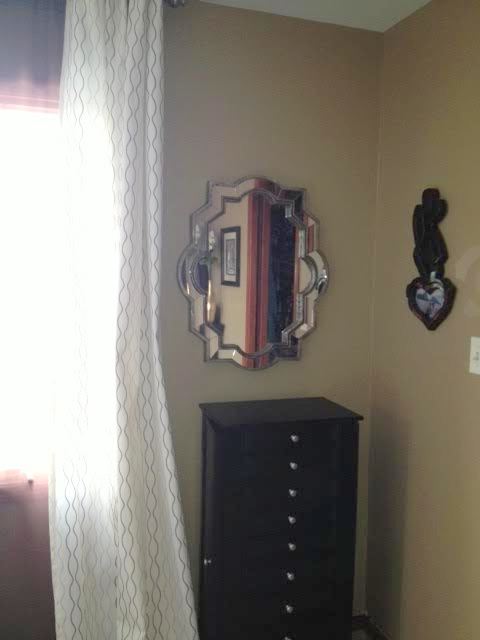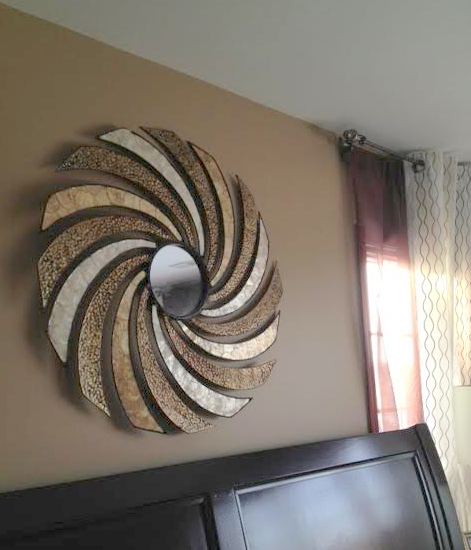 These might quite possibly be the worst photos of any room in the house! AHHHH!
Do you want to know the best part?
I used them in one of my first blog posts about mixing metals. Ha! I guess we all have to start somewhere 😉
I'll let you in on another secret, too, while we're at it. You might remember when I shared my nightstand styling tips with you all last fall.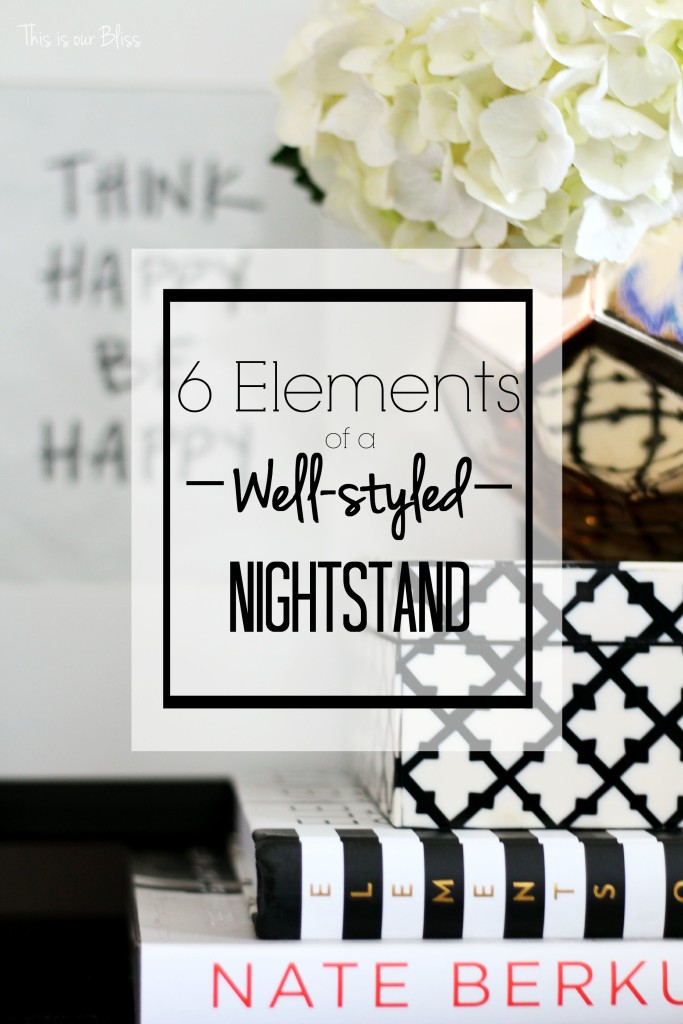 Well, that was a fabulous update to the bedside table, but I only styled one side of the bed. The other side (you can guess whose side remained untouched!) and the rest of the room were pretty much what you saw above, with the exception of the new light gray walls.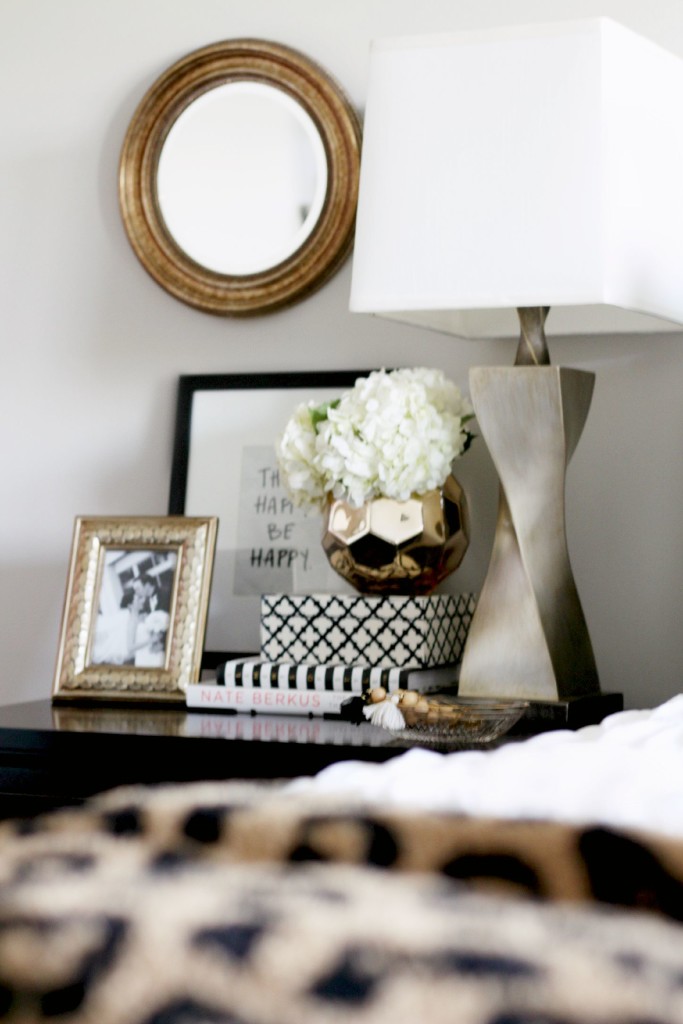 So, you see, I really felt the need to create a room that actually matches this lovely spot. Do you agree?!?
Ok, let's get to the good stuff – the inspiration & design!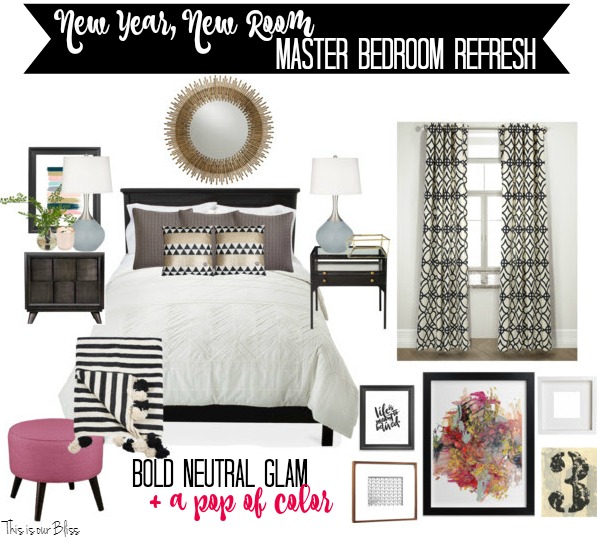 sunburst mirror | nightstand art | lamps | vase w/ greens | left nightstand | gray euro pillows | black, white & gold geo pillows | right nightstand | curtain panels | pink stool | striped throw | white bedding | large colorful minted print | Vintage "3"
| white square frame | "life is meant to be lived" word art | wood framed art

[affiliate links were used above]
Ok, so here is a taste of some of the looks & pieces I've been inspired by, although I won't necessarily be using these items in my final room. I'm still sourcing and shopping (in the house, too of course!) so I don't know exactly what will end up in there and what won't. I will tell you that I'm stoked about the choices I've made so far! I'm sticking with my bold, neutral glam style, but have added a pop of color. I've sort of fallen for those splashes of pink! What do you think?
Next Tuesday, you can come by again to see more of where the master bedroom is headed. I'll be sharing a few of my decor selections and possibly a decor tutorial! Please pop over to take a peek! There will be plenty black, white and gold – I can promise you that.
The greatest part about the New Year, New Room Refresh Challenge?
I'm participating with 10 other fabulous bloggers! Go have a look at what they are up to today with their spaces. I'm sure you'll find that new year refresh inspiration somewhere along the way for your own hom!
New Year, New Room Refresh Challenge Participants:
A big thank you to our challenge sponsors: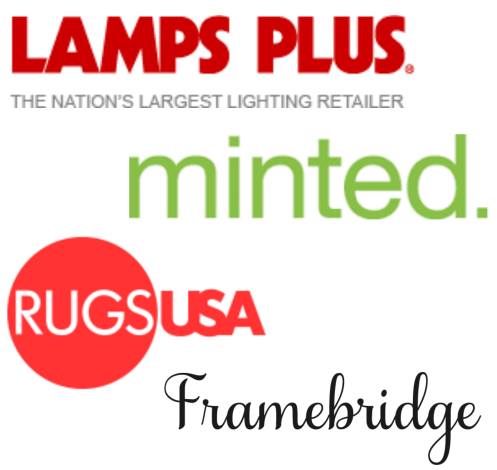 If you had 3 weeks to dedicate to a space, which room in your house would you choose?
If you missed the rest of the Challenge, get caught up below:
Week 1 | Before Pictures + Inspiration Board
Week 2 | Progress + Gallery Wall Tips
Week 3 | Sneak Peek + gold lamp options
Week 4 | The Reveal Part I