So, I'm probably doing this all wrong…completely backwards, but today I am sharing my newly styled mantel! If you are coming over from Iris Nacole, then welcome! If you've been hanging around here for awhile, then you're probably wondering why I've been talking about this "new" mantel (and not just the styling) without every showing the old one!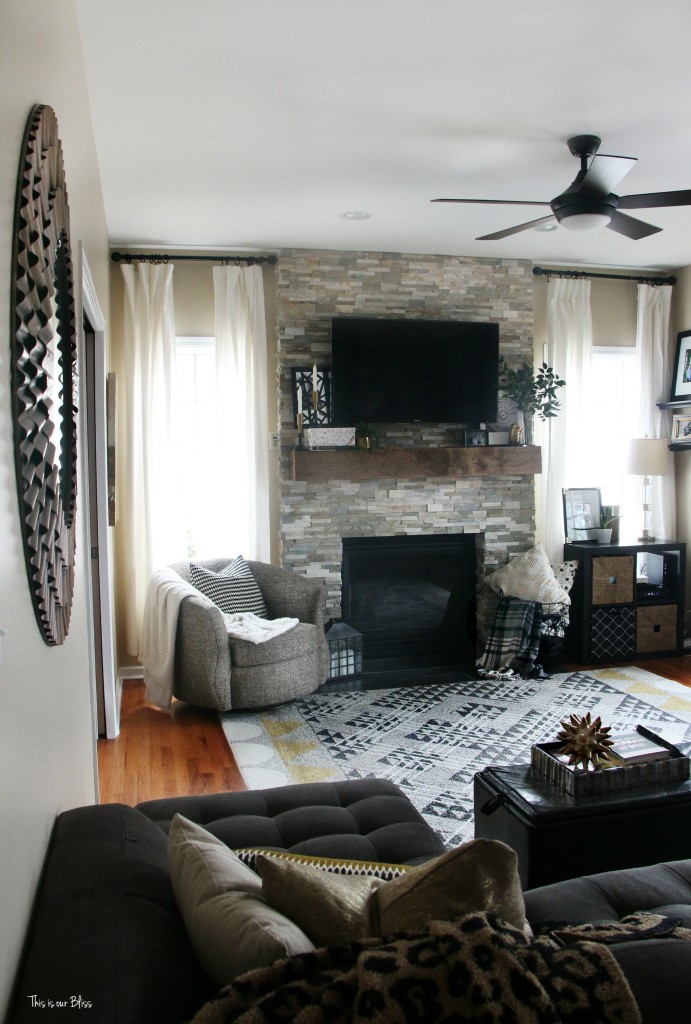 Well, today is Day 2 of the How to Decorate Any Table or as we are referring to it — #ourtabletophop! Since we do have this new mantel and Christmas mantel decor is GONE, I'm sharing my slightly modern take on styling a slightly rustic mantel using my go-to colors — black, white and gold. And my next post, will be the journey of the mantel – before, during and after (whoops you are seeing those today!) photos.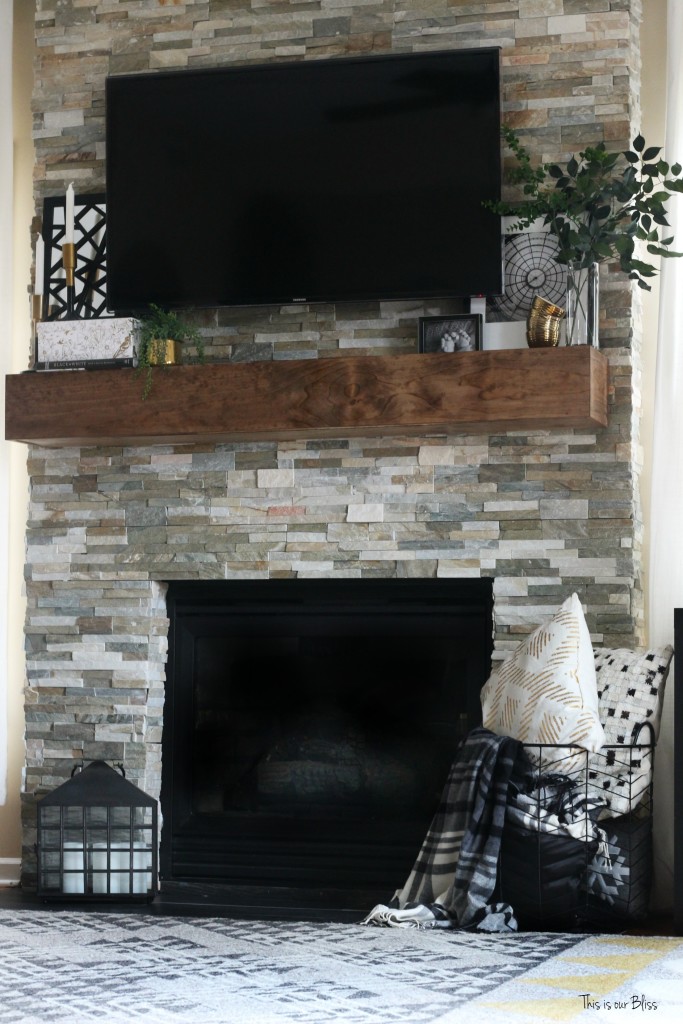 Now let's get to some visuals and the breakdown of my must-have mantel elements to accompany them!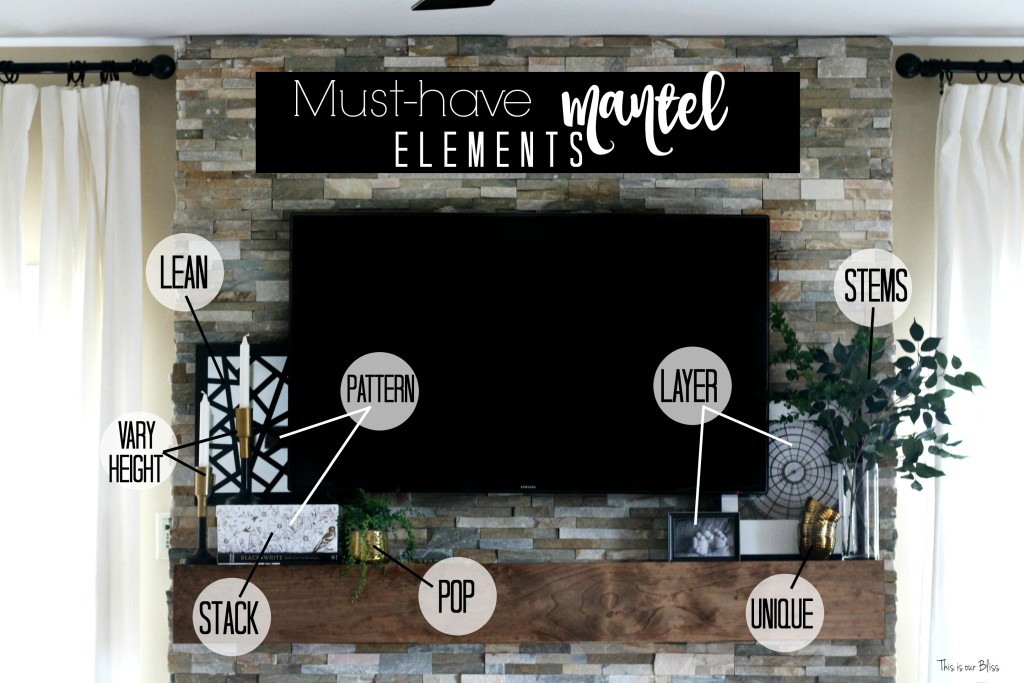 1 | Lean back.
Place a piece of art, a funky mirror or a beautifully framed family portrait at a slight angle and rest it against the wall.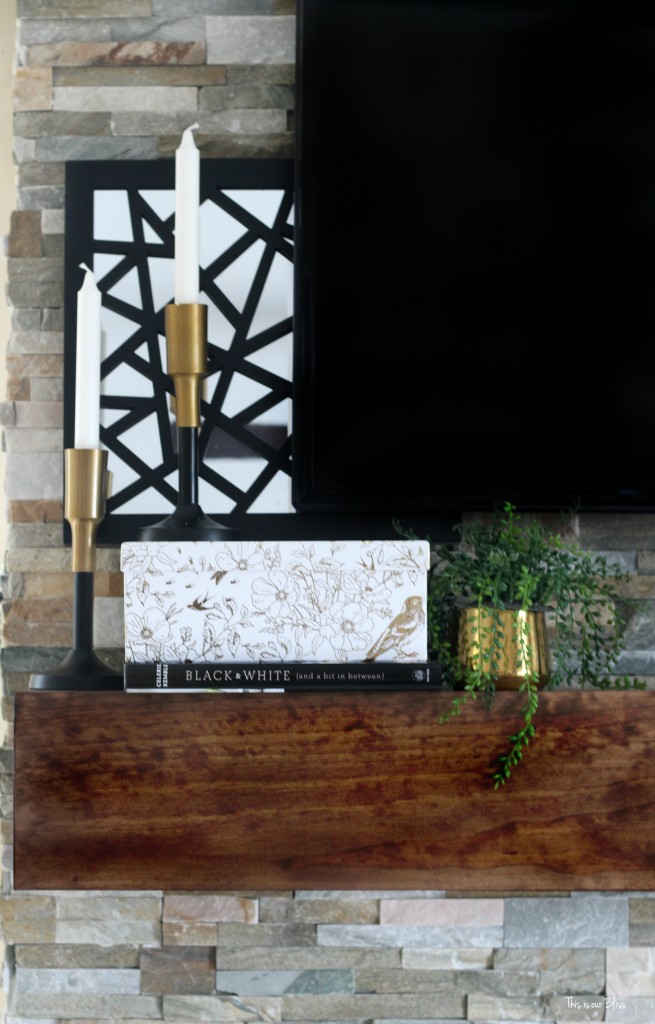 In this case, I actually placed this geometric overlay mirror on a "stack" (see #2) and then leaned it.
2 | Stack it up.
Grab a few books from your bookcase and stick them here. You could lay them down and also place 1 or 2 of them upright next to the stack. Here, I used one book and one decorative storage box. I wanted to add some height, as well as an itty bit of typography (in the spine of the book + it reads my mantra).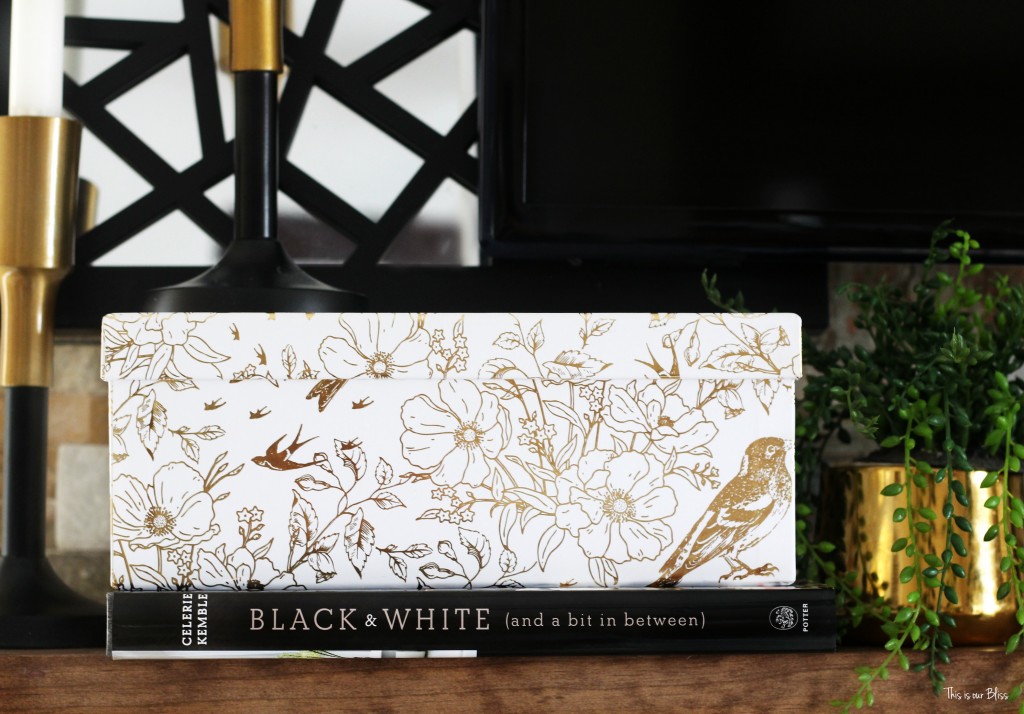 Just be careful that your mantel is deep enough to house your stack. You don't want them to hang off the front. Mine do just a teensy weensy bit, but you can hardly tell. Use your best judgement here.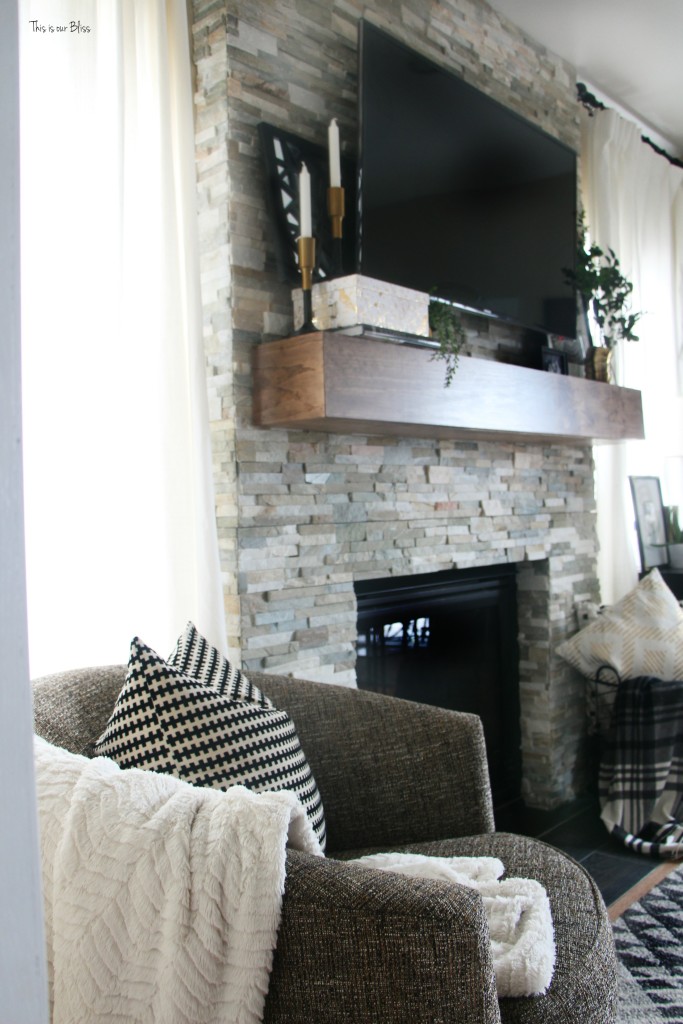 3 | Vary the height.
I had this pair of candlesticks that I used on my Christmas Table, but I wanted them slightly staggered, so I placed one on the far left side of the mantel and the other one on top of my "stack". You can purposely vary the height of like items or use various sized items. Either option is great!
4 | Pattern play.
The bold black lines of the mirror contrast nicely with the soft white and metallic gold floral print + one random bird?! on the box.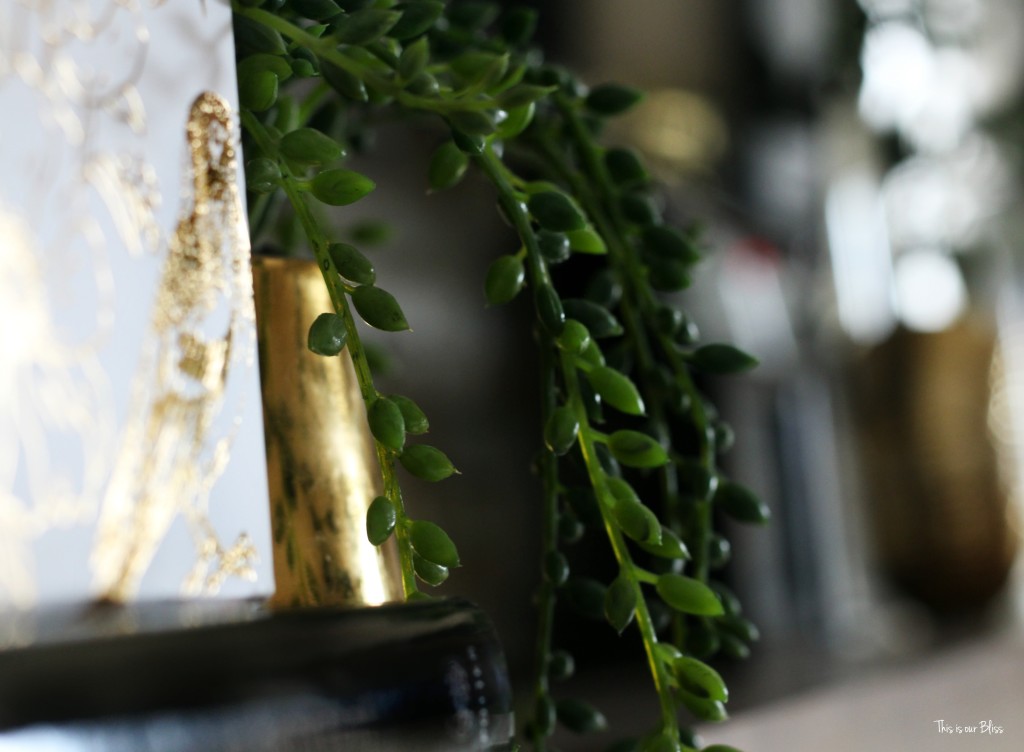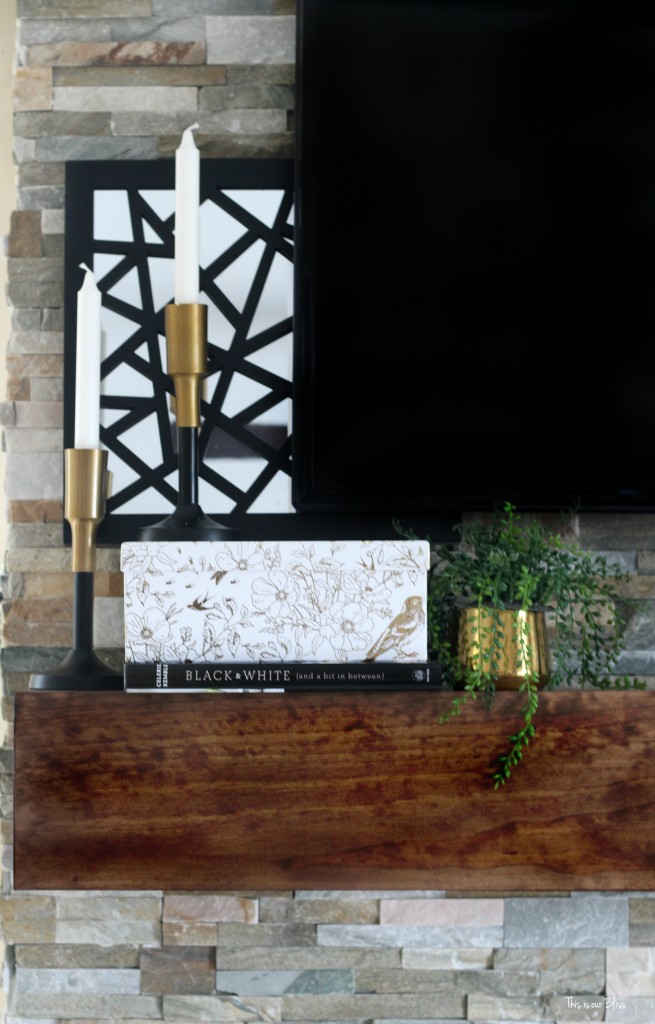 I love mixing prints. seriously. love. So why not on the mantel?
5 | Make it pop.
A cohesive color scheme is a good idea here since it is one long surface. Carrying similar colors across the entire length of the mantel helps achieve balance and demonstrates a well-thought out styling vision. I'm using classic black and white with pops of gold and green. Its super neutral so any color can be added in for seasons, holidays and my ever-changing moods. Right now, pretty pink tulips would look pretty fab up here.
6 | Stems down, greens up.
Freshly cut stems or a vase of flowers are lovely, but I also adore the look of a couple of faux greens sticking out of a simple cylinder vase. They add height, freshness, texture and dimension to your styled surface.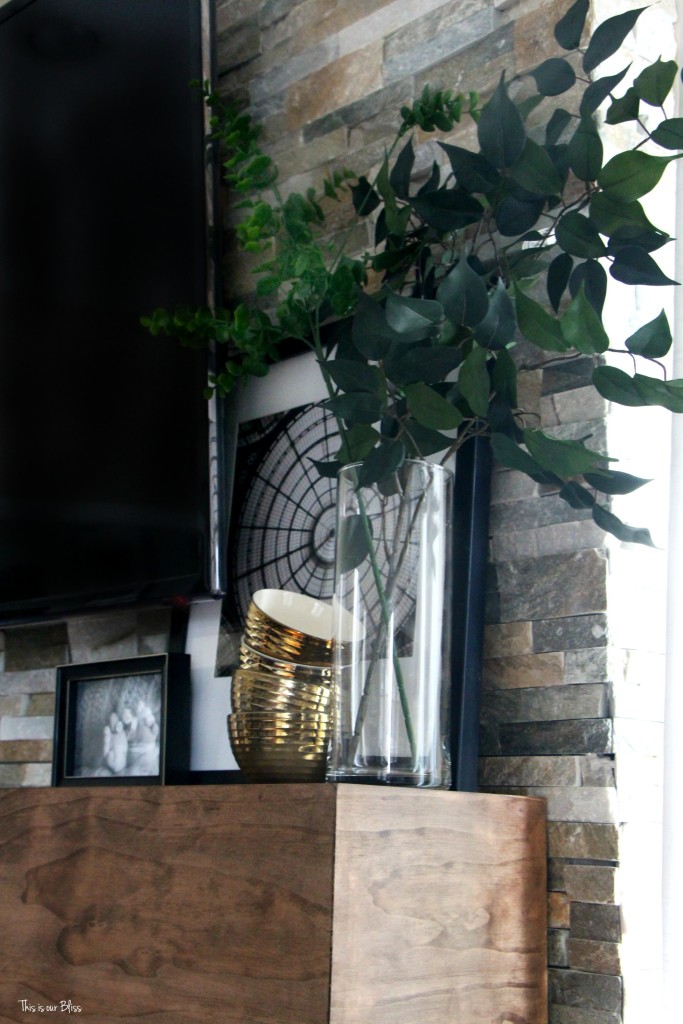 Put them anywhere and everywhere in your home for a pulled-together, finished look.
7 | Double "u" – unique & unexpected.
I placed the mini gold planter with faux greens on the left side and wanted a touch of gold on the right to balance it out like I mentioned in #6, so I grabbed the stack of 4 mini dishes out of my kitchen cupboard and set them next to the clear vase. They sort of naturally tipped to the right and I decided it was meant to be.


They dishes are textured, and also a different look and shape than anything else on the mantel. My eye is instantly drawn to that second "stack"… just because its something subtly unique, while bold and blingy at the same time!
8 | Layer away.
Again, more leaning pieces, but this time I layered a smaller framed photo in front of a larger framed piece of art. Both in black and white with the back piece intentionally covered up by the various accessories in front.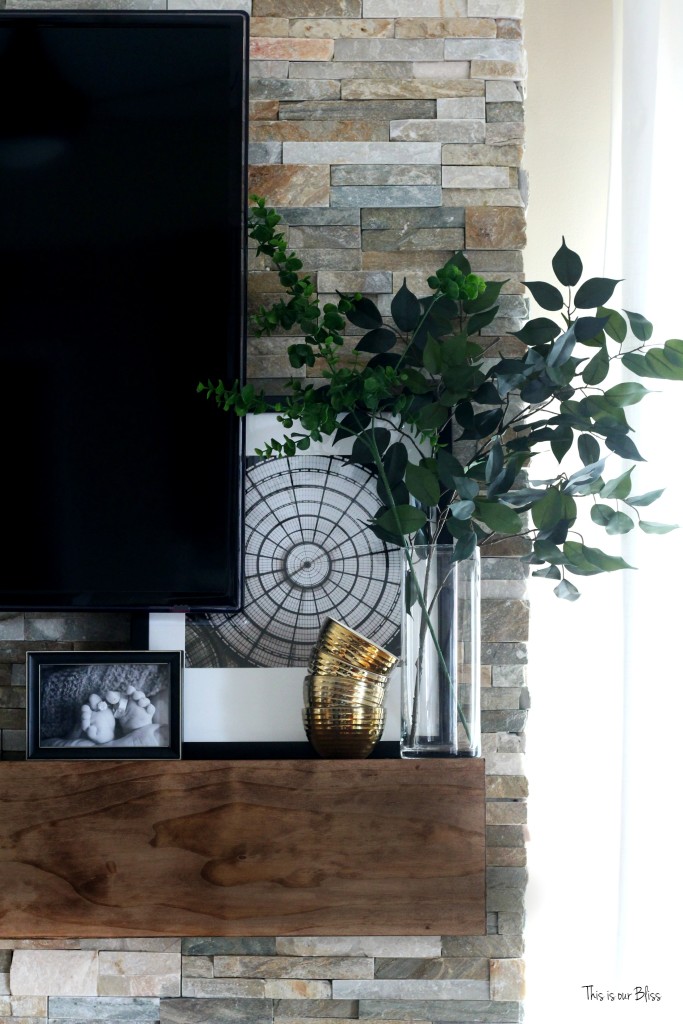 The black and gold candlestick holders are also layered in front of the mirror for added depth and dimension.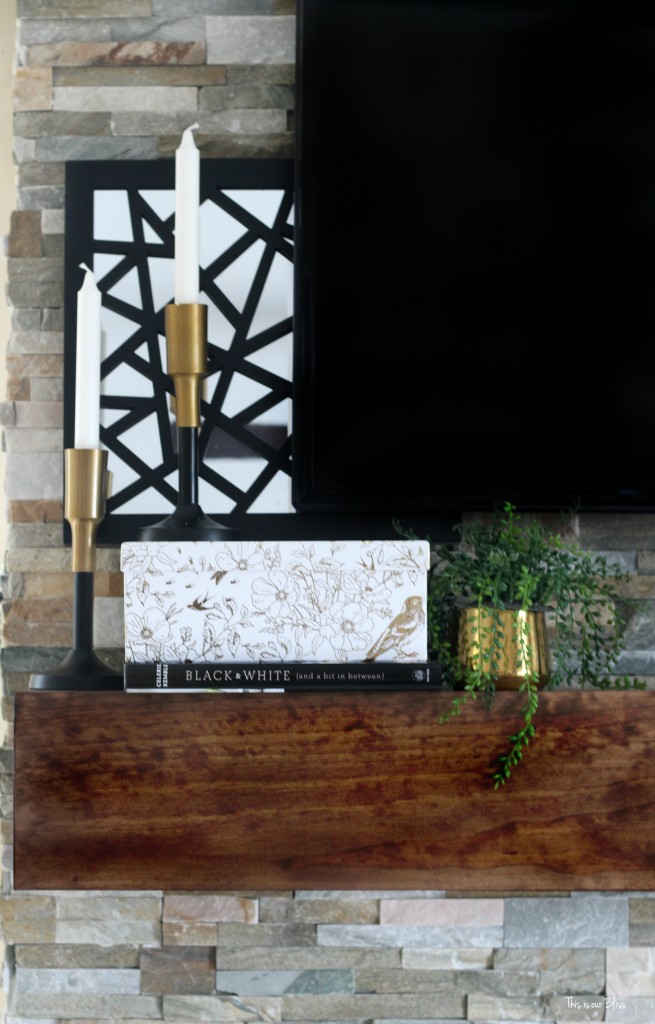 I didn't have a lot of room to play with larger frames due to the width of the mantel and the giant ELEPHANT in the room right now!! That TV!! I honestly hate having an enormous screen mounted above the mantel because it totally IS the focal point in the room. Who wants their flatscreen as their focal point? Due to the layout and size of the room, we had zero alternative locations for it.
So….my styling suffers because of it. Half kidding. The styling doesn't necessarily suffer, but it does limit the possibilities for size and shape of objects to use around it. The biggest drawback is you can't have anything covering the little red light. Otherwise, the remote doesn't work. #heavenforbid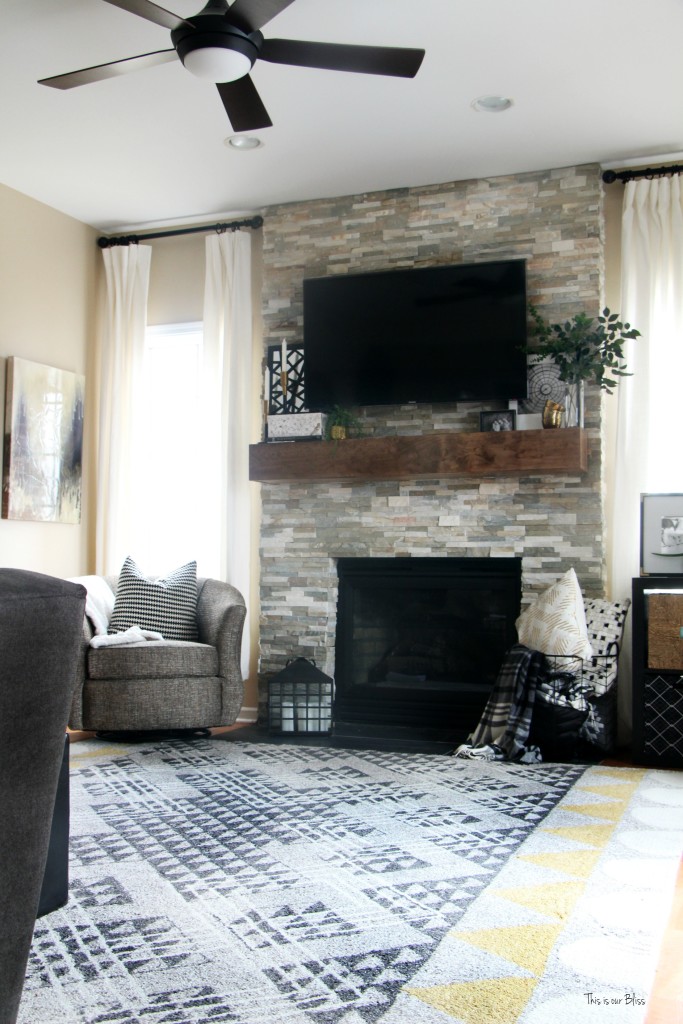 Although the TV is large and in charge, at least its my favorite color 🙂 I'm pretty happy with out it turned out!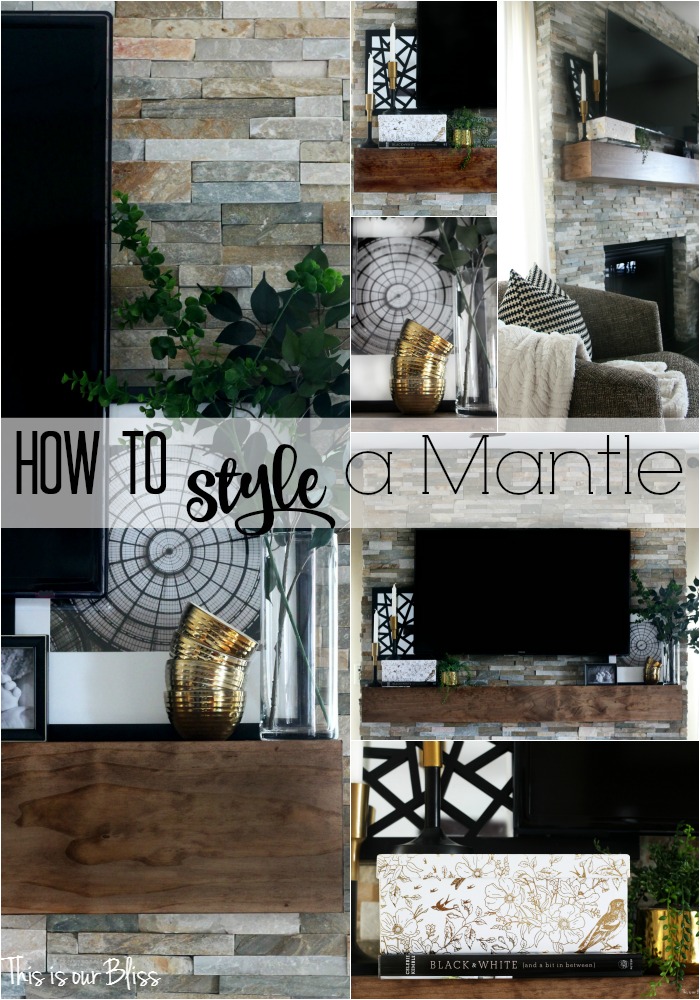 What do you think? Do you, too, struggle with what to put on your mantel especially around a TV? What are your go-to items for decorating it? Do you do seasonal or holiday mantels?
If you are just waking up to my post or maybe reading while you're winding down after a long day, be sure to pop over to the start of the hop, which was yesterday, Day 1 and then work your way through Day 2 until you end up right back here! The looks are so beautiful and are gushing with inspiration!
Day One Bloggers:
Day Two Bloggers:
More on the mantel, circling back on the master bedroom and so much more still coming your way!! Thanks for reading!