Have you ever seen something so amazingly awesome and you know if you buy it, it would look soooo good in your home? It just screams YOU! You just have to have it, until you flip it over to look at the sticker or scroll down and read that number after the $ sign…and well, your dreams have been crushed. Yeah, me too.
This is the case so often with high end designer home decor pieces. I want them so badly, but just can't justify it sometimes. Ok, a lot of the time. I mean, if it were only my birthday a few more days outside of the entire month of February. Yes, I pretty much celebrate for a month. ok, at least a week! [Yesterday was my birthday, so I'm hoping to get a couple bday related posts out this week!]
When Jess from Domicille 37 invited a group of bloggers to participate in a monthly challenge titled "Knock it Off DIY" – I knew I had to say yes. So, today kicks off the very first challenge and what are we knocking off? Any coveted Kate Spade home decor piece! The stuff could not be any prettier – classy, sassy and usually with a lot of bling. However, these items also come with a pretty price tag…or, not so much.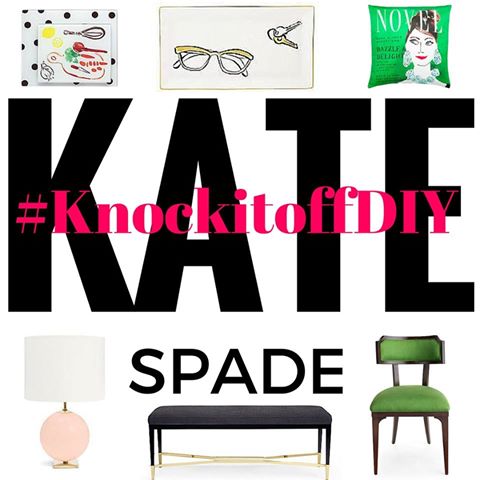 So today, I am sharing my version of the Kate Spade Daisy Place Vase!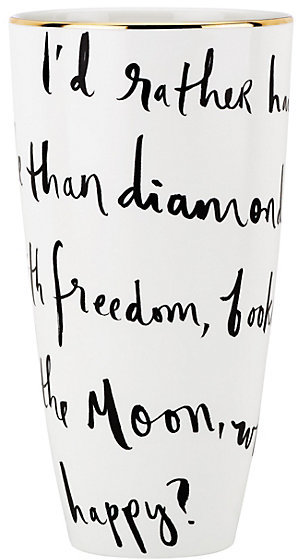 Have you seen this gorg piece before? ahhh swoon! It is my style to a T…umm, its black, white and gold AND it has some beautifully written typography. I am a sucker for word art. Something about the right quote or given font just speaks to me. And this vase was no exception.
Keep reading on to see how how I created my own version of this vase for less than $10!
Let's start with supplies.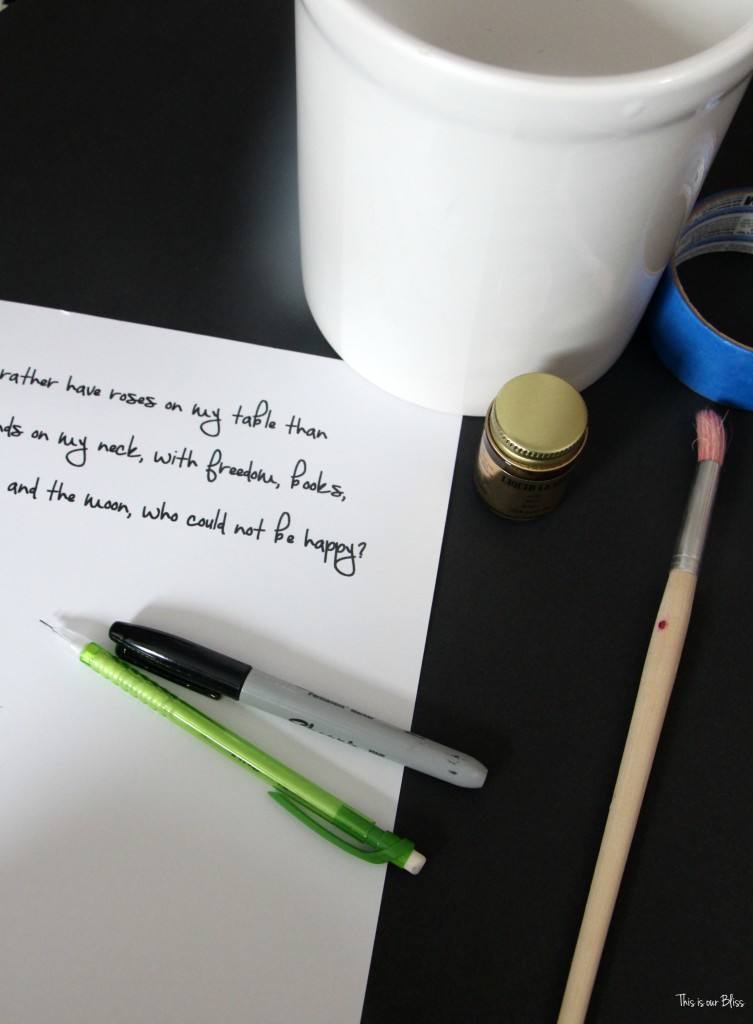 Supplies
white ceramic vase [mine is a $7.99 untensil holder from HomeGoods – so anything will work]
black Sharpie

pencil
liquid gold leaf

paint brush
painters tape
I had everything, but the vase at home which is why the project was so inexpensive. Even if you bought everything on this list, you're still saving if you DIY vs. buy!
INSTRUCTIONS: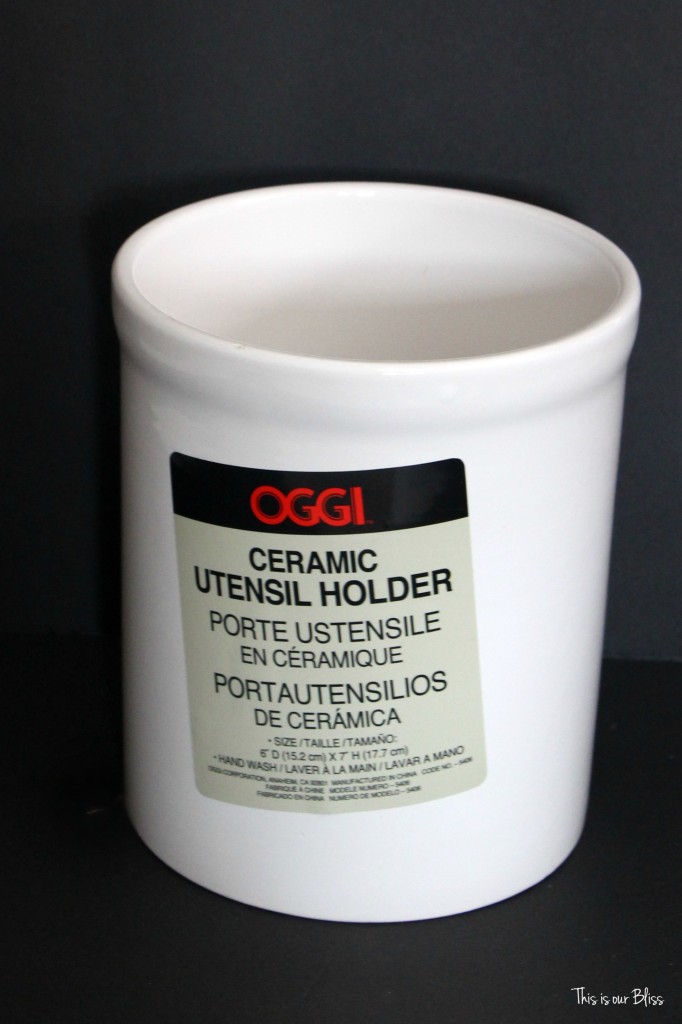 1 | Select your vase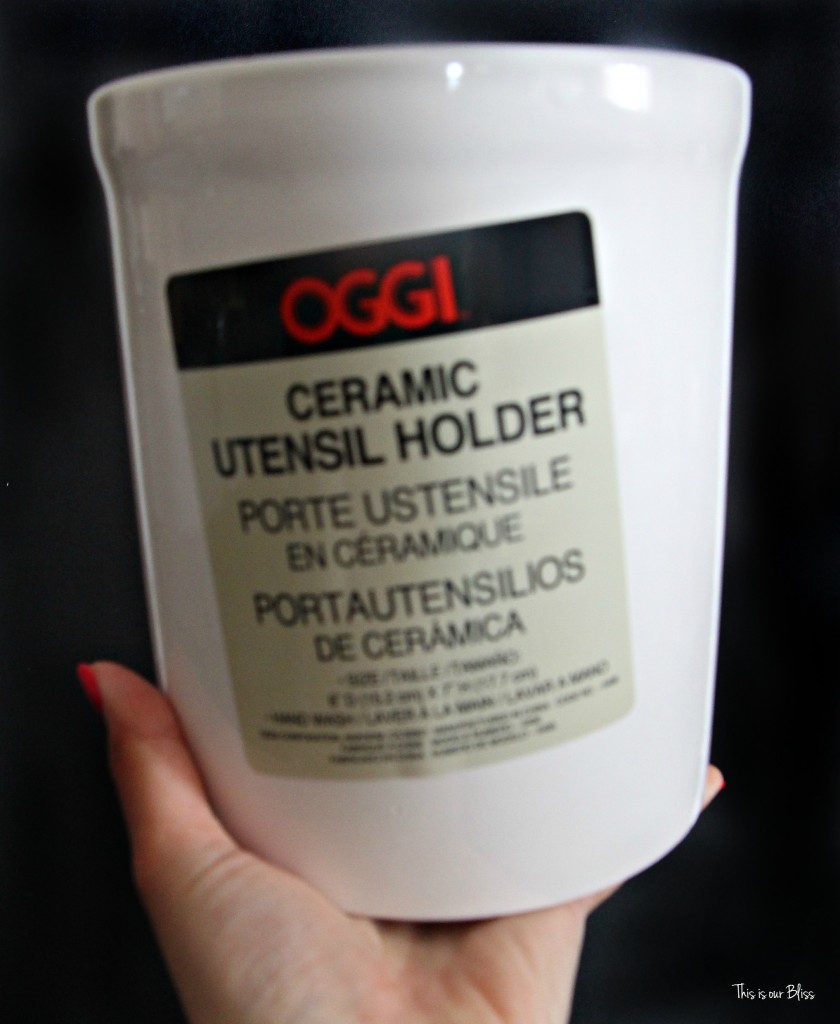 I know this image is blurry, but I wanted you to see the approximate size of the piece I used. It's not the same size or shape as the real KS vase, but I thought it would make a great flower vase and I liked the $7.99 price tag.
Step 2 | Print your font sample
After you select your vase, decide on your saying and font. I stuck with the classic quote on the original Daisy Place Vase.
I then opened up a MS Word document and scrolled through my list of fonts – everything outside of the standard Microsoft fonts were downloaded from dafont.com. I chose "September Mornings", typed out the quote and printed it off as a guide.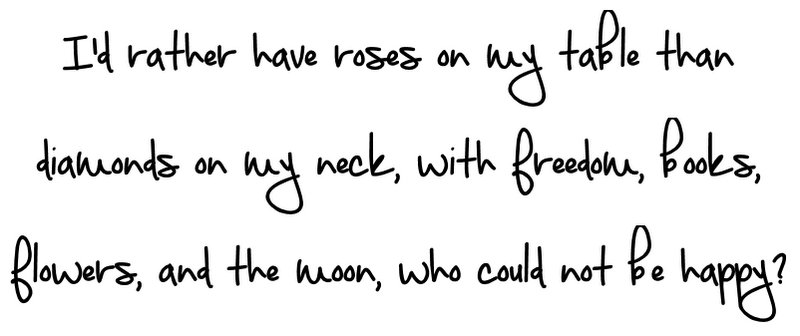 Step 4 | Start lettering on the vase with your pencil.
I didn't trace or transfer the text over in some fancy way…I just eyeballed it. I wanted to take the quote down and around at a slight angle and make the words big enough to wrap around the vase with about 3 lines of text.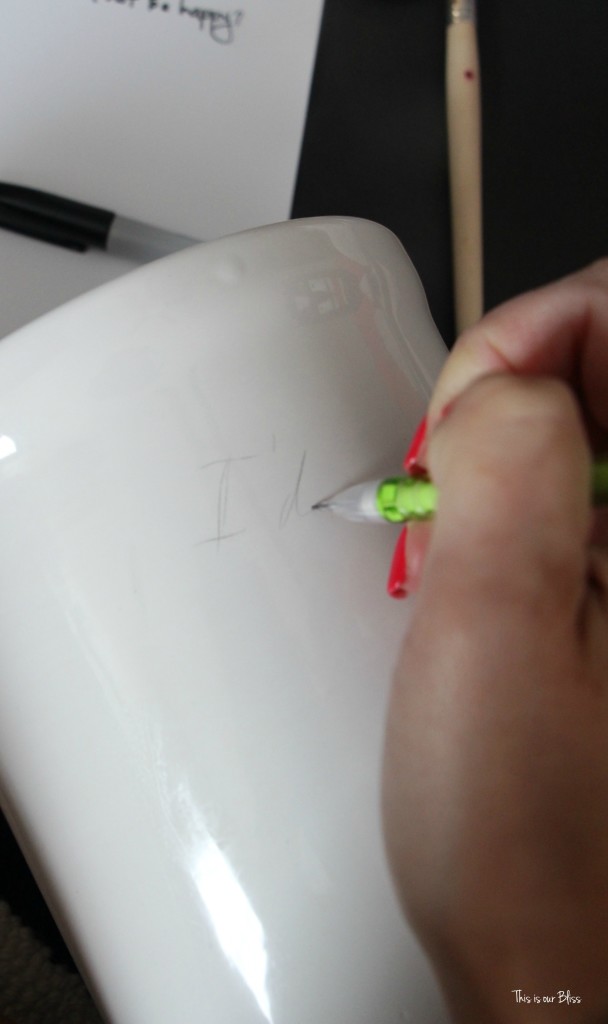 *Note: I did erase A LOT. I probably rewrote the text, or at least started writing the first few words out 5 or 6 times and then erased because I didn't like how it looked. After this went on for a little while, I decided to just go with it. My lettering doesn't look exactly like the script on the daisy place vase and it doesn't really look like my sample, but I realized that the lettering on the real vase wasn't consistent, either. The "d's" weren't written the same each time, etc. So, I started  to slightly modify my normal handwriting and then just rolled with it.
Step 5 | Trace over letters with a Sharpie
After I was happy with the pencil lettering, spacing, etc., I traced over my pencil marks with a black Sharpie. Be careful to not smudge as you go around the vase, although it does dry pretty quickly.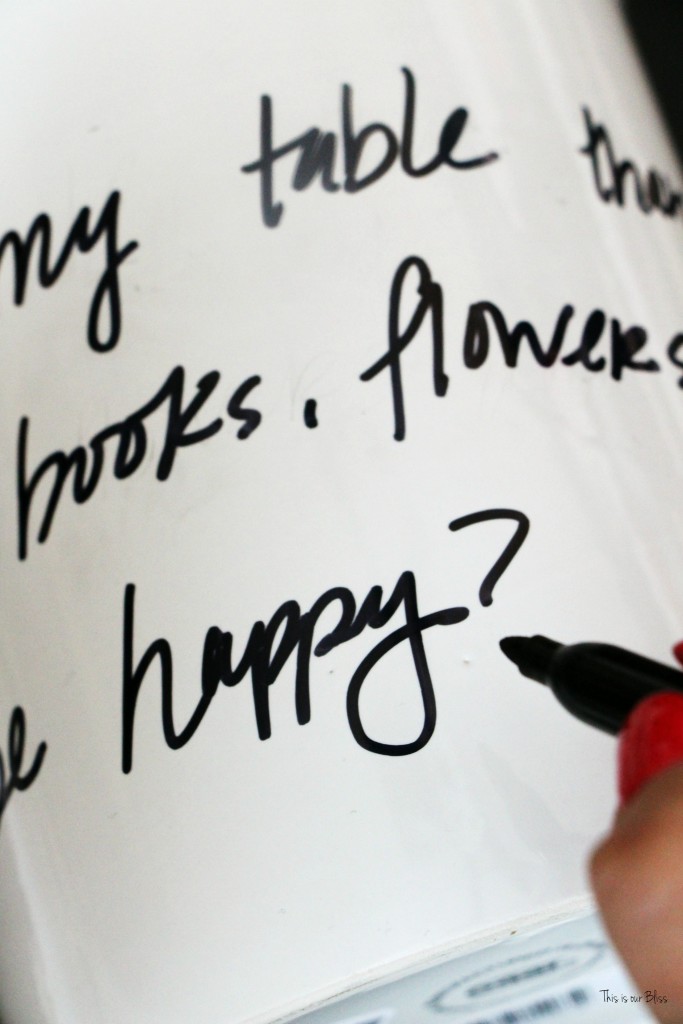 *If I were to try this again, I might consider baking the ceramic piece after the lettering. I know people do that to seal dishes and serving pieces, but I didn't go that route this time. I'll update this post and let you know how the shapie holds up.
Step 5 | Tape off the top rim.
I took my frog tape [blue painter's tape is pictured above, but when I found my frog tape I was thrilled because I think it really does work the best for getting smooth clean lines with any painting or leafing project] and taped just under the indent at the top of the "vase".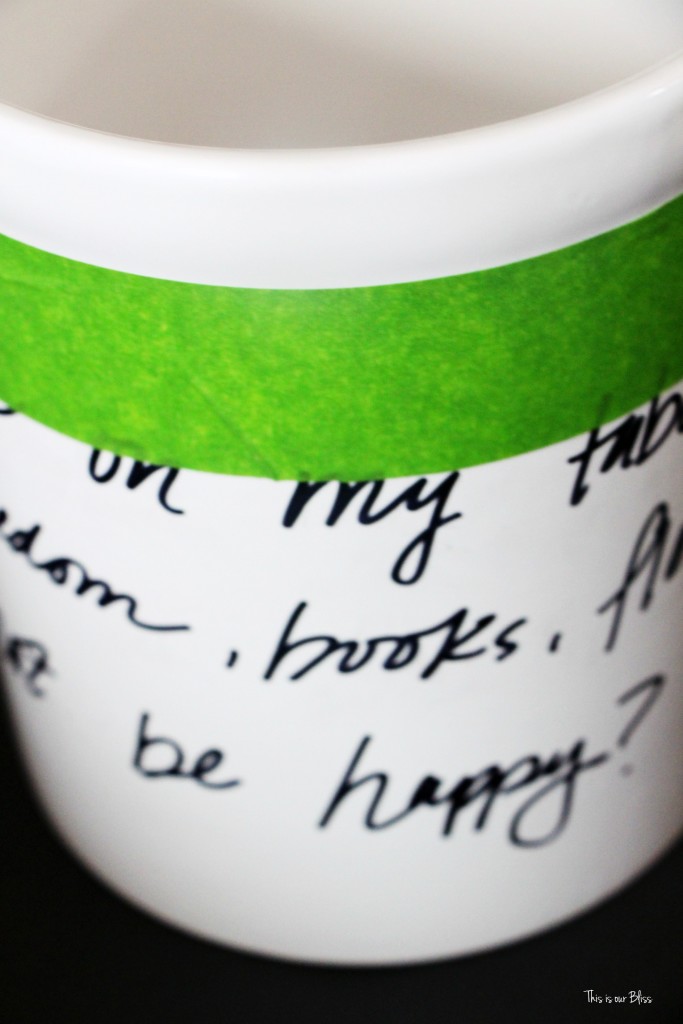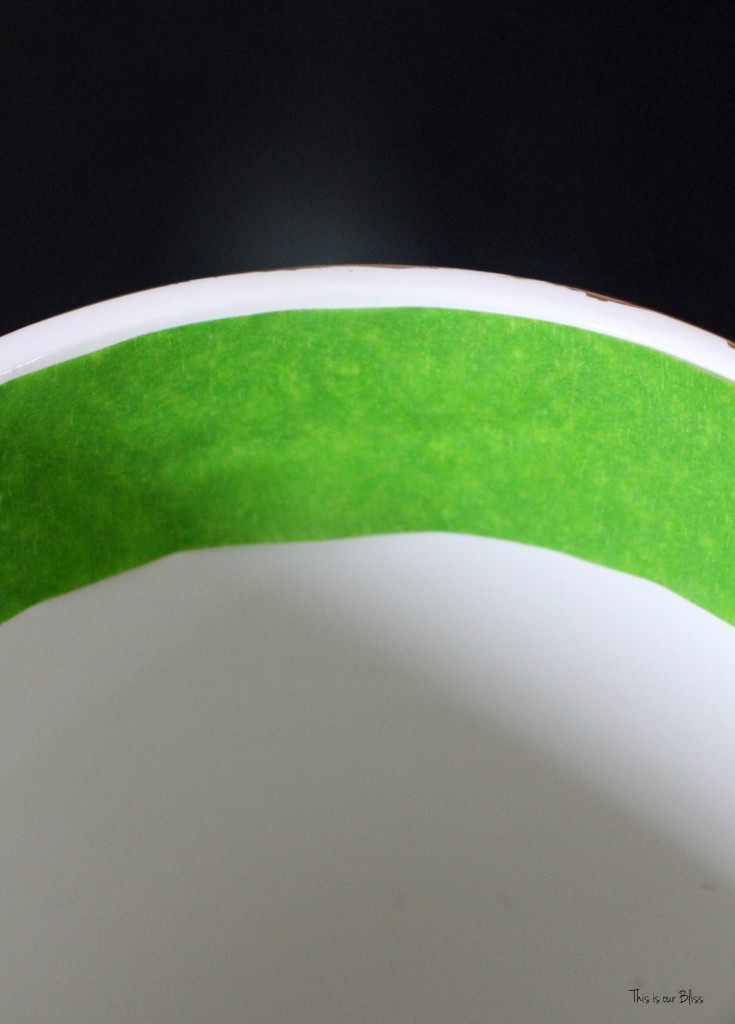 Be sure to tape off the inside, too. I forgot to do this part until after I started applying the liquid gold leaf.
Step 6 | Apply liquid gold leaf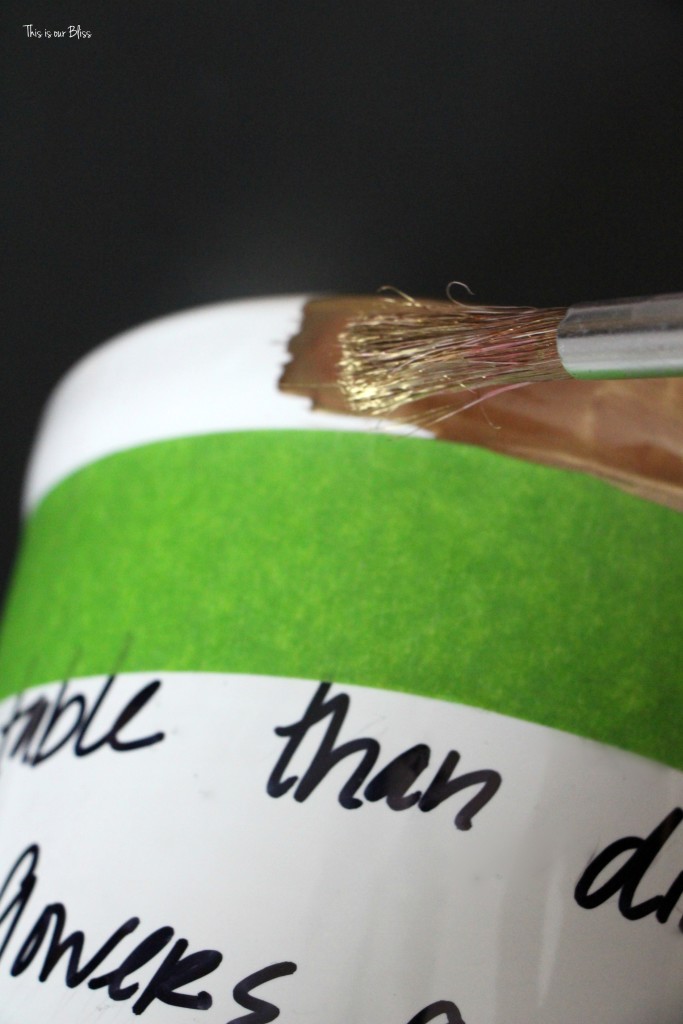 Shake the small container to allow the liquid leaf to mix up a bit. Next, dip your paint brush in and start working your way around the rim of the vase. I started with a small amount because this stuff can drip and I didn't want it to run down the side of my vase. Use the painter's tape as a guide and stay within the lines of the outer and inner tape.
Step 7 | Let dry and remove tape.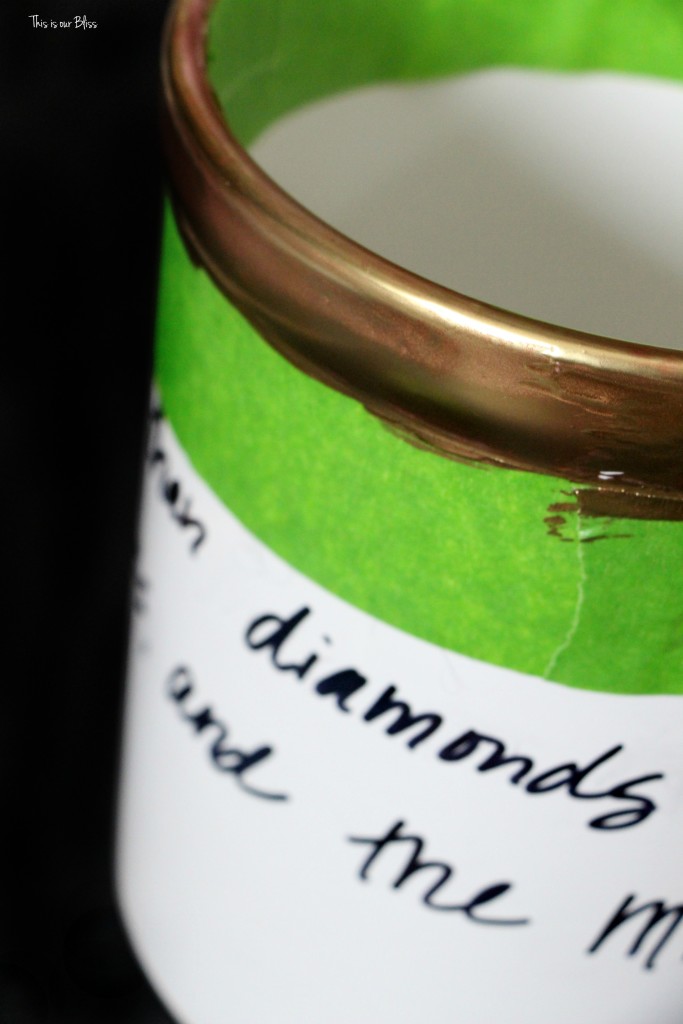 After the liquid gold has dried and set [wait about 30 – 60 minutes] peel the tape off the vase.
*Note: I did have a few spots with an unclean edge, but luckily, once it was dry I was able to gently scrape the gold leaf off with my fingernail. A razor would work well, too.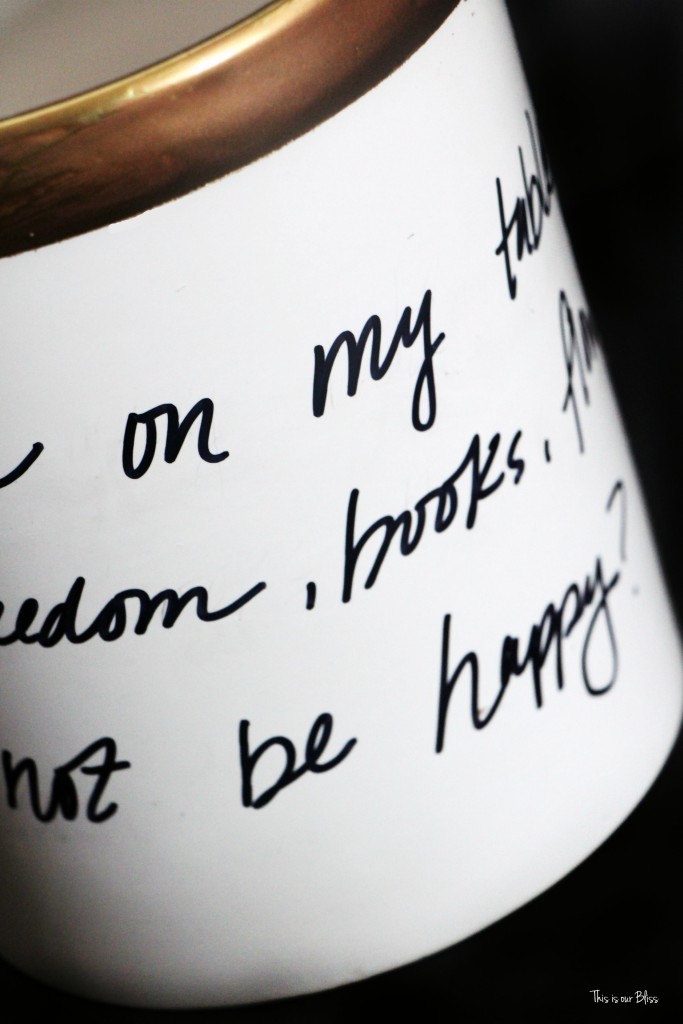 Step 8 | Add flowers and put your new vase in its home!
I added white tulips [I know, should've been roses, right?!] and placed it on the coffee table in our formal living room. She fits right in!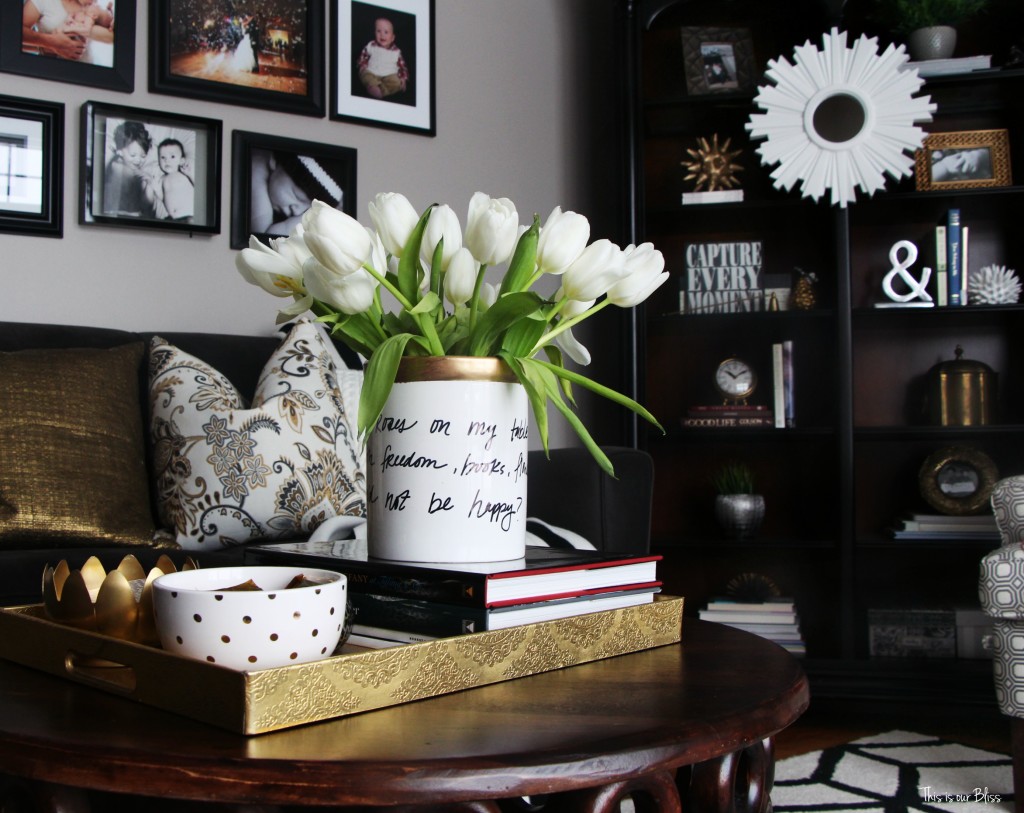 Don't you think?!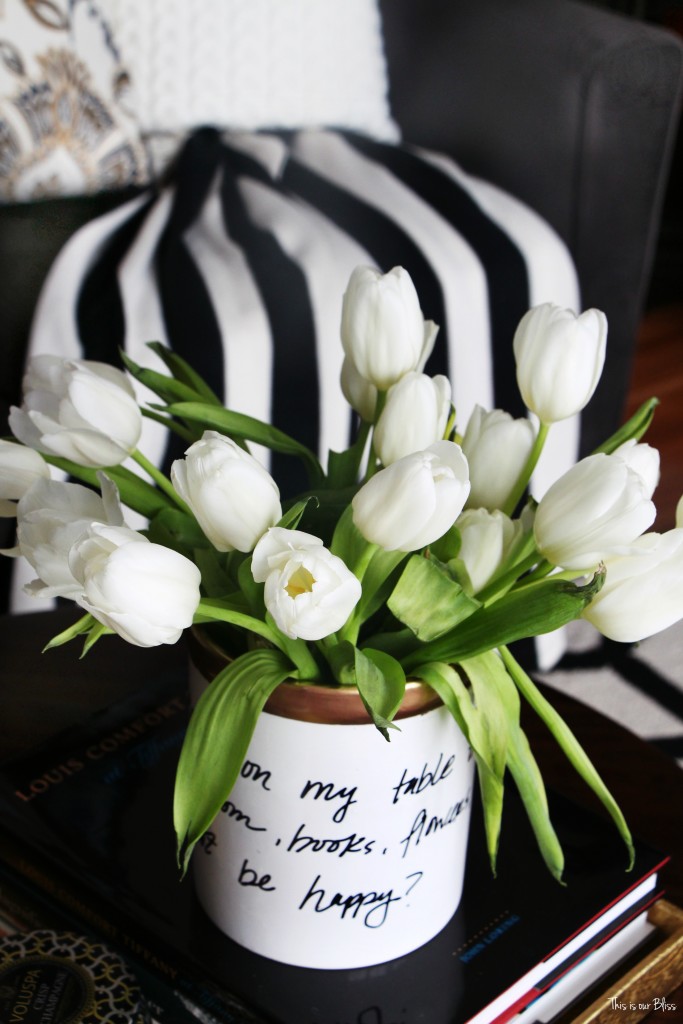 I love that the vase is sort of short and sqautty with a wide top – perfect for a large bunch of spring flowers!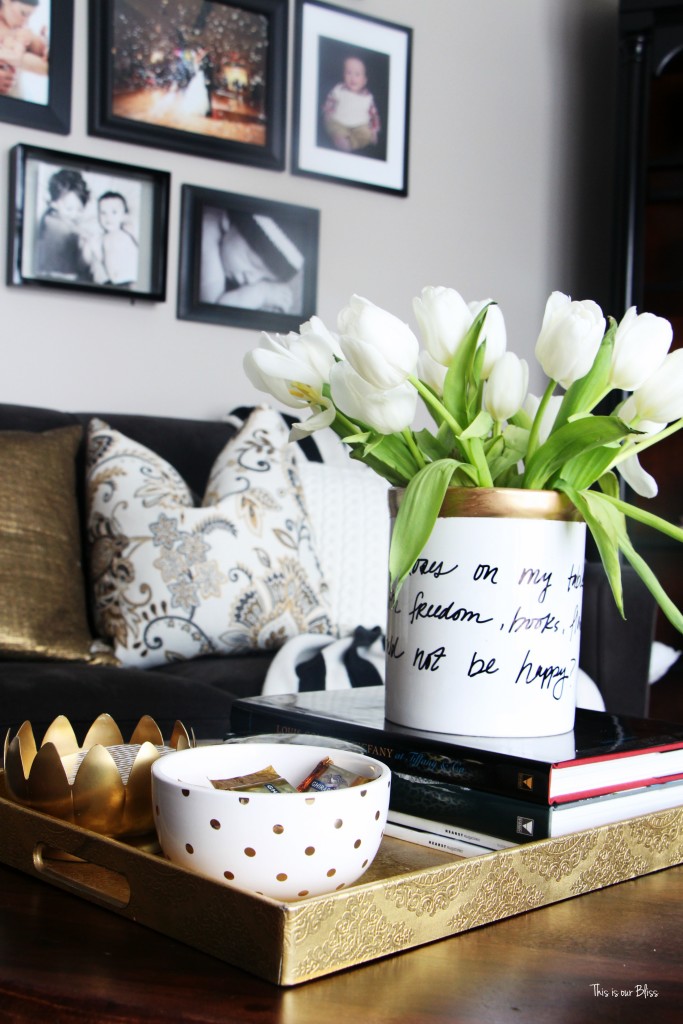 The room suddenly feels fresh and springy! I loved having my holiday living room and then the Valentine's gallery wall, but it feels nice to have my neutrals back!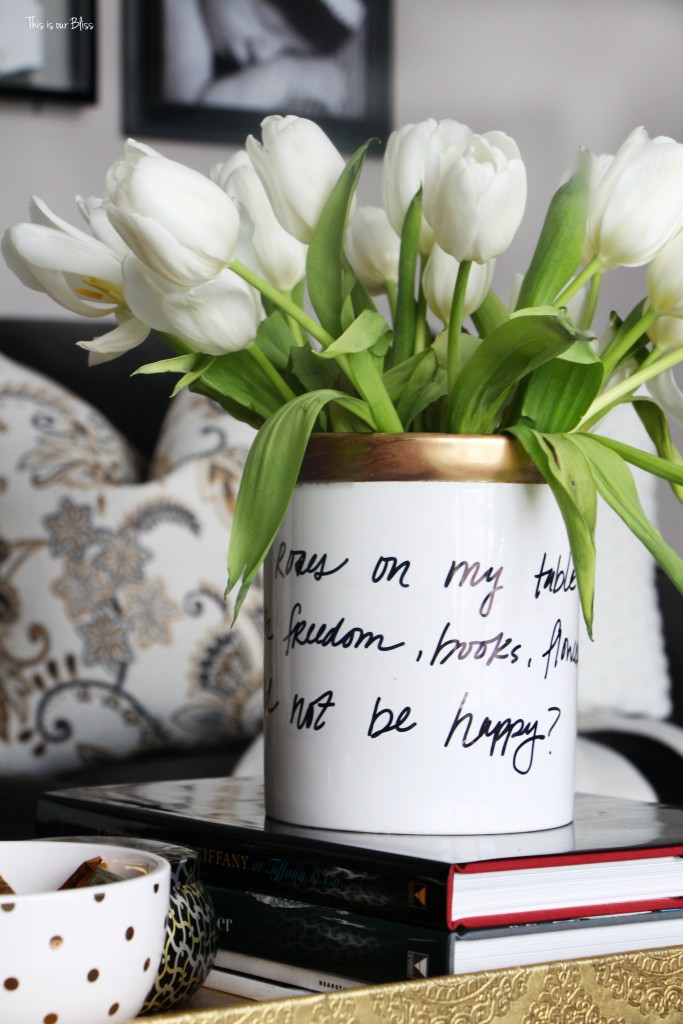 Admittedly, it took me a minute to really fall in love with my lettering. I just thought it looked to much like my normal handwriting and I wanted it to look different and special. As cheesy as it sounds, I soon realized that it was sort of special to have it look like me and not traced or stenciled, although I think you could really make a fabulous vase with either of those methods. [I might even try another take at this someday!]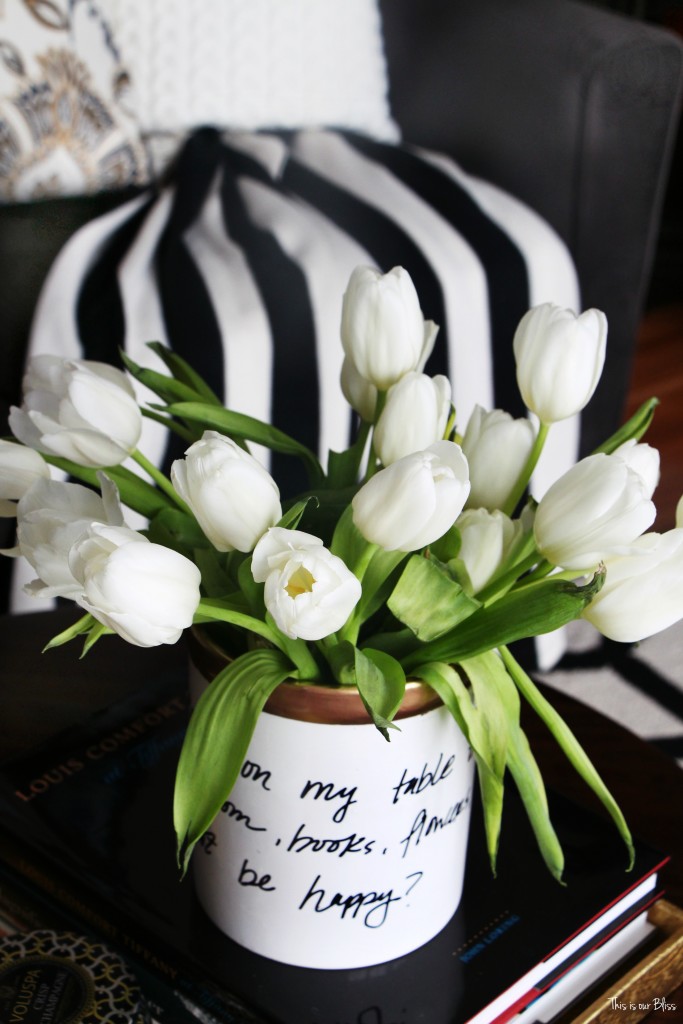 It's not perfect, but that's what makes it unique!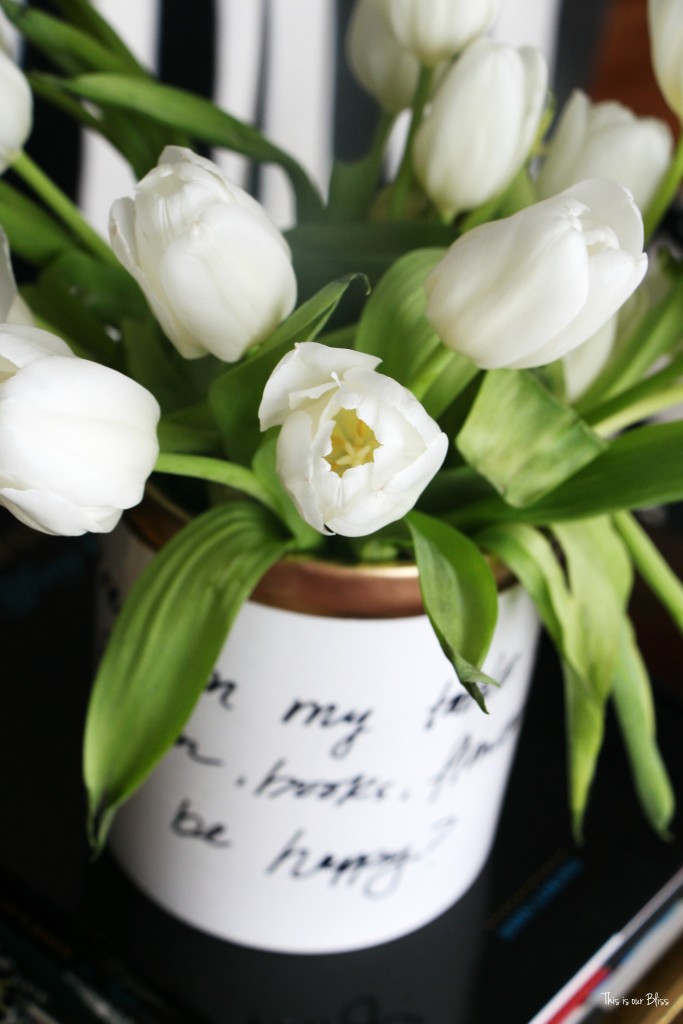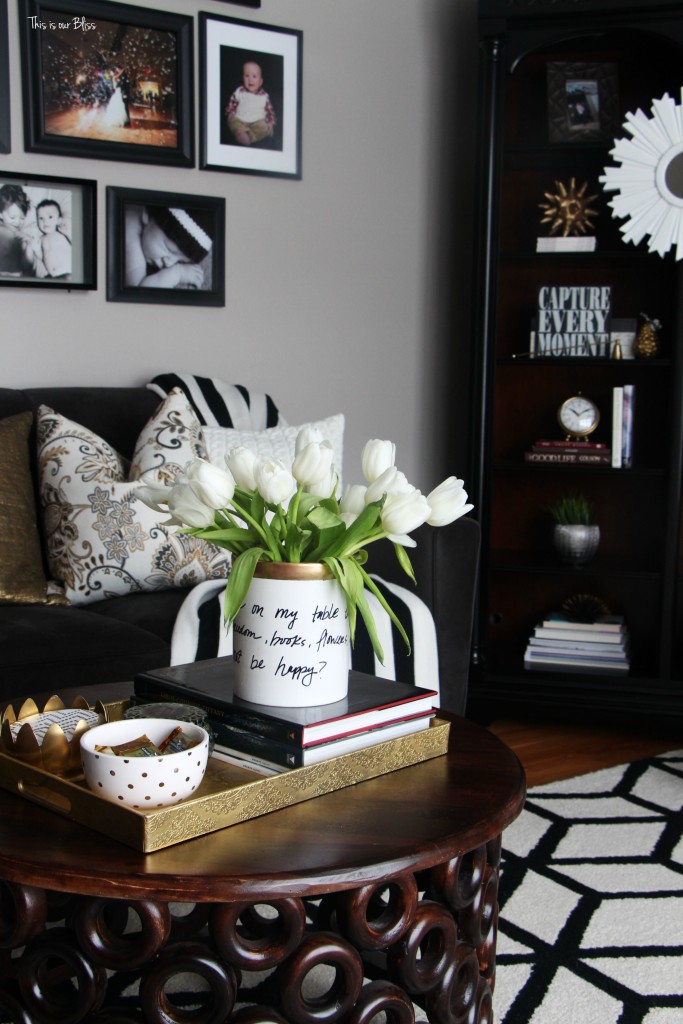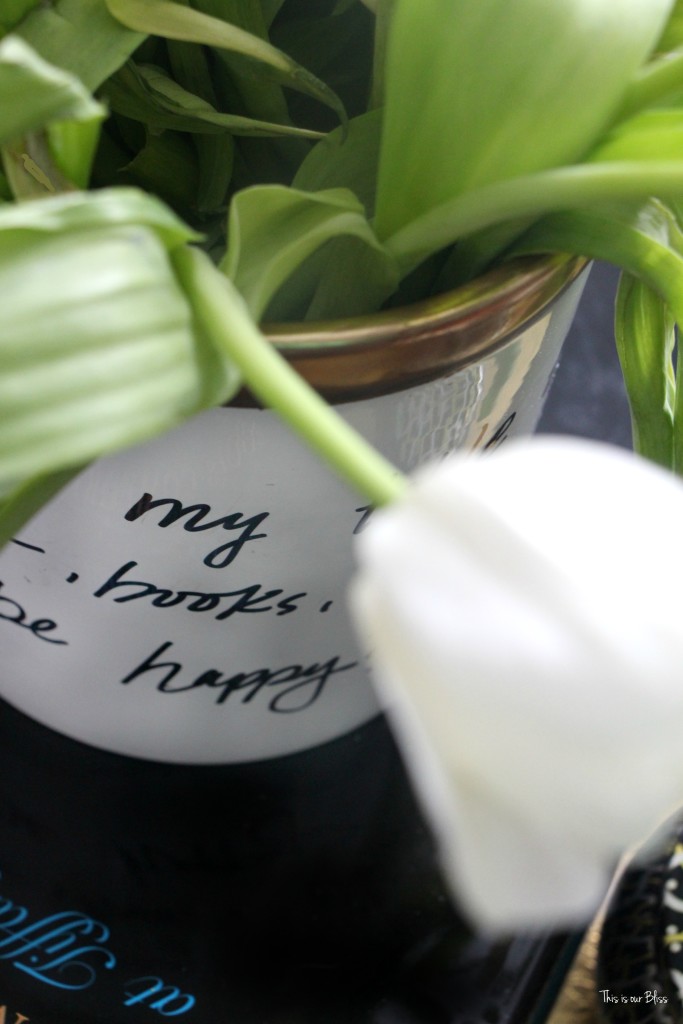 It looks like it was just meant to be part of my normal coffee table styling!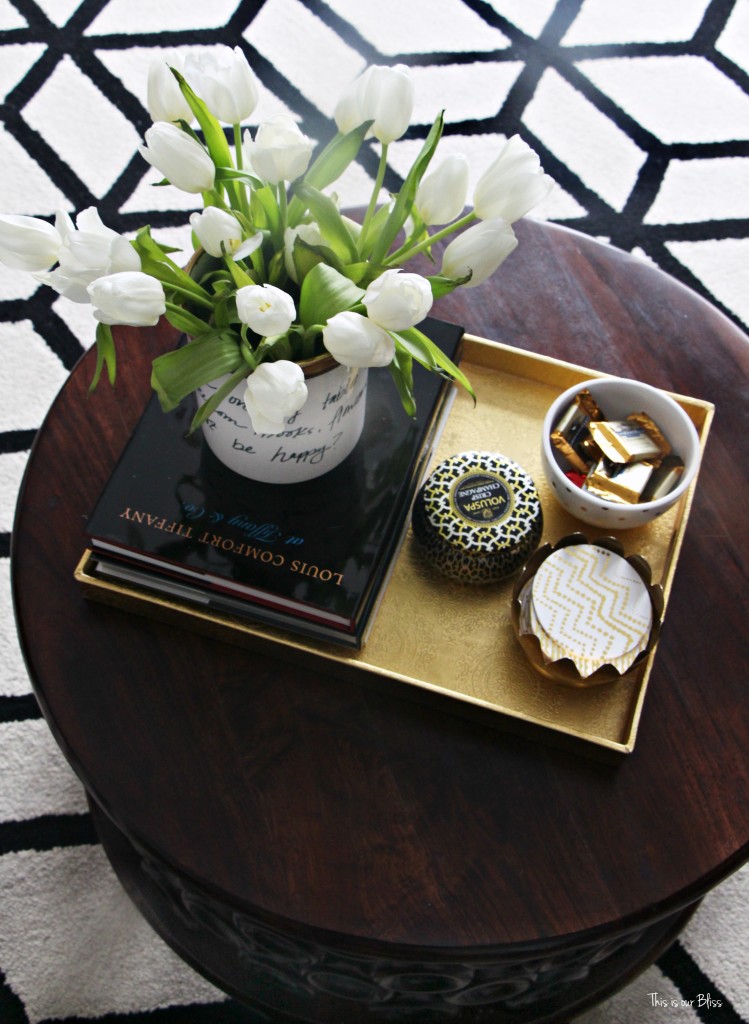 I think I'm pretty much in  l o v e !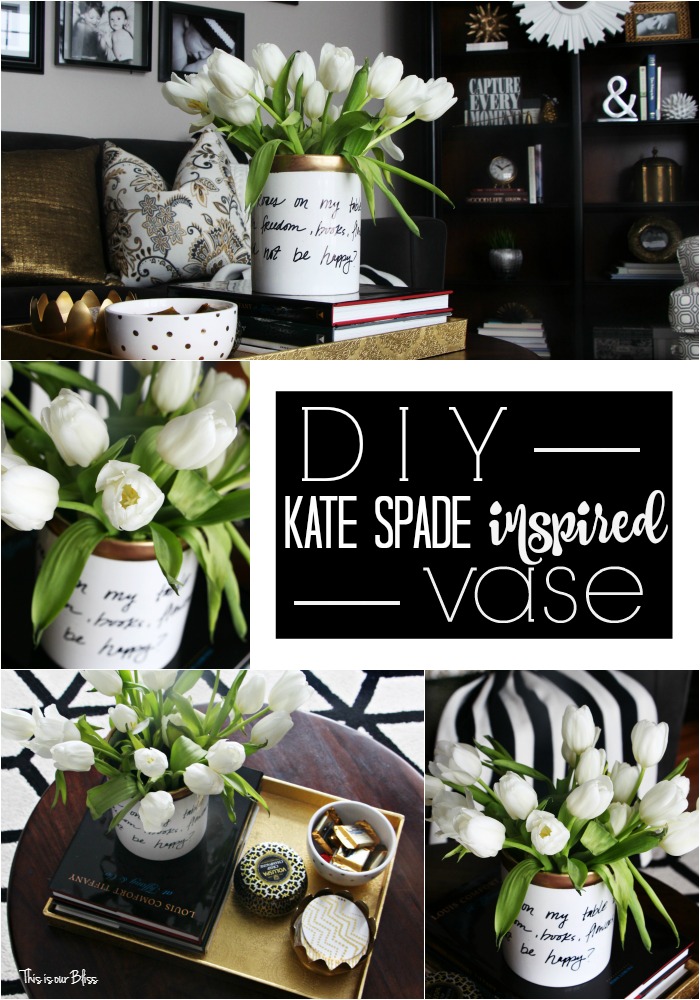 Ok, now for the best part…
You get to see even MORE Kate Spade knock-offs today just by clicking over to these next few stops! I can't wait to see what everyone has been up to – no doubt they are gonna be GOOD!
 Feeling inspired? Have you already knocked-off a Kate Spade piece before?
We want to see it! pop over to
instagram
and share your projects with us using the hashtag #knockitoffDIY! And remember, next month is a whole new challenge! Stay tuned!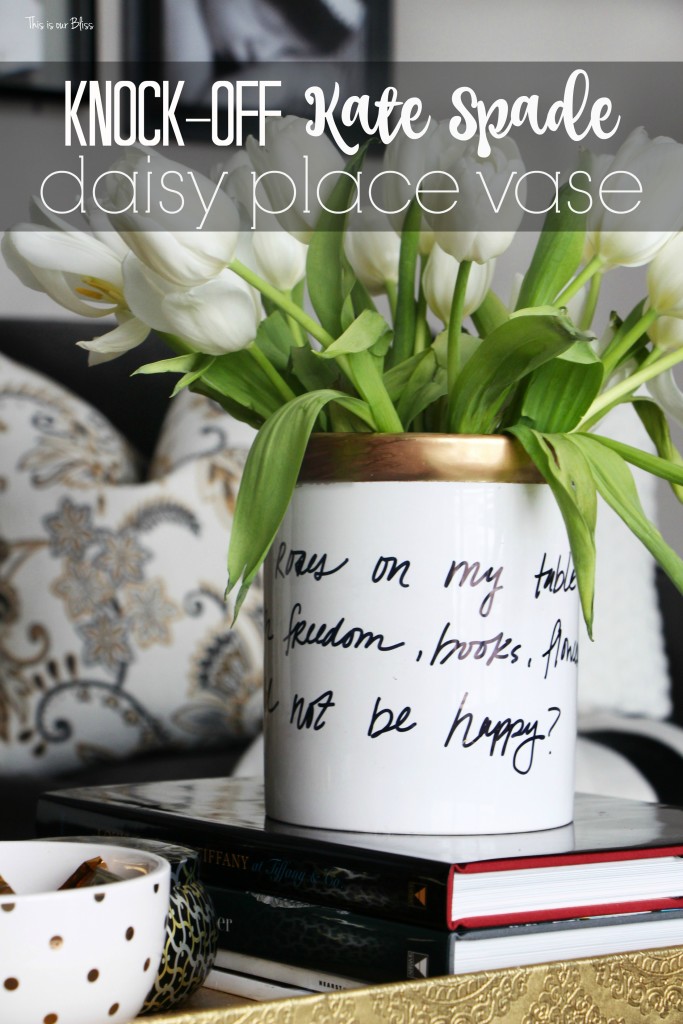 And here are a few more of my fave Kate Spade home items that I'm already scheming up a knock-off for!

Have a lovely Tuesday! Thanks for hanging out here today!

*Affiliate links were used in this post.