*Affiliate links were used in this post.
Wowzers! Only a few short days until Easter is here!
If you are hosting this year, then hopefully you caught my Spring Table post to pull some inspiration from!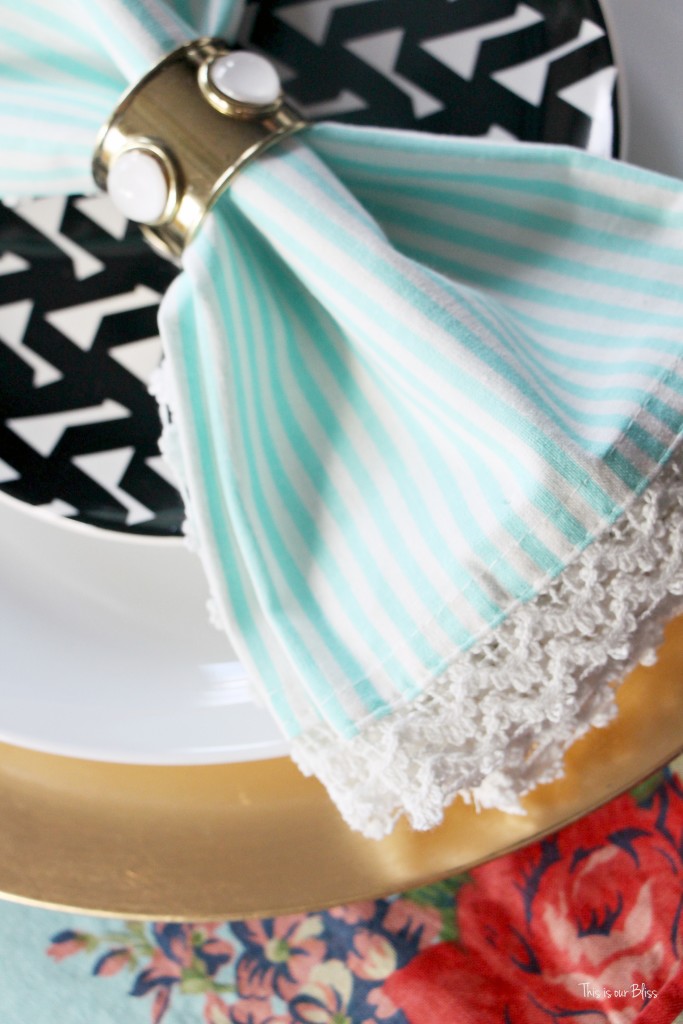 It was full of fun florals, feminine details like lace trim and then bold, black and white pattern – you know I couldn't resist!!
Today, I'm sharing how I styled the small sofa-ish table we have permanently set-up near our table in front of the window with some spillover tablesetting gear, drinkware and beverages. Its basically like a makeshift buffet table in our kitchen. We use it all the time, mainly for decor, but it always gets good use at the little ones' birthday parties!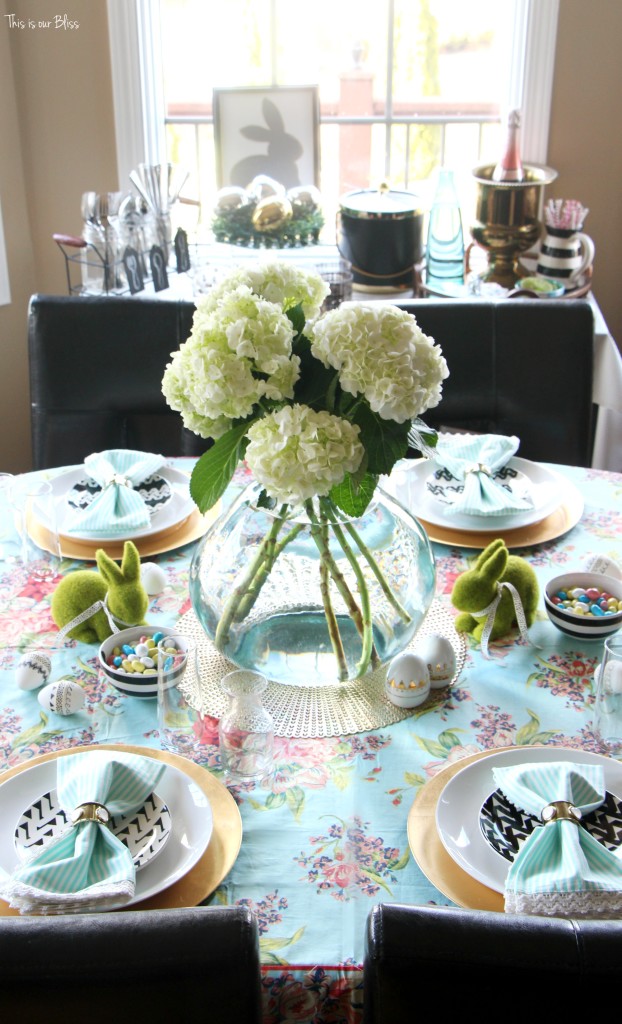 You know how the holidays go… so many people and so much FOOD! The main table can fill up quickly and sometimes you even have to squeeze some extra chairs around it for large family gatherings or last-minute guests, so it never hurts to have another spot to set out some of the essentials!
Here is what I did: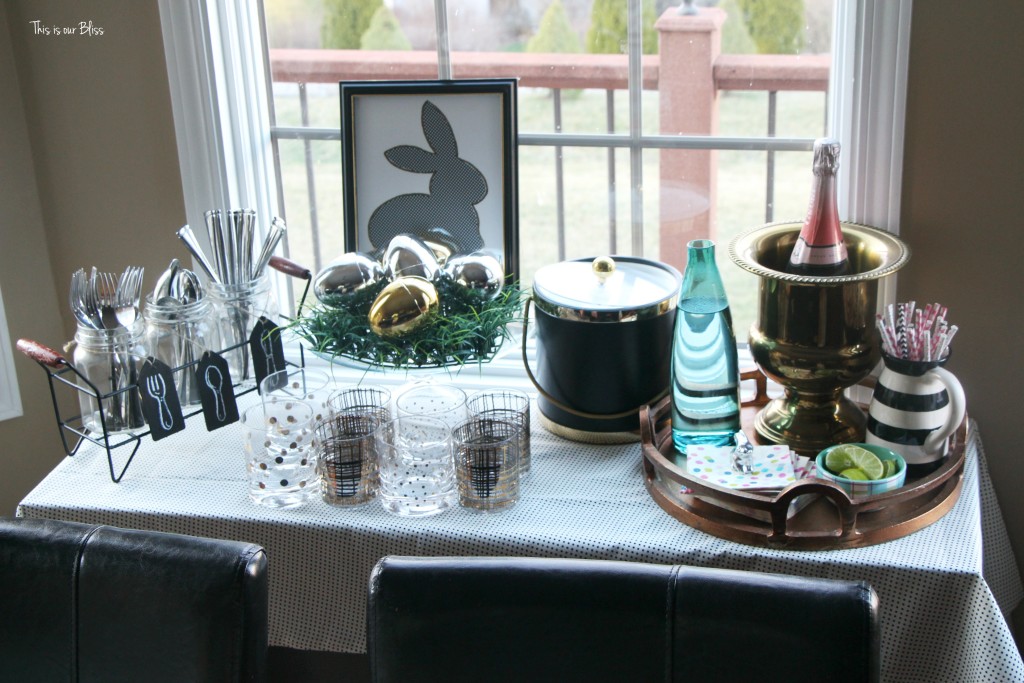 I cleared off the "buffet" table and laid down a large piece of fabric [It's actually material I bought to make some spring pillows with. We'll see if those actually happen!] and then simply started adding various items. I totally shopped my house for everything!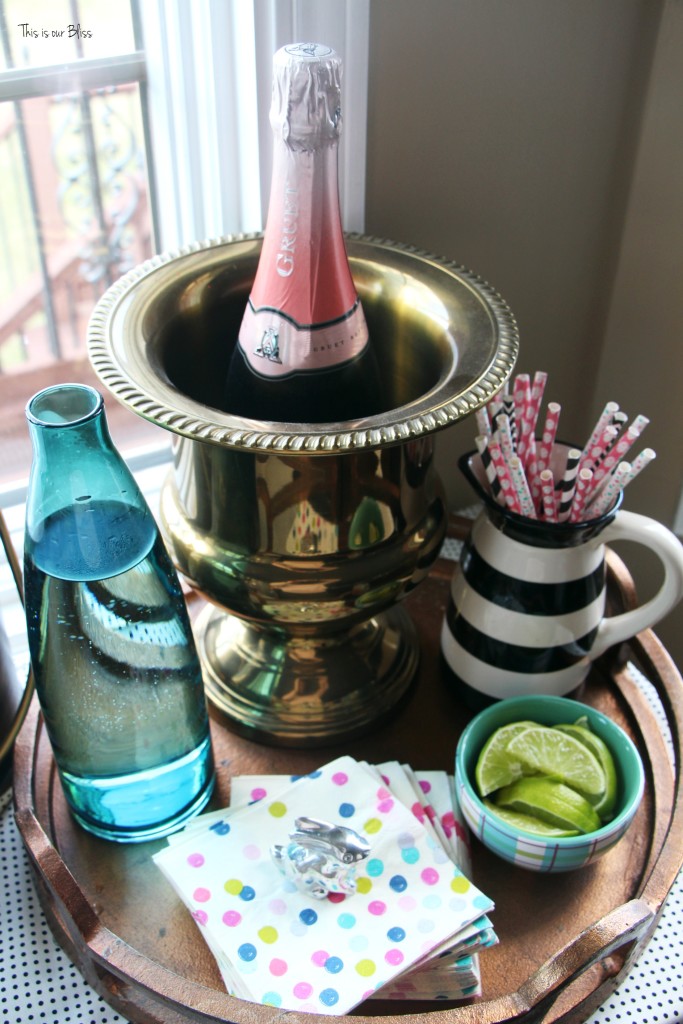 I put my copper tray on the right side and filled it with my thrifted gold champagne trophy bucket [as seen here at Christmas time], the teal water decanter from the guestroom nightstand, my striped Target $1 spot pitcher filled with black & white patterned and Easter straws…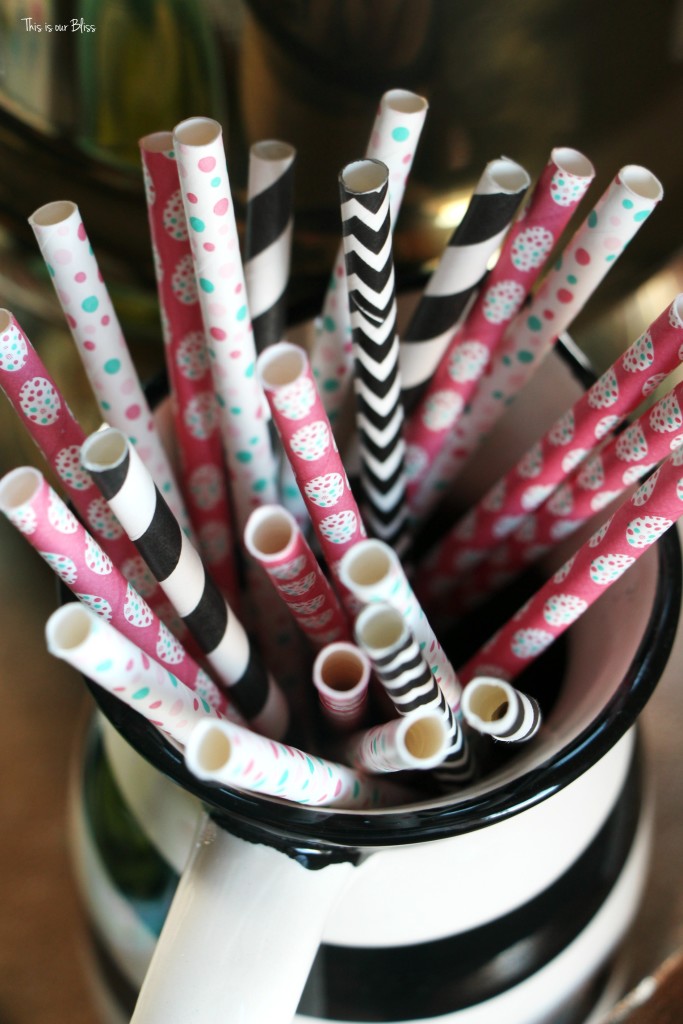 …and a cute little plaid bowl filled with lime wedges [I'm more of a lime-in-my-water (or cocktail) kind-of-girl versus a lemon ;)]

I set a stack of spring colored polka dot napkins down and then plopped my bunny napkin weight on top!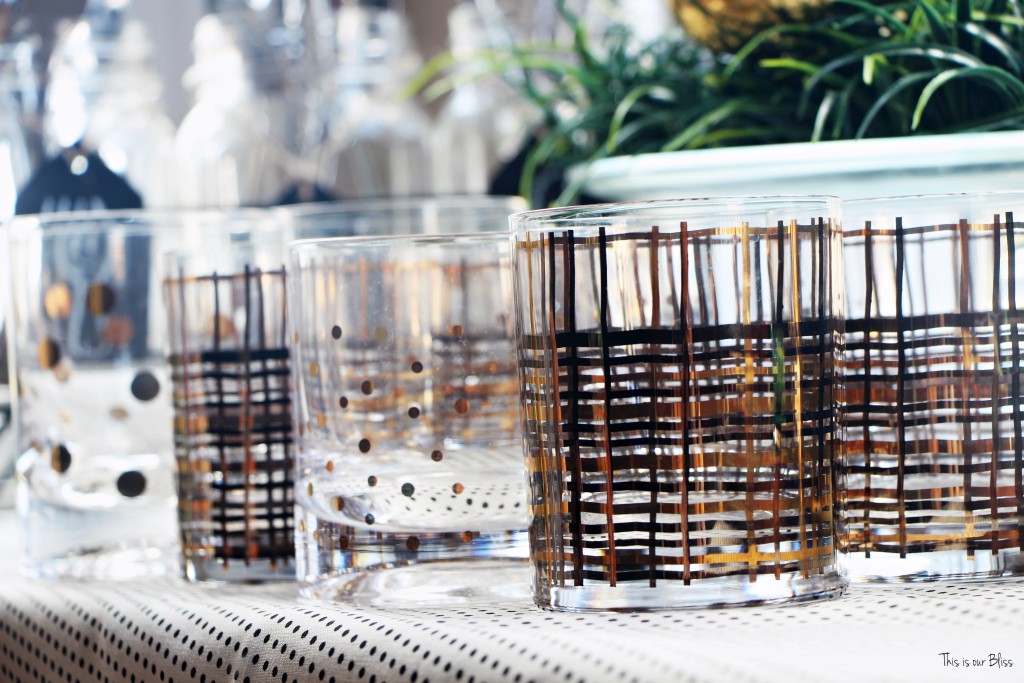 [similar to these gold polka dot glasses | gold plaid glasses]
Then I filled my thrifted black & gold ice bucket, set out my very favorite cocktail glasses [which are being used as water glasses – no rules, right?! And I totally want to add these to my barware collection next!]…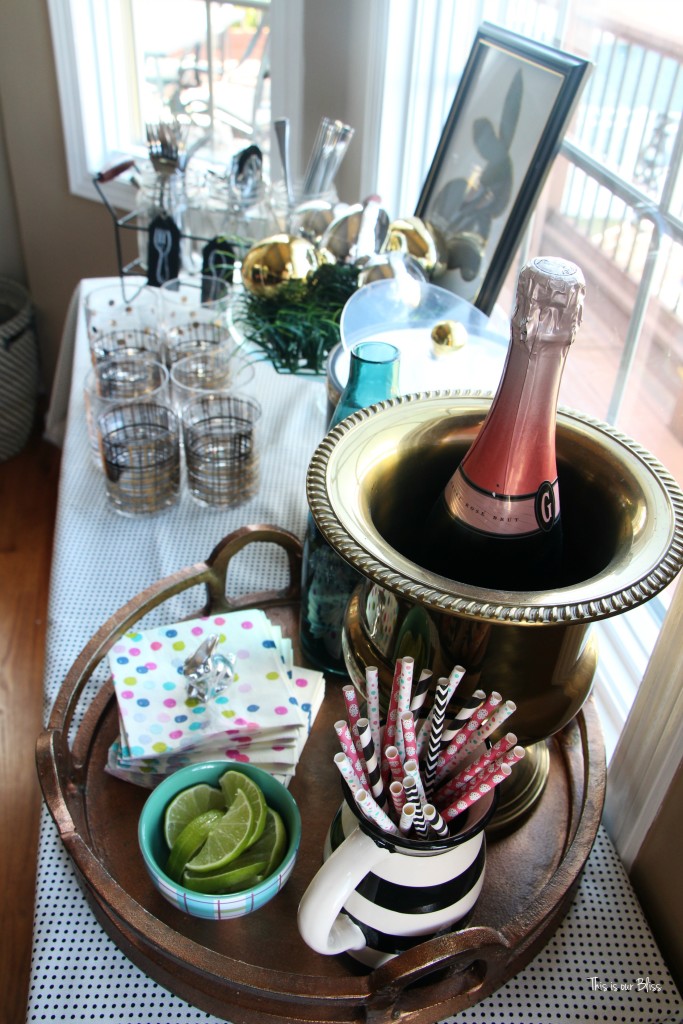 …placed gold & silver metallic eggs [other similar eggs here] on some faux grass which rested on my cakestand.
Then, I placed my chic Easter art print from last year right on top. The cakestand doesn't have a lip on it, so the frame could hang off the edge a bit.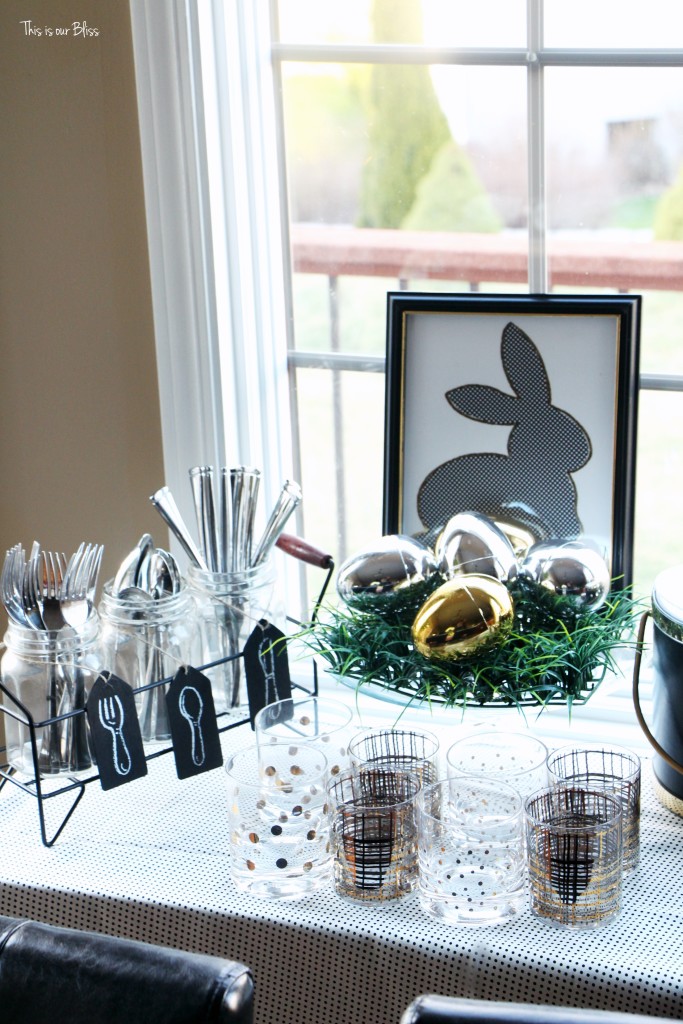 Lastly, I filled up my mason jar / chalkboard label silverware caddy with our flatware and called it a day!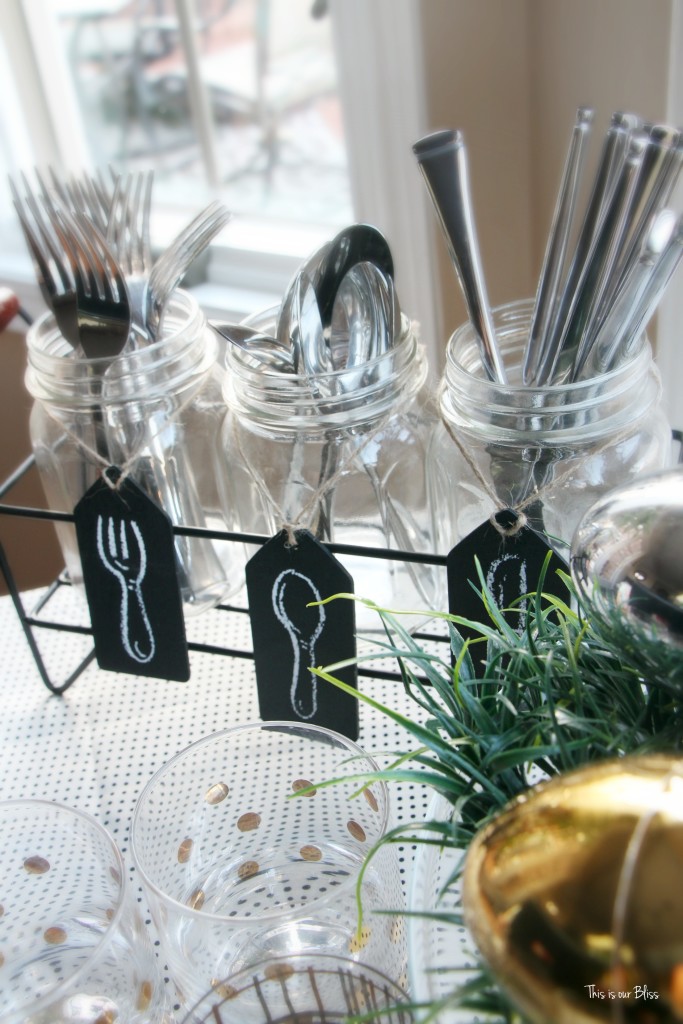 Everything you need at an arm's length away!
More champs please!!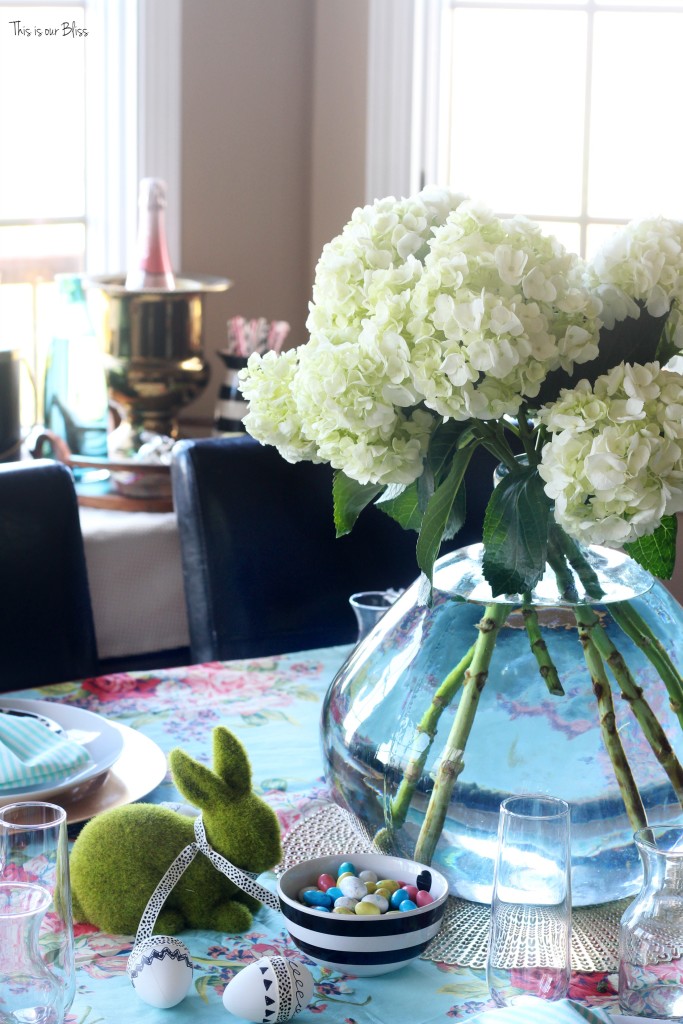 If you remember, I used my stemless champagne flutes as orange juice glasses and the mini decanters for champagne! I love the little DIY mimosa option right at your seat 😉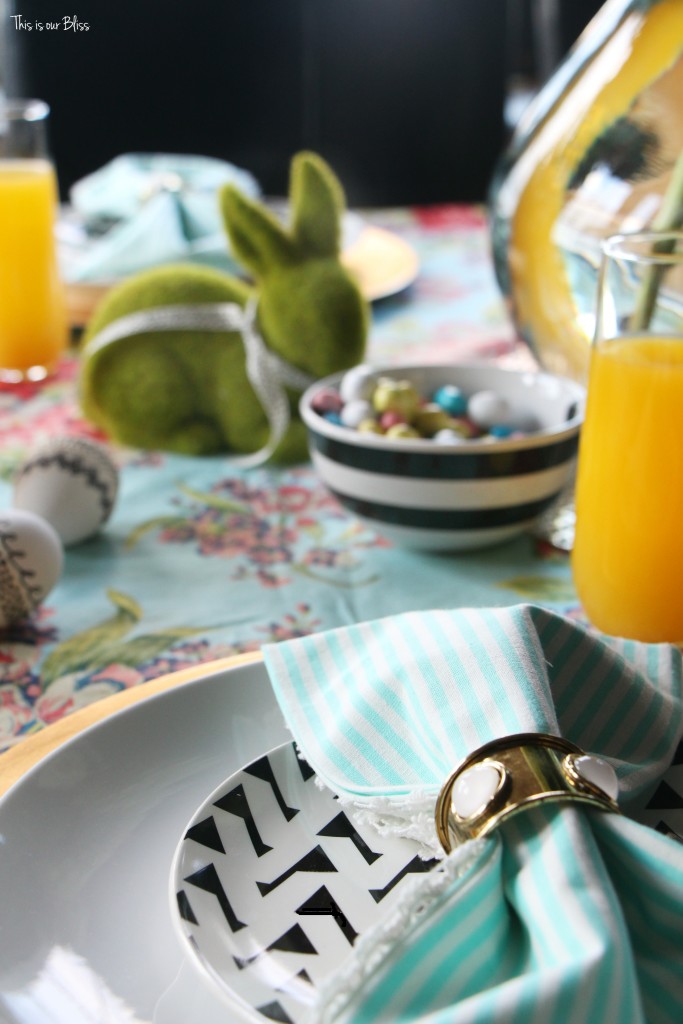 Have you planned your table yet? What colors are you using this year?!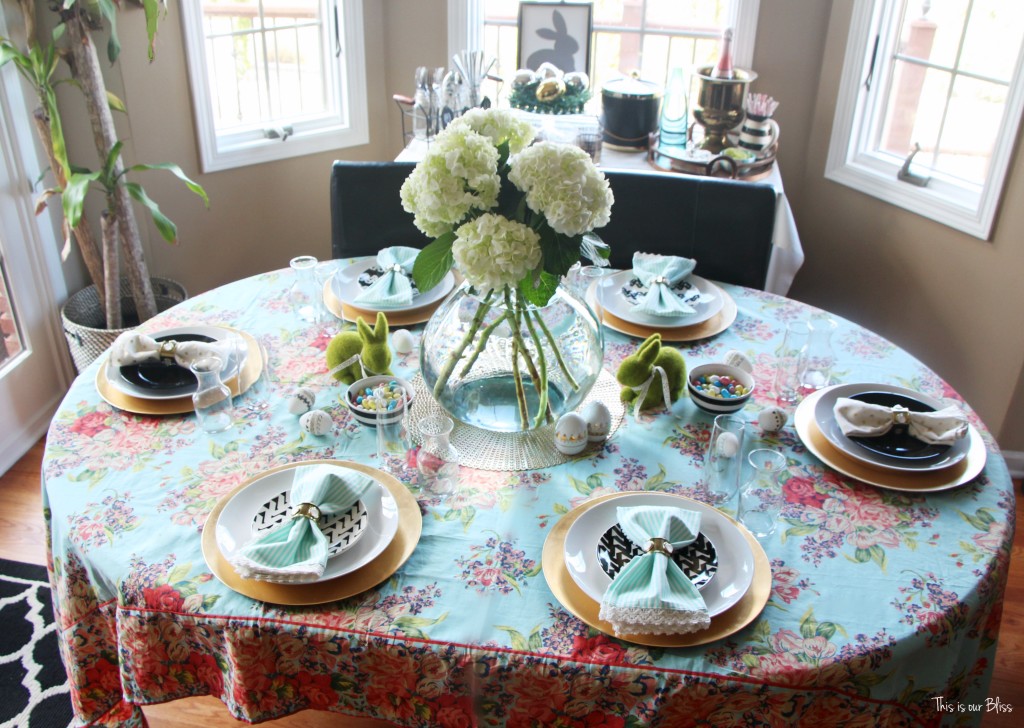 Don't forget to pin for quick reference later!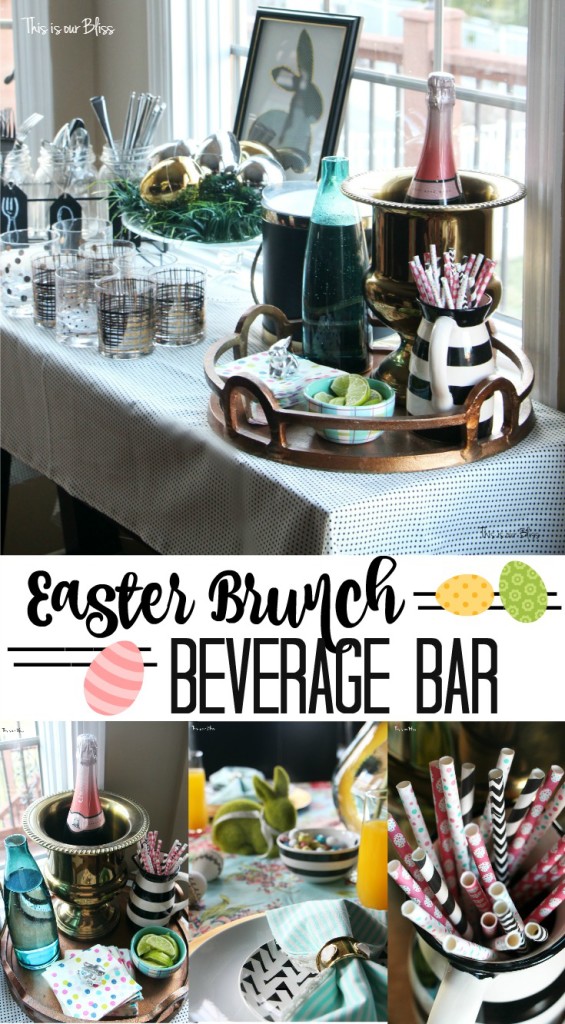 One more thing!
Have you been working away on any pretty springy projects lately?
It's not too late to share them at this month's Pretty Project Party! If you aren't a blogger, but want to see all the inspiring pretty projects, all in one place, I might add – then go take a peek! We are also inviting our blogger AND non-blogger friends to share their projects on Instagram using #prettyprojectparty!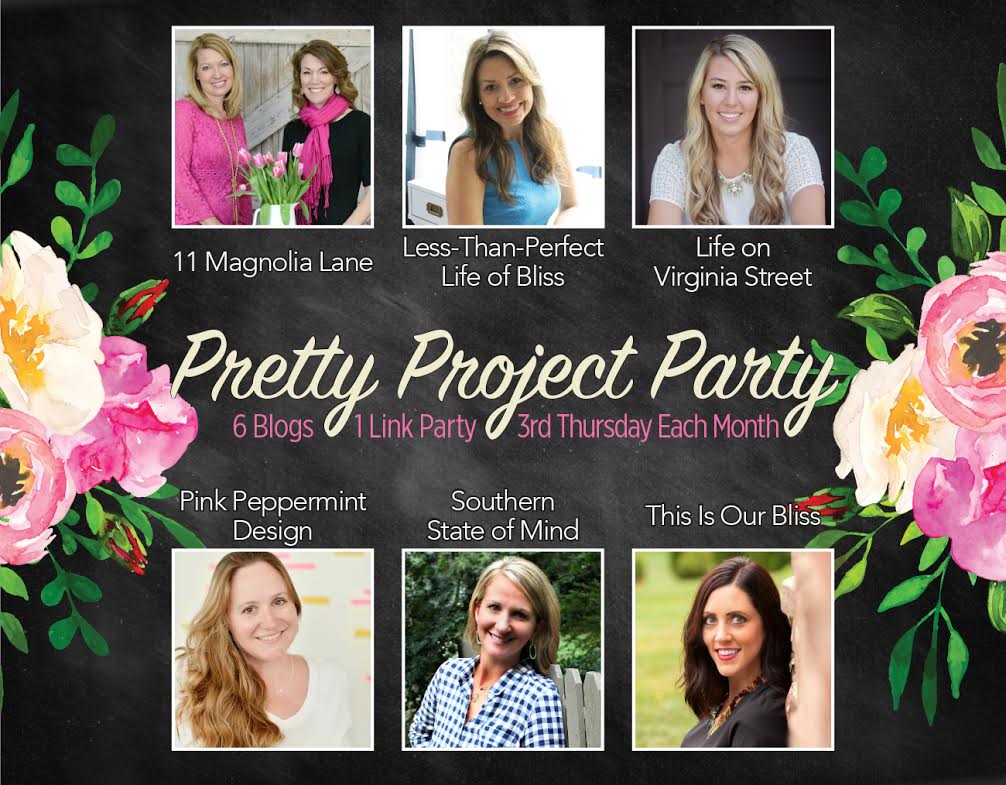 I'll be back on Thursday this week with our chosen "features" from the party, so be sure to stop by again then!
Thank for reading!

Full Spring Table Source list here!