Hello! And welcome to the Create & Share LAMP-alooza! I am so excited to be joining forces with a group of bloggers to bring you a total of 11 fabulous DIY lighting projects this month! Whether you're looking to repurpose something INTO a lamp, makeover a thrifted one or simply recover that old-lamp-sitting-in-your-guestroom's-shade – we are here to help you channel your inner DIY boss and be inspired to create!
Although this is my first time participating, typically the Create & Share Challenges feature a specific product for the month and each blogger has to come up with their own way to create something from that one item. The goal being that everyone will put their own spin on their project and no 2 pieces will come out looking the same! Well, with the amount of talent in the group, there's no denying the projects are off the charts on the creativity scale. Inspiration for daaaays.
To switch things up a bit, instead of a specific product, this month the theme was lighting – lamps, sconces, pendants, any lighting source – you name it – it was up for grabs! Each blogger had to create something new or refresh something old and share it with you all today! So, I'll be showing you how I scooped up a $4 lamp and gave it a quick [and by quick, I mean reeaaal quick! You know I don't have time for much right now with our upcoming move and all!!] overhaul using materials I already had on-hand at home. In fact, I'm color-blocking my lamp!
Let's get to it…
[affiliate links are used in this post.]
You might remember when I madeover this thrifted lamp and ever since [and probably even before that gem of a find], I had been keeping my eyes peeled for a cool, shadeless lamp. You know – the kind that just sit on a table or even on the kitchen counter under the cabinets that provide just the right amount of mood lighting and give that "cool" ambiance in a space? Yeah, that kind. I've wanted this cool lamp to sit in the new basement bar area…something small and subtle as to not take away from my pendant lights.
When I spotted this boxy bad boy of a lamp at GW, I thought he might have a chance. A chance at being my "cool" lamp.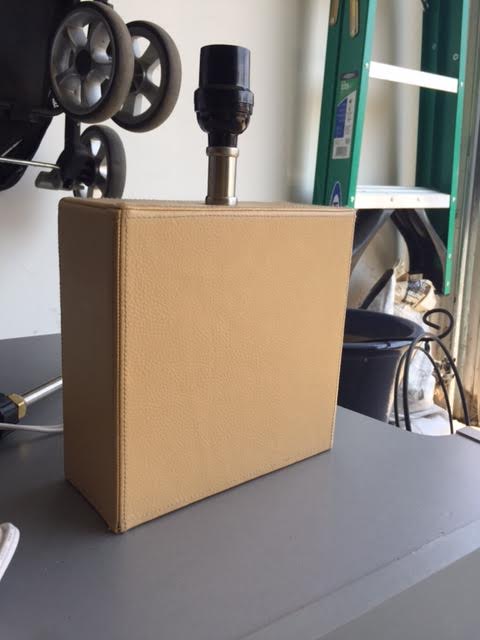 Once I got him home, I knew I wanted to spiff him up a bit, but wasn't sure what to do. I always, I repeat, ALWAYS have spray paint on-hand, but I didn't want to just splash some gold on him and call it a day. I also didn't have a ton of time to overthink this project. It really was a practical need for a functional space in our home.
I settled on this idea and I'll show you what I did:
1 | Apply spray paint to the bulb base with my favorite gold spray paint.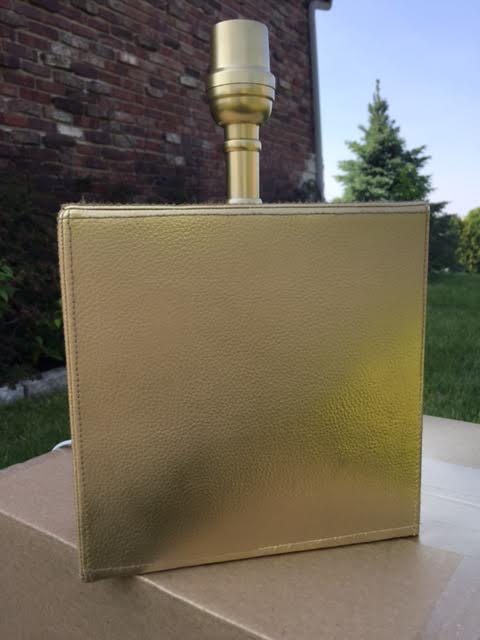 2 | Apply the same spray paint on the lower right-hand corner of the base.
3 | After the bulb base dried, I wrapped it with a plastic sack and secured it with painter's tape, making sure the bottom edge of the paint lined up perfectly with the bottom edge of the bulb base. I also taped off the bottom right corner with 3 strips of painters tape to mark my "block".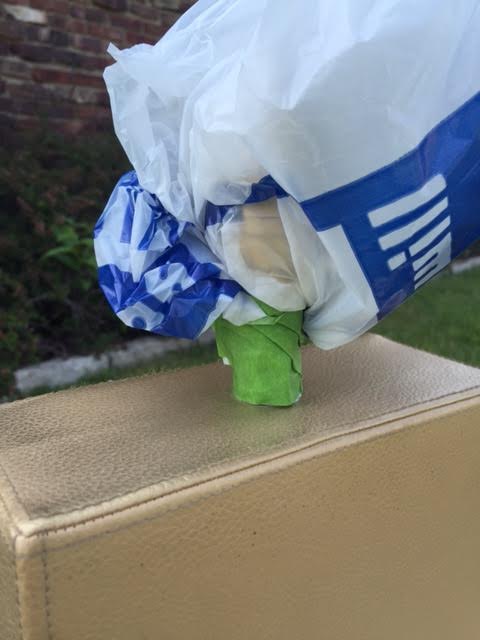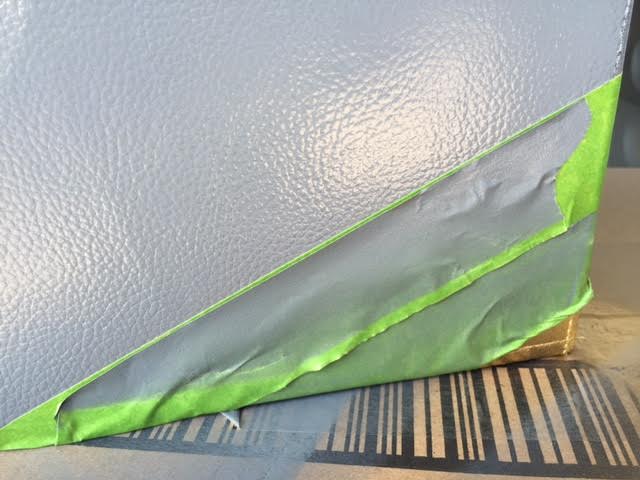 4 | Apply this awesome shade of gray spray paint to the uncovered / untaped areas of the base.
5 | Let dry for 20 minutes and then carefully peel back tape from the bottom corner and remove plastic sack.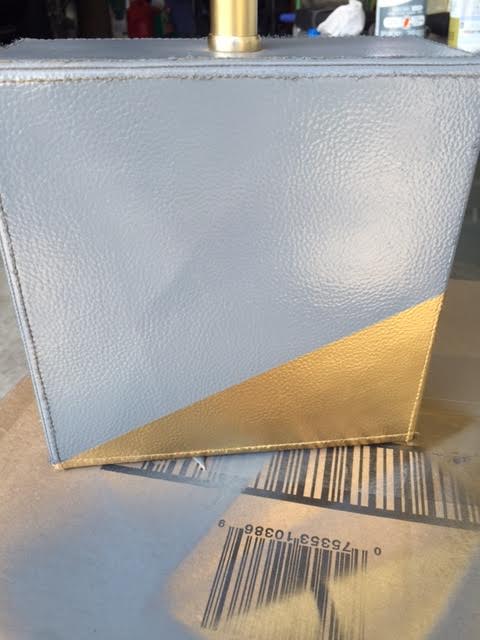 6| Screw in this vintage style bulb and put in place.
I love how you can see the innerworkings of the bulb and how they look when turned on!
Here is how he looks in his new spot.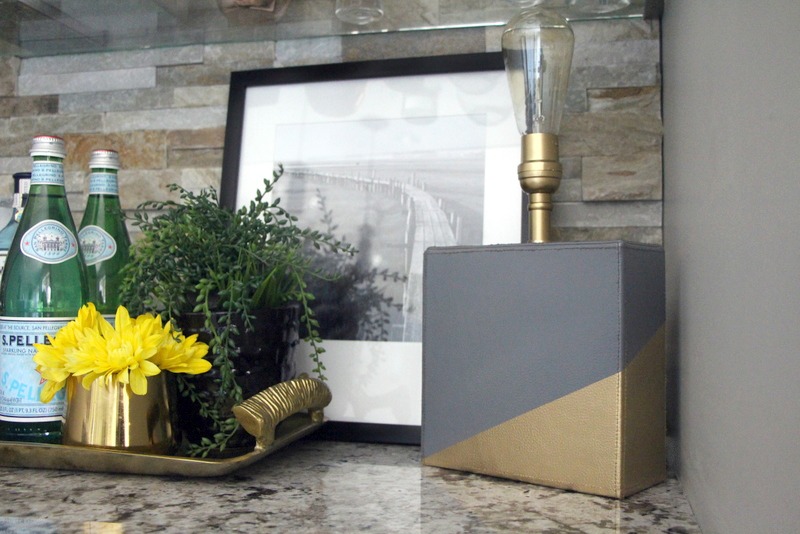 I wanted something a little edgy, a touch of glam and just the right amount of "cool" so that T would approve of it in this space.
After all, I guess it's one of the only spaces that would even remotely resemble a man-cave in our home. It's definitely not our bold glam master bedroom and especially not the indoor summer bar I just styled in the living room.
Ok, so I've been splashing some pink around the house a little bit lately—He can handle it!! All kidding aside, I really did try to keep this space, particularly the bar area, chic… but edgy and with an ever-so-slight masculine touch to it. I'm calling the vibe down here – Rustic Modern Glam.
Not quite so sure if all the flowers I just put in here meet his standards!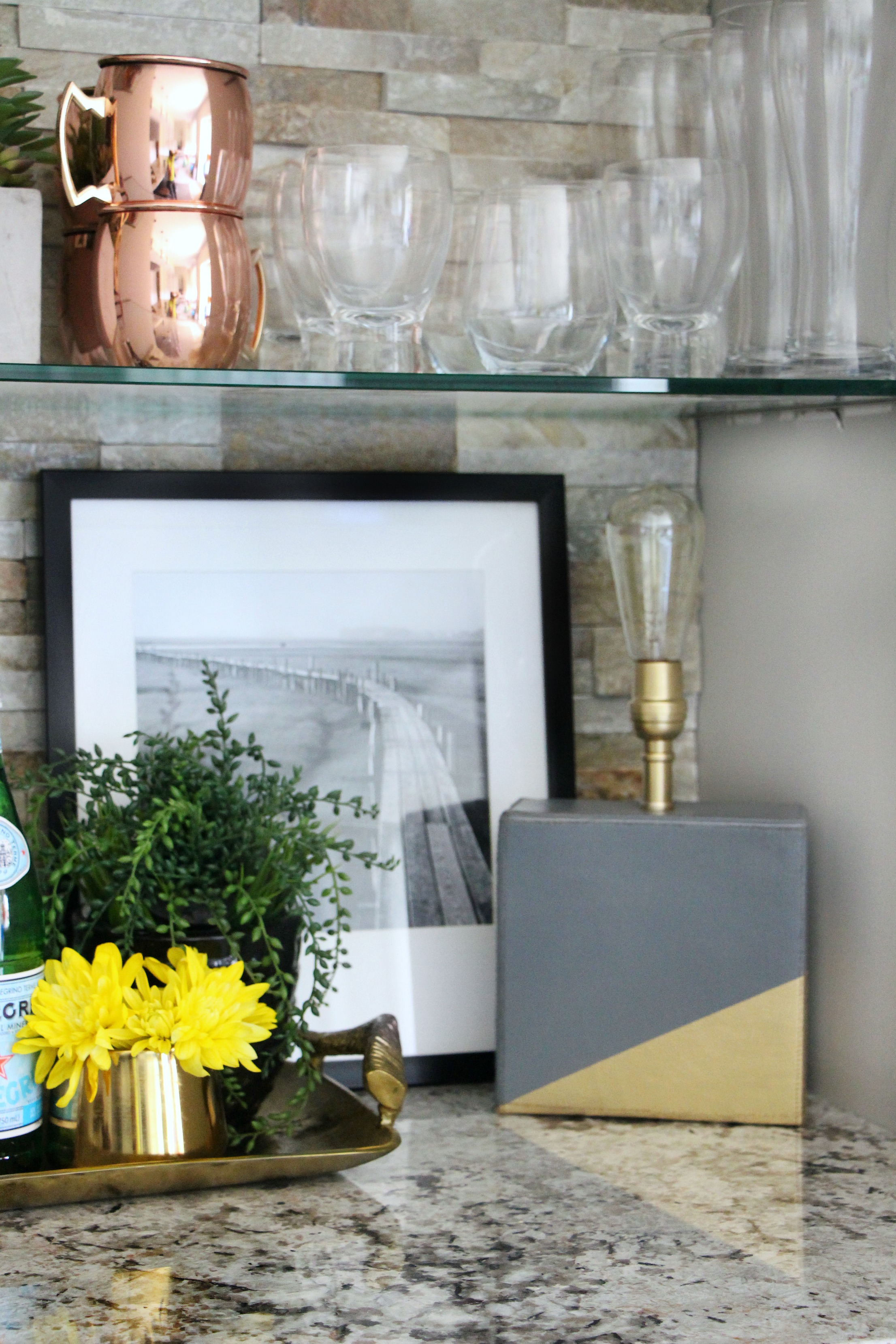 I've wanted to color block something again so badly! The last time I attempted this look was way back when I made these A to Z book-ends for Simon's Nursery. I think it is such a simply stated wow factor!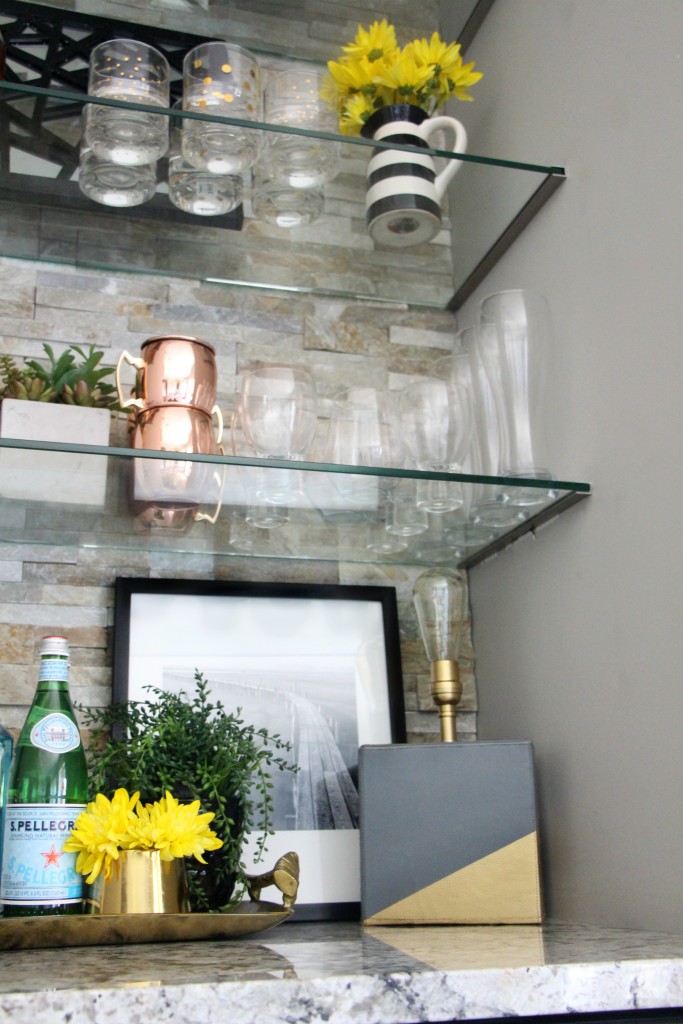 I'm loving him in the bar space and so happy that he fits in that nook so perfectly!
Now I'm on a color blocking K I C K! I can't stop thinking of everything I could tape off a corner edge of and paint!
Now…What to color block next? any ideas?!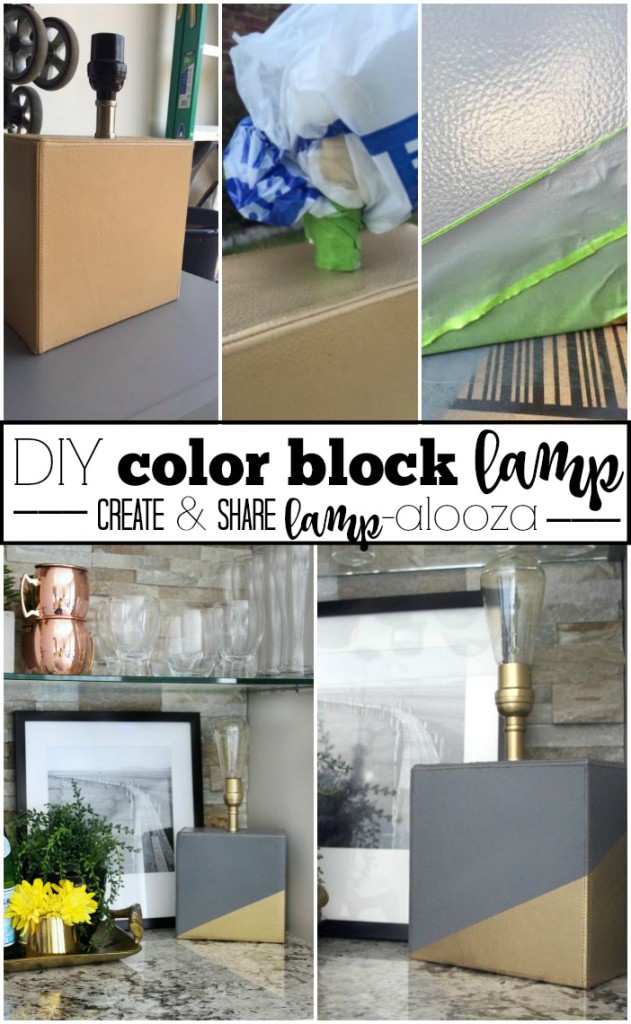 And since you already got a sneak peek of these shelves…stay tuned! The full basement bar shelfie reveal is coming soon!
But wait! Before you go, don't forget to swing by the other lamp-alooza stops for all-around lighting inspiration and more!
Casa Watkins Living: DIY Mud Cloth Lamp
Pocketful of Posies: Vintage Desk Lamp Revamp
Lehman Lane: DIY Hanging Light
One Mile Home Style: DIY Golden Atlas Lamp
The Twin Cedars: No Cost Lamp Revamp
Lovely Etc: DIY Lantern Lamp
This is our Bliss: DIY Color Block Lamp
Green With Decor: Old Lamp Update with Twine
DIY Beautify: Light Fixture Makeover with Mason Jars
Creatively Homespun: DIY Car Parts Lamp
My Life From Home: DIY Coffee Pot Lamp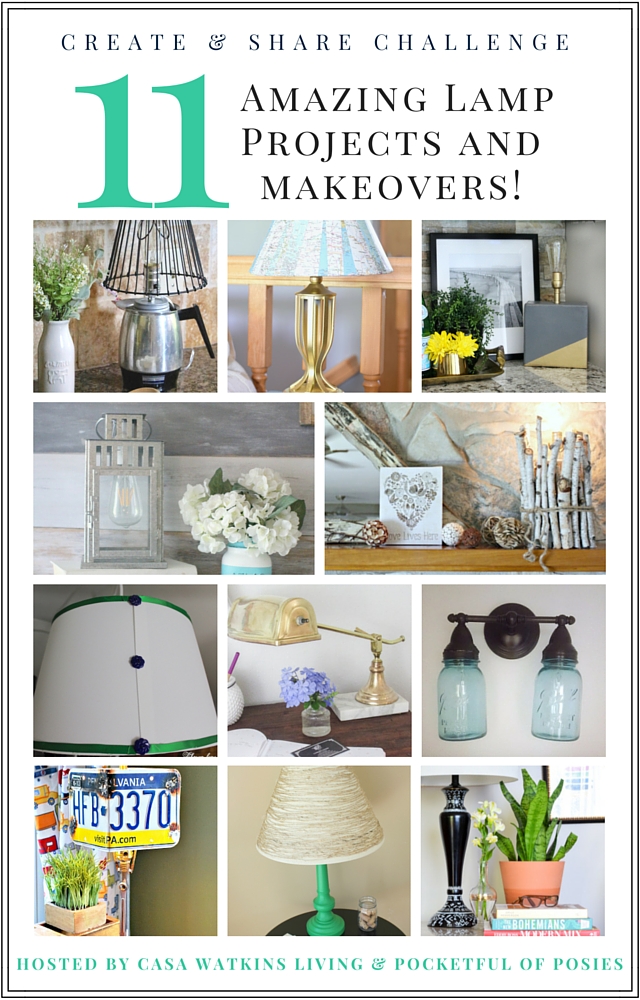 Don't forget to pin for later!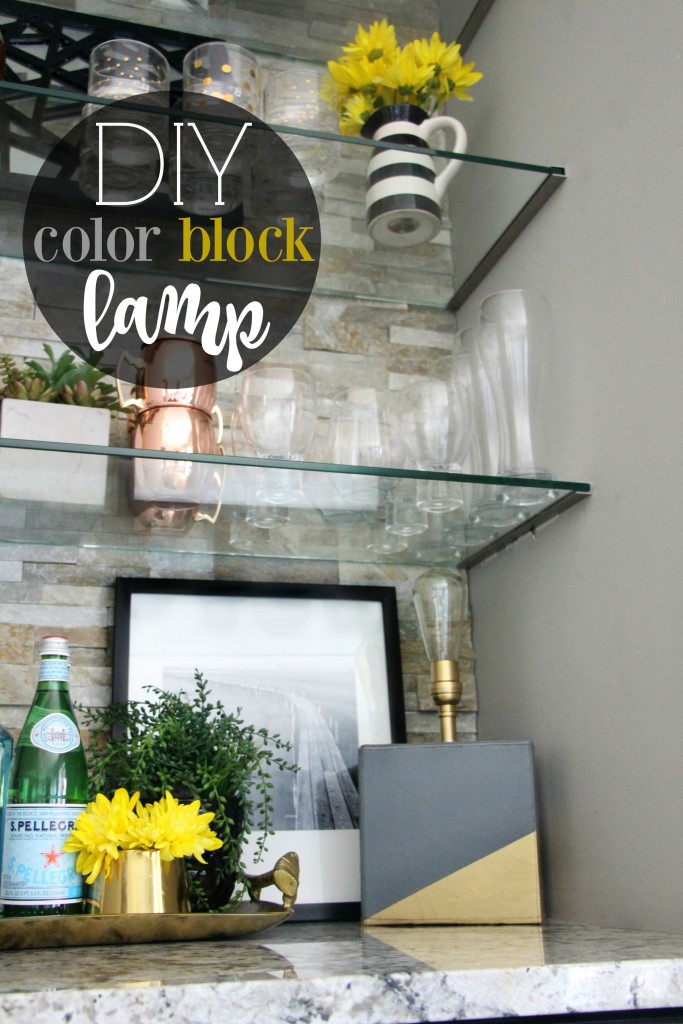 Thanks for stopping by today and I hope you'll be back again for another visit soon!

Don't feel like DIY'ing? Check out these cool lamp finds!: