Hello! And welcome! You guys – I have been anxiously awaiting today for a little while now. It's time to share my Summer Home as part of the Eclectic Summer Home Tour Blog Hop hosted by Jess of Domicile 37! It might not seem like a big deal. I mean, I do decorate and re-decorate on the daily and post bits and pieces along the way, but today is not just any home tour. It's actually the very last home tour I'll be able to share with you guys in this house. Yes, our move date is quickly approaching and while I should have been purging and organizing our things in preparation, I couldn't help but get carried away in giving our home one last zhush.
And a bold, colorful summery zhush I might add 😉
I wasn't sure I was going to be able to pull this together in time for this week of Tours, but I thought – hey, its eclectic so anything goes, right?! 
So step right up as I take you from the front porch and all the way through the main level of our house one final time.
Come on on!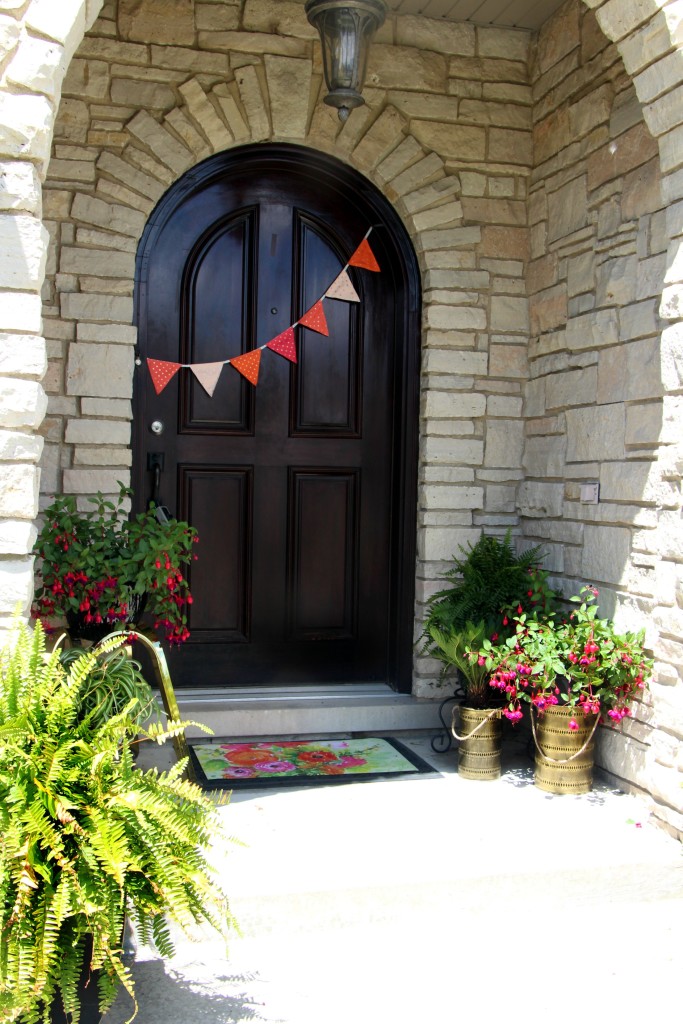 If you are new here and joining me today from Style Mutt Home, then welcome! You probably haven't heard me ooh and ahh over our front door before, so I'll introduce you. This door right here, may have been the reason we bought this house in the first place. When we got out of our car at our first showing here 4 years ago, we were awestruck by this bold, beautiful door. We had never laid eyes on such a thing! It made a statement when we walked in and left an imprint on our brain for days to come. We literally couldn't get it out of our head!
We just have to have that house with THE DOOR!
If you've been hanging out here for awhile, then you'll know I'm always on the hunt for a bargain! HomeGoods is by far my favorite place for home decor, but I frequently find myself a gem at the local second-hand shops and thrift stores. It's like an adventure. You walk in not knowing what you're going to find that day and at what bargain of a price!
If you follow me on Instagram or Facebook, then you might remember when I shared this brass table as I was perusing the aisles of GW. Many of you guessed that it came home with me that day. You were right! I took the glass top off and decided to stick a pot on top of it and use it as a planter on the front porch.
Doesn't she make a great addition?!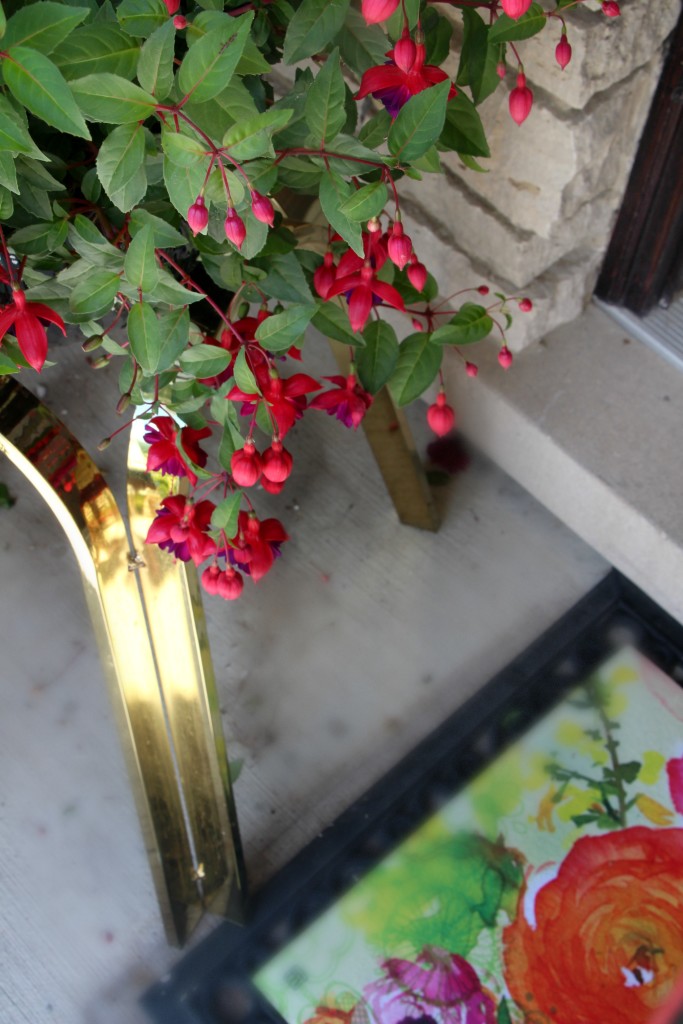 Now let's head inside to see more…
[Affiliate links were used in this post.]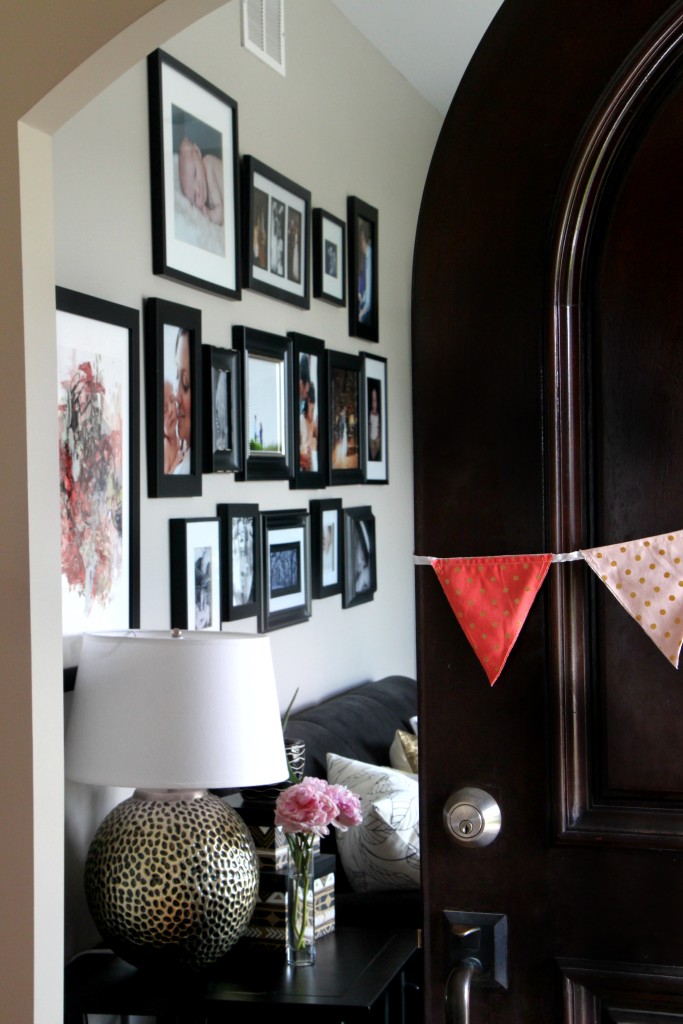 Gold polka dot Bunting
When you come into the house, off to the right is the formal living room, which stays fairly neutral year-round, but gets some pops of color thrown in for the holidays and with seasonal sprucing.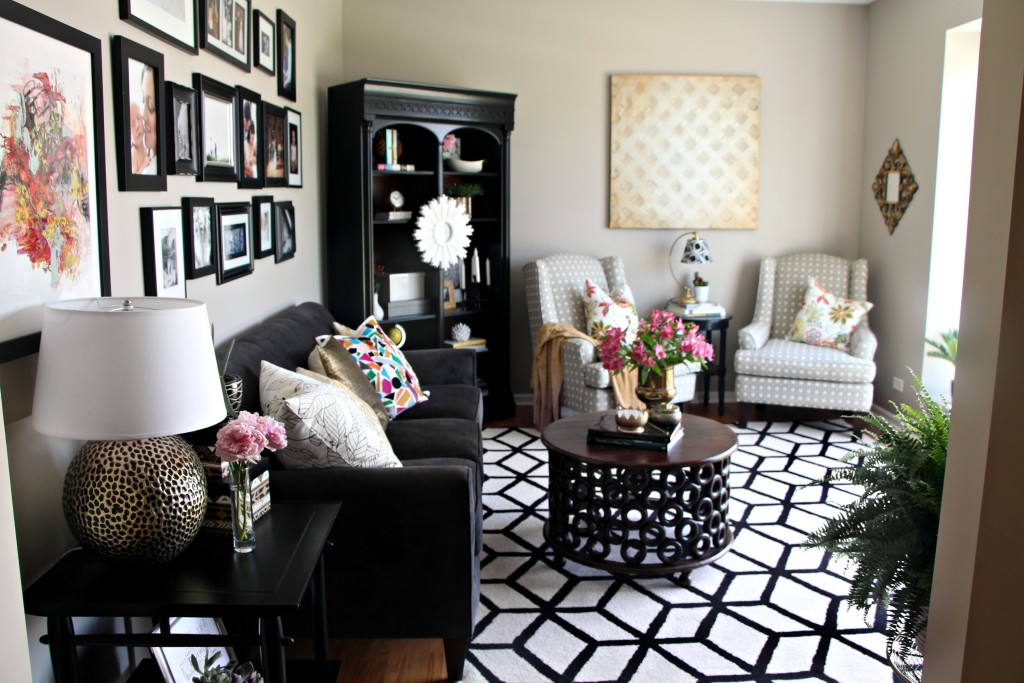 I love bold patterns and statement rugs and I incorporated both of them in this space. I swapped out the pillows for floral print ones I sewed using fabric from Hobby Lobby…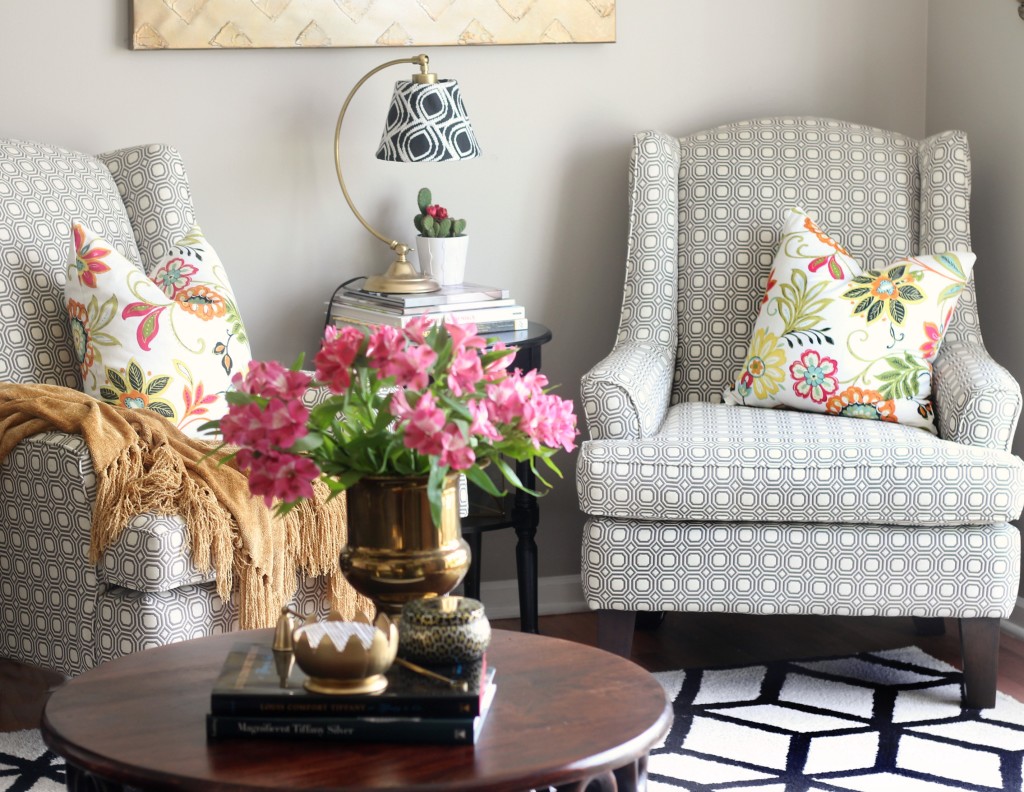 … a fun yellow one came out of storage after packing it away from the old guest room [now Simon's nursery] and left my DIY felt pillow out from the Spring.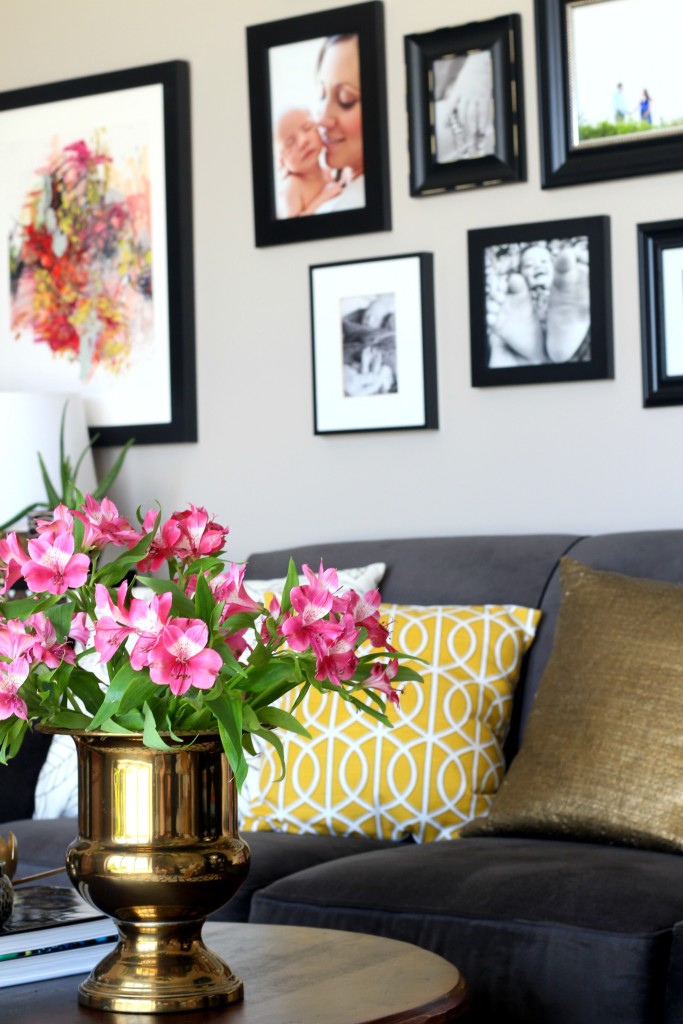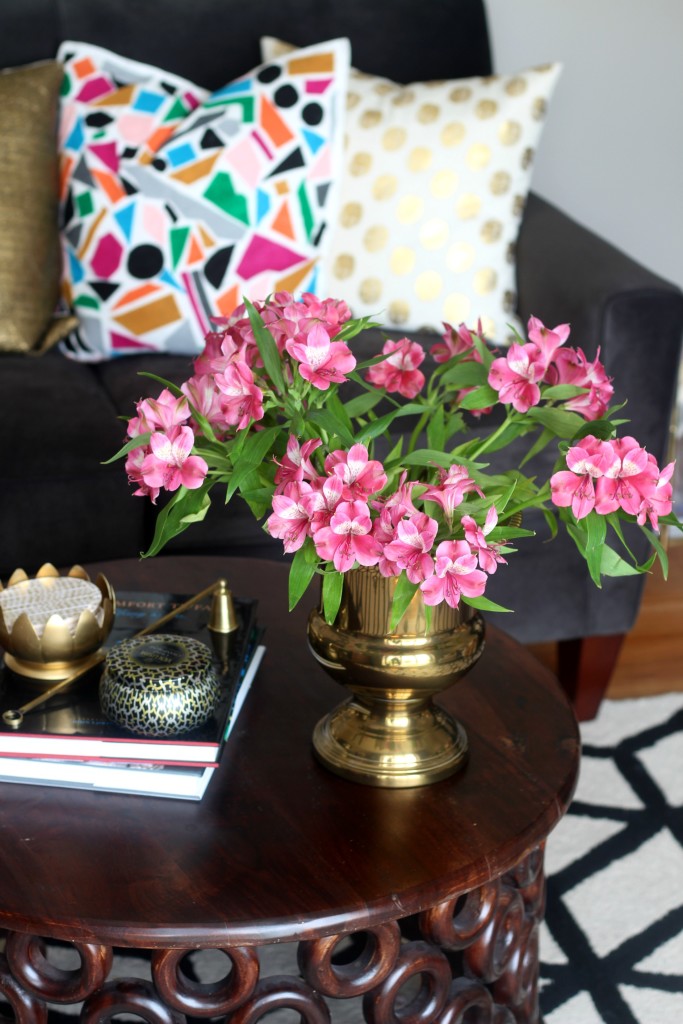 And of course, I placed lots and lots of brightly colored fresh flowers throughout the house. Instant happiness! This bouquet fit perfectly in my thrifted trophy ice / champagne bucket. You may remember seeing it here and here.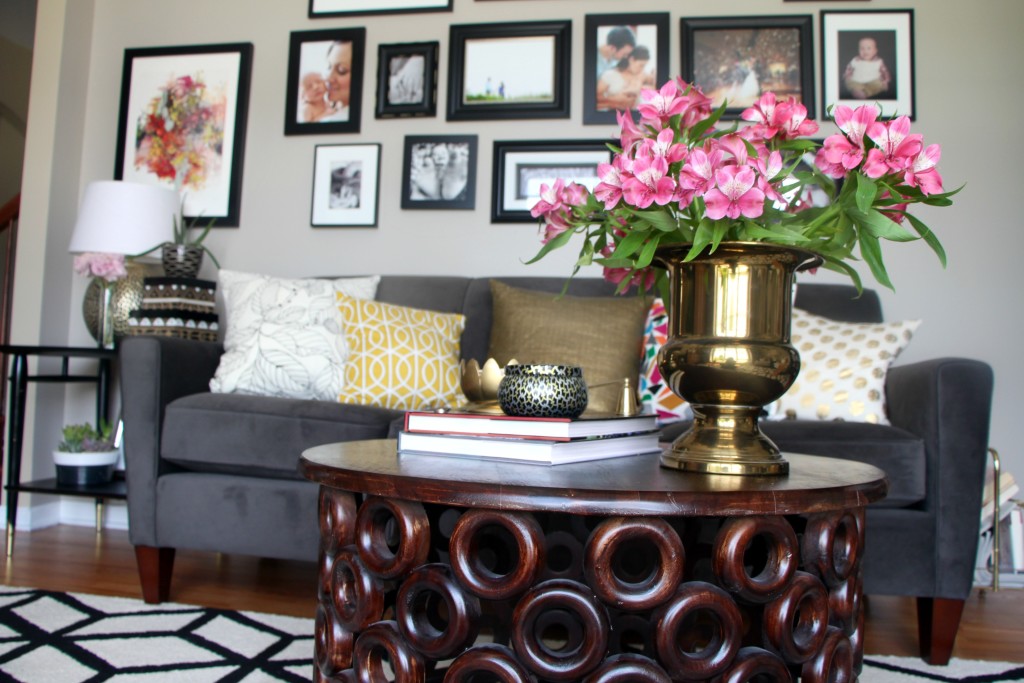 Framed Print [far left] | candle
My all black gallery wall has lived in this space for years. I just couldn't bear to bring the frames down or even swap out the photos! ha! I did it a couple times, for Christmas and Valentine's Day, but otherwise, this wall has pretty much remained the same. I remember moving into this house and instantly becoming addicted to Pinterest. Laying in bed at night, pinning away ideas for our home. It was long before the blog and I just couldn't wait, like could NOT WAIT to put up a gallery wall. 4 years later and I still love the look of them. We pretty much have one in every room in the house. I love looking at the photos in the array of thrifted and discounted picture frames and seeing our story unfold time and time again.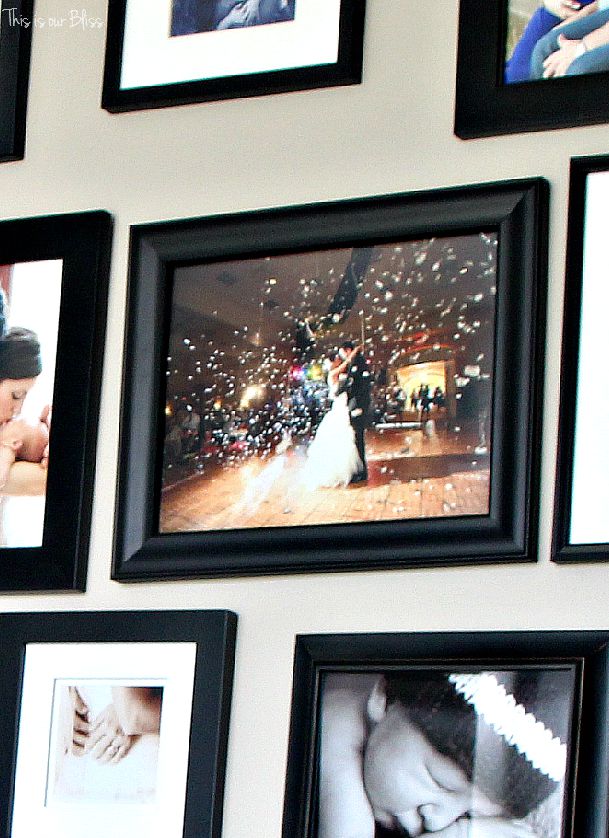 Especially on this wall. Our biggest was born just 2 months after we moved in.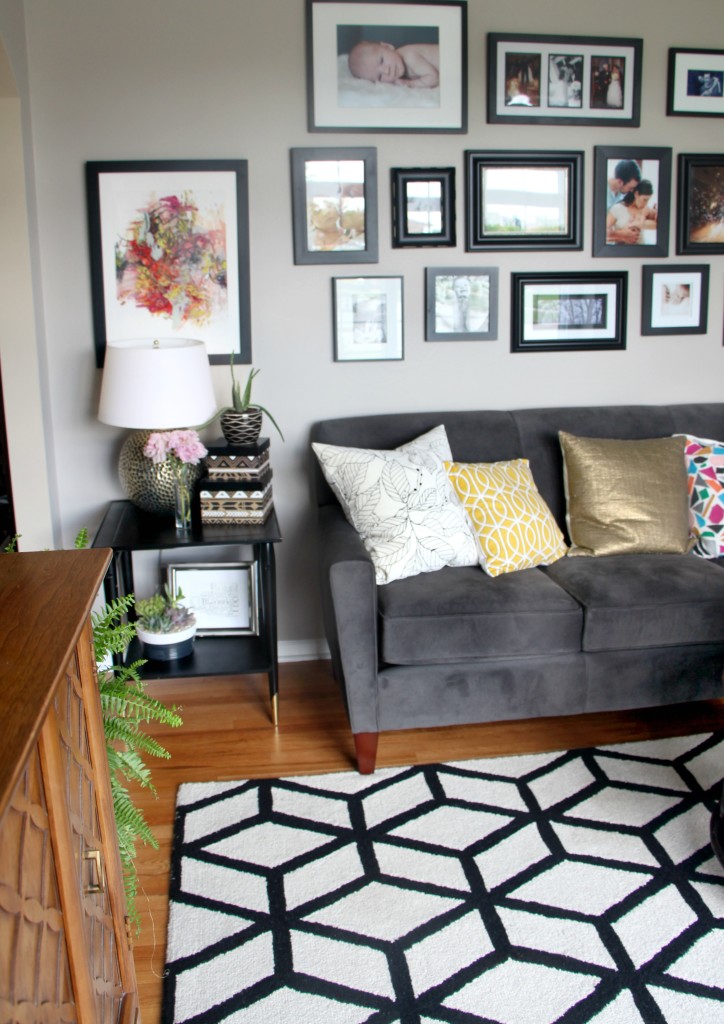 Peeking out from the corner of this picture is another thrifted find. One that I recently madeover for an Eddie Ross Inspired DIY challenge.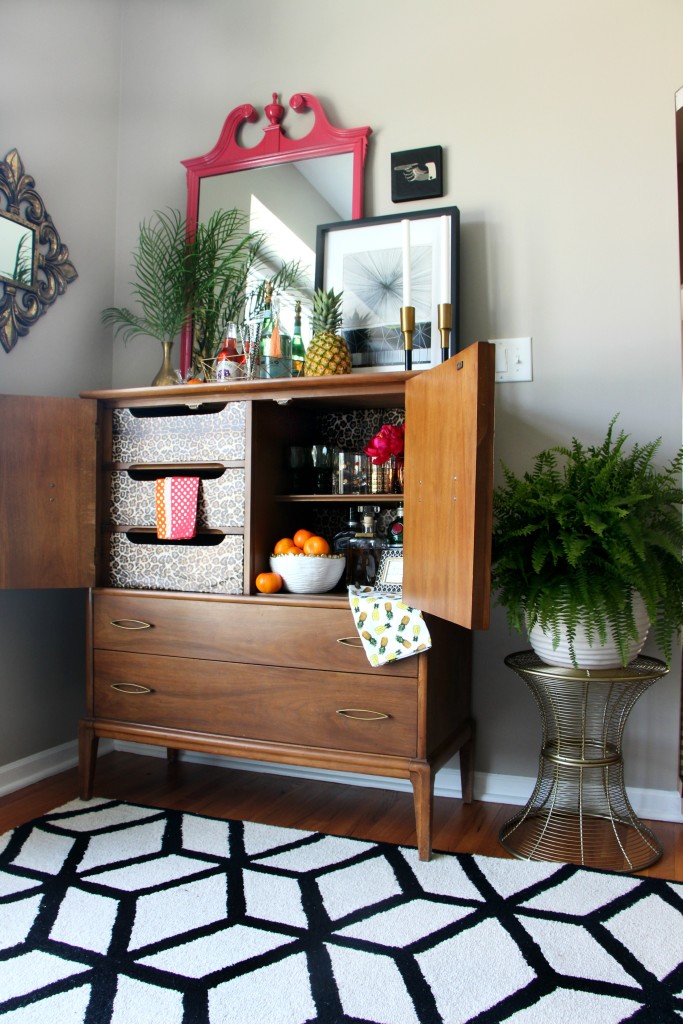 A thrifted chest turned living room beverage station—Here is our indoor summer bar ready to roll!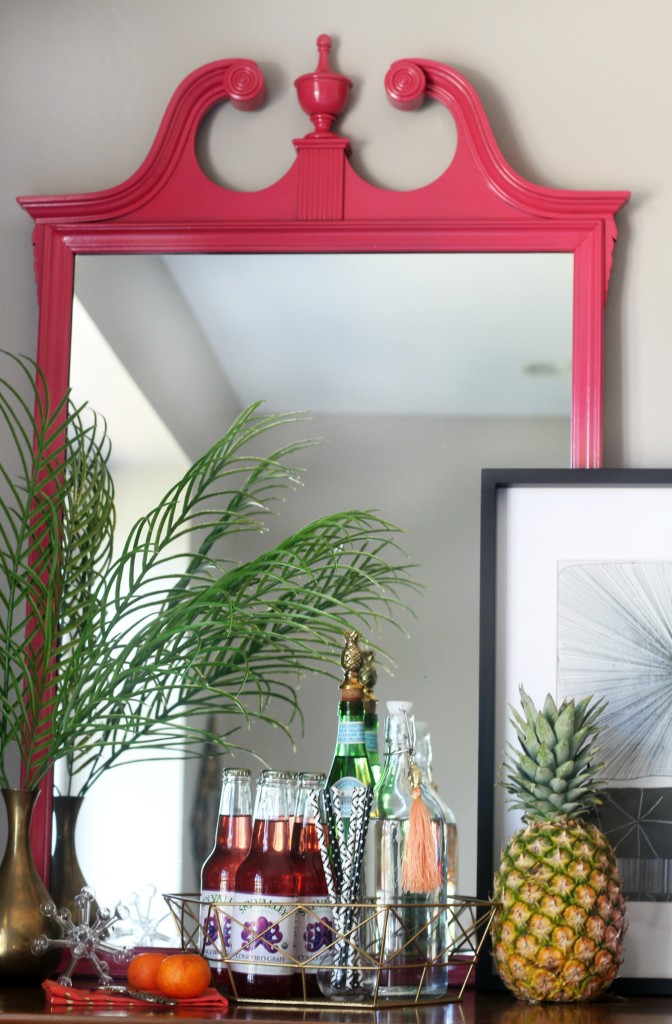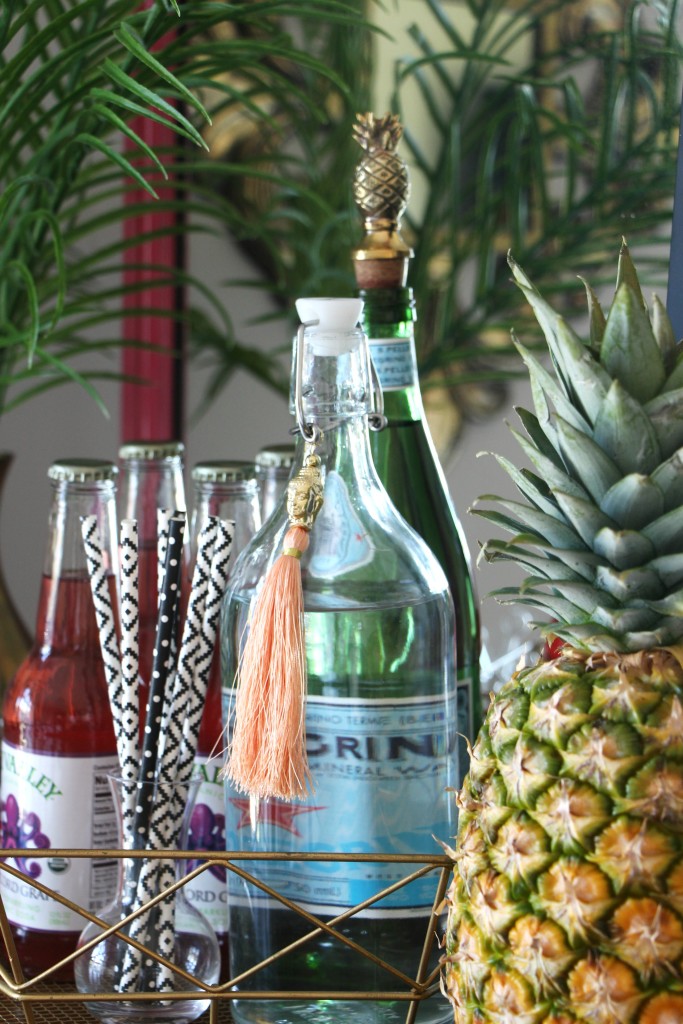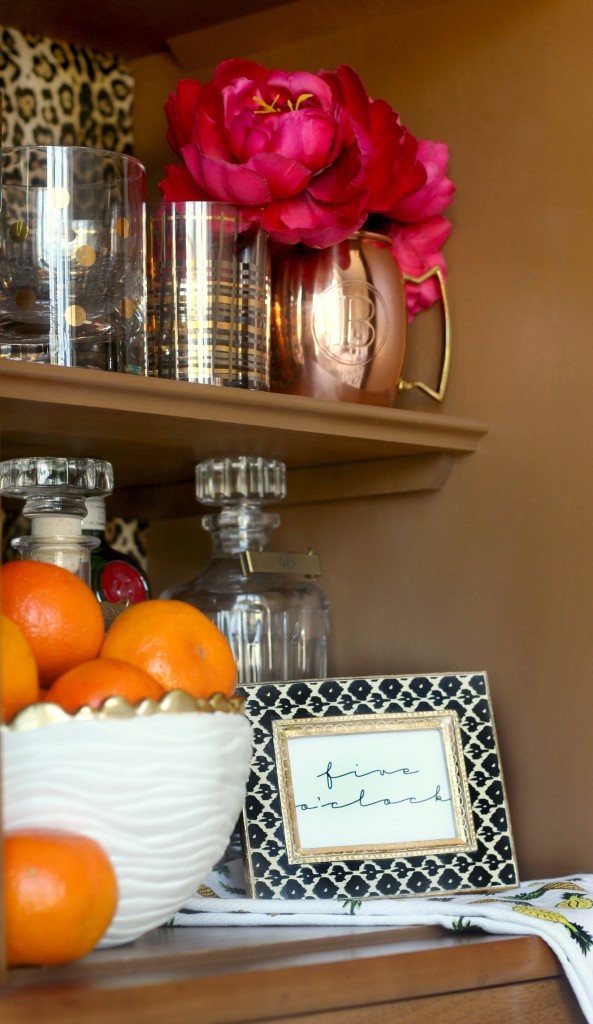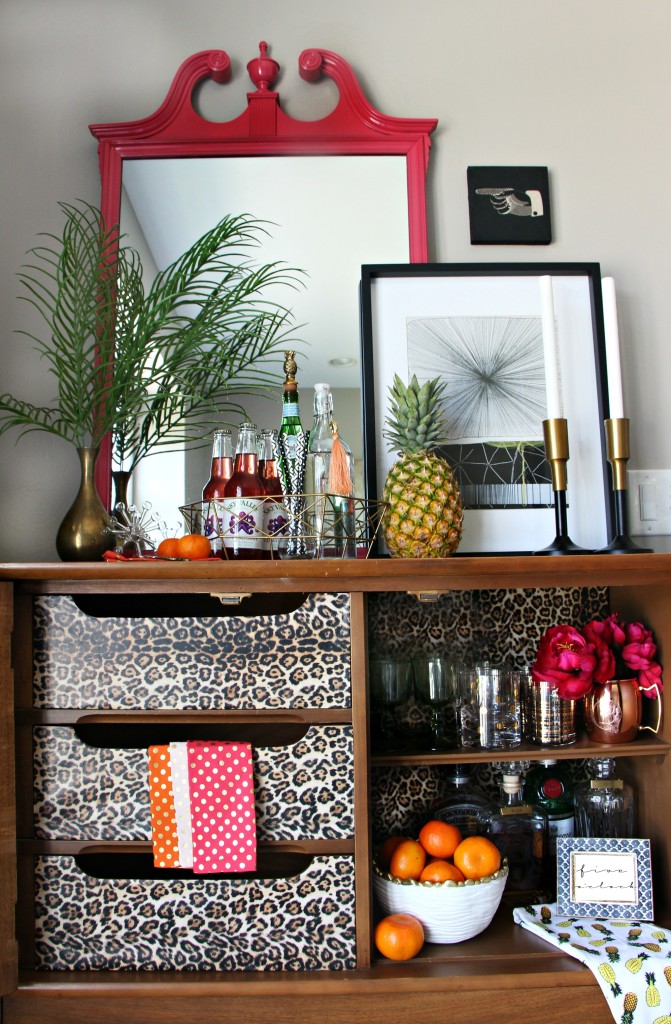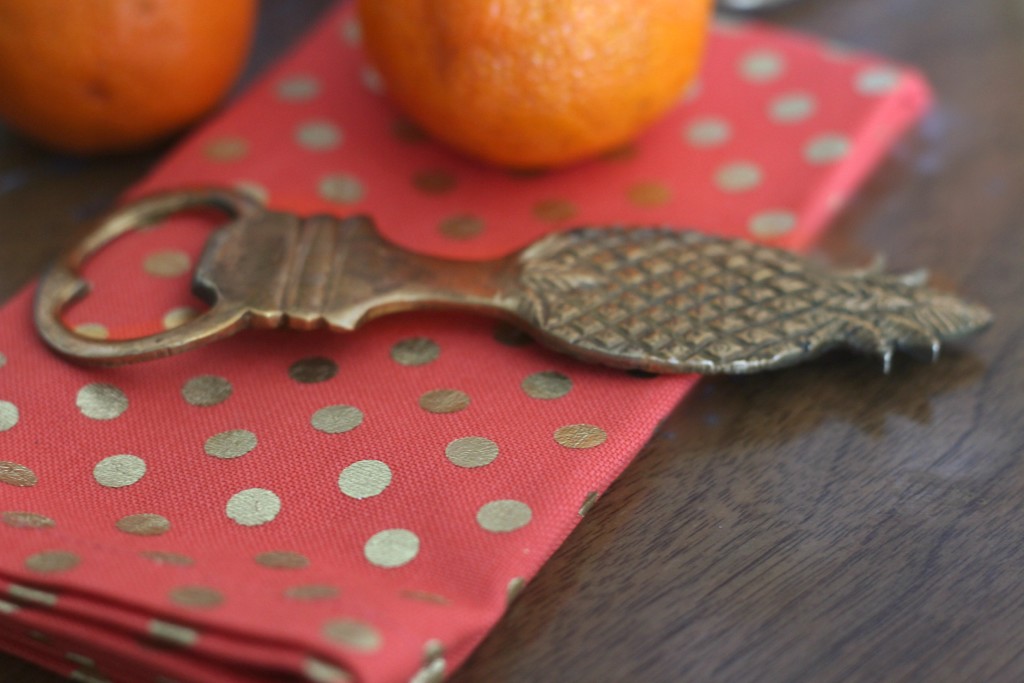 Doesn't this corner give you instant summer fever?!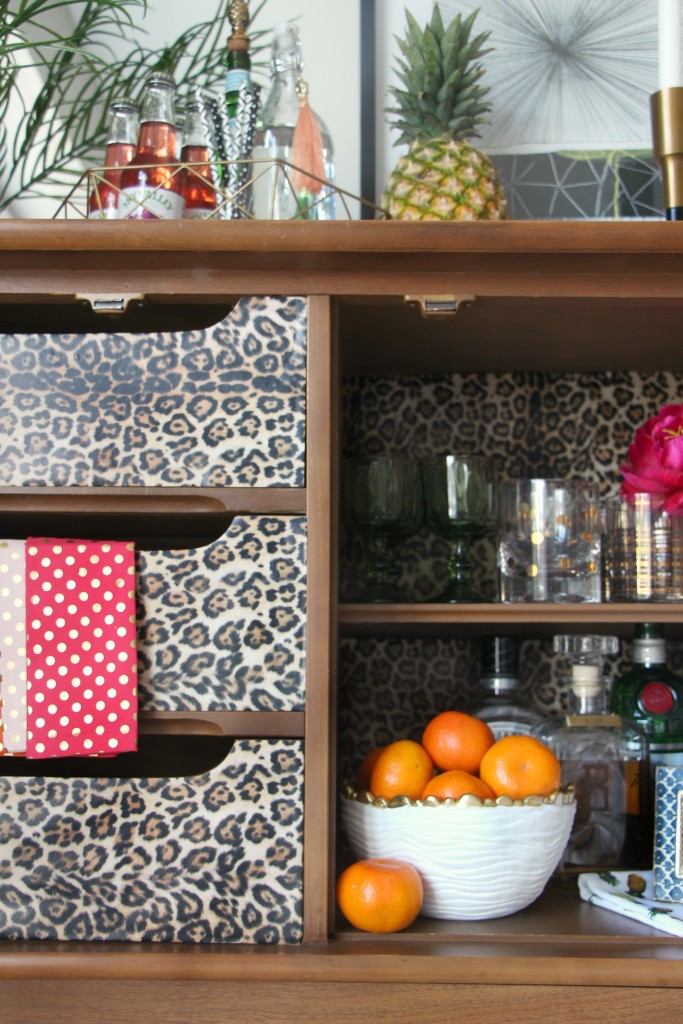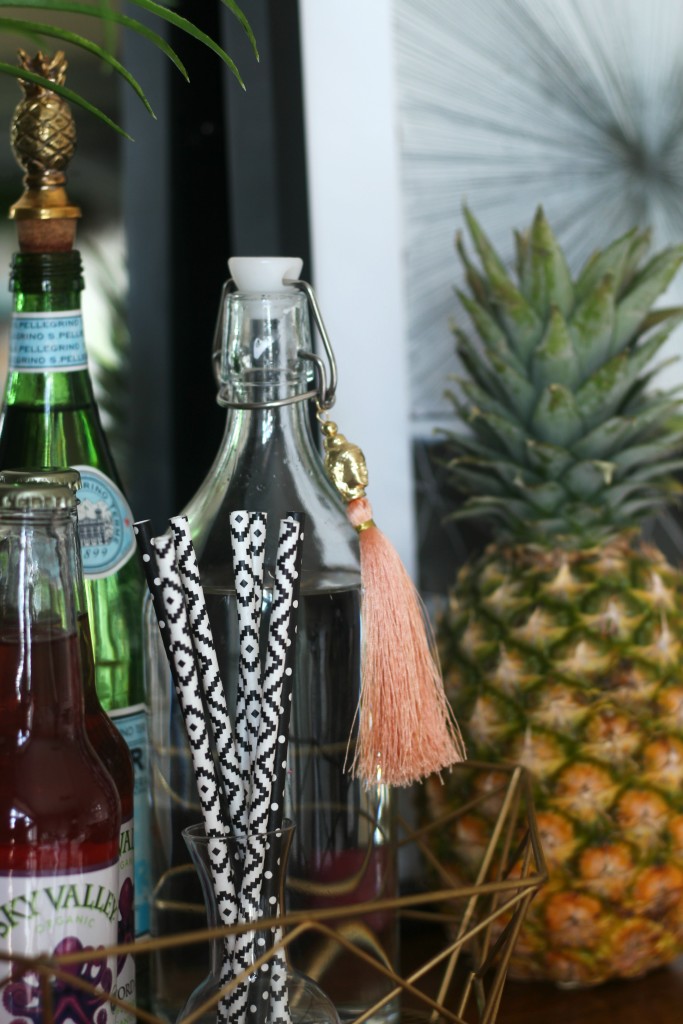 On the opposite side of the living room is a bookcase we've had for years. Its pretty large and very dark [I'm itching to makeover the back of the bookcase, but I'll have to save that for the next house…stay tuned…]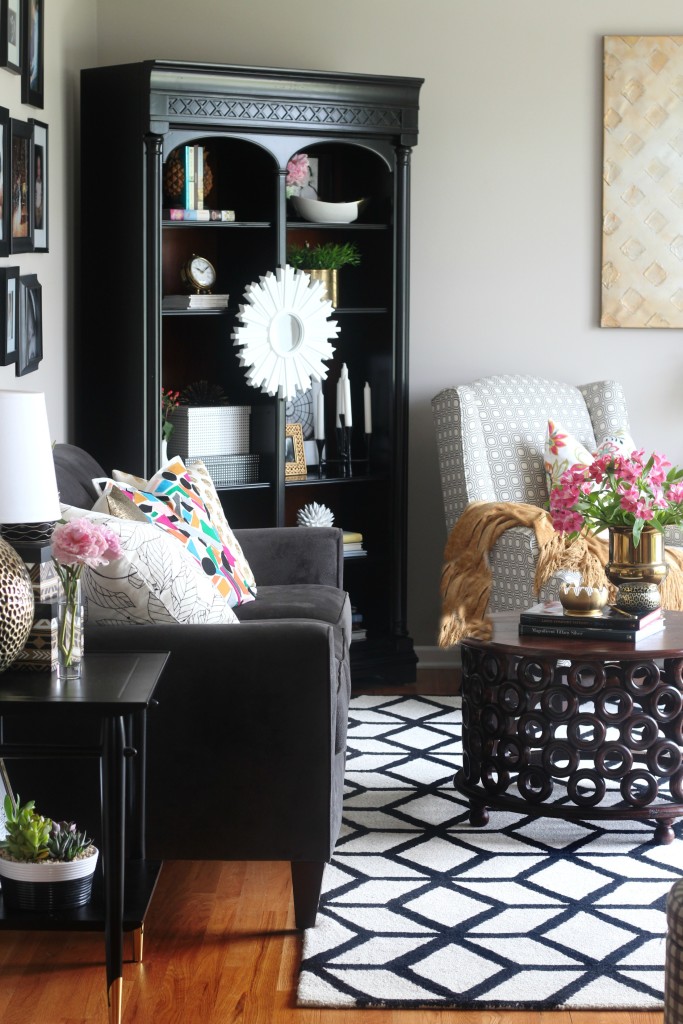 I simply added some fresh flowers, shined up this brass lidded bucket-turned-planter and set out some books with brightly colored spines. Easy peasy!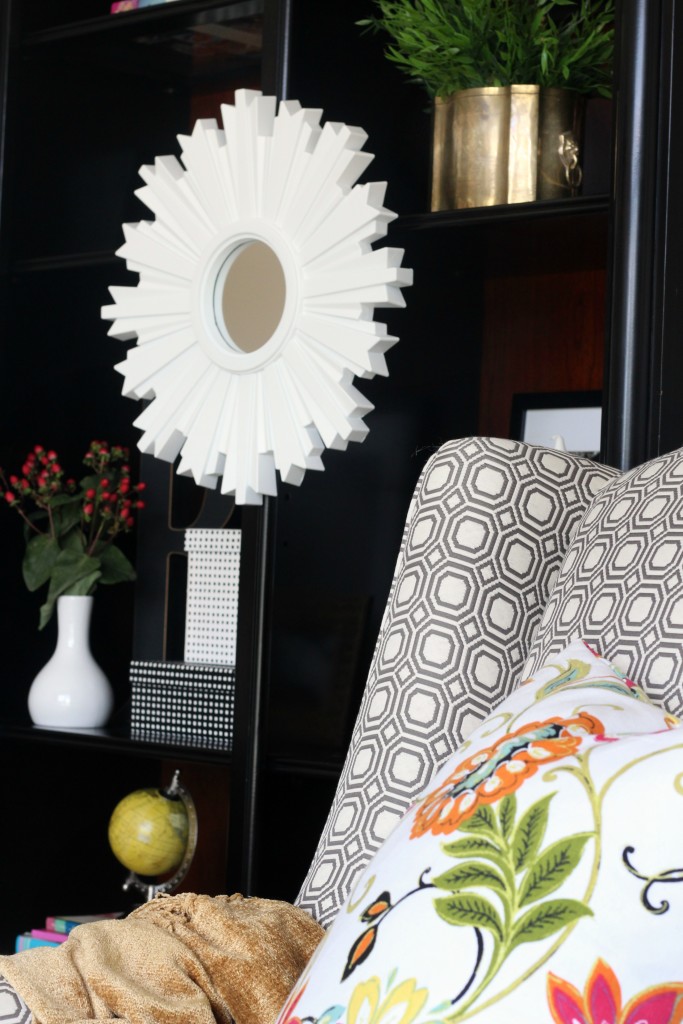 faux greens | globe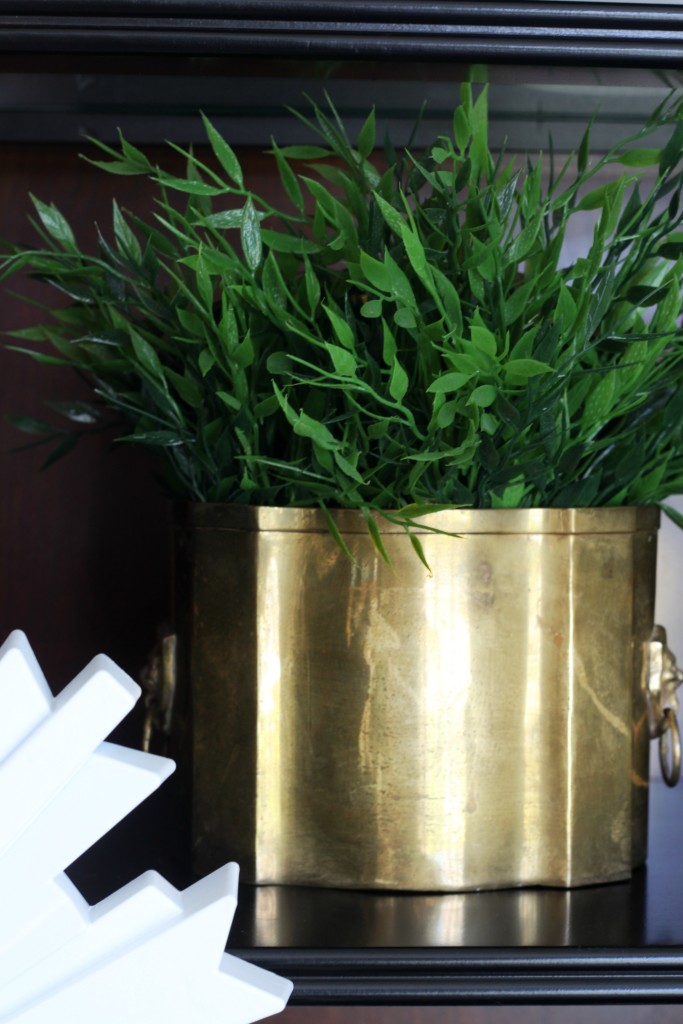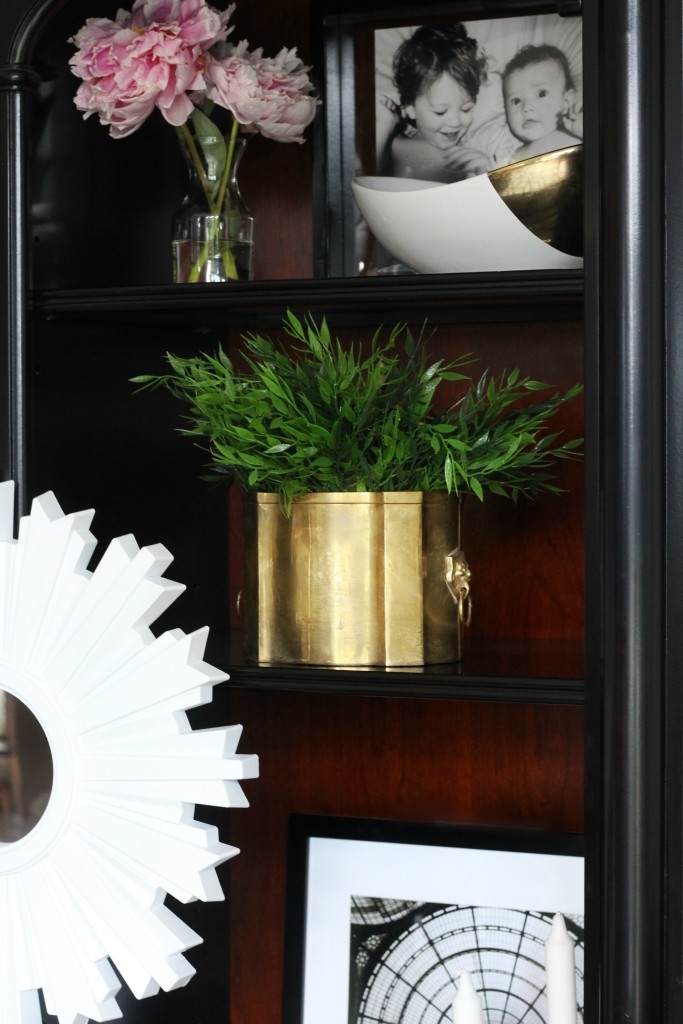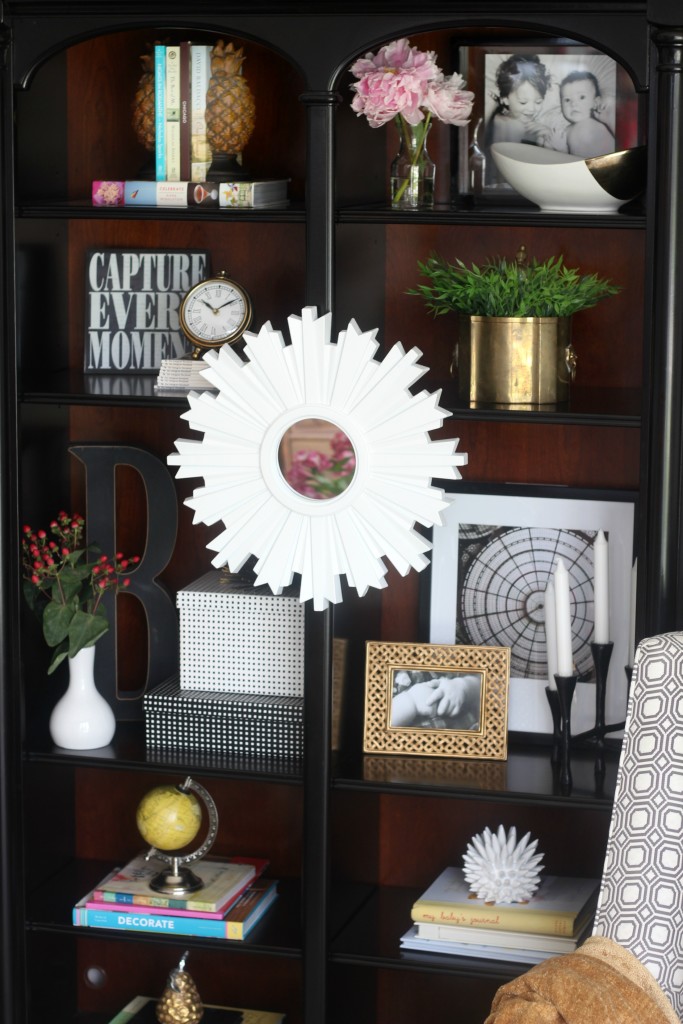 clock | black taper holder | white urchin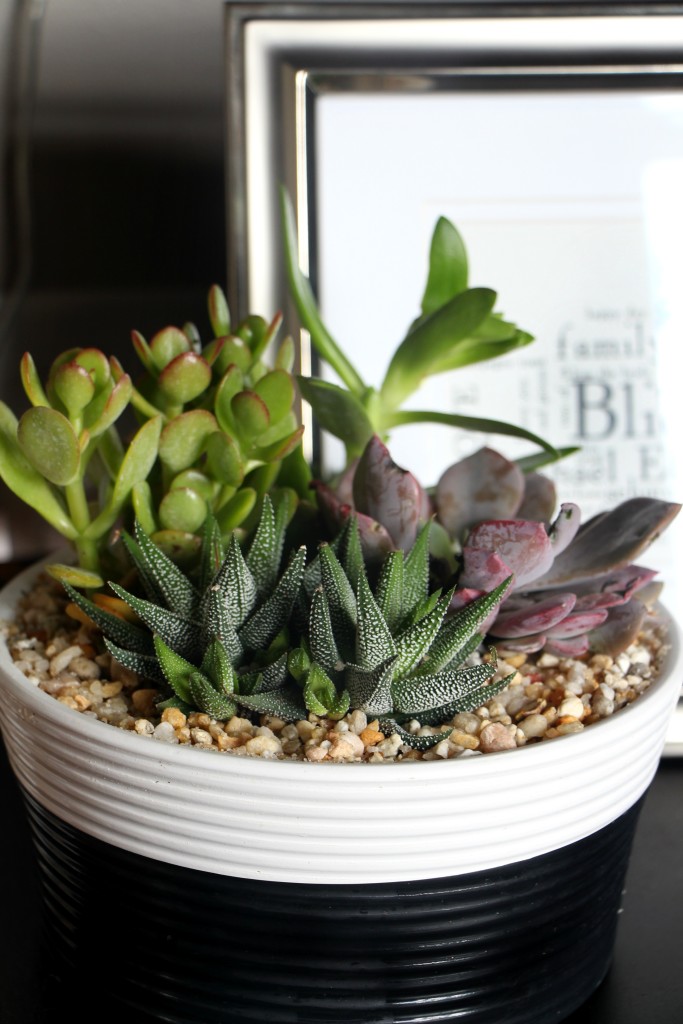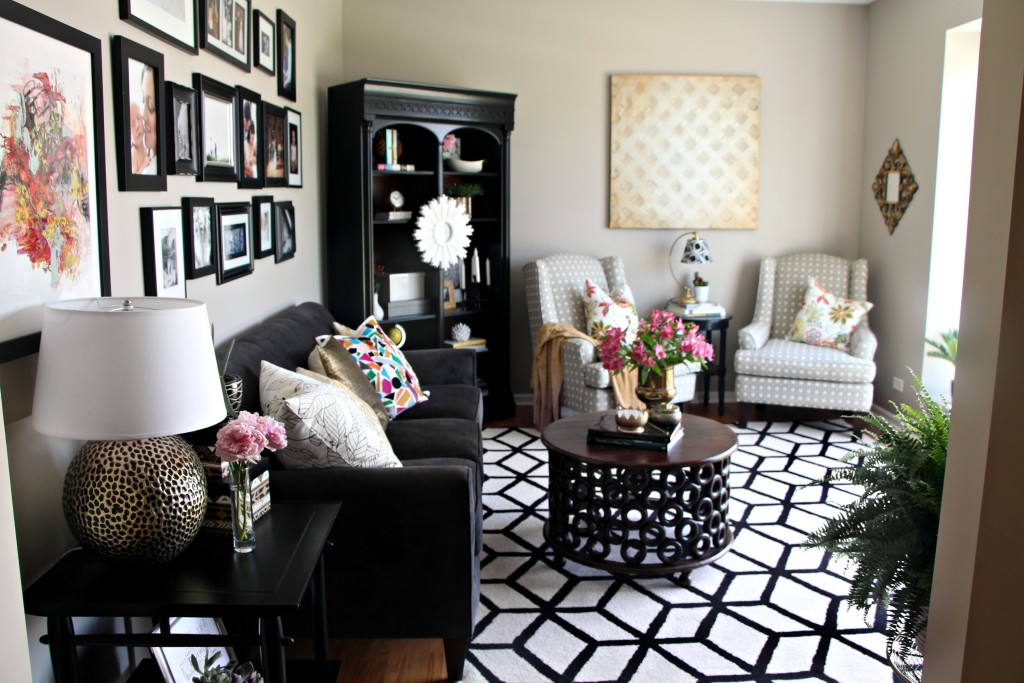 Now, let's head down the hallway and peek into the family room…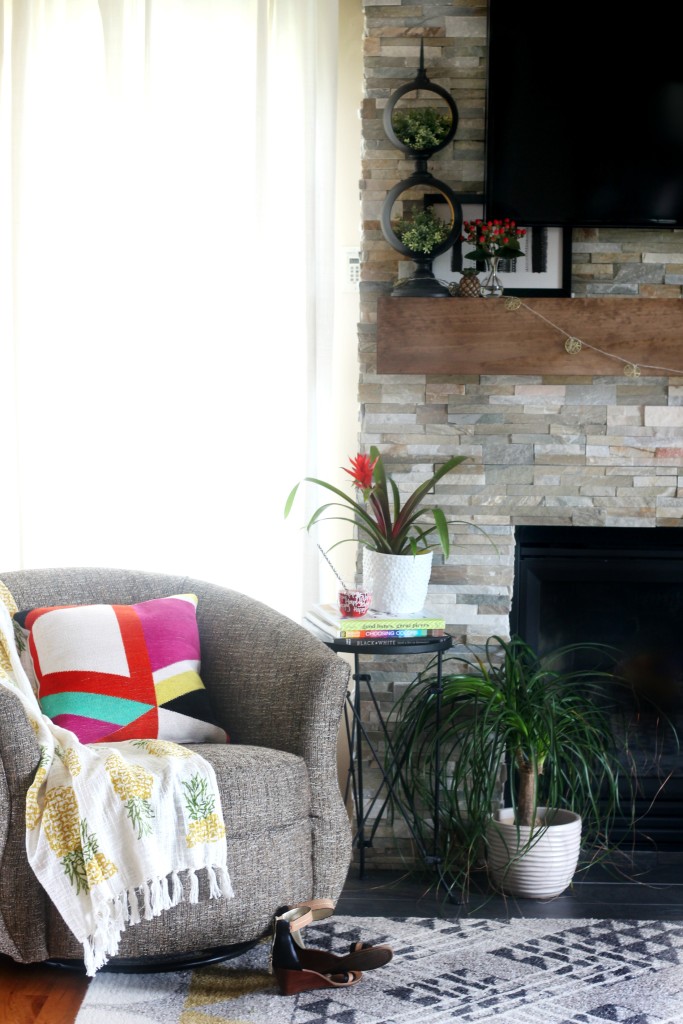 A fun summery throw, a bright pillow, fresh greens and simple mantel styling and this room was summer-ready!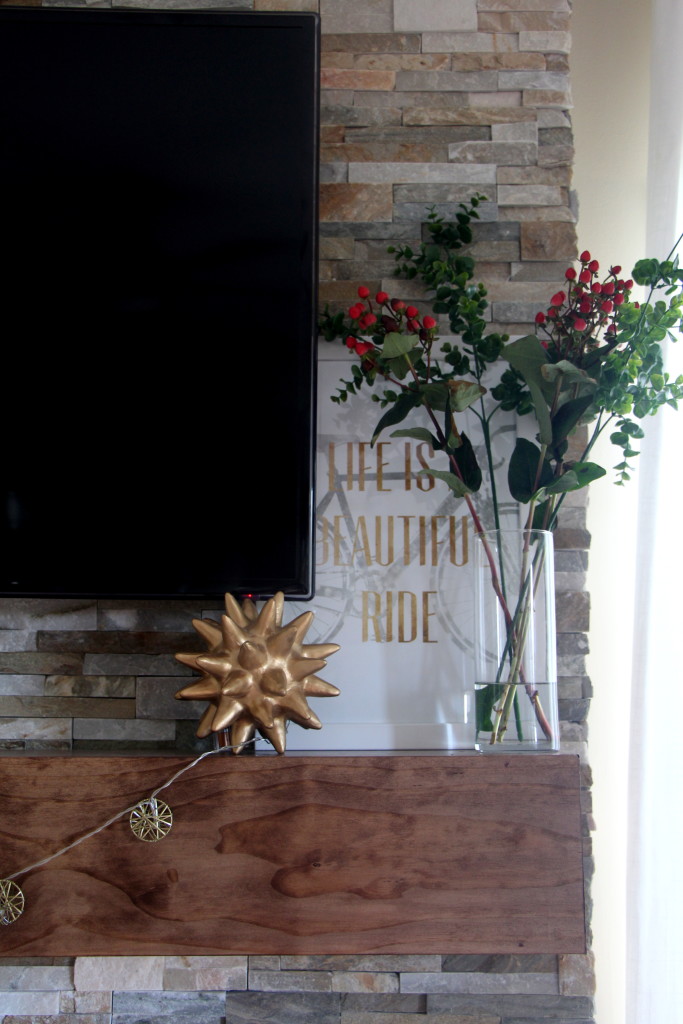 I shopped my house to style my mantel as I do 90% of the time. It makes me happy to use items in different spaces and my bank account thanks me for it as well! I pulled this word art piece from our Powder Room and the gold urchin was tucked away in my decor stash. I always have a ton of vases on hand, but I especially love to have a few tall cylinder vases around. They are great to use for a quick DIY vase project, but also look simple and elegant with a few stems placed in water. I get mine at the Dollar Tree.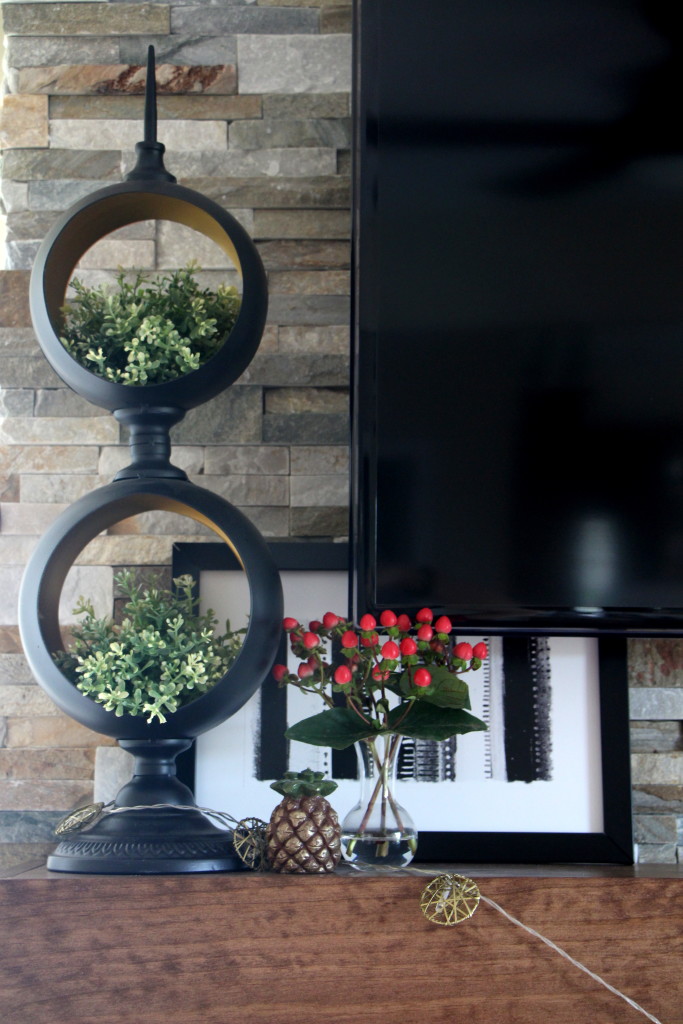 On the other side of the mantel, I added some faux freens to this black and gold piece [I couldn't tell you what it is?!] and a few trimmed hypericum stems [from the same bundle as the ones on the other side] in a bud vase, in front of a piece of black and white abstract art that previously lived in our guestroom.
Oh and that cute little pineapple is a candle that I "borrowed" from my mom the last time I was home visiting my parents 😉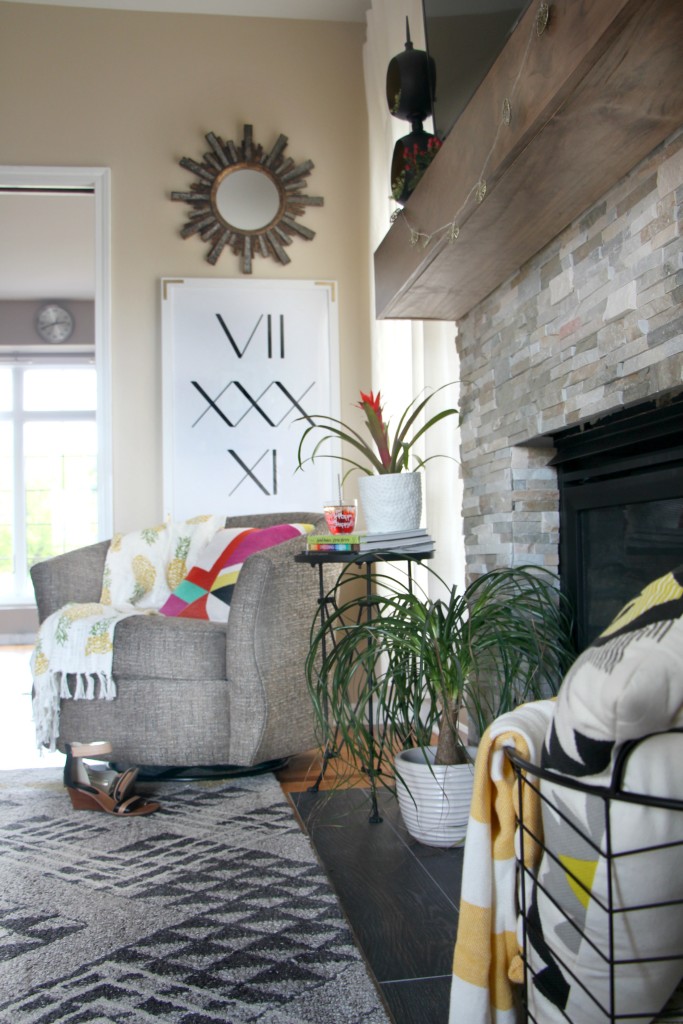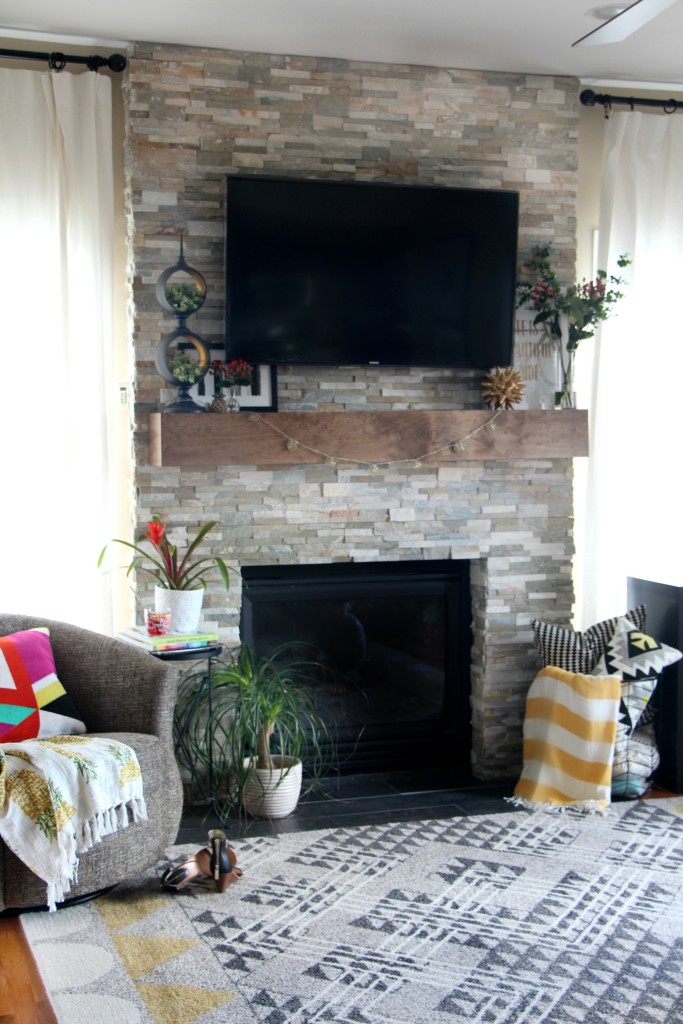 pineapple throw | multi-color geo pillow | yellow striped throw | geometric pillow
This room is the heart of our home and where we spend 80% of our waking hours together – lounging on the couch watching shows and movies…or circled up playing cars, puzzles, you name it or having family dance parties right here on the rug. If you look closely, you can see the biggest's reflection in the fireplace as he sits on the floor putting together a puzzle. He says he likes to help me "work" 😉
I'm so in love with this white hobnail planter – I think I need to go back and get a few more! The texture of the porcelain is fabulous!! And these "happy" glasses will forever be my favorite glass to drink out of. I mean, come on. Right?! #happy
Directly behind the family room is our eat-in kitchen area where we eat all of our meals. We don't have a formal dining room anymore after turning it into the playroom, equipped with the boys' reading nook.
This table serves its purpose and fits us just fine, but it does have a leaf we're able to pop in for extra dinner guests!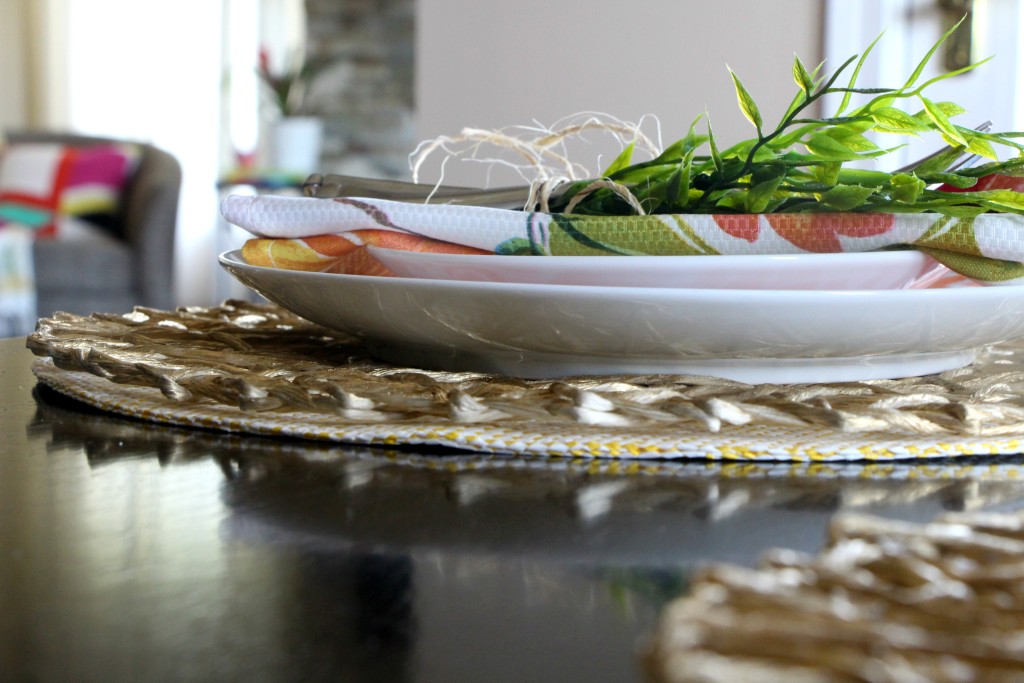 I'll be sharing an entire post on this simple summer table, but I'll leave you with a few photos for now…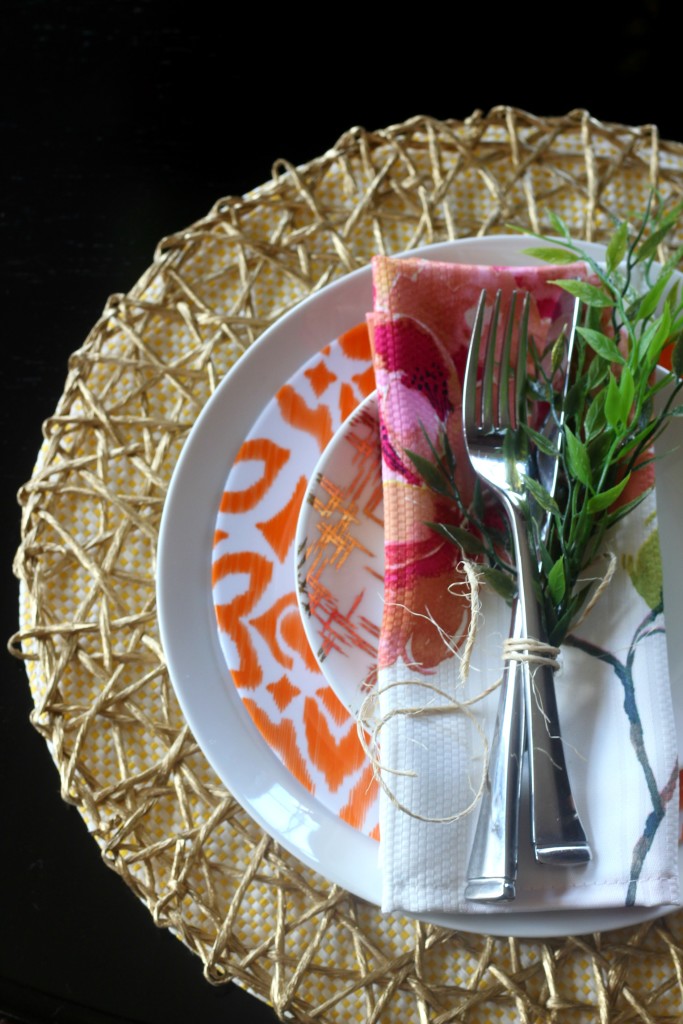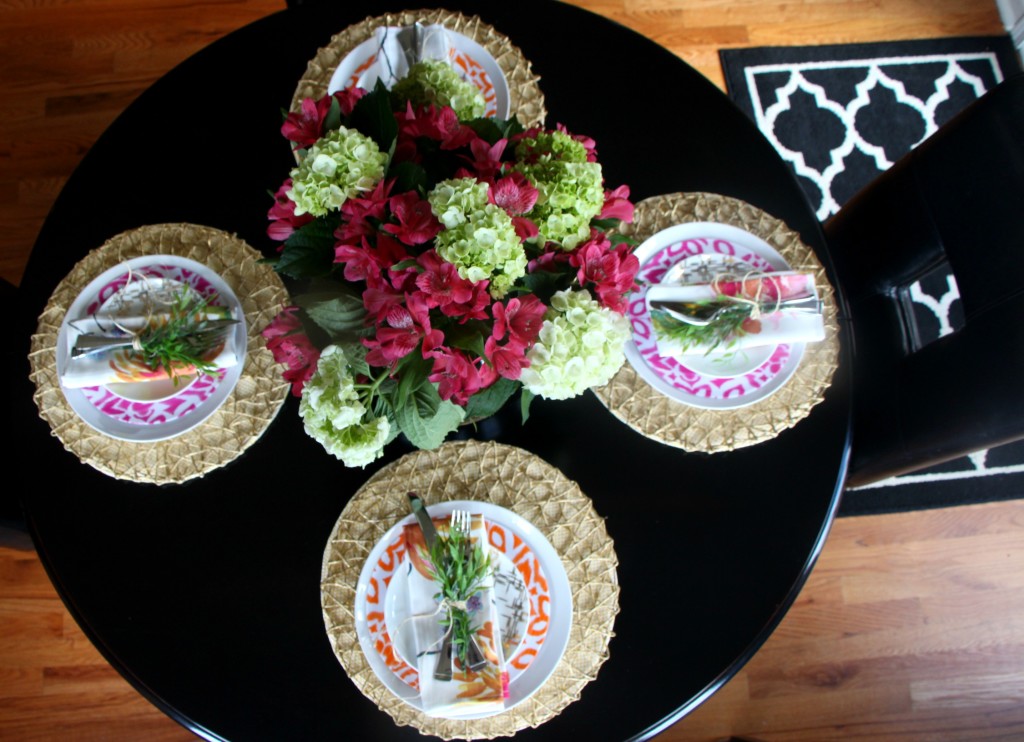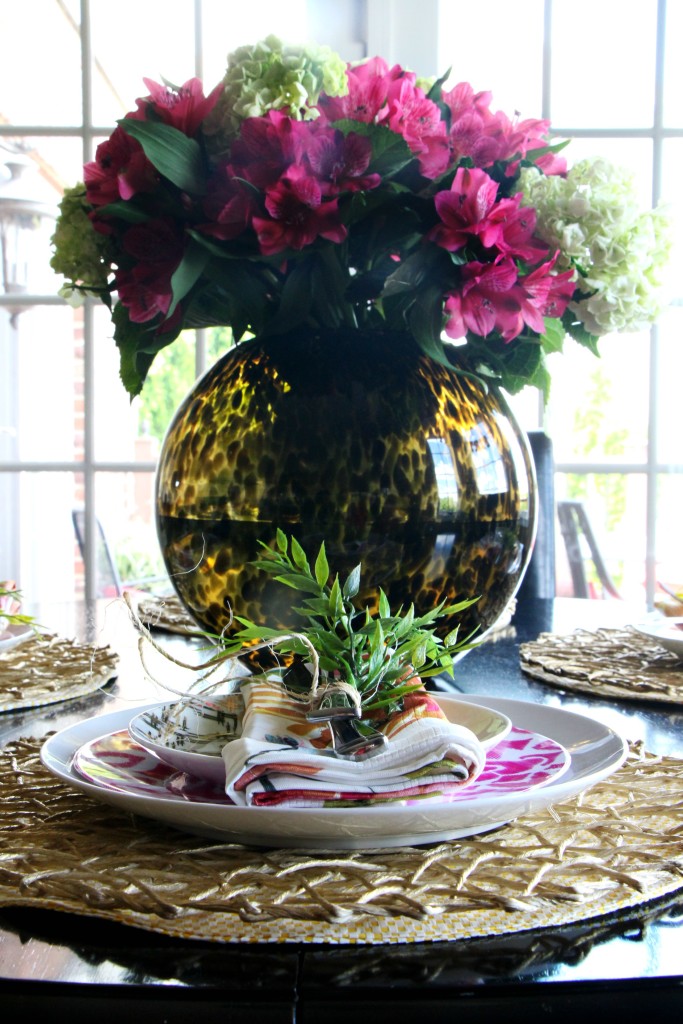 And that wraps up my Summer Home Tour 2016! As we get settled into our new digs this summer, I'll be sharing snippets with you, but as you can imagine its probably going to be juuust a little while before I have a room ready to reveal, let alone a house tour. I have been itching to get my hands on the new house, though, so maybe I'll be able to whip something together sooner than I think!
Thank you for letting me share my home with you. I hope you were able to find some summer inspiration while you were here. Now, its time to head on over to the rest of the Tuesday tours! And don't forget to peek at Monday's, too. They are sooo good, you guys! I'll be updating the links below throughout the week, so pop back and see what's new each day this week. I promise loads of beautifully styled summer spaces!
 Have a wonderful day!