You know when you see something and you get this overwhelming feeling like… I just HAVE to have that! Well, I've been on a mission lately to do some last minute summer sprucing around the house before we move, but buying new decor for this house just wasn't in the budget and didn't really make much sense.
What if it wouldn't work in the new house? What if it was an impulse buy and I didn't truly love it?
You know what my answer was?… Just THRIFT it.
Today, I'll be sharing, not ONE, but TWO madeover thrifted finds for this month's "It's So Ugly It's Cool" Challenge. I'm going to show you how I scooped up my thrifted pieces, worked a little DIY magic and transformed my thrifted finds into beautiful, functional pieces at an affordable price just in time to style our home for summer!
First up, is this adorable little brass lidded bucket with lion head pulls on the sides. I love a gold…well, anything and thought this would make a great addition to my bookcase shelves.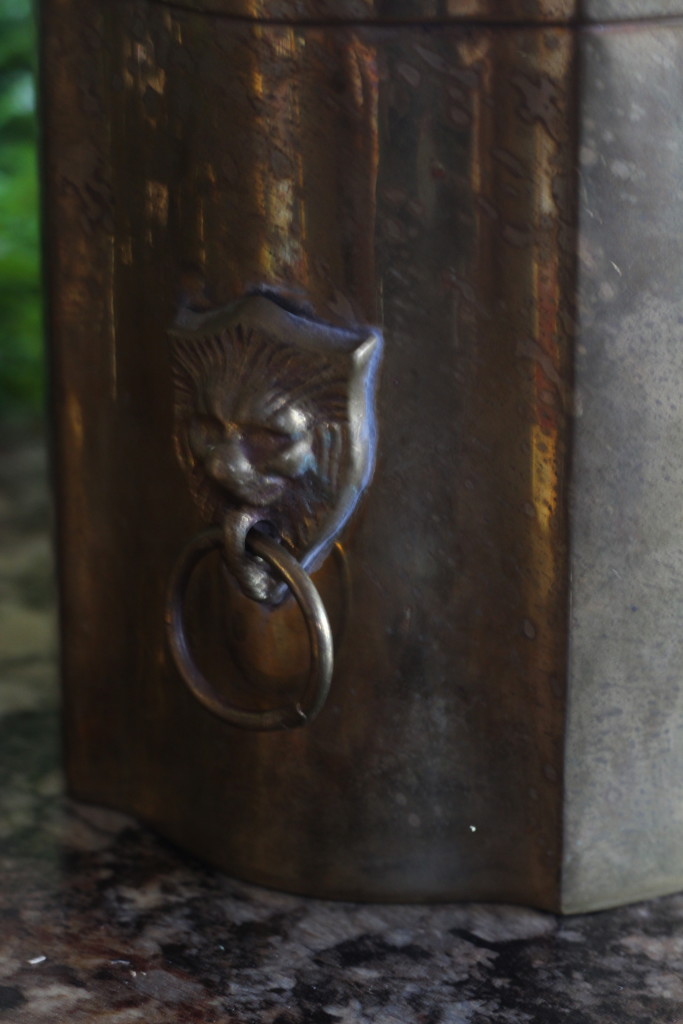 As you can see, it needed some TLC, so I got to work.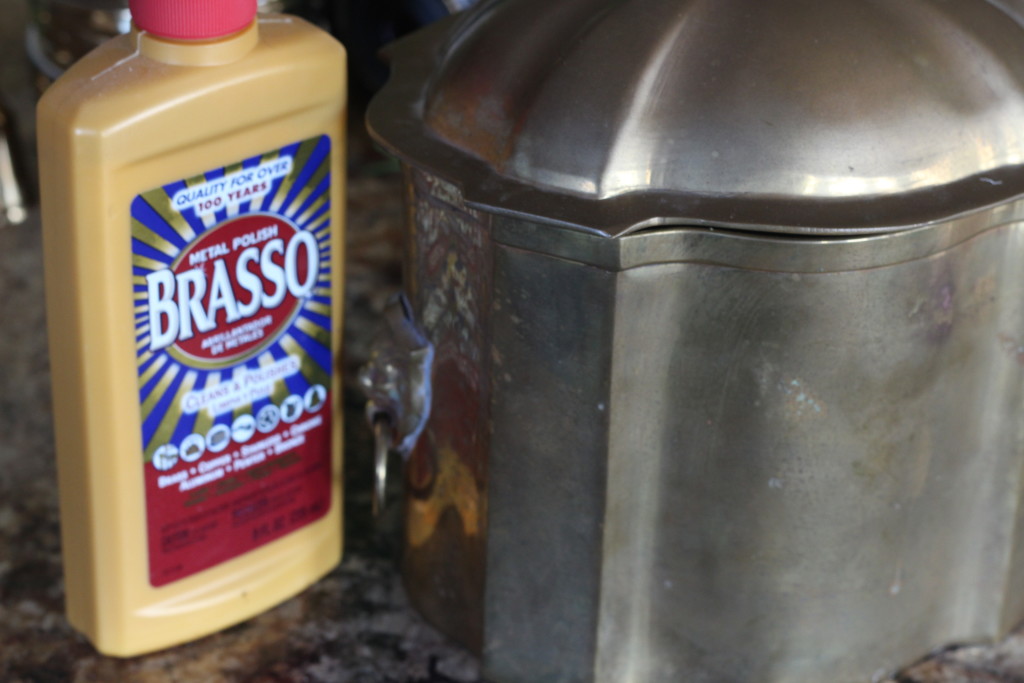 [affiliate links were used in this post.]
I pulled some of this life-changing solution out of the cupboard, dabbed some on an old, dry rag and applied it to the brass surface, firmly moving in a circular motion to buff out the tarnished spots and clean off the dirt and grime. Reapply more to the cloth and keep scrubbing it down.
My cloth looked like this pretty quickly…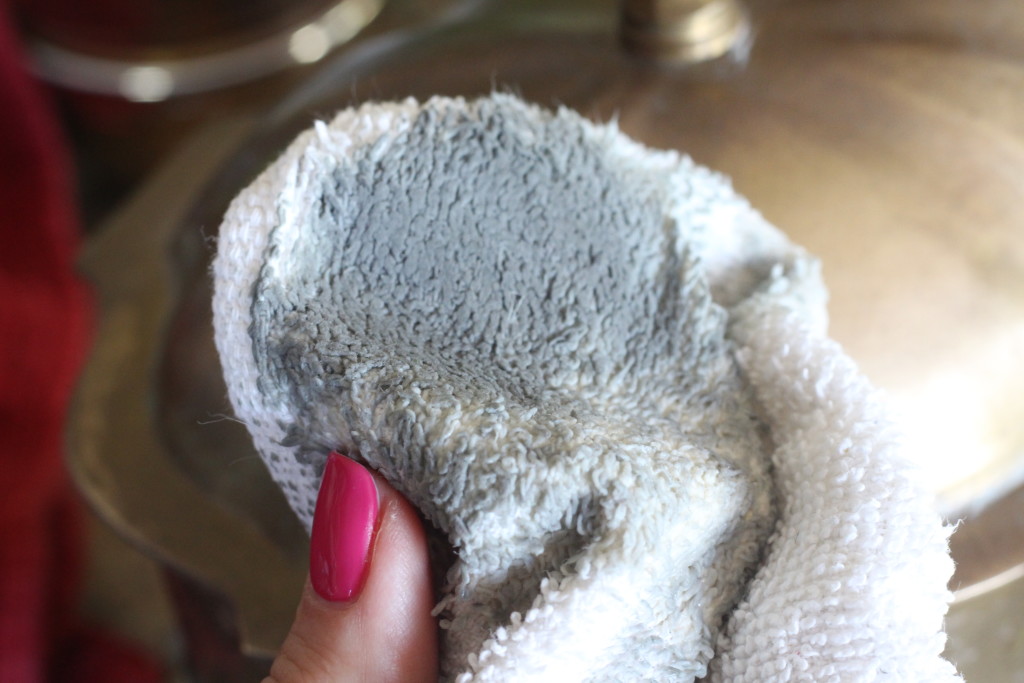 Before long, the entire cloth was full of it! Once I thought the piece was in good shape, I took another dry cloth and wiped any excess solution off.
Bright, shiny and good as new!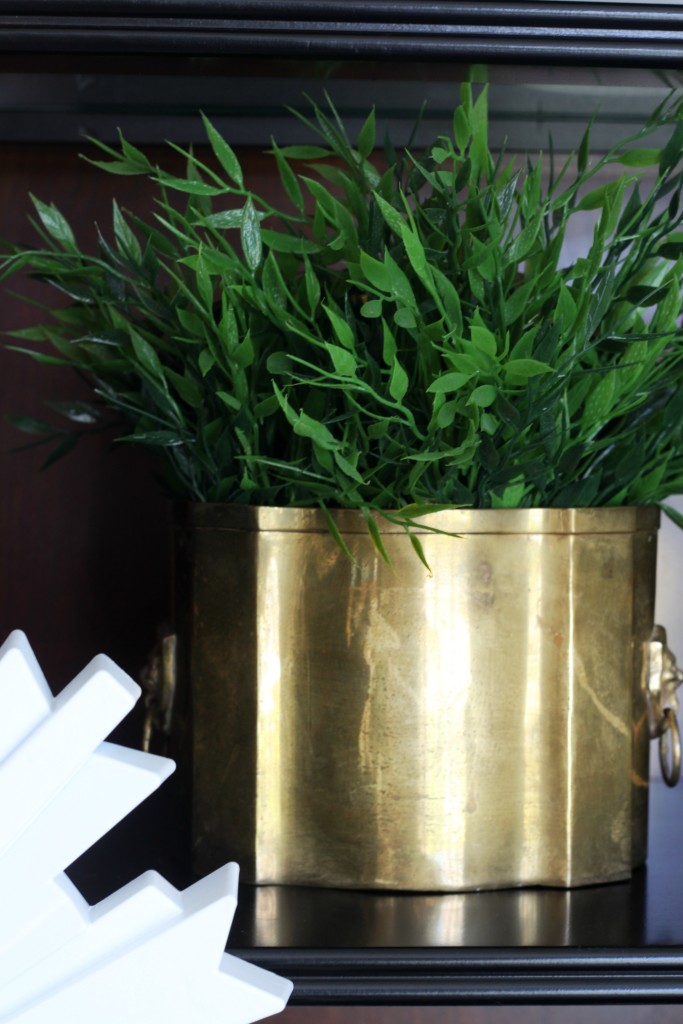 With a vintage piece like this, there are still going to be some dents and dings, but that's part of the beauty! The best thing you can do for it is give it a good ol' cleaning and polish and set it out to be admired. I decided to add a couple of faux plants inside and then rested the hinged lid on top of them. Then I popped it on the shelf  in my bookcase.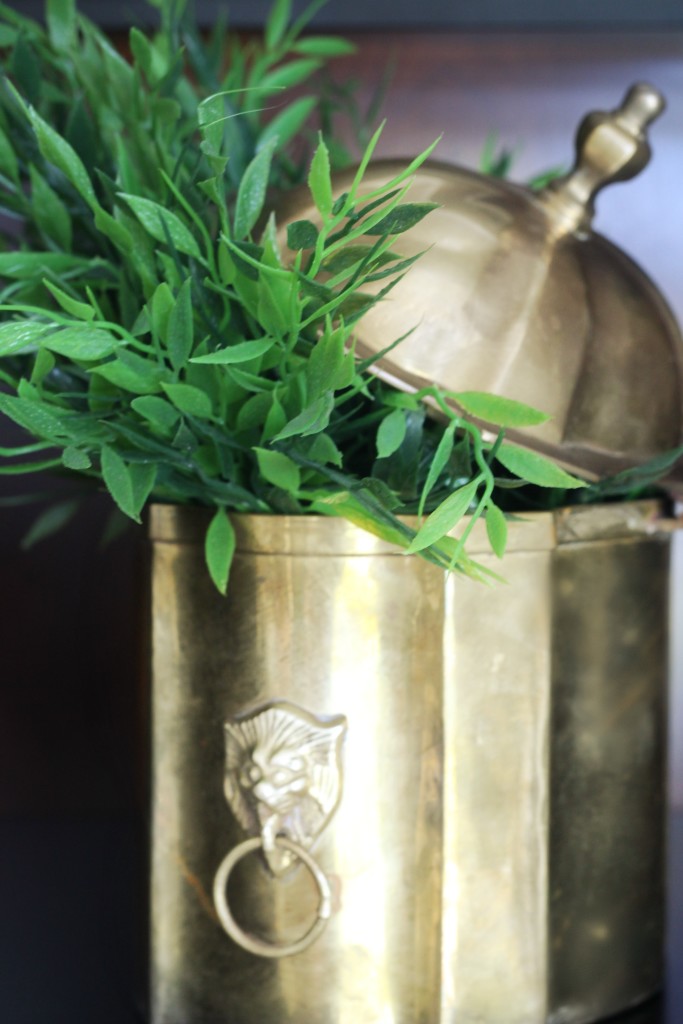 Instant summer greens!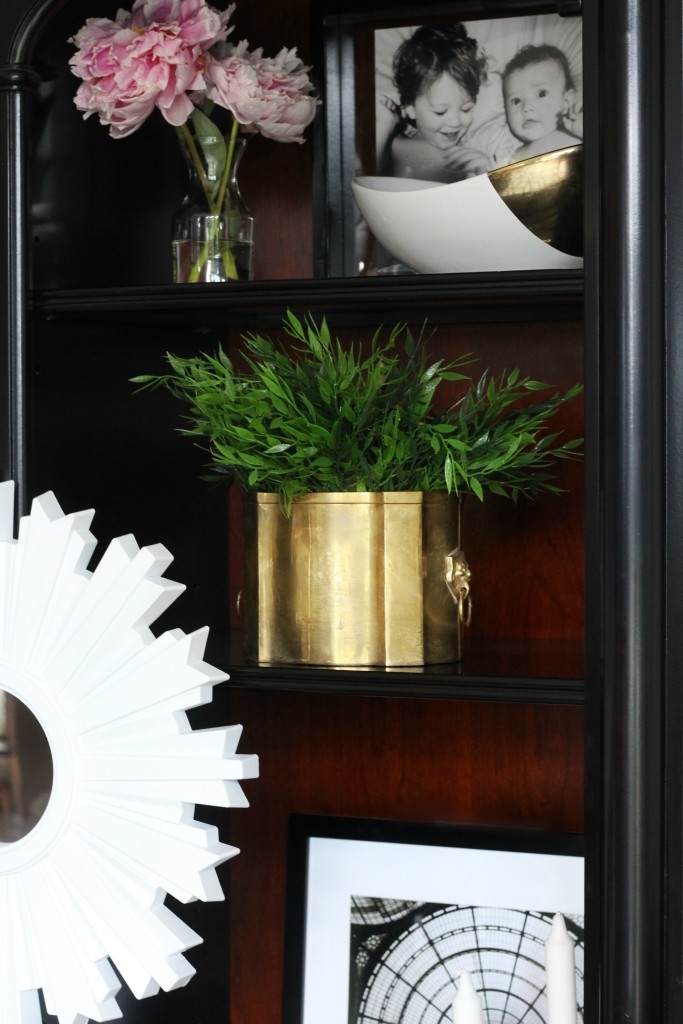 You'll be able to eye more of the summer styled bookcase soon 😉
Now, onto my second piece!
Ok, so you saw my indoor bar set-up across the room from the bookcase a couple of weeks ago for the Eddie Ross Inspired by DIY challenge.
Do you remember the pink mirror?!
Well, it wasn't pink to begin with. In fact, it was a bit tattered and quite dirty when I found her.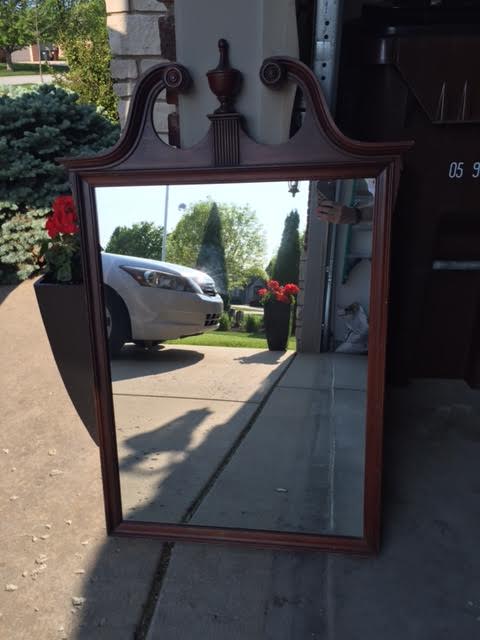 I should've taken a close-up of some of the knicks and chips so you could see what I'm talking about. Sorry—Just use your imagination!
After bringing it home, I simply wiped the frame down with a damp paper towel, slid pieces of printer paper inside and under the edges to cover the entire mirror and then applied 3 – 4 coats of watermelon spray paint.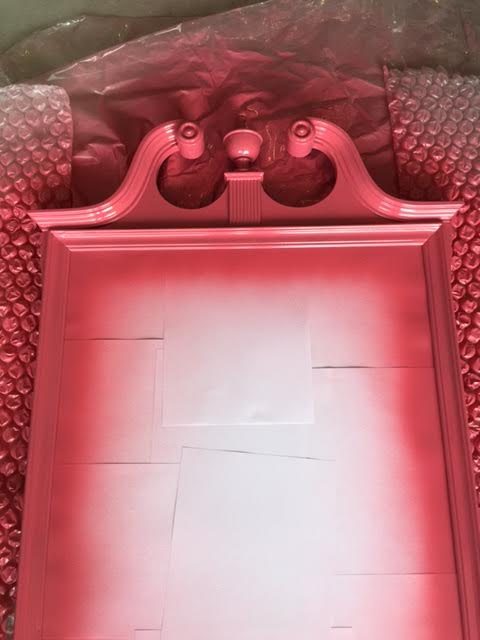 I waited about 20 – 30 minutes between coats, but I would recommend at least an hour. I was super antsy and was working on a deadline, so you can imagine I was trying to hurry it along 😉
The wooden frame had tons of dents, nicks and scratches, but a few liberal coats of the glossy spray paint hid the imperfections quite well. After I was satisfied with the coverage, I let it sit for another 2-3 hours before I windexed the mirror and brought it inside to put in place. Again, I would have liked to let it sit overnight to fully dry and "cure", but like I said, time was a ticking.
And if you missed the indoor summer bar post, here are a couple photos of the mirror styled on top of the bar…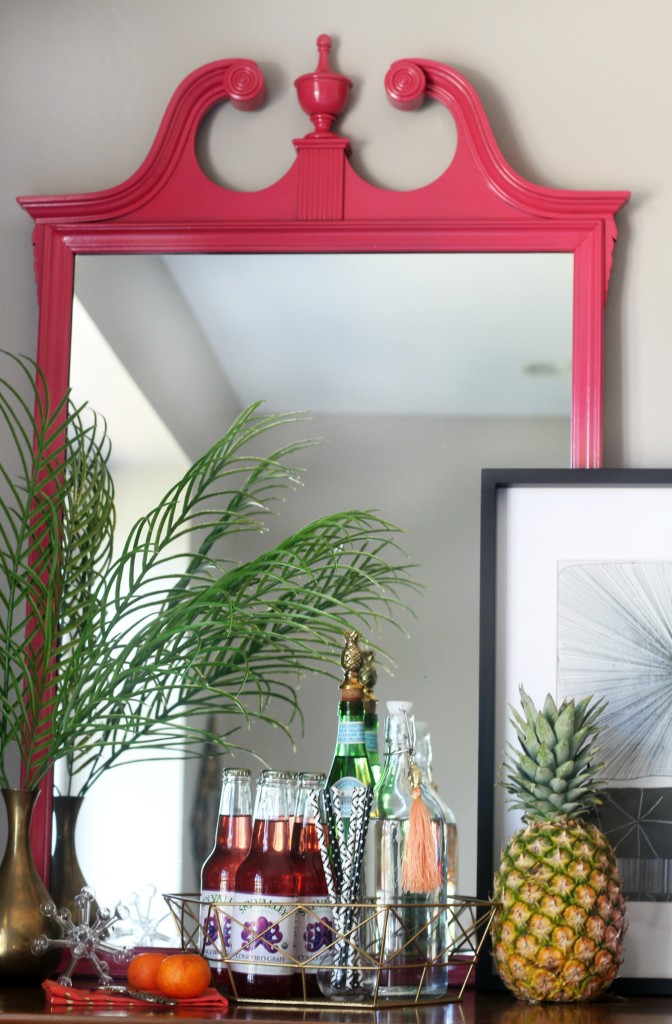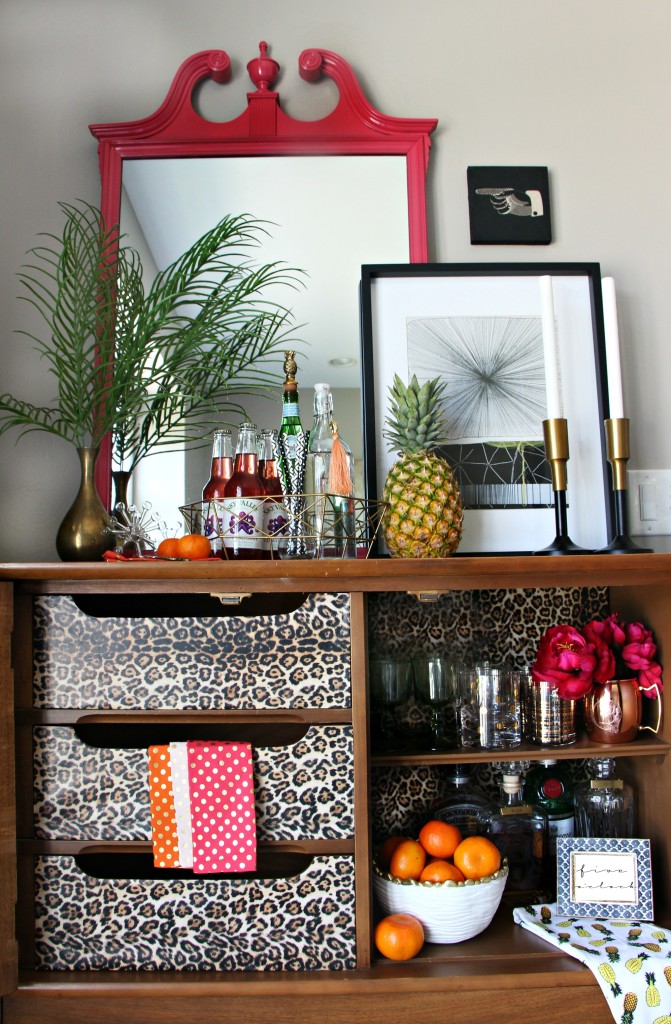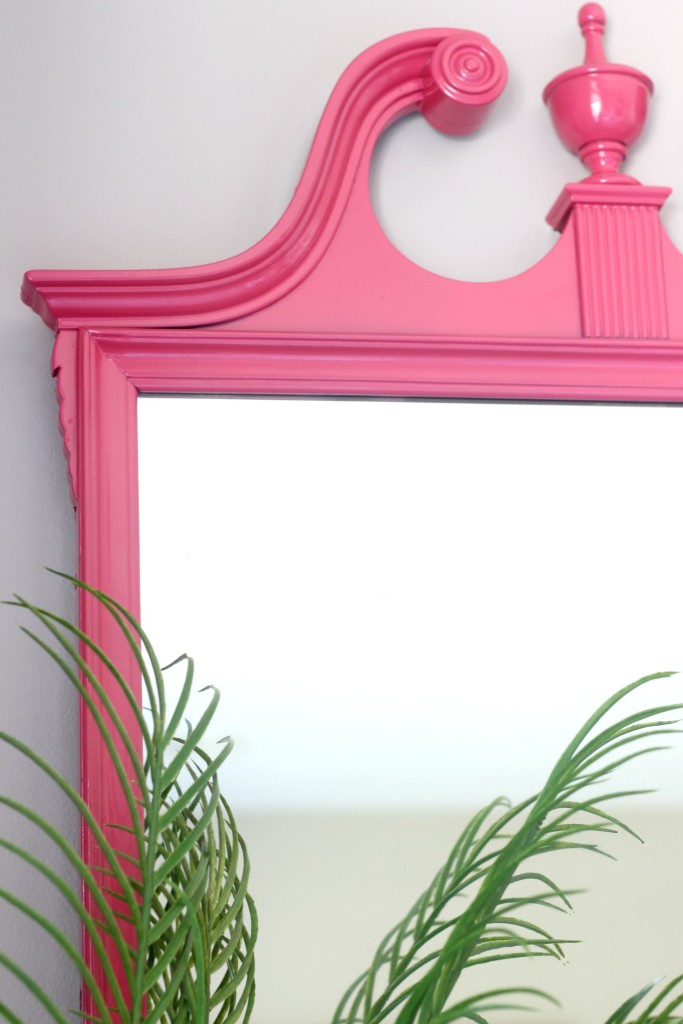 It's hard to tell she was a sad old brown wooden mirror before, right?!
All it took was a little elbow grease and a few simple, inexpensive supplies to take these 2 thrifted finds from drab to fab!
Have you scored any thrifted finds lately that needed some love? What did you do to transform your piece? Was there spray-paint involved?! [Admittedly, its one of my all-time favorite ways to give something new life!]
Like I mentioned, these pieces got a mini facelift in preparation for my summer home tour! This was a sneak peek, so be sure to check out the rest of the house styled for summer here!
Don't forget to pin for later…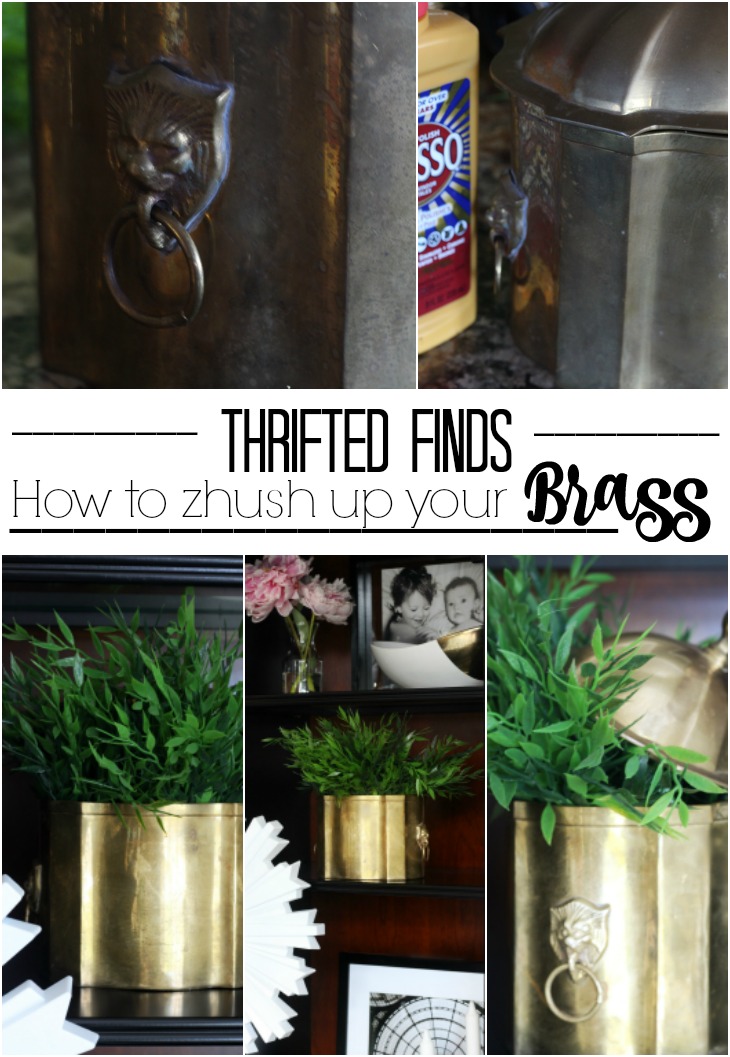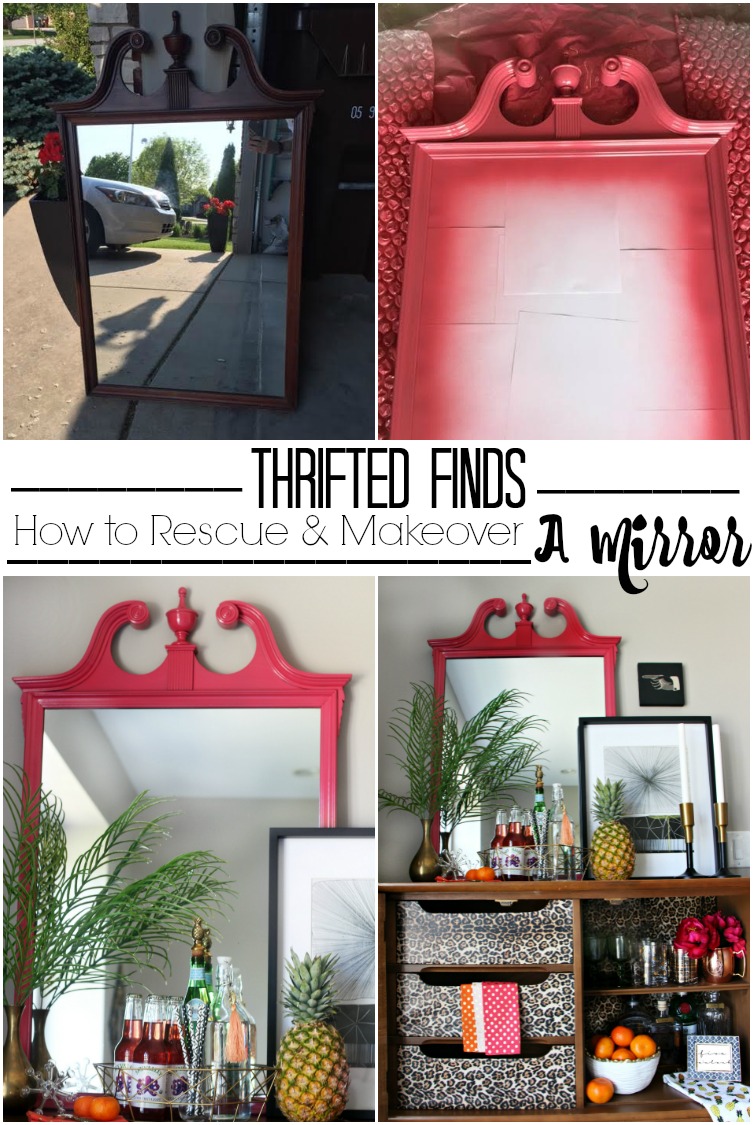 Now, on to see the others' spectacular work this month! Be sure to stop by and see what they've been up to and pin some of their fabulous ideas for future thrifting and DIY reference!
See you back here soon! Have a wonderful day!