Empty house tour?
Yep, I'm going to show you what our house looked like when we strolled through the front door 4 short weeks ago. 4, I know! Crazy, right?! These photos were taken before the moving trucks came and dumped 27,681 boxes inside. I didn't think we would ever have a single cleared-out space. But we do. A couple, actually. The boxes were stacked to the ceiling and the boys found weaving in and out of the mazes to be quite entertaining. Me on the other hand, I wanted to snap my finger and make them all disappear.
Starting out in new home, new neighborhood in a new city without any family within an hour or more can be super overwhelming and quite intimidating. Certain things take some getting used to. Change is a very good thing, though. It keeps us flexible, gives us new experiences and teaches us to adapt and accept the challenges and adventures around the corner.  But the truth is…change can be plain hard.  Amidst the coo-koo craziness, I'm doing my best to keep a positive attitude and just roll with it. One things for sure, I am SO thankful the boys have adjusted like champs. I mean, complete rock stars. The littlest's nap schedule didn't skip a beat and both have slept through the night with the exception of a really bad thunderstorm on our very first night! The biggest even moved from his toddler bed to a full-sized bed seamlessly during our second week here. The move has had its challenges, but all of those minor things aside, I truly have zero complaints. After all, T's commute went from 2 hours down to 20 minutes after the move. I think the last 4 months in the old house were the toughest because he was never there! So, now that we're here, the walls are ready for fresh paint and then the fun begins. Bring on the decorating! There's nothing like a blank slate and I can't wait to get my hands on it 😉
Below, are a few shots of the new house on day number 1. Welcome to our new home.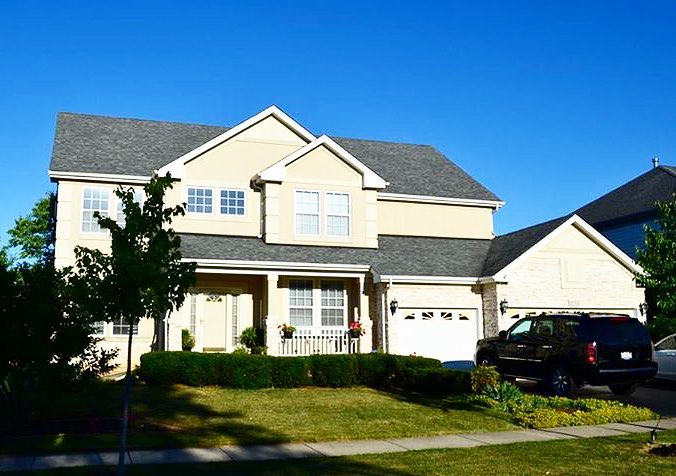 I will get around to taking another shot of the exterior of the house [without the cars in the driveway!], but this was a quick snap a few nights ago.
The house was built in 2000, is 3,300 square feet, 4 bedrooms, 4.5 baths, with a 3 car garage and sits on .25 acre of land.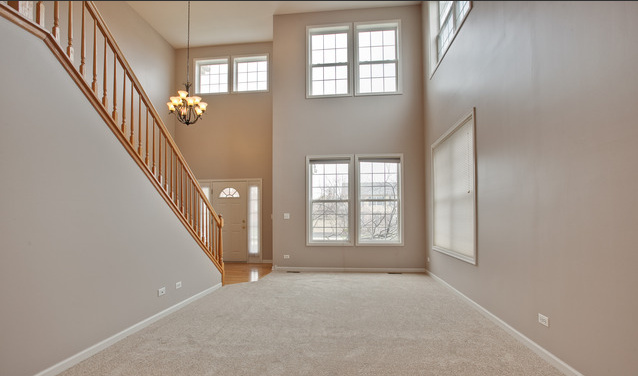 Ahh the entry!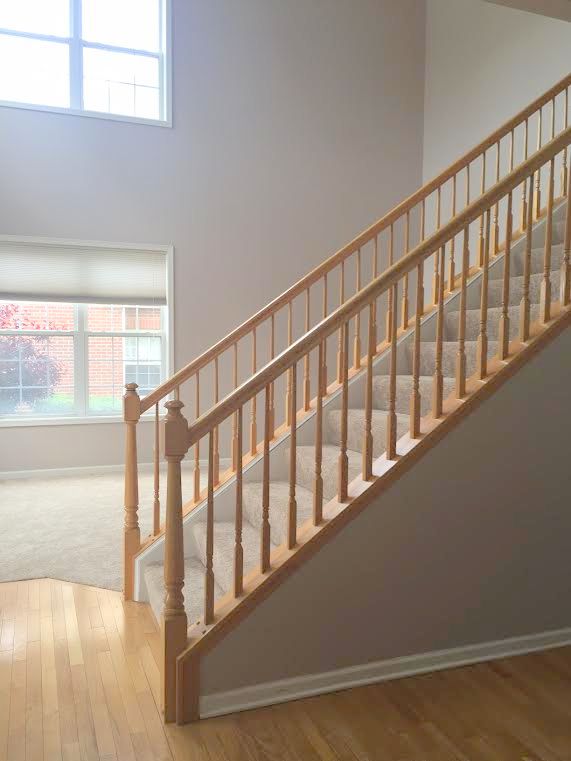 I love the 2 story entryway opening up to the formal living room, leading right into the dining room. Yes, I have a dining room again since we have a separate space for the playroom on the main floor! I already have BIG dreams for the staircase, but they are on the "someday" list. The walls, however, are being painted at this very moment. I'm going with a color I've never done before. I should be able to show you soon.
The yellow dining room…ahhh yes. There are actually several rooms painted this color – 3 bathrooms, actually. As much as I want to get this room in shape, I'm going to put it on the back-burner because we need to buy a dining room table and I want to do something snazzy with the walls and ceiling. At this point, the window treatments are off and the room is loaded with unpacked boxes and quite possibly every single picture frame I've ever owned. T claims there is 9,000, but I think there's only 8,000.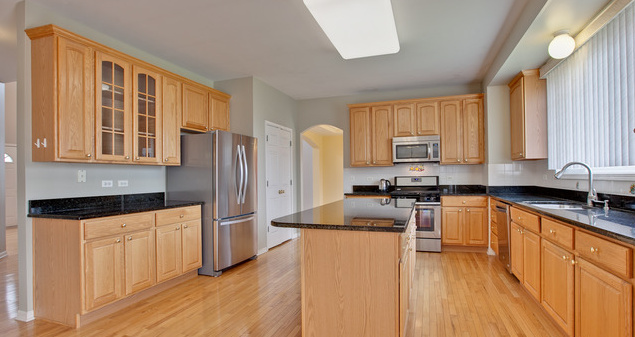 To the right of the dining room is our kitchen and I can tell you, I want to do A LOT in here! The granite and new appliances will stay, but the rest I hope to say goodbye to at some point. I do love the space and the best part is that it opens right up to the family room — perfect for nights at home as a family, meal prep while the kids play and entertaining with friends. I can't wait!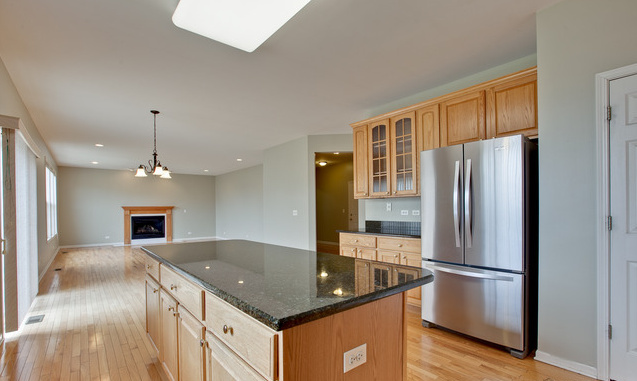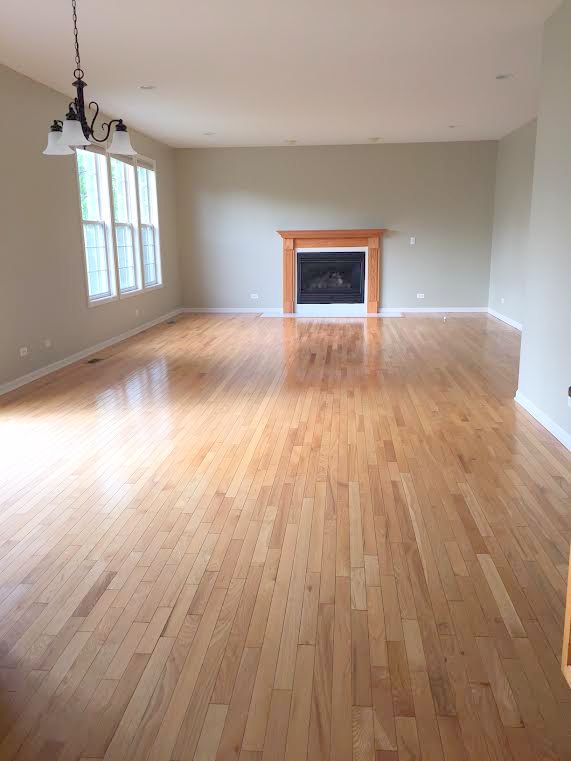 To the right of this room is a hallway with a mudroom, laundry room and powder room. Trust me, there will be some great before photos to share after I start tackling those spaces! Past that hallway and right back to the front of the house is this "den"…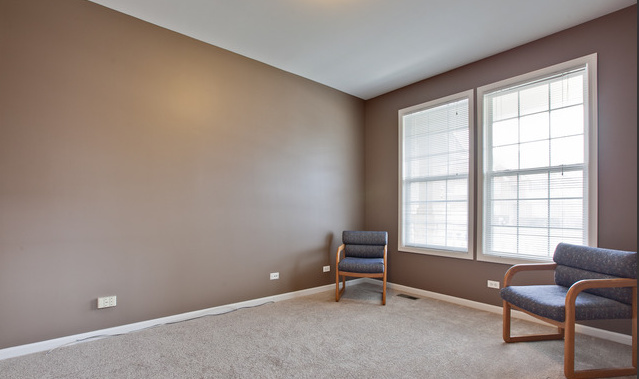 The space immediately became the playroom. It's been painted and is already filled with toys. I have a few ideas brewing for some wall decor and window treatments. Deets coming soon!
Now let's head upstairs. When you reach the top of the staircase, there is a bedroom with a bathroom inside…Perfect for overnight guests. This room is actually going to become a shared space – guestroom / office. I want a place to store my craft and diy supplies, alongside my desk without having to be on the mainfloor or basement. It isn't the biggest of rooms and my furniture isn't exactly petite, so its a bit scrunched at the moment. Nothing is carved in stone, yet, so there might be changes happening even before I show you what round one looks like! Oh and more yellow.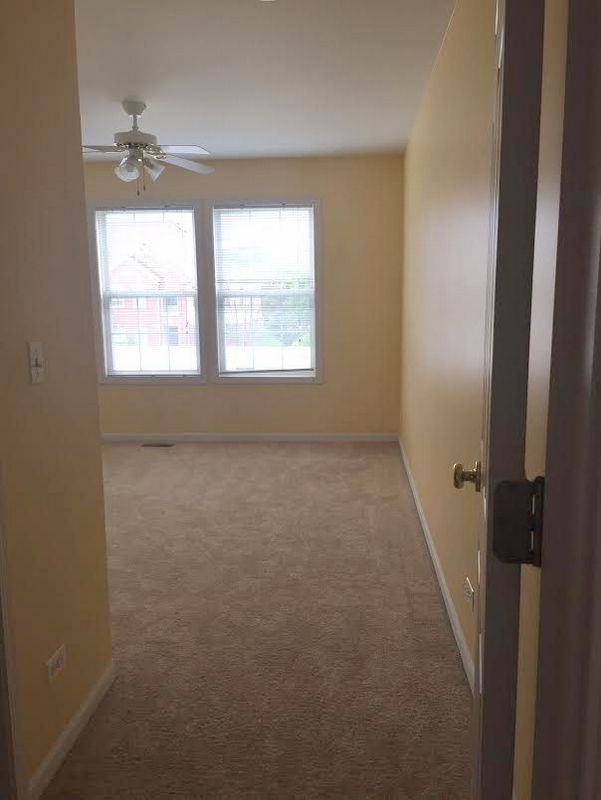 Across the hall are 2 additional bedrooms with a Jack and Jill bathroom. Right now the littlest is in this one…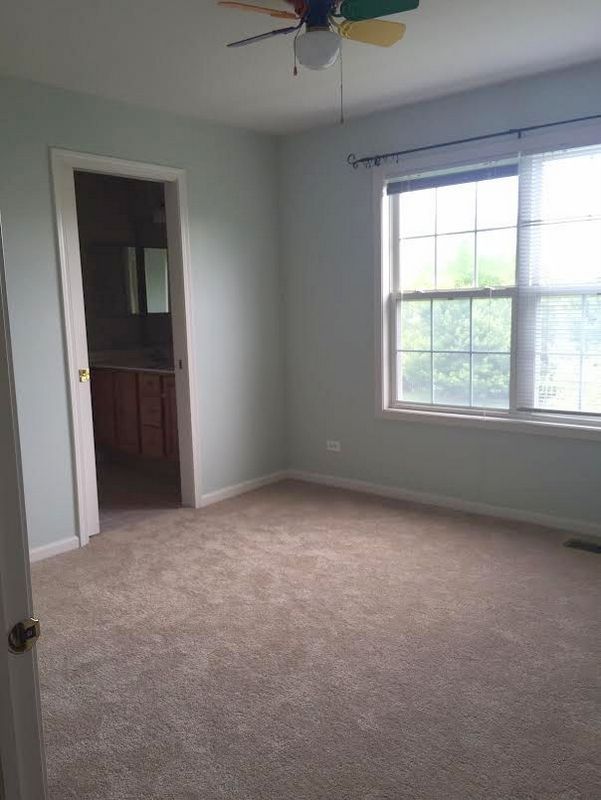 …and the biggest is in here.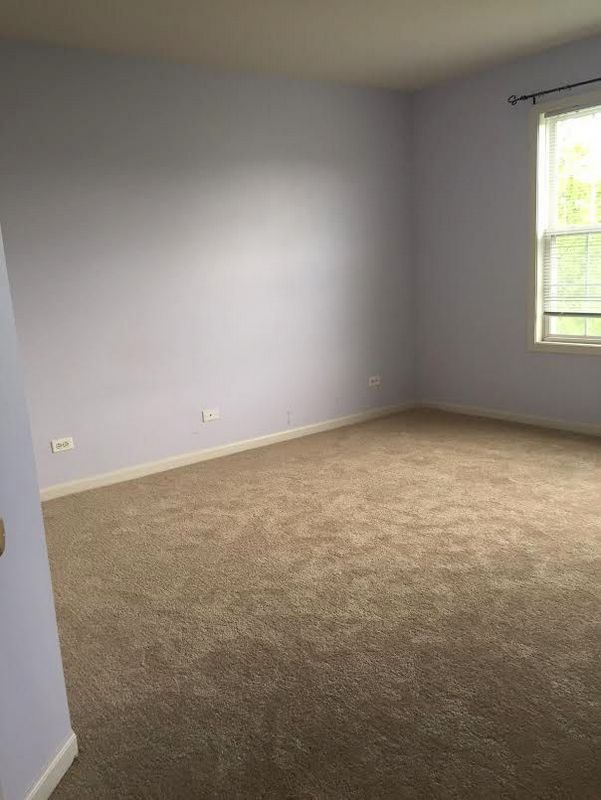 We've already painted the purple one, but we left the light aqua on the walls as seen in the above photo.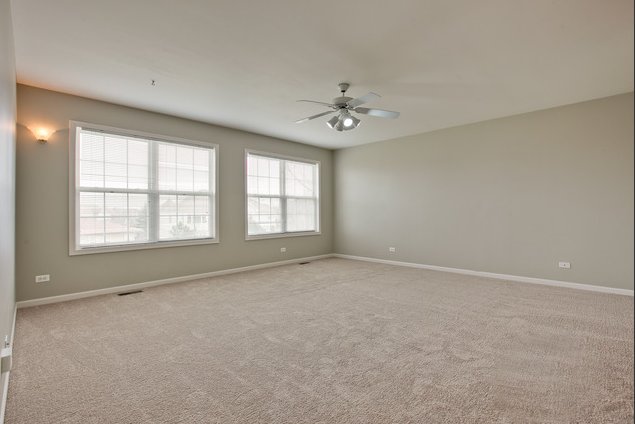 And now for the master!  Although the 3 other bedrooms are a bit smaller, we definitely gained some square footage in our room! The littles only need room to sleep and store some clothes, but mama needs a master retreat, right?! Dad, too, of course. We completely scored with his and hers master closets in our room, which are positioned on either side of the hallway leading from the master bedroom into the master bath.
Unfortunately, I don't have photos from every single space taken when they were "empty", but like I said before, I'll be sure to share the fabulous "before photos" once I start working on the transformations room-by-room. I'll tell you more about my plan a little later on!
Let's move on to the basement, shall we?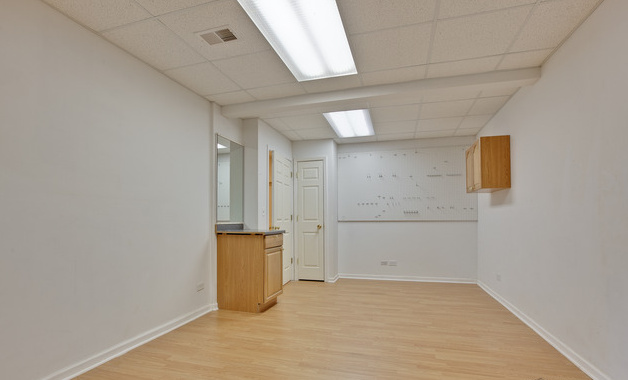 Killer work room, huh? Well, I wasn't exactly thrilled with this space, other than it had the potential to turn into a 5th bedroom for guests. The bright florescent box lights scream "Welcome! Come on in!" Don't they?! And the pegboard at the back has nothin' on Simon's old one!
We removed the lower cabinet and mirror above, with plans to make it more homey. It's on the master punch list, but towards the end.
The main space in the basement is unique with hardwood flooring, but wide open for play space and hang out space. The jury's still out on whether or not we carpet down here someday. After all, I was so in love with the stuff we put in our recently finished basement in the last house. I hated leaving that brand new basement! The bar! And don't get me started on having to leave that basement bathroom!! I'll get over it with time — oooof!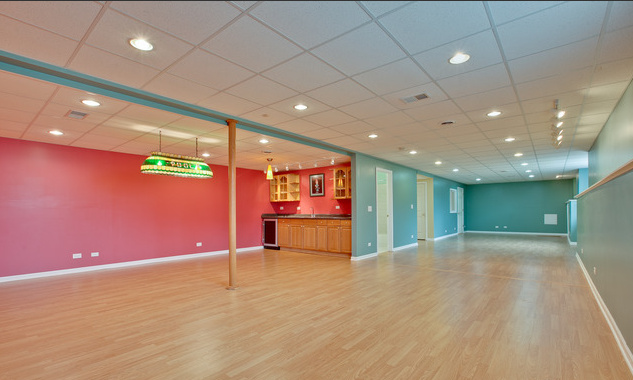 If you've been reading for awhile, then you know I don't sway too far left or right on the color wheel. I'm a neutral wall color gal and I just can't even with this basement! Again, we'll get to it. Right now there are still stacks and stacks of unpacked boxes in the basement, so we really don't see ourselves spending any time down here in the near future. We'll be digging our way out on a rainy weekend, perhaps.
And lastly, I'll show you a few shots of the back deck and yard…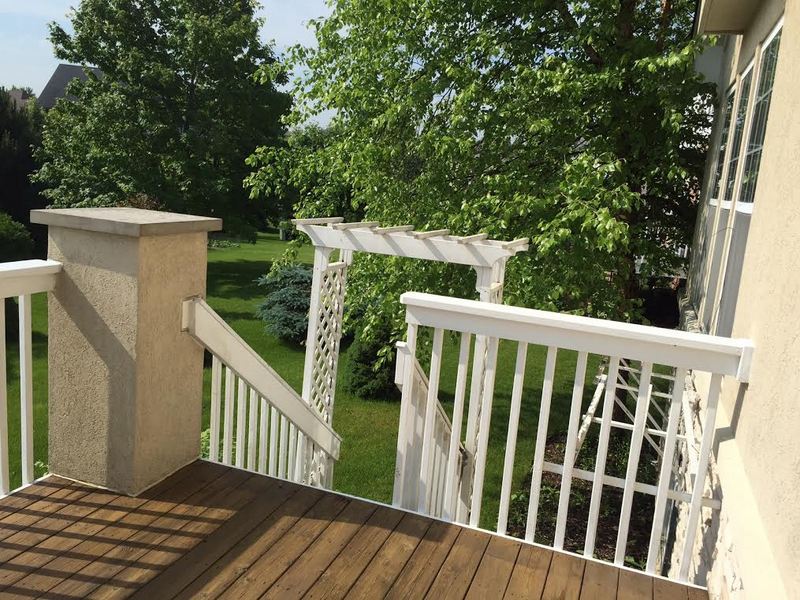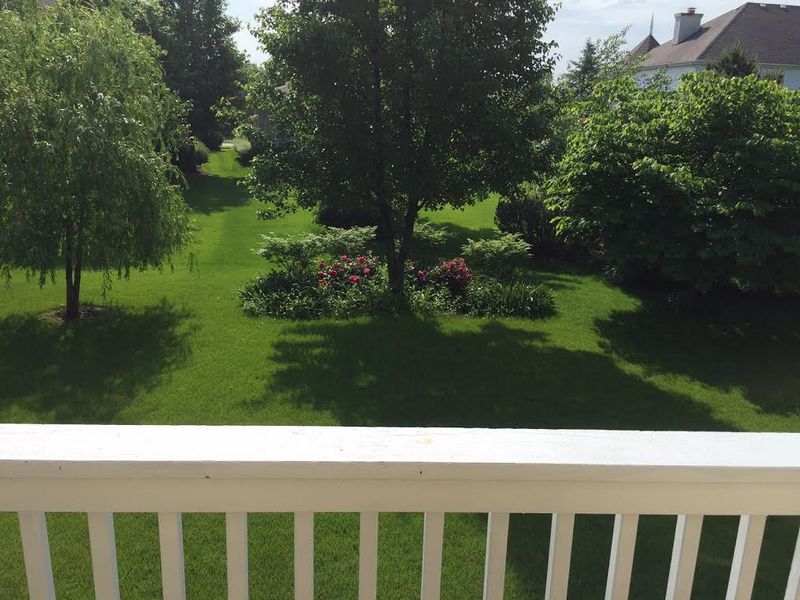 And because I already shared it on instagram, here is what the deck looks like so far!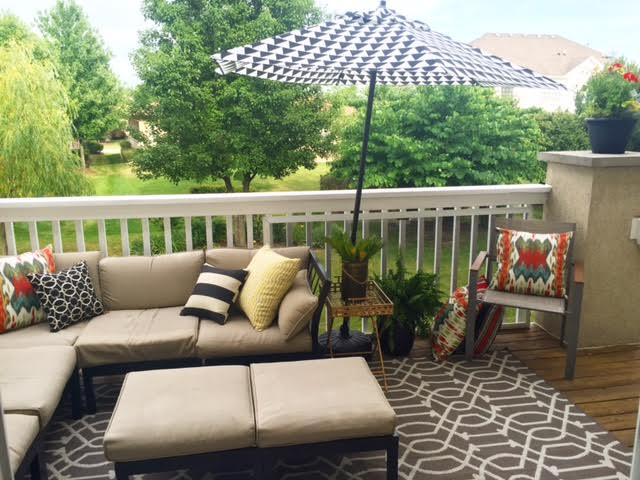 Front to back and everything (or nothing!) in between. I hope you enjoyed the peek into our new digs. We are thrilled to be moved and settled in and it is actually beginning to feel like home. As you probably guessed, the projects have already started and multiple at that. I think the approach I'm going to take, in attempt to stay organized, is to share with you – the before photos with a checklist, inspiration photos and / or a design board, then the progress pics and specific diy project tutorials along the way. And then one day, one day, I will have a full room reveal ready for you. I'm not making any promises on timelines, but hopefully there will be a couple simple transformations I can share sooner than later. Oh and I need to decide which room I'm going to take on for the Fall 2016 One Room Challenge. You can BET I'm going to hop in this time around. I've got a whole house to work on, so nothing is going to get in my way! [Check out the guestroom I completed for the Spring 2015 ORC here.]
That's it for today! Again, I'll be posting on Tuesdays and/or Thursdays this summer while the boys are both home with me. On second thought, I do have a fun post scheduled for next Wednesday, so I guess it'll be a bonus!
Thanks for hanging out and taking a look around the house today!
See you back here soon!