Kid rooms are my one of my favorite types of spaces to work on. Anything goes! Color, texture, pattern…cutesy, quirky, crazy – you name it! Long before we moved into our new house in June, I knew the biggest's room was going to be next in line for some sprucing. I hadn't laid a finger on his nursery since I first created it for him in 2012, the year he was born. Not a finger. Nope, not one. Not a new picture frame, throw pillow, not even one new thing entered through that door. It was the only room in the old house that remained completely untouched in the 4 years we lived there. Not only was changing up the decor a bit overdue, but so was getting him out of his crib / toddler bed. He's a pretty tall little boy and he had to literally start tucking his legs up to sleep comfortably in his bed. I know, bad mom, but we didn't want to buy a bed until we moved in. We wanted to be sure space allowed for the right-sized bed. In other words, we didn't want to splurge on a California king if only a twin would fit. Not that we were ever planning to buy a bed that big, but you catch my drift!
So today I'm going to share with you the mood board I created for his Big Boy room. Little by little, I gathered ideas and sifted through inspiring spaces to help solidify my plans. By now, my mood board is almost a full design board. I have my ideas down to a "T".
If you saw our empty house tour, then you'll remember several of the rooms were very colorful. The biggest's happened to be a light shade of purple, which doesn't exactly scream BIG BOY room!
Before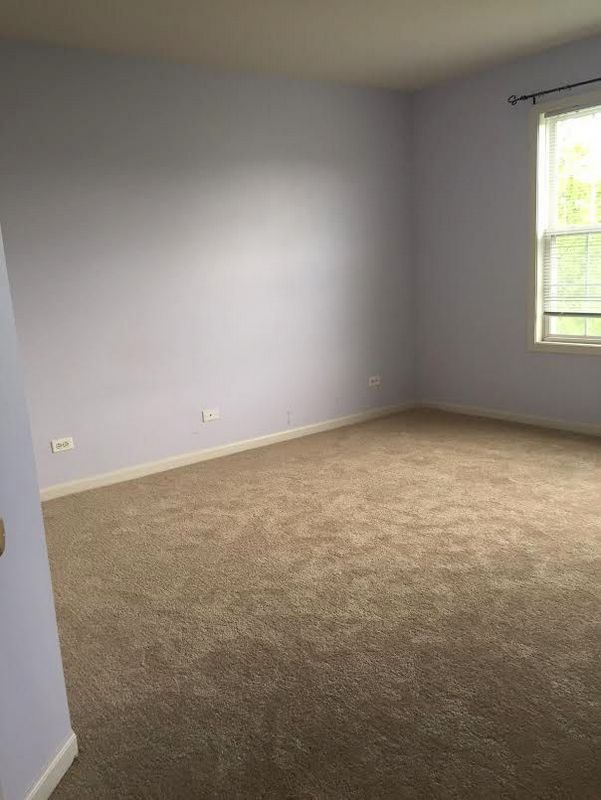 At the end of June, we had the room painted SW Mindful Gray, bought him a (full-sized 😉 ) bed and sort of left it in shambles. We did have the luxury of a fairly clean slate, but I really wanted to be able to incorporate some of the pieces we already had — bring in some new, makeover the old and see what happens!
Let me show you what I'm talking about…
The Mood Board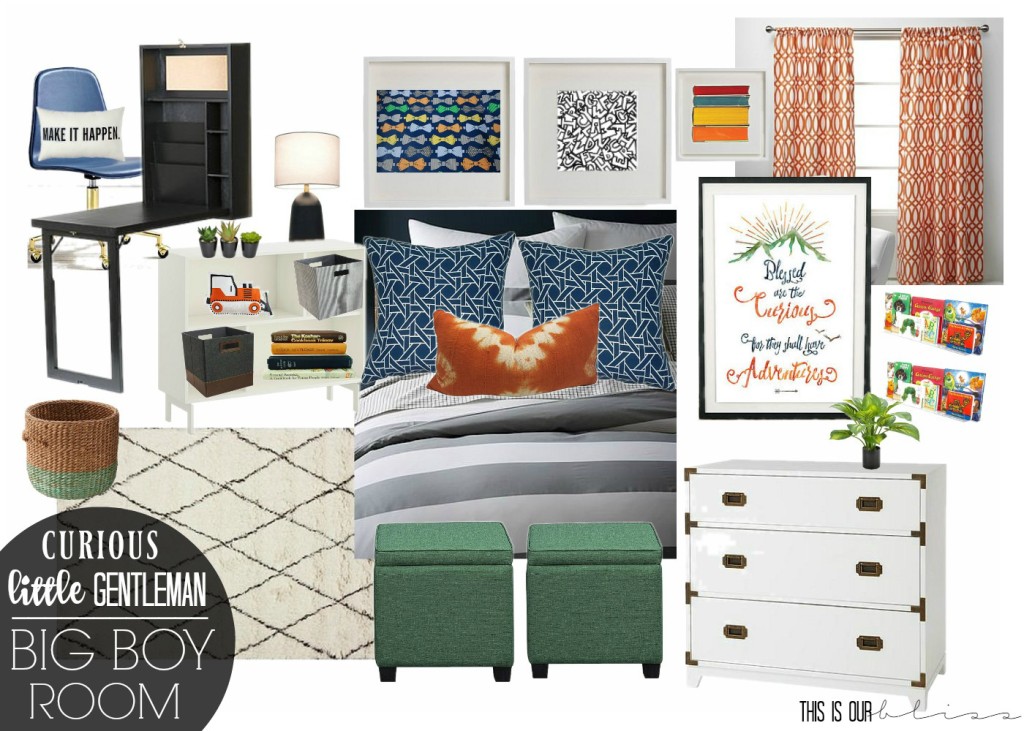 Sources

[affiliate links are included below which means if you purchase any of these items I may earn a small percentage. Thank you for supporting the brands that This is our Bliss partners with. You can read my full disclosure policy here.]
rug | curtains | bedding | pillows | acrylic bookshelves | white cubby unit | gray stripe bin | gray w/ leather bin | table lamp | dresser | storage ottoman | Word Art | white frames | ABC art | stacked books art | drop-down desk
The Inspiration
Believe it or not, but the inspiration that sparked the entire room was from a roll of $3 wrapping paper I found at HomeGoods one day.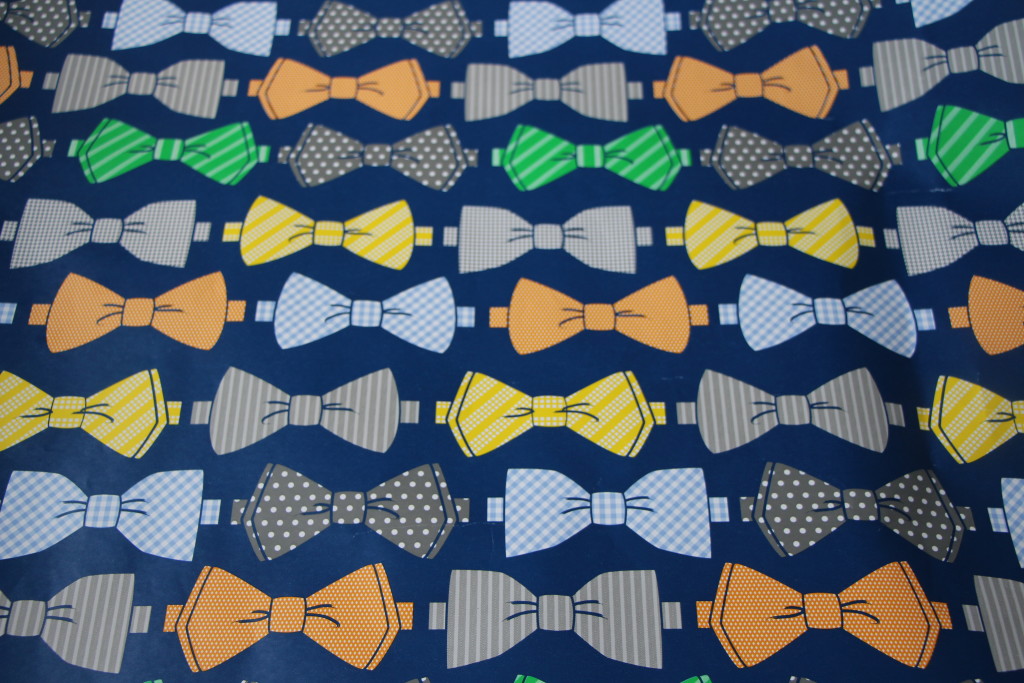 We already had orange curtains from his nursery, a gray & white striped duvet cover and initially wanted to use navy and green with the gray and orange. So when I stumbled upon this roll of wrapping paper, I thought it couldn't be more perfect. Pattern play, cute [I mean manly!] bowties, and all of the colors plus some! It was meant to be. This is where the "gentleman" piece of the theme stemmed from. And the curious…Well, if you know our biggest, then you know he is a into all things — letters, numbers, reading, writing, spelling, counting, puzzles, 10,000-questions-per-minute — type of things. Oh and toss in some music, too ha! He's a thinker. He's inquisitive. He's curious. My plan is in mix is some of this favorite "things" into the decor to allow the room to showcase his passion and personality.
 I also love the quote "Blessed are the curious, for they shall have adventure." so I'm hoping to incorporate with some DIY word art or purchase the art piece you saw in the mood board above!
So, there it is — a Curious Little Gentleman Big Boy Room!
The ideas and inspiration started to pile up over the last 4 – 6 weeks, but I really kicked it into gear in the last week or so since I want to have this room completed before the Fall One Room Challenge starts in October. I realize I have a loooot of work on my hands, but I sort of love a deadline. It keeps me energized and on my toes!
I plan to share a couple progress posts and DIY's with you before the big reveal sometime in September, so for now, here is my hit list for the space:
The List
paint room
lengthen curtains

I want to use the orange ones you saw above that we had in his nursery, but they are too short. I'm working to figure out a solution since I really like them and also don't want to spend the money on that particular items

replace blinds

This needs to be done throughout the entire house because they are broken, bent and stained, but I'm not sure if I'll do his room now or wait.

hang new curtain rod

Their was a thin rod already in there when we moved in, but I wanted to put up a thicker rod and raise it to the ceiling.

find ceiling fan & have it installed [he doesn't have any overhead lights or a fan in the room and there's also poor air circulation, so it gets HOT in there!]
pick out colorful art for a gallery wall
get frame for wrapping paper piece
order desk
find desk chair or stool
throw pillows for the bed
order acrylic bookshelves
buy new nightstand 

He has a bookcase / nightstand now, but its brown and I dont feel like painting it and its broken. So a sleek white piece will go in it's place that has room for storage and book overflow from the acrylic shelves. Plus a place to set a lamp, cup of water, etc.

buy bins for the nightstand
buy lamp
paint current dresser?
buy new hardware

I have plans for his current dresser and I'm so excited about them! I've picked up a few materials to help me with the "makeover" and I'll be sharing more on this soon!

mirror for over dresser?

I'm not sure if I want to put a mirror above the dresser or not. If I decide I do, then I will probably try to use an extra mirror from somewhere around the house and give it a facelift.

find rug
figure out what to do with his glider & ottoman??
figure out closet situation

We might wait on the closet altogether, but I really want to rip out the wire shelving and take off the doors like we did in Simon's closet. ALL of the closets in this house could use some fixing up, but they are much lower down on the priority list.

knick knacks & accessories 
That's what's going on right now! A good chunk of the items are already purchased and just need to be put together or hung on the wall. By next week, I'm pretty sure the space will look much different than it does today. The boys started school on Monday of this week, so I found myself with a couple extra hours to be able to work on things again for myself and the house. I'm hoping a few more M, W, F mornings will work in my favor to get some things accomplished in the big boy room!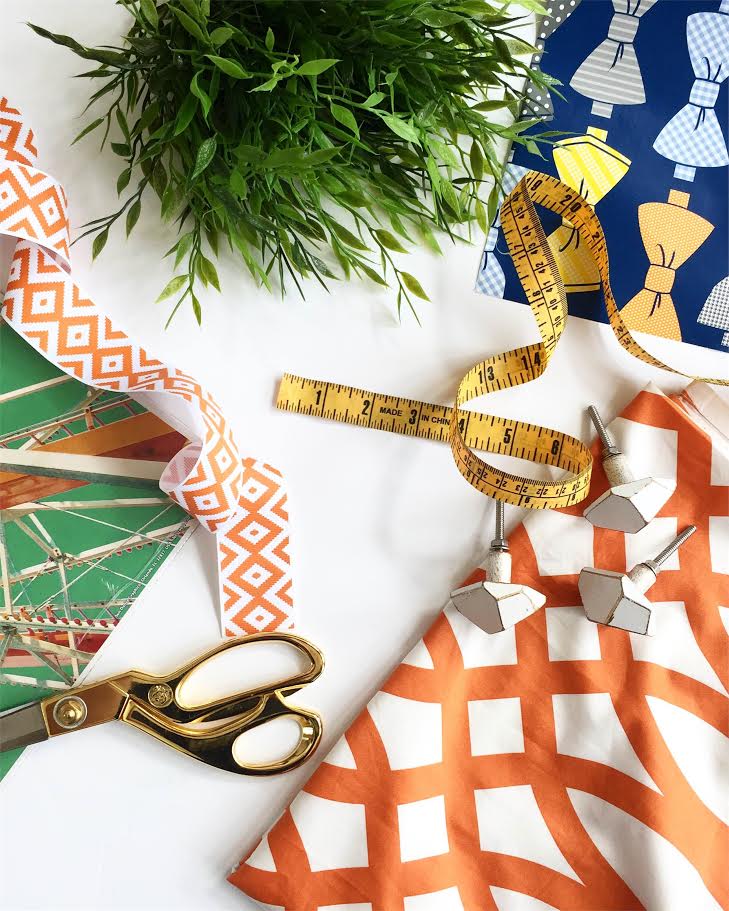 A trip to HomeGoods and Hobby Lobby this week was just what I needed to stir up some creativity and motivation. There's nothing like a few great finds to get you rolling!
So, what do you think? Can I accomplish all of this in the next 3 weeks!?  I'd love to hear your thoughts on my ideas for the new space, so feel free to drop me a comment below!
Don't forget to pin for later: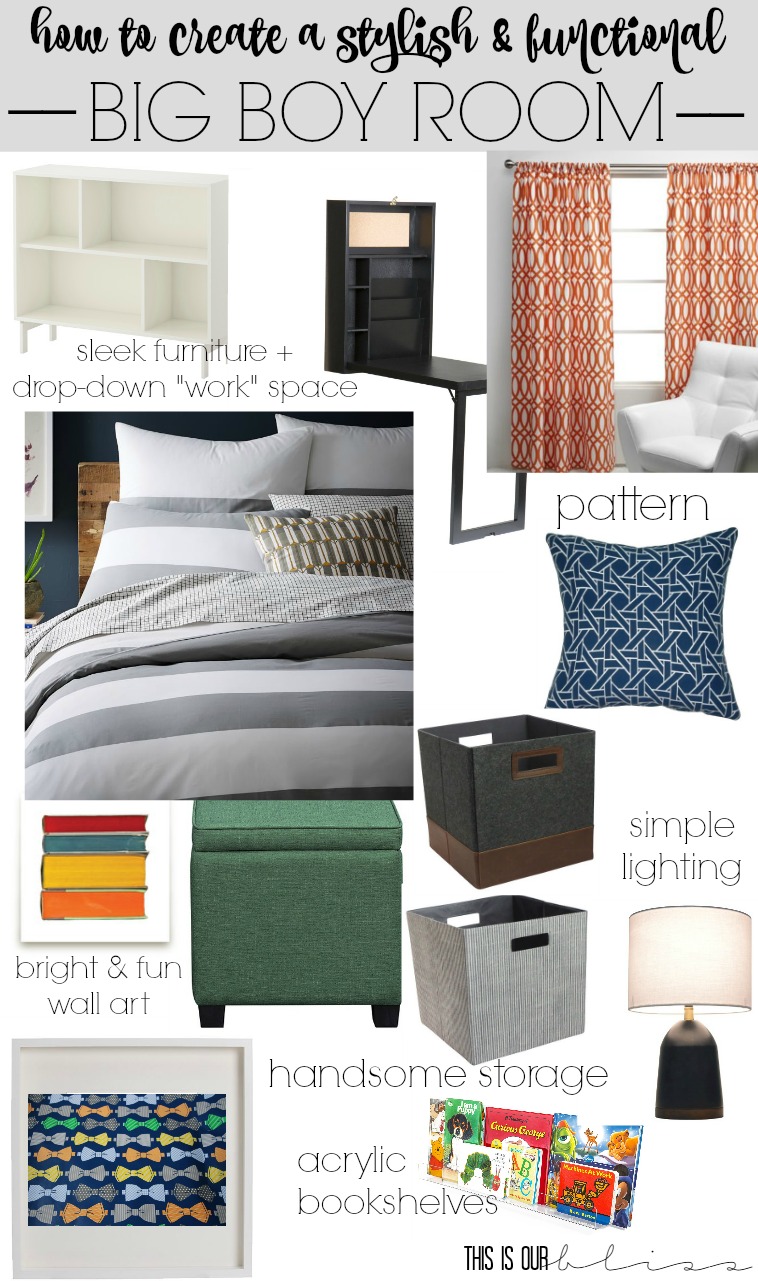 Crossing my fingers! Buckle up because its going to be a RIDE! Do you think I'm crazy for taking this on before the One Room Challenge? [You can see the room I worked on for the Spring 2015 ORC here.]
Have a great weekend and I'll see you back here next week for more projects and updates around the house! Thanks for reading 😉