I'm so ready to get this week moving and share  so many new and exciting things with you! It's going to be a fun, jam-packed, super inspiring week here on the blog and it all starts today with another round of Inspired by DIY. This month's theme, West Elm, is one of my very favorite home decor stores, so selecting an item to "be inspired by" and create something similar on my own…was, well, let's just say…difficult. I'm always eyeing their catalog and usually have a wish list at least 20 items deep and my DIY short-list was about the same 😉
If you've been around here long enough then you know my love for throw pillows runs deep. Buying them, making them, switching them from room to room, it all makes my happy! When I first spotted this West Elm pillow online, I was instantly drawn to it…because…pillows!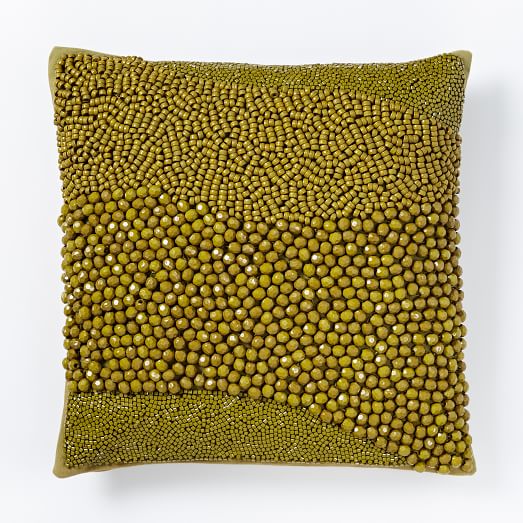 Isn't it gorgeous?
I created this DIY felt pillow for our Inspired by DIY World Market theme and thought why not try another no-sew technique for creating a pillow? So here is what I did….
Read on for my DIY beaded pillow instructions!
SUPPLIES
*This list contains affiliate links, which means if you click on an item and decide to make a purchase, I might earn a small percentage at no additional cost to you! I only recommend things I use, know and love and want to recommend to you because they're great!
glue gun
mod podge [I used gloss finish so the beads remained shiny]
Sharpie
variety of similarly colored beads in multiple sizes [mine were from Michaels & Hobby Lobby]
foam craft brush pillow [I used this one]
INSTRUCTIONS
I first selected my various beads and put them in bowls for easy grabbing. Some come on strands of clear wire and others come in plastic tubes and packages, so its best to pour a good amount into a container before you get started, especially since you'll be using hot glue.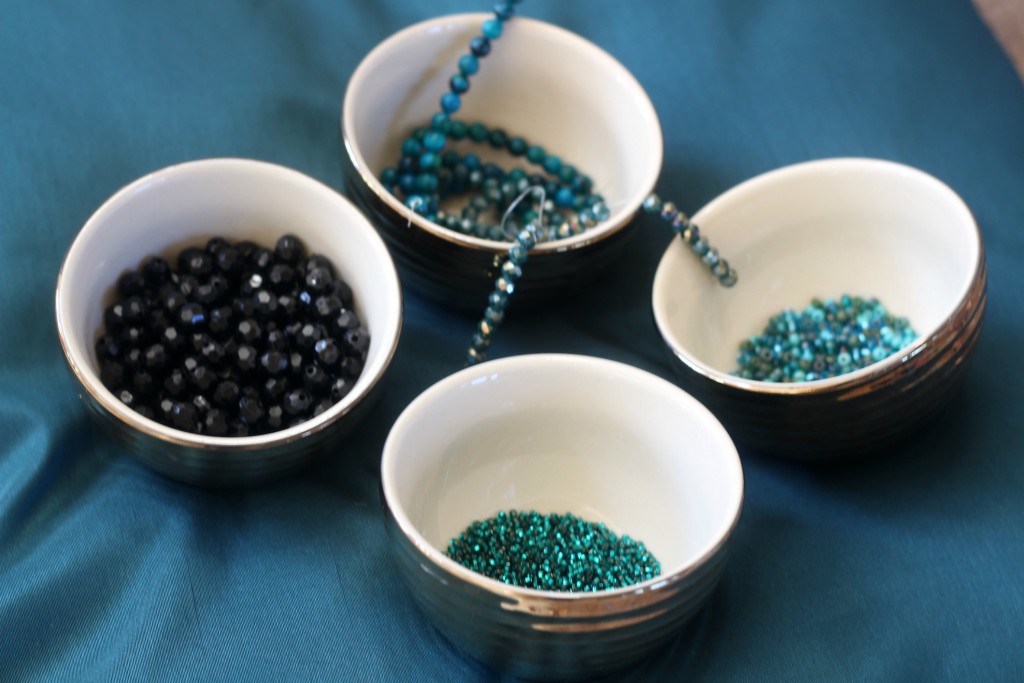 Next, I took a Sharpie and drew a curved line from the left side of the pillow down to the bottom, sort of creating a "corner" on the bottom left. Then I drew several more curvy lines across the pillow every 3-4 inches or so to create different "sections" for where the beads would go.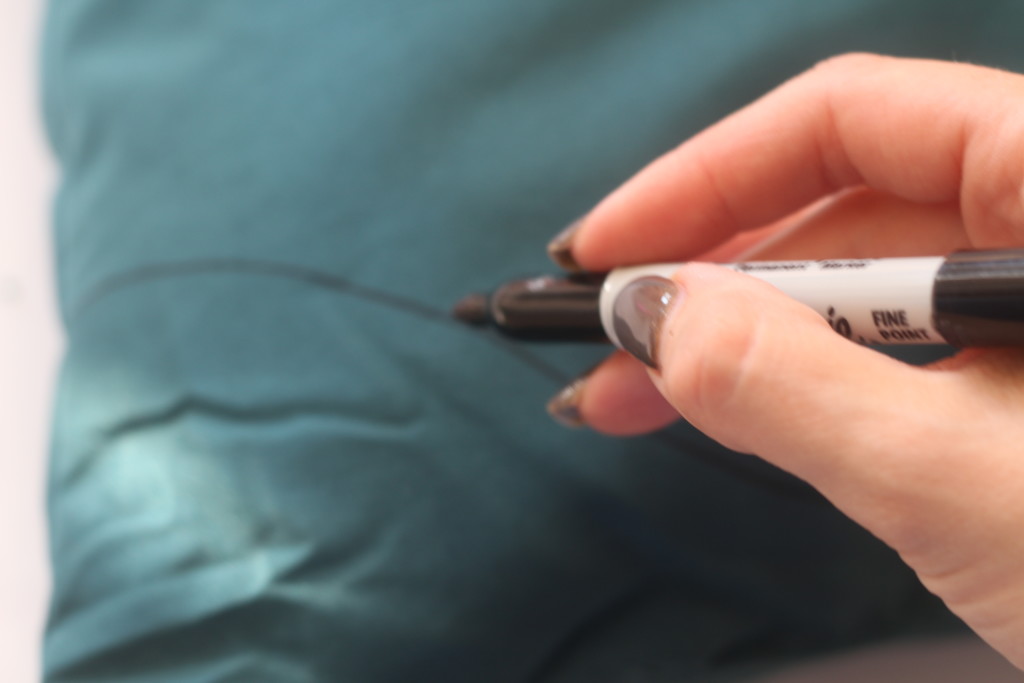 Then, I dipped my foam brush in the mod podge and applied it generously to the first "corner" I created staying inside my black line I just made.
After that, I took the smallest beads and poured them onto the mod podge, pouring more than I needed. The excess would eventually fall off. I then pressed the small beads down to ensure they were sitting deep inside the mod podge.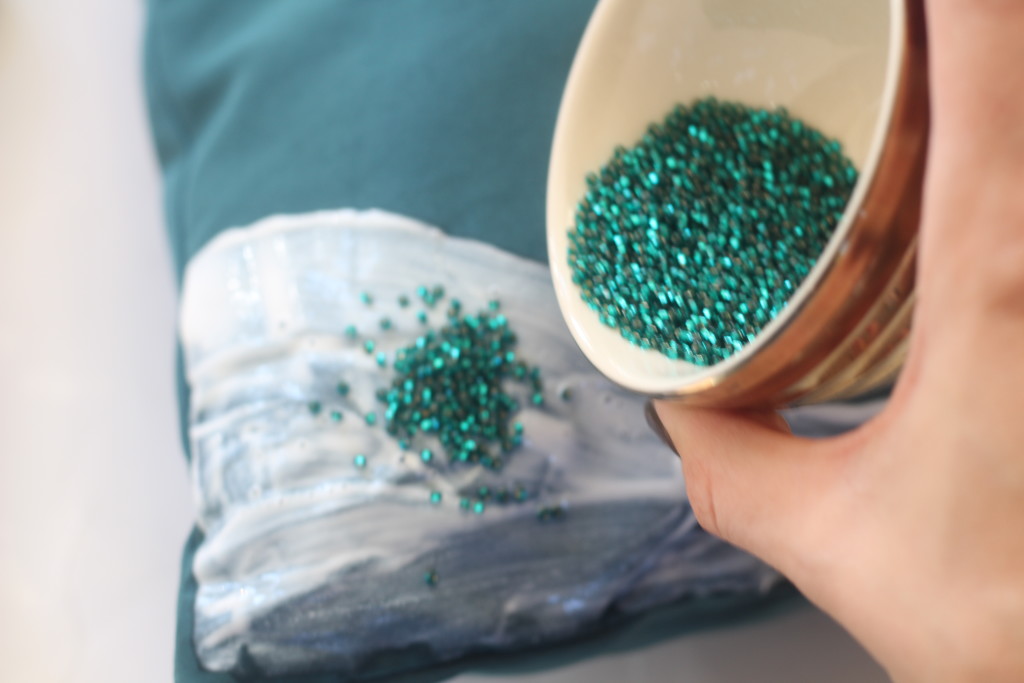 Next, I took the glue gun and ran it along the black Sharpie line, about an inch or 2 at a time, before placing the large black beads to create an edge to the section I just beaded with small beads.
I decided to go ahead and do all my black beaded lines next since I wasn't exactly sure which beads I wanted to use where. This would help me look at the sizes of the sections and determine how many beads I would need and what type would be best (large, small, etc.)
At this point, I realized I wasn't going to bead every section on the pillow, but rather leave some "open" as to see the pillow itself in a few areas. 3 reasons – I could tell I was going to run out of beads, the cost of beads adds up (although I did purchase my beads at 50% off and with coupons at both Hobby Lobby and Michaels) and it was going to take me quite awhile to bead this entire pillow!!
From here I filled in every other section with beads. One section of larger beads, an entire section of the black beads and then another corner at the top right of the pillow.
*Please note: To fill in these remaining sections, I used 2 different methods:
spreading a thin layer of hot glue across a 2″ x 2″ section AND
pouring a small amount of mod podge into the bowl of beads and mixing it up to evenly coat each bead with the foam brush and then pouring and spreading it out little by little in the designated section. This method only worked with the larger beads because they were heavier. The tiny beads would have just stuck to the brush and would have been tough to get to stay put on the pillow.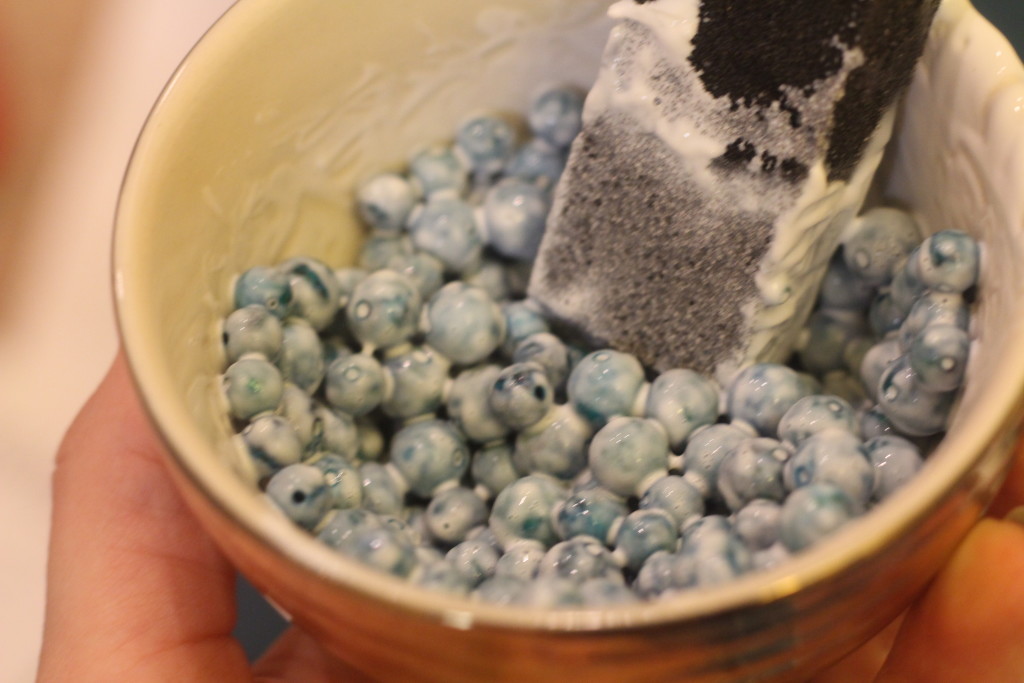 Once all beads were in place, I pressed them down gently with my hands and then let it sit out to dry overnight.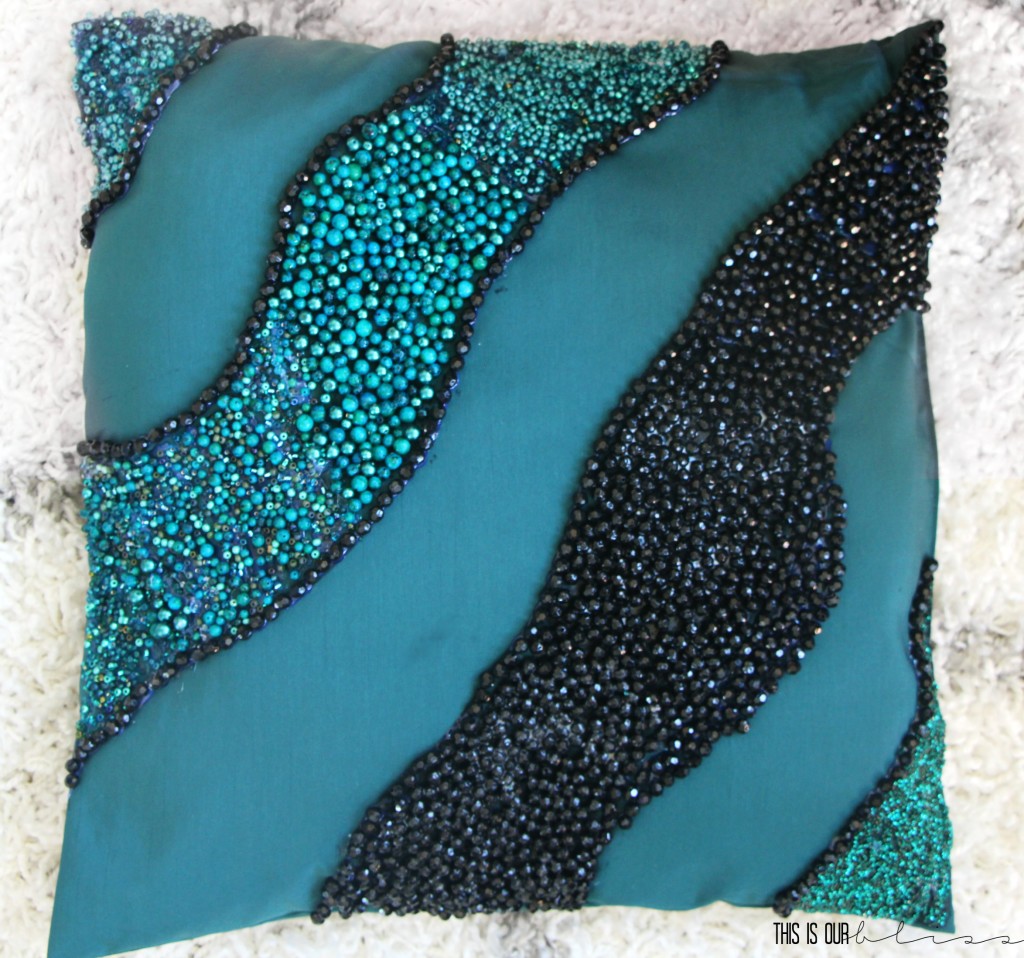 Warning! This DIY was a bit time consuming. You're probably thinking, "Well, of course it would be!!" My initial thoughts weren't exactly that. It was more like I-am-a-DIY-wonder-woman-and-nothing-will-stop-me-or-get-in-my-way. I also want to mention that you need to make sure the pillow isn't going to be recieving much couch action, as in a high traffic area of the couch or the main family couch. I'd place it in a sitting room or on an occasional chair as it is definitely for decoration versus one you want to snuggle up on. I'm sure that's obvious, but wanted to make sure to point it out! A few of the smaller beads did come off as I was shifting it around for styling FYI. '
Maybe there is some sort of adhesive spray you could apply to try to prevent this from happening. I don't know! Thoughts??!
Lately, I've been uber inspired by rich jewel tones and this color has been sprinkled throughout a few spaces in our home. I've scooped up some fabulous coordinating pillows [big surprise there!] for both the family room and living room and I'll be sharing more during my Fall Home Tour on Friday this week!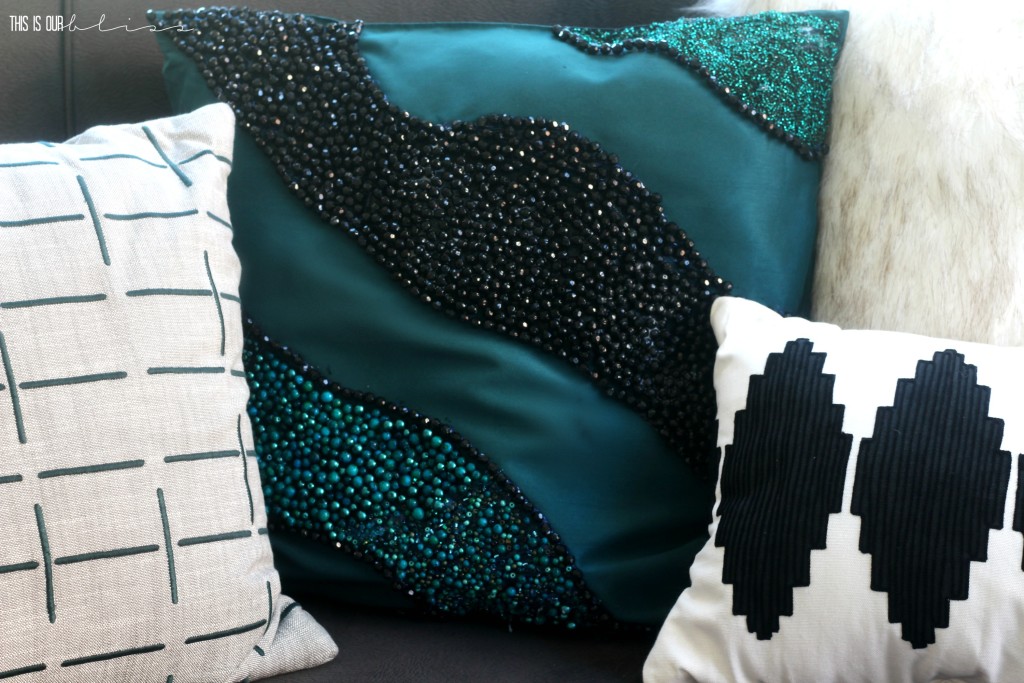 I'm finding myself more in love with color than I have been in LONG time. I'm a sucker for neutrals, but experimenting with these gorgeous deep hues for fall is so much fun! Don't you just love how the colors become richer as the weather gets cooler? And our homes start warming up with the scents and sights of fall?!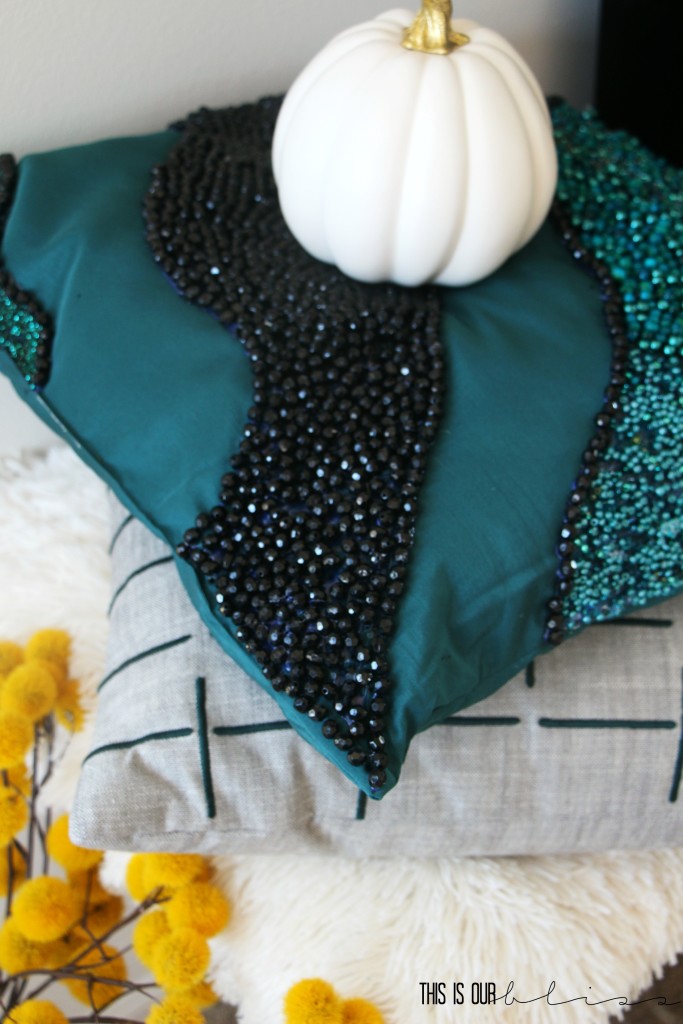 Yes, I'm loving it!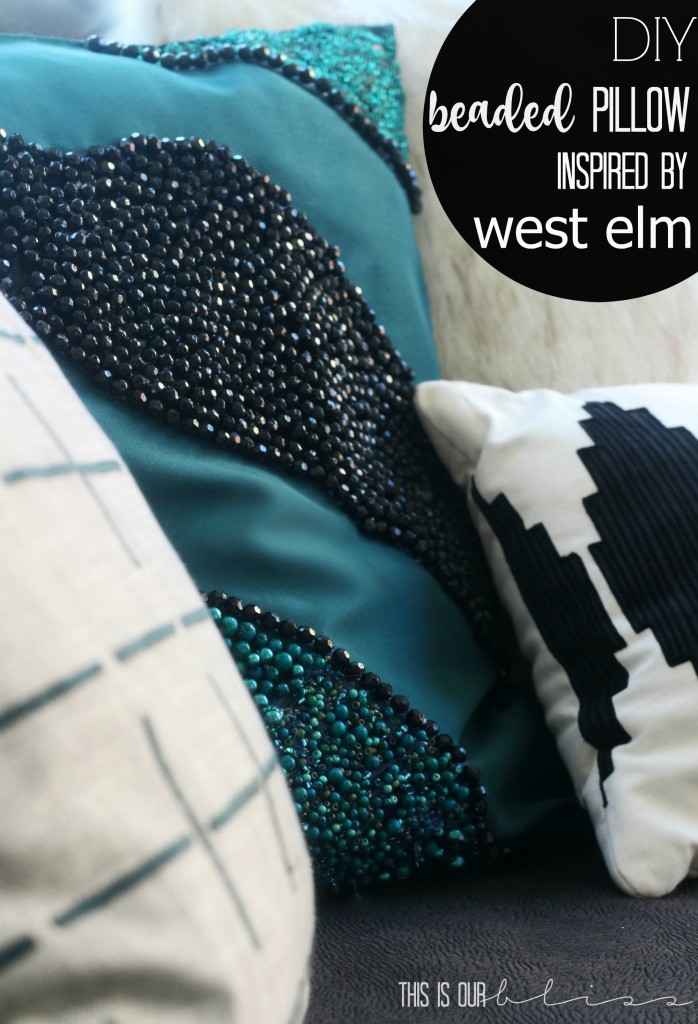 And of course, the rest of the Inspired by DIY ladies have been hard at work again this month, so be sure to pop over and see what fabulous West Elm inspired pieces they created. You don't want to miss a single one!!
Iris Nacole | This is Our Bliss | PMQ for Two | Maggie Overby Studios | Up To Date Interiors | Domicile 37
Don' forget to pin for later!


Be sure to stop back by the blog this week for more peeks in our new home, including my Fall Home Tour on Friday! And another awesome blog hop on Thursday where a group of us are sharing our anti-shiplap wall treatments. I'm stoked to share mine with you!!
Have a great day and thanks for reading!