Are you ready? Today marks the second official day of fall and my first official [fall] home tour of the new house! Let's face it. I couldn't keep directing you guys (especially my new readers) to the empty house tour! As exhilarating as it was, I'm sure you've been waiting for some action and I don't blame you!
If you're joining me here today from Pretty Real Blog or any other stops along this Fall Home Tour hop hosted by Meg of Green with Decor, then welcome!
In May, I shared my Summer Home Tour of our last house right before our move in June. Fast forward through a few months of midwestern heat & humidity, a couple road trips, Haven conference, both boys' birthdays, our 5 year anniversary, back-to-school (read: 2 year tots and 4's preschool, but school nonetheless!) and working on turning the new house into a home, it has been slightly cray! Once September arrived and the level of sticky, mugginess FINALLY let up on us here in Chicago-land, we started to settle into our new home and the day-to-day routines. With both boys being in "school" for the first time together, it freed up a little time for me to begin planning projects and get busy!
Let me show you what I've been working on. Here is a peak into our home all dressed up for fall…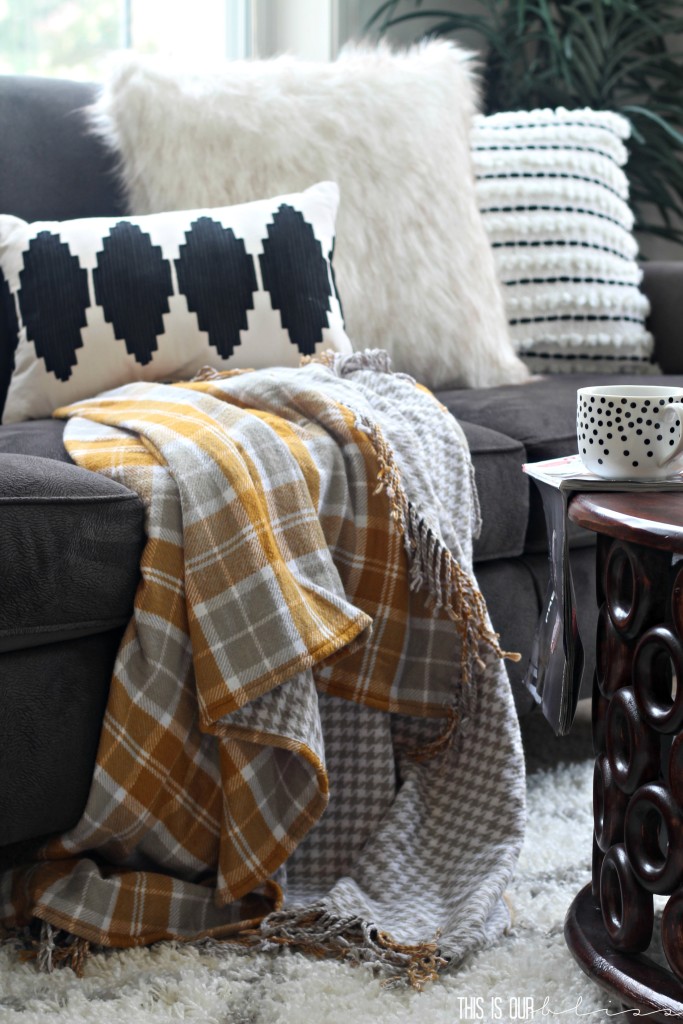 This is our formal living room right off the front entry. It has 2-story windows and gets a boat load of direct sunshine in here in the afternoon. If you remember back, our formal living room was my favorite spot in the house, so thankfully we were able to use most of the old furniture, including basically everything in this room — couch, 2 chairs, coffee table, end table and bookcase. And a gajillion chotchkies, of course.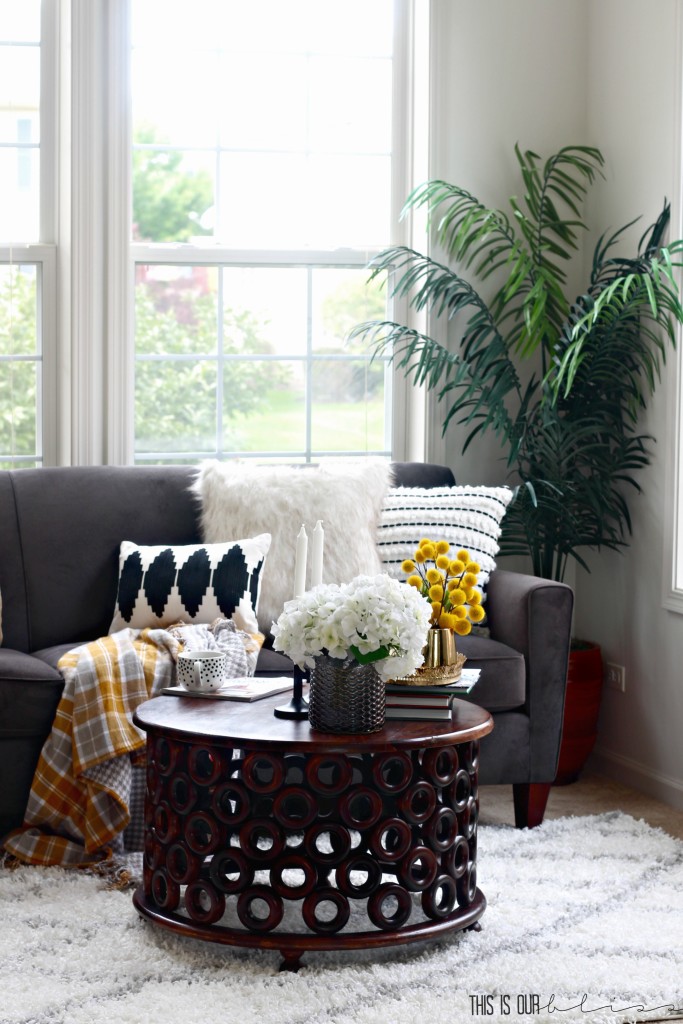 The fluffy shag rug was in our old bedroom, so when we moved and I decided it was time to temporarily retire our bold black and white geometric rug from the old living room, this one seemed to be the perfect fit. Light and cozy…perfect for fall!
Cozying this space up for the cooler months ahead was pretty simple. A few textured throw pillows and a soft flannel throw blanket. I could curl up right here any day of the week!
I love toying around with coffee table decor and styling it different ways every so often, so when a new season or holiday is approaching you can certainly bet money I'm going to be digging through my knick knacks and playing house! [See my coffee table styling tips here.]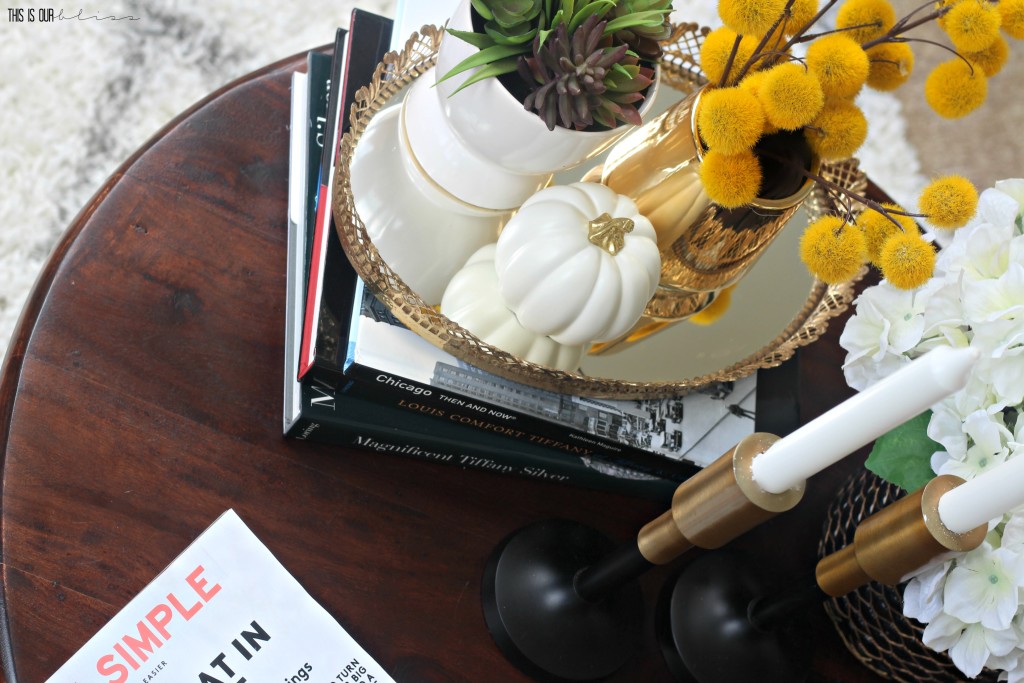 This room connects straight through to the dumping grounds  vacant room that is currently a top contender for the Fall 2016 One Room Challenge starting in October.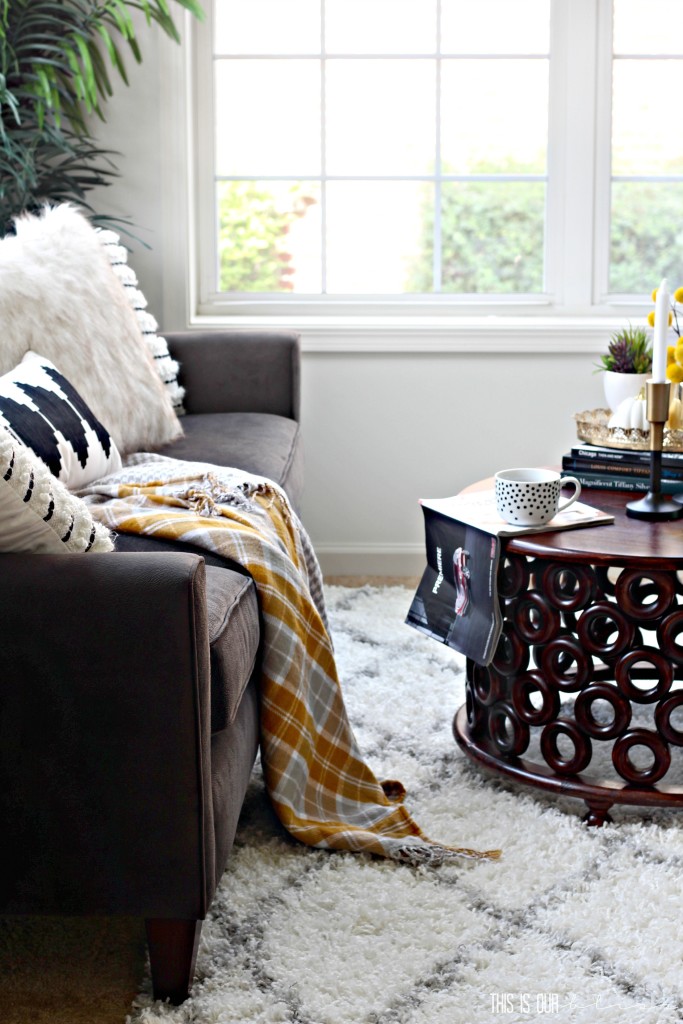 It hasn't been touched since we moved in except for when the boys decide to play with the rolled up rugs and random, half-unpacked boxes when they need a change of scenery from their regular play spaces! I'll save myself some embarrassment and NOT include a picture of this room in the tour. Trust me, its bad.
On to the kitchen and family room…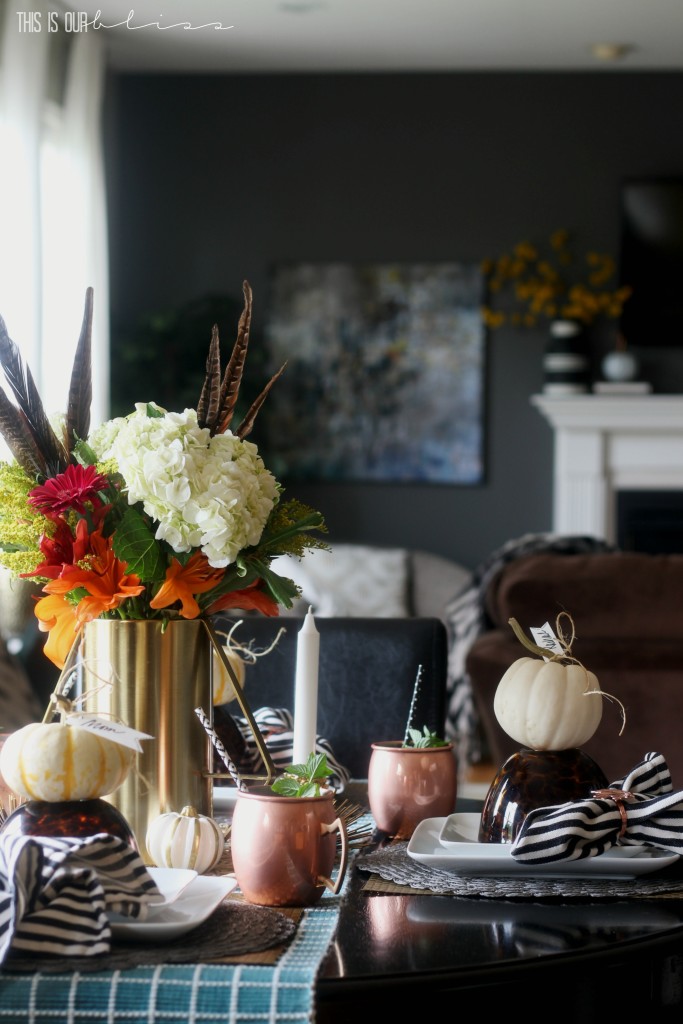 Our kitchen, eat-in dining area and family room combined create one large space. I love that it's completely open so when I'm prepping dinner and the boys are playing in the family room or we're entertaining guests, you can see and hear everything going on.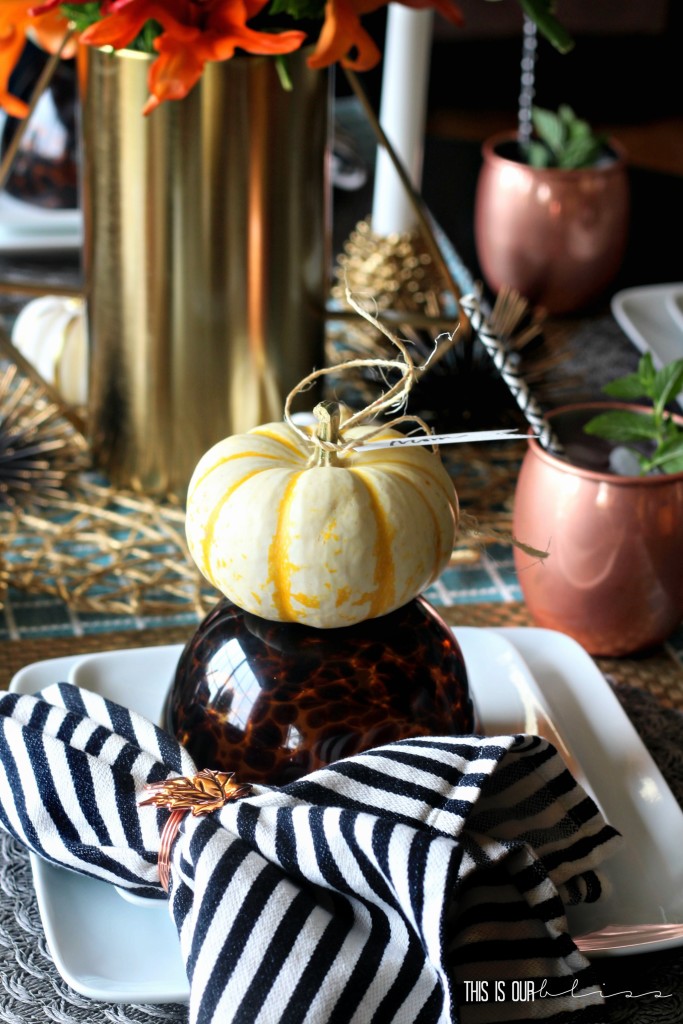 I kept the table casual and cozy using a mix of prints and tieing in the teal blue color that I'm using in our family room right now. [See more of my Fall Table here!]
I've always been such a neutral girl and color to me, was like dark gray or light gray. ha! I've recently learned to take a step on the wild side and change my ways a bit. I love how a few pops of non-traditional fall colors have made their way into the house lately. Especially the teals and golden yellow against the newly painted dark accent wall. It's amazing how the room suddenly feels warm and inviting, yet so moody. It was a nice way to break up the space a bit since it really is 3 rooms in one giant room!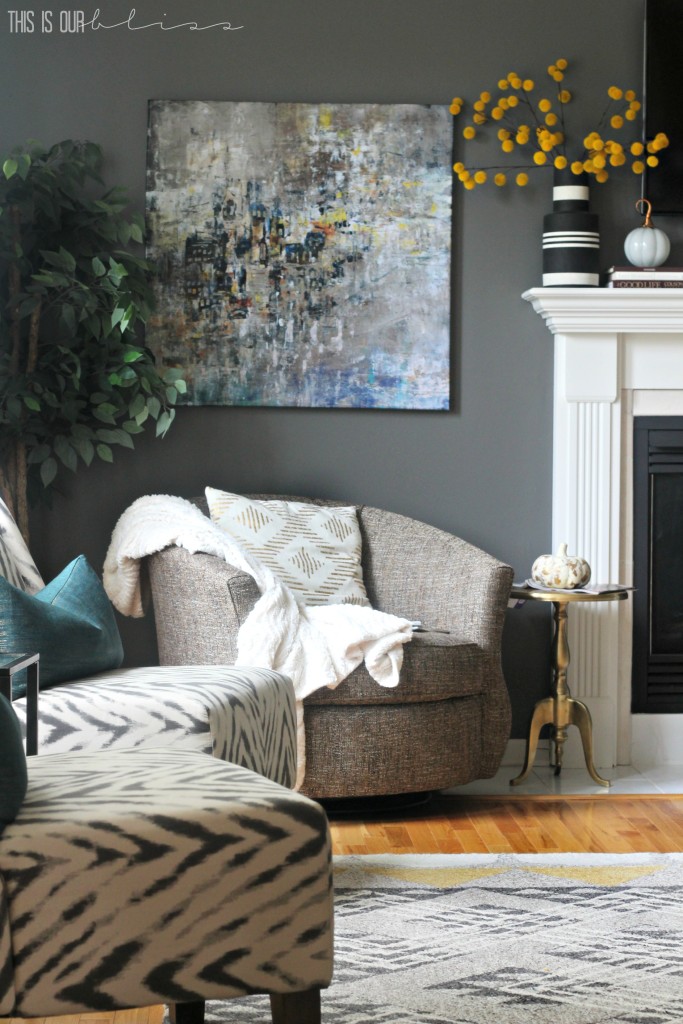 A simple fall mantel….
I gathered a few things from around the house and added this cute glass and copper pumpkin and a few feathers down on the other end. That's it! That's the mantel folks! Nothing too snazzy!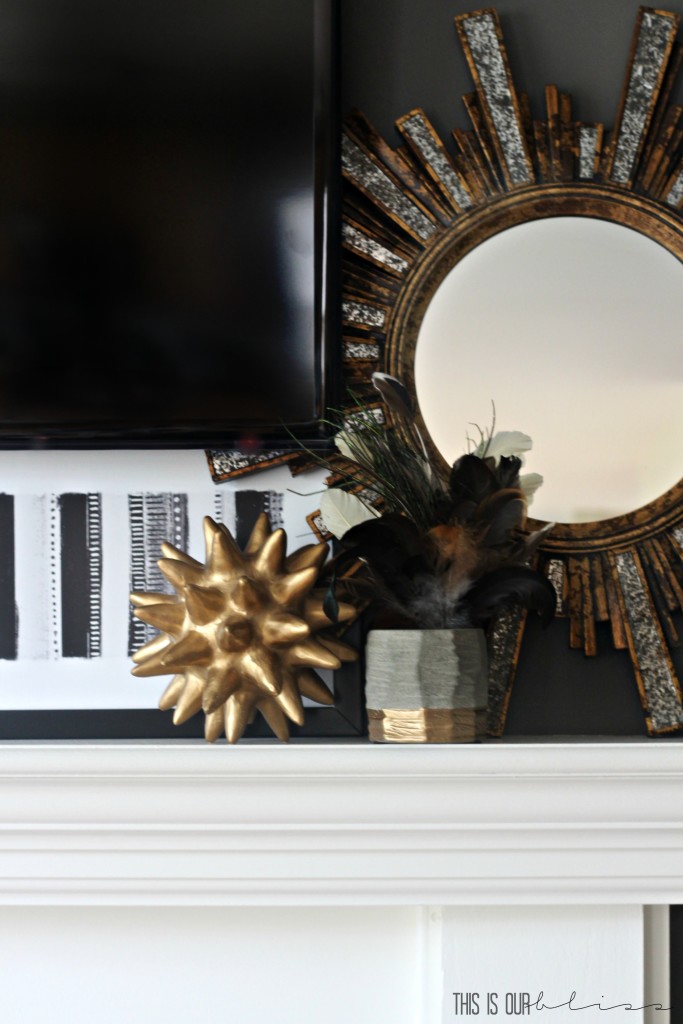 I prefer to keep it simple, especially since we have that large obnoxious monstrosity of a black box mounted over the mantel. If I had my way, there would be a gorgeous glam mirror or piece of art hanging, but no. Someone *insists* that's where they belong! I don't argue because I pretty get to decide what happens on every other wall in the house. I'll make this one sacrifice 😉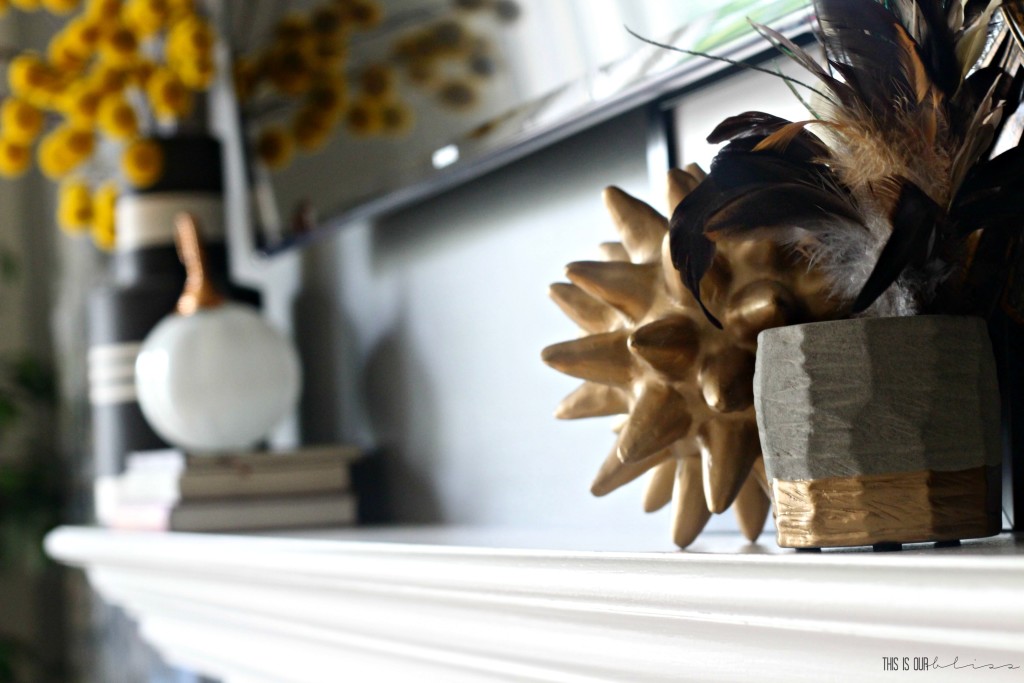 The family room couch is loaded up with more furry and fuzzy pillows.
I try to keep the pillows lightly colored since the couch is such a heavy dark brown. I think the pillows help to keep it a little bit light and fresh. What do you think? Please say they do. My dreams of a white or cream-colored couch coming true are in the extremely distant future.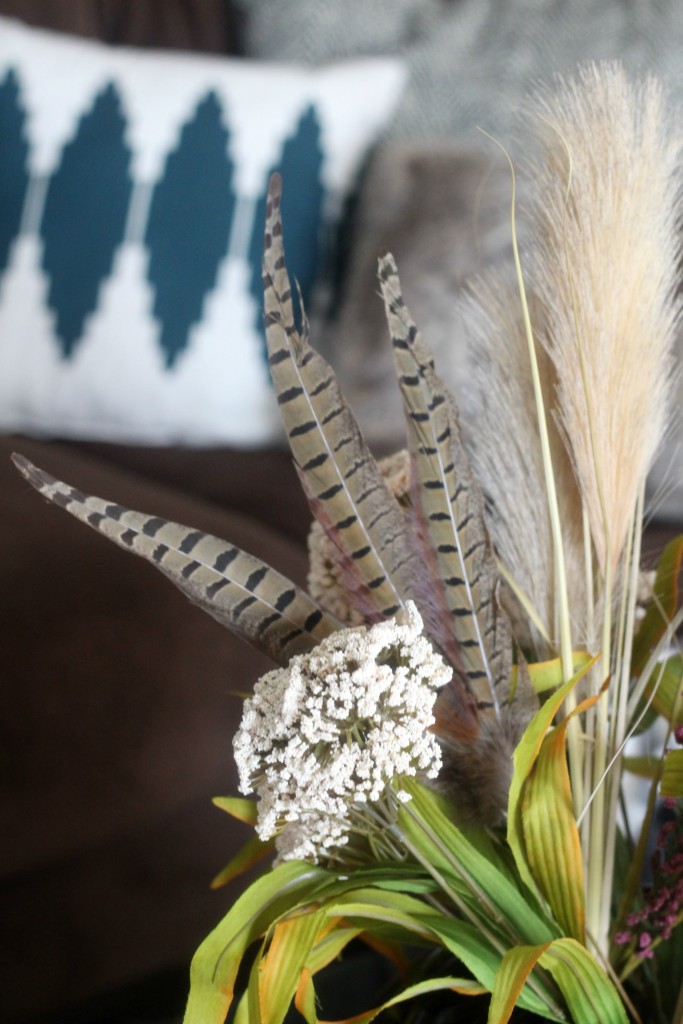 I'll just keep working with what I got for now!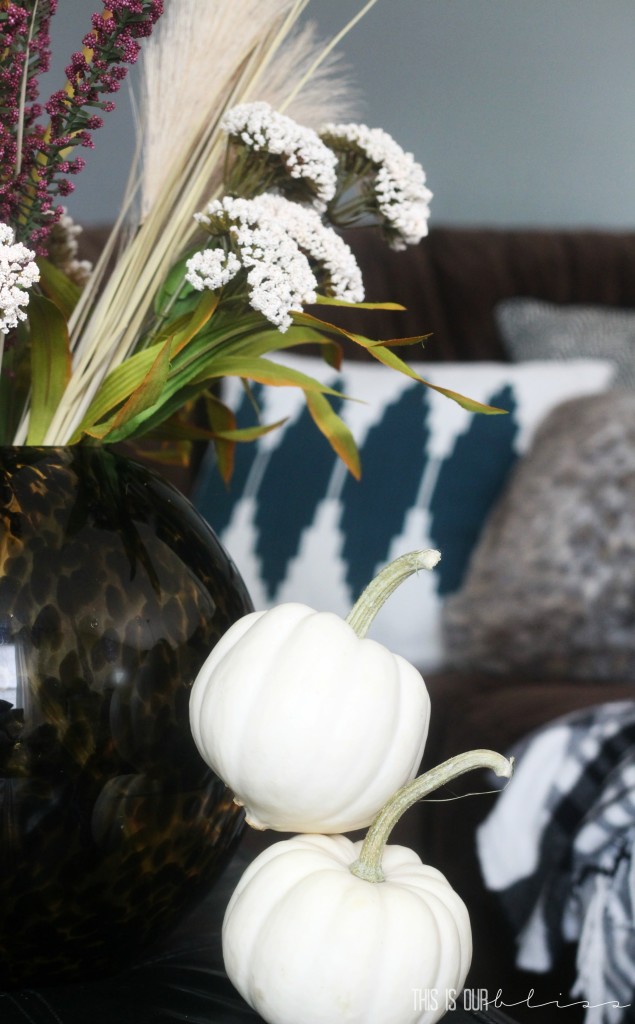 Situated between the family room seating area and the kitchen table is a cocktail / beverage serving station. I zhushed up a thrifted piece of furniture earlier this year after deciding it made an excellent bar-moire after originally using it during the holidays last year.
Isn't she cute?!
A quick trip upstairs to show you our brand new wallpaper accent wall in the master bedroom.
I fall-ified the bedroom a bit, too, by adding velvet pillows in blush and burgandy and a fresh fall flower bouquet. Those rich colors work really well with the black and white, so just might be staying around a little longer than the fall season. Shouldn't they!?
I just revealed this space yesterday! I knew I wanted to get our master bedroom worked on right away because after nearly 4 years, I finally refreshed our bedroom in the old house only to find out a couple weeks later we were moving! I wasn't going to be waiting another 4 years to have a space for me. I mean us, of course. 😉
Back down the stairs and we've arrived at the front door.
It sure isn't the old door, but with its new bold look, I think it's working hard to win me over. The black doors were a success!
Thanks so much for joining me here today to have a peek around. And if you come back again soon [please do!] I'll be sharing more photos and details on the fall table you saw earlier and there will be another progress update on the Curious Little Gentleman Big Boy Room.
We're finally in the home-stretch!
Don't forget to pin for inspiration: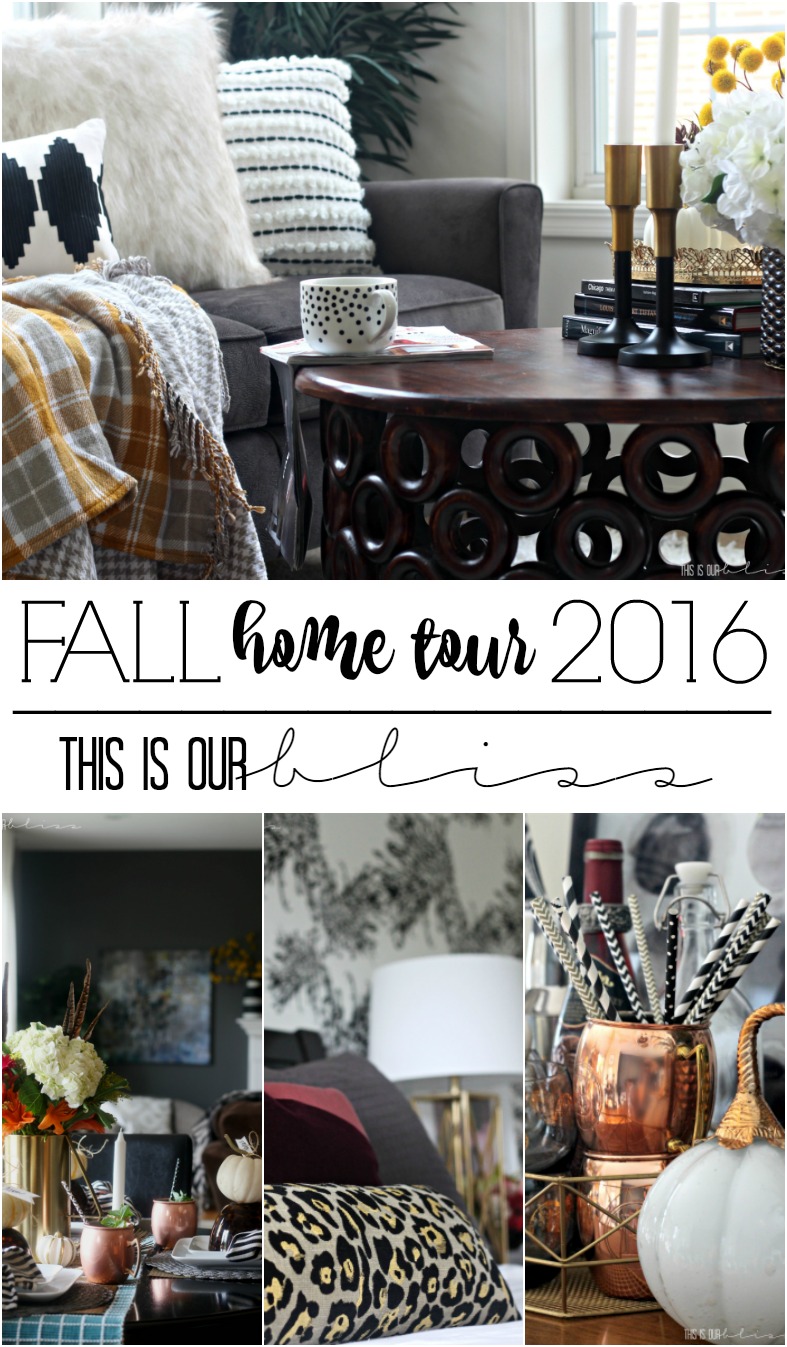 Thanks again and have a fabulous weekend!! Before you head out to enjoy the beautiful September weather, be sure to stop by and check out the fall home tours of everyone below. You'll be amazed by the amount of inspiration! There is a style and aesthetic for everyone!!
Another big thank you to Green with Decor for hosting and inviting me to join in the fall fun!

Monday
Green With Decor
Craft and Tell
Little Bits of Home
Love & Renovations
Newly Woodwards
Simple Nature Decor
Our Crafty Mom
Tuesday
My Life From Home
House by Hoff
Wife in Progress
Knock it off Kim
Average But Inspired
Lehman Lane
Pocketful of Posies
Wednesday
My Creative Days
Sharon Joyce Interiors
2 Bees in a Pod – Vicki's house
Iris Nacole
Up to Date Interiors
Seeking Lavender Lane
Casa Watkins Living
Thursday
The DIY Mommy
The Honeycomb Home
Two Purple Couches
2 Bees in a Pod – Jenn's house
Go Haus Go
Love Your Abode
Live the Fancy Life
Friday
Pretty Real Blog
This is Our Bliss
Designing Vibes
Shabby Grace Blog
Southern State of Mind
Our House now a home
 You can check here for more of my other home tours and here for other tablescape ideas!