Is it seriously December already?! How did this happen? Since it's officially acceptable to talk all things Christmas now that Thanksgiving is behind us, I have a real treat for you today. Actually 15 of them. I've had DIY Christmas decor ideas brewing all year long and when Ariel from PMQ for Two announced she was hosting an Eclectic Ornaments of Christmas Hop, I knew this would be a great reason to bring one of these ideas to life in an ornament fashion.
To be completely honest, I originally planned and attempted to execute a different ornament idea, but well, I fell flat and came up short. I just wasn't going to be able to pull it off, so alas, this idea was born. Today, I'm sharing my DIY foil-confetti-mini-pom-pom-faux-snow-filled-light-bulb ornament. GASP! Did you catch all that?! If not, we can just refer to it as the "fun-filled" light bulb ornament. Because what's not fun about metallic silver, gold foil, teeny tiny pom-poms and itty bitty snow balls?!
Come and see what I'm talking about…and the steps I took to create it!
SUPPLIES
*Affiliate links were used below.
mini pom-poms
foil confetti [I used gold/silver combo]
mini faux snow balls [Dollar Tree]
light bulb vase or light bulb ornament
ribbon
DIRECTIONS
I first spotted these little light bulb vases while out running errands and thought they would be a fun thing to "fill" up. Once I got home, I decided they would make a great addition to the tree!
I started with the mini poms…After making these Pom-pom curtains this summer, I've wanted to add pom everywhere. And these mini ones are just the cutest.
Then, went in the faux snow. I had a hard time finding these mini faux snow balls, but I grabbed a couple bags at the Dollar Tree and also spotted them at Michael's.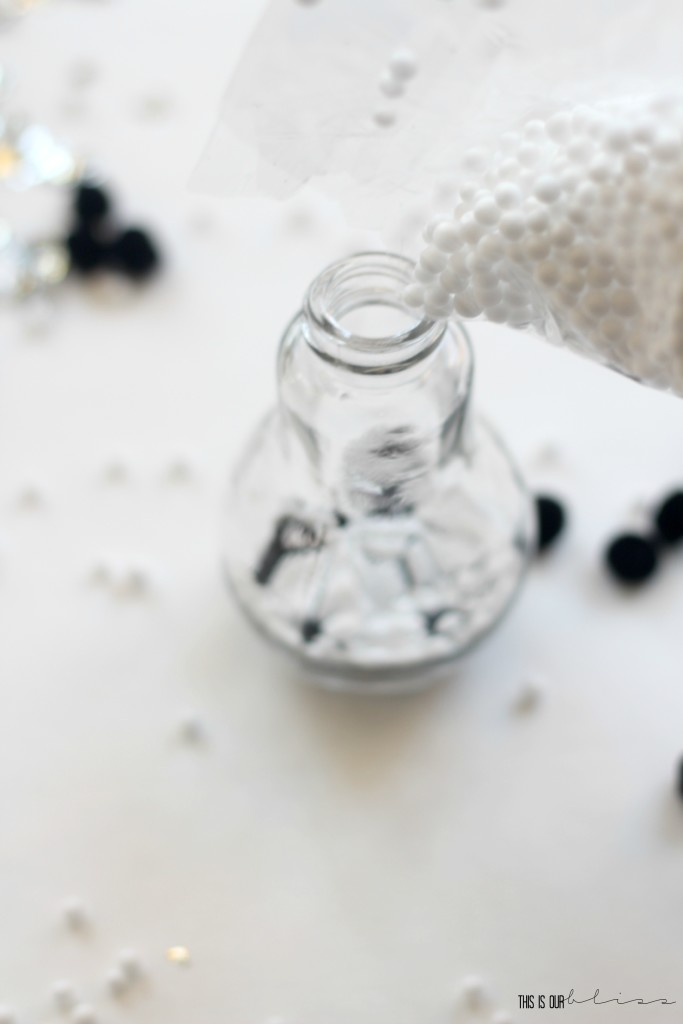 Be careful. These little guys have a mind of their own and several escaped each time I tried to pour them in!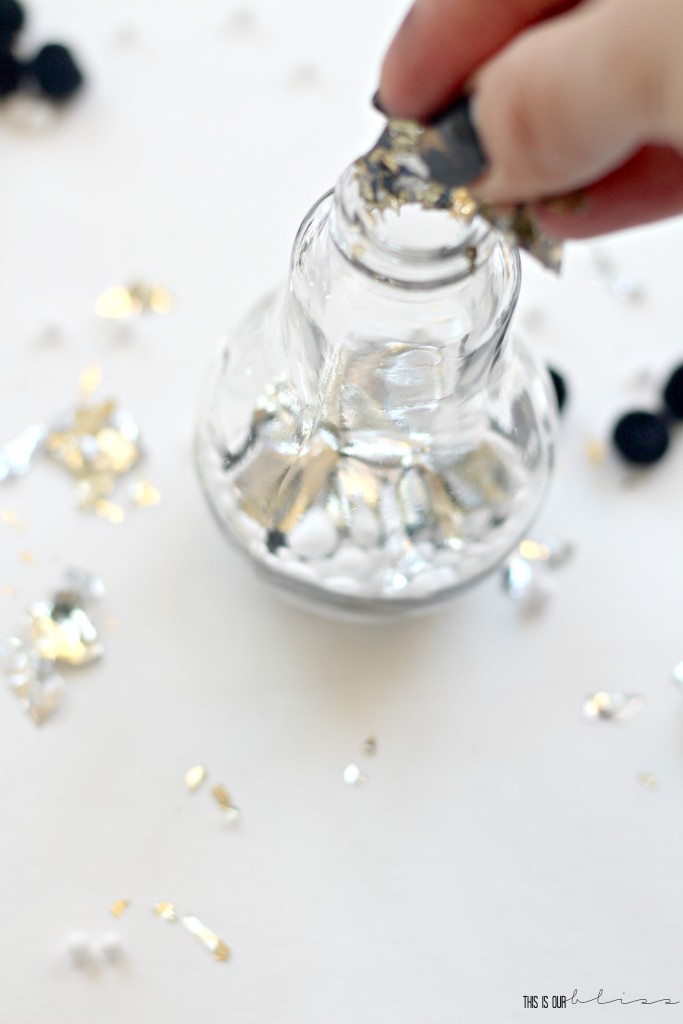 The silver and gold foil confetti was partially poured, partially sprinkled in. This part was a little messy, but the boys loved the aftermath all over the kitchen counter and carpet in the living room. Any opportunity to assist in making a mess is a win for them!
At the last minute, I decided to add a little bit of water so that the bulb could sort of be shaken like a snow globe. There is a small hole in the top of the screw on cap, so you have to cover it with your finger if you want to shake it. The water helped to mix up the materials and disperse them throughout the bulb and it looks really pretty when the water runs down the side onto the foil.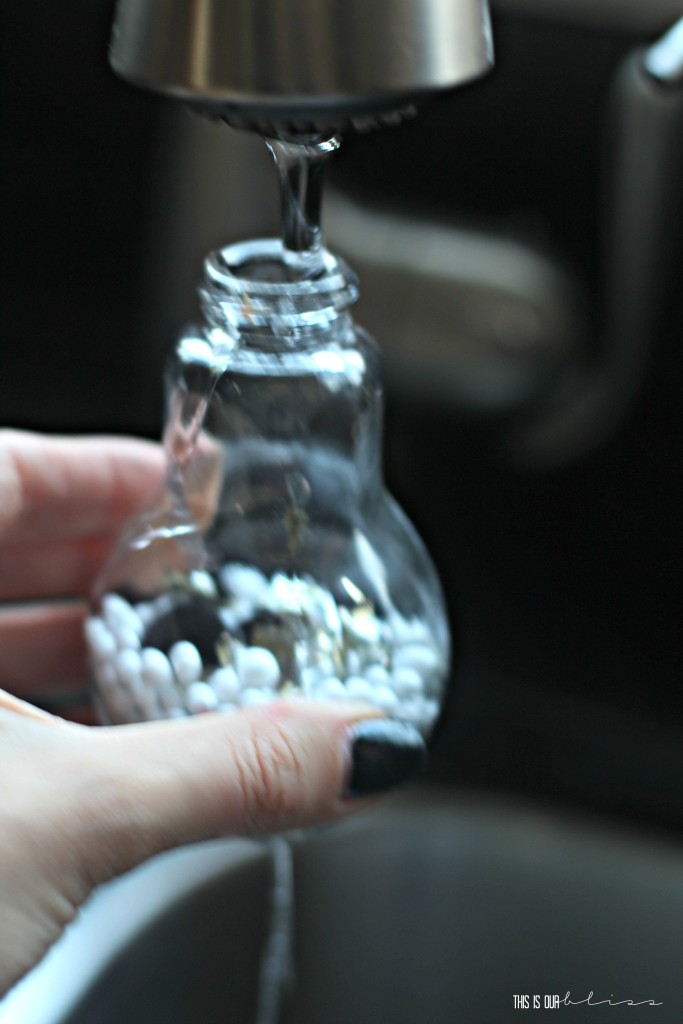 To finish it off, I simply screwed on the lid and tied a piece of ribbon around the top.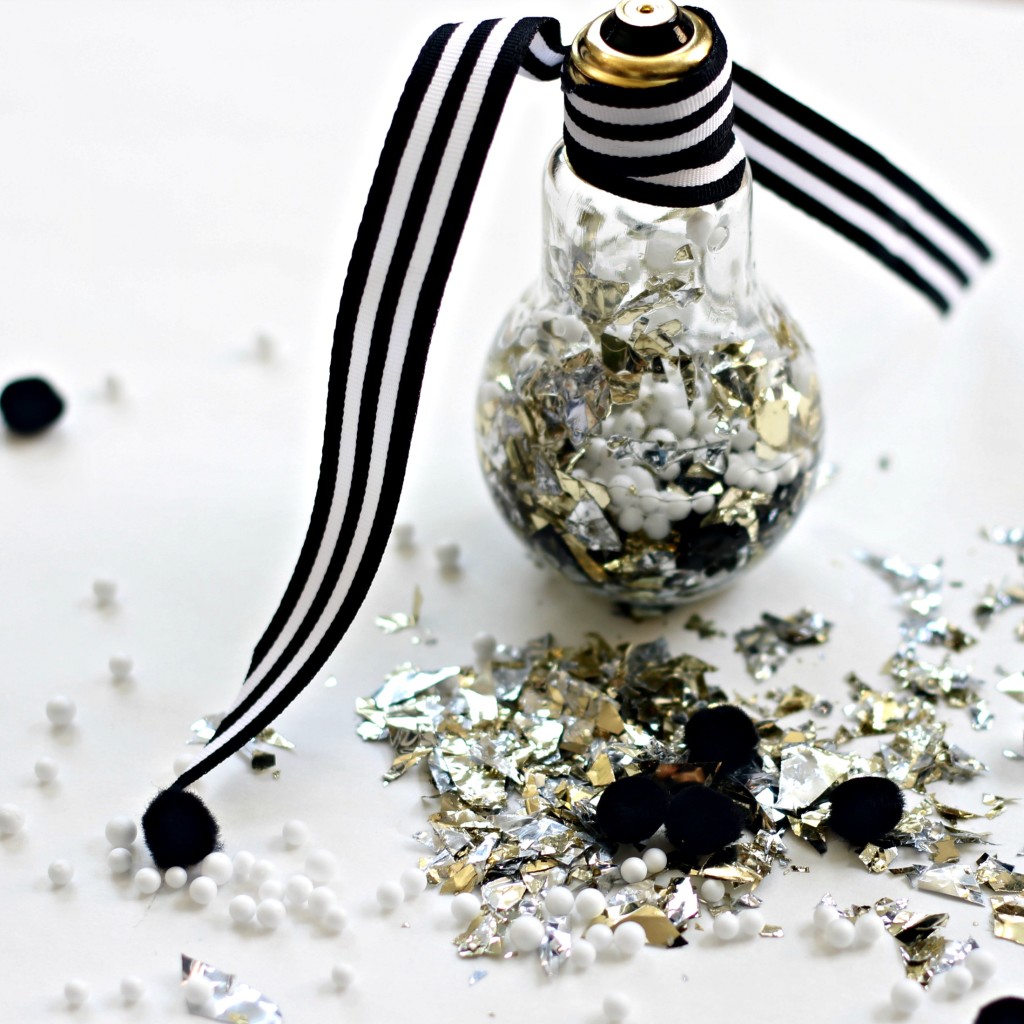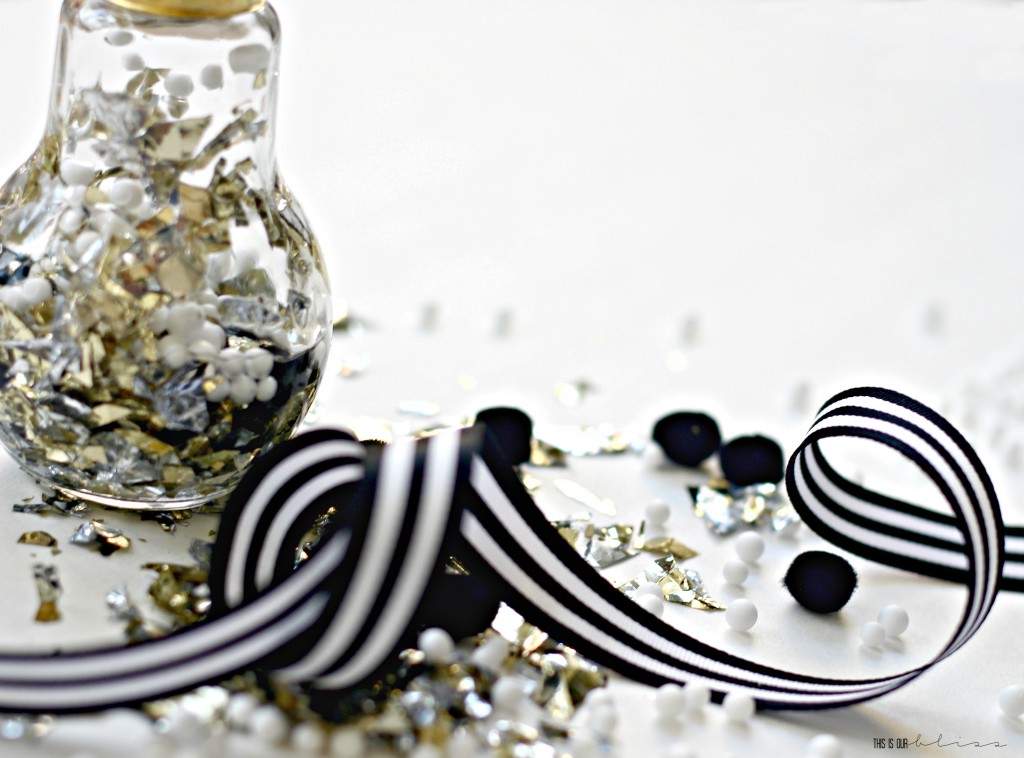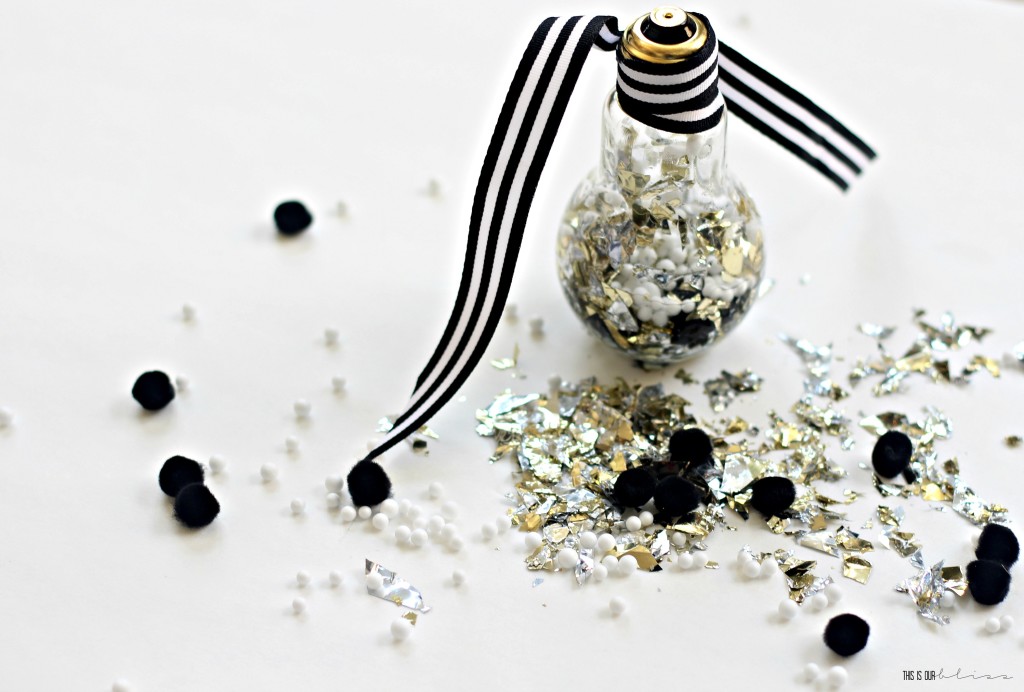 From there, it went on the tree!
The beauty of this DIY is that you can fill the bulb up with ANYTHING and it's a slight twist on a traditional fillable bulb. Please note, the bulb that I bought is meant to be filled, but it is a bit heavy, so be sure to place it on the tree carefully and evenly distributed with other ornaments!
More of this room and the rest of the house is coming up next week! I'll also be chatting about the trees, so come on back for more Christmas chatter and ideas!
Before you go, be sure to pop over to the other fourteen fabulous blogs and see their ornaments. You'll surely find some holiday inspiration to spread throughout your home and ideas for ornaments to adorn your tree!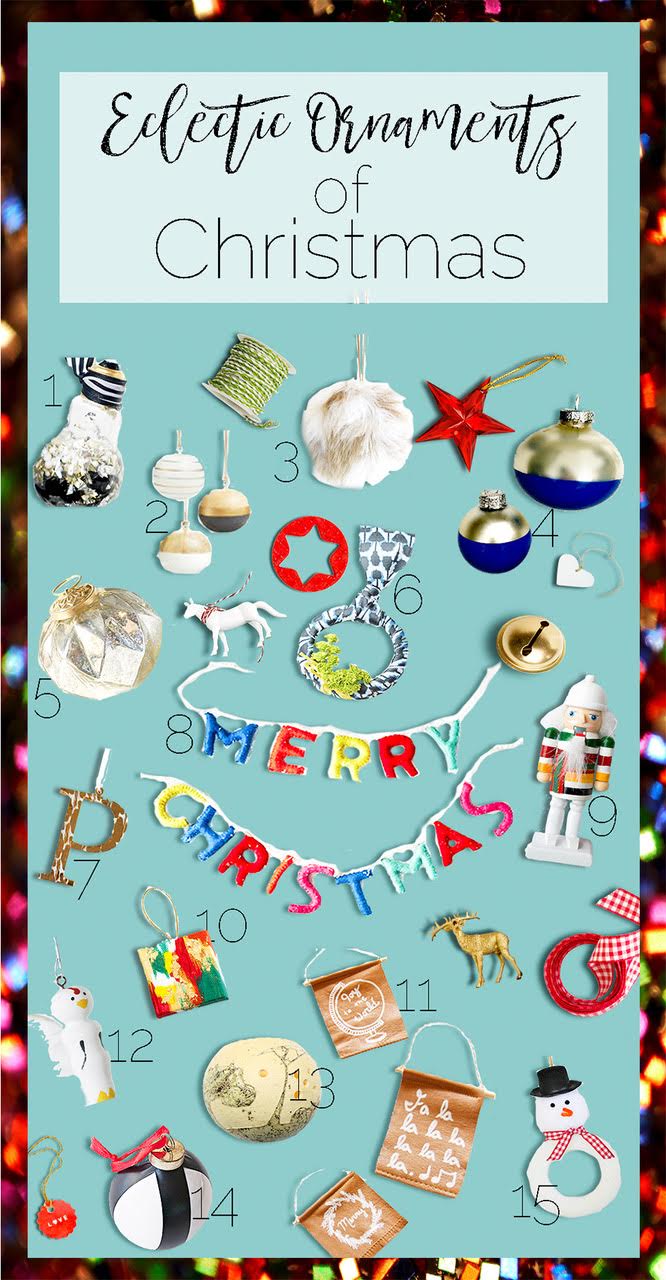 1. This Is Our Bliss // 2. The Striped House // 3. Up To Date Interiors // 4. Southern State Of Mind // 5. Maggie Overby Studios // 6. Casa Watkins // 7. Domicile 37 // 8. Two Thirty Five Designs // 9. PMQ for two // 10. The Gathered Home // 11. Bright Green Door // 12. Cassie Bustamante // 13. Blue i Style // 14. Monica Wants It // 15. Jennifer Dimples and Tangles
Have a wonderful weekend, friends!

Don't forget to pin for later!