Hi out there! I have to say, this week is one of the most jam-packed, hustle bustle weeks on the blog and staying up at night to work on fresh Christmas posts and perusing blogland filled with so many show-stopper Holiday tours has me feeling tired! That's on top of chasing the littles and trying to get a handle on my Christmas shopping, buuuut, I still have some steam in my engine so I've got even more Christmas goodness to share! Today I'm sharing the details of our Bold Neutral Glam Christmas Tree in the Living Room as part of the My Home Style Blog Hop: Christmas Tree Edition hosted by Casa Watkins Living. If you're joining me here today from Designing Vibes, then welcome. Aren't her fun pops of teal gorgeous?! The entire hop schedule is at the bottom of this post so be sure to head on to Iris Nacole next! You're in for a real treat with her magical white winter wonderland!
You already caught a glimpse of this tree in my Merry & Metallic Christmas Living Room Tour yesterday, but today I'm going to be sharing even more photos plus sources for the ornaments, gift wrap and more!

At first, I was worried that my choice of personal interior style words "BOLD NEUTRAL GLAM" I used to describe my tree and overall style last year, wouldn't work anymore since I have recently started incorporating some color into our home. Then I realized this year's Living Room tree is even more symbolic of those words, even more-so than last year!! Pops of red were EVERYWHERE throughout our home last holiday season and on both trees, so this year my terms "BOLD NEUTRAL GLAM" are still on POINT! Thank goodness.
Alright, let's get to this tree now!
Our living room tree is truly filled with all things bold, neutral and glam. The patterns are carried throughout the tree, a mix of leopard print and stripes and the only colors are bright white, dramatic black and pops of metallics. ALLLL the metallics – gold, silver, copper and bronze. Did I miss any?!
The tree ornaments on top and the wrapped packages below are all sorts of glam. They are shiny and sparkly and full of glitz and glam. I really amped the sequin and glitter factor throughout the entire space this year. I mean you can't have a Merry & Metallic Christmas Home theme without amping it up a bit, right?
It only makes sense to take the glam up a notch this time of year.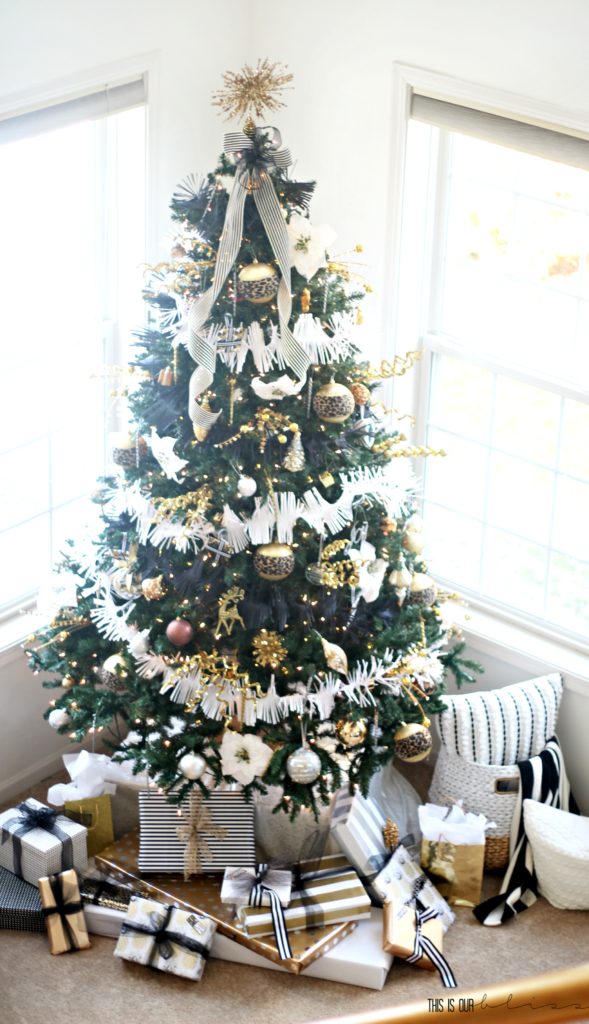 Although I adore the sparkle and shine on the tree and throughout the space, the matte white and black paper fringe garland might be my favorite addition to the living room tree this year. It gives it such great texture and visual interest, plus I love high contrast, so bring on the black and white!
And we can't forget about my DIY elements! I used my DIY Mini Present ornaments from last year. They fit right in!
And this year, I made these DIY Foil Confetti and mini pom-pom filled Light Bulb ornaments. It's a mouthful I know and I have them on the living room tree and the small tree in the dining room, which you'll get to see more of tomorrow! I told you this week was jam-packed with Christmas delight!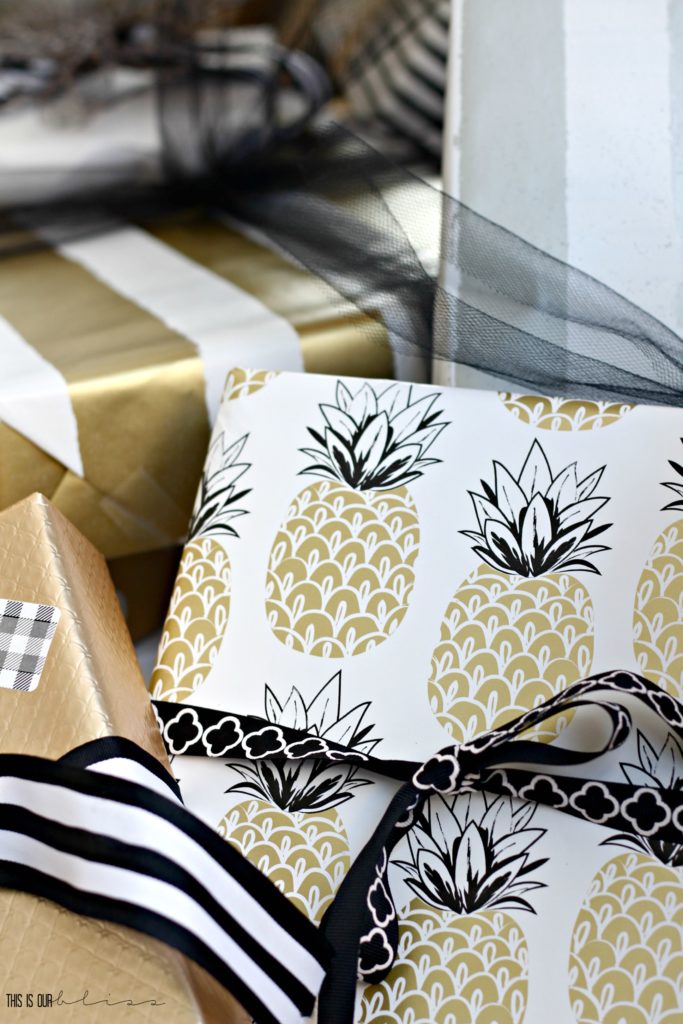 Isn't the pineapple paper the cutest?!
And last, but not least, I have a couple shots of the Bold Neutral Glam Christmas tree at night. The time when the trees look the most magical…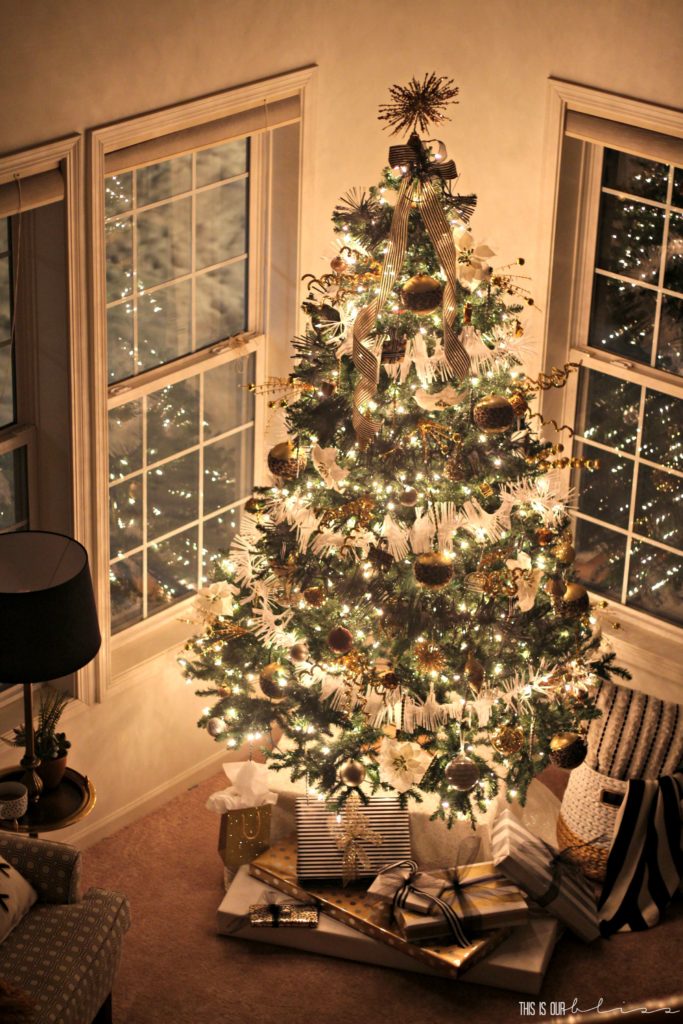 And this is the most magical shot, in my eyes…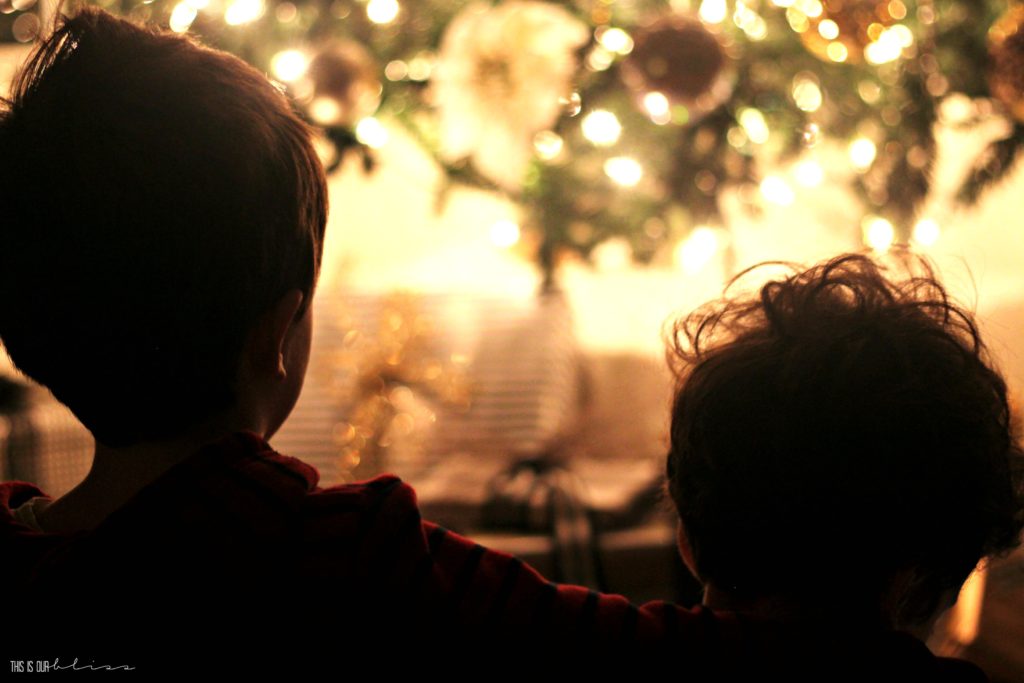 The littles! Yes, the biggest has his arm around the littlest and his CURLS!! Apparently they like to be in the same room with me when I'm taking pictures around the house. They try to sneak in all.the.time. Tonight, I let them 😉
Don't forget to pin for later…

Care to shop my tree and the space around it?! Go right ahead!
*Affiliate links are used below.
That is all from me, but before you go, be sure to stop by the other fabulous tree posts in the My Home Style Blog Hop Christmas Tree Edition 2016. A big thank you to Stephanie of Casa Watkins Living for continuously doing such a great job with this series!
Have a wonderful day!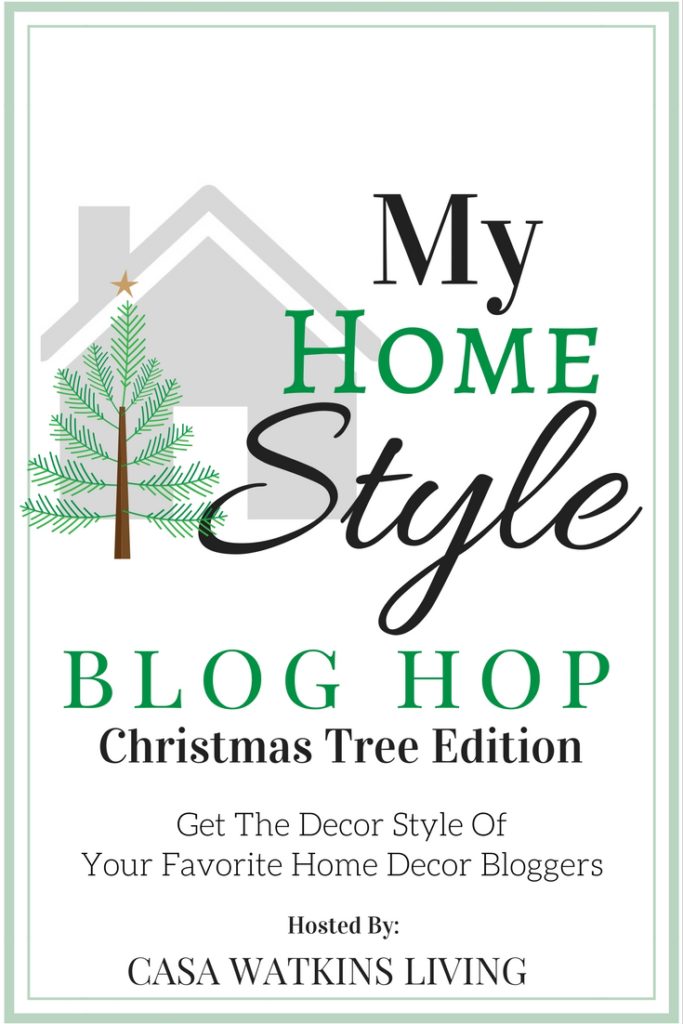 Monday
Tuesday
Wednesday
Thursday
Friday
To see a full tour of each Merry & Metallic Christmas space in our home, click the images below!
Happy Holidays and merry tree trimming!