I can hardly believe we are almost a full week into June, which means summer has arrived for most of us! Kids are out of school and running rampant! I also can't believe it will be one year ago tomorrow that we moved into our new house! I thought you might be curious to know how things have shaped up around here over the last year and how I've spiffed and brightened things up a bit for summer. Today I'm sharing our Chic and Bold Eclectic Summer Home Tour as a part of the Eclectic Home Tour Blog Hop hosted by Jess of Domicile 37. There is a beautiful collection of bloggers participating so be sure to stick around to the end to see their summer homes, too!
I'm going to give you a mini tour through the left side of the house on the main floor and then pop in upstairs to show you another spot I added a couple summer touches to.
First stop is the front porch! Come on up and in!
[*Affiliate links were used below.]
FRONT PORCH
Our porch is sitting pretty in pink, as is the rest of the house, you'll soon see! Large ferns and a variety of pink potted flowers sit on the steps and on the porch near the door.
I need to snap a couple more photos of my favorite flower-filled over-sized metal planters when the sun will cooperate with me! We received them for our wedding and they are great statement pieces on the front steps.
Ok, so I don't have a lot to show you on the porch but I wanted to show you the rugs!!
A couple weeks ago I scooped up this darling pineapple rug and placed it in front of the door. When I realized how dingy the cement porch was looking [the whole front porch situation is looking a little drab, but nothing that the power washer and a little paint can't help] I decided to grab this rug out of storage and place it underneath the pineapple one. Instantly chic and bold! I never met a black and white pattern I didn't love and polka dots are definitely not the exception. I love the layered look and need to try doing something similar inside the house as well!
pineapple rug | fringe & tassel sandals
Let's head inside, shall we? First I need to warn you. I may have gone slightly overkill with the peonies! But when they are this bright, bold and gorgeous AND in your backyard, overkill is necessary Don't you agree?
LIVING ROOM
This room has been a year-long work in progress. We brought our key pieces with us – couch, chairs and my favorite rug, but have been slowly adding thrifted pieces and accessories from around the house. I scooped up the bookcase for $20, the coffee table for $20 and just last week, I snagged this geometric brass side table for 5 bucks!
I love a lot of different decorating styles, which is why I embrace the collected look throughout our home. Patterns galore, new with the old, modern with traditional and you won't see a lack of black, white and gold no matter where you turn!
Throughout the tour you'll be seeing pops of pink and green which is no surprise since that has been my current mood for months now and will be incorporating those colors in our master bedroom I'm working on refreshing.
The easiest way to add the fresh greens look to your home is by literally walking outside and snipping some branches. I have them in a vase on our coffee table and I switch them out every few days when they start to wilt. The faux succulents you see on the shelf are from Dollar Tree and I used them to create these DIY Gold Orbs you see on the shelves!
I kept the coffee table styling fresh with greens, coffee table books and a couple of chic, gold accents.
This is one of the 2 coffee table "looks" I shared over at Polished Habitat last week!
My philosophy is everything looks better in a tray, so I often use them to coral clutter or to set out pretty objects. This one holds a few small knick-knacks and doesn't take up too much surface area which leaves room for a big stack of books and a large vase with my clippings!
Here is a peek at the other side of the living room opposite side of the dining room…
I left the navy pillows in place since I *finally* had something to carry the navy in from the dining room since the two room really are one large room.
Now we can head that way…
DINING ROOM
It has been a like a dream going out to snip fresh flowers these last couple of months — first lilacs and tulips and now peonies and roses. The previous homeowners did a lot of questionable things around here, but their landscaping decisions were on point! Zero complaints there.
For this look, I draped a piece of fabric over the table to use a tablecloth, laid my go-to striped runner down and then set out a few lanterns filled with faux greens and the larger one houses a pineapple! And peonies in between, because…free pink peonies!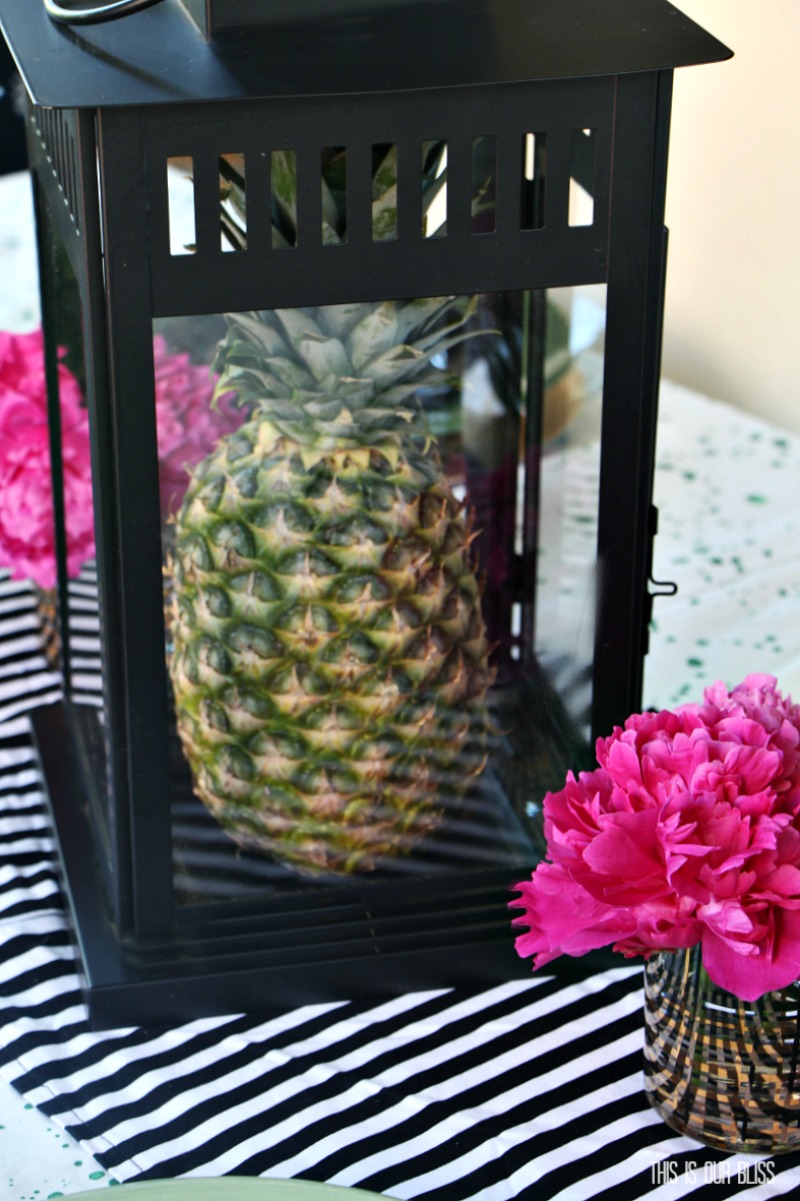 I tried to spare the house from too many pineapples this summer since I do have them out year-round….
…but a real one inside of a large lantern makes an inexpensive centerpiece!
The bar cart continues to be one of my favorite styling nooks in the house. I really should move it away from the window every now and then because it's so darn hard for me to photograph! Maybe I need to wheel it back into the living room like when I had it set up in there for Christmas! Maybe I'll take it for a spin and see where we end up!
Aside from the hot pink peonies outside, I was actually inspired to sprinkle pink throughout the house for the season when I grabbed these fun twisty taper candles at Goodwill for 10 cents. Now that I think about it, taper candles actually inspired my Spring Tablescape, too!

I think pink and green might be my new favorite combo!
Now to host a summer dinner party!
GUESTROOM
I had zero plans to share any of the upstairs rooms in the tour since the master is underway and I hadn't done anything new to the biggest's room and the littlest's hasn't been touched since we moved in [poor second child!], but a couple nights ago I got the itch to move the bed in the guestroom. Here's what it looks like now…
Do you remember how the room looked when I shared the DIY No-Sew Pom-Pom Curtain Tutorial? Well, now the bed is no longer directly in front of the window! I opened up the room and created more floor space. On the other side of the room sits my desk and a large 16 square cubby wall unit which holds all of my craft and DIY supplies. I'm not sure when the day will come that I show you that side ha!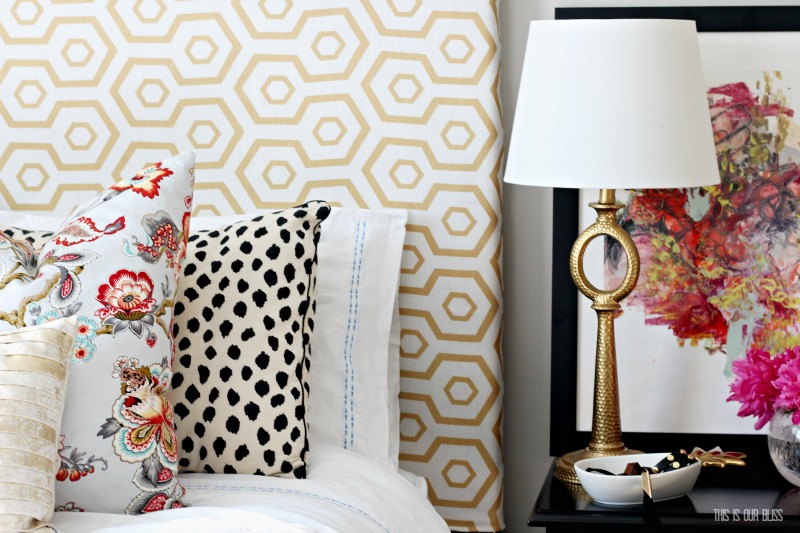 floral fabric | spotted sham [similar] | DIY Headboard Tutorial | colorful abstract art | pineapple dish
And wouldn't you know…I couldn't find a home for this piece of art once we moved into this house last year. I had it in our master bedroom in the old house, but it wasn't until I grabbed it out of storage to set out for my mom to take home with her after her last visit that I realized it did in fact, have the perfect home right here with me. How could I not have thought to use it in the guestroom until now? It had been leaning against the hallway wall RIGHT outside the guestroom for weeks!! I guess after passing by it a few hundred times, it finally dawned on me. Now, it's never leaving…Sorry, Mom!
And lastly, this cutie pineapple tray now rests on the nightstand. It's always nice to give your guests a designated spot to place their watch or any jewelry before they go to bed.
And that is all for this year's Summer Tour, but before I go, I want to share a sneak peek of the newly refreshed back deck with you…
I'll be sharing the Reveal with you soon, so be on the lookout! If you want to see my vision for the space, see it here.
Thank you so much for stopping by to see our Chic and Bold Eclectic Summer Home Tour! I've included the sources for many of the items you saw in the photos above, if you'd like to know the source of something not included, it is probably because it was thrifted or I could not find a similar item. Feel free to leave a comment to check with me to make sure though!

Don't forget to pin for later!
Now head on down to check out the rest of the line-up for this week. There is SUCH a great mix of styles… a little something for everyone!
Monday
Domicile 37 | Whimsical Blue Living | The Striped House | Bright Green Door
Tuesday
Cassie Bustamante | Jest Cafe | The Rath Project | Emmerson & Fifteen
Wednesday
Natasha Outside and In | Up To Date Interiors | Designing Vibes | PMQ for Two
Thursday
Jessica Brigham | This is Our Bliss | CAD Interiors | French & French Interiors | Maker of Home
Enjoy the rest of your week and the start of summer!