Today, I'm sharing my hands-down, favorite go-to appetizer to serve at a party, holiday meal or simply for dinner with my family! My Bacon Stuffed Mushrooms are ALWAYS a crowd-pleaser! You saw a sneak peek of them earlier this week on my Thanksgiving Table and I talked about how well these Mushrooms pair with Pinot Noir. They make a great appetizer or side-dish any of time of the year, but will be a fabulous addition to your holiday table. Let the menu planning begin!
How is Thanksgiving next week already?!
I've been making these mushrooms for years and the recipe was originally adapted from a friend's mother's recipe. I can not tell you how many times I have been asked for the recipe after serving these mushrooms…and I have have to say, "Um, let me get back to you!" I had never taken the time to sit down and write out how I make them, but I thought now was the perfect time to do so. Just in time for holiday get-togethers! If you make these, be prepared. There will not be any Bacon Stuffed Mushrooms left in the pan. I repeat – there will be NO leftovers!
BACON STUFFED MUSHROOMS
INGREDIENTS:
1 TBSP olive oil
1 TBSP butter
1/2 TBSP minced garlic
1 pkg whole white mushrooms [16 oz. package = approx. 20-22 mushrooms]
1 tsp salt
1 tsp pepper
1 tsp chili powder
1 tsp onion powder
1 pkg cream cheese
6-8 chopped green onions
1/2 cup bacon pieces [I buy the bag of cooked bacon pieces, not bacon bits]
*** I typically double or triple the recipe for parties!
DIRECTIONS:
Preheat oven to 375 degrees.
Rinse / dry mushrooms. De-stem the mushroom caps and set stems aside.
Place the caps in 9″ x 13″ baking dish coated with non-stick cooking spray.
Chop 70-80% of the mushroom stems as well as the green onions.
Add olive oil and butter to saucepan.
Add green onions, chopped stems and garlic to the pan and cook over medium heat for 3-5 minutes, stirring occasionally.
Add bacon and cream cheese and continue cooking for another 3-5 minutes, stirring the mixture as you go.
Remove from heat once the mixture is cooked down and thoroughly combined.
Spoon in mixture to fill openings in mushroom caps.
Fill center completely so there is a small mound on top of each cap. You can always go back through and add more once you've topped them all if you have some filling left.
Bake at 375 degrees for 35-45 minutes until tops and bottoms are browned slightly.
Let cool, serve and enjoy!
The recipe is simple and most people are surprised to find out there isn't more to the "stuffed" part. Nope, there aren't any breadcrumbs in there at all! I love that the heartiness comes from the bacon AND the mushroom stems. You're essentially taking apart the mushroom and then putting it back together again. The Bacon Stuffed Mushrooms are a delicious savory accompaniment to any meal — I serve them with Burgers, Chicken and with Ham or Turkey for the holidays. You just can't go wrong!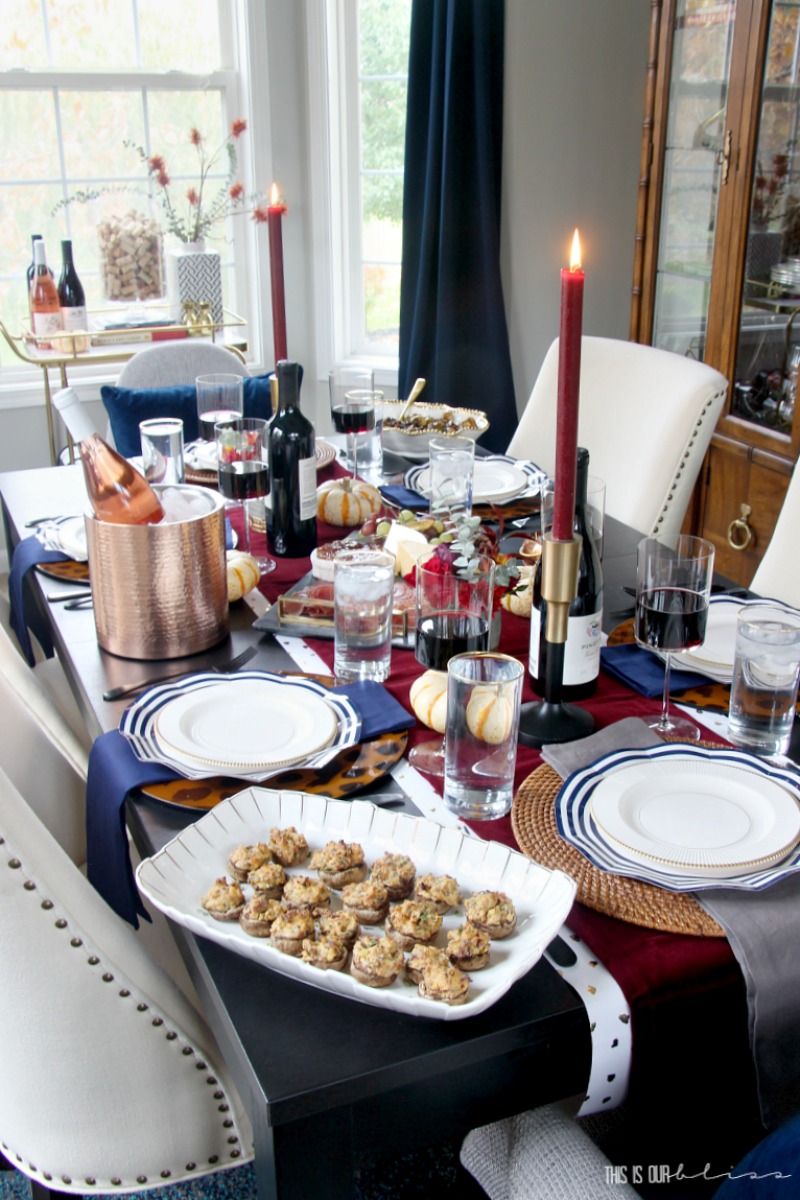 I don't share recipes often, but when I do they are tried and true and the ones I absolutely love. I hope you enjoy them just as much as we all do! Now, off to continue working on some of my Holiday Gift Guides for you all. 'Tis the season for eating, drinking and holiday shopping, right?!
See you back here soon!