It's Summer, so bring on the pineapple! Of course they're acceptable to eat and decorate with year-round, but I simply can't resist them this time of the year! I joined a few of my fave blogger gal pals for a virtual Summer Progressive Dinner Party earlier this week and shared my Tropical Fruit-filled Ice Mold Wine Chiller as a stylish Summer entertaining idea and you probably caught a few glimpses of the table. So today, I thought I would share more of my Tropical Summer Table with you guys. It's filled with palm leaves, pineapples and leopard print and lots of pattern play! Come see all of the black, white, green and gold summer-y goodness below.
[*Affiliate links are used in this post.]
My two tips for setting a stylish summer table, or any tablescape for that matter is to start with the foundation [in this case the leopard print placemats and palm leaf "runner"] and build it layer by layer. Secondly, use what you have by mixing and matching dishes, glasses and of course, pattern!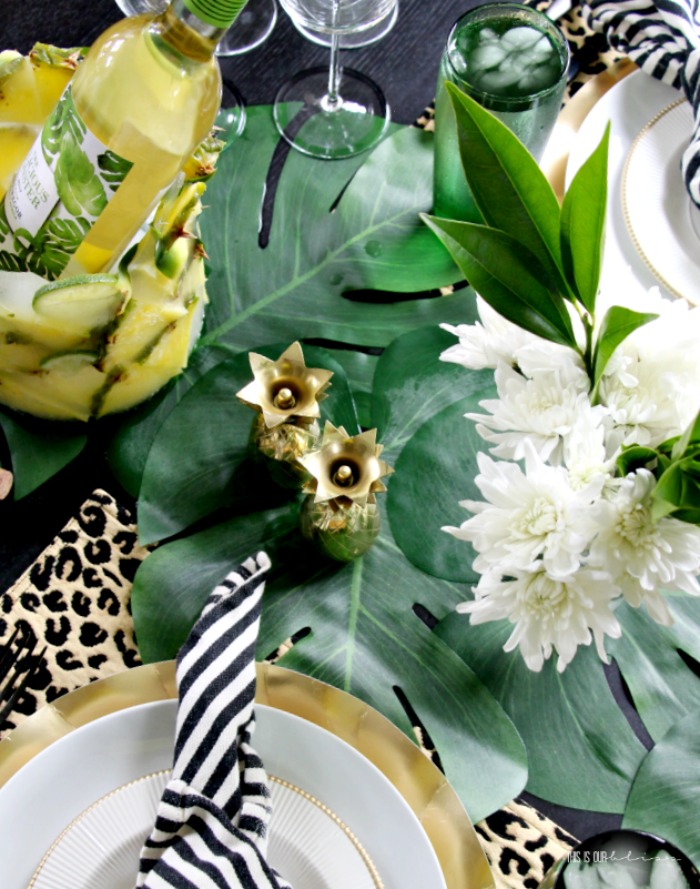 I found the leopard print placemats at the consignment shop where I take a lot of my household and decor items when my hoarding stash starts to overflow. Buuuut I usually can't make it out of the store without picking up a new item or two. I shouldn't feel too guilty if I just unloaded a carload of things to get rid of though, right?!

Animal print is such a classic pattern and I knew they would end up on one of my tablescapes in the near future and this season seemed like a great time to break them in.
I found a pack of 48 palm leaves in various sizes on Amazon and knew they would work somehow on the table. Initially, I tried the large ones on top of the placemat under the plates, but you couldn't see much of them. Then I tried putting a small leaf on top of each plate but scratched that idea, too. Finally I just staggered them across the center of the table, layering them on top of the one before it and slightly over the edges of the placemats and loved the look!

For the place setting, I used our everyday white plates on top of my favorite [paper] gold charger plates and the placed another darling disposable salad plate on top. The gold rimmed ones are so cute!
I learned about these black flat ware pieces at the Better Homes and Gardens Stylemaker Event last Fall because they were recommended to us as great photo styling props! They are from BHG's line at Wal-mart and come as individual pieces. I first used them on our Christmas table last year and I love alternating them with my go-to gold flatware when we're hosting or just want to set a special table.
The place setting was finished off with my favorite black and ivory striped cloth napkins that I simply folded in half to make a triangle, rolled the top down a few inches and then tied a loose knot in the center. Oh and I almost forgot about these gorgeous green glasses I picked up at Dollar Tree. Aren't they the prettiest shade of green? Perfect for water glasses or a large cocktail 🙂
Along the middle of the table, you'll see a couple of small vases [which are actually just two of my individual wine carafes] filled with white mums and green fillers on either side of the pineapple-filled gold champagne bucket.

You surely can't miss the centerpiece! People often throw fresh fruit in a simple bowl or vase so I thought it would be fun to use 3 large pineapples in a large gold footed bucket [similar here] to really make a stylish statement centerpiece!
palm leaves | pineapple shot glasses | tropical wine bottle [Trader Joes] | wine glasses | rattan charger plates | Leopard placemats [thrifted, similar here] | green glasses | gold ruffle charger plates | white dinner plates | gold rimmed salad plates | black flatware | large gold champagne bucket [HomeGoods, similar here] | small vases
Last, but not least, the real star of the show. I set my Tropical fruit ice mold wine chiller out at one end of the table with a set of 4 wine glasses for guests to help themselves to a refreshing glass of cold white wine.
My mouth is watering as I type this!
You can see the full tutorial for the ice mold here. Be sure to scroll to the bottom to see how you can save yourself a little time by purchasing a mold instead of DIY'ing one. While it was fun making one from scratch, the mold is actually in my personal shopping cart now 🙂
That completes my Tropical Table and Summer Dining Room Tour. I hope you found a few tid bits of Summer hosting inspiration!
With all of the pineapple we had in the house, I decided to make simple pineapple corn salsa with some of the leftover fruit and will be sharing the recipe next week. A little sweet, a little spicy and perfect for summer entertaining!
Shop my Summer Table and Dining Room below:

Thanks for hanging out today and peeking at my Tropical Summer Table. Please come back again soon. Happy Summer!