Hey guys! Yes, you're still in the right place! I might be throwing you all for a little loop but I've decided it's time I start sharing another love of mine – style! It probably doesn't come as a surprise to those who know me as I'm always styling and re-styling our home, but for those who reeeeaaally know me, know that shopping is one of my favorite hobbies ha! This blog has always been a place for me to share things I love and what's going on around here and truthfully, with the new baby this summer, there has been less house projects and more boxes delivered to the porch. Not only have I been cleaning out my closet [because let's be real, my body has taken on a new shape and size] and adding in new essential items, but I've really started to get creative with how I wear the "key pieces" still left in the closet especially as we embark on a new season. One of my most recent purchases has quickly become my new Fall staple. While the temps have only started to cool down in the last day or two, I'm planning outfits around alllll my sweaters and decided to share this one in particular here today. Yep, one sweater, five ways. Here is my Black & White Striped Sweater 5 Ways!
[*Affiliate links are used in this post.]
Black, white and striped? Yes, please!
What's even better?! This sweater is only $19.99!
If you've been watching my Instagram stories this Summer, then you saw and I'll admit, I was shopping like a madwoman. I blame it on not buying a single piece of clothing for nine months during this last pregnancy. After he was born, I decided to fully embrace the whole treat yo'self concept and pick up some new wardrobe items including plenty of new shoes! While browsing the internet during my middle-of-the-night feedings, I somehow stumbled upon this adorable black and white striped sweater and thought why not? When it arrived I was pleasantly surprised with it's quality and thickness, and at such a fabulous price point. Yes, $20 with Prime shipping!
While in the process of purging my closet, I made 3 piles. Donate, Consign and START WEARING! I actually pulled out the things I wanted to keep so I could hang them back up in a more organized, practical manner by color and type of top. Most of what you see in the outfits below are things I already had with exception of a few new pieces from the Nordstrom Anniversary Sale this Summer.
So, here are all the ways I styled my new black and white striped sweater!
[5 WAYS TO WEAR] A BLACK & WHITE STRIPED SWEATER
OUTFIT #1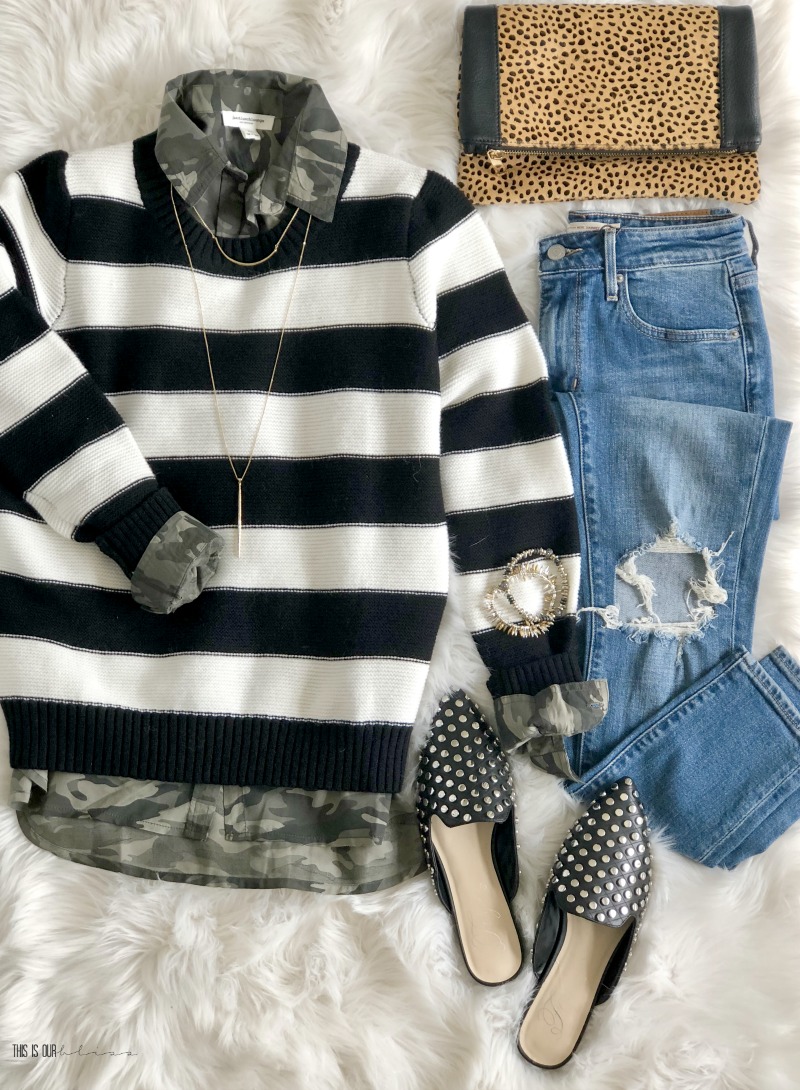 SWEATER | CAMO SHIRT | JEANS | STUDDED MULES [ANOTHER OPTION HERE & HERE] | CLUTCH [SIMILAR] | NECKLACE

3 of my favorite things – stripes, camo and leopard! This is a dressy, yet casual option that could work for day or night. I'm thinking coffee date, brunch, ladies lunch and dinner, too!
OUTFIT #2
SWEATER | JEANS | LEOPARD BELT | NECKLACE | MUSTARD STUDDED MULES | RUST MULES

This is a simple sweater and jeans look, but I dressed up a bit with a statement necklace, belt and cute clutch. Oh and paired with either the studded mustard or rust suede mules? Absolutely!
OUTFIT #3
SWEATER | LEGGINGS | SNEAKERS | BACKPACK

This is what I call a slightly elevated mom-iform look! Instead of just leggings and a t-shirt, try layering a sweater on top of a longer T. This sweater paired with black leggings [love this option with the knee slits and only $14!], sneakers and a back-pack. Which I have to tell you has recently become my diaper bag and I love having a backpack vs a large tote to haul around baby gear + my own stuff! It's a great size, very chic and super comfy [and currently on sale right now here].
OUTFIT #4

Another cute and casual look and an opportunity for more pattern play! Simply throw the sweater on over your favorite plaid top. I grabbed this plaid one [which comes in 9 colors] earlier this Summer and already got one wear out of it when I tied it around my waist with this graphic tank for the Luke Bryan and Sam Hunt concert over Labor Day weekend. Plaids and Stripes will never go out of style! And can we talk about these snakeskin pointed-toe flats for a second? Comfortable, cute and 15 bucks. You're welcome 🙂
OUTFIT #5
SWEATER | FAUX LEATHER JACKET | BLACK DENIM | LEOPARD PUMPS | BEADED CHANDELIER EARRINGS | GOLD SPIKE BRACELET | BLUSH BEADED BRACELET

All the heart eyes for this date night or GNO look! My new favorite faux leather jacket with gold zipper detail layered over the sweater and paired with black denim and leopard heels is an instant chic and sexy look! Plus any reason for leopard + gold sequins is a win in my book.
So, let's hear it. What do you guys think? Was this helpful?
I know I love seeing how to take one clothing item and get several different looks out of it, so I hope you found this helpful too! Remember you don't have to go out and buy all new things. By simply purchasing a few updated staples and then taking inventory in your own closet, you'll be surprised at how many "new" looks you can come up with by mixing and matching your favorite, but forgotten about pieces!
*Bonus – head over to my friend Heather's blog where she is sharing 5 Ways to Wear a Utility Vest! Her outfits look fab and are giving me so much Fall insp. Olive is such a hot color trend for Fall!
I'm hoping to share a 5 Ways post every other week or at least once a month, so if you have items you'd like me to help you style, leave me a comment below and I'll try to incorporate it into the rotation. We all have those things we want to get our money's worth and wear the heck out of! Am I right?