Anyone out there still not getting Fall-like temps yet? We're still sitting in the 80's so far this October which makes it tough to fully immerse myself into all things Fall around here. Don't get me wrong, I've indulged in my PSL's, worn a sweater or two and took the boys to visit the apple orchard, but since my house hasn't been fall-ified yet this year, I thought I'd do a quick round-up of Five DIY Fall Decor Ideas Under $5 from years' past!
I'll start with the oldest and work my way to my most recent ones. If you have been hanging around This is our Bliss for a few years, then you might be remember some of these oldies but goodies!
Five DIY Fall Decor Ideas Under $5
One day, I stumbled upon some great plaid napkins and decided to take them home and turn them into DIY Fall pillows! No-brainer, right? They were already the perfect size, so all I had to do was sew them together and put in a zipper. You could also use cloth napkins and make a no-sew version or ones without a zipper.
If you love the pattern or print, get creative. Don't limit yourself to just making things with fabric from the fabric store! Get the full tutorial for the DIY Fall Pillows here!
That same Fall, I made a list of some of my favorite things about the season – some fun and some nostalgic – and then I typed them out in different fonts and had the document enlarged and printed at FedEx Kinkos.
I popped the over-sized word art in a frame and used it in a Fall vignette on my entryway table. Recognize that pillow below?!
3 | DIY AUTUMN LEAF & BERRY WREATH
This wreath was a super simple one and was lightweight enough that I ended up attaching it to the back of our host and hostess chairs at the dining room table.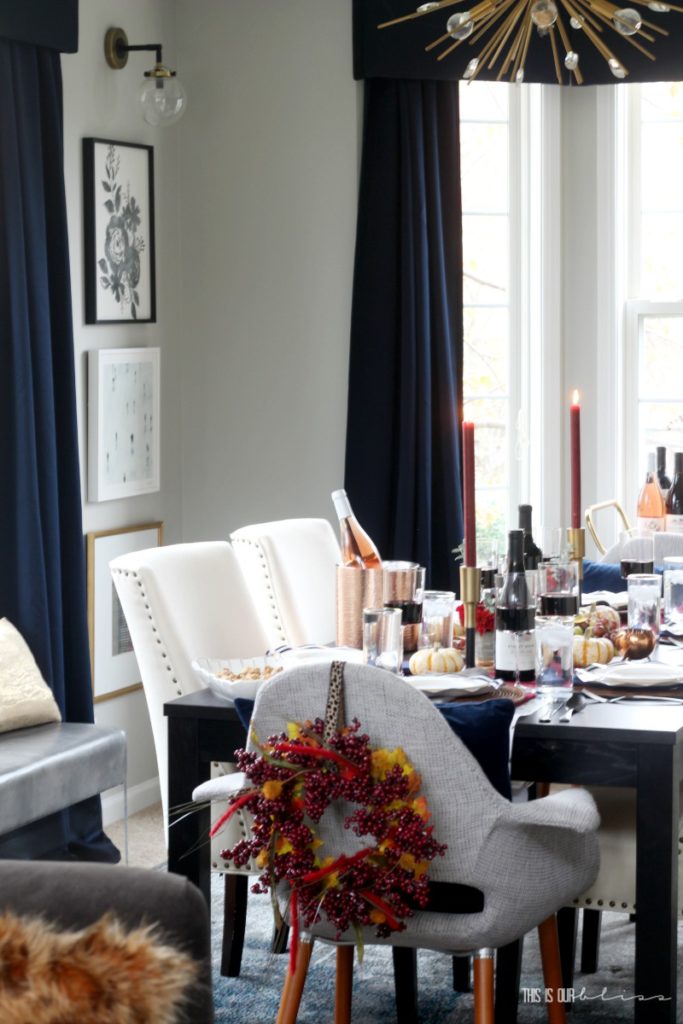 You can see the wreath hanging as chair decor on my Navy Blue & Burgundy Thanksgiving Tablescape.
After creating this Maple Leaf Charger Plate early on in the Fall last year, the rest of my Fall tablescape fell right into place.
This DIY was the jumping off point. I was able to make a set of 6 in less than 10 minutes and for only a couple dollars each!
See the entire Burnt Orange & Berry Fall Tablescape here.
And since this cute little thang came to life last month, you probably remember how easily I put it together! In case you want the full tutorial, click here to see the step-by-step instructions for making this DIY Dollar Store Copper Acorn Vase.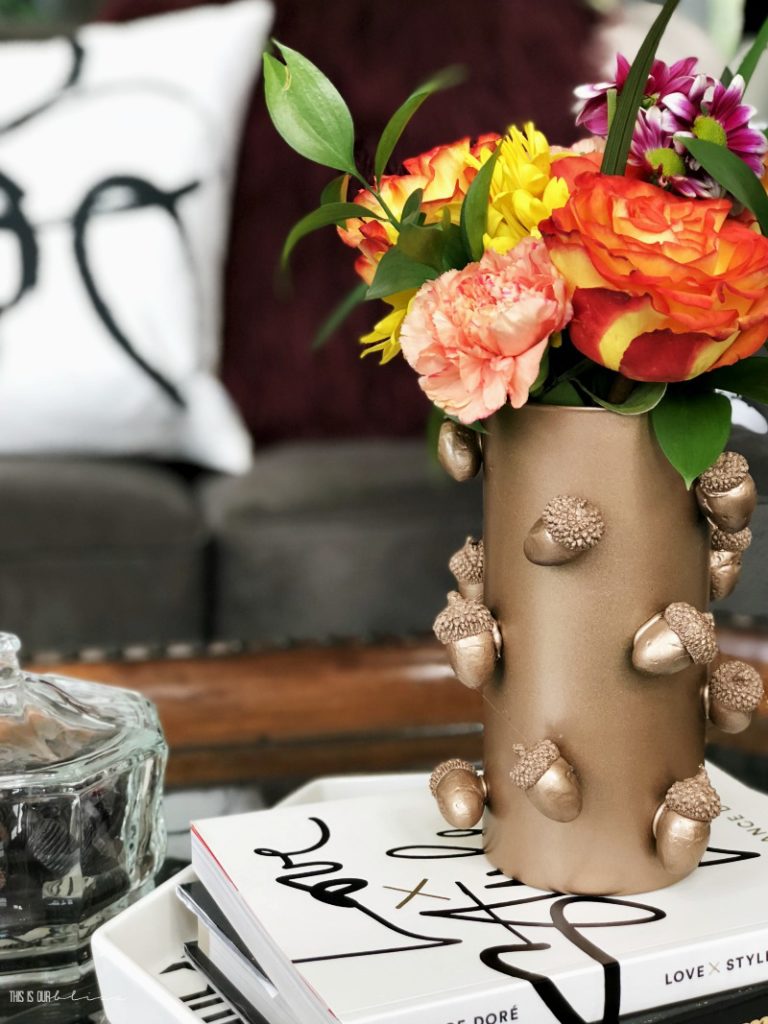 Like I keep saying, the Fall bug really hasn't hit us indoors or out yet, but after seeing these old posts, I'm feeling inspired to grab a few of these items out of storage to enjoy again. I think those plaid pillows would spice up our Living Room quite nicely! All of these projects were quick, simple and cost less than $5 to make.
Don't forget to pin it for later!
Which of the Five DIY Fall Decor Ideas Under $5 is your favorite? Which one are you going to try for yourself?!