I realize we haven't even reached Halloween yet, but Christmas is in the air today! Or at least on the blog for me and my blogger friends! We've teamed up again to share some DIY Christmas decor inspiration with you all. There's nothing wrong with some early planning, is there?! Christmas decor has been front and center of my local Dollar Tree for weeeeeks now, so after recently perusing the aisles, I rounded up a few items to make this DIY Buffalo Plaid Scarf Wreath!
So cute. So simple. And so inexpensive!
I made this cutie Buffalo Plaid Scarf Wreath for $4. Its petite and perfectly festive for the upcoming holiday season. Here is what I did to make it…
SUPPLIES
Buffalo check scarf
black fur scarf
foam wreath form
"Believe" ornament
Scissors
hot glue gun + hot glue [any fabric glue will work]
DIRECTIONS
First, I cut along the seam of the scarf since the scarf I bought was actually an infinity scarf. Then I ran a line of hot glue along the edge of the scarf width-wise and placed it down on the wreath. From there, I simply started wrapping the scarf around the wreath form, pulling it tight as I worked my way around.
There is quite a bit of overlap, but that's okay! I wasn't going for a perfect fit and didn't mind that the print didn't match up.
Once I reached my starting point on the form, I pulled the scarf tight and ran another small line of hot glue under the edge of the scarf and pressed it down to seal it off.
Next, I grabbed the black faux fur scarf and tied a simple knot around the wreath, stuck a small clipping on the left side of the knot and then secured a small "believe" ornament to the right side of the knot with a small amount of glue.
That's it!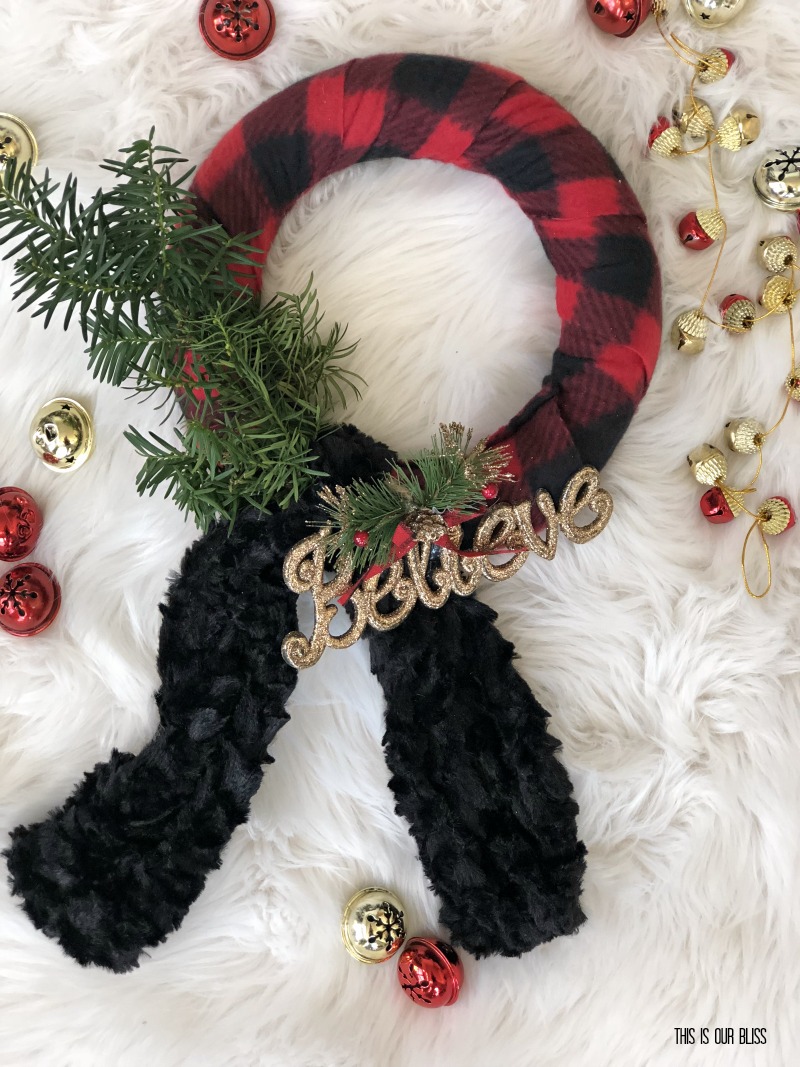 I love that the wreath looks like a little buffalo plaid sweater with a black scarf hanging around it's neck 🙂
And instead of sticking it on the front door, I decided to start playing around with various ways I can jazz up our current wall decor for Christmas this year. Maybe add some wreaths to the frames in our gallery walls? Or stick a wreath inside the edge of a wall mirror like you see here?!
Either way, I think it's fun to be able to leave your everyday decor in place during the holidays, so by adding a little festive flair to what's already there, you can save yourself the time, hassle and headache of packing it up just to bring it right back out in January!
And if you like the look of a wreath hanging on a door, I think these would look darling on the door of a kids' room. In fact, my boys said they'd love to have a Buffalo Plaid Scarf Wreath hanging on their bedroom doors.
I heard…"That looks like my spiffy shirt!"…which is how they refer to any plaid or checkered button-up shirt in their closet! ok, ok…spiffy scarf wreaths coming right up!!
Now be sure to take a few minutes to peek at the rest of the DIY Christmas decor. It's never too early to start scheming!
Southern State of Mind | My Thrift Store Addiction | Knock It Off Kim | This is our Bliss | Redhead Can Decorate | Monica Wants It | Heathered Nest | Creative Ramblings | Refashionably Late
And if you're totally smitten with red and black buffalo plaid like I am for the holidays, then here are a few things I spotted. It's never too soon to start your holiday outfit planning either!!

See you back here soon!