Today's post was so much fun to put together! January is always a month of reflection and planning for me both personally and for the blog. Taking time to reflect on the things that brought me joy last year while also taking note of areas that need improvement is so crucial for growing and evolving. Last year, I decided to start sharing more style content on the blog and from what I can tell, you guys were on board with the added variety! Of all the things I shared last year, today I've rounded up the most popular purchased items of 2018 for Home & Style. Yes, all the things YOU bought and loved the most!
A little inspiration goes a long way! Whether you're working to make your house a home or updating your closet with wardrobe essentials to feel more stylish and put together, all it takes sometimes is an idea and feedback from someone who's tried it before you! As a busy mom myself, I love sharing items that have helped me pull a room together or curate my own closet to include the pieces I need the most at this particular stage in my life. And no that doesn't have to mean only athleisure wear – although I sport it often!
Read on to see a full list including images for the most popular purchased items of 2018 for home and style. Maybe you'll see some things you missed throughout the year! I'll start with home decor since that is the bulk of what I shared!
TOP 10 MOST POPULAR PURCHASED ITEMS OF 2018 | HOME DECOR
10 | Wood Framed Brushstroke Art
This cute little abstract art piece is actually in TWO rooms in our home. You saw it in our Basement Bathroom and then I bought a second one to put in the Neutral Nursery! Unfortunately it seems to be sold out in most locations and not available for shipping, but here are a few similar ones [at great price points!] if you like this look.

9 | Mid-century Rod – Wood & Brass
The wood and brass curtain rod can also be seen in the image above hung up in the nursery. My blogger bestie Heather of Southern State of Mind gifted it to me as a baby gift because what else do interior obsessed girlfriends gift the other when they're expecting AND working on the One Room Challenge? A fabulous home decor item, of course! The wood tone and beautiful brass on this rod is absolutely perfect in his space.
8 | Black & White Scallop Cloud Island Rug
Unfortunately, this rug was a hot seller for this retailer and it's no longer available! However, I did source this similar black and white scallop rug. If you are looking for even more similar rugs, I've rounded up more of my favorite black and white rugs for you in this post.
7 | Set of 2 Leather Dining Chairs with Gold Metal Legs
We have been so happy with these dining chairs since our Kitchen Refresh last year. They are super kid-friendly chairs because any messes and spills can easily be wiped off! Trust me on this one. They are at a mid-range price point and totally worth the money. I was originally eyeing this similar leather dining chair from West Elm, but at $399 each, I decided the ones we went with were the best bargain and still great quality.
6 | Urban 3 Drawer White Changing Table / Dresser
Our changing table / dresser was just the right size and style for our third little one's neutral nursery. In fact, we sort of built the closet around it! The changing table topper is removable so it can convert to a stand medium-sized dresser. We are actually getting ready to take the topper off because we've got a busy and active almost 7-month old on our hands! I still need to post the nursery closet details for those of you who have been asking for the specifics on the DIY aspects, dimensions, etc. I'll also want to share how I style the dresser after the topper is off.
5 | Black & White Geometric Rug
Another black and white rug winner! We don't own this one, but I shared it in my post featuring 12+ black and white rugs for anywhere in your home. I continuously add new ones to update the image gallery at the end of that post, so be sure to take a peek if you're on the hunt!
I'll admit – I was shocked at how many of you were shopping for rugs last year!! Another top favorite 🙂
You guys went CRAZY for these black and ivory storage bins with handles. The ones lined at the top of the nursery closet. The scallop and the dot fabric bins come in a pack and the alphabet pattern come alone. If you browse around, I think there are various other options for which types are packaged together. They are darling, gender neutral and would be great in closets, playrooms, bookcases, toy cubbies, etc.
2 | Round Wood Barrel Frame Mirror
I'm sort of cracking up because I realized I used this mirror in both the Nursery and the Basement Guest Bathroom, too!
The brush stroke art piece and mirror both stole my heart last year and I guess I decided I needed them in multiple rooms. The funny thing is, I love this mirror so much [and it's still available and under $40] that I might be adding it to the middle's big boy room currently underway. Would I be nuts to have THREE of them!?? Stay tuned to see if it ends up in there or not!
The entire crib bedding collection is darling, but I chose to mix the crib sheet with this crib skirt to create my own look!
As you can see, the nursery decor and accessories from our littlest's digs were super popular! What you might also notice from reading through this list is that these items [with the exception of the changing table and crib sheet] are so versatile and could be used in almost any room in your home! I'm always try to buy and promote items that are at reasonable price points and that can be incorporated into various spaces. If you hang a mirror in your bathroom, but then need one in your entryway down the road, you can simply move it! Shopping your own house is one of my favorite ways to refresh a space. By giving something a new spot in your home, it feels fresh and new again!
Try it. You might be surprised.
Ok, now on to the style section! Here are the most popular fashion items from 2018 that I shared with you guys. I was so happy to see some of these items make the list because they are some of my own personal favorites still.
TOP 10 MOST POPULAR PURCHASED ITEMS OF 2018 | FASHION
If you didn't purchase these pumps after I shared them in my 13 Ways to Add a Dose of Leopard into your Wardrobe…
…or styled with my favorite black lace dress under $30 during the holidays…
…or in this date night look, then go now! They turned out to be one of the most versatile pair of heels last year!
9 | Colorblock Striped Cardigan
While the rust in this cardi screams Fall, the blush and light blue say Spring to me! Love the color-block look of this open-front cardigan. I sized up one to a medium in this piece for a bit more of an over-sized look. And such a bargain at under $26, so if you didn't grab it yet, go for it now!
8 | Balloon Sleeve Striped Sweater
[*Full outfit details found here]
The bad news is that this sweater went on clearance and is sold out. The good news is that they brought it back in a cardigan version!! See the camel and black striped version here or the blush pink striped one here!
Great low heel height, comfortable, easy to slip on and under $80. I think I'll take a pair in all three colors! You guys loved the black pair I own, but it also comes in a great gray color and a beige option too!
6 | Long Open Front Leopard Cardigan
15+ leopard color options to choose from?! Yes, please!
I have the coffee colored cardigan, but I think the gray leopard, light pink leopard and black, light gray and pink leopard options are so pretty for Spring. Layer it over a basic white tee [these tees are some of the best] with your favorite black denim or blue jeans and you have an instantly chic and comfy outfit! It's a really nice, long length which is another reason to love it!
You guys snagged this one when it was marked down almost 70% so it is unfortunately no longer available. I'll continue to keep sourcing sale-priced closet essentials for you again this year!
4 | Suede Ankle Bootie with lace-up detail
Woot woot! These ankle booties are still available and almost 50% off! I ordered the gray pair during the Nordstrom Anniversary Sale last summer, but almost all sizes in all THREE colors are still available. I promise you will wear the heck out of these! So so comfy!!
3 | Black Lace Cocktail Dress
I can't say enough great things about this dress. In fact, I wrote an entire post on it! Sizing info, fit and all the rest of the details can be found in my The Perfect LBD for the Holidays post. But in case you couldn't have guessed – it's actually the perfect little black dress all year round! Grab it for weddings, date night or the holidays. Under $35 and prime shipping – you're welcome!
And I just discovered it in a red option for $19.99 and blue, green or white lace, too. How pretty for your Bridal showers, bachelorette party or wedding rehearsal dinner if this is your special year for those!
2 | Black & White Striped Crew-neck Sweater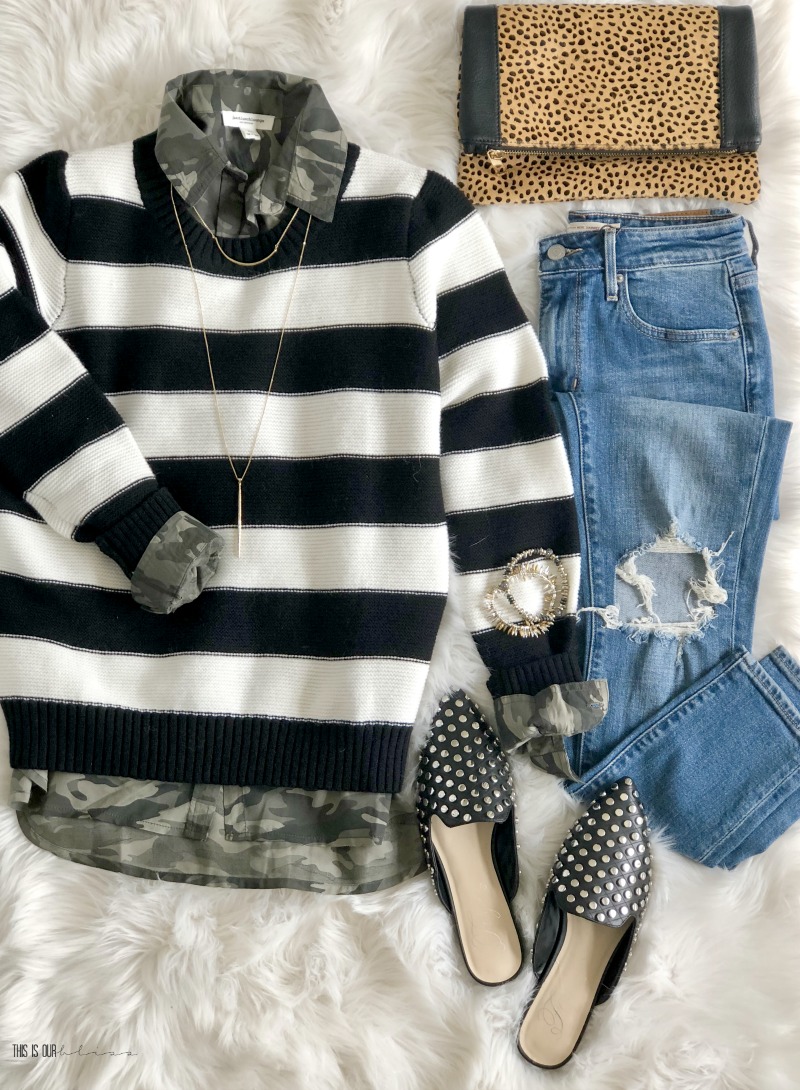 A closet staple FOR SURE! You can see how I styled this black and white striped sweater 5 different ways and because I love it so much, I'm strongly considering styling it ANOTHER 5 ways and sharing it again. I honestly can't say enough great things about this sweater as a layering piece through allll the seasons! It's under $20 and comes in several different color options. I'm swooning over the gray and white stripe for only $16!
What do you think? Would you be interested?!
1 | Leopard Print Crew-neck Sweater
[*Full outfit details can be found here!]
And finally, this leopard print sweater was by far the most purchased style item of the year! Sadly, it too, got marked way down and then eventually sold out like all fabulous things do. But I promise, as long as this leopard trend is hot [and who am I kidding? forever, because I'm leopard-obsessed!] I will continue to hunt down the best of the best of all things leopard! If you missed my massive post on 13 ways to add a dose of leopard into your wardrobe, you'll want to check it out. I've already been seeing more leopard in Spring collections being released. Yay for all of us who just can't get enough!
Don't forget to pin for later!
I hope you enjoyed seeing the most popular purchased items of 2018! If there are specific things you want me to be sharing more of in 2019, please let me know! I'd love to hear what types of home decor pieces you're on hunting for or what wardrobe staples your closet is missing right now! Have a great weekend, loves!!