I know it's not the most glamorous blog post ever written, but carpet & paint selection are such key decisions for a space! Today I'm taking you back a couple of steps in this whole basement project to share our basement paint color and carpet sources [and the sconces at the end too!]!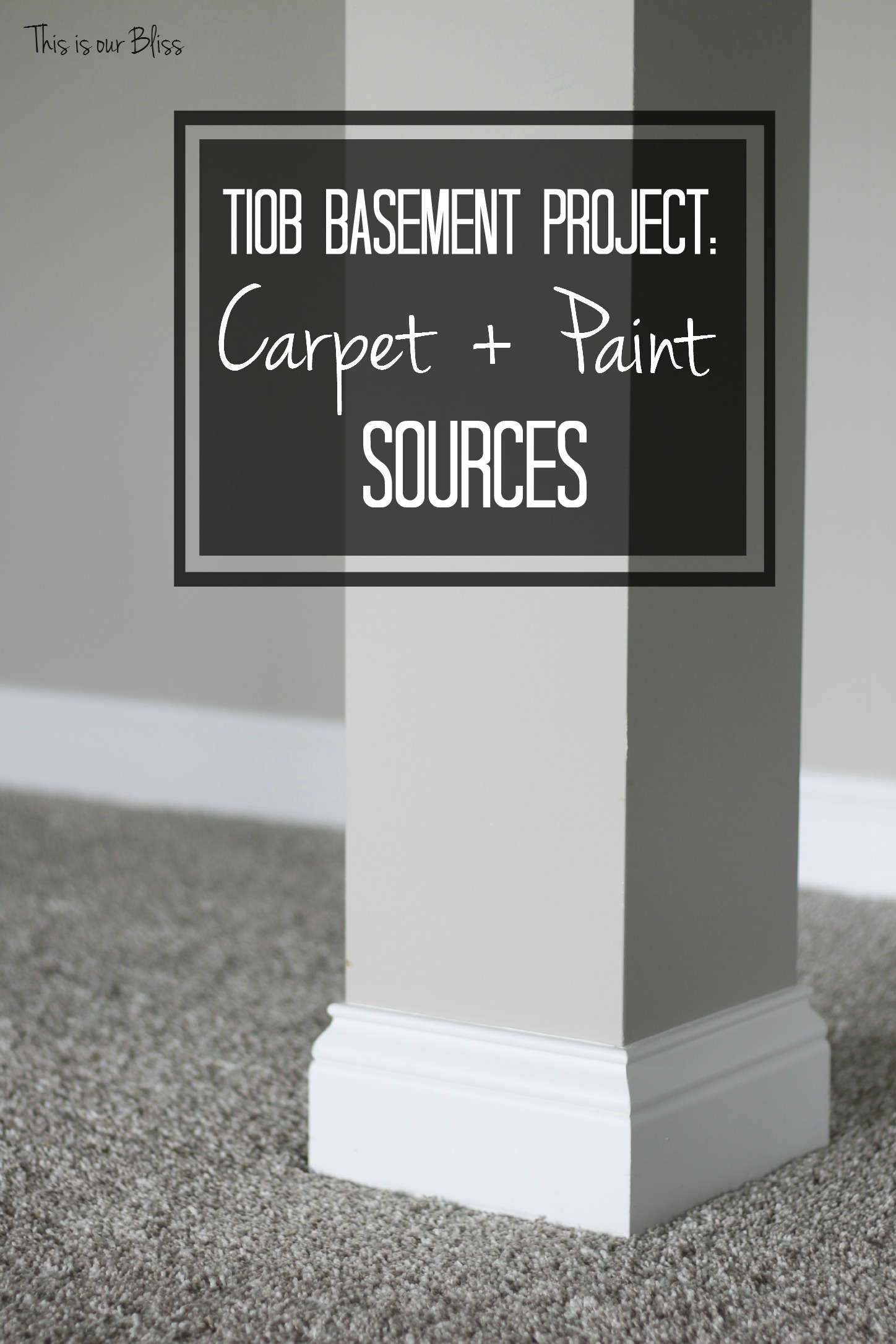 I shared our Basement Bar progress last week and will have the tile sourcing for that space soon! I decided I will do a full basement reveal, with the exception of the basement bathroom, that will probably be separate….it is a completely separate space, after all. The rest of the basement functions as 3 spaces in one: family room, bar & play space, so it was important to choose a flooring and wall color we wanted to be carried throughout and would serve as a backdrop for the furniture & décor in each of the spaces.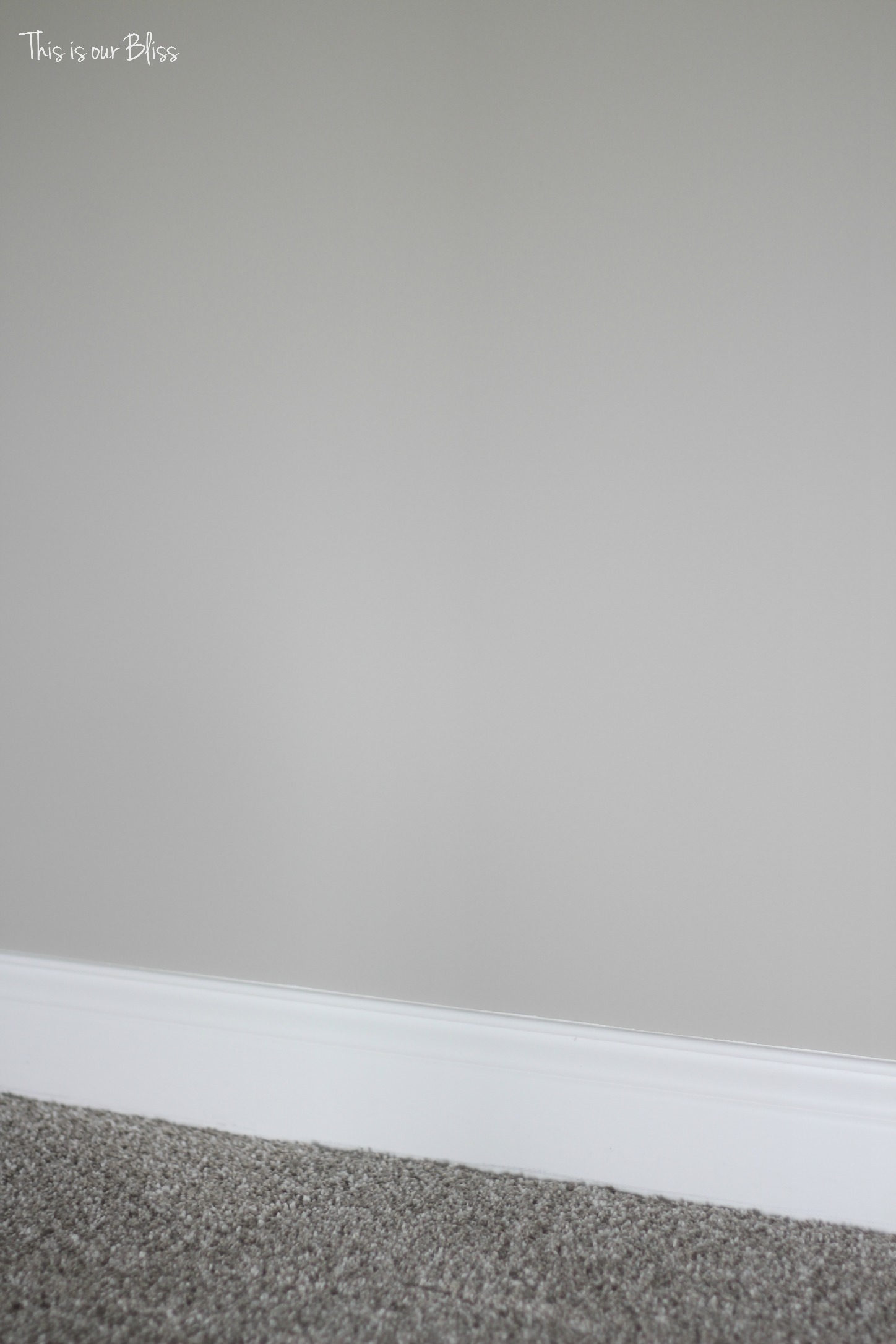 Carpet:
We selected Shaw Travel With Me OC191 in Sugar Cube (T) 00100 and purchased it locally at Sherlock's Carpet and Tile.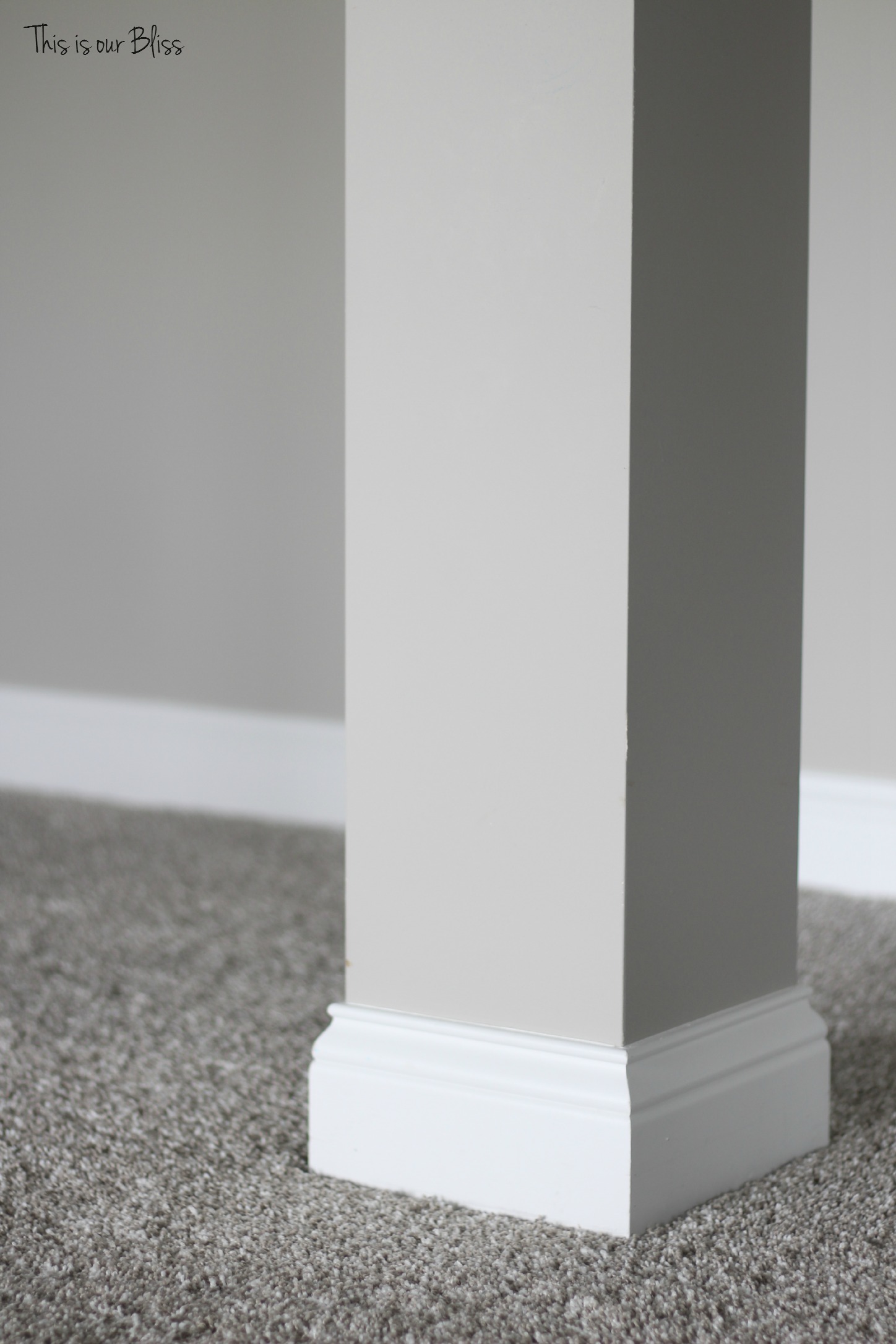 Paint:
Sherwin Williams Mindful Gray (SW 7016)
How we chose basement paint & carpet + a few tips:
For the carpet, we knew we wanted a neutral color, with flecks of cool & warm tones. We figured we would go with a gray wall, but had a chocolate brown couch that was going to be moved into the space and I had my eyes set on a stacked stone tile to be used as a feature wall in the bar area that had shades of copper & honey as well as cool grays. We also knew we wanted a soft, plushy carpet that would be good for playing around with the boys. Plus a good carpet pad underneath. So we brought home 10 – 15 carpet samples and let them sit down in the space near the bar tile for about a week. We made sure we went down to take a look at different times of the day. When the sun was shining in and when it was dark out and all of the lights were turned on. From there, we narrowed it down to our top 3. I then asked the carpet store for larger samples to lay out for another couple of days and after that, we arrived at our decision!
As far as the paint goes, we came to our decision rather easily. After repainting our bedroom earlier this year, we fell in love with our choice – Sherwin Williams Repose Gray (SW 7015). We wanted to stay close to that color, but preferred the basement walls to be slightly darker than our master. So we opted to go down one level, which brought us to Mindful Gray. Simple as that!
Tip:
I do recommend picking up a few samples of the paint colors you are looking and putting a couple coats of each sample up on the wall to look at for at least 24 hours. We were quite comfortable with our choice, so we skipped the sample step this time around. But trust me! We have definitely regretted a paint color decision before. For just a couple of dollars per sample, it's well worth the extra time to make sure you're happy with what's going up on the wall!
If you have Sherwin Williams or Benjamin Moore color options selected, take them to your local Lowes store and ask them to match the brand and mix a sample. I think it is $2.99 for a small sample. If you ask for a sample at Sherwin Williams, you pay $5.99 and the smallest sample they will mix is 1 quart. You are left with extra paint of colors you don't end up choosing and spending more money than necessary.
Lastly, if you are painting multiple rooms in your home, don't feel like you have to start from square 1 by picking a new color for each space. If you like a color, I see nothing wrong with painting multiple rooms in the very same color!
Paint color selections in other areas of our home…
We painted Simon's Nursery, the same color as our upstairs guest bathroom (Sherwin Williams Passive Gray – SW 7064)…

We painted our dining-room-turned-playroom…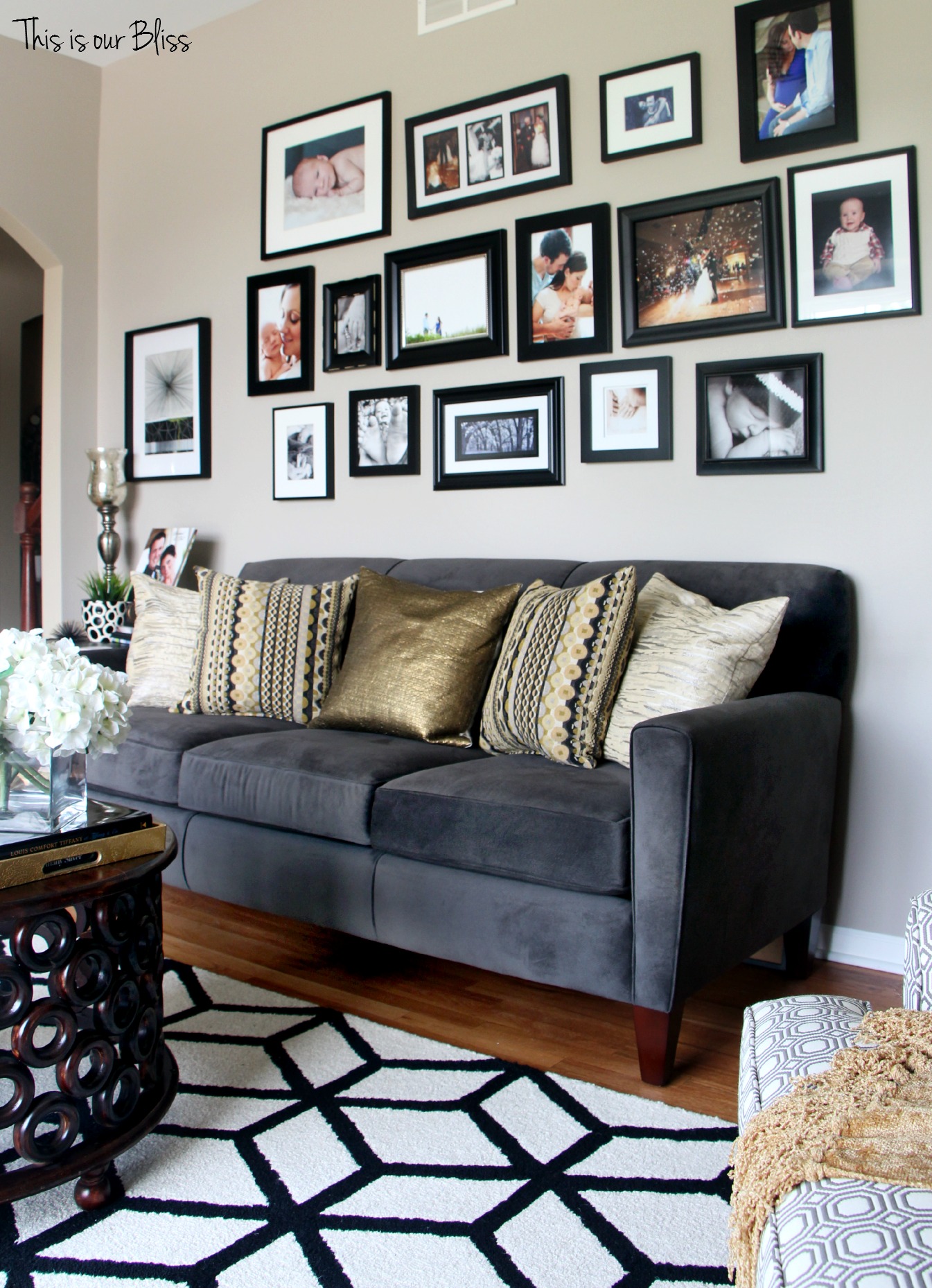 the same color as our formal living room (Sherwin Williams Versatile Gray – SW 6072)…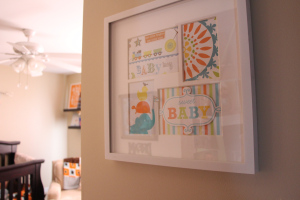 and our very first nursery (Henry's room) was painted the same as our family room & kitchen (Sherwin Williams Kilim Beige – SW 6106)
Our guestroom was also SW Kilim Beige before we painted it SW Nuance – 7049 as part of the Spring 2015 One Room Challenge! It is the lightest color (almost white) I have ever painted a room, but it has the most calm & soothing vibe and couldn't be happier with it. Everything you put next to it or on it just "pops".
And if you are really looking to go all out – think about painting the inside of a closet like we did in Simon's nursery [see paint info here & the DIY closet details here] By FAR, the boldest paint choice we've made in the entire house!
And now, we basically circled our way back to the basement!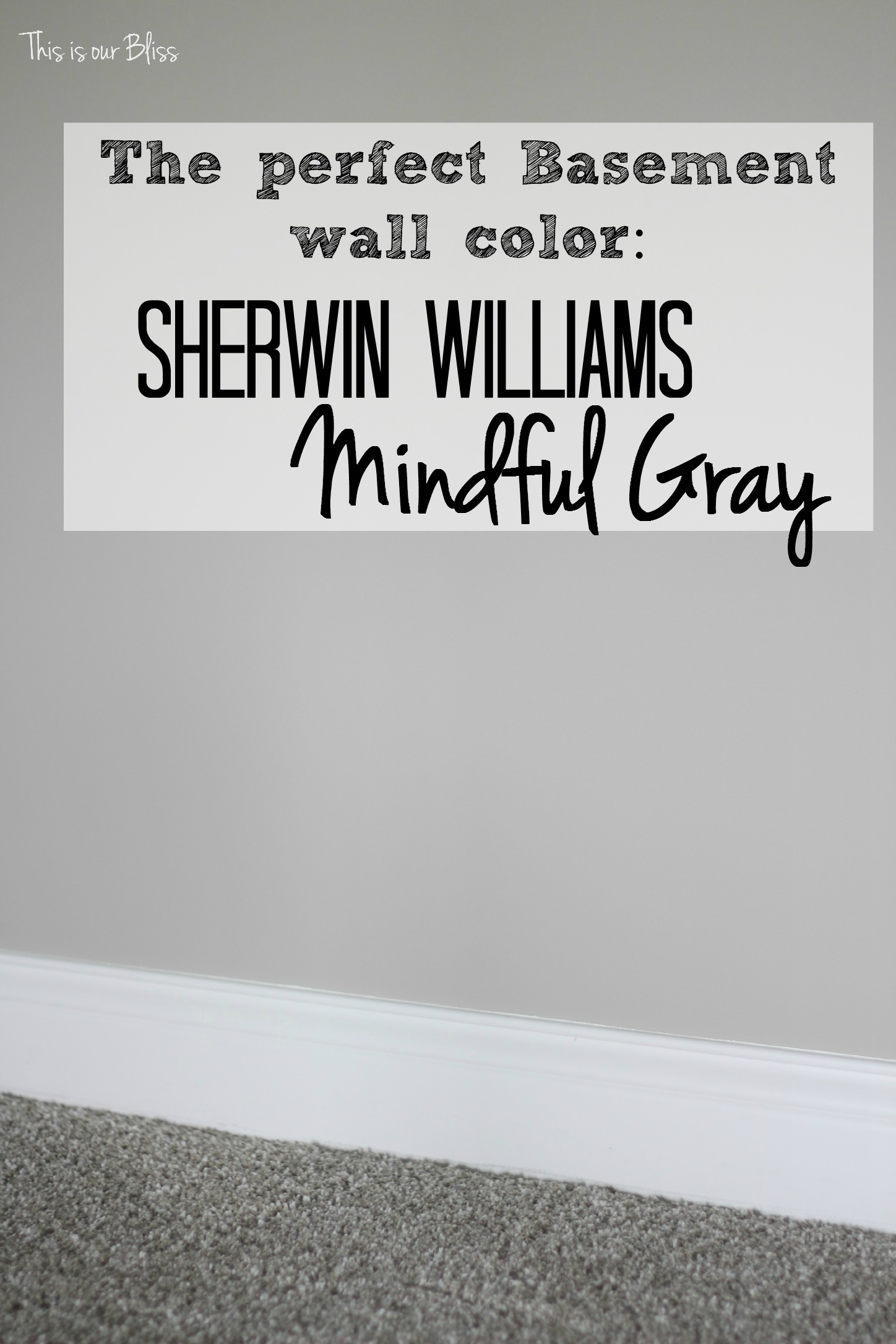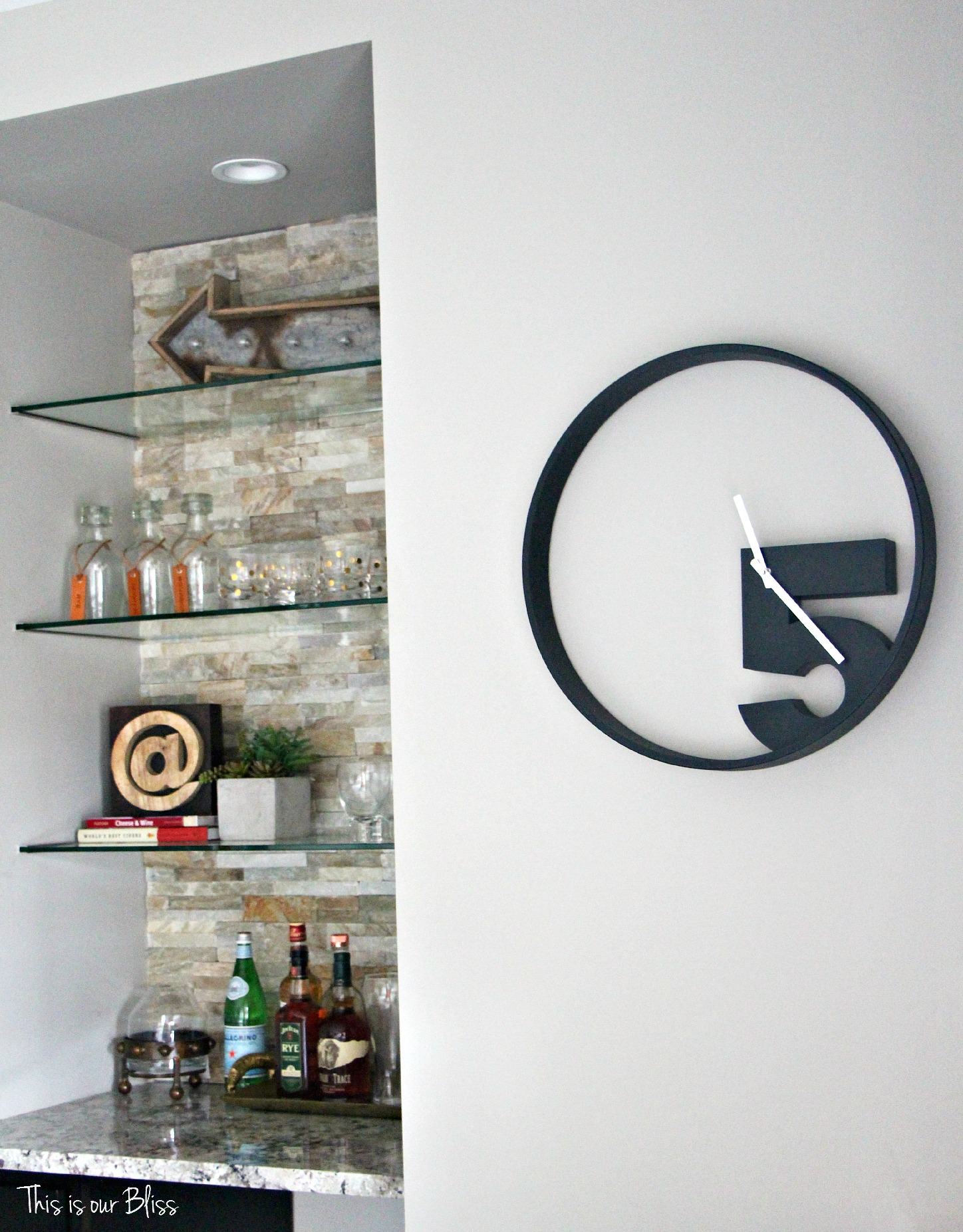 I really am happy with the Mindful Gray on these walls and really love how it looks with the stone bar wall…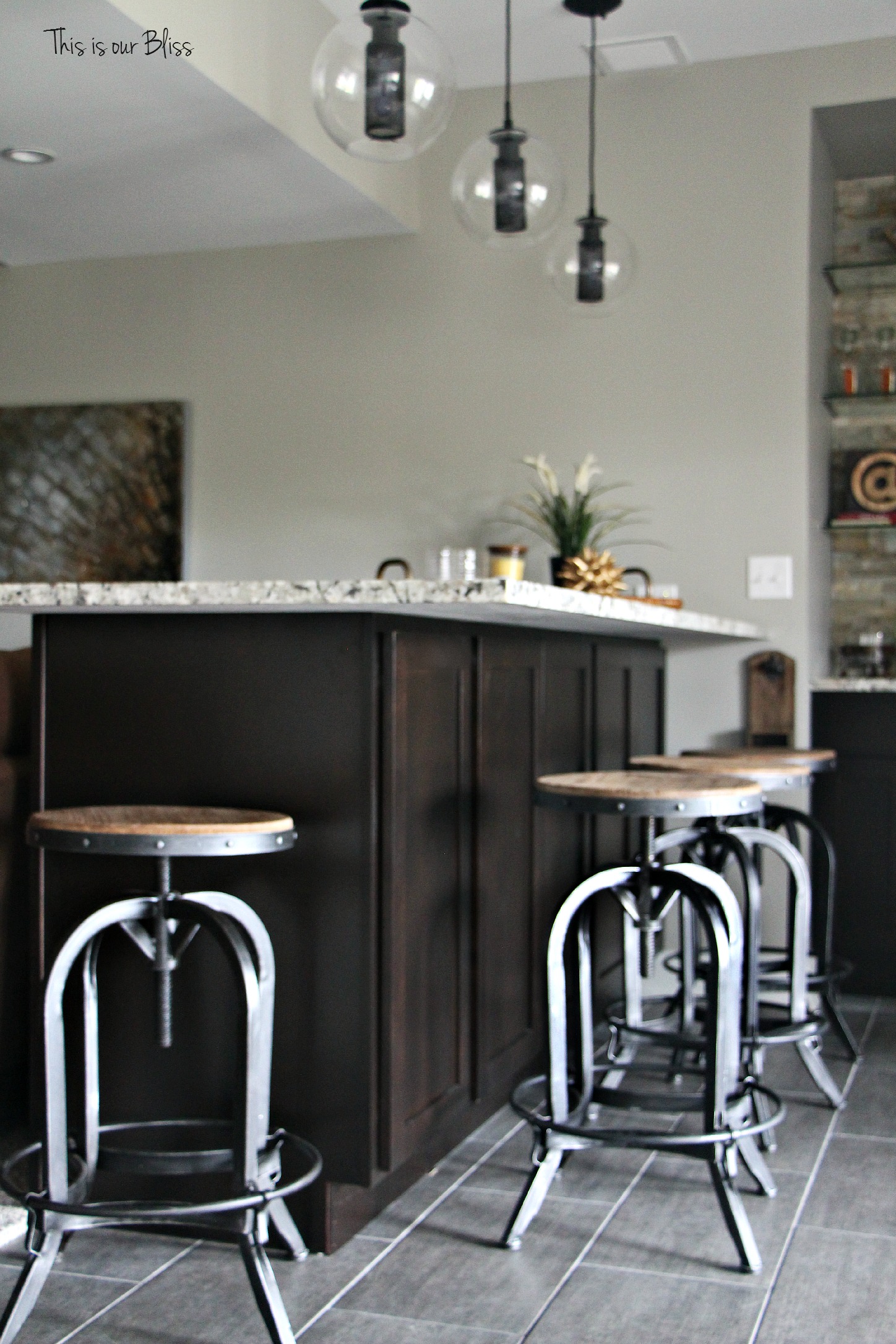 and the tile floor. I'll be sharing the tile & stone sources plus our rug selections after mulling over these rug options! These are also some of my very favorite rugs.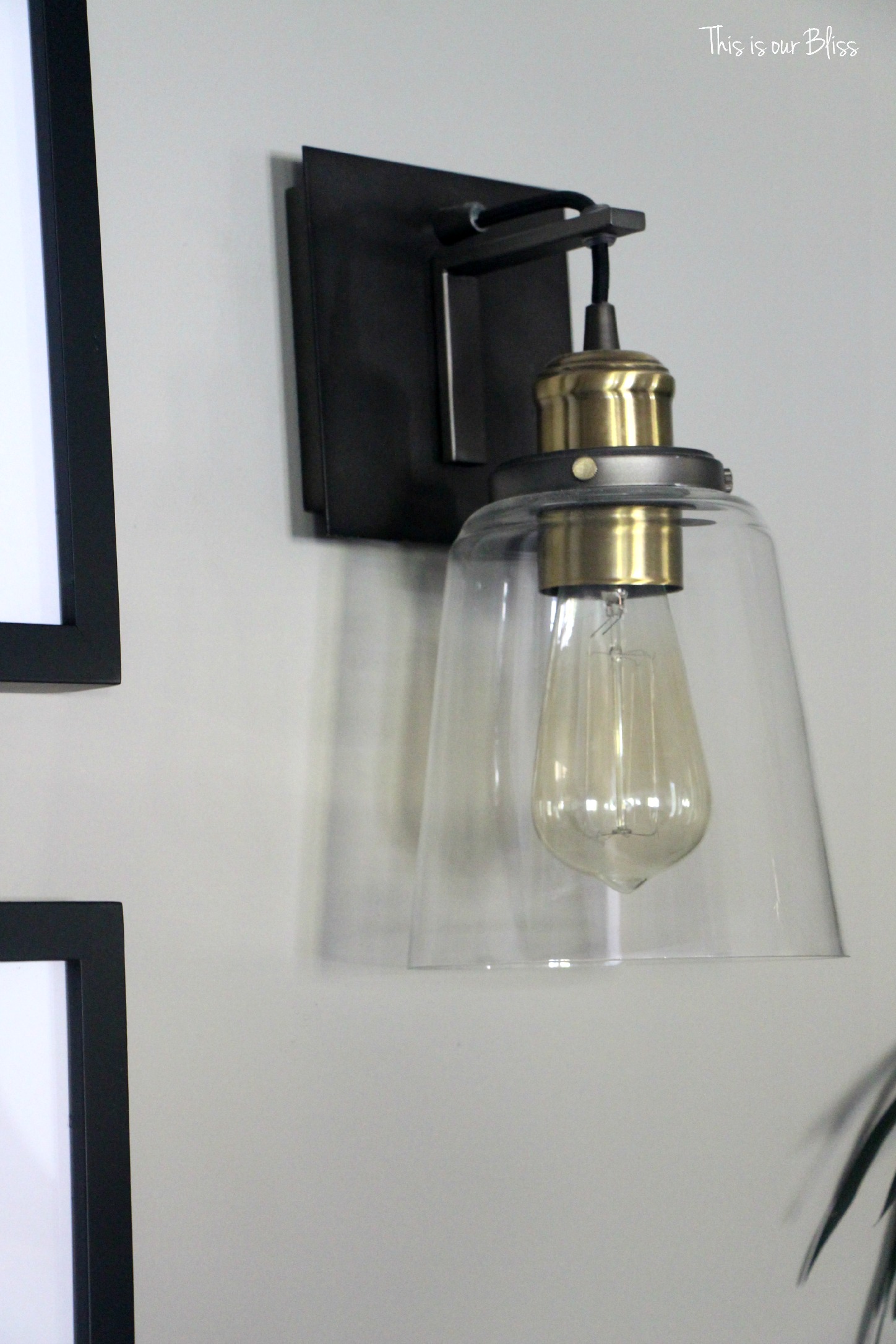 And here is a sneak peek of the family room area…these lovely sconces flank the TV/gallery wall & the mixed metals and black and white frames look great against the medium gray paint, too. We STILL need to find a media console, but otherwise, the space is basically ready to photograph and share.
OTHER BASEMENT ACCESSORIES
Some of our basement sources are linked below + some other favorites that would be fab in a basement space!:

And just to be clear, this is not a Sherwin Williams-sponsored post. I've just been a fan for a long time! If you have any questions related to our basement paint color and carpet choices, ask me in the comments below!
What is your favorite brand of paint? Favorite go-to color?!