There is one question I get asked time and time again. "Where did you get that RUG?!" When people visit our home or when I post a living room pic on instagram, it's a given. Someone wants to know!

The simple answer has always been HomeGoods! But since they carry limited inventory, it's rare anyone would be able to head to their local store and actually find it. If you like something when you're, you buy it. There is just no guarantee it will be there next time! Well, I decided to do a little digging and I have finally, finally sourced it!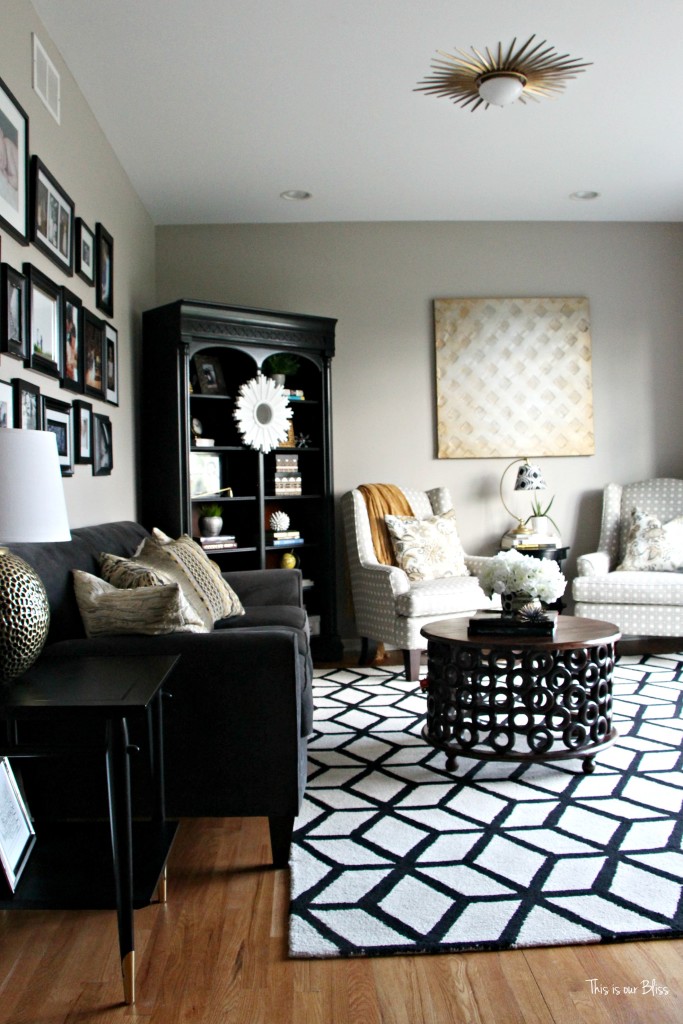 So today, I've rounded up some of the bold black and white rugs that have stolen my heart lately, including our living room rug that still has me smitten after spotting it at the mothership more than a year ago!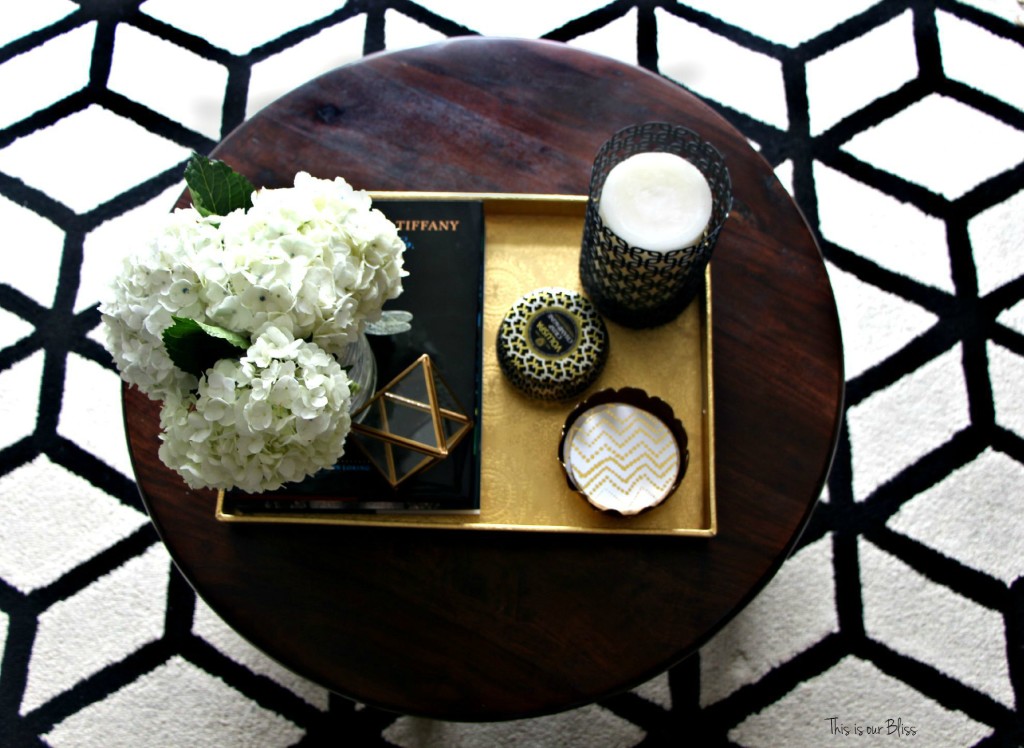 Here are 12+ bold black & white rugs for every room in your home!
[affiliate links are used in this post. You can read my full disclosure statement here.]
---
This rug would work anywhere and I just love the fringe on the sides!
2 | Mohawk Shag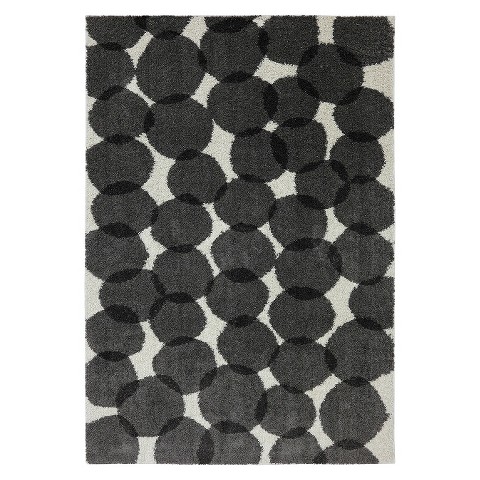 I love the variation in this one. It's a remix to the traditional polka dot! Here they are oversized circles scattered randomly and overlapping – very interesting and unsymmetrical!
3 | square Aztec rug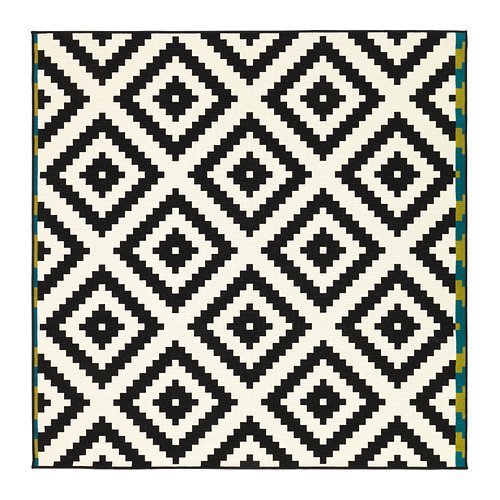 You can't beat the price on this one. It makes a statement has has the slightest peek-a-boo of teal and lime green giving it a very teeny, tiny pop of color. This "aztec" type print is very hip right now!
4 | Newport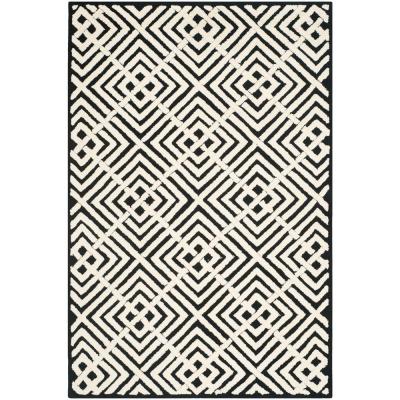 This one has great lines and I love the black border.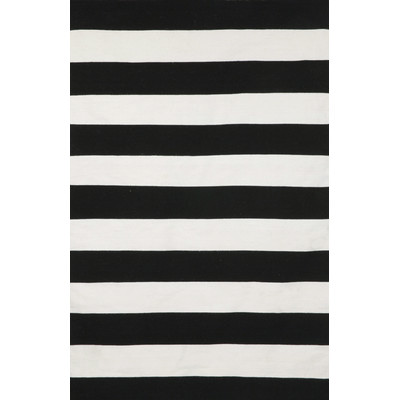 Totally timeless! This one is an indoor / outdoor rug which means it would look lovely inside, but completely acceptable and safe to use on a deck or patio! I might quite possibly be scooping this one up to replace the one we currently have on our downstairs patio! [You can read more on our DIY outdoor oasis here.]
6 | Scallop Rug
This scallop look is sort of a fun play on polka dots, but I like the fact that the "half circles" aren't uniform. It gives it some visual interest!
7 | polka dot
Just like a stripe, you just can't go wrong with a polka dot print! And at this price, you might want to pick up 2!
8 | Bond Black and White Hide Rug

This is the ONE! This is OURS! We currently have this rug our living room and I love every inch of it! It was the perfect bold pop I was hunting and hunting for in that space.
10 | Trellis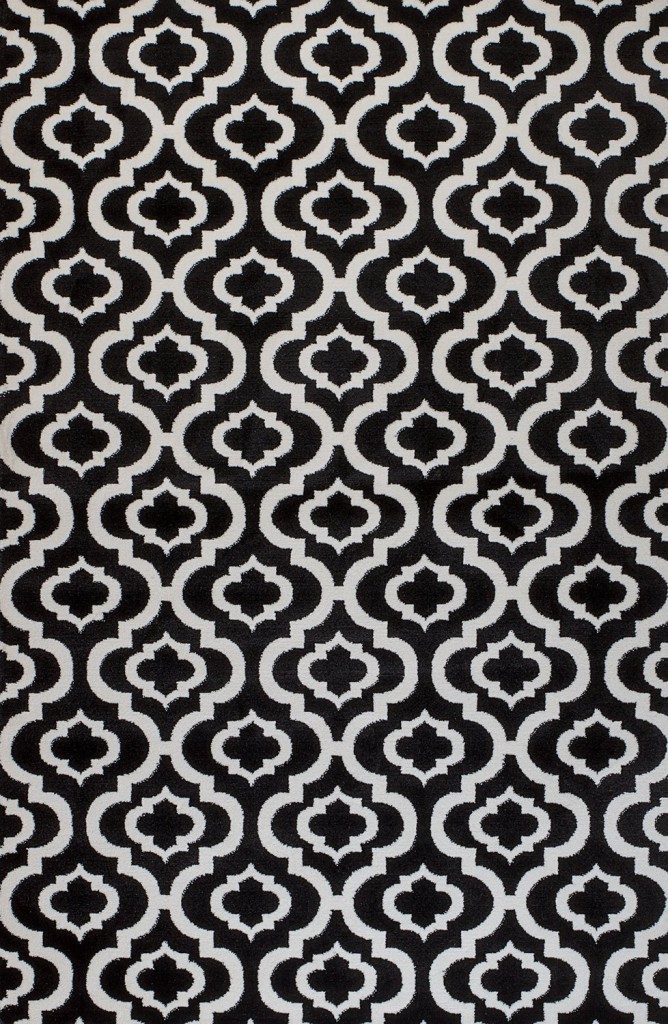 A simple trellis pattern in black and white is a softer look. The lines aren't hard and they sort of remind me of flowers!
11 | Checkerboard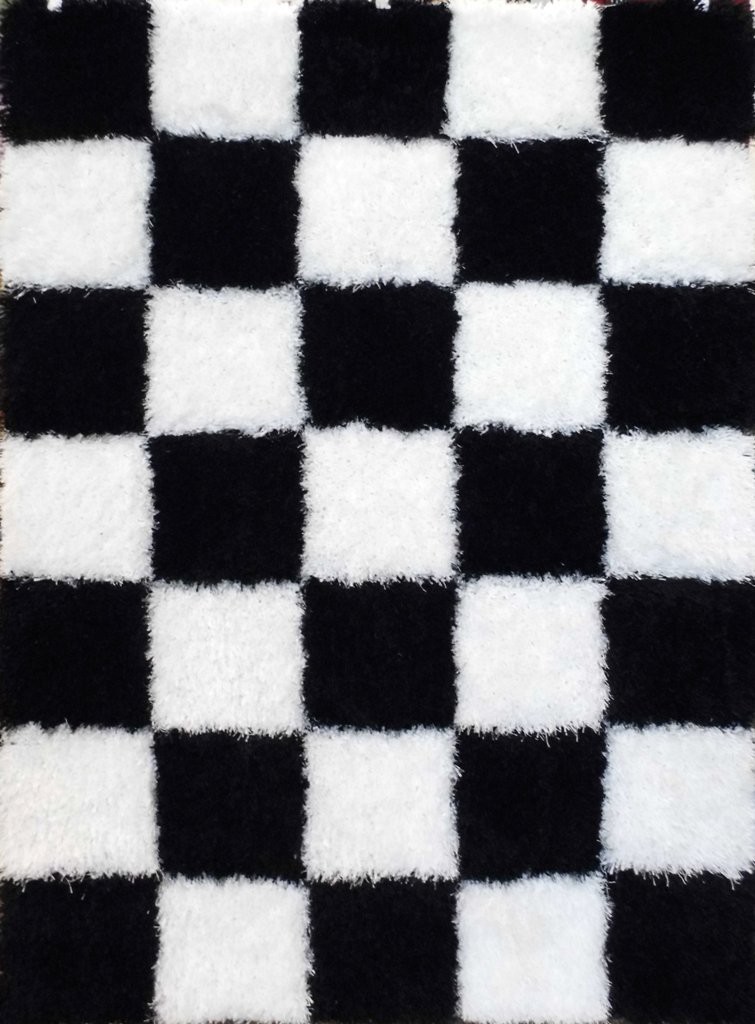 One of my girlfriends actually just put this in her son's big boy room that has a super stylish planes, trains, trucks and cars theme – "Modern Racer" she calls it! I'll have to share photos of the space she created for him with you guys someday 😉 It adorable and the rug looks SO good in there!
12 | Chevron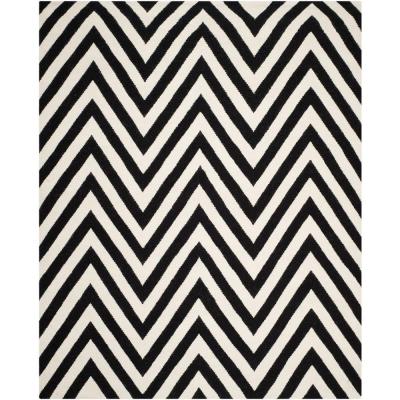 I hear some people say they are tiring of the chevron, but it is still out and about everywhere and there are so many variations now to the everyday chevron we're used to seeing!
13 | Sophia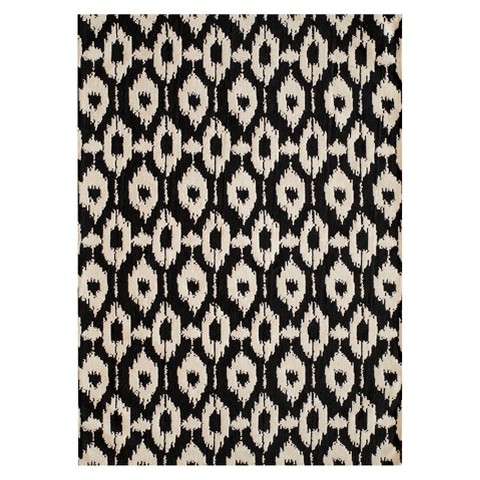 So swooning for Sophia right now! How gorgeous is she?
14 | Abstract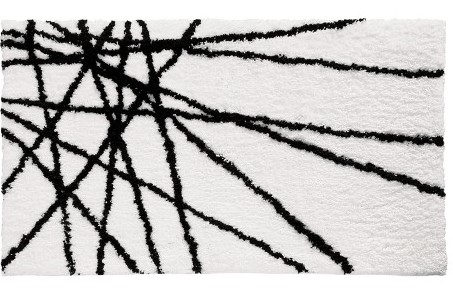 This one, unlike the rest, only comes in one size because its a bath mat. How rockin' is this design? I think it would look right at home in our recently finished basement bathroom!

15 | Brush strokes
I love this one for any space really! It reminds me of all of the those brush stroke art prints you see on etsy or minted. In fact, this rug is cool enough for a wall!
---
Rugs make a statement in a space, but a bold, graphic print in classic black and white really does. With a neutral color palette in a sophisticated print, the options are endless. You can mix a variety of other patterns and can pair absolutely any color under the sun with black and white – its the greatest color combination EVER! Take a peek here for my tips & "rules" for mixing patterns. I don't truly follow any rules, but just go for what I like! And I love the look of a bright floral print with any of these bold black and white rugs!
If you're still not sure about a large, bold pattern, but like the idea of one of the above rugs, my suggestion would be to order it in a small size. Try out a 2′ x 3′ or a 3′ x 5′ and use it in an entry/doorway or even in front of the kitchen sink. Then you'll have a better vision as to what one would look like in a bigger size in another area of your home.
You'll find black and white in nearly every space in our home with the exception of Simon's nursery and the biggest's room. Both are due for room updates…aka…I hate to even say the words… big boy rooms. At this point, I'd be hard-pressed to say that black and white will absolutely be making an appearance…when the time comes. But let's not rush it!
Which one is your favorite? In what room in your house would you go this BOLD ?!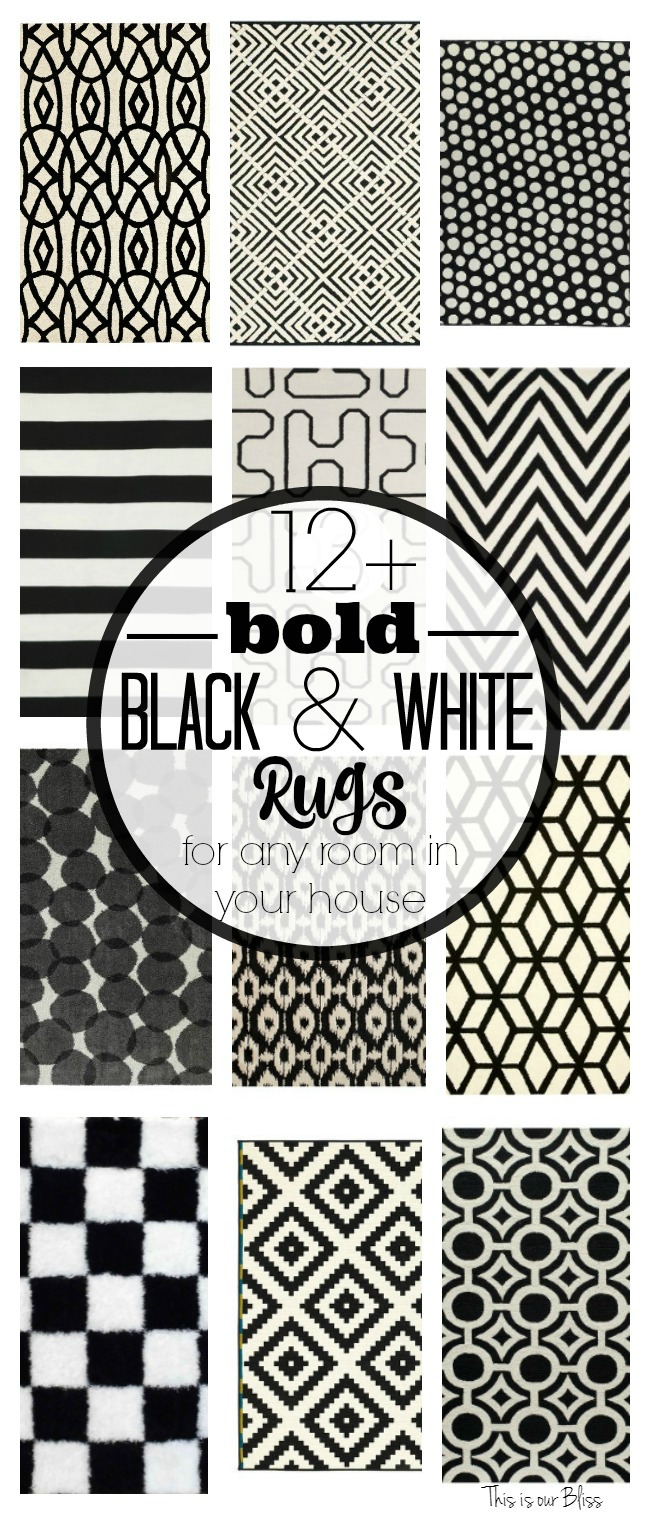 Here are some more of my favorite black and white rugs and I'll continue to add to this round-up as I come across more options!:

That's it for me this week, so I hope you have a wonderful weekend! Stay warm if you're in the Midwest. We're headed to Kohler, WI for a couples' getaway weekend. The guys might be cold golfing, but I know we'll be nice and toasty at the spa. If you have any Milwaukee or Kohler recommendations for me, drop me a line in the comments! You can keep up with me on instagram while we're away and then I'm planning to do a recap sometime back here on the blog 😉