I'll be honest. I'm feeling majorly giddy about what I'm sharing with you today for this month's It's So Ugly It's Cool Thrift Challenge hosted by Jess from Domicille 37!
I'm not a pro thrifter by any means, but I do love a good find! Typically, my thrifting routine consists of walking into the store, loading 10 frames into the cart and walking out. Yes, I do love buying thrift store frames for the numerous gallery walls in our home. #itskindamything
So, I can often be found swooping in the local shops or GW every now and then to take a whirl around the store and see if I can scoop anything up as I stroll through the jam-packed, overstocked aisles in hopes that maybe, just maybe, I will spot a gem.
I mean, a 99¢ find with potential is a gem all day long!
Let me show you what I found. And yes, it really was 99¢!! Say whaaat?!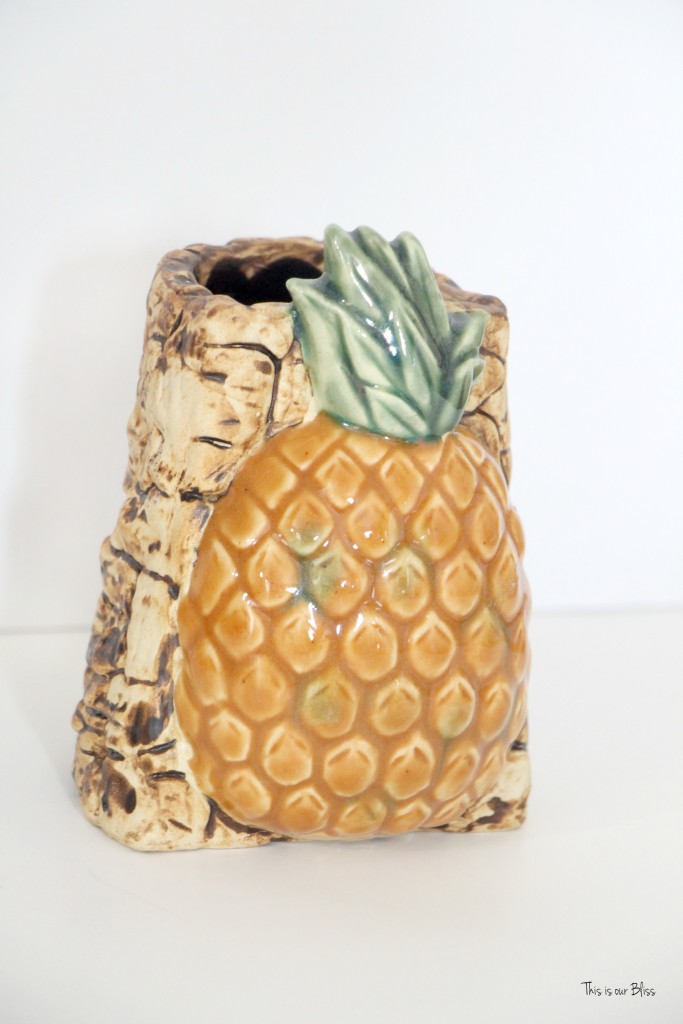 I love pineapples and anytime I spy one, I swoop it up. Whether it be at a thrift store or my go-to spots – HomeGoods, Target, etc… They are a sign of welcome and are super on trend in decor right now pretty much year-round, but it's especially fun to pull the pineapple decor out in the summer time. The fruit screams fun in the sun and a divine wining and dining at a summer dinner party. Like I said, I heart them, so when I saw this itty bitty pineapple piece, I picked it up and scoped it out. I didn't care for the dully, kind of dingy colors, but thought with a bit of the Midas Touch, I'd have it spiffed up in no time.
I'm not 100% sure what its intended purpose was, but I thought it could be the sweetest little vase!
So, I grabbed my Rustoleum gold spray paint and gave it a thorough coat to cover it all….Waited 10 minutes and sprayed a 2nd coat. It dries incredibly fast, so was able to take it back in the house after about 30 minutes. *Please note: The drying time required varies from piece to piece. It depends on the size of the object, number of coats, weather conditions, etc. When in doubt, let it sit for awhile longer!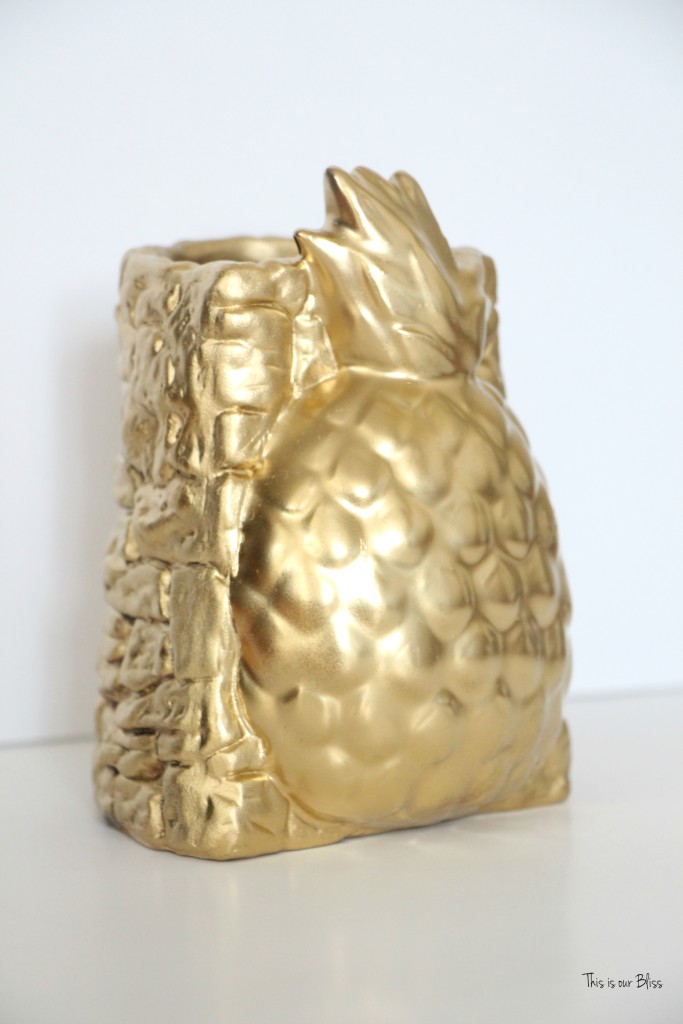 I've been known to grab a can of gold spray paint a time or 2, but I just love the end result. Its almost fool-proof!
Oh and here's the pretty penny price tag proof. Check it.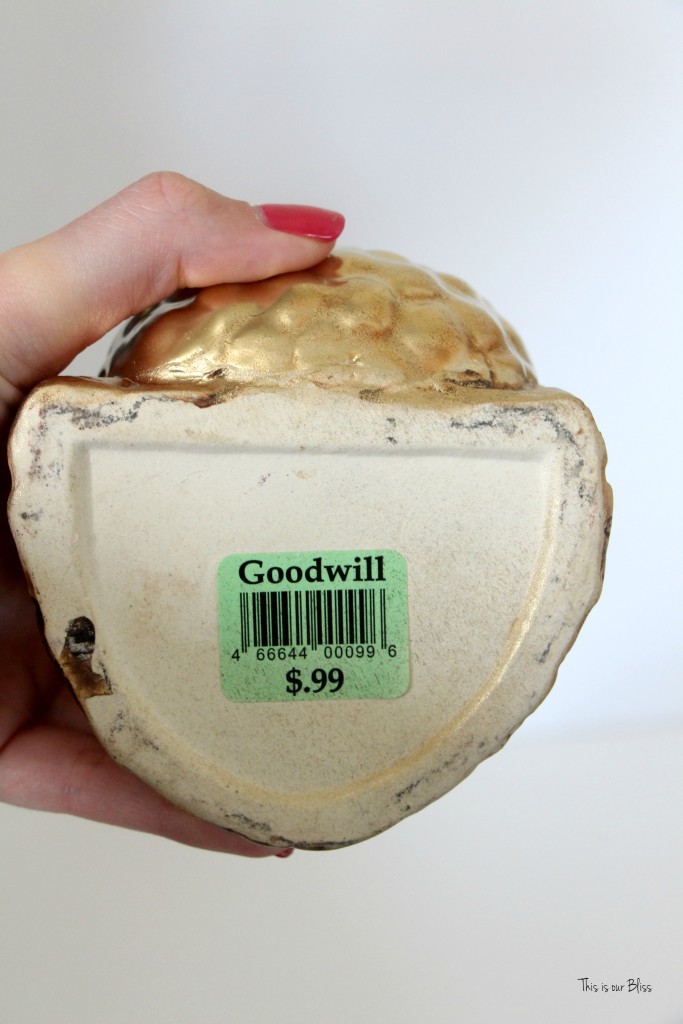 At first I wasn't sure where I was going to use it and I knew it needed a good home. Suddenly a light-bulb went off and I remembered I had an empty space on a shelf in the guestroom after I removed a small gold vase and snuck it onto a shelf in our newly refreshed master bedroom. It was the perfect size and would bring the gold right back in!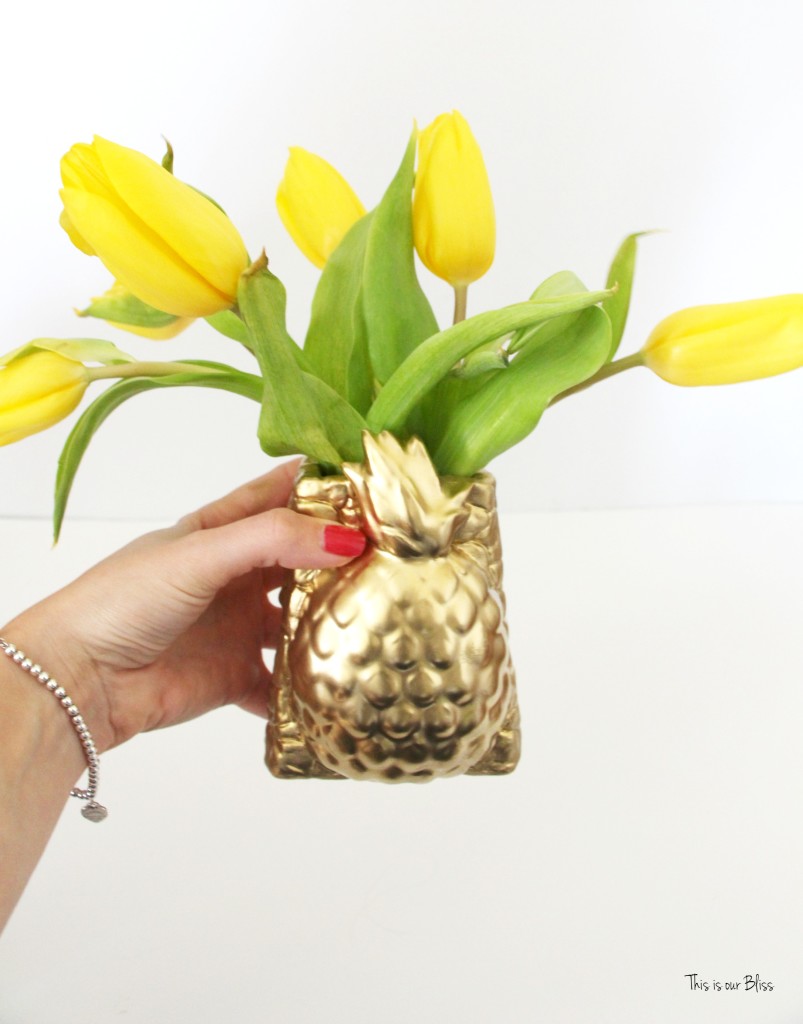 When I styled the guestroom for the One Room Challenge reveal last spring, I even had yellow tulips in a vase on the gold table below the shelf, so I knew yellow was going to be a go.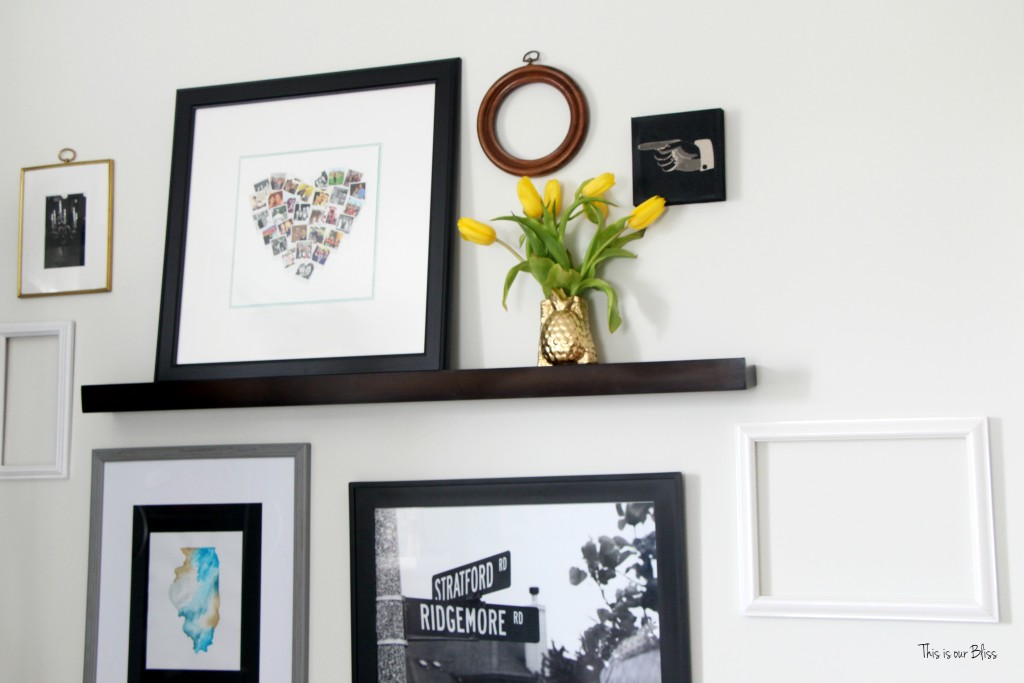 If you remember back to week #5 of the Spring 2015 ORC, I share my plans to use these hooks in this space for guests to hang their towels on.
Still in love with these guys a year later.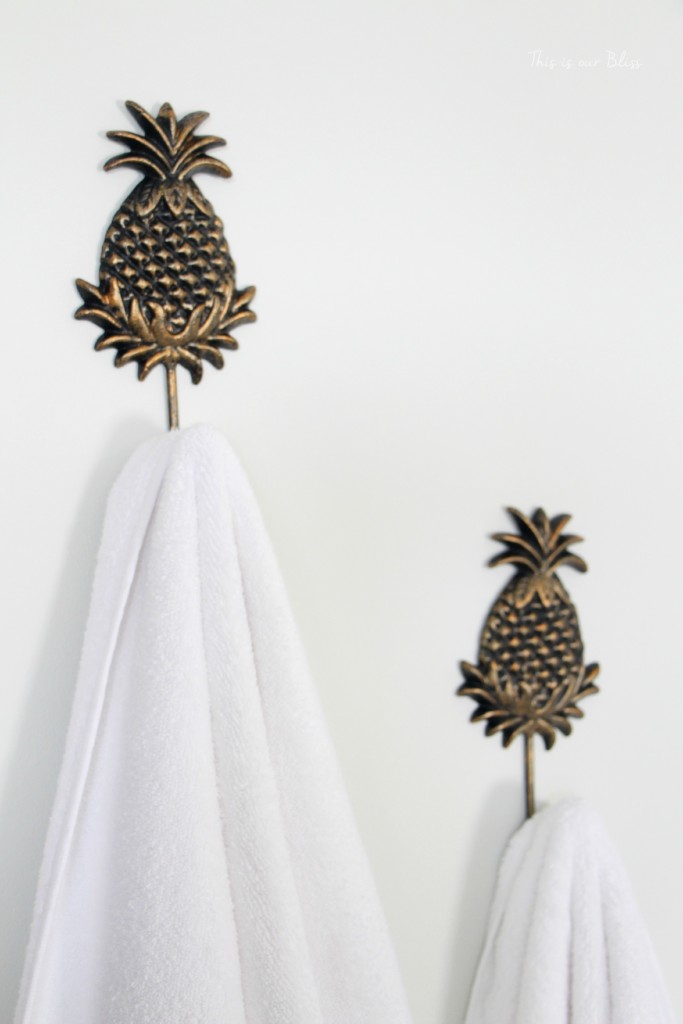 I don't doubt that my thrifted pineapple vase feels right at home in here. Right in there with the several other pretty pineapple friends. And the pineapple is a sign of welcome – so fitting for a guestroom! What do you think?!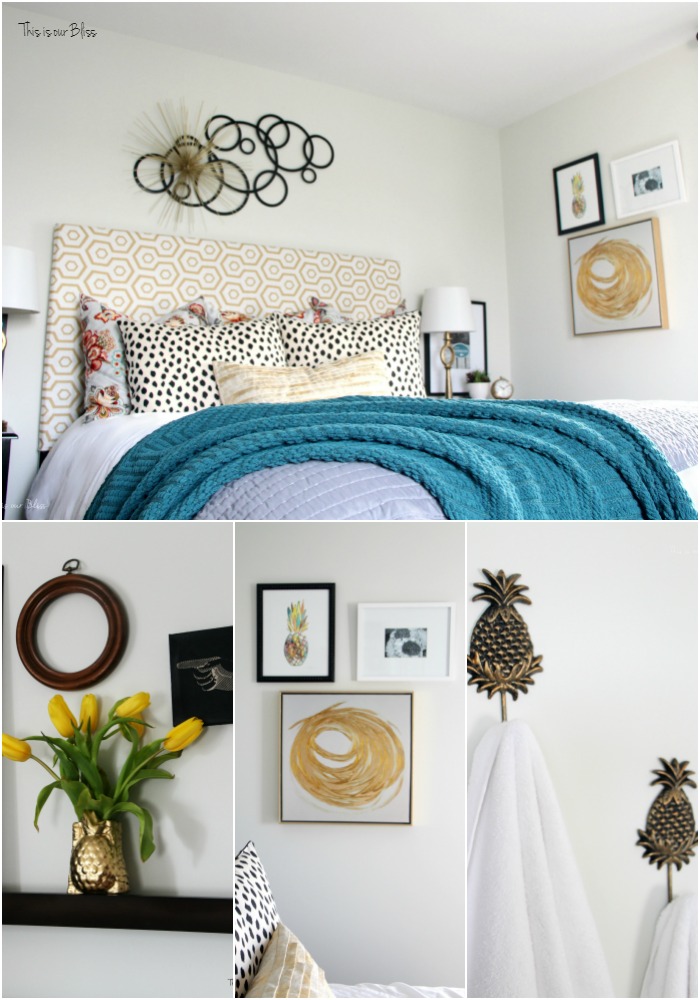 Since keeping fresh flowers in there won't be the norm, I can easily stick some faux greens in it similar to the ones that sat on this shelf before. I usually keep a slew of these, these and these on hand.


*affiliate links were used.
You can pluck the greens right out of the pot and put them in your own piece.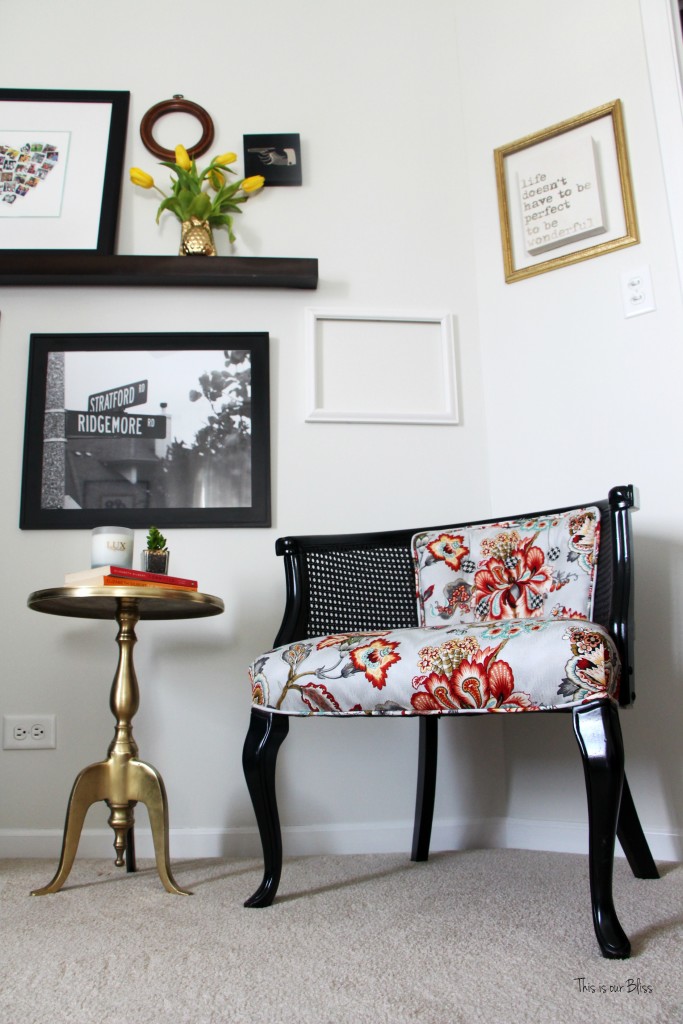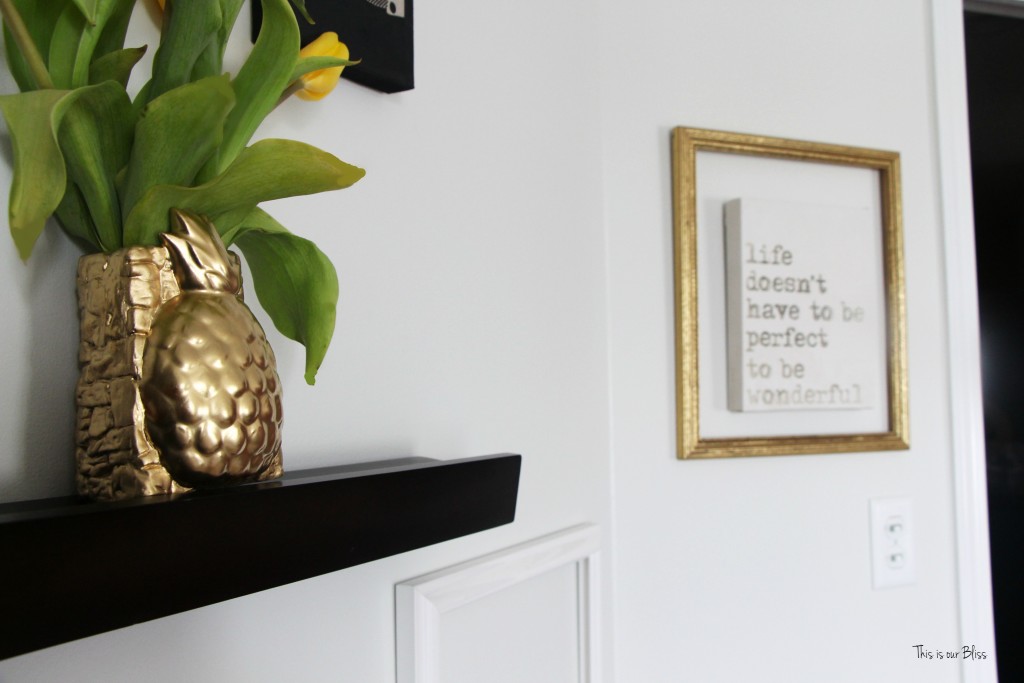 I can't think of a better way to spend a buck. ha!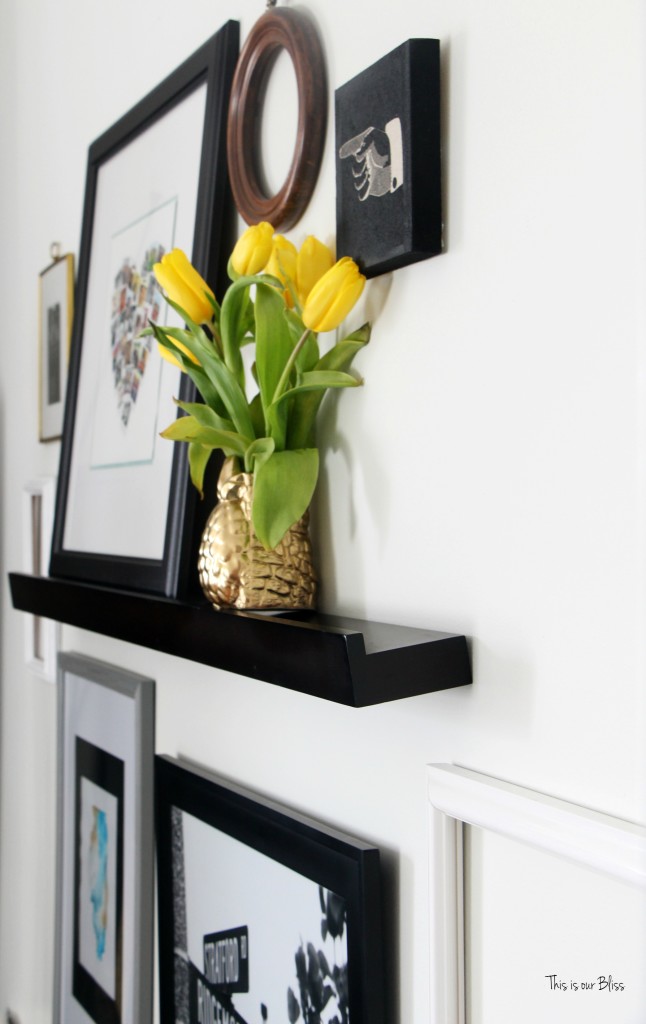 Have you scored any thrifted gems lately? Any for a dollar?! 😉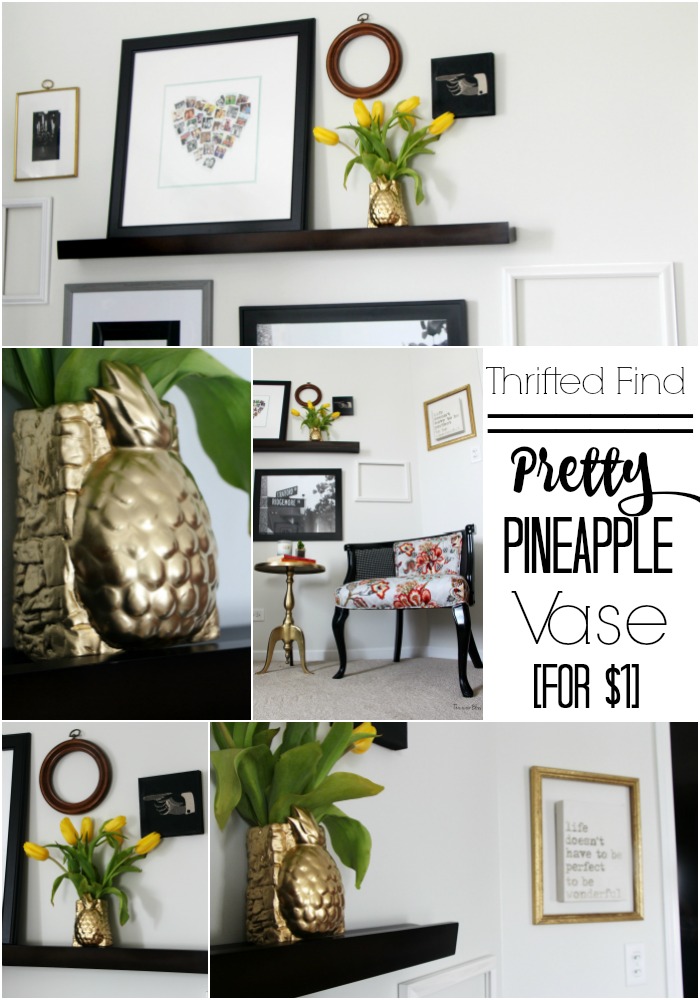 Now for even more thrilling thrifted finds, you must check out these fabulously talented ladies to see what they've scored of their own. I have a feeling you will ponder a quick trip to the thrift store after seeing how incredibly awesome their finds are! 
Also – You guys!
Don't forget to enter my giveaway in celebration of my 2 year blogiversary this month! You can go
here
to enter to win a FREE minted print of your choice! Enter the Rafflecopter giveaway at the bottom of the post!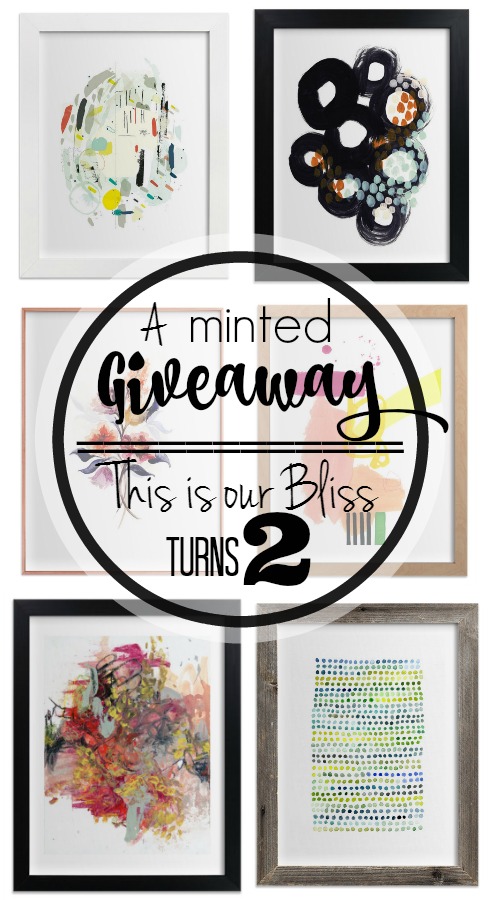 Thanks so much for stopping by today! I hope to see you again very very soon!