My. Oh. My. I blinked and these last 6 weeks were gone. The 6 week One Room Challenge, that is!
After moving into our new home this summer, I couldn't wait to have a space to makeover for the Fall 2016 One Room Challenge hosted by Calling It Home. There was a multitude of rooms to choose from. Only a few needed to be completely overhauled, while almost all needed some lovin'. I knew it wouldn't be as easy as unpacking the boxes and putting out all of our belongings. The house needed to groomed and our collection of things needed to be curated, but ultimately, I wanted it to feel like us. Not a replica of our old house, but a new and improved version of the house we called home for 4 years. Our first home as a family of four.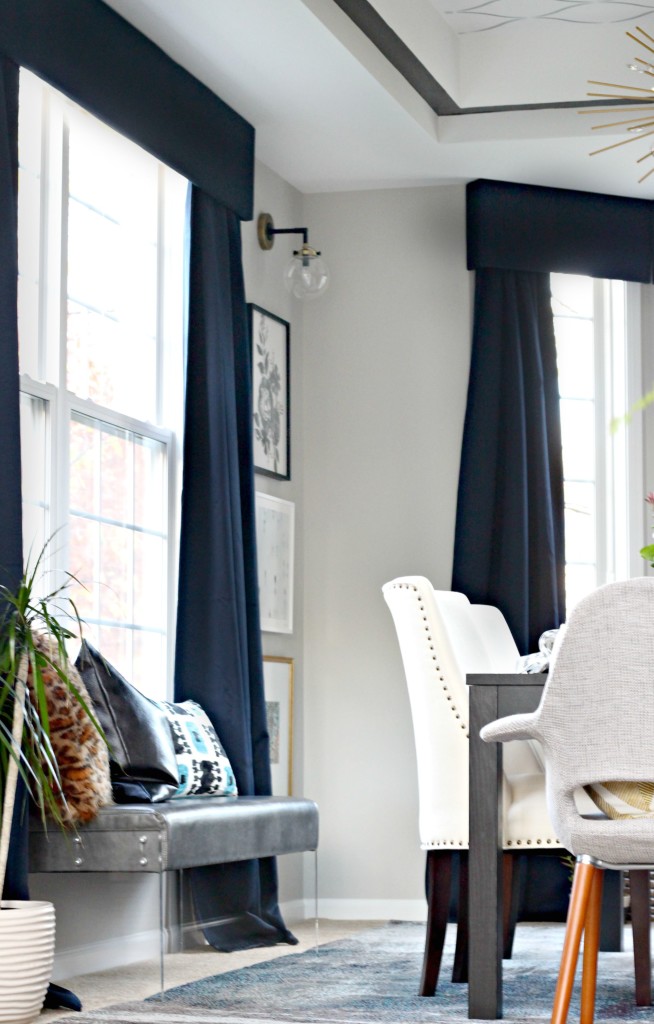 But today, I give you a space I've waited patiently to create. After turning our old dining room into a play room and reading nook, thoughts of creating a real dining space again have always been on my mind. An adult space for entertaining friends, hosting family and sharing food, libations and laughs with loved ones.  My thoughts came to fruition when I started working in here the first week of October and now, the space feels more like a dream come true. Today, I'm sharing the reveal of our bold, graphic, glam dining room!
A quick rewind to week 1, when I shared the before pictures…
BEFORE
and then my dining room design board…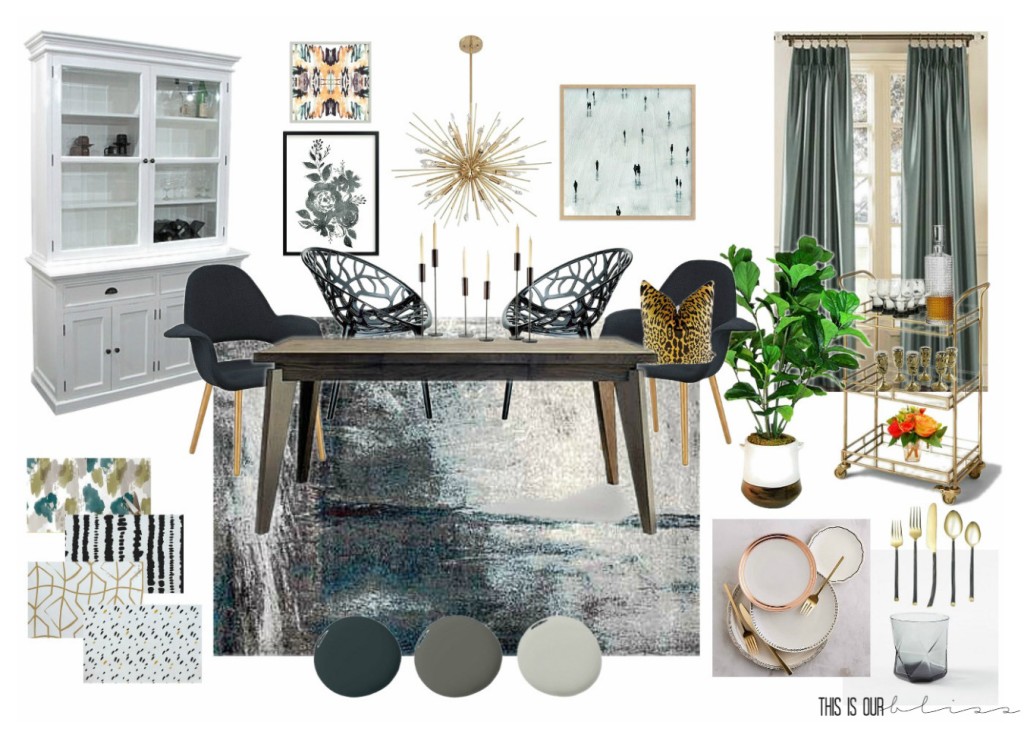 …fast forward through weeks two, three, four and five and we are right back here.
Now, I'm ready to invite you in to see my bold graphic glam dining room…
AFTER
You'll probably hear me say, "Feel head-over-heels-in-love…" or "love at first sight…" when describing some of the key elements in the room, but it is the honest truth. The chairs, the china hutch [thrifted for a mere $39 at that], the art, the lights…oh, the lights!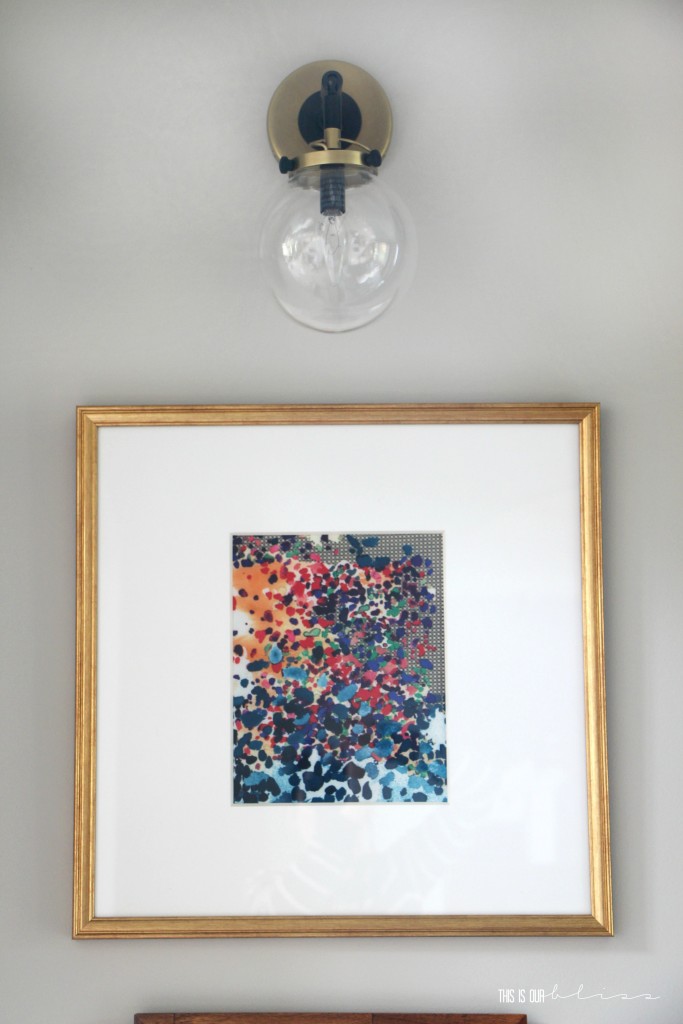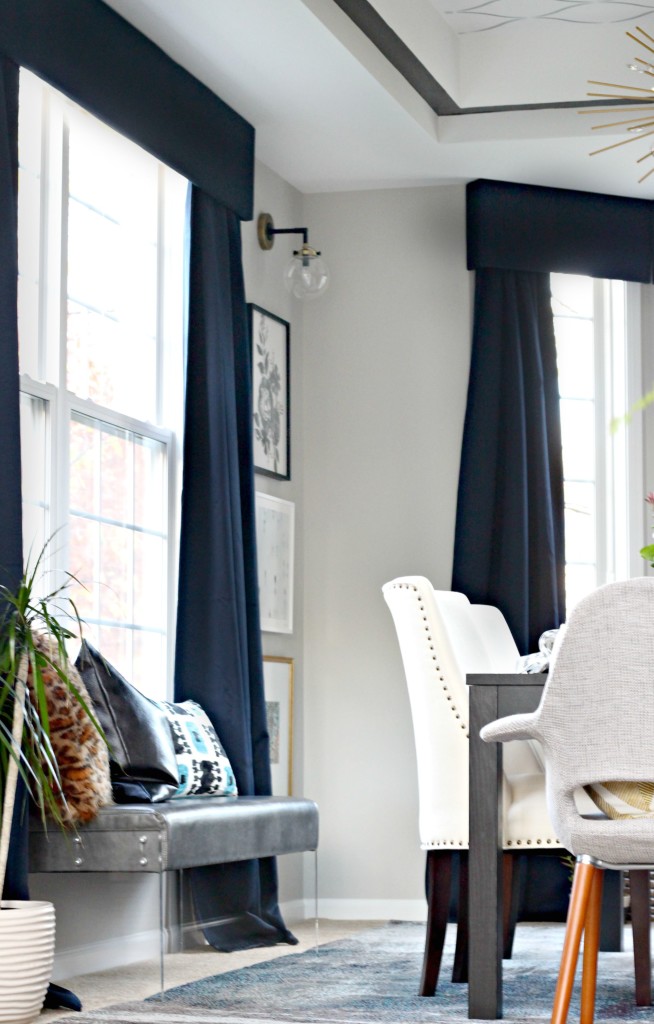 I mean, how could I resist this gorgeous gold chandelier with edgy spikes and chic crystals?!!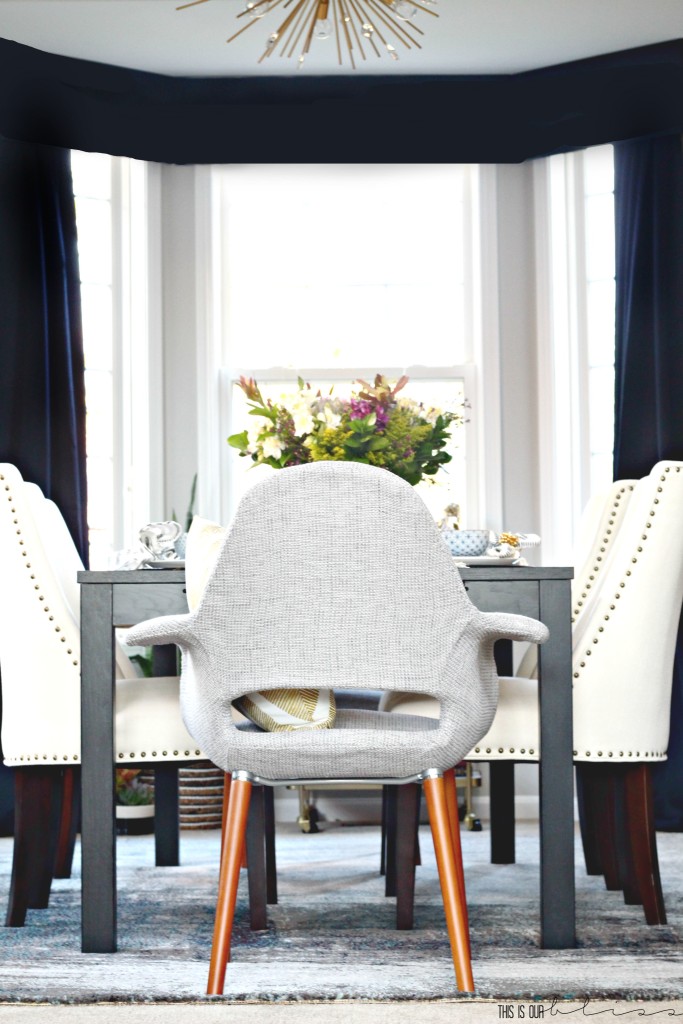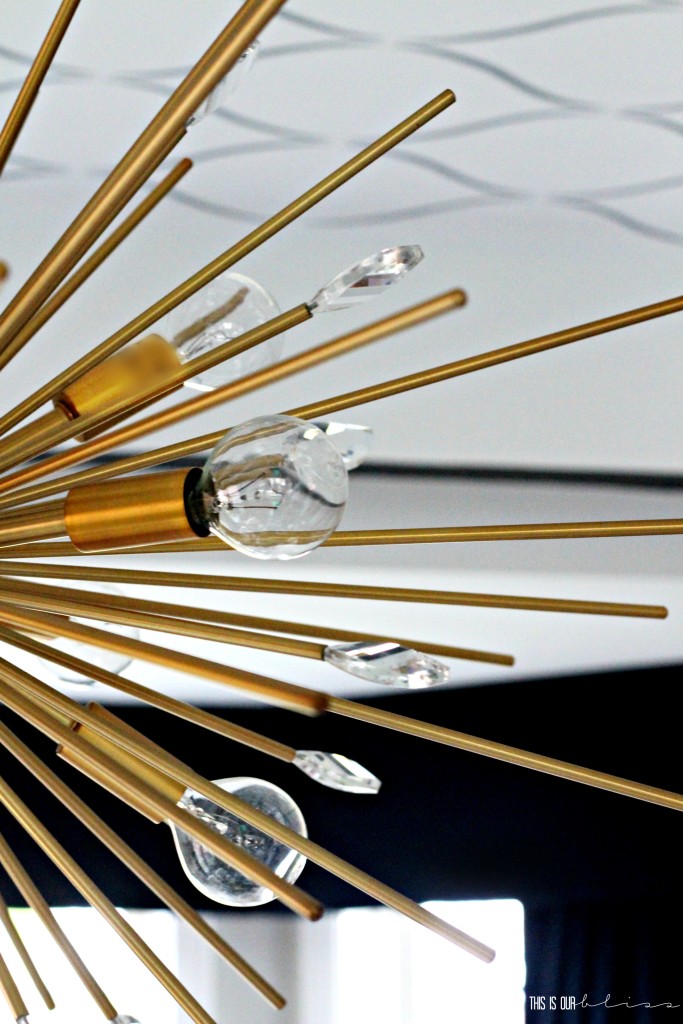 The table came together using some of my go-to white dishes we've had since we got married, a few grand thrifted gem scores [like those gold metal placemat / charger plates!] plus some darling blue patterned bowls I found on clearance at HomeGoods. I also scoured IKEA, Michael's, Pier One and Luna Bazaar for the rest! Oh and I almost forgot to mention the gorgeous gold flatware I spotted at Target. They're actually sold individually for only $2 per piece, so I had no guilt scooping up an armload of them and placing them in my cart. I've wanted pretty gold flatware for ages, but they've always seemed so pricey and decided our everyday silverware would do the job. Not anymore!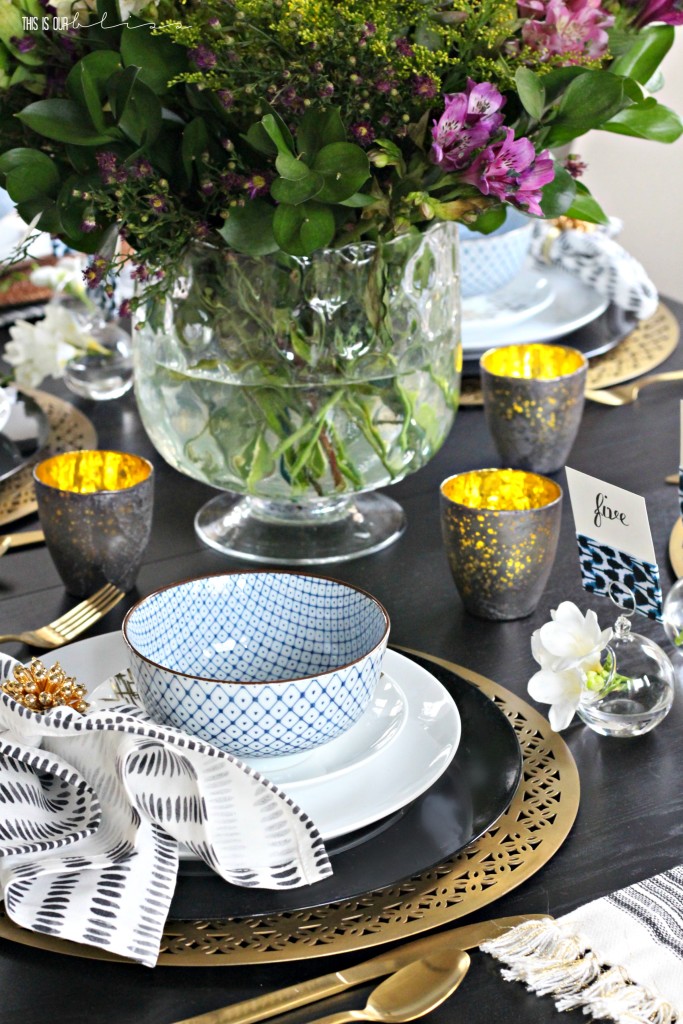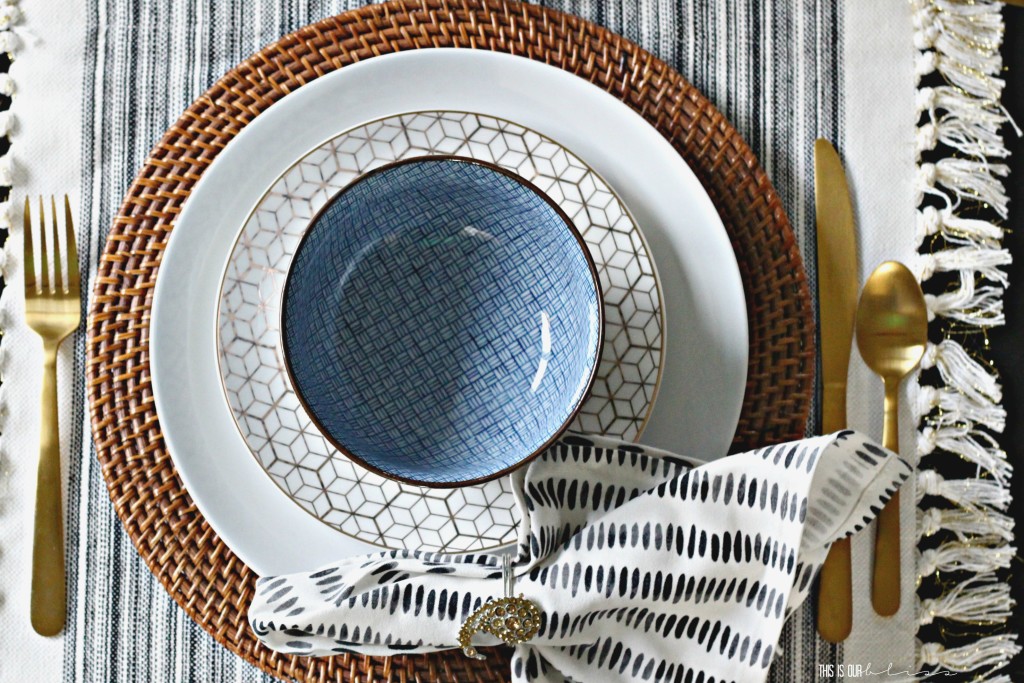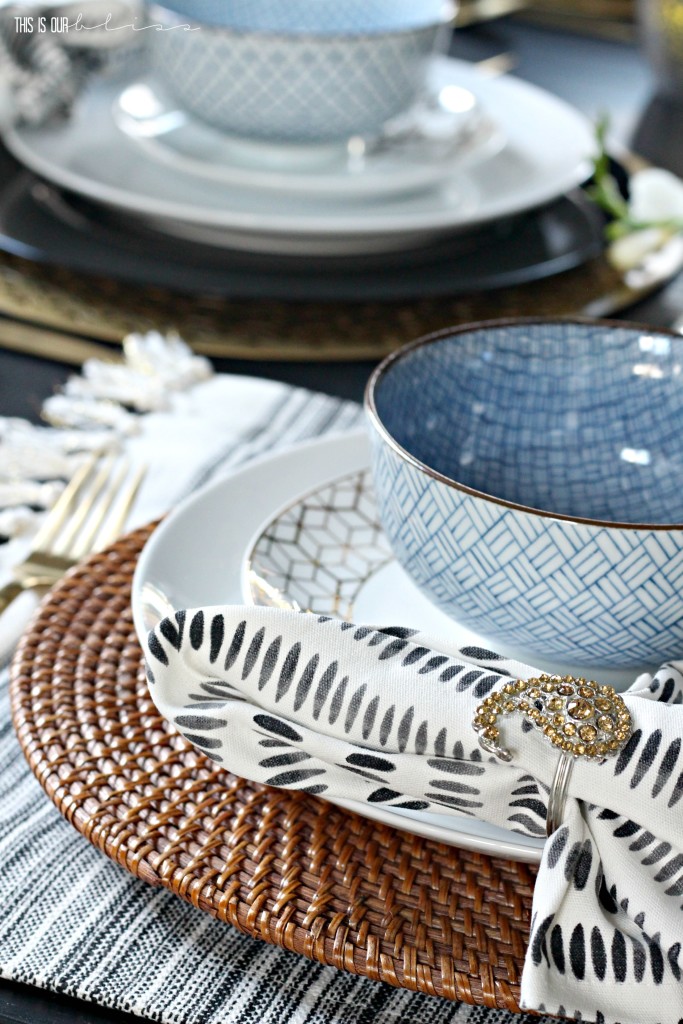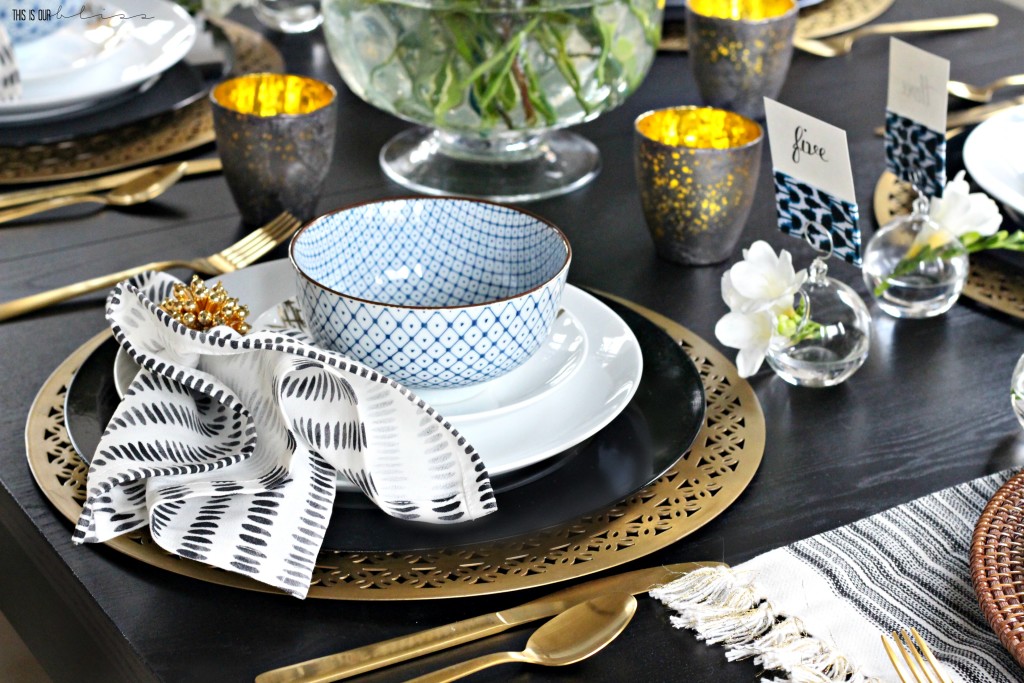 I have truly never used blue in my decor before, but after I fell in love with the navy curtains, I decided blue was going to get mixed in with my black, white and gold. I didn't even think twice about it!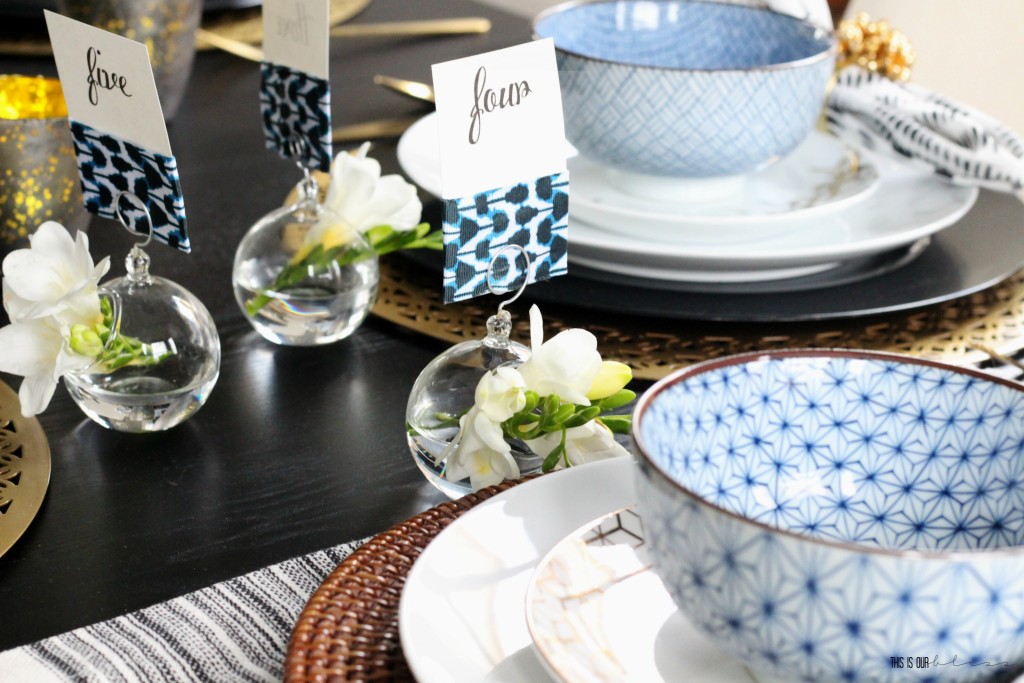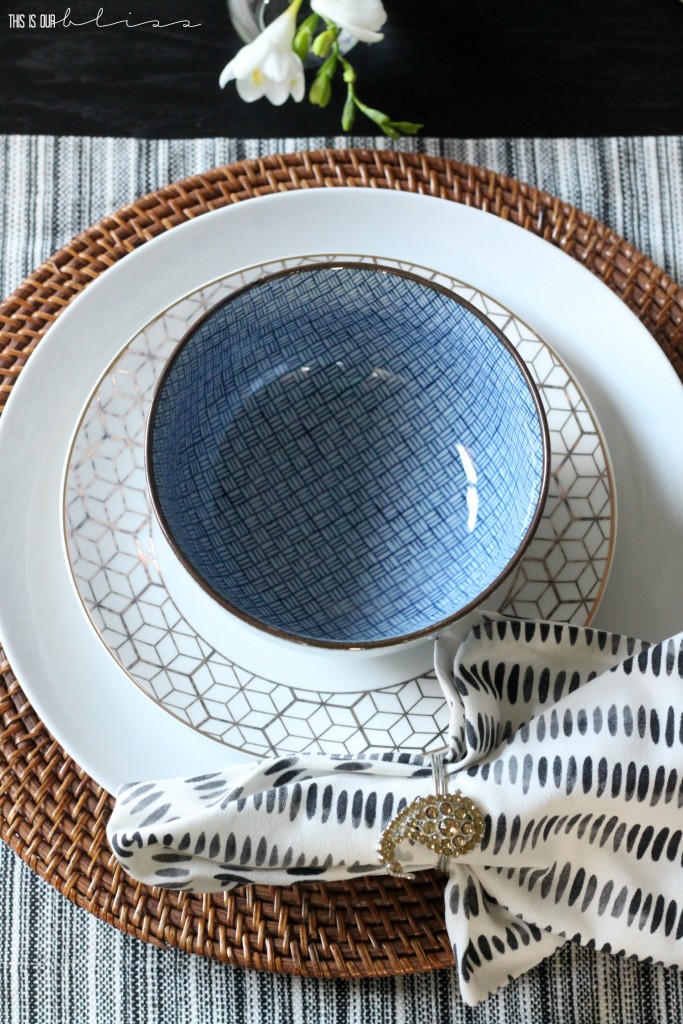 The new bar cart got a quick makeover after I took it out of the box. I know, I know. Why isn't good, good enough?! Well, I wanted to marble-ize it, so I did just that. Full tutorial coming soon!
And let's not forget to note that sexy leather handle!
Hip, hip, hooray! Who's ready for a cocktail?! I can tell you after these past 6 weeks, I think happy hour is coming a tad bit early today. I knew what I was getting myself into with the ORC after participating in the Spring 2015 One Room Challenge when I revamped our guest room, but I'm not sure if it's because I took a couple of challenges off, or if my style has changed so much or if it's that we're in a new home and I didn't know where to begin!! It is more than likely a combination of all of the above, but I tell you what. This was indeed a chaaaallenge. 100% worth it, but still quite an undertaking.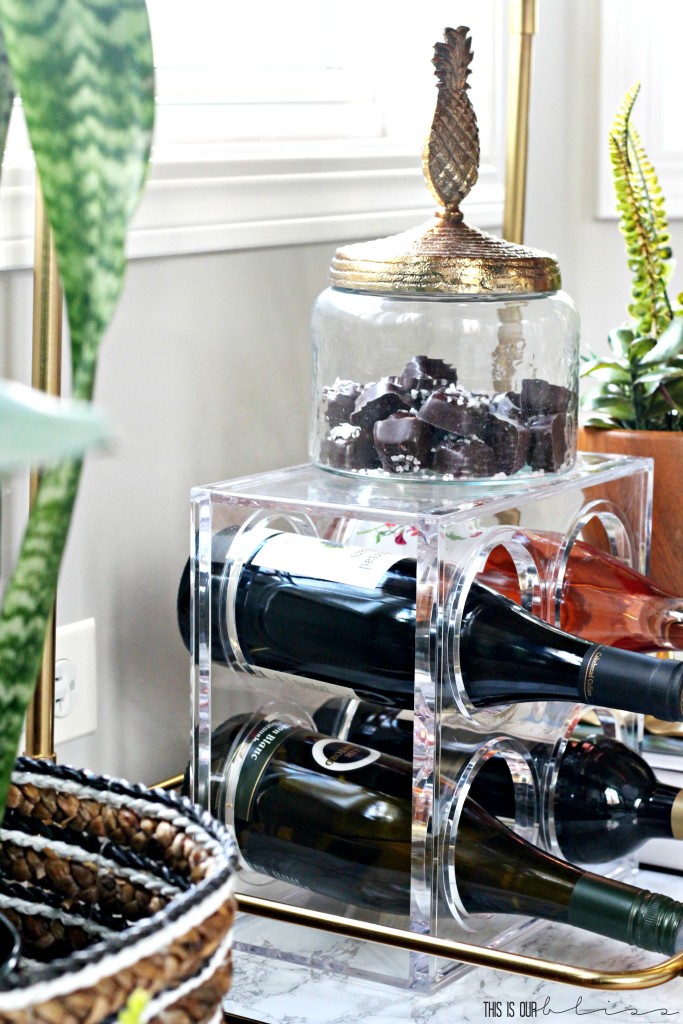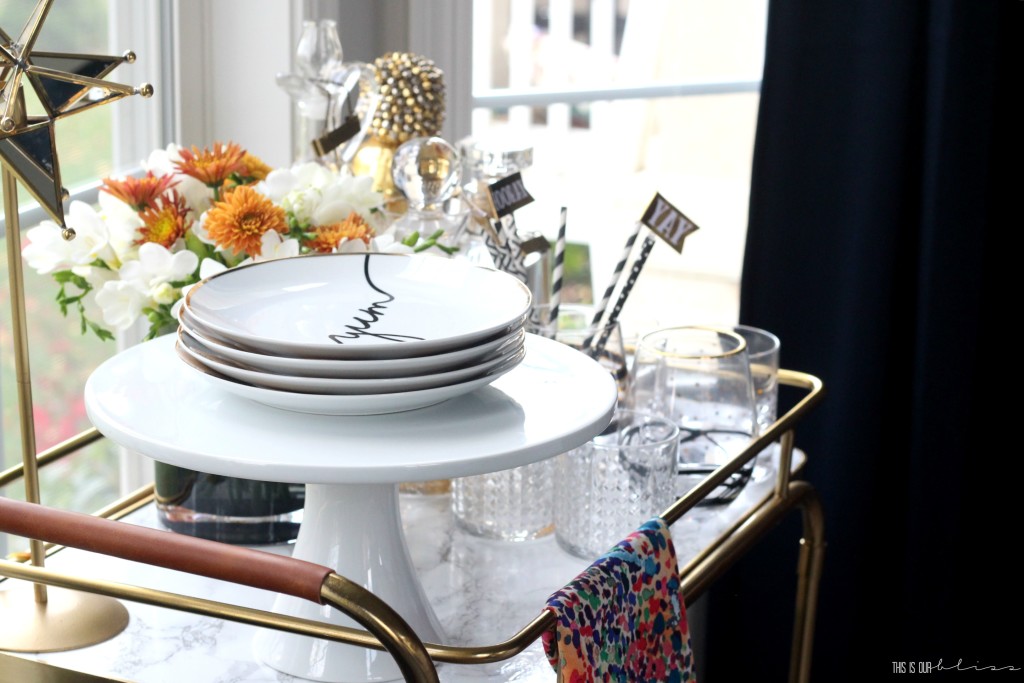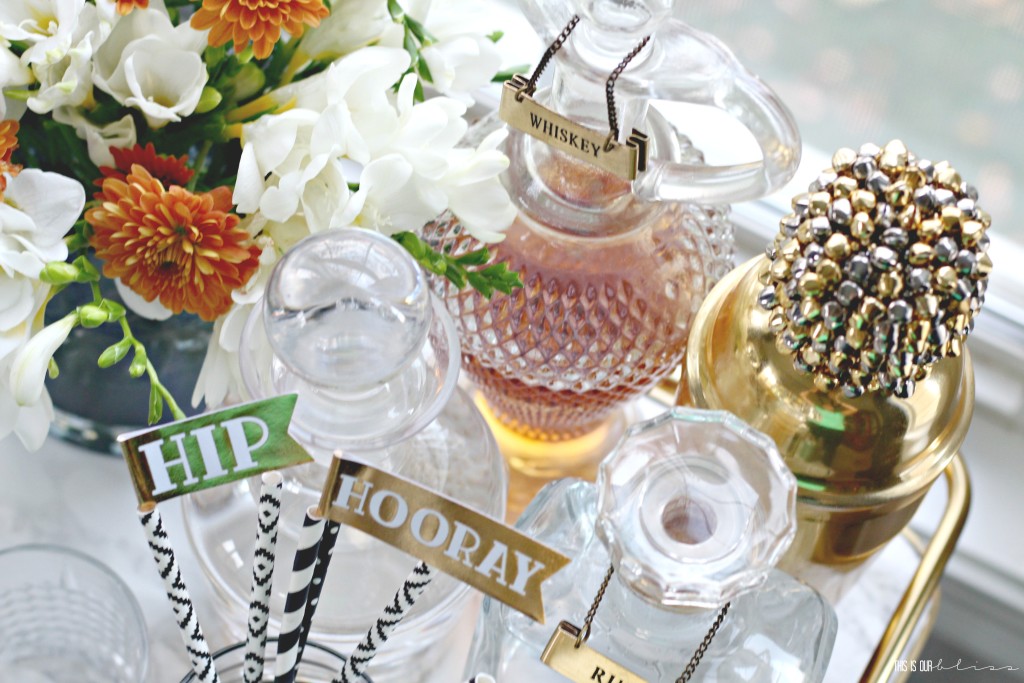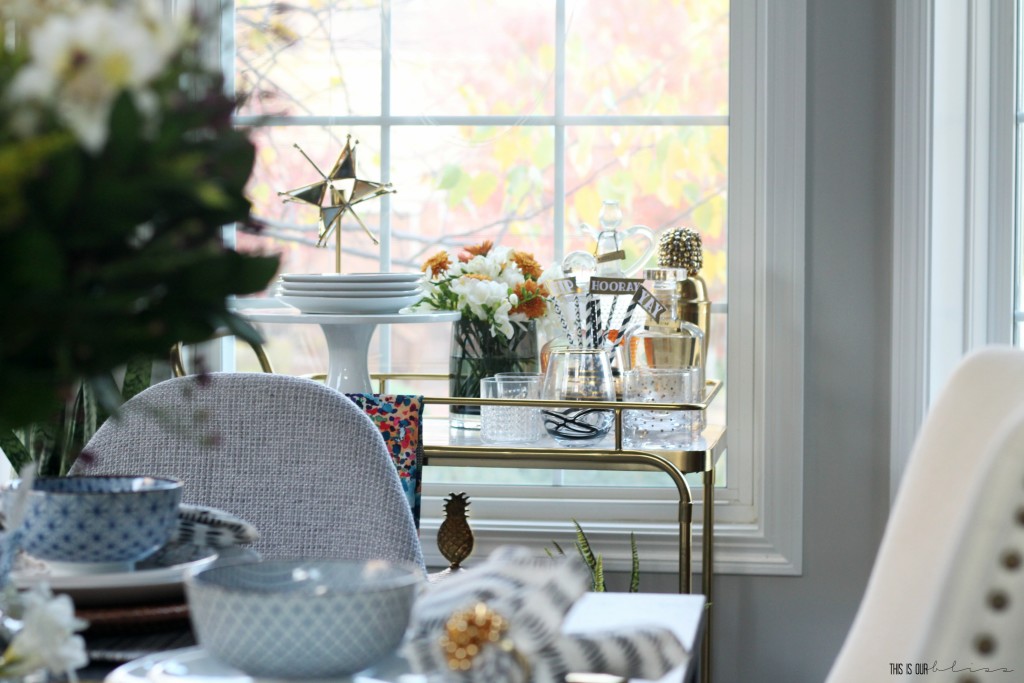 Drinks [and chocolates!] are now an arm's length away. No need to get up and head to the kitchen. We've got you covered!
After finding this steal-of-a-deal china hutch at my new favorite thrift store, I went around in circles debating whether or not I should paint it.
I even asked you guys! Leave it or paint it white. I ultimately decided if I left it as-is, but obviously cleaned it up and zhushed the hardware, I could always paint it down the road. So, I left the beautiful wood color which really warms up the space, but couldn't help but give it a quick update. Modernize it a bit.
I simply added this fun, graphic paper to the back and styled it. I even busted out our wedding china which has been in it's original packaging since our wedding 5 years ago. I don't think I'm alone here, but I am happy to be able to display it in the hutch. Now, actually using it is a totally different story!
Another piece that made it's way in the space is the lucite bench. Since our table expands to seat up to 10 people, but we didn't really have the space to house 10 chairs, this was the perfect alternative. It sits in front of the window, but can easily be slid up to the table to seat an additional 2 – 3 people. I totally justified the purchase in my mind when I, here I go, fell head-over-heels in love with it. It HAD to come home with me and I'm thrilled with how it looks and fits in the space.
Function + beauty is always a win-win in my book! Don't you agree?
The room quickly evolved into a modern, eclectic dining space with prints and pattern galore. It's a bit edgy, a tad feminine and a lot me! I'm looking forward to seeing how this space sets the tone for the rest of our new home. Stay tuned to see more!
The tour of our bold, graphic, glam dining room has come to an end, but don't worry! Scroll down for a full source list in case you saw anything that tickled your fancy. As always, I did my best to gather source information for as many of the items in the space as possible. If you have any questions, feel free to leave me a note in the comment section below.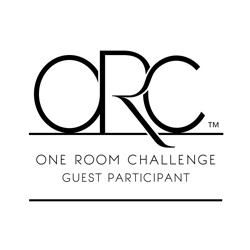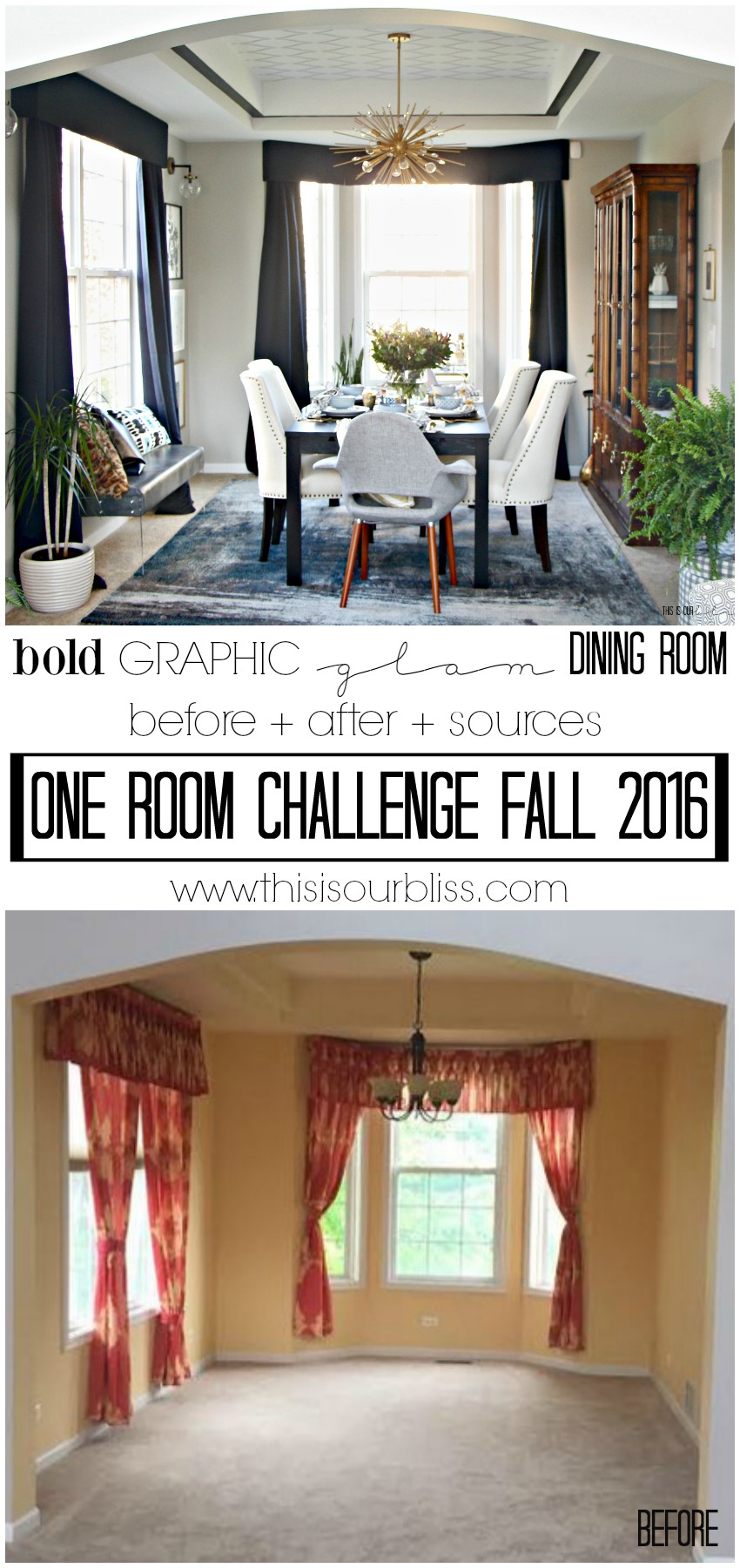 Thanks for joining me on this 6 week journey once again! What now? Well, I've checked another room checked off the new house hit list [see our Master Bedroom & Big Boy Room, so I think I'm going to kick back and relax….quite possibly with a drink in hand!
[*Affiliate links were used below.]

BAR CART
bar cart
acrylic wine rack
gold confetti decanter
gold confetti cocktail glasses
straws
gold liquor labels
white cake stand
pineapple canister
Hip Sips Book
Whiskey book
BENCH
black leather pillow
animal print pillow
blue + black ikat lumbar pillow
acrylic bench [mine is gray]
TABLE
expandable dining table
ivory dining chairs [similar here]
gray modern dining chairs
fringe placemat
rattan chargers
black chargers
bud vase place card holders
paisley napkin rings
napkins
blue patterned bowls [similar here & here]
gold & white appetizer plates
gold flatware
votive holders
floral centerpiece
HUTCH
hutch [thrifted] + patterned backing
"Celebrate Everything" book
"Vintage Remix" book
"The Kauffman Mercantile Guide"
"Monet's Table"

WALLS + CEILING + RUG
chandelier
wall sconces
ceiling stencil
floral art 1
floral art 2
blue abstract print
gold frames [similar here]
curtains
rug
DIY PROJECTS [tutorials coming soon!]
DIY cornice board
DIY fabric art
DIY black & gold abstract art
Bar cart makeover
DIY pattern dipped placecards
Before I thank my sponsors, I want to give a mega big shout-out to T for my beautiful cornice boards. He worked so hard to put these together for the space and I couldn't be happier with the end result. They so *make* the windows and have such an impact on the space. While, I'm at it, I'll thank my dad, too, for helping us get these bad boys mounted to the wall. Through trial and error, we got 'em up and they look amazing!
Thank you to my brand partners for providing me with such fabulous products to use in our dining room space. I'm so grateful for your partnership!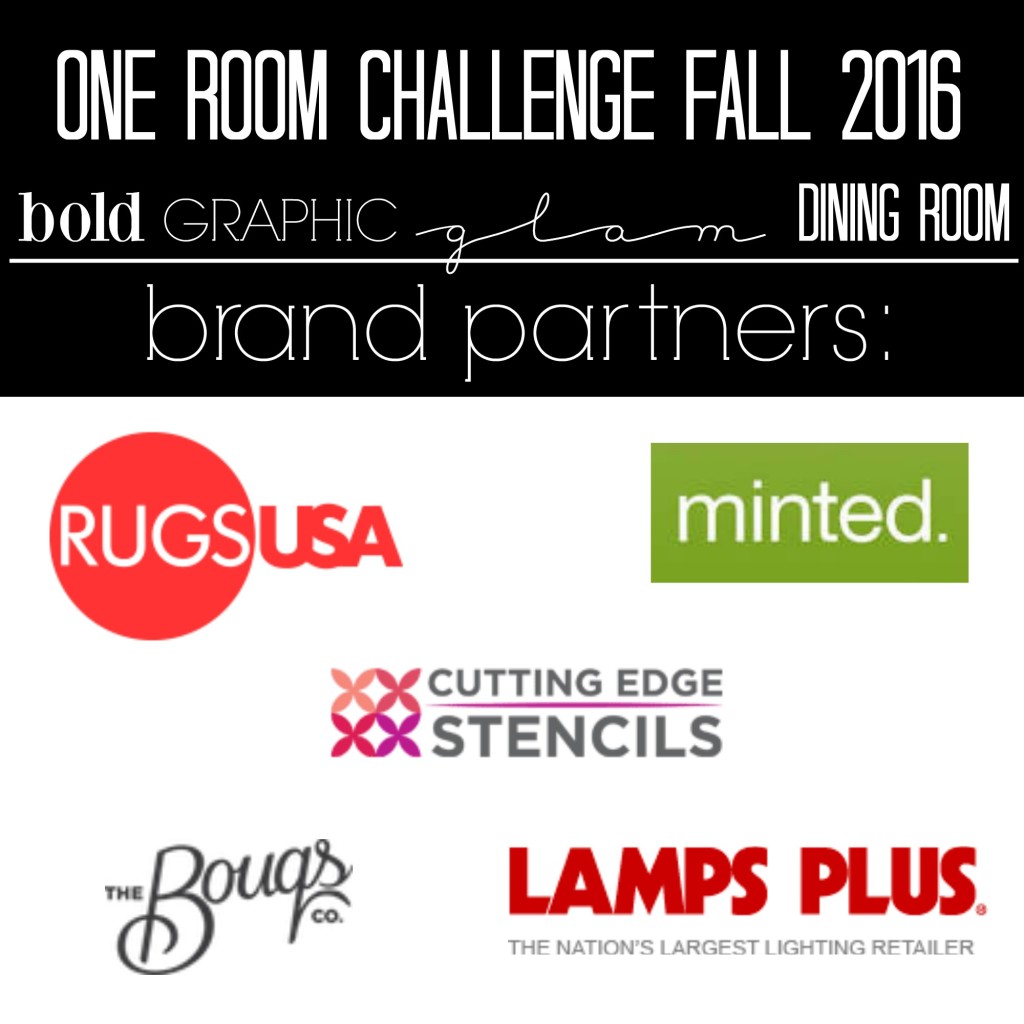 *Affiliate links were used below.
RugsUSA | Lamps Plus | The Bouqs Co. | Cutting Edge Stencils | Minted | Luna Bazaar
If you fell behind, it's ok! You can get caught up below: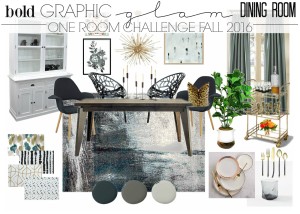 Week 1 | Before Pictures + Mood Board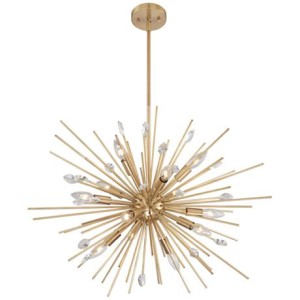 Week 2 | Glam Gold Chandelier Options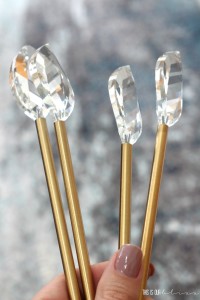 Week 3 | All The Things are Arriving!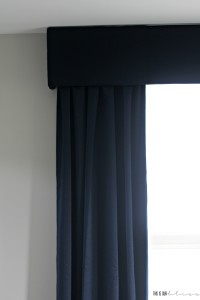 Week 4 | DIY Cornice Boards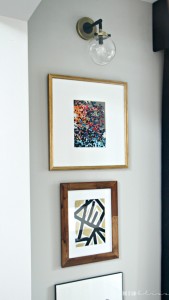 Week 5 | Stacked Wall Art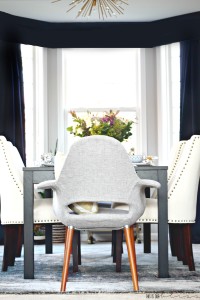 Week 6 | Bold Graphic Glam Dining Room Reveal! [we are here this week!]
I've unintentionally fallen behind on sharing the Curious Little Gentleman Big Boy Room DIY tutorials with you, but now that the ORC has concluded, I'll be popping back in with the DIY posts from the biggest's room and before long…Christmas posts!  The ORC is over and all that's on my mind is where to put the trees in the new house ha! I'm getting so excited 😉
But before Christmas posts begin, pin this for later!