Better late than never! You might have noticed I jetted off to NYC last week for the Better Homes and Gardens Stylemaker Event without a peep about the Pretty in Pink Powder Room Refresh Reveal – oops! Life happened and quite frankly preparing to leave town [and all that goes with leaving behind the house & the kids!] took priority over wrapping up this reveal! No offense – I do love you all, but sharing the "after" pics was just going to have to wait until I got home. And today is that day…$100 Room Challenge Reveal Day!
[*Affiliate links are used below.]
If you are stopping by for the first time, then welcome! At the beginning of September, I hopped on-board the $100 Room Challenge train, which could also be considered the crazy train! The goal was to makeover a room in our home over the course of the month while staying under the $100 budget. Yep, you read that correctly! 100 bucks 😉
With the change in my pocket, some sparks of creativity and an immense amount of support and encouragement from the other participants, I said "Let's go!"
I'll quickly rewind back to the start of this challenge in case you were't around for it. For week 1, I shared the before photos and the mood board for the Powder Room.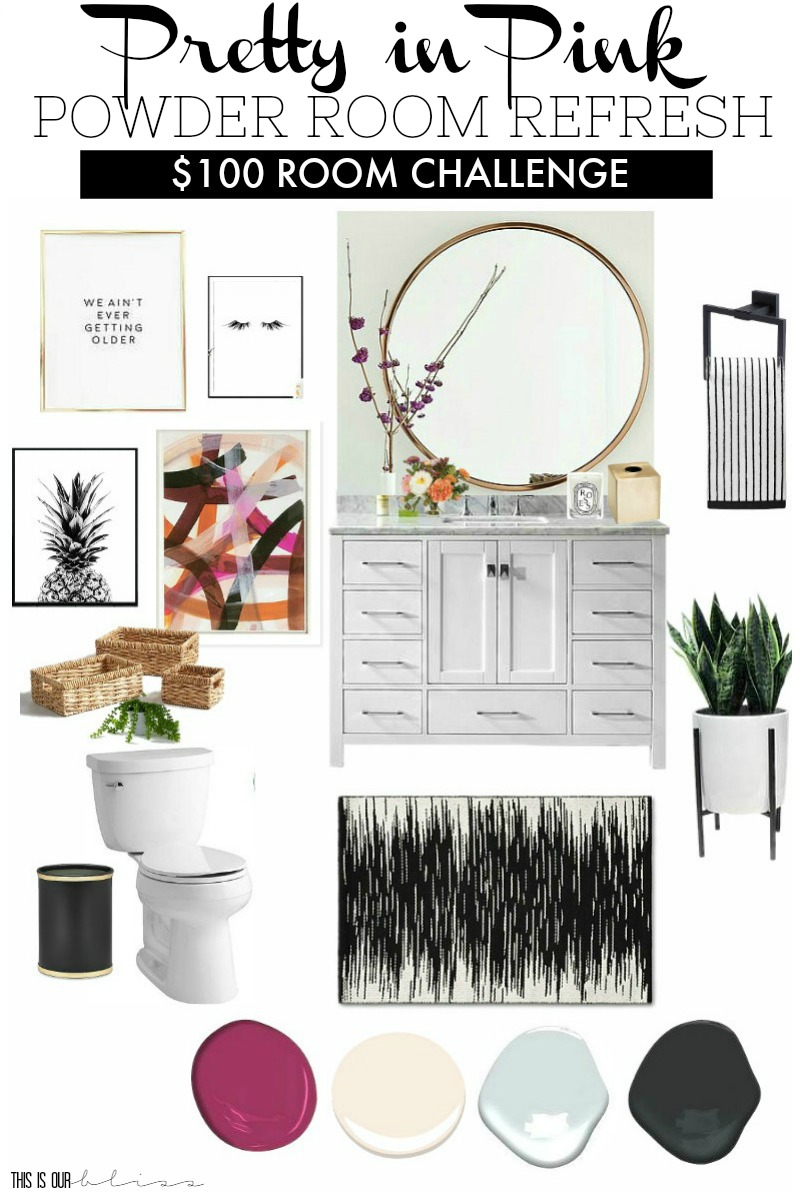 Week 2 was all about the PINK! I painted the Powder Room vanity a shade of pale pink and DIY'd some gold knobs with a black geometric design. A quick and most likely temporary fix, but inexpensive as can be!
Staying true to the challenge, week 3 was focused on DIY art on the cheap! Cheap as in $3 Goodwill frames, a $2.50 digital Etsy print and a print-out from my home computer! Oh and the pink geometric art print that got my wheels spinning for this space in the first place. It cost a wee bit more than the Etsy print, but waiting for something you love to go on sale takes a bit of patience [and some aisle and online stalking] but the cost savings can really add up!
The first three weeks, I let the DIY projects shine, but the reveal is nothing more than some simple styling! Before we look at the space, let's take a quick peek back at the before photos to let this $100 room makeover come full circle.
And now, our recently refreshed, freshly styled…
PRETTY IN PINK POWDER ROOM REFRESH REVEAL!
The styled part is true, but the fresh, not so much!  This space was pulled together using random knick knacks from my decor stash. These pieces come out from hiding every so often and get transferred from room-to-room. Shopping your house is by far the most budget-friendly way to decorate. Especially when the pieces are thrifted finds, Target clearance items and quick spray paint projects.
I always have spray paint laying around, so grabbing a can to zhush up something old or boring is a free way to bring new life to your decor!
For example, my old silver tissue box holder received some gold treatment and now fits in perfectly with the glam vibe I have going on throughout the Powder Room. And see how I grabbed this little metal tray to create a vignette on the countertop? I snagged this tray on clearance for $5 a few months back and like usual, didn't know where it would end up in my house. But along came this challenge and I decided this would be it's home.
Plus, doesn't everything just look better and more put together when corralled on a tray?
I chatted a bit about the counter tops in previous posts, but as you can see I didn't update them. The burgandy and gray is here to stay. At least for awhile. I'll just keep pretending my abstract art really does pull all the colors together in the space!
If you know me, then you know I love to hang things on the walls. However, I kept the wall art to this one corner. I was tempted to put another frame across from the towel ring and to the right of the mirror, but I fought the urge to pink up a hammer and nail. Hard to believe, I know!
The light. Oh how that light needed some love. I knew the look of the light fixture was all wrong for the space, but replacing the light with a new one was completely out of the budget. Crossing the finish line at $100 was going to be hard enough as it was. And no, I didn't have a super cool, modern vanity light in my hoarder closet. There may be lots of things in there, but that was not one of them! I decided to take matters into my own hands and opted to rid the light of the brushed nickel and frosted tulip shades with black spray paint, donating the shades and screwing in clear bulbs that I DID have in our light bulb cupboard. Instant update and did I mention it was free?!
And the showstopper in the room?
Well, it's the pale pink vanity!
The hydrangeas came from the front of my house and the roses from the backyard. Recognize my vase? You might since it's one of my favorite cocktail glasses, typically hanging out on my bar cart! I did use the cocktail glasses as a vase on my Summer Table a few months back, so using it as a bud vase in the Powder Room wasn't exactly a brand new idea! But it is one that I love!

Although we didn't knock down any walls or rip out the vanity, we did make a huge improvement in this space! It is far more beautiful and more importantly, I'm no longer embarrassed to let guests use the bathroom! Beautification on a budget and a tight one at that! More importantly, I'm no longer embarrassed to allow guests to use the bathroom!  Here's a look at the cost breakdown associated with our original punch list and the final amount spent.
BUDGET BREAKDOWN
Paint the walls – $0

leftover paint from the Dining Room – SW Repose Gray

Paint the vanity – $18.89
Update the knobs – $0

existing brass knobs updated with spray paint on-hand and a Sharpie!

Swap out the mirror – $0

used one we had previously used in our old house

Switch out the artwork – $34.48
Update the light fixture – $0

existing fixture + spray paint & clear bulbs on-hand – $0

Hang new hardware – $34.37
Place a new rug – $14.25
Accessorize & style – $0

Items on-hand: hand towel, tray, candle, matches, vases/cocktail glass
DIY tissue box update using gold spray paint on-hand
gold wastebasket – stolen from the basement bathroom!
faux floor plant – borrowed from the hallway
fresh flowers – snipped from the yard

Grand total for Powder Room Refresh – $101.99!
A smidge over budget, but if I can makeover a room for $101.99, I'll go over by $1.99 time and time again! A big, no huge, shout out to Erin of Lemons, Lavender and Laundry for pioneering the $100 Room Challenge efforts and inspiring me to really bring my own space to life. Here's some background on how Erin made this whole thing happen nearly 6 challenges ago!
I'm thrilled to have the Powder Room done and am scheming on my next $100 makeover – thinking I could tackle a bedroom, perhaps?!
What do you think? Are you inspired to take this challenge on in your own home?! I sincerely hope you give it a shot! I'm blown away each and every week I see another blogger's progress and then of course, the reveals are incredible!
What are some areas you would consider DIY to shave off some of the costs associated with a makeover or refresh?

Now, for allllll the reveal goodness, check each one out below:
If you'd like to have my Chainsmoker song lyrics word art for yourself, grab it below!
Thanks for following along this crazy 4 week  challenge with me! Here is a look back at all four weeks of challenge:
Week 1: Before Photos + Inspiration Board
Week 2: Painted Pink Vanity + DIY Knob Update
Week 3: DIY Art on the Cheap
Week 4: Pretty in Pink Powder Room Reveal
See you back here again soon!