Leopard print has always been a staple pattern in our home. If you've been around here at all, then I'm sure you've seen your fair share of leopard throw pillows, blankets, placemats and more! One space you're probably not as familiar with is my closet. Well, news flash. You'll find A LOT of leopard in my closet, too! Leopard has been a classic print for ages and most would agree it can be treated as a neutral in both home decor and fashion. It just seems to go with everything! Leopard print is especially hot and on trend right now and I'm not mad about it! Not quite sure how to wear leopard print or which pieces to buy? Then read on to learn 13 Ways to Add a Dose of Leopard Into Your Fall Wardrobe.
[*Affiliate links are used in this post.]
Do you ever spot a piece of leopard apparel or super cute leopard shoes, but just don't know if you can "pull it off"? Well, I assure you, you can. Start with small accessories, like belts and clutches, then work your way to shoes and booties and then the next thing you know, you'll be rocking sweaters, jackets and full-blown head-to-toe ensembles! To make it easy for you, I took my favorite leopard essentials and grouped them into 13 key categories. Since we're all friends here, then I'll admit I own an item [or more] from each category. What can I say? I. Love. Leopard. So here is everything you need to know about one of my favorite prints! These pieces can just as easily make their way into your closet, too!
13 WAYS TO ADD A DOSE OF LEOPARD INTO YOUR FALL WARDROBE
1 | CARDIGAN
So, cardis are one of my favorite Fall essentials and I'm seeing a ton of open front leopard print cardigans around lately. I knew I wanted a leopard cardigan to wear this Fall and Winter so I snagged one Nordstrom was selling late this Summer. Unfortunately, it's sold out and I don't know if it will come back, but this is a a great leopard cardigan option and I really love this one, too. And for something slightly different, I ordered this rust & black leopard version and it is so good! I'll have to take some pictures soon to show you guys. It's a great longer length and I love the twist on the regular colors you typically see in an animal print. Rust is so hot for Fall!
2 | CAMI
Have you noticed how silk and lace camis are making a comeback? A silk cami is a basic staple to be able to layer under jackets and cardigans and can be dressed up or down and I think a leopard print cami is a cute way to wear a trendy classic. You can even wear it alone in warmer weather. It's a great length, but does run slightly big. I normally wear a size small, which is what I bought, but would size down to an XS next time. I also have it in this black + white striped version, too.
3 | SWEATER
Similar to the variety of cardigan options, here are a few of the sweaters I've got my eye on. There is this basic sweater, this fuzzy option and then this higher end option. Leopard is worth a little splurge, right?
But if you're on a budget, then I don't think you can go wrong with this crew neck pullover sweater. I might be talking myself into this purchase as I sity here and type 🙂
4 | BLOUSE
There are soooo many ways to wear a leopard blouse! I have this one and this one, too, which might not technically be leopard, but it is an animal print and I love it. At $19.97 each, I could not pass them up! In NYC last month, I layered this blouse under my faux suede camel jacket and it was the perfect combo for walking around the city in cool September weather!
Put it underneath any sweater, jacket or cardigan or wear it alone tucked into a pair of your favorite jeans.
5 | ANKLE BOOTIES
These flat leopard ankle booties are perfect for more everyday / casual outfits in the fall and winter or you could amp up the style a bit with these leopard booties with a heel to be able to dress up your outfits for date night or GNO.
I hate to say it, but I'm pretty sure these are sold out in all sizes, but here are my $30 leopard booties I wore in New York last month. They transitioned from my dress at the cocktail party to my denim for a night out after. And oh my, were they surprisingly comfortable!
6 | CLASSIC PUMPS
If you're not sure you'll want to wear leopard as an everyday look, consider purchasing a pair of super classic leopard pumps to be able to pair with your favorite denim or with more formal skirts and dresses.
PUMPS | JEANS | GOLD BANGLE | MIXED METAL SPIKE BRACELET
I get so much use out of these leopard pumps that I bought a couple of years ago. I wear them with skirts, dresses, jeans or black denim like you see here! Definitely a timeless wardrobe addition!
SWEATER | FAUX LEATHER JACKET | BLACK DENIM | LEOPARD PUMPS | BEADED CHANDELIER EARRINGS | GOLD SPIKE BRACELET | BLUSH BEADED BRACELET
7 | MULES OR LOAFERS
these embellished leopard mules [N] are very similar to the pair I have, which are no longer available. These basic loafers [N] are a great wardrobe staple and will forever be a classic!
8 | SNEAKERS
Looking for a cute, casual, daytime shoe to wear around the house or out running errands? Then these are it! I'm obsessing with this find because its a small print sneaker. You almost always see the larger pattern when it comes to leopard. These guys hopped into my cart for only $39.95!
These cuties are the perfect basic leopard sneaker and if you want to step up your sneaker game a bit, then these calf-hair wedge sneakers are a MUST! See what I did there? 🙂
9 | BELT
If you're not sure you love this trend or worry about being too loud [is that such a thing, though?!] then adding a pop of leopard around your waist is a good place to start.
You could do a front-tuck with your favorite blouse or T and then you'll only be showing a peek-a-boo of leopard.
*PIC
You can also wear this belt and fully tuck your top in or place the skinny belt over a black dress or with a skirt to create a more defined waistline.
Try this one [N] or this super affordable option. Looking to get more mileage out of your belt? I even stumbled upon this black + leopard reversible one on sale right now! Wear it either way!
10 | SCARF
A scarf is one of those grab and go kind of pieces and really finishes the look of an outfit. Don't you feel more sophisticated and put-together with one on?! I adore this option with the fringe and I also really like this one because it has a lighter background – more ivory than tan which you usually see with animal prints.
11 | CLUTCH
You will wear this with everything!! It is a great accessory to pair with any color AND any pattern. A leopard clutch looks great with a stripe and I love leopard coupled with camo too. The photo below is showing one of the five ways I styled this striped sweater and there are 4 more looks in the blog post!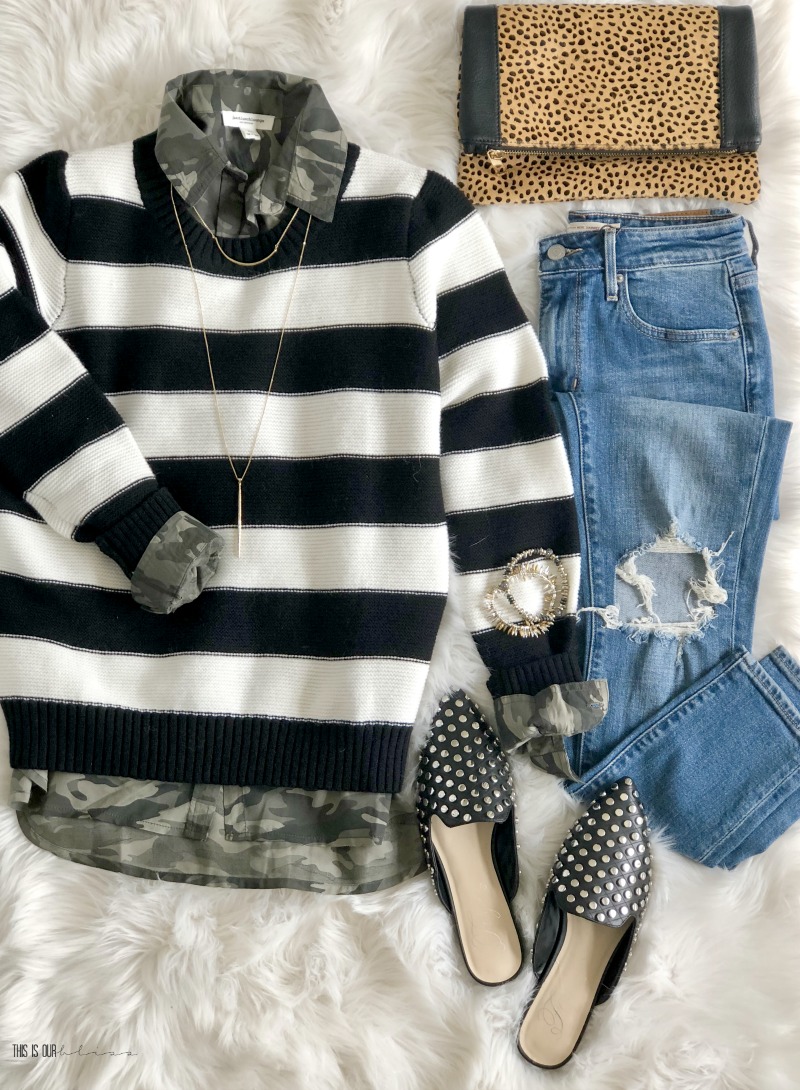 SWEATER | CAMO SHIRT | JEANS | STUDDED MULES [ANOTHER OPTION HERE & HERE] | CLUTCH [SIMILAR] | NECKLACE
This particular clutch isn't available anymore, but this one is such a good alternative and if you are looking for a more versatile leopard clutch, this one has a crossbody strap! Both are under $50 – score!
Pop a clutch as an accompaniment to a little black dress and red heels, perhaps. You'll instantly have yourself a killer wedding outfit or holiday look!
12 | SKIRT
I wouldn't necessarily call this item a must-have or a staple because skirts aren't for everyone, but it certainly is a super inexpensive, comfortable and fun leopard skirt! I wore this skirt to the Better Homes & Gardens Stylemaker Event in NYC last month and received so many compliments. I smiled and said thank you, but blushed because I didn't mention it was only $14! Oh well, the secrets out now!
I paired it with a fitted, high-neck black tank tucked in, but a black bodysuit would work well, too! I love that it has a subtle hint of light blue in it 😉
I really like this pencil skirt and this midi skirt for more classic prints and styles. I'm also swooning over this leopard print dress!! How fun for a night out?!
And a bonus item!…
13 | PAJAMAS
Yes, PJ'S! If you're over-the-top leopard obsessed like I am, then you need this cute & comfy pajama set! I have an older version of this set in a black and gray leopard combo and then I have a full button down top and pants set in a camel and black combo. I told you I was obsessed. 🙂 Soma is my go-to for pj's and they always run sales, so be patient and then snag a couple of pairs! They will not disappoint!
And these faux fur slippers are just too darn cute and only $14.99, so like I keep saying, "Add to cart!"
Sorry, but no PJ shot for you! I'm just getting comfortable in front of the camera for the blog, so bare with me as I work my way from flat-lays to more and more shots of me actually wearing the pieces I'm sharing with you! I love sharing a piece of my personal style faves with you, so I hope you find these posts helpful and fun!
If you haven't picked up on the leopard print memo yet this season, not to worry, there is still plenty of time to grab a few of these key pieces and start to integrate them into your daily outfits. A little leopard goes a long way, so start small and then eventually…go big or go home!
Don't forget to pin for later!
So…what do you think? What dose of leopard are you going to incorporate into your Fall wardrobe this year?! Are you as crazed about leopard right now as I am?! Tell me what your favorite pieces are!
Shop my fave leopard finds below!

Have a great weekend 😉