How often are you in a rut of throwing the same leggings and sweatshirt on to run errands or even just lounge around the house in? That is, if you *actually* make it out of our PJ's! It's so easy for our cute clothes to get hung up and somehow lost in the chaos that is our closet. Today I'm starting a new Style series showing you ways to pair simple pieces together to create casual chic outfits. Nothing too fancy and all very "everyday wearable". All it takes is a little time in your closet to pull out some of your long-lost pieces and start to wear them again! Take inventory of what you might need and make a few solid staple purchases. We all need some inspiration to put away the leggings and reach for a pair of jeans and a cute jacket every once in awhile instead. I'm talking to myself here, too!! Here are a few of my Casual Chic Style looks to get you started…
As a SAHM and an all-boy mom at that. I want my day-to-day outfits to be just that, comfortable and casual, but still chic and put together. I like feminine styles with an edge. But CASUAL, nothing too stuffy, fancy or hard to wear in my normal, every day life!
CASUAL CHIC STYLE INSPIRATION
OUTFIT #1
CAMO PULLOVER | WHITE JEANS | GRAY BOOTIES | ROSE GOLD + STONE BANGLE | SILVER SPIKE BRACELET | MIXED METAL BEADED BRACELET

Camo is still going strong over here! I really didn't know I would love the look as much as I do! This pink and gray camo lightweight pullover is the definition of casual chic. You are super comfy while still looking cute and put-together which is a big WIN in my book! #momstyle I've worn it with leggings, but also think it's darling with white jeans and ankle booties. These gray booties are one of my favorite purchases from the Nordstrom Anniversary Sale last year. They are so comfortable and go with just about everything. I love that they can be worn the Fall, late part of winter and early part of Spring because of the deep cut-out detail. They're currently 45% off right now and come in 2 other colors. I'm wearing a 7.5 so I'd say the run pretty TTS.
OUTFIT #2
RAW EDGE JEAN JACKET [love this more distressed one, too!] | STRIPED TURTLENECK [similar HERE & HERE] | WASHED BLACK DENIM | BLUSH STUDDED MULES [similar HERE & HERE] | ROUND SUNGLASSES

This look is a slightly edgier take on a classic look — pairing a classic black and white striped turleneck layered under a modern distressed raw hem denim jacket. These "sharkbite" washed black denim jeans are a nice alternative to a basic black. They are high-waisted and the raw ankle hem is so fun! I love a good studded shoe, but you could rock any shoes with this outfit. I'm already craving mules and slides. Aren't you?!
OUTFIT #3
FAUX LEATHER MOTO JACKET | GREEN ANIMAL PRINT CAMI [similar here & here] | RIPPED VINTAGE SKINNY JEANS | BLACK POINTED TOE BOOTIES [similar HERE ] | BLUSH PINK TASSEL EARRINGS [love these similar pink tiered tassel ones, too]

If you didn't snag this black faux leather moto jacket with gold hardware and a removable hood last summer in the Nordstrom Anniversary sale, then run! It is back in stock and my absolute go-to jacket right now! I've only worn it with the hood a couple of times, but I reach for it every time we are headed out for date night or dinner with friends.
It's plenty roomy wearing my usual small, but I've sized up to a medium in jackets before because you'll always be wearing a layer underneath. You don't want to have to limit what you put under it so stick with your normal size or go up one! It won't hurt to have a little extra room!! Layering this jacket over silk camis in the Spring or on cooler Summer night makes for an effortlessly chic and slightly edgy look.
And I'm so bummed this olive & blush leopard cami is sold out, but this one and this one are similar if you like the green look. If you want a classic animal print tank, this is my pick! [I own several versions of this cami!]
OUTFIT #4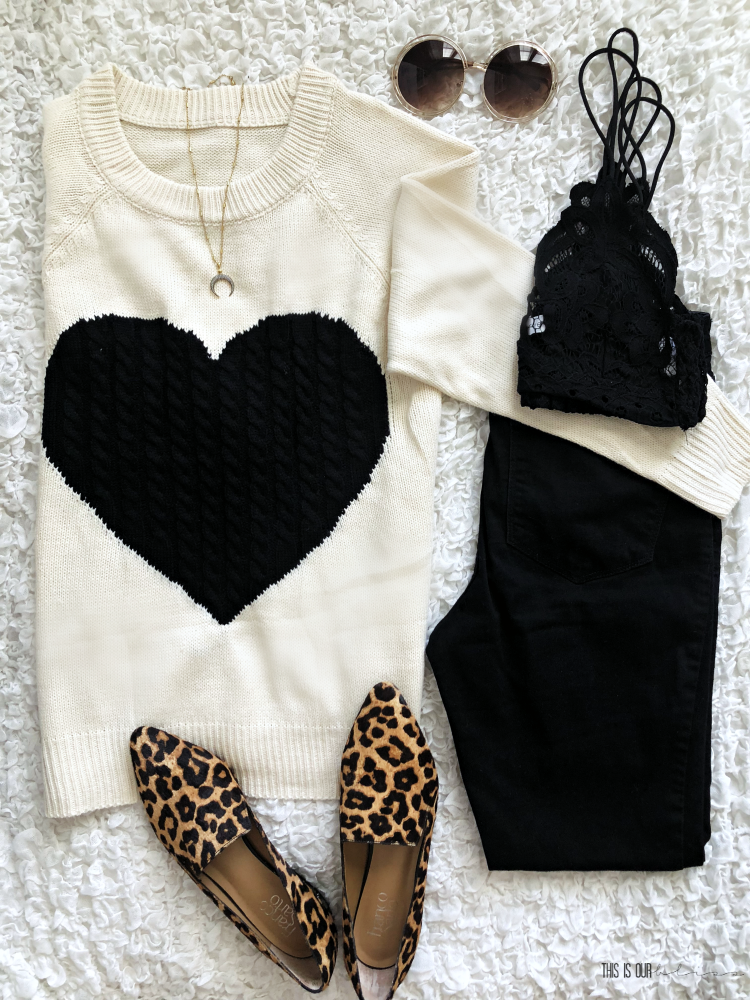 HEART SWEATER [This reverse option is so cute, too!] | BLACK SKINNY JEANS | LEOPARD LOAFERS [great alternative animal print loafer] | BLACK BRALETTE | HORN NECKLACE [love this similar gold one here| OVER-SIZED WIRE FRAME SUNGLASSES

Darling for Valentine's Day, but still super cute all winter long!! Yes, the glasses are big, but I think they are so fun! Great inexpensive pool or boating sunglasses where you never have to worry about losing or breaking your expensive ones. Please tell me I'm not the only one who has done this with their nicest pair! ugh!
OUTFIT #5
CAMO LEGGINGS | WHITE TUNIC TOP | BLACK WEDGE SNEAKERS [love these so much!] | FITBIT + ROSE GOLD FITBIT BAND

At first I thought this outfit was almost to basic to share. But then I thought about how try effortless it is to throw a tunic over some leggings and some super cute and comfy wedge sneakers on and leave the house! These $14 camo leggings have turned out to be one of my favorite pairs and now come in this black/gray camo combo, too! I got these black wedge sneakers for Christmas and love wearing them with jeans or leggings out and about during the day. They run pretty true-to-size, but if you like wearing a thicker sock, then I would size up.
This white pullover tunic is one my best Amazon purchases to date! The length is perfect and the side-slits are a cute little detail. I love it so much I recently ordered the black and gray versions also! You can never have enough solid tops that are long enough to pair with leggings – an absolute staple. And the fabric is light. It still has some weight to it, but it's not as bulky as a sweatshirt. I'm wearing my normal size small. Grab one! Or any of the 14 color options 🙂 This basic tunic would look great under a denim jacket or puffer vest in the winter.
OUTFIT #6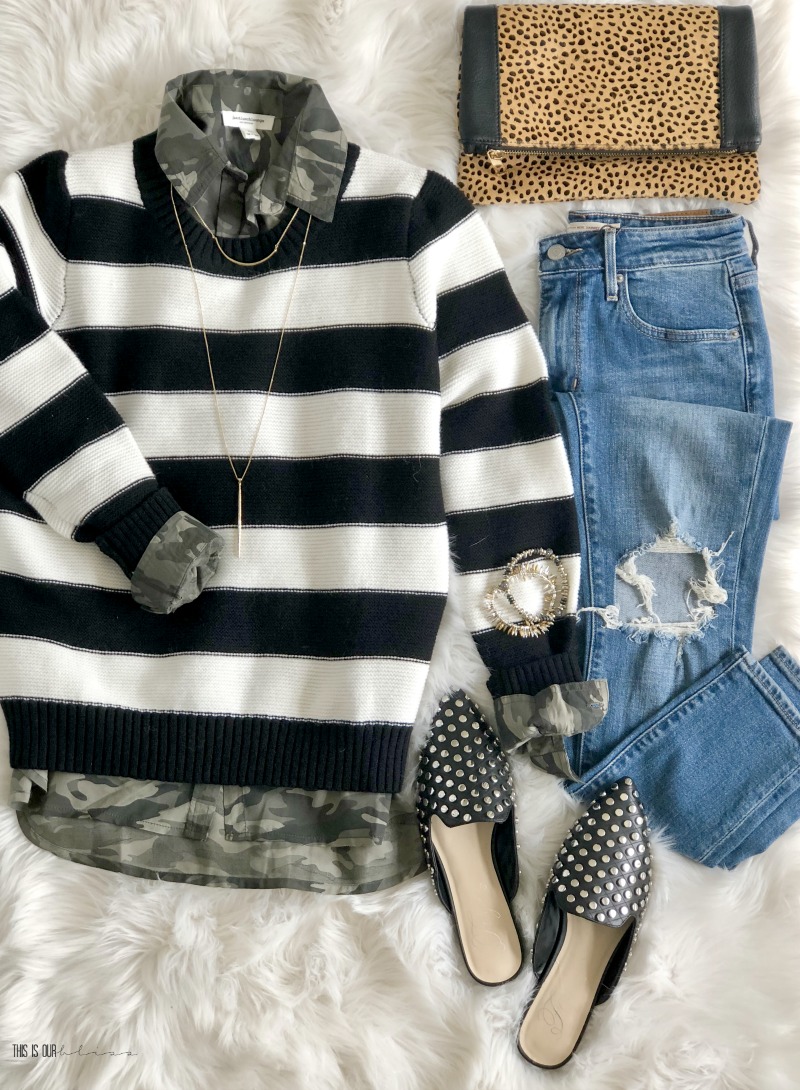 SWEATER | CAMO SHIRT | JEANS | STUDDED MULES [ANOTHER OPTION HERE & HERE] | CLUTCH [SIMILAR] | NECKLACE

And since you guys loved this particular outfit when I shared 5 Ways to Wear a Black & White Sweater, I thought I would include it in this round-up, too. I wore this look several times since last Fall and the layered look can take you right into Spring as well. If you don't have this black and white striped sweater yet, I'm not quite sure what you're waiting for! It's a $20 gem! More camo, stripes and leopard for the win! *UPDATE: it looks like the black and white sweater is out of stock, but the gray & white is adorable and this black, gray and white variegated stripe looks really cute too!
Like I've said before, if you can't narrow down the patterns. Don't choose. Wear them all!
For more of my style posts, click the image below:
I hope you've found some cute casual style outfit inspiration here that you can incorporate into your own day-to-day wardrobe. The point is not for you to feel like you have to run out to buy all new clothes. Instead, pull inspiration and go hunting in your own closet! And remember, there is nothing wrong with rocking a pair of leggings, but try mixing it up a little bit! You've got way more tucked away in your closet than you think.