Oh my! These 4 weeks sure did come & go! I can't believe the month of September was here and then, poof, gone! With 3 of the 5 weekends of the month spent out of town, I literally feel like I blinked and it was over. I'm going to hang on to these last few days for dear life. I am not ready for the cold! Hopefully Chicago can hold out until November!
I am so glad you joined me here today for the very last post of our 4 week Back to Basics series!
I had the best time sharing my Mondays of the month with these rock stars! I can't believe everything I learned from them! Sheer geniuses – monogramming 101, how to apply a vinyl decal, 5 minute hostess tips, chalkboard lettering and even clever ways to hang a roll of TP! and that's only the beginning. I can't wait to see what these girls have come up with for today!
Honestly, I was stumped with what to share today. I mean, we've covered A LOT of ground this month, right? So, I decided that since my Back to Basics week #1 post on nightstand styling seemed to go over pretty well with you guys, I thought I would share my take on coffee table styling today!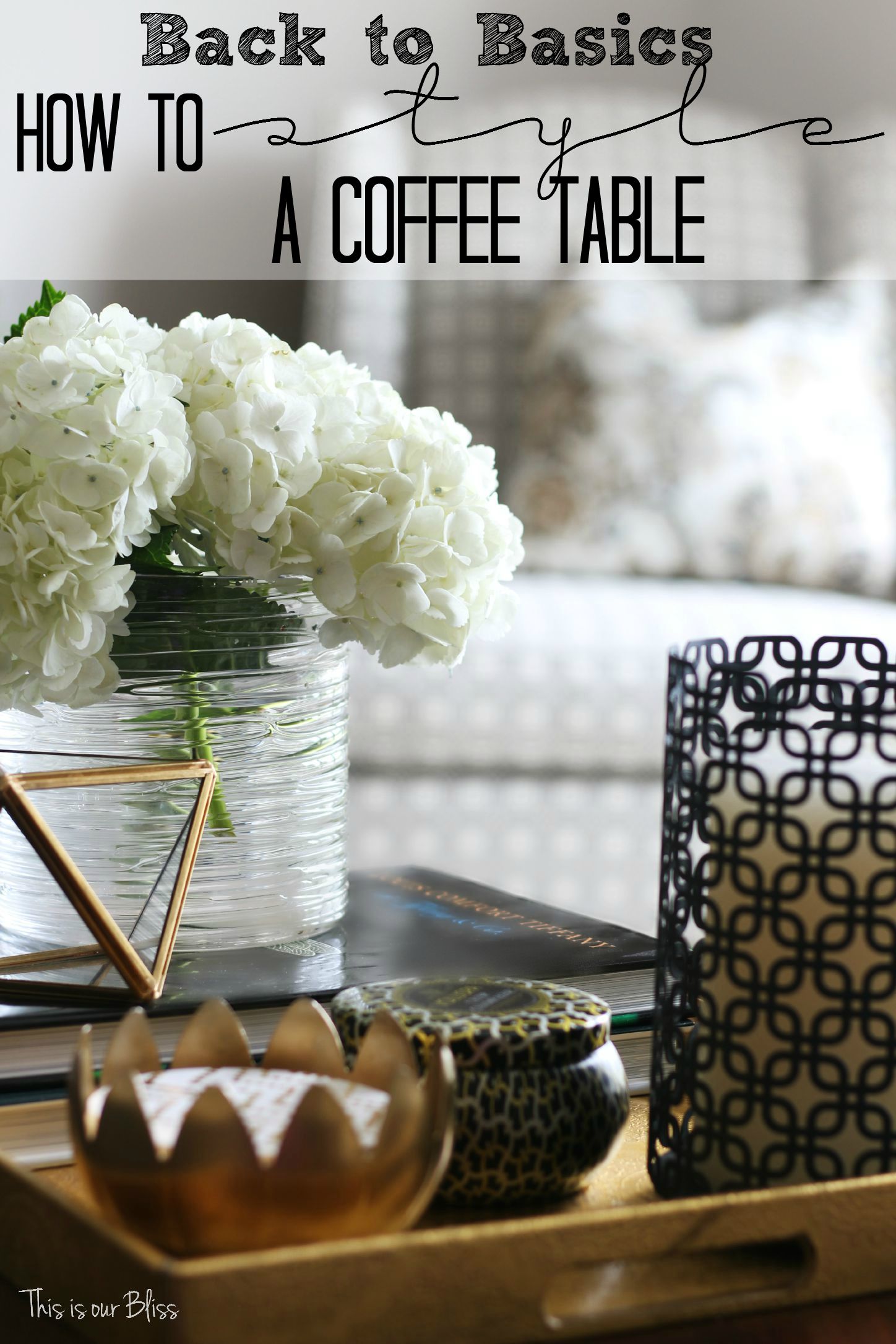 Here is a peek into my formal living room and the main 6 elements I tend to work with when styling the coffee table.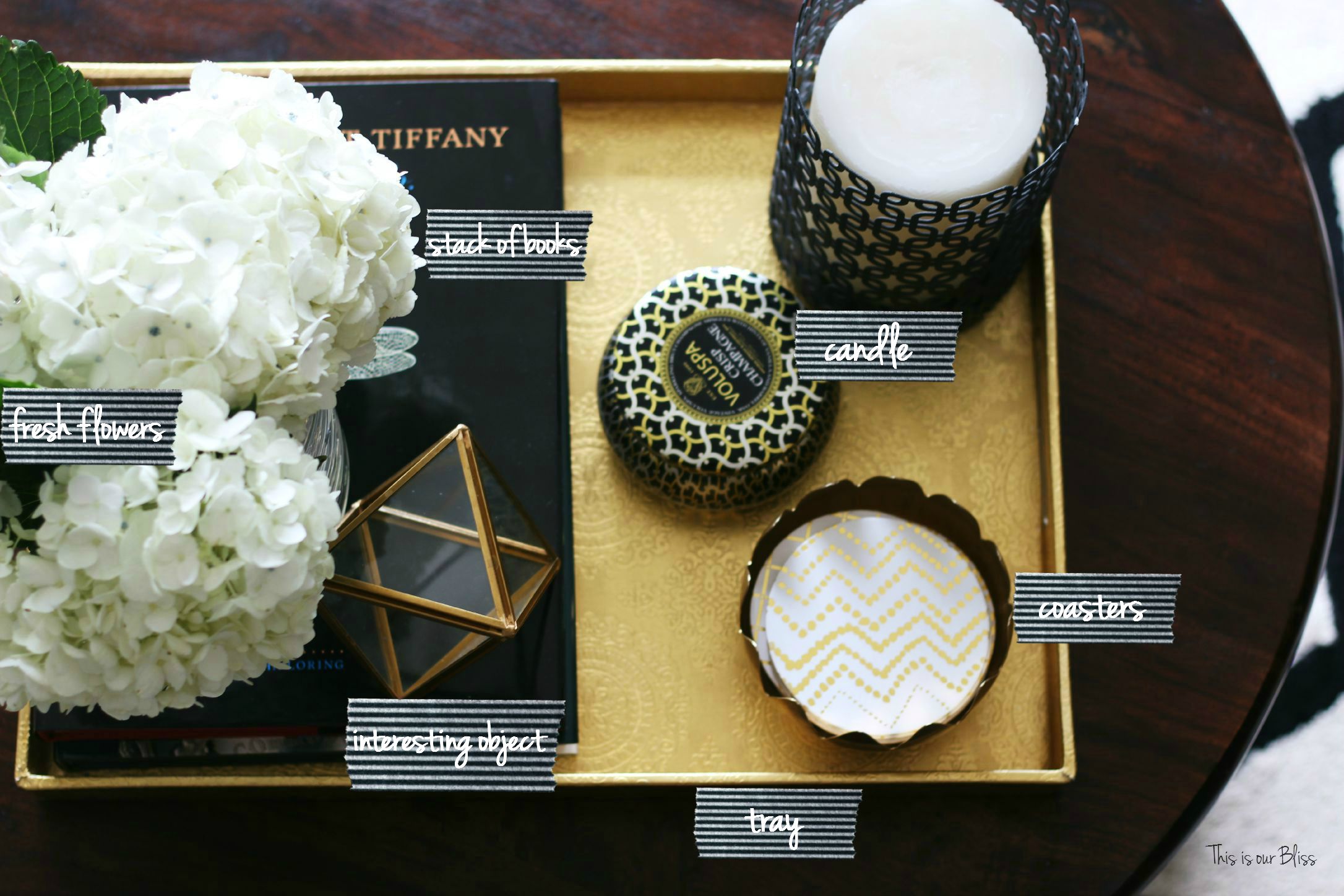 There are a couple of similarities between the 2 types of tables (bedside & coffee table), but a few differences, too. You'll notice a similar color palette, but that is just how I roll. #blackwhiteandgoldalways
These elements serve as a foundation in which you can build off of or go a different route completely. You definitely want to pick & choose which pieces work for you in the various spaces of your home.
Let's get on with it, shall we?
 1 | Tray
This is the starting point for me. If you are going to corral several knick knacks on your table, grab a pretty tray and use that as the base. Here, I use a rectangular gold tray on our round table which adds some visual interest. If you have a square or rectangular table, try a round tray! Anything will work to house your goodies and make it appear more "put together".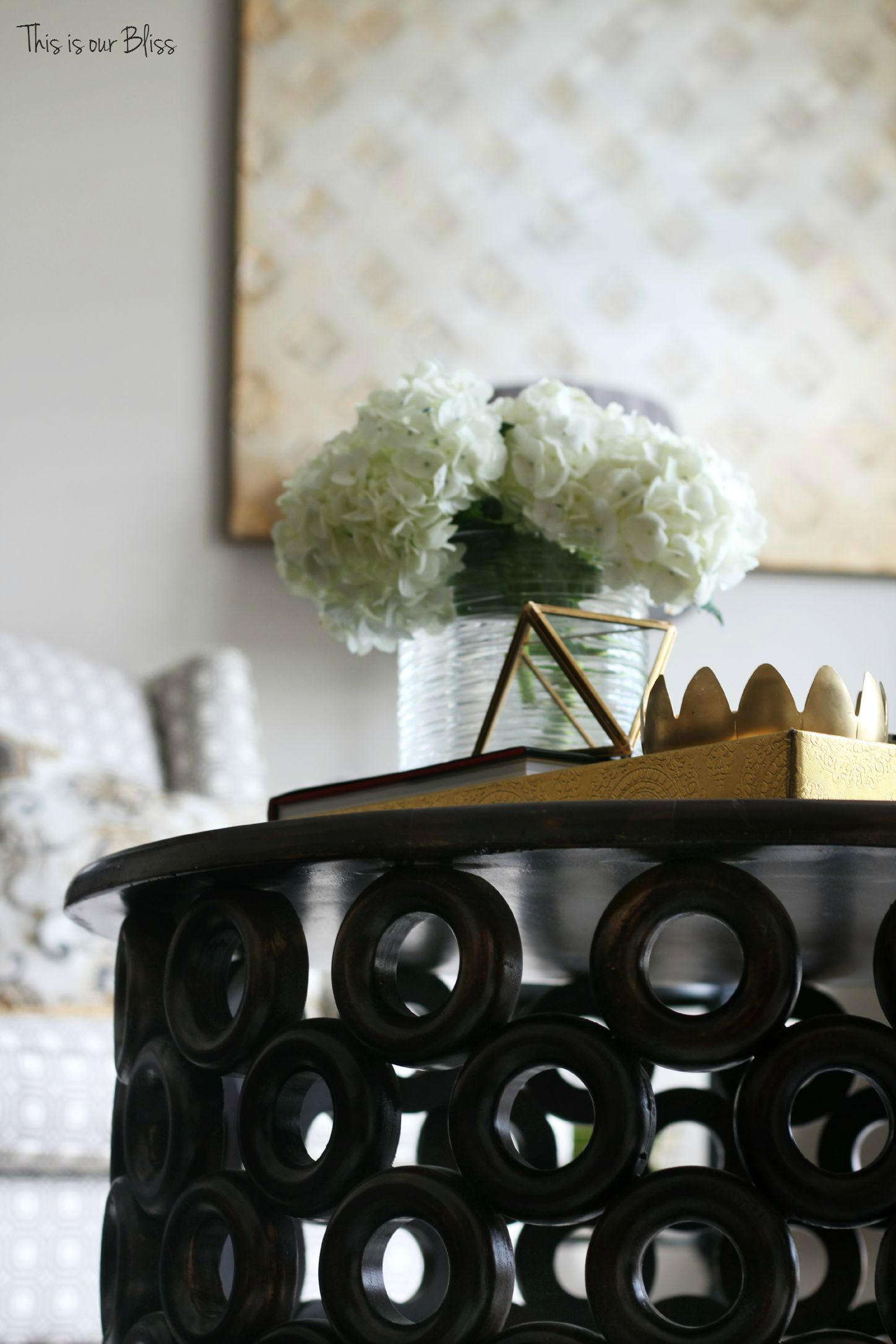 2 | Fresh flowers
Nothing says welcome, like a vase of fresh flowers! Anywhere in the house! Our formal living room sits off to the right of the right door and is one of the very first spaces you see when walking into our home. I put flowers in the vase when we're having dinner guests or company for the weekend and then use faux flowers the rest of the time. My very favorite white hydrangeas are from Costco. 5 large stems for $9.99 and last for 2+ weeks!

3 | Stack of books
Similar to a stack of books I use on my nightstand, I use a couple here in my tray to provide additional height. These are actually called "coffee table" books and are slightly larger & thinner than the stack in the bedroom. Maybe it is so people can grab one off of the table for a quick read or something to thumb through while sitting and enjoying a cup of coffee, tea or glass of wine. They are also sometimes referred to as conversation books. Again, same idea!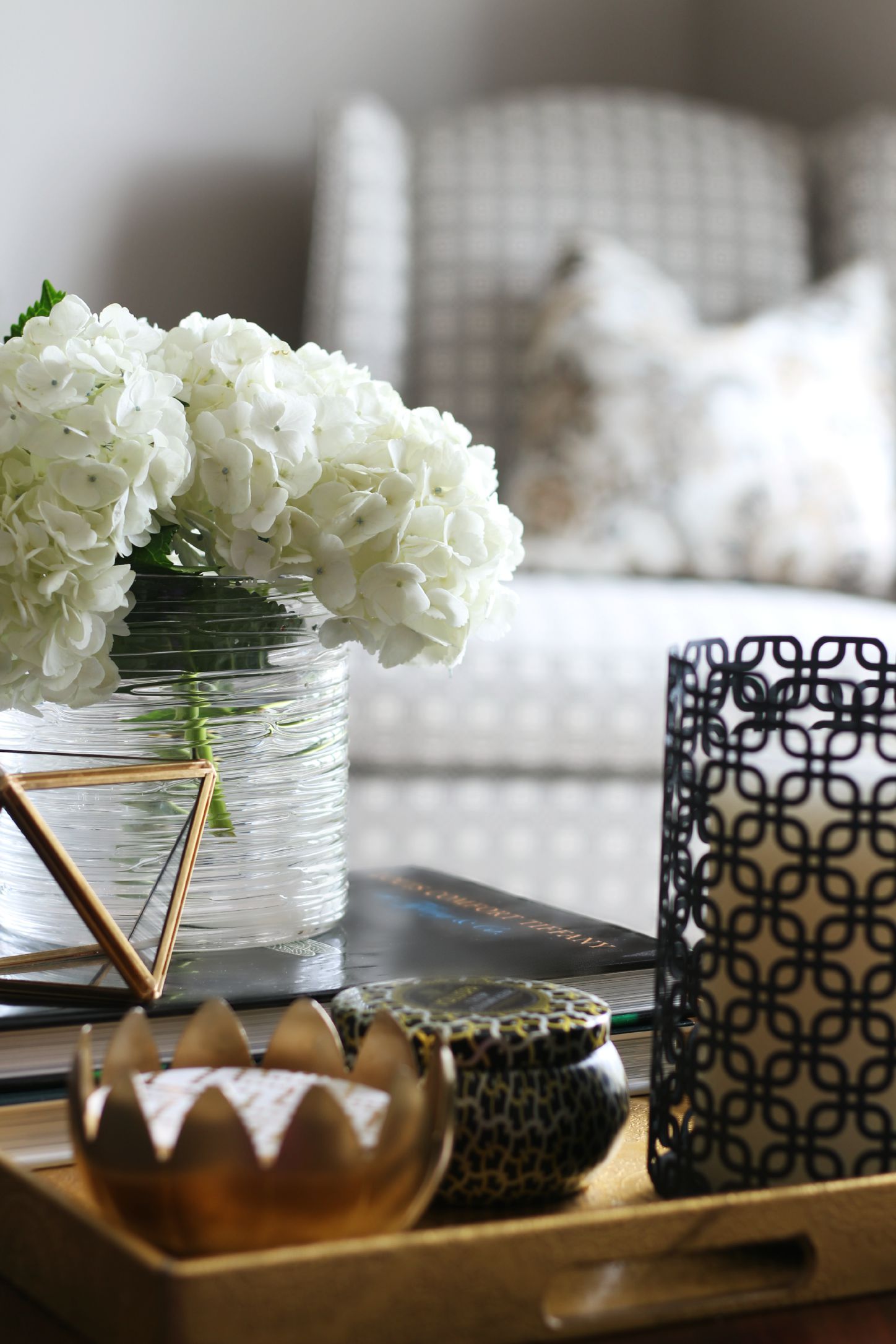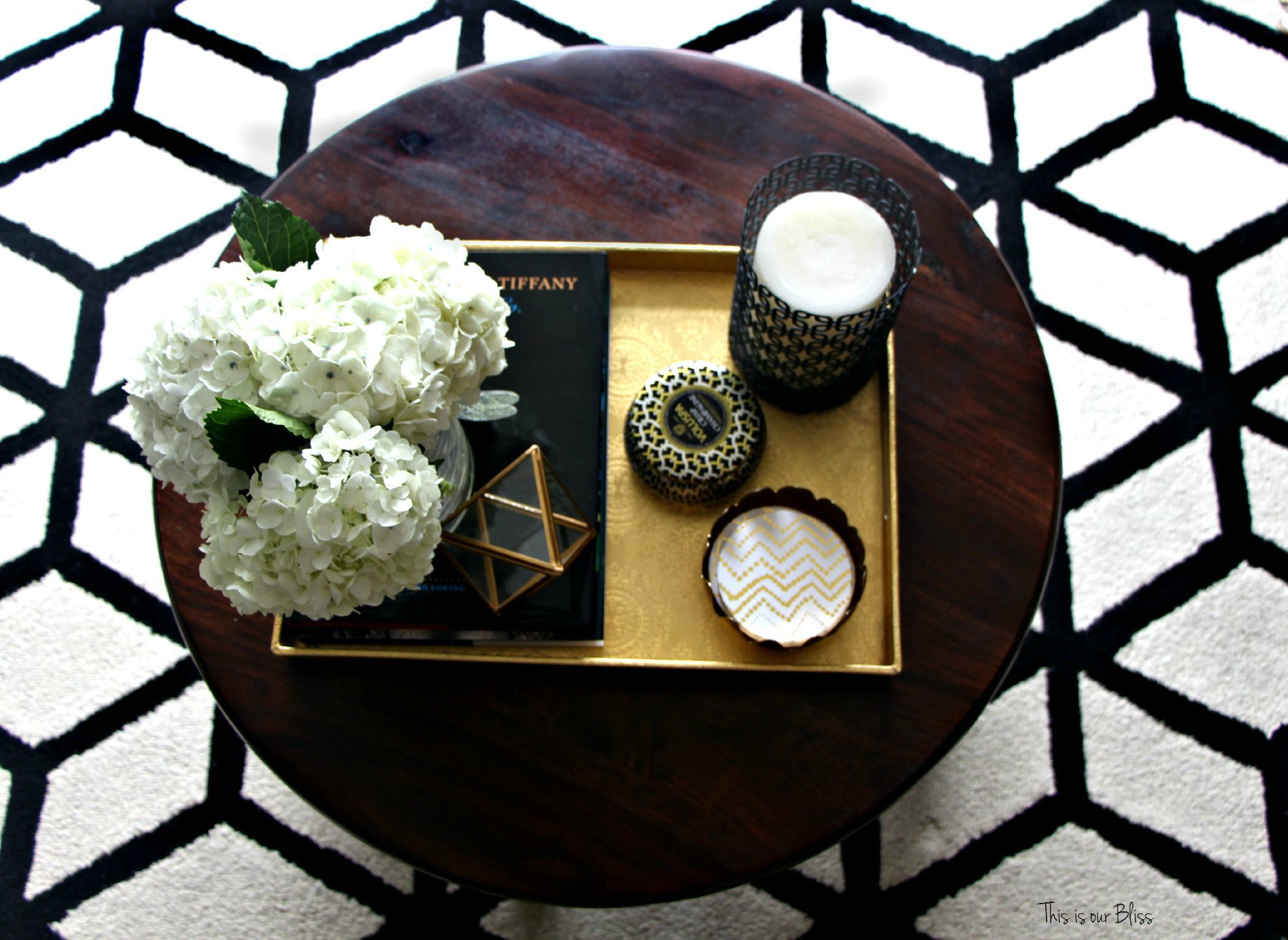 4 | Candle
I have 2 candles on my table – 1 is a pillar candle inside of a metal candle holder and the other is a decorative tin candle. I have burned both of them, usually at different times though. I like the metal candleholder's pattern and design and the small tin also has a nice pattern with a touch of silver and gold. I clearly like the look of gold on my table…or… ahem, everywhere 😉
5 | Coasters
Coasters are a pretty accessory for the table, but also serve a purpose. I keep mine in a thrifted metal piece and are placed near the couch-side of the table to allow for easy access when someone needs to set their drink down. There are so many cool & unique coasters out there, but I found these white and gold paper/cardboard ones in a set for maybe $5. They've lasted for a couple years now and have only tossed out a few once they've been spilled on and stained. They also make for great mini frisbees in our house! #momofboys

6 | Interesting object
This could be anything! Something special or sentimental…something that adds some visual appeal… a funky shape… whatever you want! I have a mini gold & glass terrarium here and have filled it with chocolates or other candies in the past. However, leaving it empty keeps the space a bit more open & airy, while still adding a touch of glam. It doesn't take up much visual space, but spices the table up a bit. This little piece gets shifted around the room pretty often. You might remember it from my bookcase last week.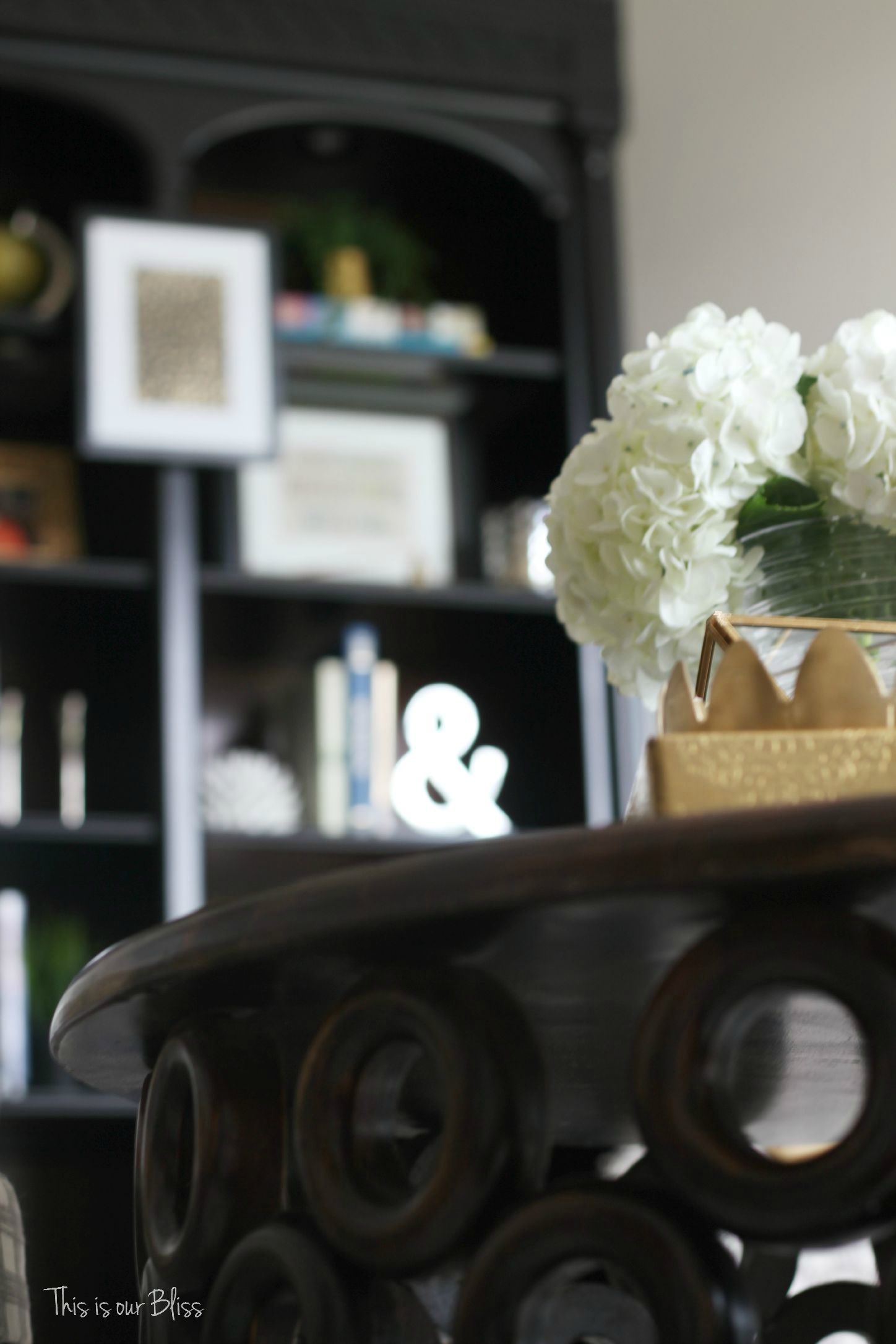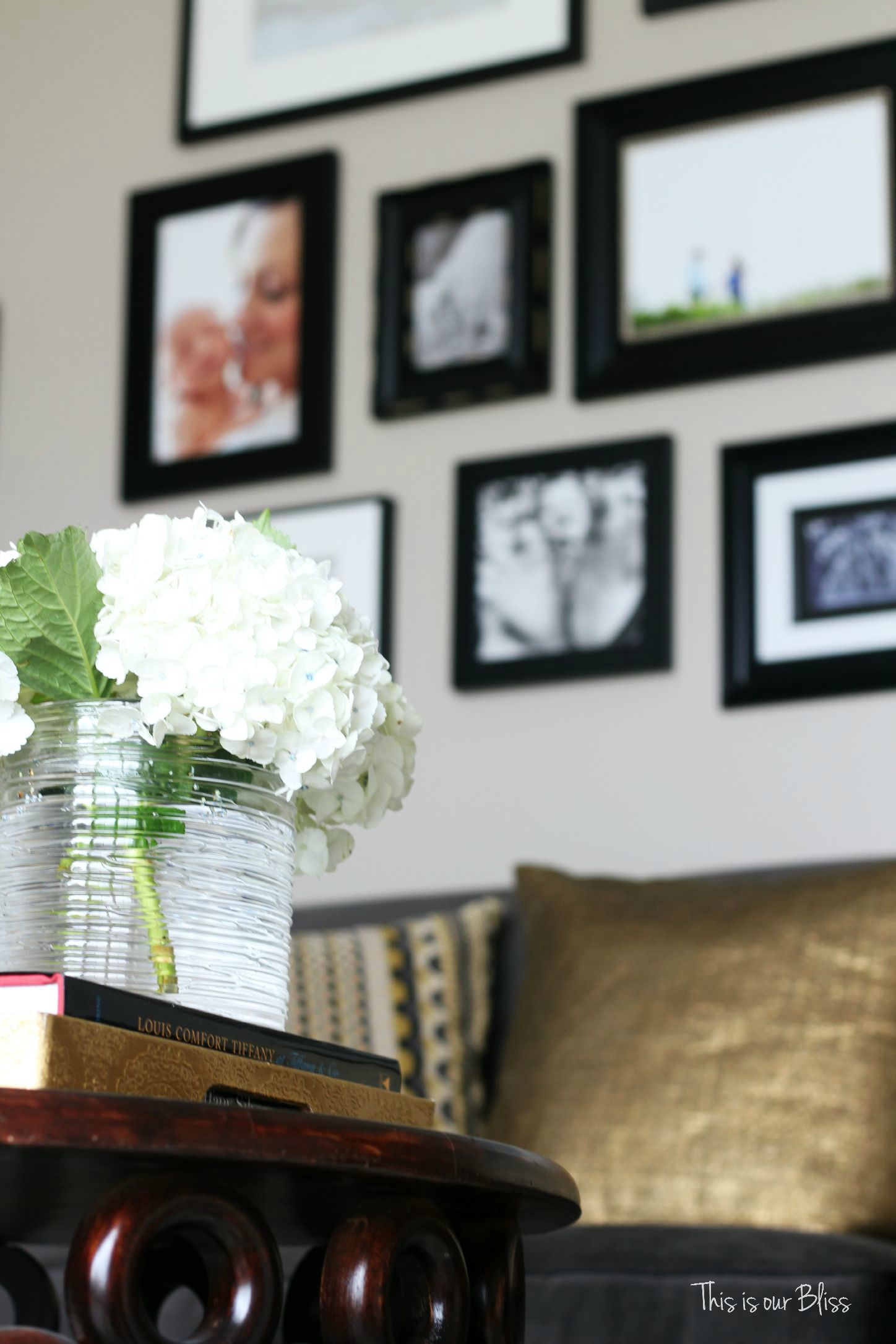 As I mentioned in the nightstand styling post, this isn't a must-have, end-all-be-all list, but rather some ideas to get you started. I add & remove things to the table (because that's just what I do!) but as a general rule, the same number & size of items remains constant.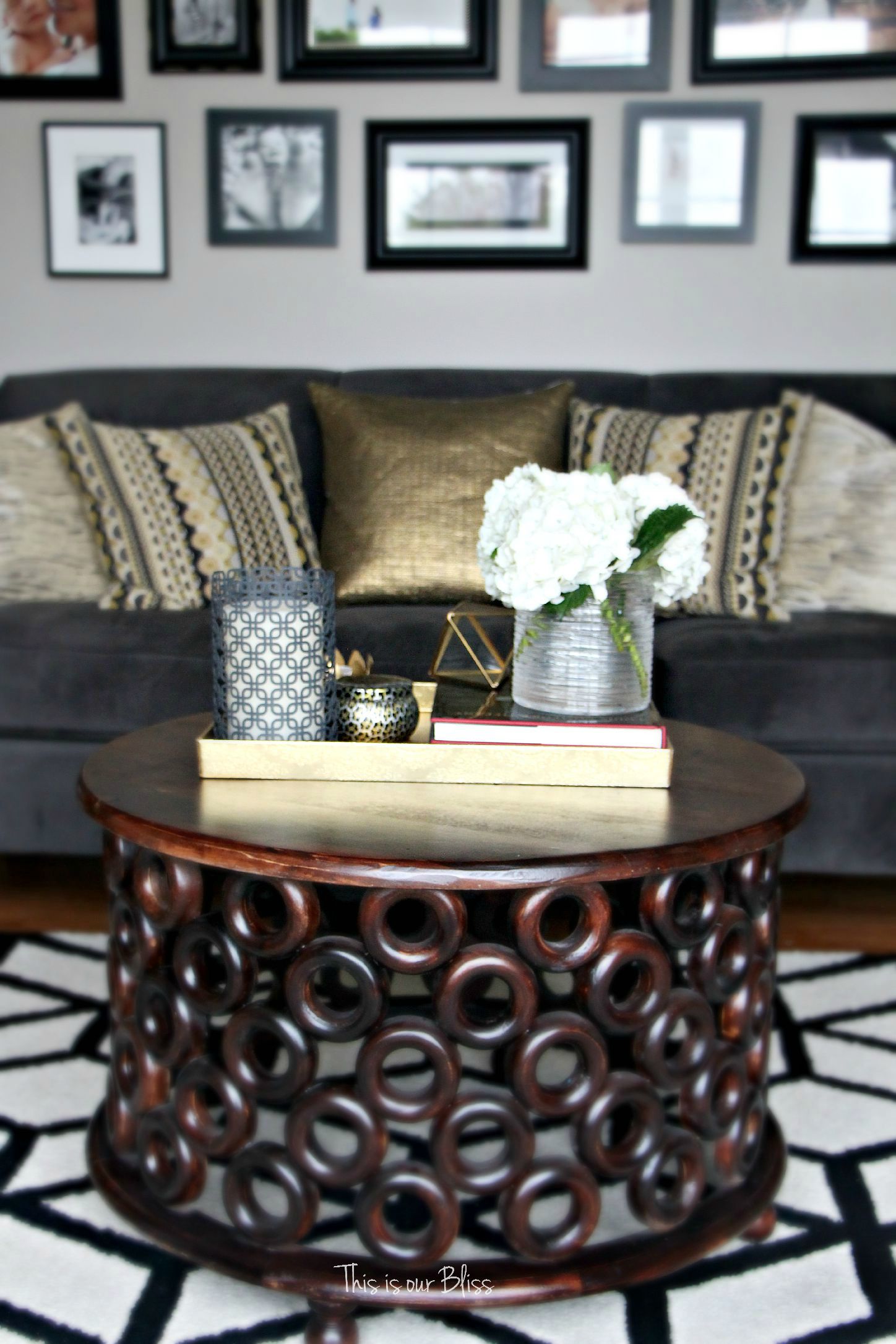 Also, something to note…this is our formal living room coffee table. Our family room coffee table, houses a tray, usually filled with magazines and remotes. We keep it pretty clear because we have a curious 3 year old and a 1-year old bulldozer living here. It doesn't make sense to try to keep a water-filled vase, candles, etc. on the table in our main hang-out space. Maybe someday 🙂 For now, I like to keep the living room with all my pretty things. The boys know it as "mommy's room"!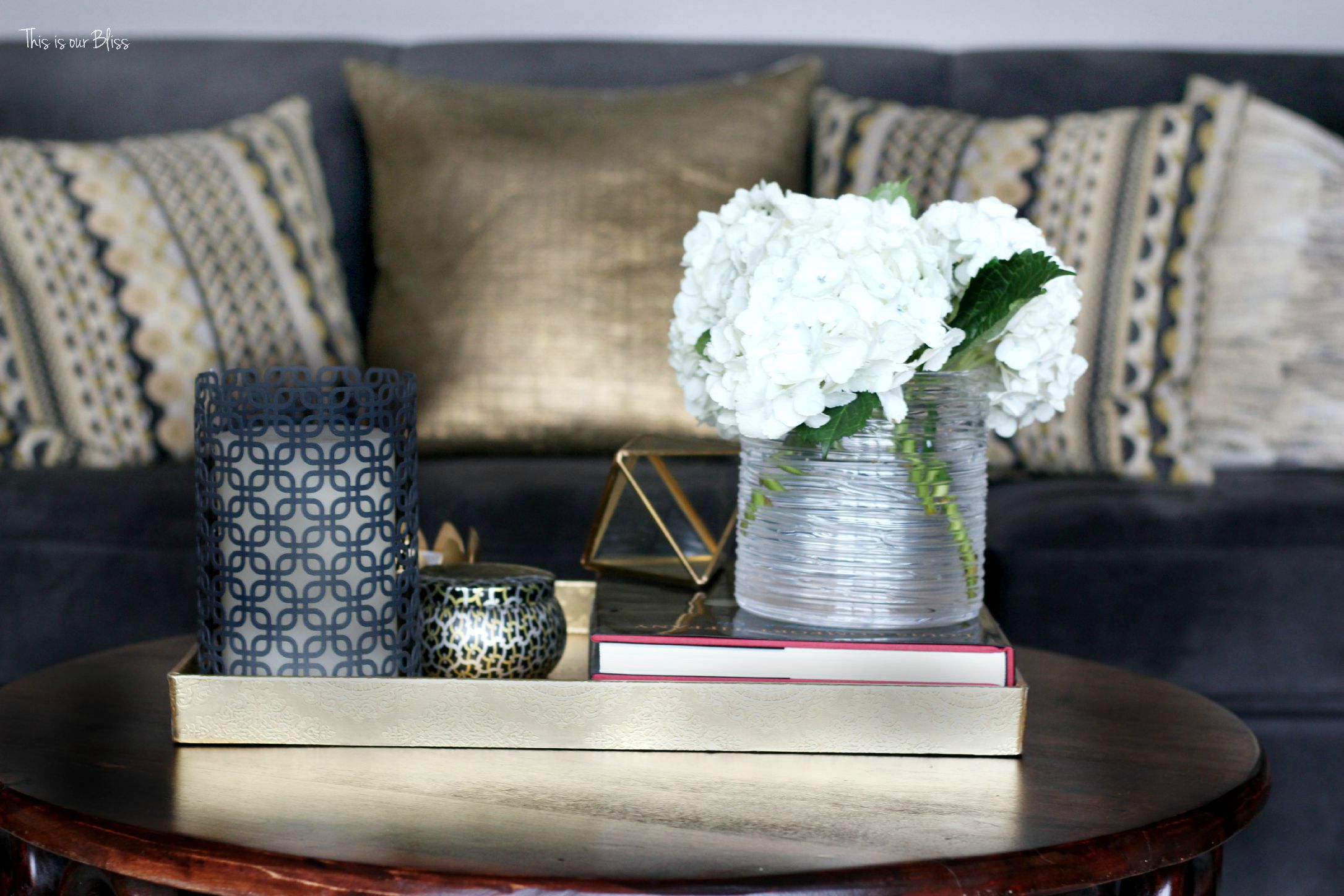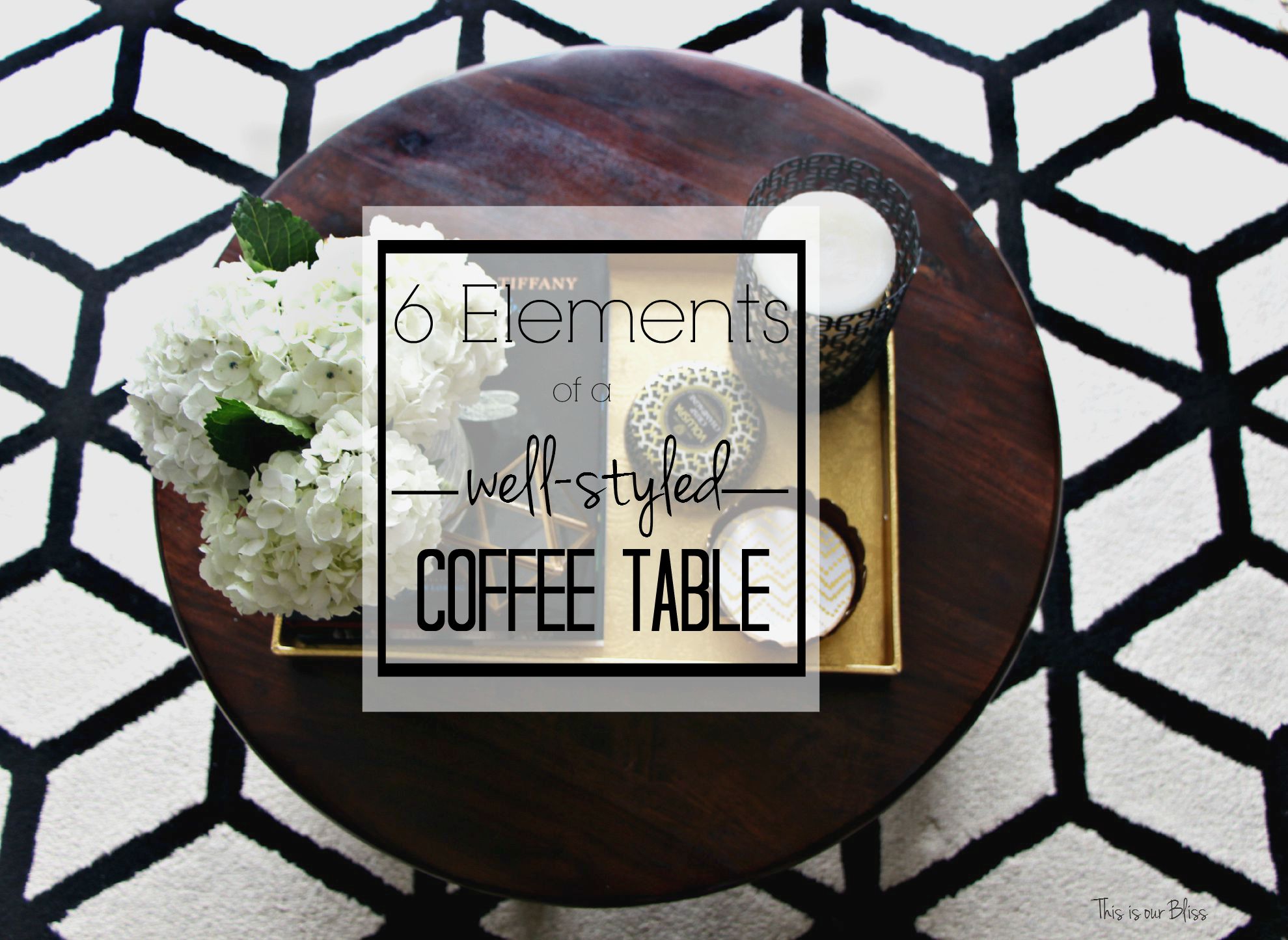 What's on your coffee table? What's the first thing you are going to go grab to add to your coffee table?
Thanks so much for coming by today! Please come back again very soon! I've got a couple of basement walls finished up and will be sharing them soon. The basement bathroom is nearly complete, too! Details on the way 😉
My Back to Basics Series:

Week 1 | Nightstand Styling

Week 2 | How to Mix Patterns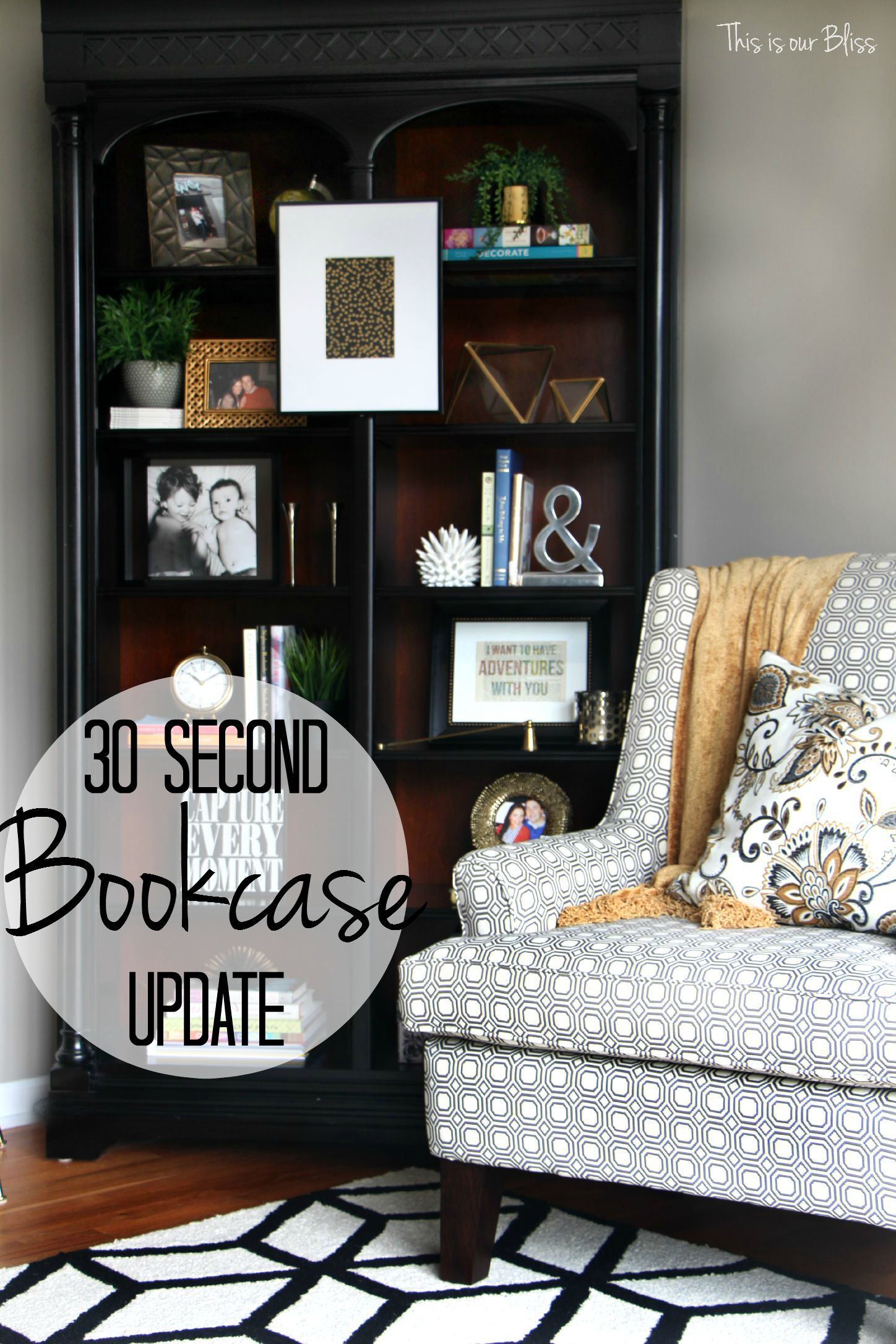 Week 3 | How to update an old Bookcase
And don't forget to  swing by these lovely blogs for some fantastic tips & tricks – they are guaranteed to be GOOD!
11 Magnolia Lane
Being Bianca
Heathered Nest
House by Hoff
Southern State of Mind
This is our Bliss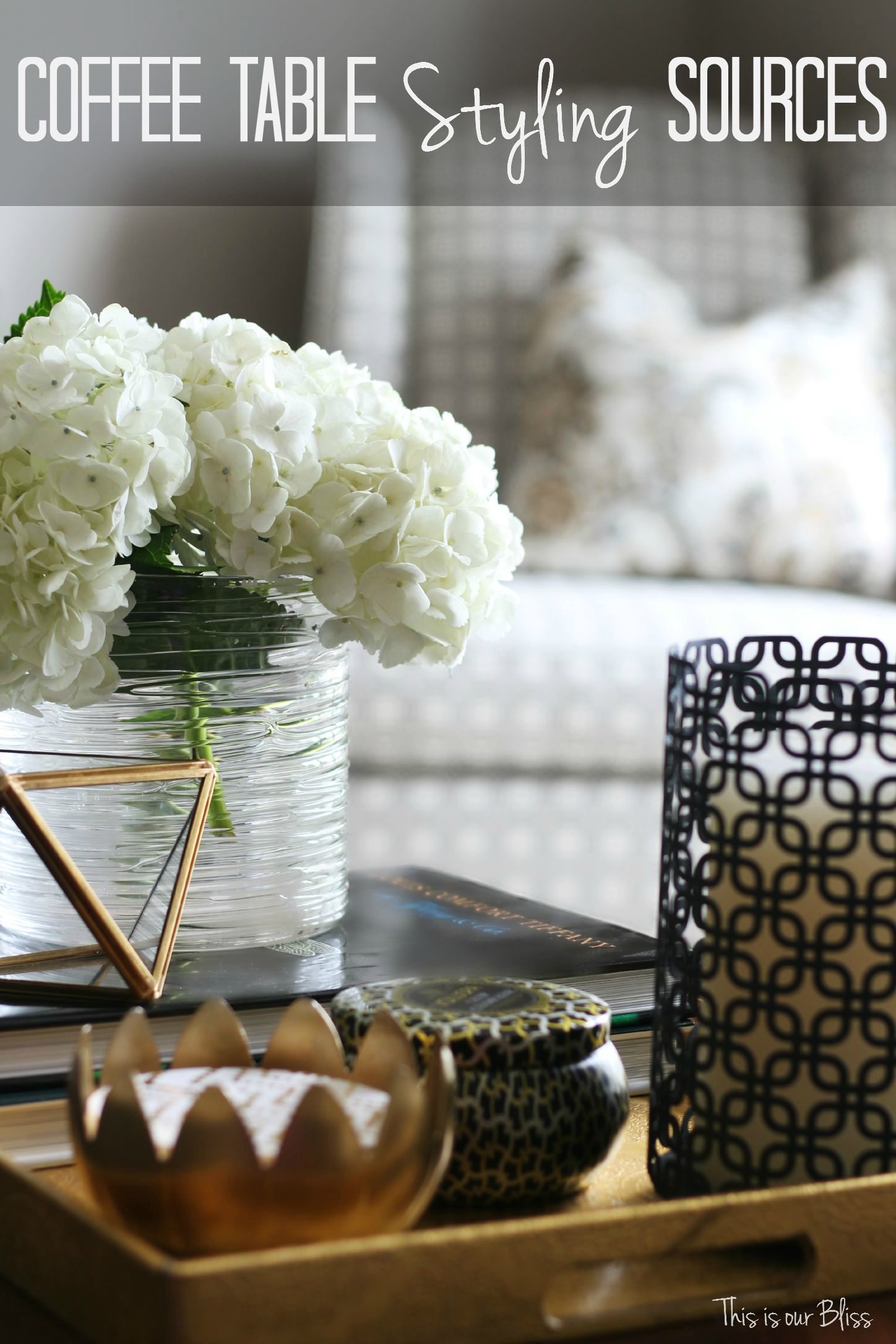 Love my coffee table look? Shop the accessories here!
Have a great start to your week!!