Anyone else slow moving today after Super Bowl Sunday?! I'll admit, I did watch the game and most certainly the half-time show, but I may have been multi-tasking a bit. Ever since we found out we are expecting, I've had an abundance of projects swirling around in my head. I thought the game was the perfect time to pull out my laptop to get all my thoughts and ideas down in one place for the upcoming house projects we want to tackle this year. After this kitchen project is under my belt [the reveal is tomorrow, eek!], I'm ready to take on a few new spaces as well as complete the half-finished spaces that I've started and stopped about a dozen times. Please tell me you've been there before! The list is lofty, but with baby #3 on the way, we definitely want to knock out as much of our 2018 master house project punch list as possible. Because who knows what life will be like after he or she arrives!
I'm thinking we'll have our hands quite full!
Things are gonna be a'changing around here and I'm ready to dive in and get going! I've basically taken each room that we want to make headway on and then listed out the items we want to cross off. We've set the bar pretty high, but once we start on certain spaces, other rooms consequently begin, too. Sort of like a domino effect! For example, once we start working on the nursery, the shared boys' room starts to take shape without much effort. The littlest moves out of his room [future nursery] and into his brother's digs, the space that they'll share!
The order I've put the projects in is not necessarily set in stone, but this order seems the most logical. Here is what I've come up with…
1 | BASEMENT GUESTROOM
Take pegboard down
purge & declutter
sell armoire or find a new spot for it
patch & paint walls
get new bedding
add a headboard?
find new lamps
new rug
mount TV
dresser makeover
style and decorate
The basement guestroom should come together pretty easily. With all of our family out of town, we often have house guests and I'm assuming the frequency will increase after the little bambino is here! They'll be scheduling their visits to get their baby snuggles in as often as possible! T removed the pegboard off the wall as this space was once a work room of some sort. After the walls are painted, the rest can probably be wrapped up in a weekend or so.
2 | NURSERY
paint the walls
remove rainbow ceiling fan
remove heart wall sconce
install new ceiling light
new curtain rod
hang new curtain panels
replace blinds with cordless, blackout pleated shades
closet makeover
determine changing area / dresser situation
swap out rocker / glider with our other one
rearrange horizontal bookcase to a vertical position
new rug
style and decorate
Ahhh! The fun one! I have to say I am probably the most excited to get after this room. The littlest's nursery in our last house was in the works when I started my blog in 2014 and those nursery project posts continue to be some of the most popular! Since we moved into our new home, I haven't laid a finger on this room which the littlest now occupies. After moving in, we knew if and when we got pregnant this would inevitably become the nursery…. Poor guy has nothing on his walls, a rainbow ceiling fan and a big red heart wall sconce that doesn't even work anymore. The walls are a pale aqua which has been just fine for our little guy, but I'd like to put my own touch on the space. Since we're not finding out the sex of the baby, I'm planning to take you along on my journey of creating a gender neutral nursery and then show you how I add in an accent color or two after the baby arrives! I'm so itching to get working on this space…I just might be jumping in on the Spring One Room Challenge in order to ensure I finish before my due date. I'll be making my final decision on this soon…stay tuned 🙂
3 | SHARED BOYS' ROOM
determine bunk bed / loft bed situation
get top bunk / loft bedding
closet makeover
determine shared clothing space functions [closet, dresser, etc.]
remove blinds / install cordless, blackout pleated shades
move wall desk?
add another floating bookshelf
update various aspects
style & decorate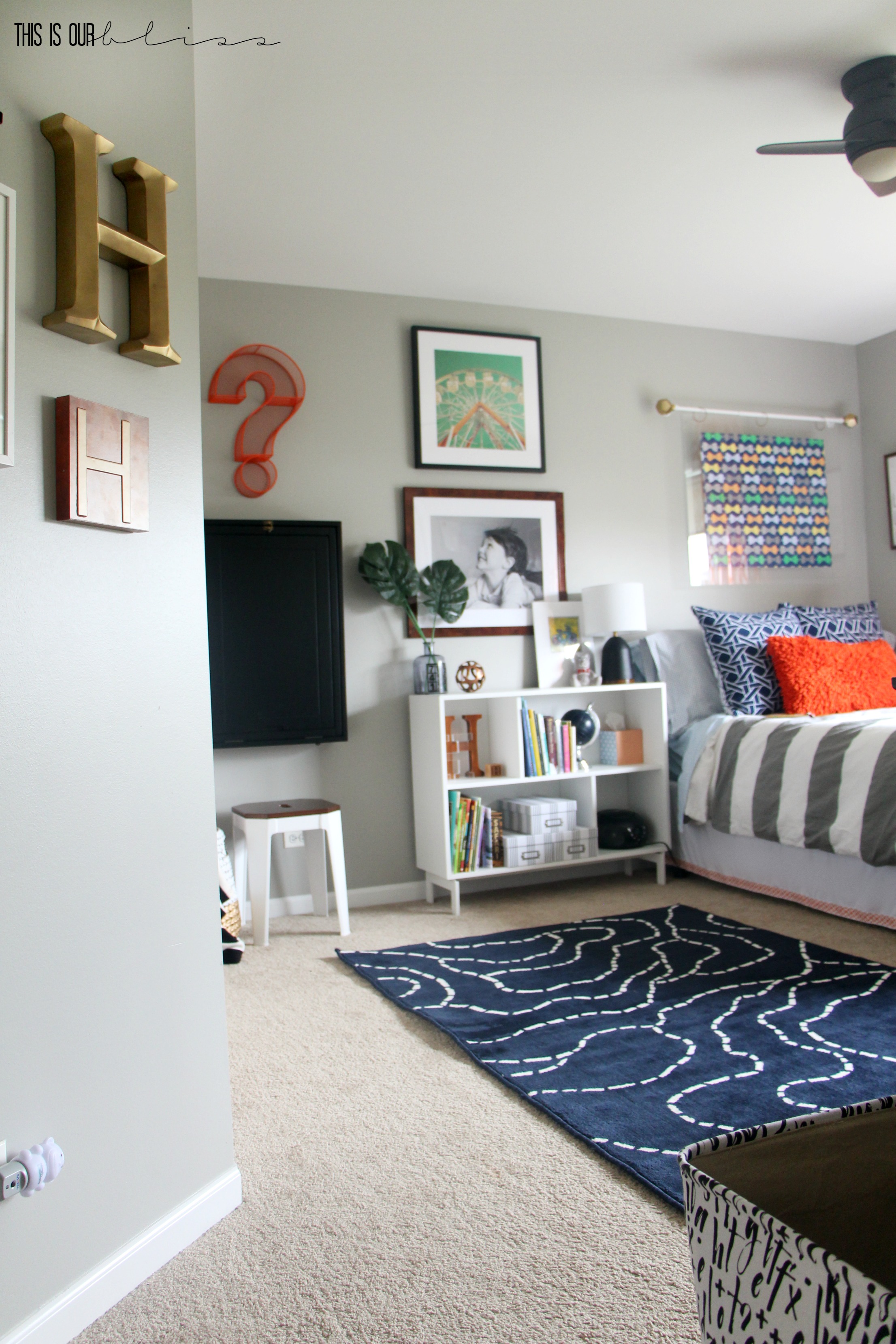 Our plan is to have the littlest exit his room and move into his big brother's room I spruced up not long after we moved into the house. After our move, we felt it was a natural progression to move the biggest into a big boy bed and fix up his space to go along with this new "big boy theme". We're planning to bunk the boys up or add a loft bed over the full bed that is in his room now. Hoping things go well when we move him in! The littlest is excited, but we'll see how the biggest feels when his little brother invades his territory!
Anyone's kids share a room? How was the transition?!
4 | LAUNDRY ROOM
new washer & dryer
new base cabinet
new countertop
new sink & faucet
hang floating shelves
paint upper cabinets
change out the cabinet hardware
buy & install wall-mounted drying rack
install a rod for hanging clothes
add curtains
find & hang art
bins & baskets for the shelves
new hampers for under counter
We started on the Laundry Room last fall after the flood situation. It was a space that needed to be worked on out of necessity. It's about half-way complete, so I'm ready to start putting the finishing touches on it in the next few weeks!
5 | MASTER BEDROOM
wallpaper accent wall
new bedding
new pillows
buy & hang curtains
find a chair for the corner
hang new art
swap out bench
declutter top of dressers
style & decorate dressers & nightstands
This room is another one that we started and I just haven't wrapped up yet!! We wallpapered the accent wall a few months after moving in, got new bedding and decorative throw pillows last summer and the rest…well…It is sooooo close, but sometimes those finishing touches are the ones that take the longest. Details, details!
6 | KITCHEN
REDO PANTRY

remove wire shelving and replace with solid shelving

purge!
purchase new bins & baskets for organizing

CREATE DESK / WORK AREA

buy new desk / console table

find a chair
create a paperwork/mail station
new lamp
Now that the kitchen is done [don't worry you'll see it tomorrow!] I've come to realize the need for some pantry organization as well as how nice it is to not have kitchen counter clutter! Who knew??! After having the kitchen cleaned up, styled and essentially spotless all weekend so I could photograph the space, I decided I don't want to dump mail and random paperwork on the island or other countertop areas anymore! Creating a small station that can serve as a workspace for T or I to open up our laptops on, sit down to pay bills at or even have the boys plop down to color or do homework instead of the kitchen table seemed like the perfect solution. We are essentially going to corral all the clutter and keep it confined to this one spot. I can't wait to get going on this…I might even tackle it in the next week. That might be slightly ambitious, but I do know it needs to and will happen soon.
7 | UPSTAIRS GUESTROOM / OFFICE
remove desk & computer / relocate to playroom
remove cubby storage unit with decor, craft & sewing supplies
find dresser?
put in a vanity?
closet makeover to increase functionality
style & decorate
This room is so packed and crammed with furniture it's hard to move around and certainly isn't idea for guests to stay in here. But working in here as my main blogging space [this is where our desktop resides] feels cramped and cluttered which definitely isn't ideal and certainly not where I feel relaxed and able to let my creative juices run freely! I'm not sure when this move will happen, but like I said before, a few of these spaces will come together after a domino effect takes place. The stuff from the guest room /office will transfer to the playroom and the playroom's contents will be moved to the basement play space. After a few trips to Goodwill, that is.
8 | PLAYROOM [MY NEW OFFICE]
purge/de-clutter/donate toys
relocate all remaining toys & games to the basement playspace
put in desk & computer
relocate files, craft supplies, decor stash/staging items, etc. to the built-ins
swap out rug
re-do gallery wall
style & decorate open shelving
The main reason for turning this room into my office only a little over a year we created the playroom is to be able to be on the main floor of the house – middle ground for kid's playing in the family room or basement and a little baby that will most likely nap upstairs or on the main floor. It will also be nice to have a dedicated space that is just mine. When we have weekend visitors, I feel like I can't really get in my office to do work because it is the guestroom! A little shifting around in the playroom and it will quite easily become an office space for me. The built-in wall unit that worked so well for toy storage will serve me just as well by housing all of my craft and decor supplies. I am absolutely looking forward to this room project!
9 | BASEMENT PLAYROOM
re-organize toys / determine storage pieces
create play space separation [basketball area, reading spot, playdoh & craft table area, train table, etc.]
hang wall decor
style & decorate
There is already a dedicated play area in the basement but it absolutely needs some order and a lot of love! I want it to be kid-friend and cute, but also sophisticated enough to fit in with the rest of the basement. It is essentially one large space we've divided up into a family room/bar area and then a kid's play space. After the kid's area is completed, then I think we'll tackle the family room / bar area. Another space that was started, but ultimately left untouched after the basics were put into place — couch, TV, etc. I'd love to spruce it up and have a multi-functional family hang-out space, maybe in time for next winter!
Ok, phew! I am all done with my bullet points and to-do items for these NINE ROOMS!! Thanks for sticking around because I know this post was LONG! While I realize there is a reaaaaally good chance we won't get to all of the above projects, but now that they are all written down and shared with the world, we have a focus [and some accountability!]. I've got plenty of work to do, so off I go! Be sure to stop back tomorrow for the big kitchen reveal. I am so super pleased with how it turned out!
Are you plotting out your 2018 projects? What ones did you tackle in January?!