151It's done! After a remarkably fast 4 weeks, the playroom has been significantly "refreshed" and I'm happy to report we're all in love with it! I say we, because the space went from a catchall toy room that you could barely step foot in [the boys, included!]…to a freshly organized, bold and fun, family hangout space! I am still in shock by the level of transformation we were able to accomplish in such a short time frame. In case you missed week 1, week 2 or week 3 of the challenge, let me give you a quick run-down of the past month! The 4 week long New Year, New Room Refresh Challenge is the brain child of the amazingly talented and creative Stephanie of Casa Watkins Living and a group of us teamed up for the 2nd year in a row to spruce up a room in our home. You can see the master bedroom refresh I completed last year for the NYNR challenge in our old house. I even used the curtains from there in the playroom.
It's an excellent way to start off the new year by setting a deadline and working your tail off! Next time you hear me complain about the 6 week duration of the One Room Challenge, give me a nudge and remind me that I should be grateful for the extra 2 weeks!
Today, I'm going to walk you through what we did to create the new and improved playroom and then share sources at the end. Be sure to also stop by the other gal's blogs and check out their rockin' room reveals! I can't wait to head over and ooh and ahh over the marvelous spaces, myself!
I'll quickly rewind back to week 1 of the challenge when I shared my vision for the space and of course it wouldn't be a true reveal without some before and after action, so here it is in case you already forgot!
Enough before's, right?! I'm sure you're ready for the "AFTERS" of this stylish and bold modern playroom!
Here we go—Come on in!
Over the course of January, the space sort of morphed into a modern safari theme. Jungle animals, lots of greens and a few wood accents. I kept the accessories fairly neutral, so you'll see lots of black and white, with pops of blue, green and gold.
Many of the animal accessories and art we already had, but I was able to bring in some new stylish accessories as well! I love this "Kid Cave" sign I found – totally fitting for a space that houses the belongings of my two little animals.
The blue couch is gorgeous, but truthfully, I had a hard time capturing a good photo of it since it sits right in front of a large window. I think you can still see the rich blue color and the awesome tufted detail.
I still can't believe we were able to add 2-3 times the amount of furniture in here and miraculously have MORE room!

One of the main reasons we have so much more play space on the floor, even after adding a sofa in the room, is how we utilized the walls. Like floor to ceiling wall utilization!
We now have a large, mounted wall unit to house aaaaallll the toys, games, puzzles, etc., with open shelving above for decor and accessories. We hung floating shelves to store and display books on the wall across from the large wall unit….
And on the wall opposite of the couch, we hung wall hooks and created a gallery wall of art and frames above a bench that holds…can you guess?!…more toys!
The wall-mounted storage unit is the IKEA BESTA system. We had our eyes on a few of the pieces in the collection, but were completely sold on this particular set-up after seeing a similar set-up on display in the store. After having an 8 cube KALLAX storage unit in the room previously, I absolutely fell in love with the idea of having doors in the new unit to conceal all of the bins and baskets. Although I do try to keep everything stacked neatly and did have labels on the bins, it can still look super messy.
So, now their play things are kept in their own little cabinets, where behind each door is one shelf that divides the space in 2.
Styling these shelves was so much fun! Animals [some with brass spikes!]…art prints…plants and a few dollar tree wire baskets to hold smaller toys and blocks. A few of my thrifted finds were even able to make their way to the shelves, like that cute planter with feet and the wooden candlesticks on the far right side of the shelving unit.
I promise I'll show you inside the cabinets in another post very soon, but I didn't quite have enough time to get everything ready behind the doors. I came up with a new labeling method for in here and even bought the supplies, but I ran out of time! The month of February is going to be a catch-up month where I revisit all the DIY tutorials I owe you from the Curious Little Gentleman Big Boy Room and the ORC Dining Room. Now, we can add this room to the list for follow-up projects. Oops – sorry guys!
You won't believe me, but I found the black, white and gold "INSPIRE" piece for 70 cents at TJ Maxx. The original plan was for it to go in the Curious Little Gentleman Big Boy Room since the biggest is infatuated with all things numbers, letters, reading and writing, but it didn't make the cut…because, well…I forgot where I stashed it! I think it's new home in the playroom suits it just fine 😉
The acrylic bookshelves we hung in this corner are the sames ones as in the biggest's big boy room, but we opted for the 36″ versus the 24″ ones we used upstairs in his bedroom.
They are simple, sturdy and allow the books to be the stars of the show!
You might say I went a little cray cray on the walls, but I typically can't help myself from adding more fun elements of art, frames, metal accents, canvases, you name it. On this wall, I experimented with some triangle decals and placed them throughout the pieces next to and above the bookshelves.
Sort of fun, right?!
That awesome cheetah canvas is an original piece by my dad. He's a wildlife artist and when I have a special request, he always comes through! You can check out the amazing mural he painted for Simon's 1st Birthday Safari Soiree here!
As we work our way around the room back to the doorway, you'll see I even utilized the door for toy storage. The doorknob holds one side of this canvas keypad storage hanger and a couple of medium-sized command hooks held up the middle and left-side. I hung it low enough so the boys can easily reach in and out for those small toys that aren't necessarily part of a set to be stored all together.

Back to the main gallery wall where I brought in an old leather storage ottoman that was a hand-me-down from my parents, but it now has a good home plus provides extra seating for kids and adults.
and then a few leftover shots of random nooks. Let's see what's left…
I had that metal elephant hanging in the old house's basement playroom, so wanted to use some of the pieces we had as well as add in a few things, like these darling triangle chalkboard hooks!  The Land of Nod is always an inspiration to me when working on kid spaces because they always look like so much fun. They are fresh, modern and bold! I created this blue circle garland after seeing something similar in one of their catalogs. Add that tutorial to the list!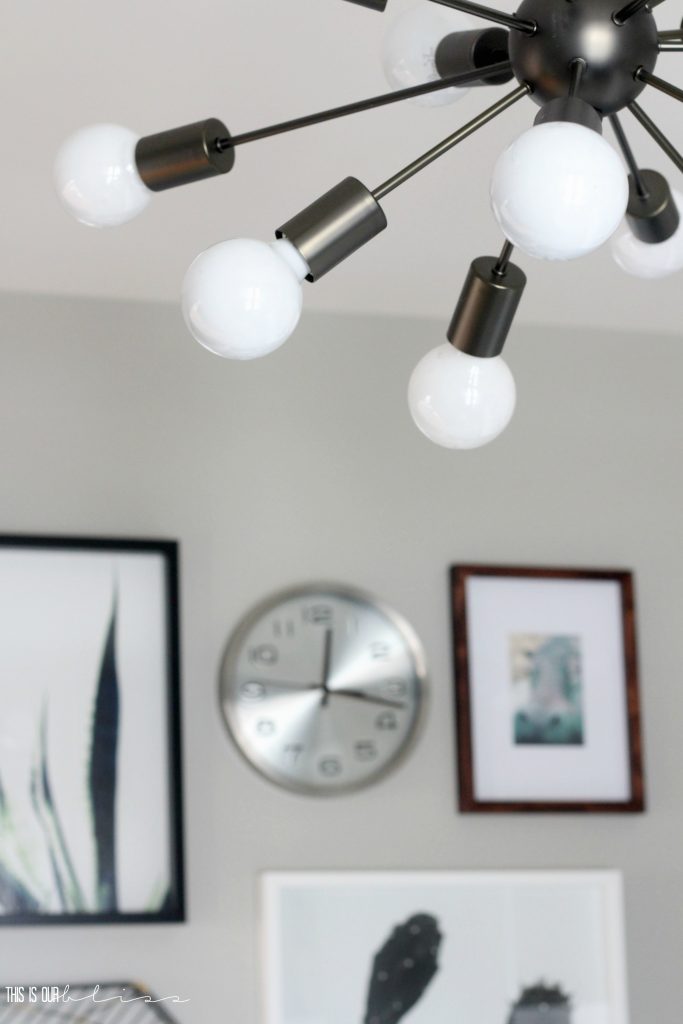 The gunmetal sputnik chandelier was calling my name from the moment I spotted it! I knew I was going to use a variety of metals in the space, so opted for this dark metal one instead of going with my first instinct to use all the brass!
And I almost forgot to mention the hardware we added to the cabinet doors on the wall unit. I actually had them leftover from a project I never completed in the guest bathroom at our old house. I thought these small acrylic and brass pulls would be perfect in here!
And back to the entrance we have arrived! I love the sleek, glossy black double doors that open up to this space. Like I've said before, it's nice to be able to close them when its a mess in here, but now that the room is refreshed, I like to keep it open!
Thanks so much for stopping by to see our new and improved Stylish and Bold Modern Playroom!
I was able to snap a couple quick pics of the boys lounging in here yesterday afternoon just before the sun went down.
Books, ipads and snacks in their new playroom…what more could 2 little dudes want?!
If you are looking for the where-to-buy info for the things you saw in the space, I've rounded up some, but unfortunately, not all of the sources so you can easily shop the playroom below! If I couldn't find something, I did my very best to include something very, very similar!
[*Affiliate links were used below.]

Head on over to these beauties below! Their spaces are going to be INCREDIBLE!
Casa Watkins Living // A Designer At Home // Bigger Than The Three Of Us // Domicile 37 // Fresh Crush // Iris Nacole // Monica Wants It // Pocketful of Posies // Seeking Lavender Lane // Sharon Joyce Interiors // This Is Our Bliss // Up To Date Interiors // Vintage Romance Style
This playroom makeover would not have been possible without the amazing products from our sponsors!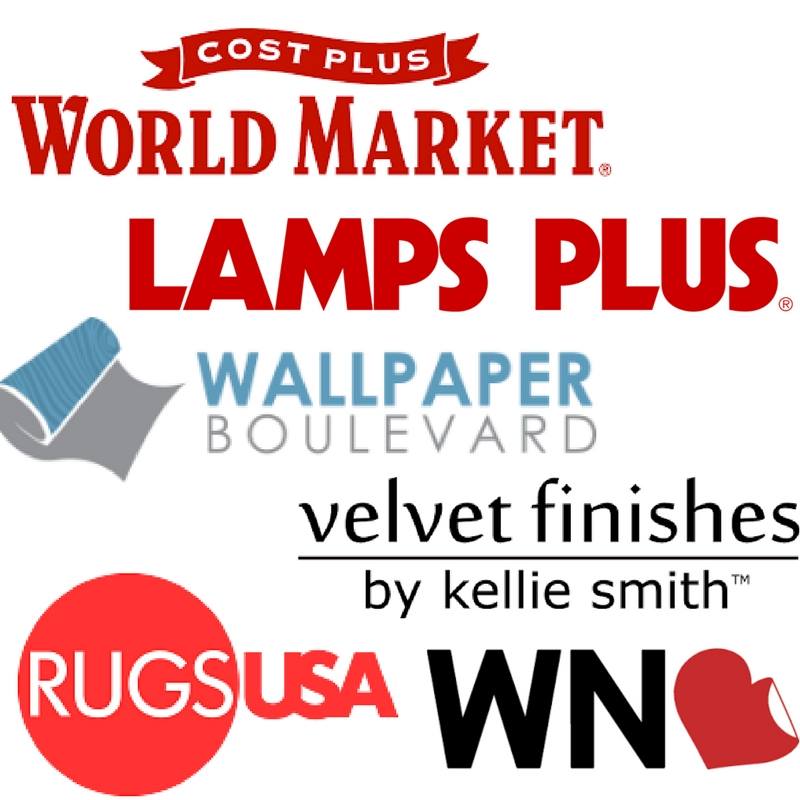 [*AFFILIATE LINKS WERE USED BELOW.]
World Market | Lamps Plus | Wallpaper Boulevard | Velvet Finishes | RugsUSA | Walls Need Love
Now, I'm off to relax and read the reveals from above and get busy working on all of the follow-up posts I owe you!! Have a wonderful day and thanks so much for hanging out over here. I hope to see you back again really soon!