Hey guys! Are you in full-on holiday mode yet?! There is so much hustle and bustle this time of the year and it's easy to forget that it's usually the little things that have the most impact during the holidays! Inexpensive, but thoughtful gifts, small and random acts of kindness and adding simple, but special touches when hosting friends and family for the holidays! Whether you're entertaining a small group of friends over or hosting your ENTIRE family plus in-laws, it's so easy to feel bogged down and overwhelmed. Just remember, it's the little things your guests will remember! Today, I'm sharing How to Add Extra Holiday Cheer to Your Christmas Table! These simple touches are quick and easy and most certainly won't go unnoticed!
[*Affiliate links are used in this post.]
How to Add Extra Holiday Cheer to Your Christmas Table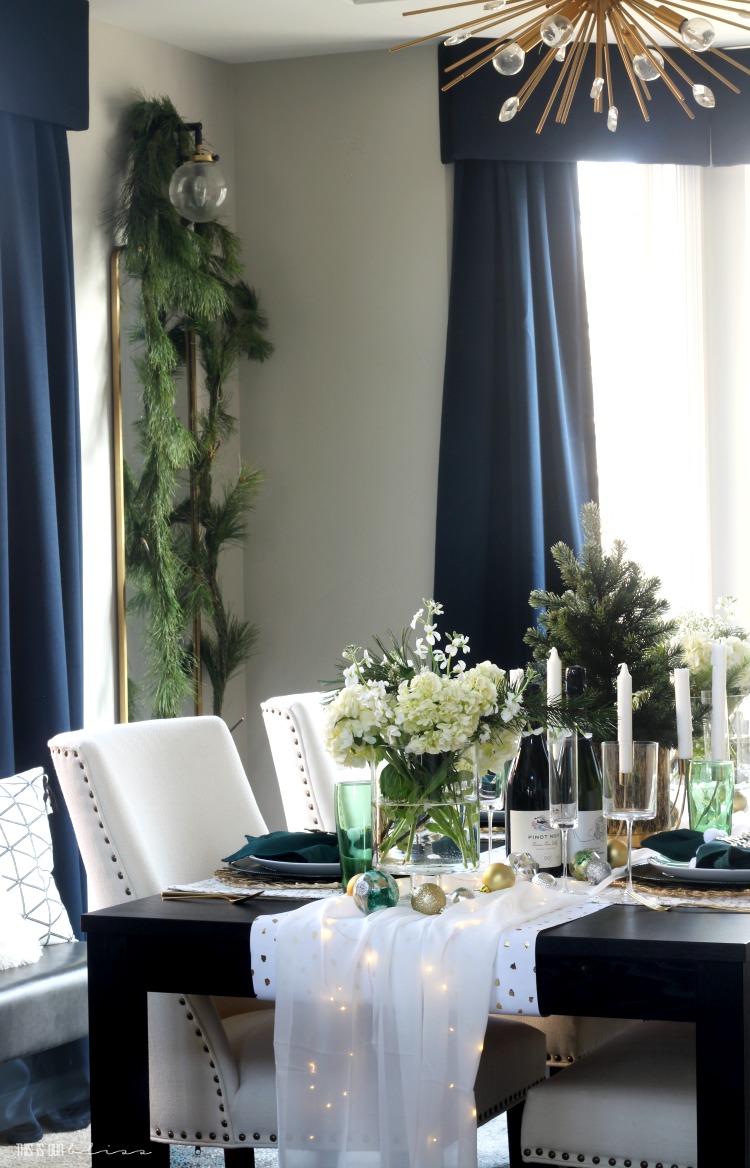 1 | Add twinkle & shine anywhere you can
Christmas tree lights on – check! That one is a no-brainer but what about strands of twinkle lights on your table?! I slipped two strands of fairy lights under my mesh table runner and let the battery packs sit on the floor. They are super long strands, so was able to double them over in half to cover the length of my table and then some. These twinkle lights are fabulous! They come in a 2 pack, have 8 settings for various "twinkling" sequences and even have a remote control, too!
I love the warm glow they give the tabletop! The lights would also be perfect with garland on your staircase banister or on your mantel. Highly recommend 🙂 I mean, is there is anything more magical than glowing lights at Christmas time!
2 | Freshen up the table with flowers, clippings and greenery
I made 2 simple arrangements in my go-to footed vases out of white hydrangeas, delphinium, baby's breath and some tree clippings. All from Trader Joe's. The fresh green tree clippings make it look "holiday" and the scent of the pine is wonderful. They took about 10 minutes to put together and totally take the table up a notch.
If you're looking for a budget-friendly way to create a floral arrangement you can always make a simple arrangement using a mix of fresh and faux flowers. Play around and see what works!
3 | Keep the bubbly flowing
Serving champagne when guests arrive is a nice way to welcome them in, but also having champagne on the dinner table so they can help themselves is a great idea, too. Then offering bubbly to them post-meal with dessert is also a great pairing. I absolutely love the notes of apple, white pear and baking spices in Magic Door La Cle De La Femme Champagne.
black lace dress | champagne flutes | silver and gold bracelet | table runner | twinkle fairy lights
You can't go wrong with this bottle of bubbly and bonus – the label is darling!!
4 | Use joyful messages, cheerful quotes or personalized items
Simple print outs of holiday quotes in small frames as decor in and around your table are an easy way to add a little something extra. Even print out little menu item labels and frame them! Extra touches go a long way when entertaining. I found these white and gold "Merry & Bright" placemats at Homegoods and love the simplicity of the message at each placesetting.
These gold "Merry Christmas" ornaments were tied around the napkin as a cute and cheerful add-on. Last year, I made these DIY ornament placecards for each family member. I'll never forget that my grandma asked if she could take her and my grandpa's personalized ornament home with them. She thought it was so special.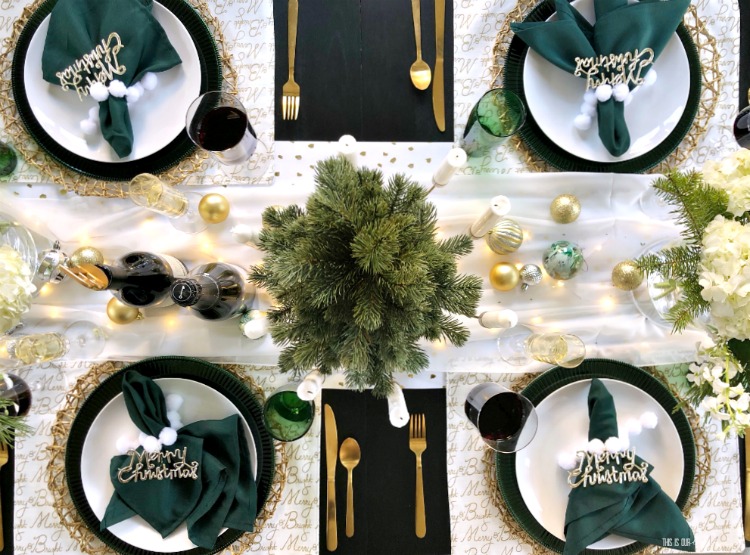 5 | Fill the air with yummy holiday aromas
Candles, reed diffusers, plug-ins or a big simmer pot of holiday scents would surely do the trick! I've always wanted to make a simmer pot or stove-pot simmer and I think there would be no better time than when hosting for the holidays to try it. If you've ever made one, I'd love to hear what you used in yours!
6 | Have Christmas music playing in the background
Playing Christmas tunes is a sure way to get everyone in the spirit! It doesn't have to be loud, but having Christmas music playing quietly throughout the night is my kind of holiday party! We love using our Sonos speakers because you can group rooms to play music together, operate from your phone and they're also Alexa-enabled. We have a few of them throughout the house and having one in or near the dining room when entertaining has always been a huge hit! I love Today's Christmas Radio, Mannheim Steamroller, Christmas Traditional Radio, Lee Greenwood Holiday and Mariah Carey Christmas on Pandora 🙂
*Bonus | Bring holiday cheer to your host
A bottle of wine with a simple ribbon is a wonderful gesture to show your hostesses your appreciation for all their efforts! It doesn't have to a be a fancy dinner party, showing up with a bottle of wine to a small, casual gathering with friends is a quick, simple and thoughtful way to say thank you! And then be able to clink your glasses and share a toast with your host!
My personal favorite varietal is Pinot Noir, but it's also a super safe wine choice to select if you're unsure what your host likes!
This particular Pinot Noir exhibits aromas of juicy black cherries and cocoa with notes of cedar and violets. It's absolutely delicious and is a wonderful "holiday red"!
black lace dress | gold coil bracelet | silver and gold spike bracelet | gold bangle | gold disc necklace
We love hosting all season long and while it's usually only one intimate dinner party this time of year, we add these extra touches even when we have our friends and their kids over for pizza delivery! Again, a little goes a long way and what better time to pull out all the [simple] stops than at the holidays!!
What extra touches do you add at Christmas-time to amp up the holiday cheer?
See something you love? I've rounded up the sources for your convenience below!:

*This post was sponsored by 90+ Cellars, but all thoughts, opinions, photography and wine indulging are my own. Thank you for supporting the brands that help make This is our Bliss possible. Cheers!