Eeeek! Christmas is one week away! I always find myself spinning in circles the last several days leading up to Christmas. Maybe it's because we're usually traveling or maybe it's just because there is so much packed into that week before! Are you guys in the same boat? So much scrambling over here! Today is my day to tie up all the loose ends and just knock out everything on my to do list. Before I do, I wanted to share our Fresh & Festive Dining Room Tour with you. If you're hosting next week, I'm going to share what I did to instantly Christma-fy our dining space. You can do it too! It really won't take much at all!
[*Affiliate links are used in this post.]
HOW I CREATED OUR FRESH & FESTIVE CHRISTMAS DINING ROOM
Here's all you need to know. Repeat after me. Amazon Prime!
I honestly owe almost the whole Christmas transformation to Amazon ha! I just kept hitting "Add to Cart" when I was Christmas shopping and ended up with several great pieces for my Christmas Dining Room. My decor was rounded up from Amazon, Trader Joe's [a couple tid-bits from HomeGoods and Michael's] and everything else was from my personal stash at home! You saw a peek at the Christmas tablescape last week when I shared my tips for adding extra cheer when you're entertaining this season. Today, I'm sharing the rest of the photos of the space!
NEW MIRRORS & FRESH GARLAND
You might've noticed that my stacked art prints were gone! I decided I wanted a more sleek and chic look in the room so I took down the 6 frames that I put up when I first created the dining space for the One Room Challenge back in the Fall of 2016. It was just time for a little facelift! The prints were replaced with two of these long gold mirrors – one on each side of the window. I love the rounded corners of the mirror and how crisp and clean it looks with simple garland draping down from the sconces hanging above.
The garland is the same type of garland from Trader Joe's we hung above our kitchen window this season. It's simple and smells wonderful.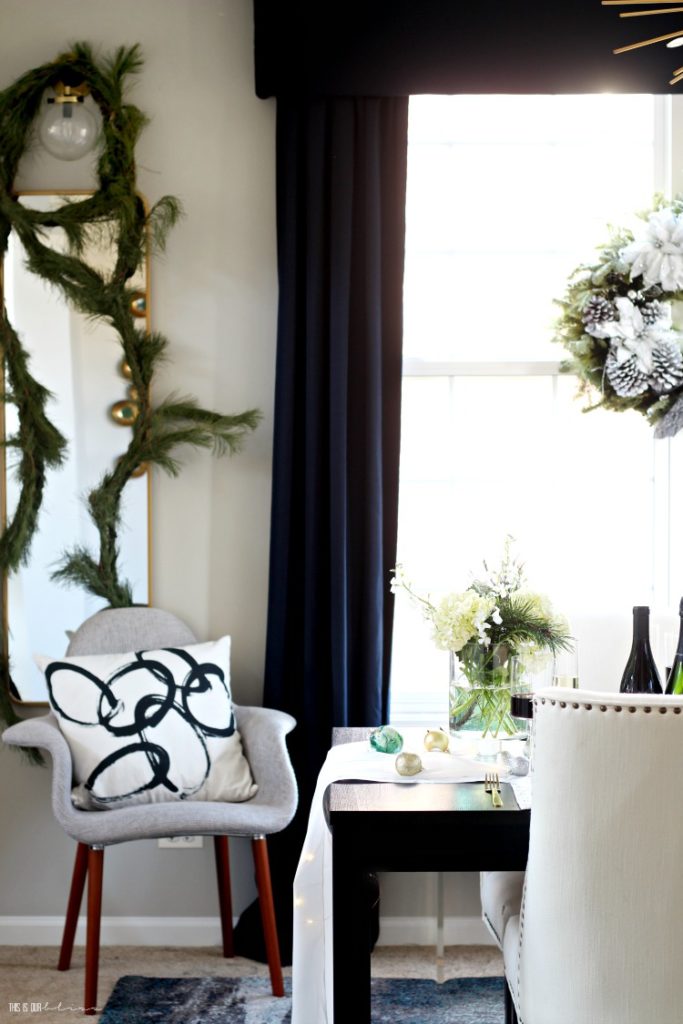 And that gorgeous wreath from Lynch Creek Farms got moved from the front of the bookcase in the Family Room to the window in the dining room.
We used a command hook to hang it on the windows and I love how it makes such a statement when you come into the room.
And for the table, it was all about layering! Here is what I did…
TABLE RUNNERS & TWINKLE LIGHTS
My white and gold paper table runner was the first item to go on the table. After that I added the 2 sets of twinkle lights I was swooning over in the tablescape post and then my new mesh runner was placed on top.
I gathered it so it ruched a bit so it didn't lay flat and then let it hang down to the floor. There are different sizes so check and see what size you'd need for your table. Using 2 mesh runners side-by-side would give the table an elegant and fuller look, so maybe I'll try that next year!
LAYERED PLACEMATS. METALLIC GREEN CHARGER PLATES & WHITE DISHES
The darling ivory and gold "Merry & Bright" placemats from HomeGoods went down at each seat and then I I layered my gold woven placemats on top, then the metallic green chargers [oops forgot I snagged these at Michaels] and then my everyday round white plates went on top. Bottom line – mix it up! stack and layer what you have 😉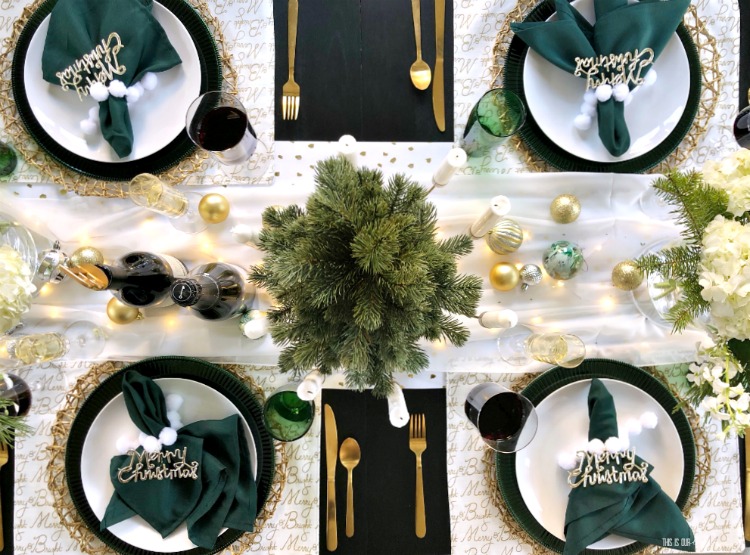 CLOTH NAPKINS TIED WITH POMPOM GARLAND & A "MERRY CHRISTMAS" ORNAMENT
I knew I wanted to carry the Christmas Green theme into this room after decorating the Family Room and Kitchen for Christmas, and when I found these hunter green linens, I decided to give them a shot! I can't say enough great things about them – I love the color, they're great quality and I got a 12 pack of napkins for $11.49 with free same-day shipping. The ivory, charcoal and burgundy ones are next on my wish list! A 12″ snip off the white pom garland and then tied them around the napkin.
Lastly, I simply attached these "Merry Christmas" ornaments to each one. Pretty sure I scooped this 6 pack up on clearance for $.50 last year after Christmas and thought I might use them with ribbons on gift wrapping.
Either way – it's a simple and festive touch!
ASSORTMENT OF WHITE FLOWERS & FRESH CLIPPINGS
My go-to for fresh flowers is Trader Joes. The prices are great and they seem to last so much longer than regular grocery store bouquets. I picked up white hydrangeas, delphinium, baby's breath and some tree clippings and then put them in my clear footed vases.
The fresh green tree clippings make it look and feel "holiday" and the scent of the pine is wonderful. The little arrangements took about 10 minutes to put together and totally take the table up a notch.
SCATTERED ORNAMENTS
This takes all of a couple dollars and 30 seconds! I used leftover ornaments to sprinkle on the table as the final touch.
In order to add a bit more green, I mixed in some of my DIY marble ornaments on the table, too.
They don't have to be evenly distributed. Just grab a few different sizes and toss them on! It really doesn't get any easier than that.
There are so many ways to make your table feel extra special this holiday season even if you're using paper plates! Make little name cards, add some fresh & faux flowers to the center, clip some greens from your backyard, pull out a tablecloth, use the "nice glasses" and sprinkle some pretty [inexpensive & shatterproof!] ornaments on the table or put them in a vase!
And if you can get your hands on some garland – hang it anywhere! It will instantly make your space feel fresh and festive!!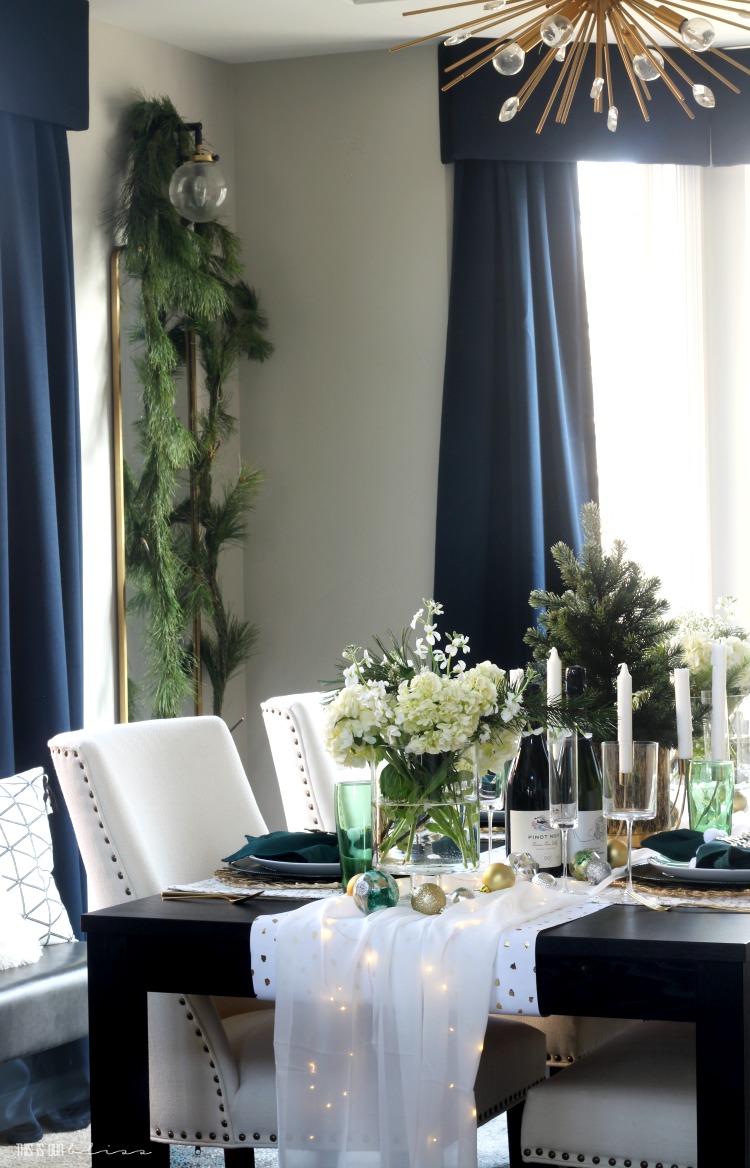 You heard me go on and on about the twinkle lights, but what I really love is seeing this room lit up at night! The chandelier and the sconces are on dimmers so it really makes the Dining Room feel magical.
If you want to grab anything you saw in my Christmas Dining Room, see it all below! Most of the items can ship and arrive in 1-2 days or you can do in-store pick-up. A holiday life-saver, for sure!!

Also, if you're hosting for Christmas or New Year's, be sure to peek at my Holiday Hosting Essentials Guide [30+ items to help you entertain in style!]. And for more more Christmas inspo, head below:
The countdown is on! See you back here soon – xo