Hello & welcome, everyone! Another big dose of Spring inspiration is coming your way in the form of tablescapes, recipes, diy's and more! I'm joining 8 other bloggers today to bring you a fully loaded Spring Progressive Dinner Party and we're all your hosts…but a special thank you to our head hostess with the mostess – Heather from Southern State of Mind! Be sure to hang out until the end so you can visit the other talented ladies and see what Spring goodies they have up their sleeves and how to truly host in Spring style!!
As for me, florals are on the menu! I'm going to try to keep this super simple. Because when you're having guests over for dinner, the laaaast thing you want to be doing is fussing with flowers! However, flowers do make such a welcoming statement – no matter how big or small your vase. I absolutely love having fresh flowers in my house all the time, but especially when entertaining.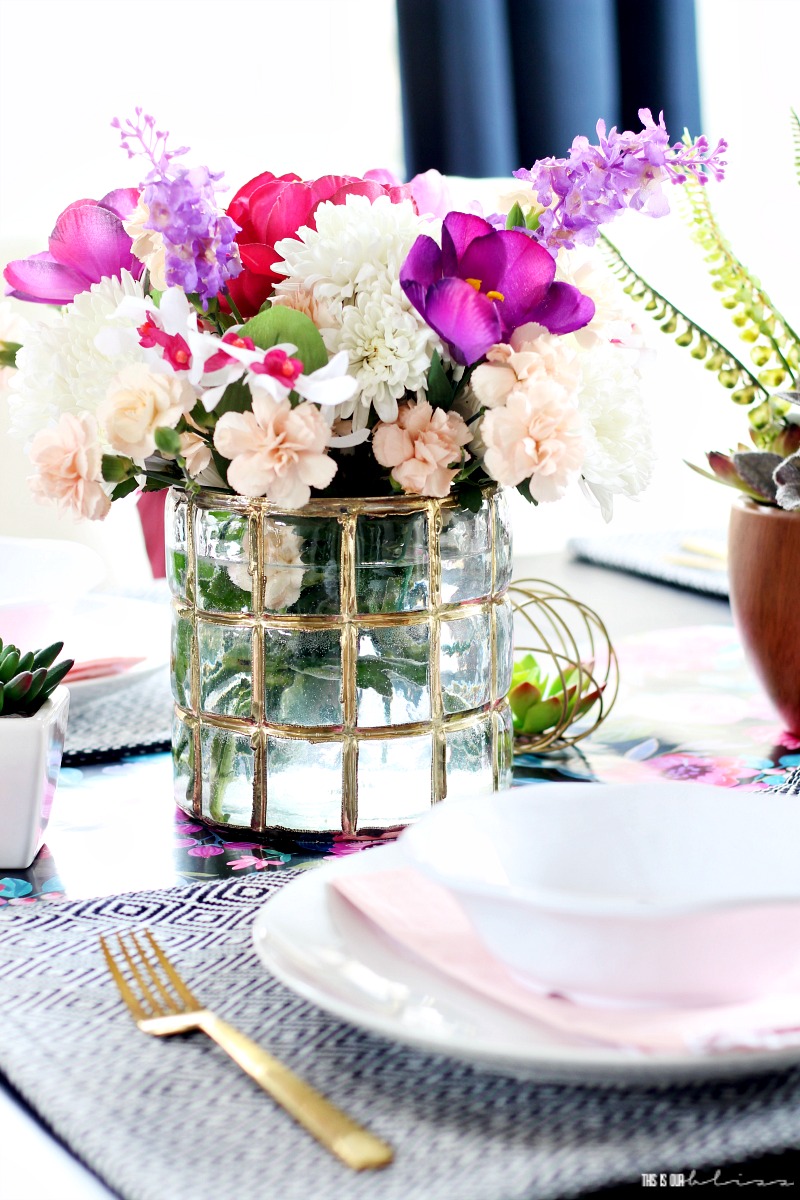 The kicker?
Well, buying fresh flowers on the regular can get pricey… and quick. So after some experimentation with different arrangements over some time now, I've come up with a method for getting it right! And you know what? I use both fresh AND faux flowers. You can really make a stunning centerpiece when mixing the two and your guests will never even KNOW!
Come have a look to see How to Make a Quick & Simple Spring Floral Arrangement using Fresh & Faux Flowers…
SUPPLIES
[*I made 2 small centerpieces for my Spring table, so I'll show you how much to use for one of the vases.]
1/2 bouquet of white Dahlias
1/2 bouquet of blush pink mini Carnations
medium-sized vase
3 or 4 small bunches of faux flowers [mine are from the Dollar Tree]
scissors
wire cutters
DIRECTIONS
First, cut apart your fresh bouquets [mine were $4 bunches from Trader Joes] so they are in smaller bunches of 3-4 stems versus all connected by one large stem. Cut the stems down to size according to your vase size. It's best to trim stem length down a little at a time and test in the vase instead of cutting them too short. Take half of the bunches and set aside.
Fill your vase 2/3 full with water and a packet of cut flower food. Pick one color to start and begin filling in the vase one small bunch at a time. Put each piece in the vase across from the previous one, filling the outer edge first. Your final 1 or 2 bunches should be placed more upright in the middle. Repeat with the other flower type / color.
Now, is the fun part! The fresh flowers are serving as the foundation since we want the majority of the vase to be filled with real flowers. The faux stems are just fillers to add visual interest, texture and color!
Take your wire cutters and snip each piece off the bunch so they are all individual stems. I had quite a few bunches [from all of my countless trips to Dollar Tree!] but ultimately decided to use 4 different types of faux flowers – about 3-5 stems of each. Less of the big ones and more of the smaller ones.
I keep these hot pink faux peonies in my decor stash and decided to use one as the center flower in each vase, so started with that one.
Next, I took one type of flower at a time and one-by-one stuck them in the vase, sort of making a triangle, filling in empty space. Then I did the same with the next type of flower…put one in and then moved to the opposite side of the vase so as not to place the same flower too close to one another. You want to stagger them across the width of the vase and at varying heights.
Finally, I filled in the remaining empty pockets with some leftover pink and white flowers from when I made my DIY Polka Dot Burlap & Spring Floral Wreath. These cuties were the perfect finishing touch because they're so small and dainty and could be stuck in any which way!
There you have it! I probably was a bit wordy with my instructions, but I promise you this only took about 10-15 minutes start-to-finish. And the majority of that was spent trimming and clipping stems. The actual arranging took only 5 minutes or so!
To better show you How to Make a Quick & Simple Spring Centerpiece using Fresh and Faux Flowers, I made a short video to help you see the floral arranging in action!
Did that help?!
And now, you can see it on my Floral & Feminine Spring Table!
I started with a bright floral DIY table runner [and made it using this tutorial again], added the black and white geometric placemats, layered on the white plates, blush pink napkins and floral bowls, set the gold flatware out and then placed my two Spring floral arrangements spaced slightly apart, with succulents scattered around them! Including these cute DIY Faux Succulent-Filled Gold Orbs I made last Spring 🙂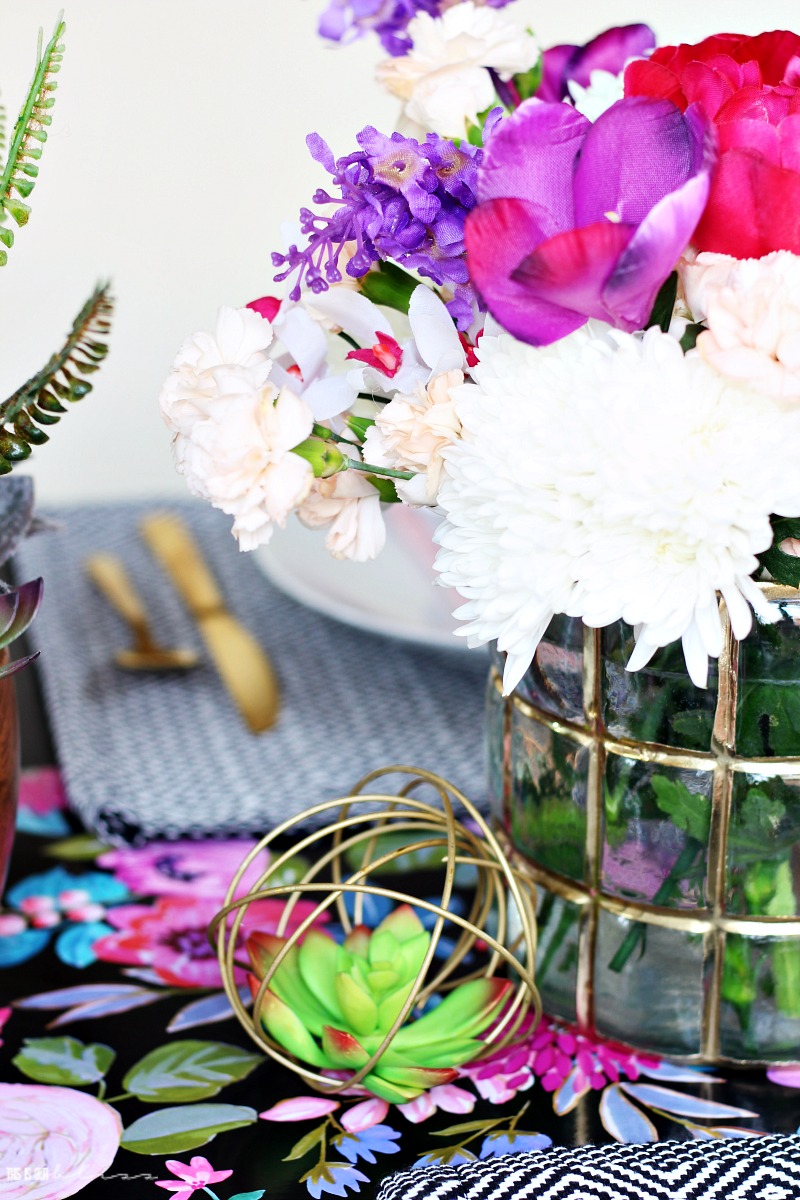 Now that your centerpiece is ready, swing by the rest of the stops of the party to get your cocktails, recipes and more beautiful tablescape ideas and inspiration!
Thanks for being my guest today!!
At Charlotte's House
Dixie Delights
Dimples and Tangles
Haneen's Haven
11 Magnolia Lane
Our Fifth House
Southern State of Mind
The Pink Clutch
This Is Our Bliss
Like what you see? Shop my tablescape sources below:

Happy Spring, friends! Next week is my Modern, Bold & Beachy Basement Guest Bathroom Reveal [see Week 1, week 2 and week 3] and another My Dollar Store DIY post. I hope to see you back here then!