Happy Monday! 5 days into the month of March already and let me tell you, we are buzzing around here gearing up for a completely packed FULL month of Spring Home Tours and a super fun Bathroom makeover series that kicks off tomorrow! Before the hustle and bustle of Spring gets going at full-speed, I thought I would pop in and share a little something [hint: a color] that is giving me major inspiration right now in style and my home. In fact, my Spring home tours will be allll about this color – BLUSH PINK! Today is another edition of my Current Crush series, where I share a round-up of all the Blush Pink things I'm eyeing, buying and styling!
This color can act as a neutral and I can't think of a single color that doesn't pair flawlessly with it!
Here are all of the Blush Pink pieces I am currently crushing on:
[*Affiliate links are used below.]
Mongolian fur pillow | abstract art | round pink/brass tray | bracelet | two-toned bowl | planter pot | pink tortoise sunglasses | woven basket | backpack | tunic tee | wrapped agate knob | mule | Tory Burch flip flop | Floral Pendant Necklace | chair | throw blanket | Rose gold / pink watch | coffee mug | hooded jacket | high waist ankle skinny jeans | open toe bootie | tassel earrings | candle | bell sleeve top

Backpacks are such an on-trend accessory right now. This soft, blush pink leather with gold zipper detail has me all heart eyes! Move over, purses and totes, I'm ready for some back-pack action!
For those of you who don't know, I became a Stella & Dot Stylist last summer! The jewelry is drool-worthy, but last Fall we launched our tops line and now release a select few tops at the beginning of each month during our monthly style drop. This Lolo top in blush pink has been a popular seller with it's chic windowpane tulle bell sleeve detail. The crew neckline is perfect to showcase your everyday essential jewelry! The top comes in black, too, which I also own 🙂
3 | Abstract Art
A soft and subtle way to add some pink to your home. This would look fab in my Pretty in Pink Powder Room, don't you think?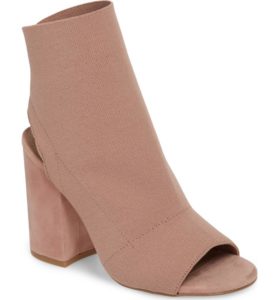 The perfect Winter to Spring transition bootie with it's open-toe and cut-out, block heel! Under $100 and also comes in black. These are currently in my shopping cart!! Can you blame me?!
Hand-poured in Nashville, this artisanal candle features a cozy fragrance and a rustic glazed jar. Love the cone shape and it comes in 4 colors!
Another brand NEW Stella favorite! I love the mix of glass, beautiful blush and vintage gold beads. This is the "Courage" bracelet, one of our two "Intention" bracelets. I love it stacked with our "Strength" Intention Bracelet and the Nicholette Stretch Bracelet!
Add the softest touch of blush pink to your couch or bed…no, this cute, furry pillow doesn't just belong in a little or tween girl's room!!
Genuine blush leather petals mix with sparkle and tortoise tones in this statement pendant. Hook closure allows you to style this necklace at varying lengths to bloom into your perfect look. It's under $100 and has a matching set of drop earrings, too!
Lightweight and perfect for Spring! This cinched waist, gold detail zippered jacket has a roomy hood and fishtail hem – classic touches to a lightweight jacket made for mild, drizzly weather. And under $60!!
This chair stole my heart last Fall and so I scooped it up at World Market and to my bedroom it went! I love how the pink looks paired with the dark green curtains in the room. Its roomy and comfy, too! Total bonus for an "occasional" chair that rarely gets used other than to keep blankets and miscellaneous clothing items that land there! Who can relate?!
Blush Pink and Rose Gold. Need I say more?!
12 | High-waisted Skinny Ankle Jeans
NEED for Spring! I might order and save for post-baby wear :/
I heart these sunnies so much! And under $40, who wouldn't?!
A chic, yet casual staple that can be dressed up or down! Comes in 4 colors including black & white stripe and is under $30! I just ordered it and sized up one to a Medium #becausepregnant.
Chic cereal bowl or use as a planter or flower vase!
I own these lightweight and super versatile [can remove the tassel to wear as a stud] earrings and you can also see me sporting the Burgundy pair at the Better Homes & Gardens Stylemaker Event in September!
Mules were super on-trend last Fall and you can bet they're going to be back on the scene this Spring, too. Love these blush mules to wear as a neutral shoe with jeans and any color top!!
Love this woven pink storage basket for a little girl's room, playroom or nursery. Sorry, can't help it! Although we don't know what we're having, I can't help but think of all the pink that could be sprinkled throughout this very BLUE house!! 😉
Throw blankets rank about third around here as a runner up to throw pillows and picture frames and everything about this one says COZY! Over-sized with long tassels all around and can even be monogrammed to personalize!
Anthro's hardware selection is top-notch with over 400 unique knobs and pulls to choose from. Some can be a tad on the pricey side, but if you are updating a small nightstand or even a powder room, this is your place to go!
22 | Coffee Mug
I can't pass up a cute coffee mug. Ever. T knows its a problem, but I mean, I drink out of them every single day!!
Tory flip flops are my absolute fave and I have quite the collection at this point – they are just too fun! I recently ordered this pair and I totally want this pair and can't wait to wear them on Spring break or when it warms up here in Chicago – whichever comes first. I'm placing my bet on Spring Break in Arizona though!!
Now, who's ready for Spring?!
What's your current crush?!
Like I mentioned, I was totally and utterly inspired by Blush Pink when decorating for Spring this year. You'll see my Blush & Bold Spring Living Room Tour on Wednesday and don't forget that tomorrow is Week 1 of the Primp & Pamper Bathroom Refresh.
Shop all my Current Crush: Blush Pink picks below!

I hope your week is off to a great start! See you right back here tomorrow!