Well hello there! I am quite positive I'm going to throw you guys for a HUGE loop today when I introduce to you my next room project. The reason? It was NOT one of the 9 rooms I included in my 2018 Master House Project Punch list! I know, why not add one more room to the mix as I approach the 6 month pregnancy mark!?! But when Jewel of Jeweled Interiors first introduced the idea of the Primp & Pamper Bathroom Refresh Challenge, I simply could not resist. There is NOTHING like a deadline to get me movin'! So, today I am sharing the before photos and my vision for the space and then over the course of the month of March, you'll get to see it all come together!
Let's see where we started!
To be honest…this is only how the bathroom has looked for the last few months. Remember the washing machine flood situation I told you about last year? Well our basement bathroom was severely effected by the water damage as well and I couldn't get my hands on a camera to snap any pictures before they started the repair work!! The walls were aqua blue and we had a tiny little pedestal sink in the space. Once the contractors had to start ripping out drywall and ceiling and moving things around, we decided a fresh coat of SW Repose Gray paint and a new vanity with plenty of storage and counter space would be an optimal solution for the small bathroom space. After all, we do have a guest bedroom downstairs so it's nice for people to have a place to set their toiletries down and store extras for them to use while they visit.
And here's a shot of the super basic builder-grade light fixture…
And finally one of the shower…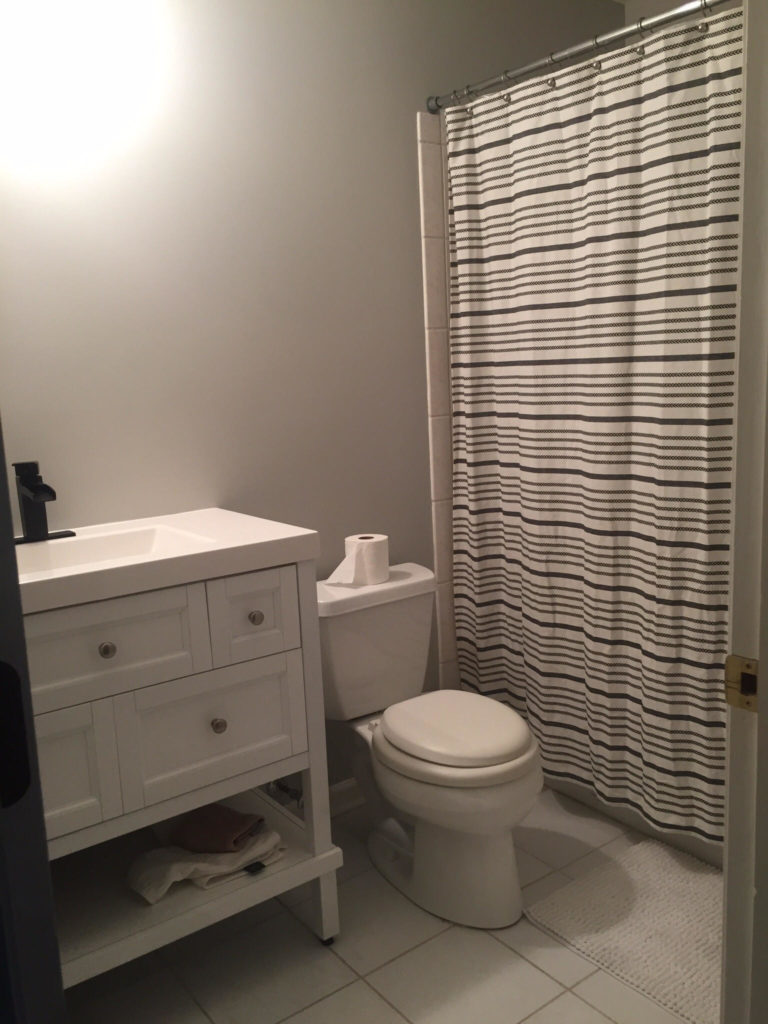 So, while I'd love to rip out the tile and shower and start from scratch, that is just not in the budget. So with a little TLC, a quick refresh will do the trick!
Here is my vision for the space I hope to create!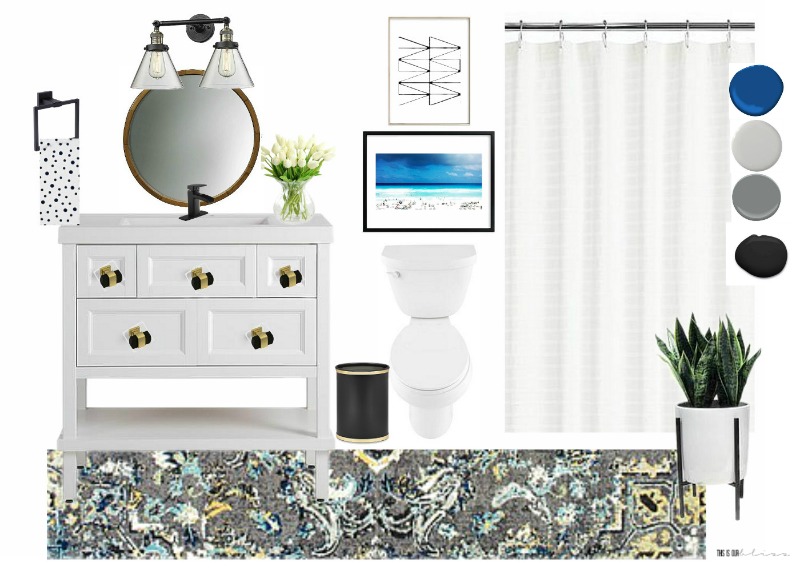 [*Affiliate links are used below.]
bathroom vanity | round mirror | wall light | black faucet | blue / gray rug | dot hand towel | towel ring | shower curtain | toilet | faux tulips | black white art | beach art | faux floor plant | wastebasket | black gold knobs [currently unavailable – will update link soon]
I haven't come up with a name or theme for the bathroom yet, but I'm definitely pulling inspiration from this rug! My color palette will be black, white, gray, blue and gold and we'll go from there! I fell in love with this beachy art print and thought the colors would work well with the rug. Top it off with a black and white geometric art print and the walls will be in good shape!
Here's the basic punch list for the Basement Guest Bathroom Refresh:
Paint walls
new vanity
update knobs
buy / hang new mirror
swap out light fixture
new rug
replace shower curtain & move the shower curtain rod up?
DIY new art
find accessories
hang towel ring and TP roll holder
Misc. projects:

_____________
_____________
_____________
Thoughts on what to call this space?!
I'm thinking something like Modern Beachy Glam or Modern Bold & Beachy! I'll keep stewing on it and keep you posted on what I land on… We'll try this title for now…
Anything strike your fancy from above? Shop my Basement Guest Bathroom Mood Board Sources below!:

Stay caught up with the rest of our Modern, Bold & Beachy Basement Guest Bathroom updates below:
Now, on to more fun! The group of lovely ladies listed below are all sharing their Week 1 updates with us so you'll see what bathroom projects they're tackling this month. Go check them out!
Jeweled Interiors Bathroom 1
Jeweled Interiors Bathroom 2
This is Our Bliss
PMQ for Two
Monica Wants It
I Like it Lovely
Tessie Fay
Southern State of Mind
Maggie Overby Studios
A Designer at Home
Domicile 37
My Eclectic Nest
Street Flea Style
A Pinterest Addict
And a big shout out to our Primp & Pamper Bathroom Sponsors!!
Thanks for being here today! I'll be back tomorrow with my first Spring Home Tour of the season. Please come back by to have a look around!!