I've officially crossed the finish line and checked the 2nd space off our 2018 Master House Project Punch List – the Modern, Bold and Beachy Basement Guest Bathroom Refresh is DONE! Oh wait… this room wasn't even on the list!! I know I threw you guys a curveball when I announced I'd be participating in the Primp and Pamper Bathroom Refresh Challenge during the month of March. It needed to get done, after all, so I rolled with it! I named our small little space after creating the mood board in Week 1 and decided that's the vibe I wanted it to have. And since we live in Chicagoland, I'll take all the "beachy" vibes I can get right about this time of the year! Thanks to Jewel of Jeweled Interiors for inviting me to participate and get this basement bathroom shindig over and done with – in 4 weeks, nonetheless!
[*Affiliate links were used in this post. If you click on a link and decide to make a purchase, I may earn a small percentage of the sale at no extra cost to you. I only recommend brands and products that I know, love and trust and would actually use myself!]
When we moved into our home in June of 2016 [see our Empty House Tour here], we were dealt a fairly blank slate in most of the rooms. As far as the basement bathroom goes, the walls were a light aqua/mint greenish with basic white tile on the floor, off-white shower tile and a small pedestal sink. We did nothing but hang a shower curtain and call it a day. There it sat, unused except when guests were occupying the 2nd guestroom in the basement.
Fast forward to August of last year and we had a laundry room flood situation on our hands that resulted in a nearly complete basement overhaul in the process. We lost the basement flooring, the ceiling tiles and the bottom 1/3 of the drywall. During the course of all the repair work, we had the bathroom painted in SW Repose Gray and since they had to remove the sink to be able to repair the drywall, we decided to replace the pedestal sink with a larger vanity to include counter space for guests to be able to set things on and drawers / shelf space for toiletries and towel storage. Other than that, we didn't touch a thing…and had zero plans to do so…until the challenge was introduced to me earlier this year! So, I took the opportunity to spruce up the space and add some finishing touches.
Why not finish something that had already been started, right? We all know I have enough of those spaces!
Add in a deadline and you've got me on-board! A few key pieces and some new [and diy] accessories, and the space feels BRAND NEW! And I am so excited to share it all with you today!
It's not a good reveal post without rewinding back a bit to see where we started, so here we go…
THE BEFORE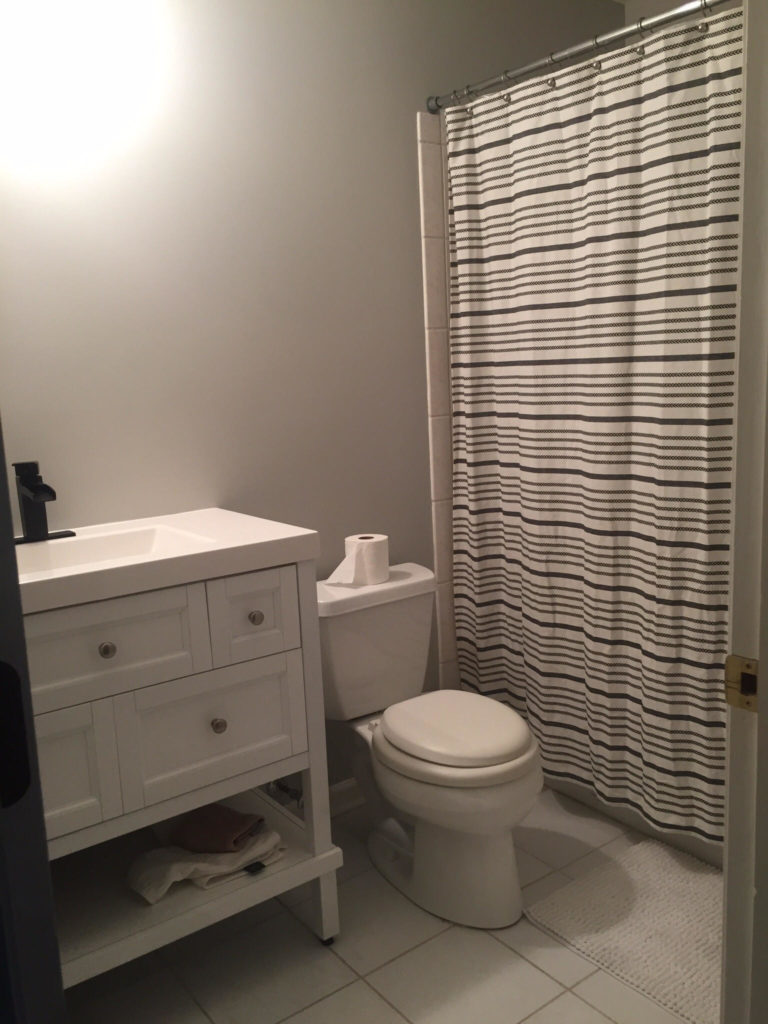 UGGGH! And I apologize for not having true before pictures because I really would have liked for you to have seen the real deal…it just all happened so quickly that I didn't get a chance to snap any pics!
When I first introduced the space in week 1, I shared these photos along with my vision for the space or Basement Guest Bathroom Mood Board shown below.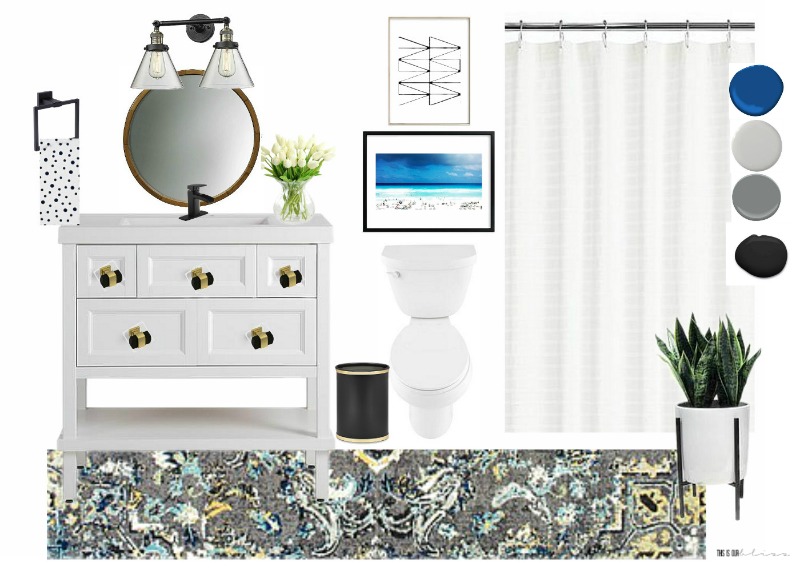 Wanting to keep things bright and white, but add a little spice, I decided to pull inspiration from this rug and go with black, blue, gray and gold accent colors. The art on the wall would also give that bold pop of blue I was going for.
And now… here it is…all pulled together!
THE AFTER
VANITY
I mentioned earlier we replaced the pedestal sink with this white vanity and although I contemplated going dark, since we are talking about a basement bathroom, the one aspect that the space is lacking is natural light. So I really wanted the space to feel light and airy with primarily white elements. Soooo I went with white!
The vanity has 2 small drawers up top and one large drawer on the bottom and really does hold quite a bit. Maybe one day I'll share a follow-up post with how I end up organizing the inside of the drawers. But that truly is a big maybe.
It came with simple silver knobs, but opted to swap them out for these gorgeous matte black and brushed gold stunners!
Aren't they so good?!
FAUCET
A gorgeous matte black waterfall faucet was installed into the vanity and I just love the contrast against the white!
LIGHTING
Once I went downstairs to actually start scheming in the space, I was quickly reminded how badly the light fixture needed to be replaced.
I found this black and gold double light vanity fixture at Lamps Plus and decided it was the one. At first I wasn't sure if I would like the cone shaped glass, but ended up loving the fact they weren't round or basic cylinder shaped.
SHOWER CURTAIN & ROD
So many new pieces were being purchased and my allocated budget was dwindling, I decided to use the old shower curtain rod and shower curtain hooks and quickly update them with a few coats of gold spray paint. Sounds pretty typical of me, right!?
I love how the bright white curtain looks with the little pops of metallic gold peeking out from the top! By simply updating what you have, its a sure bet you'll save some cash!!
Since I wanted to raise the rod closer to the ceiling, I did spend the money to get an 84″ shower curtain and liner to replace the 72″ one we had hanging before. We ended up moving the striped one up to the boys' bathroom and since it's a Jack-and-Jill bathroom, it connects their soon-to-be shared room to the soon-to-be nursery and is a much better, more neutral curtain! Theirs went straight to Goodwill since it was a $8 Target clearance find I grabbed right when we moved in.
HARDWARE
We literally tossed out the old, broken white toilet paper holder, towel ring and towel bar when the contractors pulled them down to paint and replaced them with these matte black ones instead. I love their sleek, modern squared shape.
towel ring | towel bar | TP holder
RUG
This was one of the first pieces I picked out and since it was back-ordered until mid-challenge and had already started buying items with these colors in mind, I had my fingers crossed that I would love it in the space as much as I did online. When it arrived and I laid it down, it did not disappoint!
TOWELS
The basket you saw in the photo above was a HomeGoods clearance aisle score [for $12, I think?!] and it fit so perfectly on the bottom vanity shelf when I brought it home. I added a few rolled white bath towels for guests to have easy access to.
And for the towels on the towel bar and towel ring… I went for a slightly more decorative look… at least as far as the bath towels are concerned. I grabbed them at HomeGoods and am just not sure how well they'll wash and hold up over time. My absolute fave towels of all-time are these bath towels, which are the ones in the basket and are so plush and soft. I love using them myself, but I also want my guests to have nice towels, too!
THE ART
Originally, I got googly-eyed for this beach print and this black and white geometric print, but decided I would DIY the black and white one and have a photo from our Maui trip enlarged instead to save money. Yes, I was really watching the dreaded b-word [AKA budget] like a hawk!
I was able to add both of them to the wall above the toilet for under $10 total since I had the frames already on-hand. I tend to shop my house when I'm decorating or re-decorating any room.
ACCESSORIES
As for the rest of the finishing pieces, I knew I wanted a new wastebasket and found this willow reed one on Amazon to bring in some natural texture and to also coordinate with the wooden mirror and light wood framed art on the wall opposite the toilet.
The blue and white vase might be my very favorite addition to the bathroom. As you can see, I just couldn't stop taking pictures of it!
The beautiful and budget-friendly flowers from Trader Joe's sure don't hurt either. 🙂
Cottonballs and Q-tips are within an arm's reach and housed in this clear plastic and gold lidded storage piece. Perfect size for sitting right next to the edge of the sink!
And because I just can't ever have enough gold, I "borrowed" my gold planter from the blue bookcase upstairs and set it on the back of the toilet. I thought about putting a basket for TP there instead, but couldn't resist another opportunity to bring in some blingy metallic.
And since the bathroom is quite small, that pretty much wraps up today's reveal! Although this bathroom is in the basement and we have other bathrooms that need just as much love, I can't tell you how good it feels to have it done and off the list!
And let's just say there is a reaaaaally good chance that this beautiful and bold, rich blue might be popping up all over the house before long. I just can't get it out of my mind!!
In case you missed anything above, here is what we were able to accomplish over the 4 weeks of the challenge:
Paint walls – done in the Fall
new vanity – done in the Fall
update knobs
buy / hang new mirror
swap out light fixture
put down new rug
replace shower curtain & move the shower curtain rod up
DIY new art
find accessories

more art
vase
wastebasket
cotton ball/q-tip holder
towels

hang towel ring and TP roll holder
get towel bar
Misc. projects:

spray-paint shower curtain rod
spray-paint shower curtain hooks
_______________________
This bathroom is most certainly not the only bathroom stop today! Be sure to pop over to the other ladies' bathroom refresh reveals for more inspiration and some jaw-dropping transformations. We have such a talented bunch!
Jeweled Interiors Purple Bathroom | Jeweled Interiors Pink Bathroom | This is Our Bliss | PMQ for Two | Monica Wants It | I Like it Lovely | Tessie Fay | Southern State of Mind | Maggie Overby Studios | A Designer at Home | Domicile 37 | My Eclectic Nest | Street Flee Style | A Pinterest Addict
Love the look? You can shop my Basement Guest Bathroom sources below:

If you weren't around for weeks 1, 2 and 3, you can get caught up below:
My Modern, Bold and Beachy Basement Guest Bathroom Refresh would not have been possible without the help from our generous sponsors.
Thank you for your support, encouragement and kind words throughout the Primp and Pamper Challenge this month – I wouldn't be able to cross the finish line of all these spaces without you! And lots and lots of coffee 🙂 Thanks for always being here!