Week 2 of our Primp and Pamper Bathroom Refresh has arrived! Riveting, earth shattering updates? No, but I DO have a couple of new items to show you! They may be small, but boy do they have a mighty impact on our cute and quaint Basement Guest Bathroom. If you are new here today and didn't catch my Week 1 update, have a look here to see the before photos and my Mood Board. If you are coming over from My Eclectic Nest, then welcome!! We have a fabulous group of bathroom refresh go-getters participating in the Primp and Pamper Challenge hosted by Jeweled Interiors, so be sure to stick around to the end to check out everyone's week 2 updates.
Let's take a quick peek around to see what's new in my space, shall we?!
First, a look back at vision…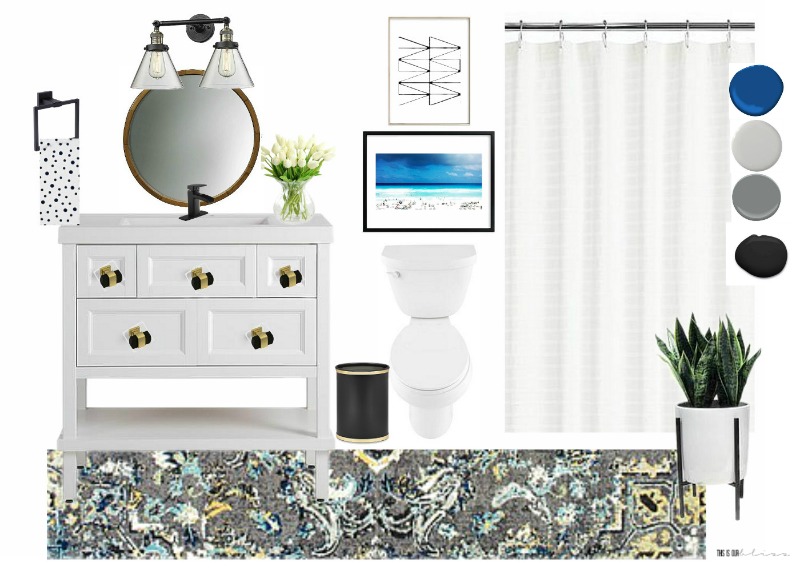 [*Affiliate links are used below.]
bathroom vanity | round mirror | wall light | black faucet | blue / gray rug | dot hand towel | towel ring | shower curtain | toilet | faux tulips | black white art | beach art | faux floor plant | wastebasket | black & gold knobs
If you remember from my before photos, all I had going for me in here was a new vanity [the same one you see above]. There was no mirror, an old light, shower curtain and all around empty walls. Well, we still don't have a mirror or art, but I want to show you the new light fixture we hung up over the weekend. It is black and brushed brass and the perfect size and shape!

Although I am rolling with the Modern, Bold & Beachy theme, this slightly industrial light just feels right! I mean, give me anything black and brass and I'm sold.
The vanity is crisp and white and had basic round silver knobs on the drawers, but I wanted more of a punch. When I spotted these flat black and champagne bronze knobs by Liberty Hardware, I instantly knew they were the ones!
Aren't they gorgeous! I knew I would love the black and gold combo, but the shape and dimension they add to the vanity was such a sweet surprise! If you've been hanging around here long enough then it should be NO surprise that I'm totally swooning over the entire black, white and gold look going on in here!
At first I thought I would grab my gold spray-paint and put a couple coats on the round silver knobs [like I did in our Powder Room last Fall], but these were just too good to pass up!
There you have it! Not much more than a black and brass update today, but since I'm doing this bathroom in real-time, the light fixture and hardware swap-out items were the ones we knocked out over the weekend and I'm absolutely in love with how they both look in the space.
Since the challenge is halfway over, let's see what's left on my to-do list:
Paint walls
new vanity
update knobs
buy / hang new mirror – bought, but hasn't been delivered yet
swap out light fixture
new rug – expected to be delivered today!
replace shower curtain & move the shower curtain rod up – still need to pick one out
DIY new art – a few ideas are in the works
find accessories – still looking!!
hang towel ring and TP roll holder – have towel ring, still need to purchase a TP holder
Misc. projects:

_____________
_____________
_____________
And that's where we're at! Week 3 will be next Tuesday with the final reveal coming to the blog on Tuesday, March 27th! Thanks for stopping by today and don't forget to pop over to Southern State of Mind next. I'm totally swooning over her new wall paint and vanity chair!!
Jeweled Interiors Bathroom 1 // Jeweled Interiors Bathroom 2// Street Flea Style // Monica Wants It // Domicile 37 // Maggie Overby Studios // Tessie Fay // A Designer At Home // A Pinterest Addict // Mary Meyers Interiors // My Eclectic Nest // This Is Our Bliss // Southern State of Mind // PMQ for two
Don't forget to pin for later!
Stay caught up with the rest of our Modern, Bold & Beachy Basement Guest Bathroom updates below:
And a big shout out to our Primp & Pamper Bathroom Sponsors!
See you back here tomorrow with another Spring Home Tour! If you missed my Blush & Bold Spring Living Room, you can tour it here!